Journal Archive 2/21 - 2/29 2016
Scroll down to read the latest post
Sunday February 21, 2016
A Long Time Since Posting Day
Never one to do what I say I am going to do, it has many, many weeks since I said I was going to post on a semi-regular basis. Sorry about that, but Life seems to intrude on the best laid plans of Man or Whatever. The reason for this post is forewarn any remaining readers, however few their numbers might be, that on February 24th, yes just a few days from now, we leave for Norway and another month of overseas adventure. To those that might ask why? The simple answer is; Because-We-Can.
But then again, there is always more to the story. In August of 2014 we visited Norway, traveling up the west coast and having a great time, or so it was for me. Linda had another take on that trip, She really did enjoy it but in her book it lacked one essential ingredient that would have made it perfect, SNOW. So that is why we are going at this time of the year, so Linda can get her snow fix.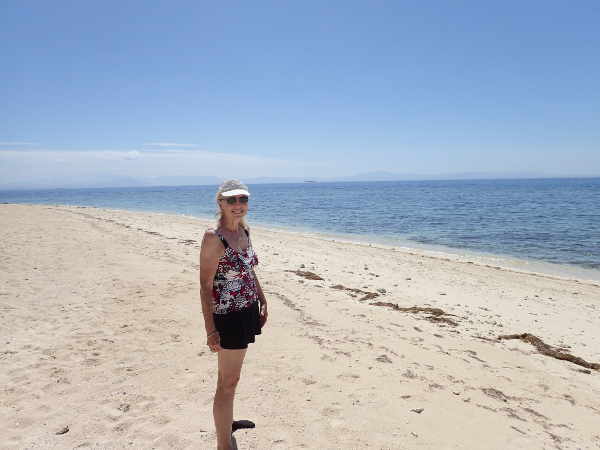 I realize most people would want to go somewhere warm at this time of the year, but here in Retama it has been in the 80's most days, so no need to go elsewhere. Besides, we have already had our warm time, those glorious two weeks in Fiji in December. Linda really wants to see the red houses and barns along the Norwegian coast popping up out of the snow rather than the green grass of summer. But that is not all, as we will spending time in Oslo again visiting the awesome museums we saw on our last trip and hopefully Linda will once again feel the presence of her Viking ancestors in the Viking Ships Museum. The plan also calls for sledding, dog sledding, snowmobiling and other outdoor activities.
As has been our practice on previous overseas trips, we will be posting at because-we-can-bob.blogspot.com/
---
---
Monday February 22, 2016
Posting Some Recent Happenings To-Day
As we countdown the hours until we leave for the snow and cold of Norway, I thought I'd do a little post just to help me get back into writing mode.
A couple of weeks ago we joined a group from Retama for a boat ride on the Rio Grand.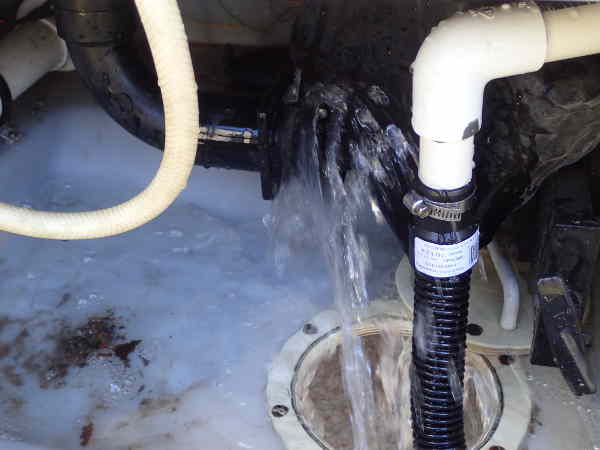 Sometimes you have fun on the water and sometimes the water isn't any fun at all. When the gray water doesn't work there is only one thing you can do, take the gray water valve out and hope the result isn't Noah's flood all over again. It wasn't as bad at looks, but neither was it as much fun as the boat ride.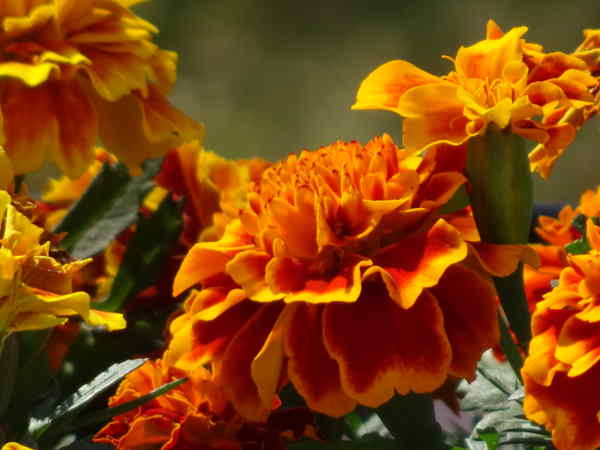 In preparation for the trip Linda was kind enough to allow me to buy another new camera, this one was a Sony DSC-WX500. I have never been able to have a camera, binoculars or anything else hang around my neck without literally giving me a pain in the neck, so this one had to either fit in my pocket or the small belt pouch I like to wear. So far it is working out just fine. I told Linda she should also get a new one if she wanted, but she said she would take the under water camera I took to Fiji. I hope that doesn't mean thinks she will have the opportunity go snorkeling in Norway!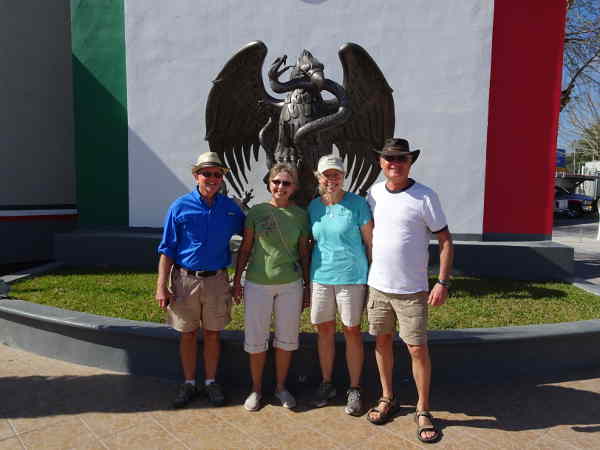 The perfect way to get ready to travel overseas to a foreign country, travel over a river to a foreign country. And going with good friends makes it even better.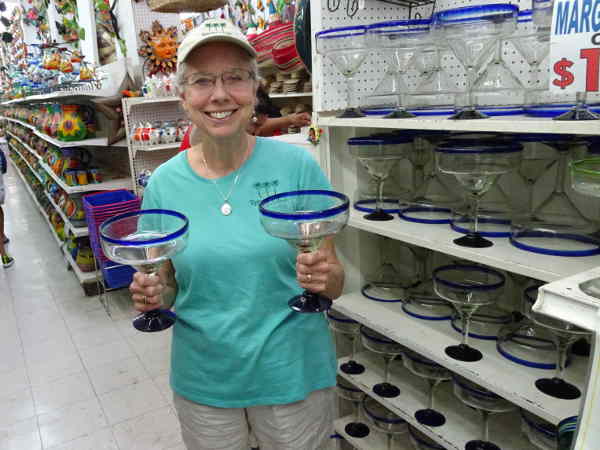 Progresso is one long street lined with shops filled with Winter Texan necessities as demonstrated by the beautiful young lady in this picture.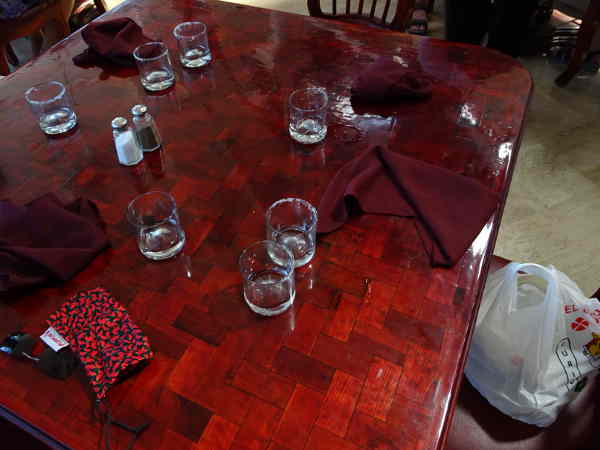 What with all that shopping, a person can certainly work up a thirst. Since we were in Mexico, how better to quench that thirst that a few $1 a glass margaritas. I know, I know, it's a tough Life but someone has to live it.
And I will finish with another reminder that we will be posting at because-we-can-bob.blogspot.com in few days when we leave for Norway. Come to think of it, I'll start with a post tomorrow just to make sure everything is working, especially since Windows LiveWriter no longer works and I will be using Open LiveWriter to write my Blogger posts.
---
Monday February 22, 2016
A Today All Over Again Day
Talk about needing help to get me back into writing mode, I was so rusty I couldn't even figure out which day to use as the date of my posts. That means yesterday's post was Monday February 22 and so is today's so today's post is actually yesterday's, or at least what happened yesterday, which is how I always posted, or at least I think it was. Baffled Bob.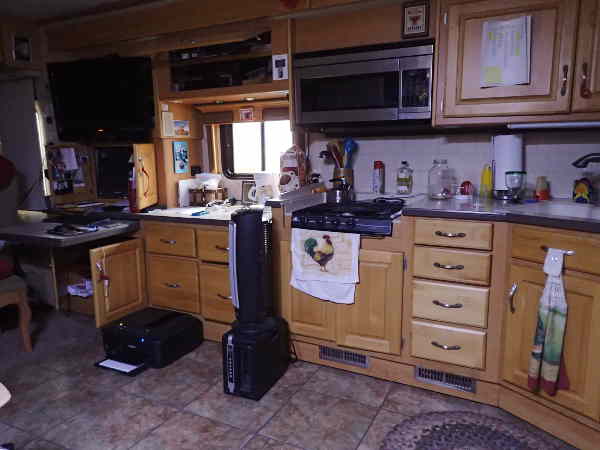 A view of the inside of the coach. This is "Linda's" side. I'd show a photo of "my" side, but it is just piles of important things in my opinion, but certainly not in Linda's. I look at it this way, she has 95% of the closet space taken up with her clothes, I can have a few piles of things within arms reach of where I sit at my computer.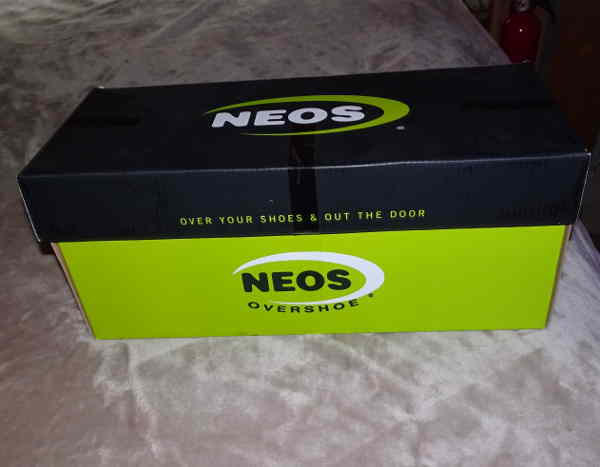 What we will be wearing on our feet in Norway. The box is good enough for now, there will be plenty of Linda footie photos once we are in Norway. I believe the best term to describe how Linda walks with them on is ungainly. But if Linda doesn't edit it out, klutzy is actually a better description. I'll do my best to post a brief video of her efforts in the snow next week. Graceful Bob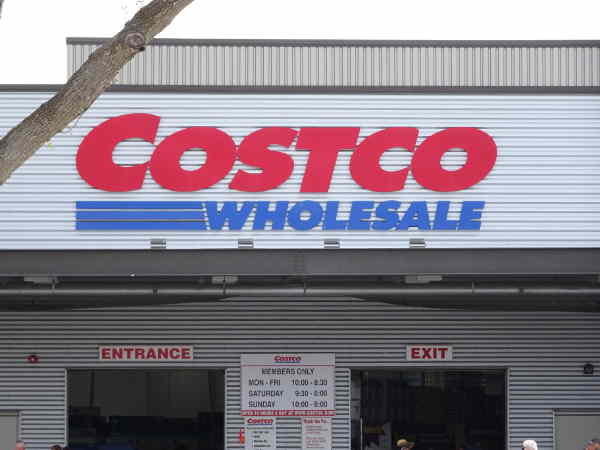 As might be expected, there was last minute shopping to be done. I still don't understand why we needed to buy 128 rolls of toilet paper two days before we leave for Norway, but what's done is done. Kidding Bob.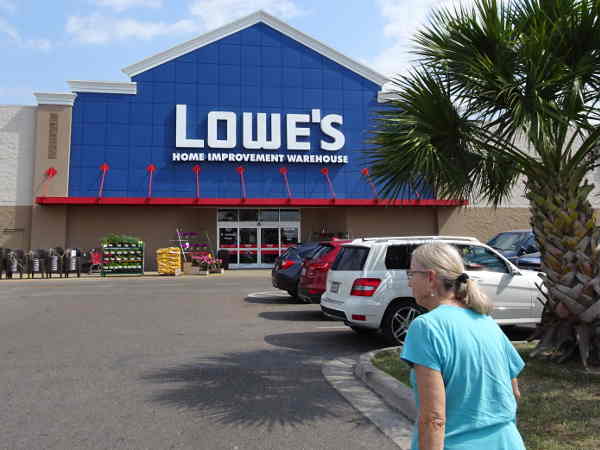 A woman on a mission. Think 9 volt batteries (the smoke alarm has started chirping) and water putty.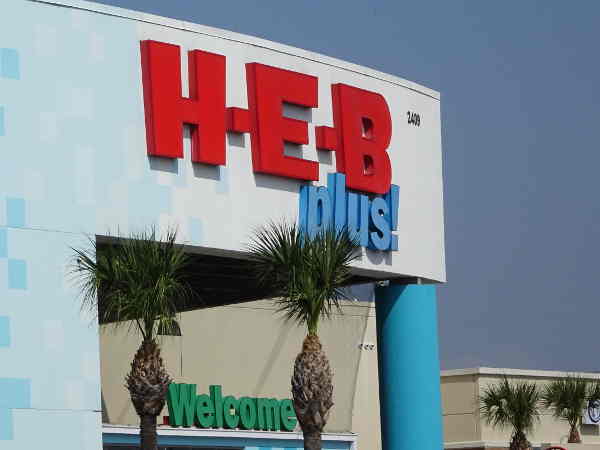 A few last minute groceries and here, silly me, had thought we were trying to eat everything out of the refrigerator. I was given an attitude adjustment in no uncertain terms that limes were needed for her nightly gin and tonic. Chastised Bob.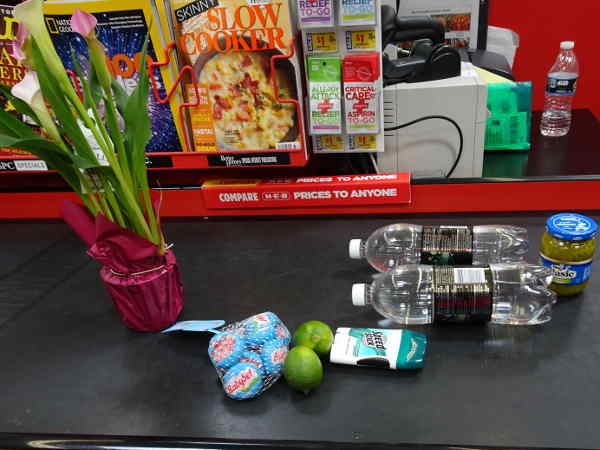 It turned out to be a few things more than just limes. When I questioned the tonic water I was informed that even though there was at least one unopened bottle in the coach, she didn't want to run out. Oh, and I left out the stop for gin, another, I don't want to run out stop. By this time I'd learn to just keep my mouth shut and carry whatever she purchased out to the Cherokee. Smart Bob.
And I will again finish with another reminder that we will be posting at because-we-can-bob.blogspot.com in few days when we leave for Norway.
---
---