Journal Archive 6/11 - 6/20 2015
Scroll down to read the latest post
Thursday June 11 Livingston, TX
Another Long Day
One of our residents is a real ladies' man. At least that is what I would call him as it seems like every lady who walks into the room is drawn to him, Linda included. I've repeatedly asked him what his secret is, hoping to learn from the master but all he does is smile. Normally he always wears a beat up old hat but today he took it off while he ate. I was sitting behind him and once again pondered what his secret was to drawing the ladies to him like moths to a candle. One thing I knew, it sure wasn't the top of his head as we are quite similar in the category and I certainly don't find a covey of doves flocking to me. Rejected Bob.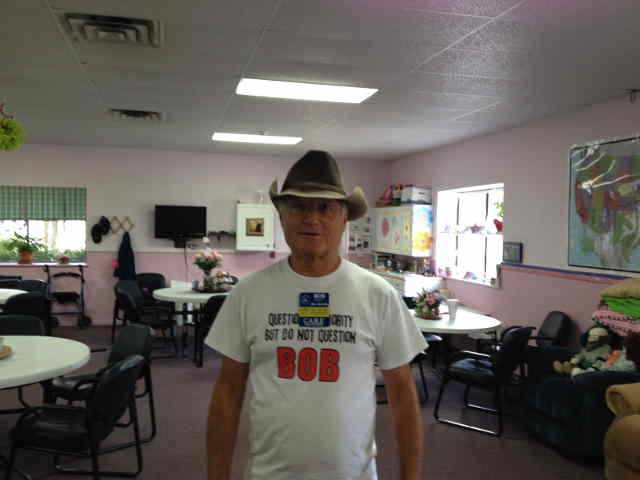 The secret discovered! It is the hat. The ladies just flock to a man who wears a sweat stained, curled brim Stetson on his bald head. I tried it one. It was just moments before the first lady remarked just how good I looked that hat, and her comments were quickly followed by other ladies stating the same thing. Unfortunately I had to return the hat and with it the magic aura of allure dissipated. Briefly Irresistible Bob.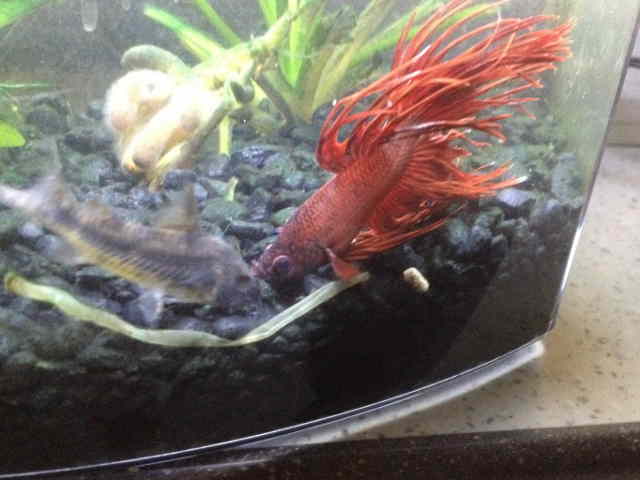 How about this for a food photo. Our fish really, really like it when I drop a shrimp pellet into the tank, keeping at it until it is completely gone. As you might guess, their first problem is finding it, it's below Red, but once they do it quickly disappears. I've read where you can't keep another fish with a male betta. I've read where bettas are surface feeders. I've decided that either those are old wives tales or Red doesn't realize he is a betta.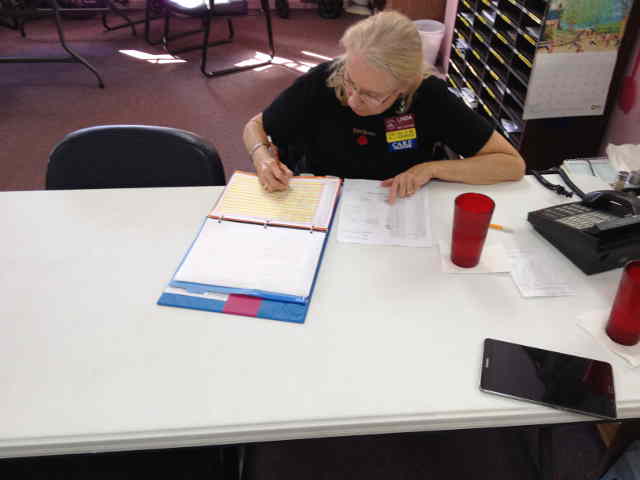 Linda in her element. Linda is totally focused when she is doing this. Bob has a habit of interrupting Linda when she is doing this. Bob forgot that enraged grizzly bears have very sharp claws and fangs. Bob is still licking his wounds. Bob learned what his name is in Latin: Interruptus Nonous. Recuperating Bob, The Non-ladies, Non-interrupting Man.
---
Friday June 12 Livingston, TX
A Busy Day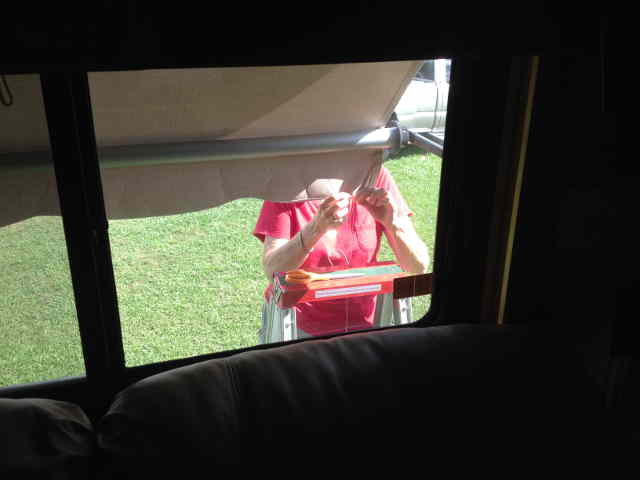 A few days ago we watched out this window as the RV Sunshade man cut, sewed and installed sunshades on Glen and Jamie's RV. Today I looked out the same window and could see the awning repair woman sewing an area of our awning where the stitching was failing. Actually we spilt the sewing duties, so in the afternoon I reseamed the side of the awning. Looking back I realize she worked in the morning when it was cool. I put my part off until the afternoon when it was blazing hot. Did I marry a smart woman or not. I'll leave off the adjectives describing the man she married, though village idiot comes to mind.
Linda doing a great job of serving breakfast. I was assigned tasks consummate with my abilities which were making coffee and doing dishes. I quickly showed them they were wrong in assigning me to such simple tasks as I forgot to check on the coffee, letting one of the urns run out while I was over at the wash area. Now you can understand why my parents named me Bob. Even if I spelled my name backwards I was still right. Partially Brilliant boB.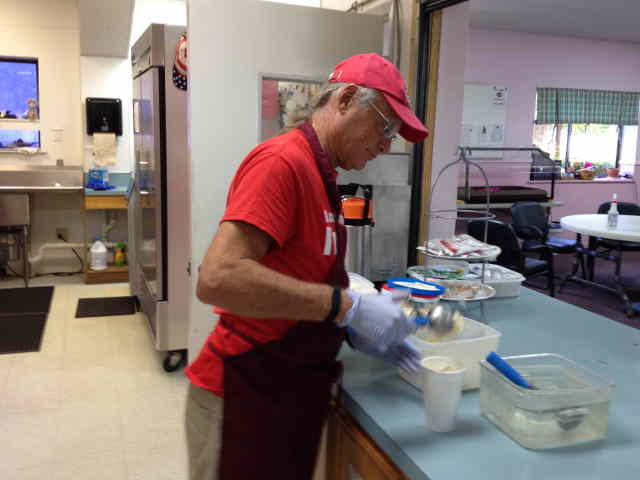 Can you believe it, I was promoted to server's helper in the afternoon. Friday is rootbeer float day and since Linda and I were floaters today it was our job to serve the root floats. I think I did a good job, at least Linda didn't take my scoop away, though I did get one or two hard looks when I put a less than full scoop in the cup. Partially Imperfect boB.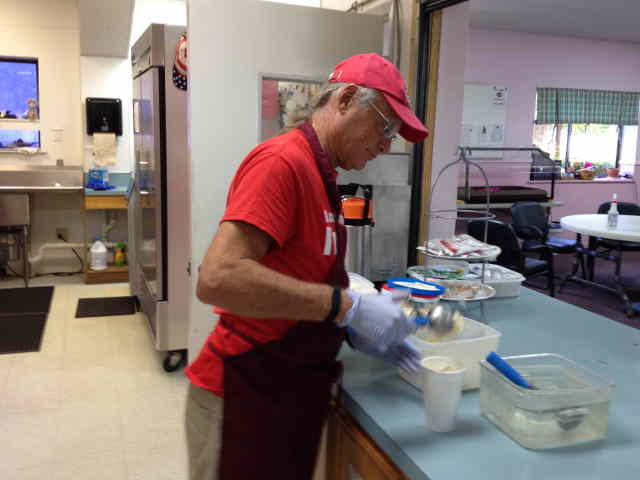 Yes, I know it is same photo as the one above. Guess what! I got to serve again at the evening meal. At this rate of being promoted I'll be executive director by next weekend. Am I good or what!! You say you're skeptical about my promotion and projected career path? Well maybe I did embellish what transpired, at least how I got to serve the dessert at the evening meal. Linda wasn't feeling 100% and rather than her go over to see if they needed help serving she asked told ordered me to go up and see if they needed help.
They did and I really enjoyed it, even occasionally placing the piece of cake in the right compartment on the tray. After we were done I got a great compliment from Molly, the cook. She said, "I can truly say I have never worked with anyone like you before." I'll bet they will be asking me to help serve at every meal from now on. Blooming Bob.
Somehow this quote from comedian Elayne Boosler seems like an appropriate way to end this edition of the daily Journal, though I'm not exactly sure why.
"I am thankful that geniuses and artists and good people, no matter how hard it is, will eventually be recognized. I am doubly thankful that also goes for idiots."
---
Saturday June 13 Livingston, TX
A Very Busy Day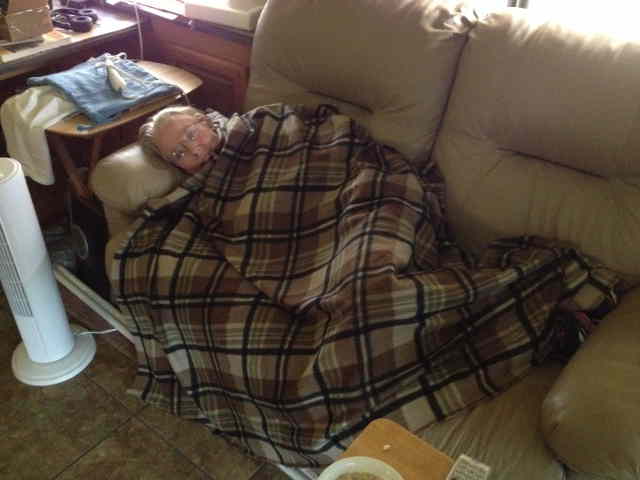 It wasn't a good day for Linda as she was suffer from a very intense abdominal pain this morning. Fortunately it was our day off so we didn't need anyone else to cover for us at the Care Center. We first went to the ER at the hospital, but when Linda found out the wait was 3 hours to get to see a doctor, we headed to the emergency care center. They didn't bill Medicare, but she was in such pain that we just paid ourselves. It wasn't all that expensive and she got right in to see a doctor.
The upshot was she had a double dose of bugs, a GI tract disturbance and another in the urinary tract. She's so tough that it takes that much to get her down. Stopping at the pharmacy, I asked her if she wanted to wait the 15 minutes until the prescription was filled. The answer was "No, take me home right now." And that was what I did. Then it was back to the pharmacy to pick up the prescriptions, she taking the anti-nausea pill seconds after I came back, which was followed a little later by the bug killers and pain reliever. I think just knowing she had medication in her instantaneously made her feel a little better. One Very Sick Puppy Linda. One Great Dog Handler Bob.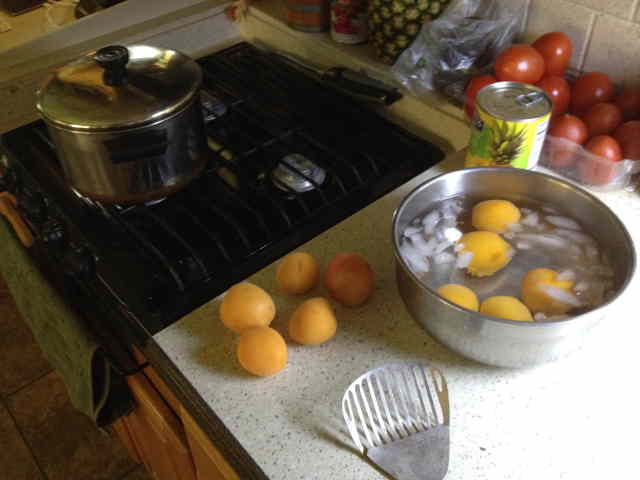 When Linda is sick, something that very seldom happens, she has one very special comfort food, Gerber baby food apricots. After picking up the prescriptions I had stopped at the store to get her several jars only to discover they didn't have any. Being the ever resourceful Bob, I bought some fresh apricots and made my own version of her favorite. It wasn't the same but it was close enough. I scalded the apricots, skinned and pitted them, Vitamixed them, then cooked them down while adding sweetener. From the precious look I got when she realized what I was doing, the attempt was just as important as the finished product. Caring Bob.
---
Sunday June 14 Livingston, TX
Another Poor Linda Day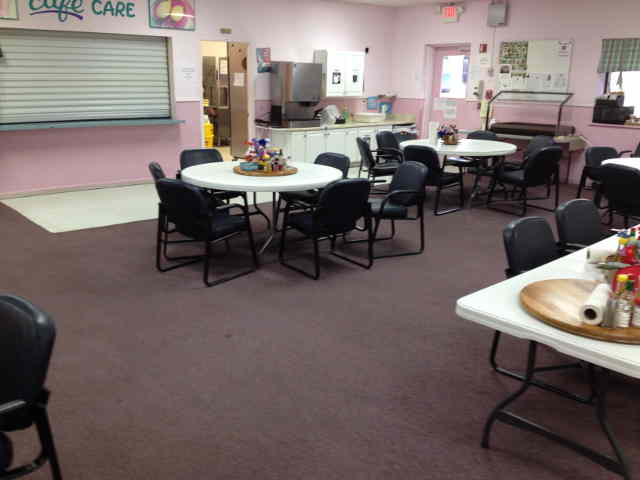 My home for the day. Glen and Jamie went well above and beyond the normal float day job duties, which made it easier all around. We had to laugh as Linda normally handles all the phone duty and paperwork while we are on call, and Jamie does the same thing when she and Glen are on call. That's what she did today, likely because if Glen and I had tried to do we'd have made a big mess of it. Not really, we just wanted Jamie to feel like she was important. Pinocchio Bob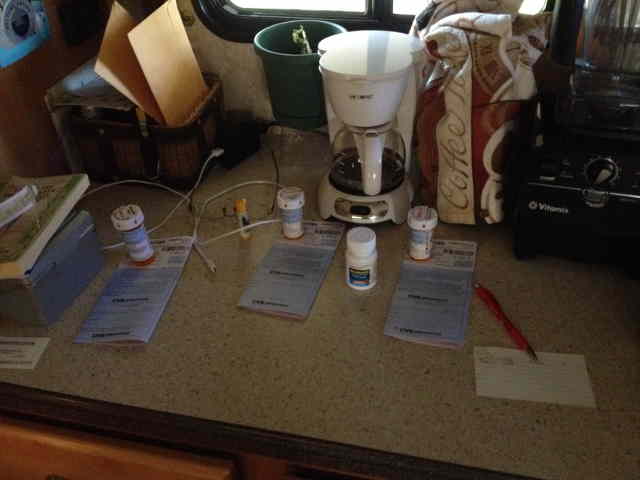 Back at the coach where Linda had done an excellent job of resting and healing all day, the Because We Can pill dispensary was in full operation. Linda makes sure she takes her medicine exactly on time to the second. Linda wants to get better. Bob wants Linda to get better. Bob is very tired after a very long day. Bob wants to go to bedder. Good night all.
---
Monday June 15 Livingston, TX
A Somewhat Less Poor Linda Day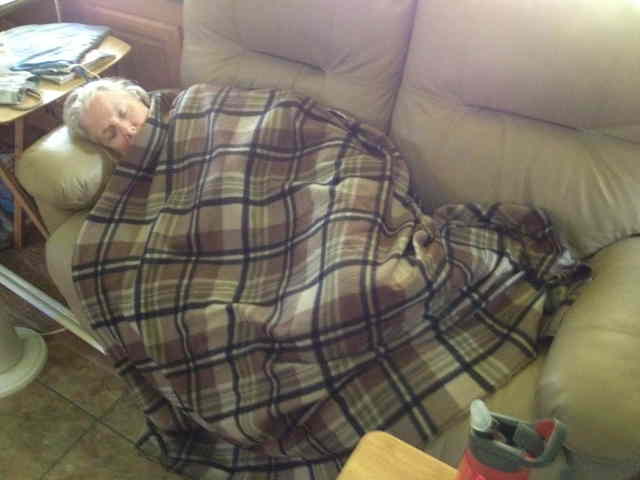 By this afternoon Linda had been taking the antibiotics for 48 hours and I was looking for an sign of improvement. Meanwhile she was doing what she does best, leveling vast swaths of forest. To me those sounds were wonderfully uplifting because for the past few days I had not been hearing them as she struggled to sleep, continually tossing and turning. Deafened but Happy Bob.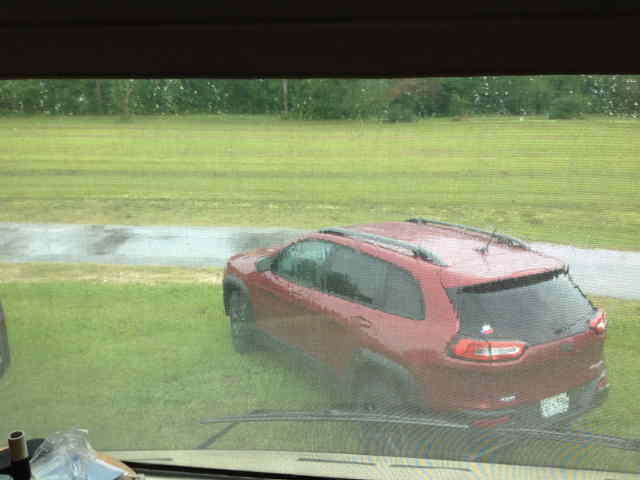 Tropical Storm Bill is headed towards the Texas coast and we were seeing some of the leading edge rains. Things are all relative. In this case the rain was awesome. While all the felled trees were being removed so that Ms. Chainsaw could once again resume cutting, I mentioned to her that the storm was coming and that we may, and I want to emphasize I only said MAY, be accompanied with some 40 mph gusts. I thought that in response Linda had kind of implied that I might possibly want to raise the window awnings and lower the MotoSat dish.
Obviously I misunderstood her because because it wasn't long before she was wondering why I hadn't gone outside to raise the awnings. Was I ever happy to hear those words. Three plus days of listless behavior while occasionally grimacing in pain on her part and she was actually raising her voice to me. In response I could only smile and ignore her. Pretty soon she was telling me in her very special and quite vocal way that I should do it right NOW. She may not be better but it was sure sign she was on the mend. Happy Bob.
With that in mind we end the day with this quote from entertainer and activist Lena Horne: "Don't be afraid to feel as angry or as loving as you can, because when you feel nothing, it's just death."
---
Tuesday June 16 Livingston, TX
A Somewhat Worse Poor Linda Day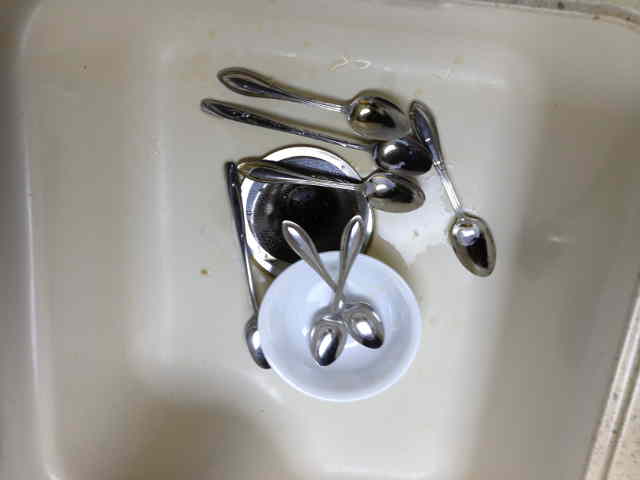 This is what I saw this morning what I saw when I looked at the sink. Linda smiled and said, "Looks like the spoon fairy was here." I took that as great news as she was back to teasing me again. Count them, seven spoons she had managed to get dirty. When I asked how it happened she said she didn't want to put any spoon she had used back into the container to get another spoonful of food. Makes for a lot of dishwashing but also makes for a: Very Happy Bob.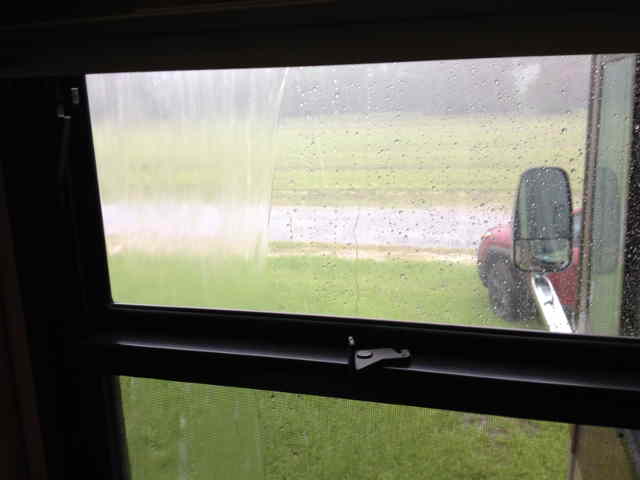 Tropical Storm Bill dump an unreal amount of rain on us this afternoon. Note the water pouring off the slide cover and down the left side of the window.
Unfortunately Linda took a turn for the worse this afternoon and by tonight had decided she needed to go back to the doctor tomorrow. Whatever this is she has, it is very nasty. It makes her a grouchy bear, but not in her usual way. I try to do all I can for her, but it doesn't make the hurt go away. I will handle the on call duties tomorrow while she tries to find some medicine that will make her better. And as much as I want her to feel better, she wants the same thing far more. Sorry for the down post, but when Linda hurts, I hurt. Sick Linda. Hurting Bob.
---
Wednesday June 17 Livingston, TX
A Busy Day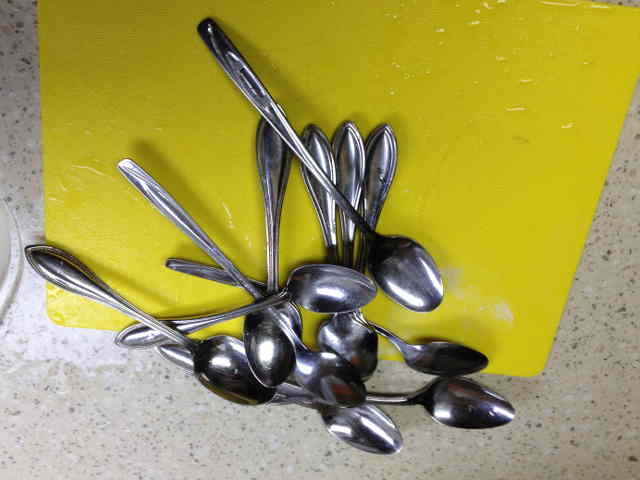 Just like yesterday morning, when I about the sink overflowing with spoons this morning, Linda said, "Looks like the spoon fairy was here once again." Spoonwasher Bob.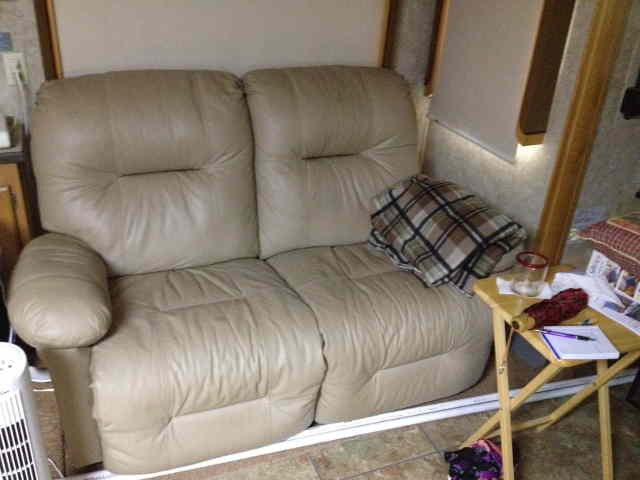 Linda is gone, but not because she was better. Gone because she was at the doctor again, but at a different walk in emergency clinic this time. And she was very pleased with this doctor unlike the one on Saturday. More medications, but this time in the quantity she needs as well as a stomach medication that should have been prescribed with one of her original antibiotics. She was definitely in a much better mood when I got off at 7 PM. Happier Linda. Happier Bob.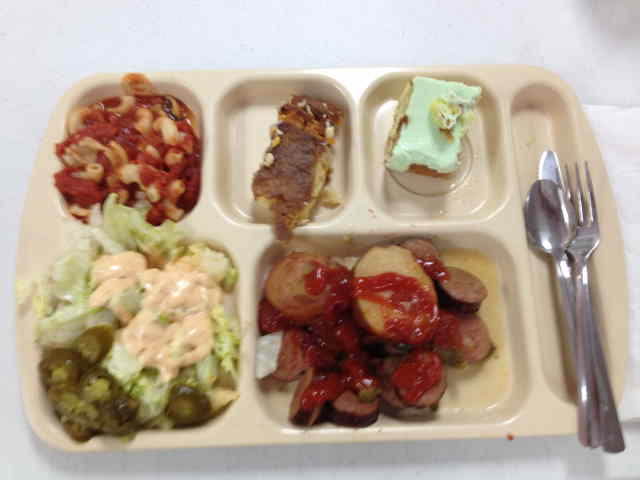 There are some foods that need a little help. The "Hoosier Stew" that was served at lunch was one of them.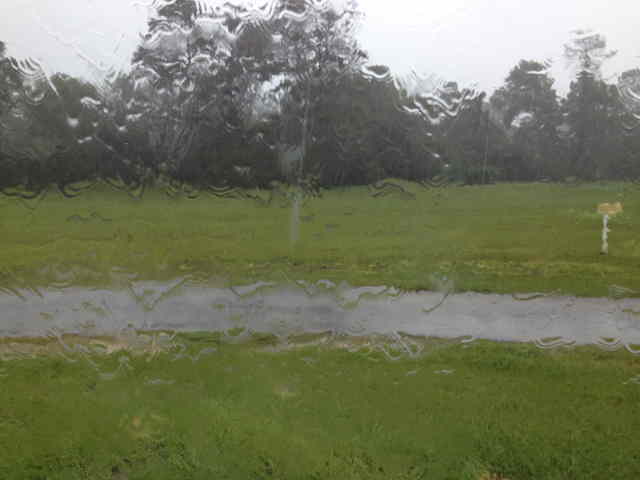 The last of Tropical storm Bill passed through today. Torrential rain was the order of the day. Very long day once again so will sign off. The best news of all is that Linda is feeling much, much better tonight. Happiness is a smiling wife. Very Happy Bob.
---
---