Journal Archive 12/11 - 12/20 2013
Scroll down to read the latest post
Wednesday December 11 Harrisburg, OR
A Travel Day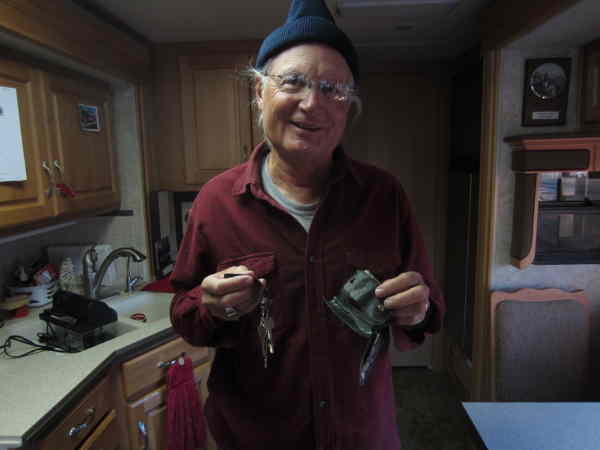 I said goodbye to an old friend this morning. Linda's dad used this type of key holder, and sometime back in the 1970's Linda gave me this case for a birthday, Father's Day or some other occasion. It has finally worn out, literally disintegrating. Something tells me there is another one coming as a gift in the near future. Now if I could just figure out what to get her for Christmas. Wonder if she would like a 1/4 inch drive socket set?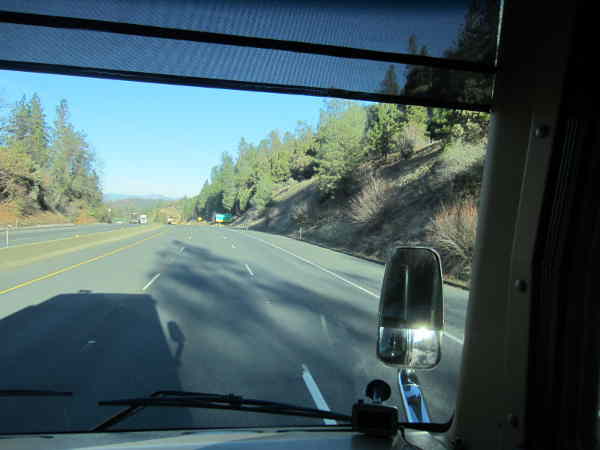 This was the place where we heard the "pop" and lost power yesterday. No problem today. Happy Linda.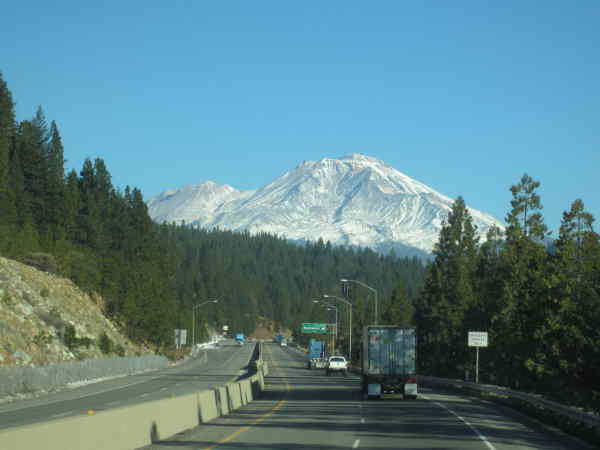 From the number of photos of Mt. Shasta that Linda took, I can say she must have really liked how it appeared with a light dusting of snow.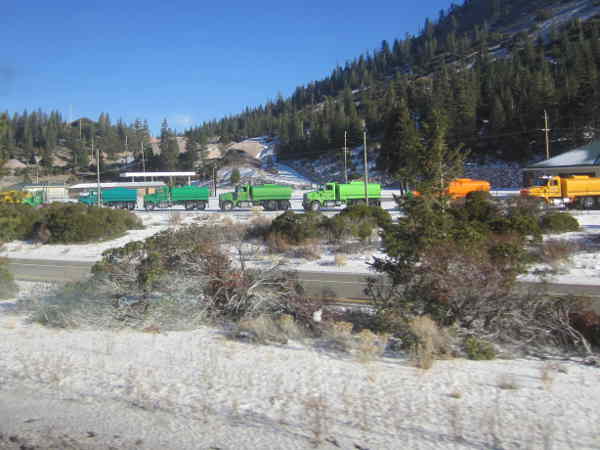 Something else she always takes a photo of every time we travel I-5 north.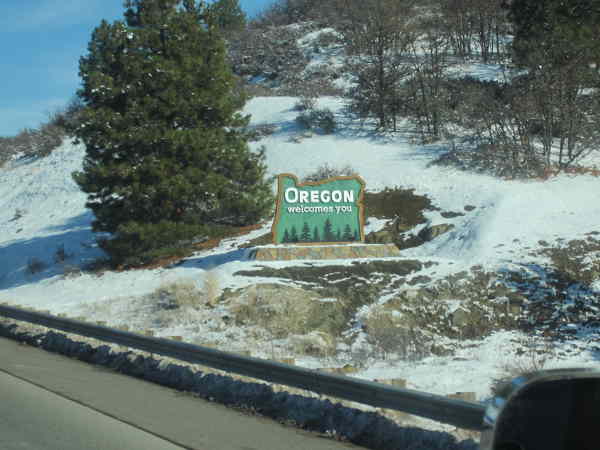 Back in Oregon. Good Linda for taking a photo of the Oregon Welcome sign. You might have noted that on the day last week I drove the coach into California, there was no sign photo. I won't say who, but someone wasn't paying attention at that moment.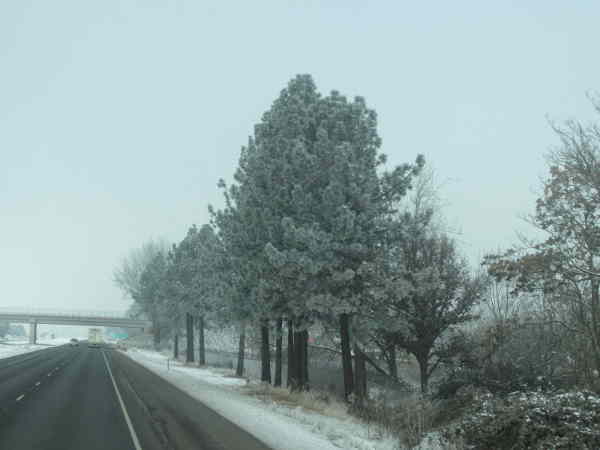 We hardly ever drive in places it has snowed. It sure was a pretty drive though.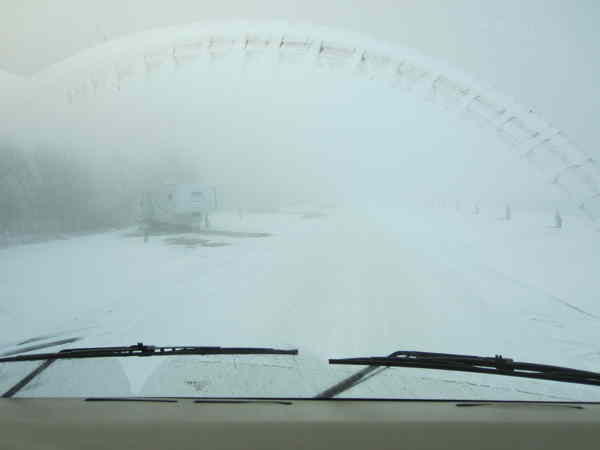 The closer we got to the RV park, the thicker the fog became. As Linda said, it was good we had been here a number of times before so we knew where the turns in the road were.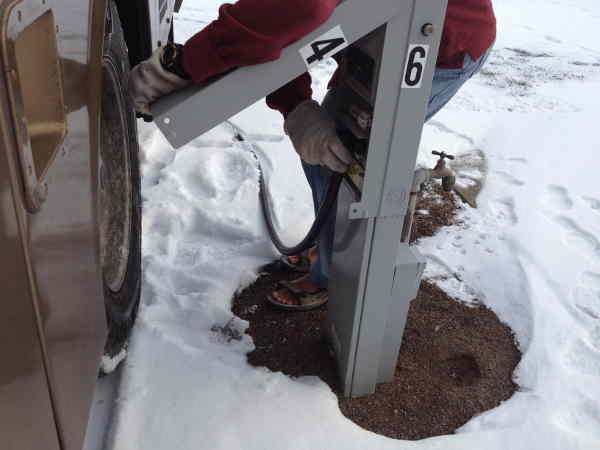 Linda kept insisting I needed to put shoes and socks on, what with all the snow on the ground. Maybe those Appalachian hill girls aren't as tough as they appear. Could it be that she is really more grizzly growl than grizzly bite? It's probably best that I don't try to find out.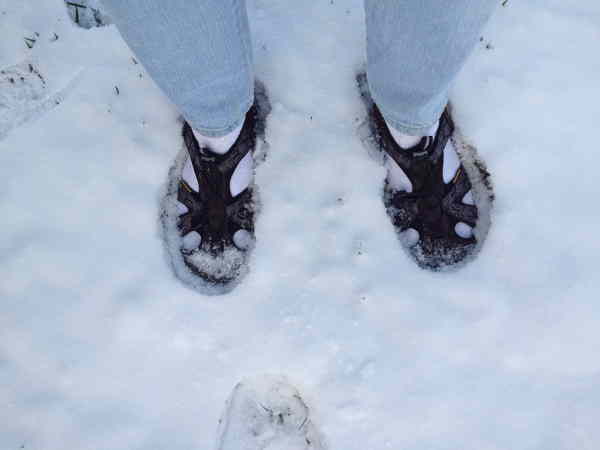 Linda demonstrating what an intelligent person should have on their feet.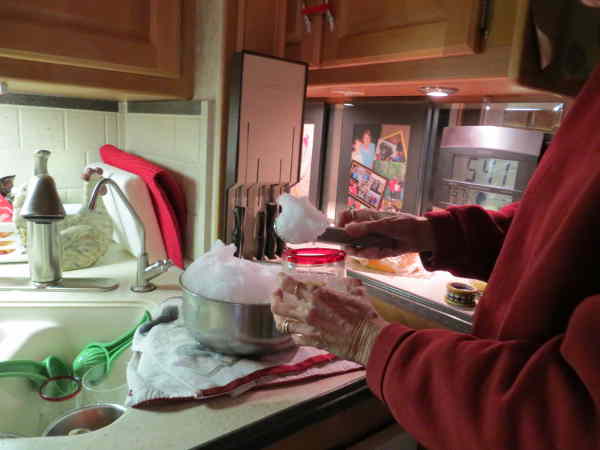 No ice cubes, no problem for Linda. Yes we are in the snow. Yes it is cold. But as Linda says, it makes for a good story.
Life is not a dress rehearsal. Don't be afraid to laugh, love and retire early.
---
Thursday December 12 Harrisburg, OR
A Cold Day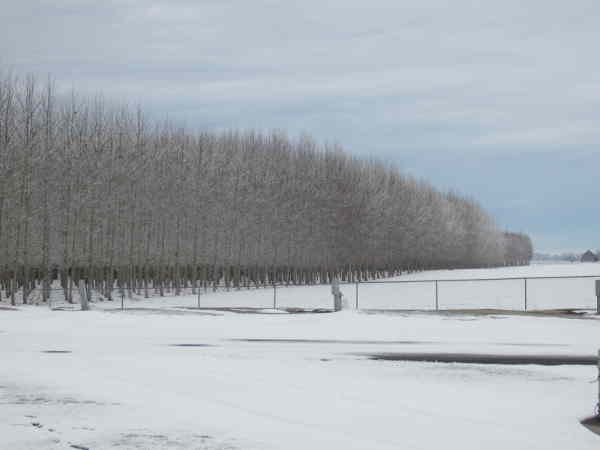 We are not used to cold weather, so today we hunkered down. The weather forecast called for freezing rain in the afternoon so we decided that since we didn't have to go out, we wouldn't go out. We did take a short walk around the RV park, but otherwise it was a stay inside day.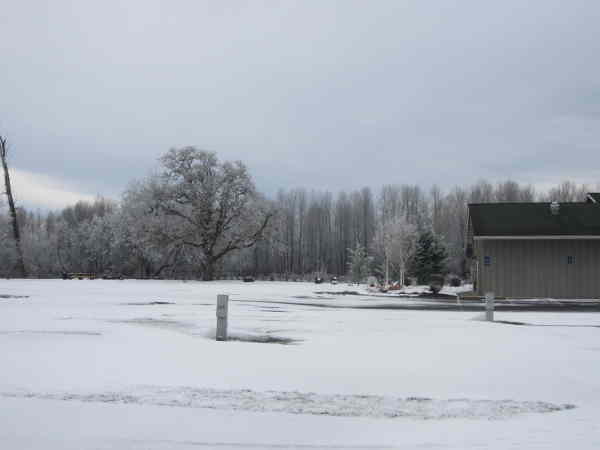 The fog also went away leaving behind a coating of white on the trees that was almost magical as we walked through the snow. It is very pretty, but we would definitely prefer to be walking through the sand on the beach in Puerto Penasco wearing shorts and tee shirts rather than being here.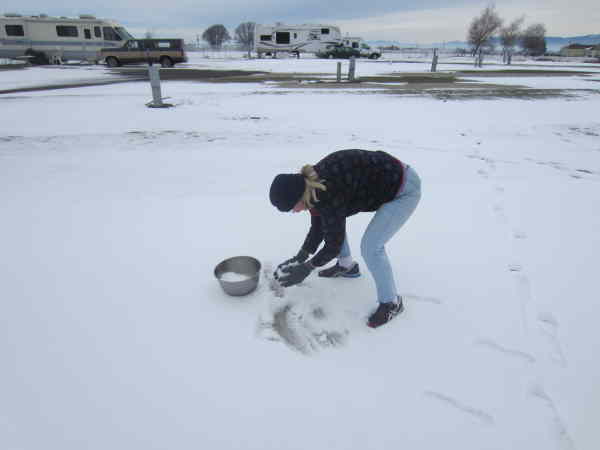 Linda gathering a pan of snow to keep the frig cold. We have kept the temperature inside the frig at 37° with a pan of snow in it. Can't get it to run because the outside temperature is too cold. I know that sounds like a really odd statement, but it is true. I tried several times by replacing the fuse that always blows, but it just sat there and did nothing. No lights, no blowing the fuse, no nothing. We joked that worst case we could just put everything in the back of the Explorer and let it be our refrigerator since it is so cold outside.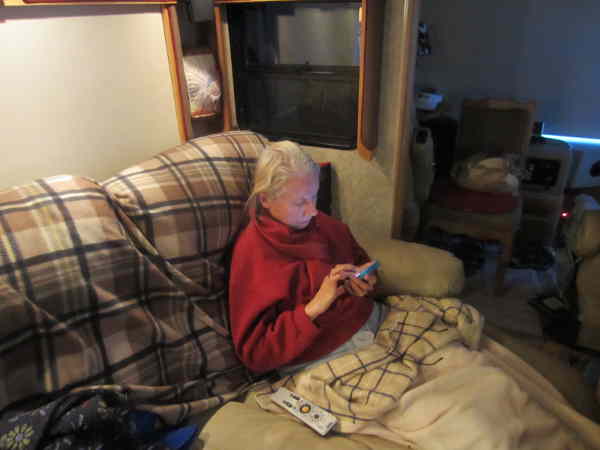 Our method of keeping warm. Everyone approaches staying in cold weather differently, and this is ours. We have all three slides pulled in. That greatly reduces the amount of space we need to heat as well as sealing the coach up as there is normally a lot of air leakage when the slides are out, and even with them in we can still feel cold air drafts near the floor. For heat we are using our electric space heater. It keeps the temperature in the mid 60's, about 40°'s warmer than it is outside.
We could do more, run the furnace for example, but since we are warm enough why bother. I grew up in a house that had a coal furnace and fireplace to keep us warm. When they burned out in the middle of the night it just meant that it got cold unless it was bitter cold, in which case my dad would get up in the night and add more coal to the furnace to keep the pipes in the house from bursting. Linda had it better off, but she likes it to be cold at night, and I don't mean just cool, I mean cold. I will not say this is one of those be careful what you wish for moments, but if we had one less blanket to pile on the bed at night it just might be.
As a side note, as far as keeping the tanks and water lines from freezing, I have had a 75 watt light bulb on in the wet bay since we arrived and the lowest temperature we have recorded was 37° according to the min/max thermometer we have in the bay. Since we took out the carpet and replaced it with tile I can't say we are as snug as two bugs in a rug, but we are having fun, just in an unexpected way. Life is Great. And as Linda likes to say, it makes for a good story.
---
Friday December 13 Harrisburg, OR
A Happy Day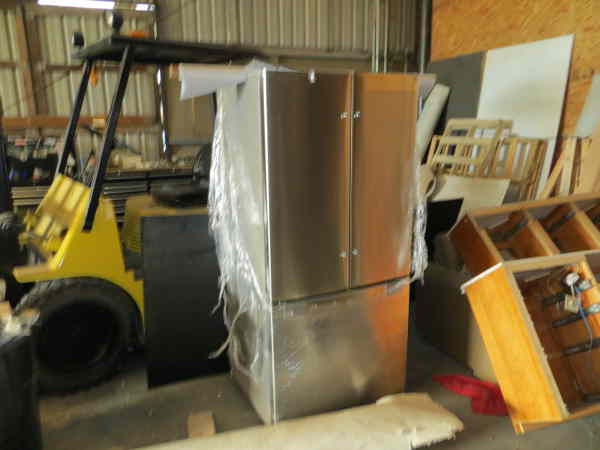 Friday the 13th and the solution to the problems with our refrigerator is on site, the same site where the coach is going to be parked at 9am on Monday morning, which will be the site of the refrigerator switch out.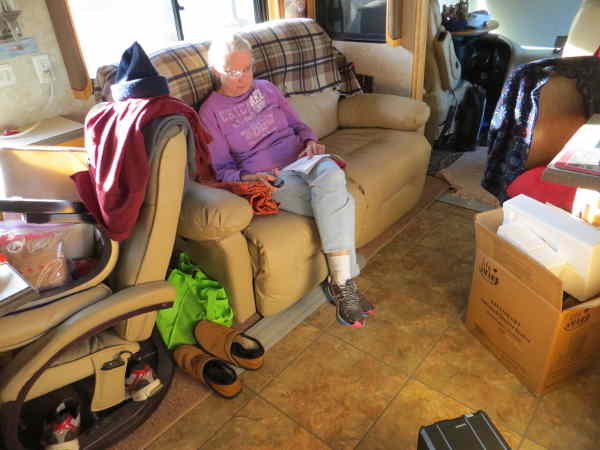 Our new infrared heater arrived via FedEx this afternoon. All electronic controls with a remote. Linda is a very happy girl. Warmth at her finger tips today and with the prospect of problem free cold with the frig on Monday, Life couldn't be any better for her.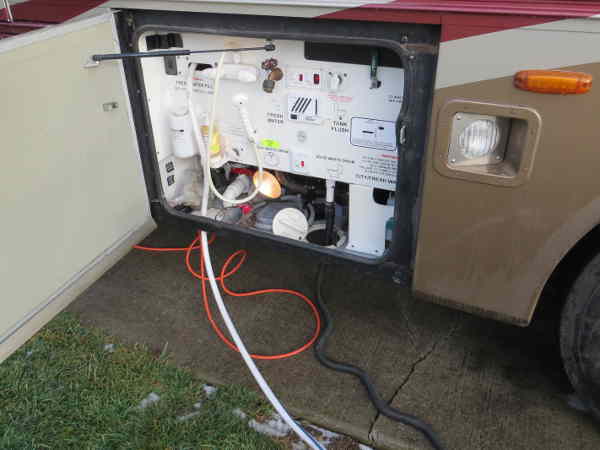 Speaking of cold, here is the light I put in the bay. There is supposed to be a heater in there but it is at Retama. We weren't supposed to be in cold weather so rather than fix it before we left in the spring I just left it at Retama. Not a smart move. Thank goodness I made a smart move 47 years ago or there is no telling if I'd even be around today. Lucky Bob.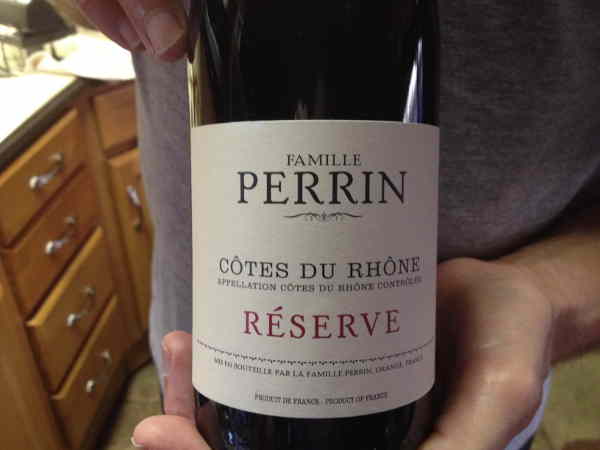 A celebratory bottle of wine. Have to keep checking out the wine of the regions we will be traveling to in Europe next year. It was a very good day indeed. And the wine wasn't bad either.
---
Saturday December 14 Harrisburg, OR
A Good Day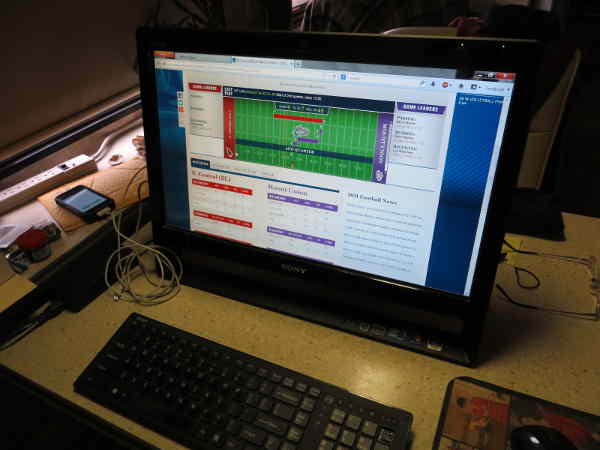 Linda went Christmas shopping today while I followed the Mt. Union football game. It was on espn3, but the connection here at the park was so slow I couldn't connect. No problem, I followed it the way I usually do. An awesome game with a touchdown in the last minute to win it. For the ninth year in a row they will be playing in the national championship game. They play in Division III, far below the level of the Oregon's, Alabama's or Texas's. There are no athletic scholarships, no 80,000 seat stadiums, but this is real football. I guess you could say it is a good bit like fulltiming, the majority of people have never heard of it, but those that live it, love it.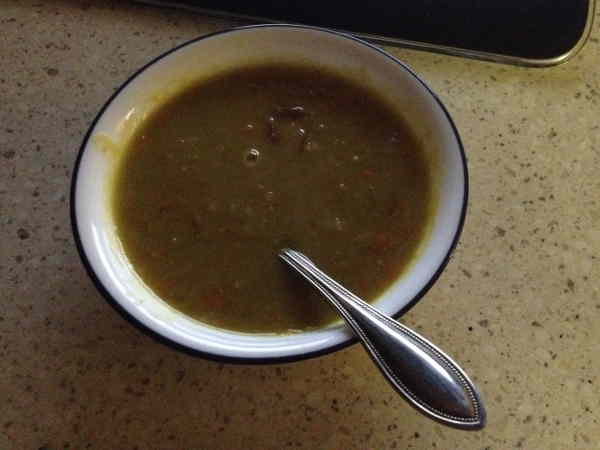 Linda took the photo. Linda said it was a terrible photo. Bob ate Linda's split pea soup. Bob said the soup was awesome. Bob is very happy that Linda is a much better cook than a photographer, especially when he considers what the alternative would mean.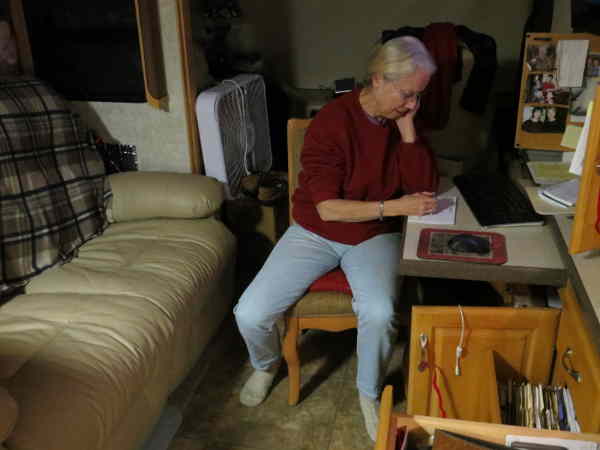 Please note the color of the hair of the woman in this photo. Note the chair she is is sitting in. I believe there have been jokes made by others about females with this hair color not being able to do two things at once. Earlier Linda was standing and talking on the phone to our youngest daughter. Linda went to sit in the chair. Linda missed the chair and sat on the floor. No floor tiles or body parts were damaged. Linda confirmed the joke about females with her hair color. Bob knows when to say no more.
---
Sunday December 15 Harrisburg, OR
A Lazy Day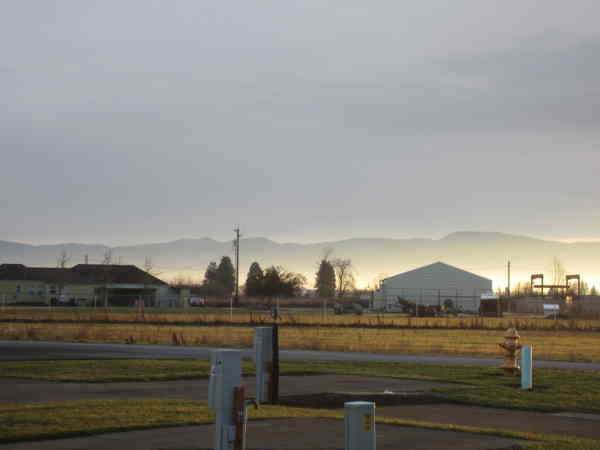 Beautiful morning. The fog looked like a mountain range, yet there was a yellow glow near the ground. The say beauty is in the eye of the beholder. Sometimes all we have to to do is open our eyes to see it.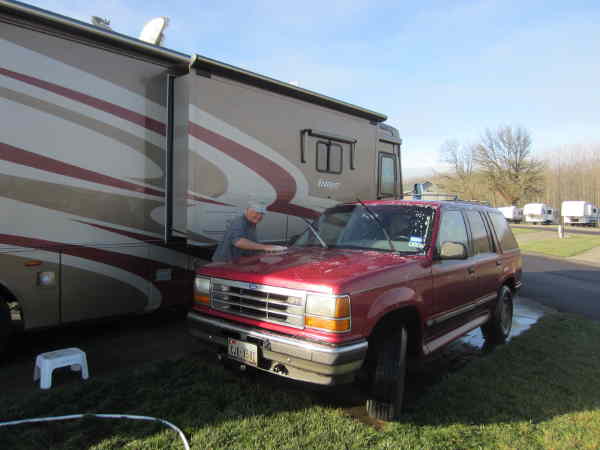 Never let it be said that Linda is the only family member that washes the Explorer. I think I startled her when she discovered I was out washing it. I did note that she filled the wash bucket when it was about out of suds and water. Nothing like a life mate that is also a helper. Linda also hopes that she will be blessed with one some day.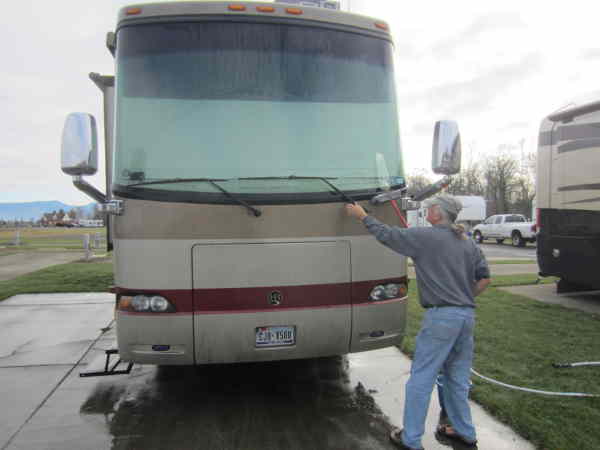 Looks like I got a little carried away. Not really, it had a coating of road grime from our drive here and this was the first day the temperature was warm enough to wash the coach. I know that by the end of the week it will once again look the same when we head south towards Sacramento, but that is okay. It will be Linda's turn to wash it. Wishful Bob
Between now and then we will be meeting with our dear friends John and Judy to plan our trip to Europe next year, and also having the coach slide repaired and the new refrigerator installed. Those three things are about the nicest Christmas presents we could want. Life is too short to just sit and watch it go by. Grab hold of it, hang on and enjoy the ride because like it or not, some day we all die.
As always: Life is not a dress rehearsal. Don't be afraid to laugh, love and retire early.
---
Monday December 16 Harrisburg, OR
A Happy Day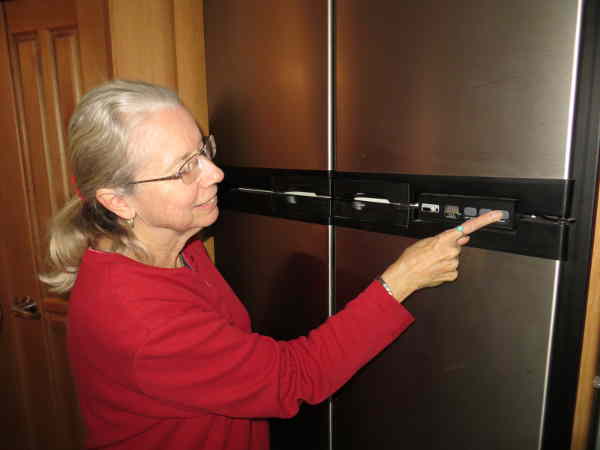 It has been an on again, off again thing for quite some time. Now it was going off for the last time, and at our choosing, not its choosing. Happy Linda.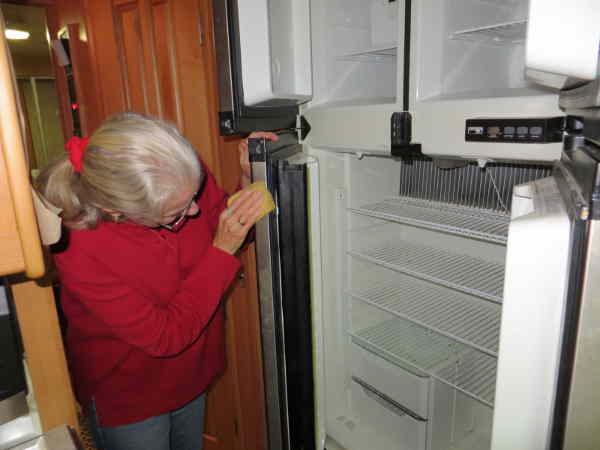 It's just the way women are. Linda washed the ever so slightly dirty edge of the door so it would be clean when it is removed. This is one of those, if it makes her happy I won't say anything, situations. Silent Bob.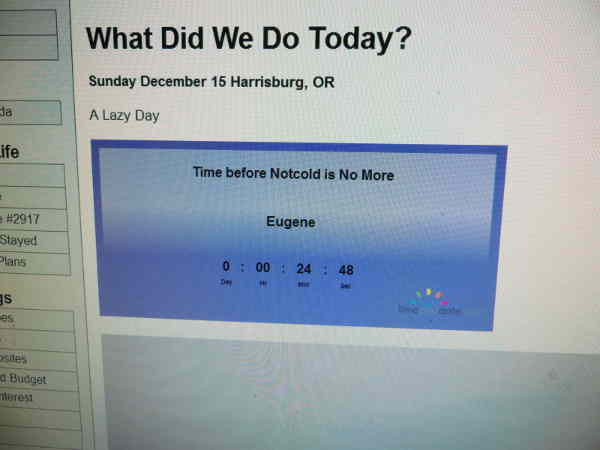 Getting ready to drive over to the shop where we are having the work done. Elite Repair and Remodel in Harrisburg is just a couple of minutes from the RV park, and the clock shows just how many minutes were left before our appointment time.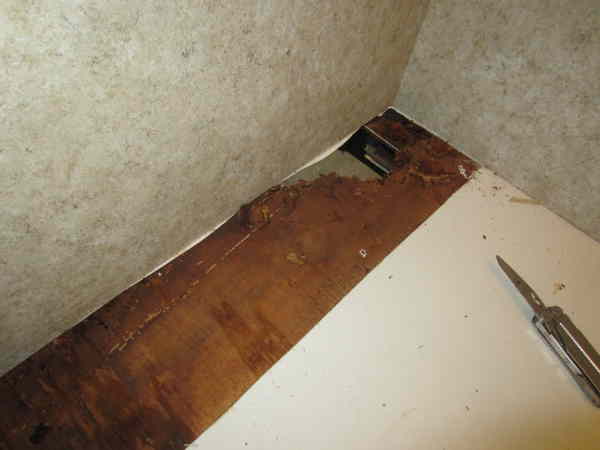 The rotted out section of the floor of the drivers side slide.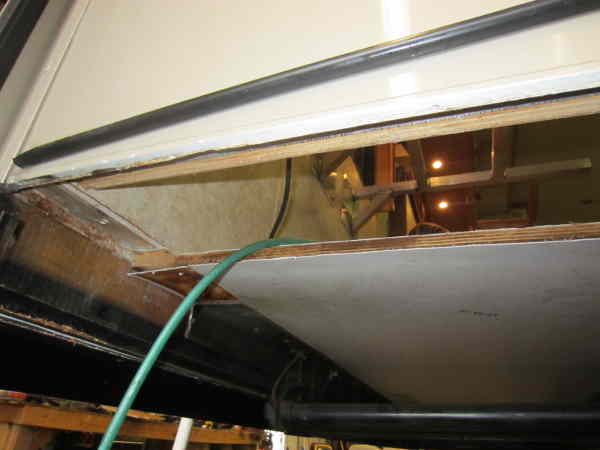 The bad section, cut away. This is at the rear of the slide and is caused by the sealant tape shrinking and allowing water to follow the channels formed when it shrinks. It is all hidden from view so you can not see the sealant, then the water follows the aluminum studs down to the floor where it is trapped by the filon board on the bottom of the slide. Because our slide had filon on the top as well as the bottom of the floor there was no way to tell the floor was wet. At least it was finally discovered, and the problem is now being fixed.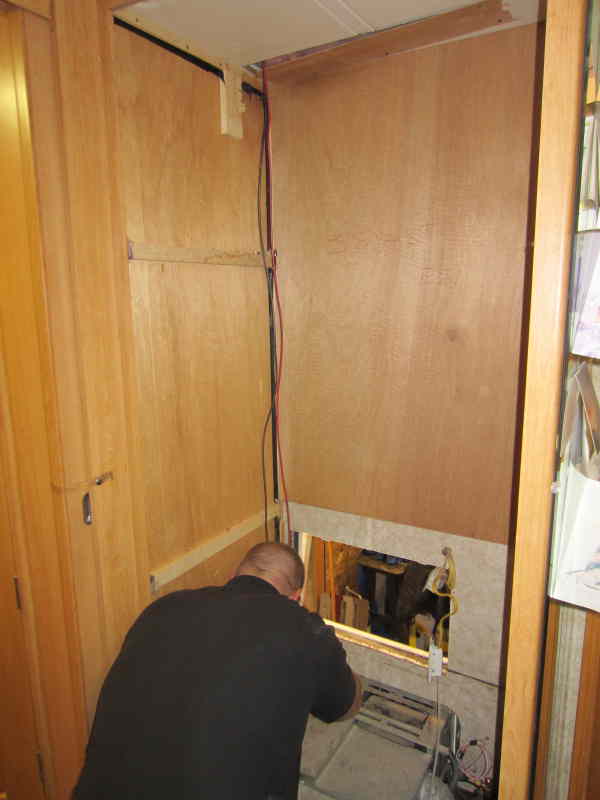 The Nocold is a Nomore. The new Samsung RF197 will fit in the space the Norcold 1200 came out of with just a minor alteration which involves lowering the wooden platform it sits on by several inches to allow it to be properly fastened to the roof as well as the platform.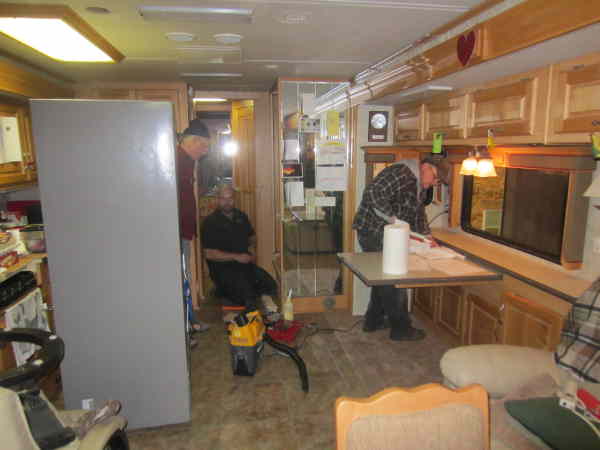 The new Samsung sitting in the coach. They take the old frig out and bring the new one in thru the window by the drivers seat.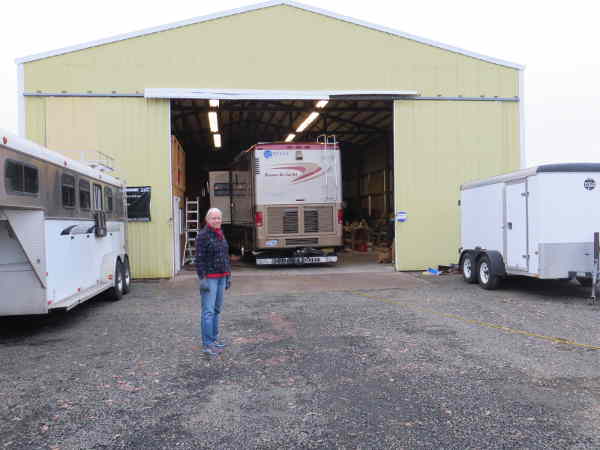 We didn't stay during the day and watch all the work, though we could have if we wanted to. These guys are really good and the amazing thing is they do no advertising, all their business comes by word of mouth from satisfied customers telling others about them. The smile on Linda's face tells just how satisfied we are with their work.
The refrigerator will be finished tomorrow, but there are still a couple of other things we are having done, it will likely be late Wednesday or Thursday before they are finished. I laugh at Linda saying they are like an army of giant ants working on the coach and it will probably be done before we think it will. That makes for a happy Linda which makes for a happy Bob. Life is so good.
---
Tuesday December 17 Harrisburg, OR
A Great Day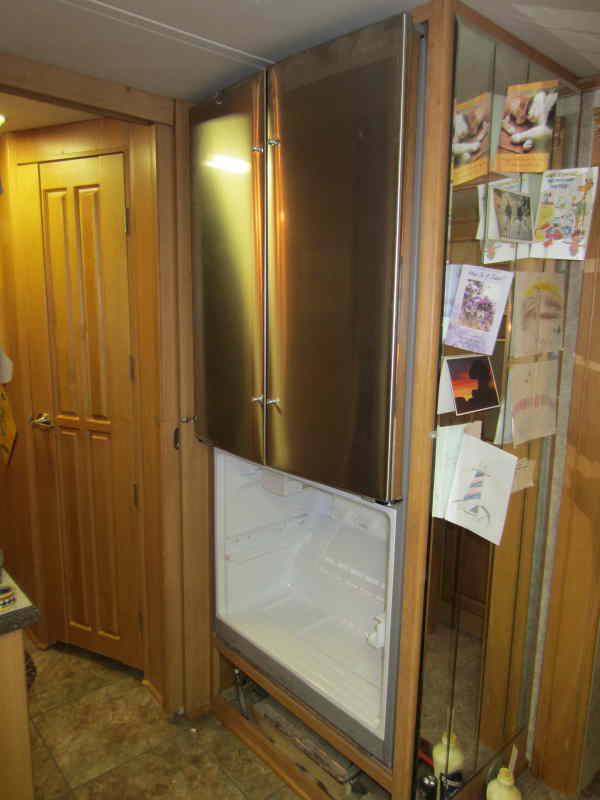 Almost installed. The new refrigerator is the same one many people install, a Samsung RF197. You can get them with ice and water in the door but ours is just the basic one in stainless steel. They also have them in black, but since our Notcold was stainless that is what the new one is.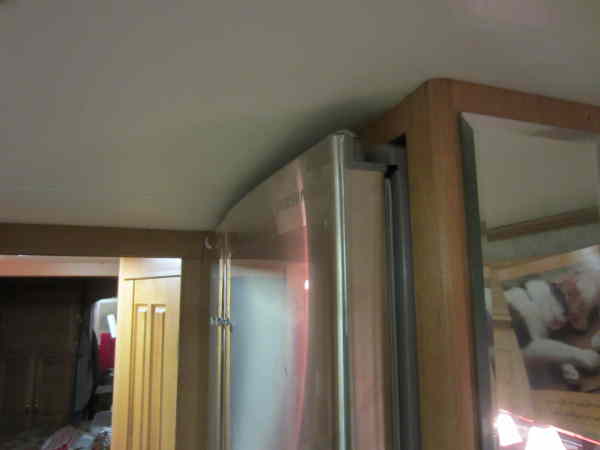 They place a rubber seal around the edge of the opening between the wood frame and the frig. The frig is going to move ever so slightly as the coach goes down the road, so the black seal dampens the movement and provides a nice finish to the edge. They will install a wood trim piece if you want but since we have heard the rubbing of the frig and the trim can cause a squeaking noise at times, and this method looks so nice, we didn't have the edges trimmed. In this photo the frig is slightly out of the opening which makes installing the gasket easier.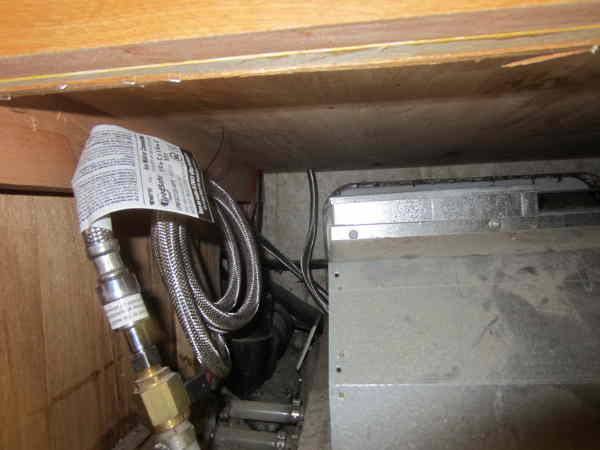 We also opted to have them install a check valve and braided stainless steel hose to the ice maker. After having the water line to the Notcold rupture several times over the years, this is one of those pound of prevention things.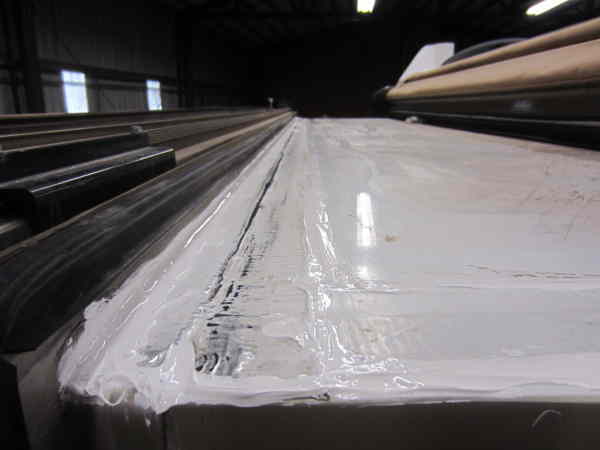 Another thing we had done was to seal the top of all three slideout boxes. This will prevent a reoccurrence of the problem we had with the floor of the slide. In fact we had them completely go over the exterior and seal anywhere that needed sealing.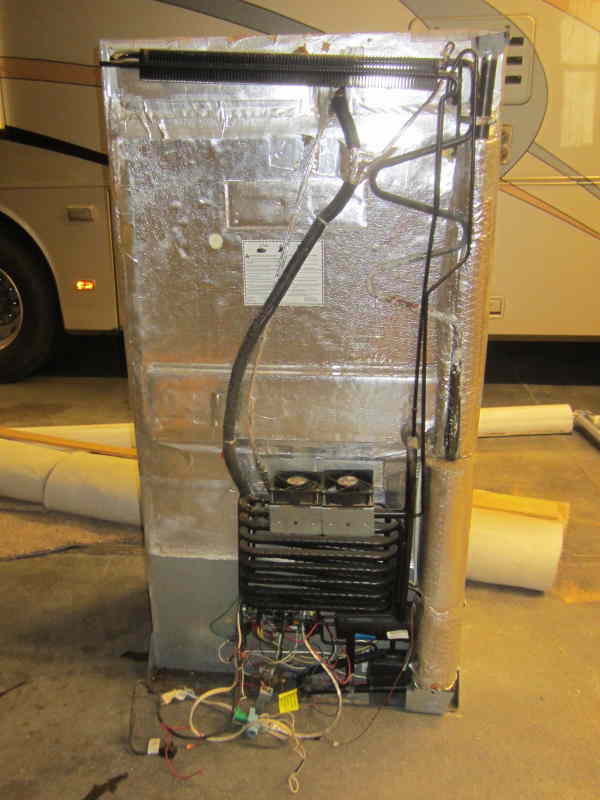 The Notcold ready to go to the junk pile. There will be another one joining it in a couple of days as they have another Samsung install scheduled for Thursday.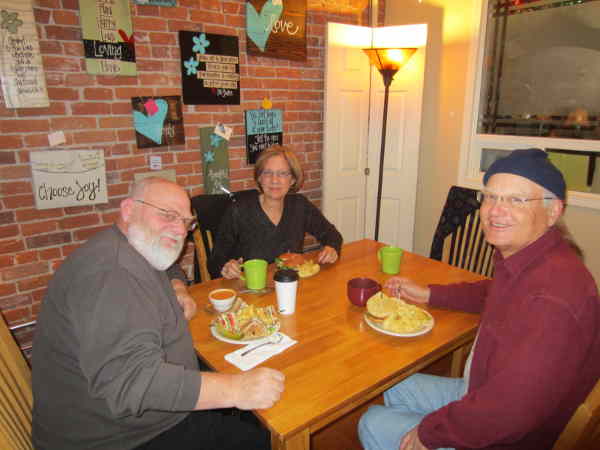 A change of pace, sharing a meal with our friends John and Judy. We spent the afternoon and evening planning the month we will spending with them in Europe which is next September. It will be great traveling in Germany and France with them.
I will leave you with a quote from author Denis Waitley: "Learn from the past, set vivid, detailed goals for the future, and live in the only moment of time over which you have any control: now."
---
Wednesday December 18 Harrisburg, OR
A Cold Day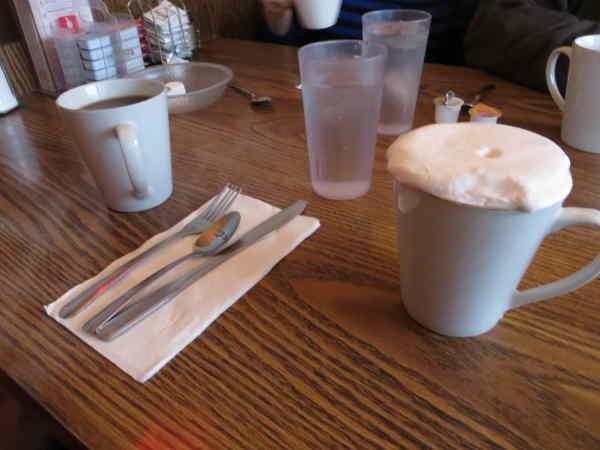 What can I say, I like hot chocolate. Makes me the perfect partner for Linda as she likes almost every other kind of chocolate.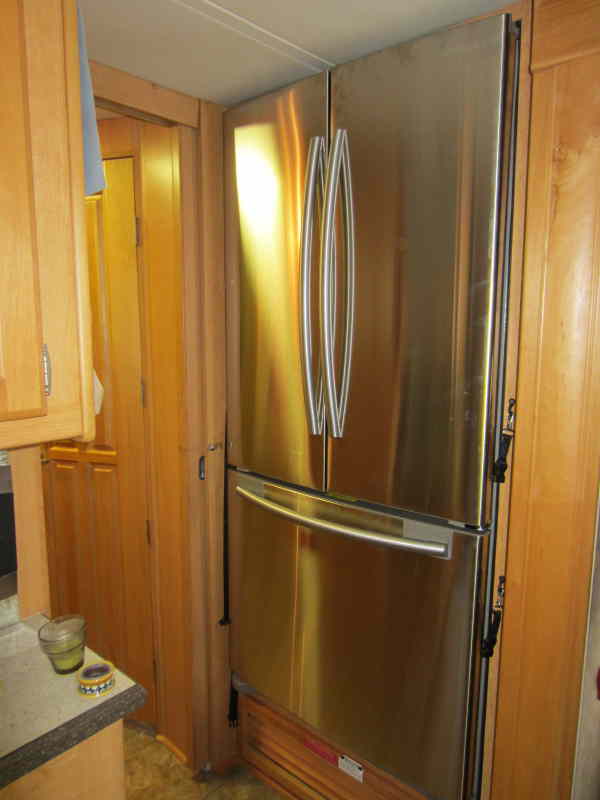 Looks nice, works nice. We picked the coach up just before noon and they said we could stay overnight while plugged in beside their shop if we wanted. They like you after they finish just in case there is anything that needs further adjusting. We decided to go over to the RV park so we would have full hookups as Linda wanted to do a couple of loads of wash.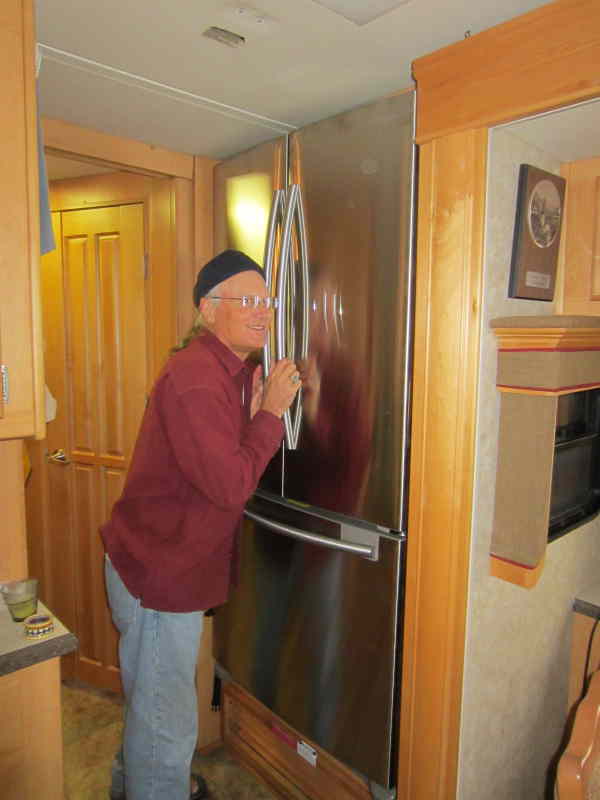 That is one very genuine smile on my part. The ice maker has a different sound, the lights are bright white led's, none of the food is in the same place it used to be, the freezer is a bottomless pit, why shouldn't I be smiling. It just works. Life is very good.
---
Thursday December 19 Harrisburg, OR
A Very Cold Day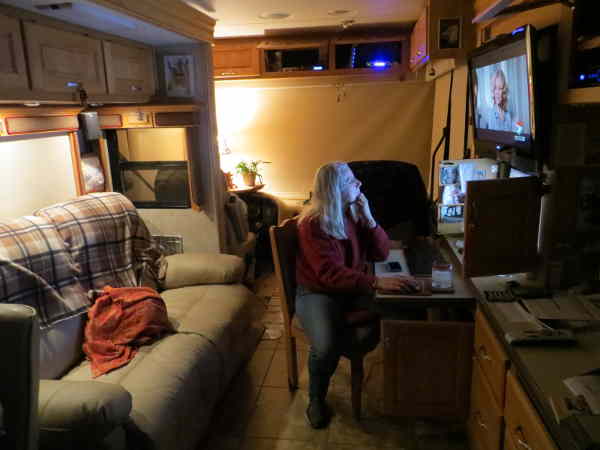 A day when very little took place. The weather was such that we decided not to travel today, there was black ice on the roads this morning, and it never got more than several degrees above freezing. Making it easier to keep the coach warm, we once again kept the driver side slide in. I laugh at Linda because it makes it easier for her to go between the love seat and her chair. Truly, if you look there is good in everything. And Linda is certainly a looker, and more ways than one. Lucky Bob.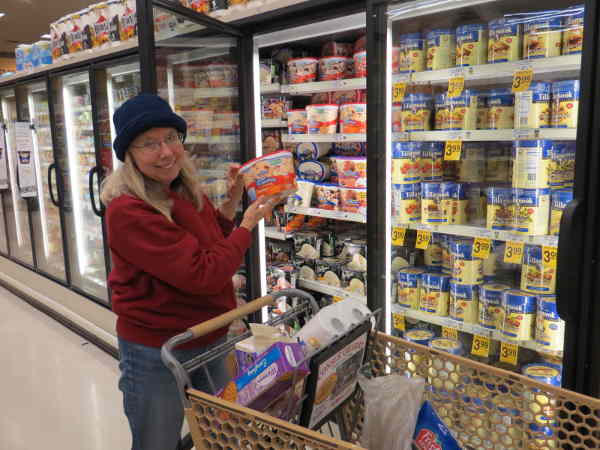 We did make one trip out, and that was to the grocery store. It has been a very long time, but Linda hadn't forgotten what we had in the evening for dessert. It took quite a while for her to pick out the flavor she wanted but as you can tell, she was very happy with her choice.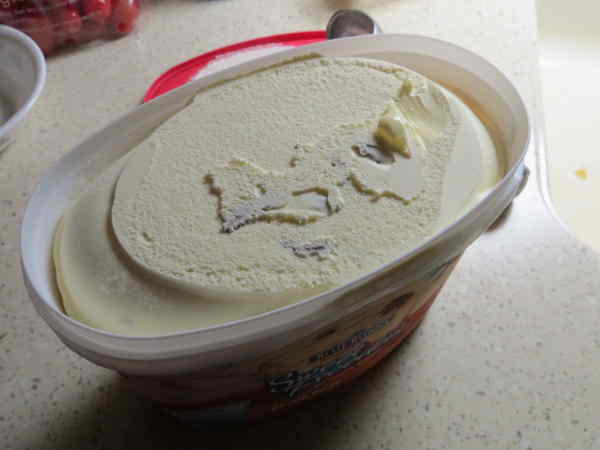 When evening came around a discovery was made. Always with the Notcold the ice cream was soft. The photo shows Linda's first attempt with the ice cream scoop. We knew the new refrigerator was a "real" refrigerator, and this proves it. We struggled with the Notcold for a long time, with Linda always believing I could could work some magic when it would mysteriously stop working. We were always happy when we did manage to get it working again, but there was always an emotional toll.
In hindsight I think this quote from author Theodore Isaac Rubin is appropriate: "Happiness does not come from doing easy work but from the afterglow of satisfaction that comes after the achievement of a difficult task that demanded our best."
---
Friday December 20 Harrisburg, OR
Another Cold Day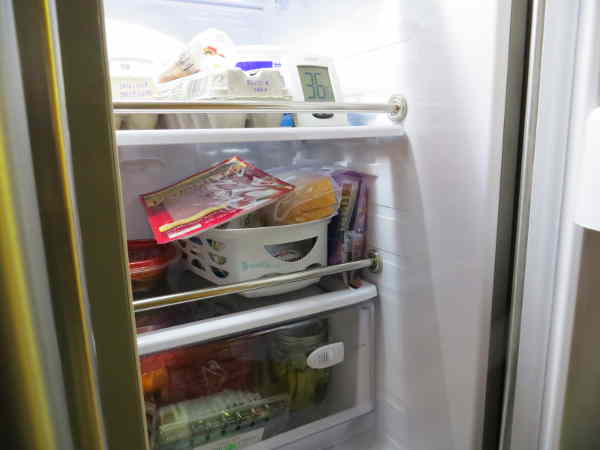 We had decided to postpone out drive to California until Saturday when the temperatures were forecast to be much warmer. It was another cold day in Harrisburg, but as the day progressed it began raining and shortly after the temperatures began to rise. It looks like it will be a good day to travel tomorrow.
We did go on one outing, shopping at Trader Joe's, with a quick stop later at Walmart. The latter being to get three spring loaded curtain rods to place in front of the refrigerator shelves. We opted for the $10 ones rather than the $7 ones, and result was very nice looking. Because the Samsung RF197 is a residential refrigerator it doesn't have the front of the shelves turned up like the Notcold did. So to keep items from possibly rolling off the shelves when we travel, it is recommended these type of rods be installed. And that is what we did. Tomorrow we should be able to report just how well they work.
Not every day in the Life of a fulltimer is filled with wonderful happenings, but every day is wonderful day. Life is good.
---
---