Journal Archive 9/11 - 9/20 2013
Scroll down to read the latest post
Wednesday September 11 Albany, Oregon
A Travel Day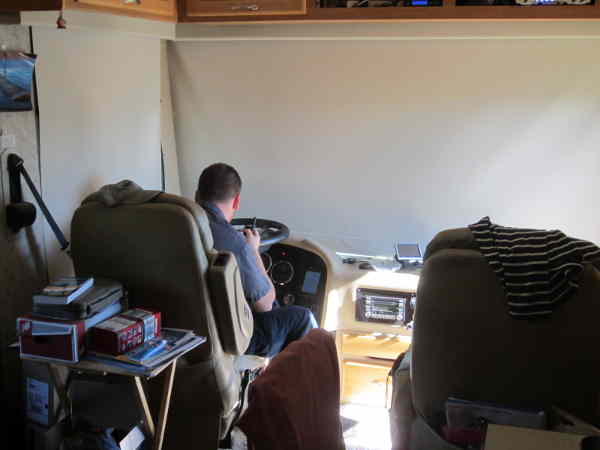 We finished up with the last of the repairs/upgrades at Brazel's today. They included wheel alignment, switching the front tires side to side, Koni shocks, air ride control valves, PRXB Pac Brake, reprogramming the engine chip and a replacement of the leaking exhaust manifold, the last under our extended warranty. Next it will be back to Junction City to have the new flooring and love seat installed, then the electronics upgrades done.
Exiting Brazel's lot Linda instantly noticed a huge improvement in the stability of the coach. There was no side to side rocking as we went over an uneven area at the entrance. She said, "Wow, it's amazing how great what we had done worked to improve the ride." The rocking and the porpoising have been one of her pet peeves for some time now.
At the same time I was thinking that just maybe the reason we were experiencing such a major improvement in handling was due to how much less the coach weighed, what with our wallets being so much lighter. Actually, what I was thinking was that it had been money well spent, though we need to drive for a while under varying conditions to see exactly how much improvement there has been.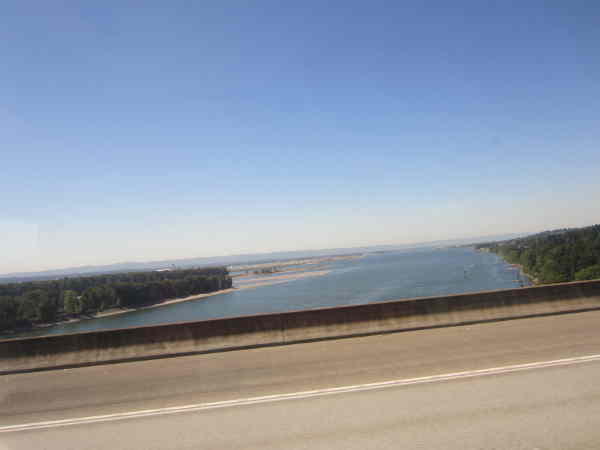 It really didn't take long during the drive down from Centralia to Albany to note a huge difference in how the coach was handling. Some of it may have been me telling myself that it was money well spent, but it really was much easier to drive. It took no effort on the wheel to keep it going straight, the bumps were absorbed with no motion other than the initial movement, if there was any.
Linda, the woman who can get seasick at the sight of the boat, felt no side rocking whatsoever. The new PacBrake, which is supposed to work much better at lower rpm's didn't get much of a workout since there were so few hills, but its day is coming. I was hoping the winds would be kicking up when we crossed the 205 Columbia River bridge, but no such luck, either that, or we didn't notice the wind if there was one. I did note that as we drove along there was no longer a big push when a truck or big rv passed us. Again, it wasn't any real test of what we had done, but what we were experiencing sure was looking good.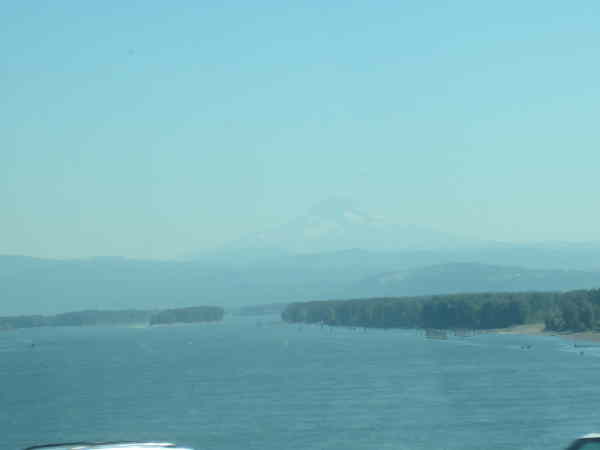 Linda tried so hard to take a photo of Mount Hood that I just had to include one. What it shows is what we were seeing, which wasn't much. That gets me to the point of admitting I have been lax in my writing, something I will work to correct. The problem was that I found it really hard to write about my 50th high school reunion, and so just kind of went off and hid rather than write anything. In my case it just brought up a lot of memories and emotions that were difficult to deal with.
As Charles R. Swindoll so aptly put it: "We cannot change our past. We can not change the fact that people act in a certain way. We can not change the inevitable. The only thing we can do is play on the one string we have, and that is our attitude."
---
Thursday September 12 Albany, Oregon
A Lazy Day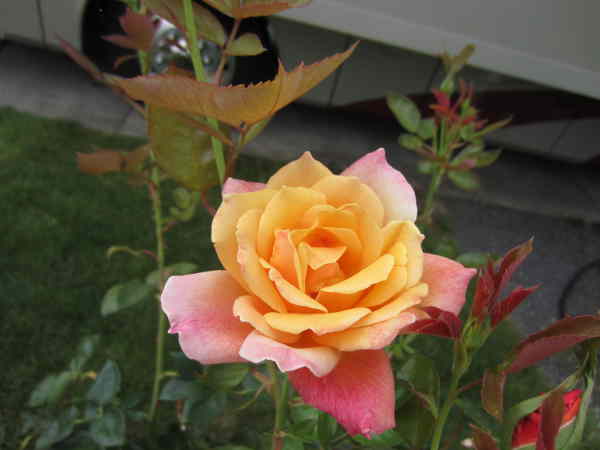 Another of those, I never know what I will find when I download Linda's photo's, moments. I remembered seeing a rose bush on our RV site, but it wasn't blooming when I saw it. As I type this I can see out the window that it is indeed blooming, with several more buds about ready to open up. Something tells me there are likely to be rose photos in the next few days.
We are presently at the Blue Ox RV park in Albany, just hanging out for a few days before we drive the short distance to Junction City on Sunday so we will be ready for the interior remodel that starts on Monday morning. We had hoped to be able to pick more blackberries while here, but the berries on the bushes we picked from before are either dry and hard or moldy. So glad we picked berries the last time we were here.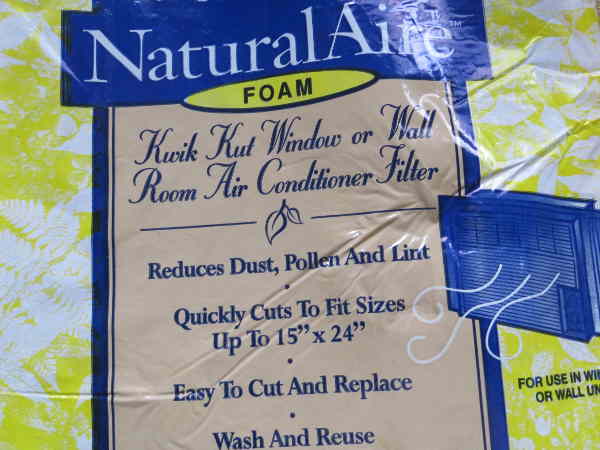 A lazy day doesn't mean a nothing day. I did do at least on one thing, which was to change out the foam filter pad in the front air conditioner. We, especially Linda, like to have the coach windows open as much as possible. Open windows mean dust. Dust means a dirty filter. Linda washes them out on a regular basis, but there comes a time when it is decreed that a replacement is in order. Today the decree came down. The last thing on earth I would ever do (literally), would be to suggest she dust on a daily basis. Extremely smart Bob.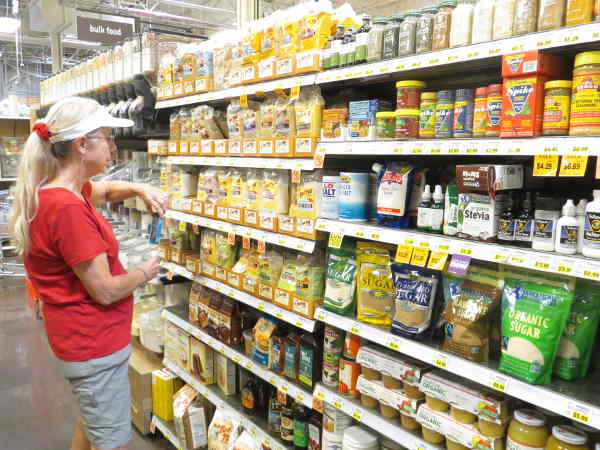 Another of those, it's what makes Linda, Linda, photos. One of our granddaughters has major food allergies. Linda is always on the lookout for things she can eat. Today while we were at one of the three grocery stores we shopped at, Linda spied quinoa flour. We had stopped at this store to buy some fresh ground almond butter. I'll just say we bought more than only almond butter and leave it at that. Bob, who'd rather be out in the fresh air than in the doghouse.
About the missing days from the Daily Journal. One part of me says to just go on from here. The other part says to go back and write brief posts, I've written something for everyday this year so far, so keep the string going. I shall see, I shall see. Maybe I should take to heart what the noted inspirational writer William Arthur Ward wrote: "Adversity causes some men to break; others to break records."
---
Friday September 13 Albany, Oregon
A Crazy Day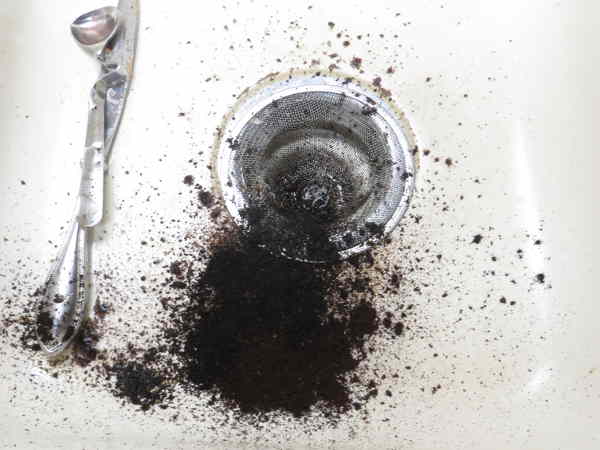 Some mornings a person can get up and be compelled to do something. Since I was wide awake at 3:55 this morning, I did something, not because I was compelled to do something, but because when you get up that early there are a lot of hours in front of you. I've been making coffee for Linda every morning for the past week, and every time I grind the coffee, I look at the grinder and think I really should give it a good cleaning.
The grinder is a Capresso 560, one that uses steel burrs rather than those worthless whirling blades to grind the coffee. To look at it, it looked clean. But taking it apart, which means removing the top and then taking the removable burr out, revealed something else. That is one rather large pile of coffee grounds, and what intrigued me the most was some of the grounds were lighter brown, some dark brown and others almost black. Don't know if that was because Linda buys different types of coffee or if the coffee changes color with time. Doesn't really matter because when I was finished, the grinder was most definitely clean.
Normally that would be the end of the story, but as you might guess, it wasn't. To remove the top you have to rotate it counter-clockwise till it unlocks then lift it off. Putting the grinder back together means doing the opposite. That was when I discovered I may have made a very major mistake. You see, you rotate the top to set the fineness or coarseness of the grind. Unfortunately I had not looked to see what the setting was before I took the top off. I need write no more about what will be happening to me if Linda doesn't remember what the setting was. Bob, who's on pins and needles.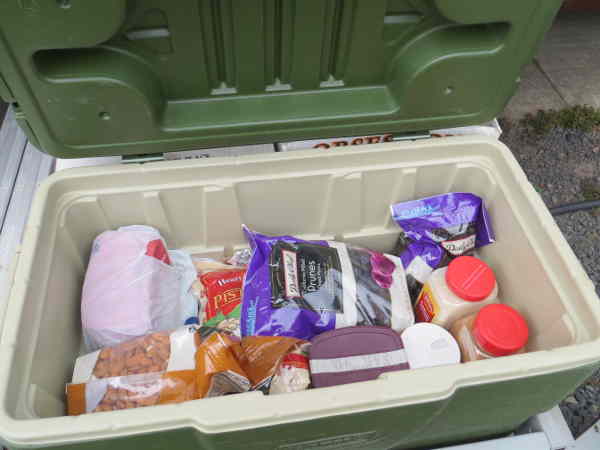 Just to prove to Linda that not all I do is the work of an idiot, remember the genius I displayed when suggesting we use this cooler as a bug free storage chest. I do have my good points, even if they are few and far between. Optimistic Bob.
Just so you readers know, Linda decided she wouldn't make coffee today, which is somewhat akin to the condemned man's last minute reprieve, only if it is temporary.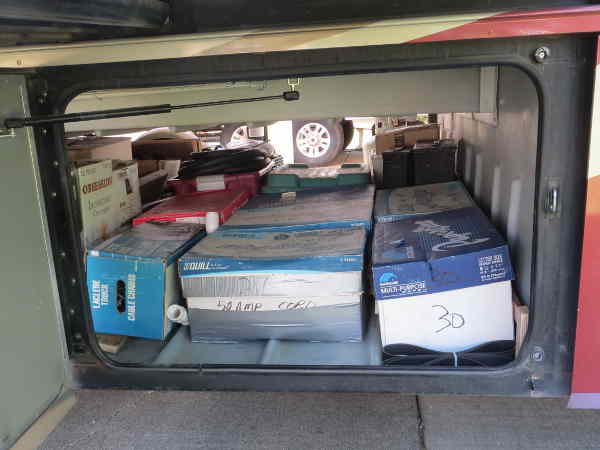 Much of the day revolved around this. This being the bays under the coach. We have to have everything out of the upstairs when they do the remodel, so it was time to make room for it. We got the storage drawer under the couch emptied out, much of what was in the drawer being books that fit in a box. Then there were all the items that we normally keep on the floor such as the Wii Balance Board and the heater. That doesn't begin to list all there was, and by the time we were done the area under the coach was nearly full.
We still have everything under the bed as well as the bedding to remove, which we will do after we arrive in Junction City on Sunday. We are going to be staying in a motel room while the remodel is being done. As far as Red goes, we haven't decided what we are going to do, whether to take him with us or leave him in the coach. We will be at the coach every day so keeping an eye on him and feeding him wouldn't be the problem, plus he was fine the eight days we were gone late last month. We shall see, but which ever it is, he'll be just fine.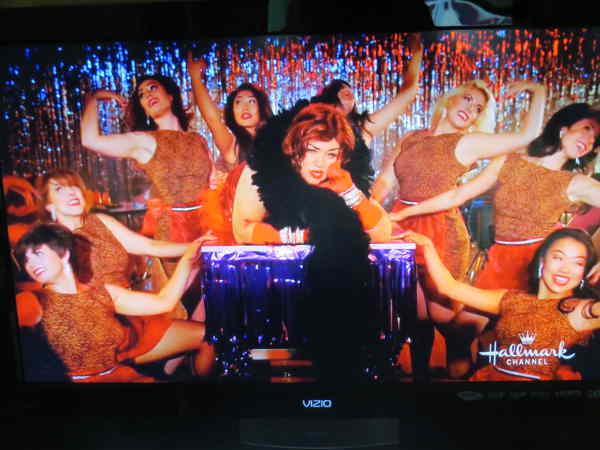 "Dear Dumb Diary". Linda didn't see the point in watching this movie which was something she certainly voiced. As for me, so what if it is aimed at junior high aged kids, I was once one myself. Sometimes we can be too serious at how we look at things. Besides my back was aching after all the bending and lifting I had done and I needed something to take my my mind off it, and watching this movie accomplished that. Bob, who still has some kid in him.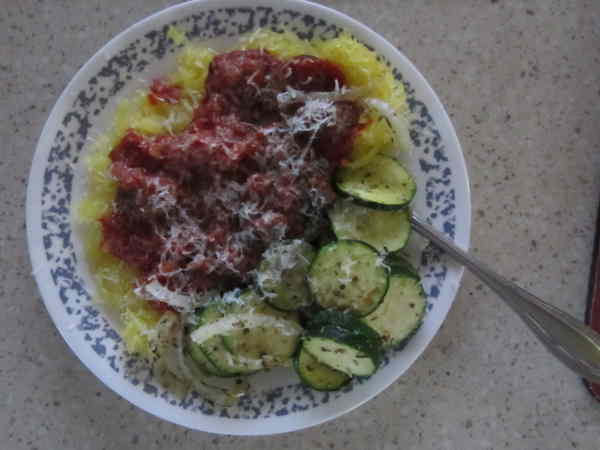 Dinner, spaghetti squash, mushroom marinara sauce and zucchini. What can I say other than it was a great way to end the day.
---
Saturday September 14 Albany, Oregon
A Fun Day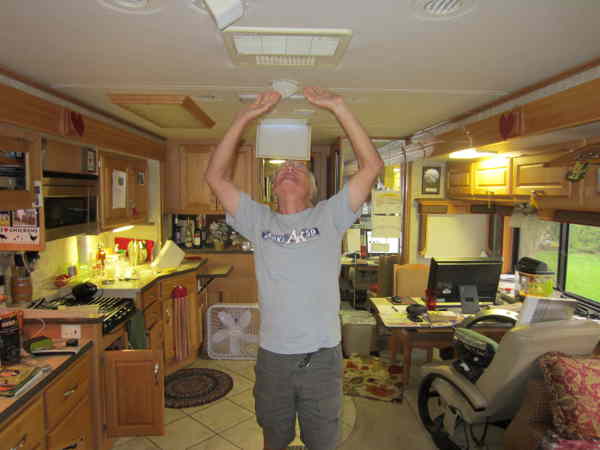 There were some problems with the Daily Journal posting correctly yesterday, which means, Bad Bob - just as Sarah wrote on Linda's Facebook page. Not to make excuses, but I did have an excuse, which is what the above photo proves.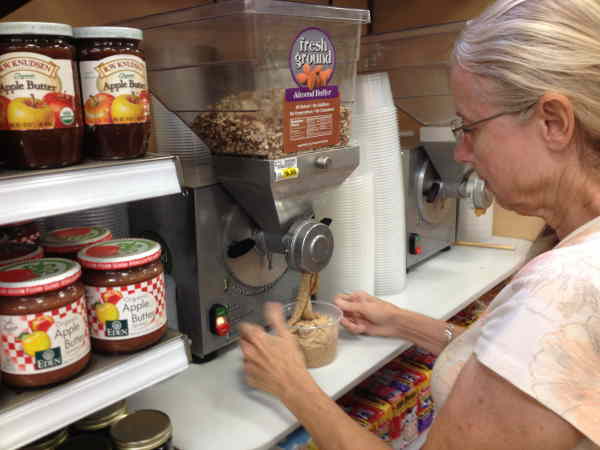 Linda never fails to amaze me. For someone her age she sure can do an awesome bump and grind. She loves that scene in True Lies with Jamie Lee Curtis, but after watching Linda, I think Linda is every bit as good. How she can tell when the container is absolutely full, shut off the grinder, then bump the container to have the almond butter be level just below where the lid fits is awesome. As far as the other type bump and grind, well I'll just have to watch reruns of the movie.
Oh, I forgot to explain that first photo. It was me trying to get warm under the heat pump. That was my excuse for the mistake in posting, my brain was too cold to think correctly. Linda had another description of what I was doing, but I'll just let sleeping dogs lie so I don't end up in the doghouse with them. Smart Bob.
Along that line there is this quote from Henny Youngman: "Do you know what it means to come home at night to a woman who'll give you a little love, a little affection, a little tenderness? It means you're in the wrong house, that's what it means."
---
Sunday September 15 Junction City, Oregon
A Travel Day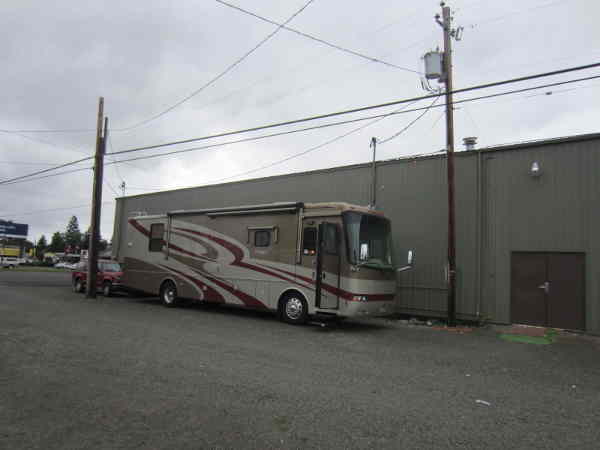 Where we will be for the next week as the remodel takes place. There is a 50 amp hookup, the spot is level, the motel we will be staying at is just up the street and Linda is very excited about getting her new floor. Interesting. I cook for her, compliment her and she waxes poetic over a floor that isn't even installed. Bob, who can only shake his head and sigh.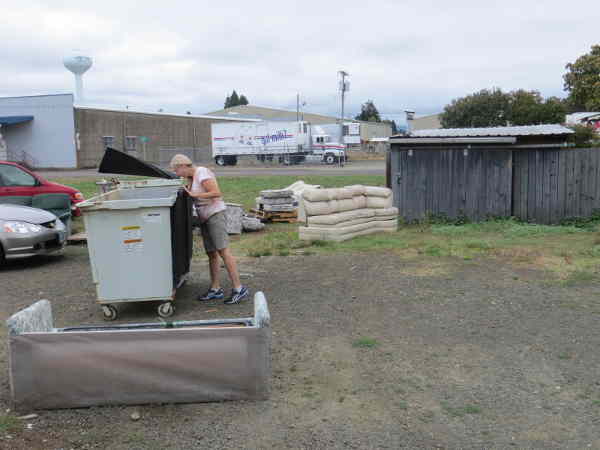 As I've said many times, Linda never fails to amaze me. No sooner do we get set up than I start to move things from inside the coach down to the bays. So what does Linda do? Some women would be telling their husband what to put down below. Others might be watching something on TV while their husband worked. There may even be a few that would help carry things out. Not here. My wife is over checking out the dumpsters. Am I blessed or what?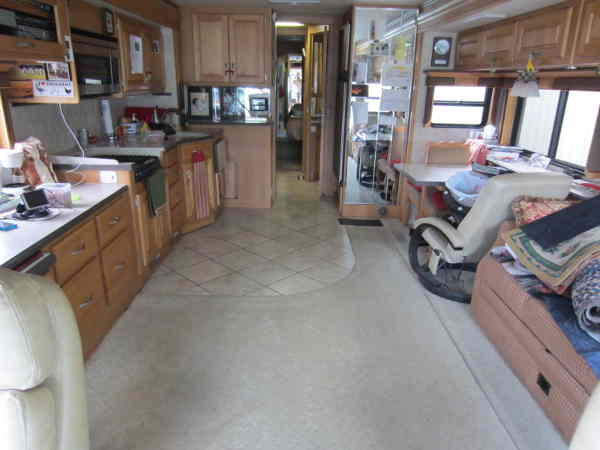 It should look different next week, and we will post photos of the progress throughout the week. On a side note, the water pump has stopped working, or I should say, the water pump is still working because I jumped it and it works fine. However it seems the voltage going to the pump has dropped to the point where it no longer comes on. I see some cleaning of electric contacts in my future. Like they say, if your RV is in perfect condition you aren't using it.
---
Monday September 16 Junction City, Oregon
First Remodel Day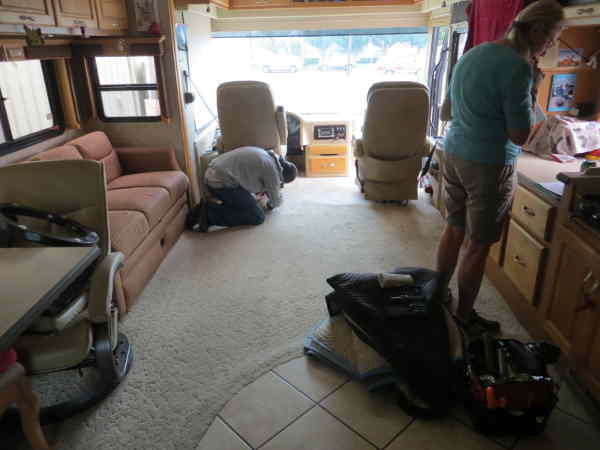 Just after 9 o'clock this morning Ryan got started on taking things apart in the coach. Ryan explained that first the captain's chairs were removed so the sofa could be taken out of the coach. Then the carpet was taken off the road side slide and the captain's chairs and anything use loose was placed on the slide.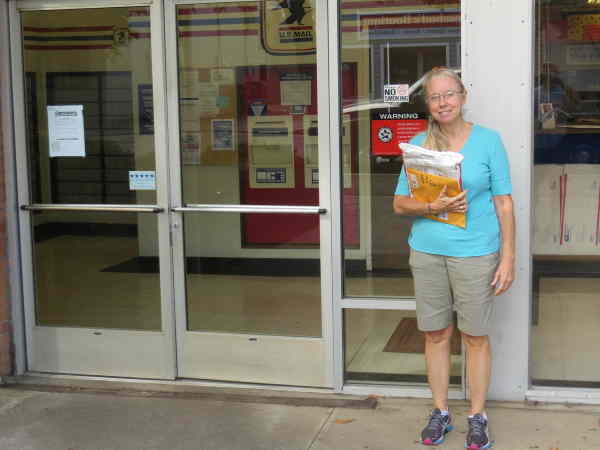 While that was going on we did some shopping, or I should say we did some looking as we didn't buy anything. Our last stop made Linda a happy girl since it was to pick up the mail we had forwarded to the post office here. For her it was another of those, I wasn't allowed to do this as a little girl, but today I do, moments. Happy Linda.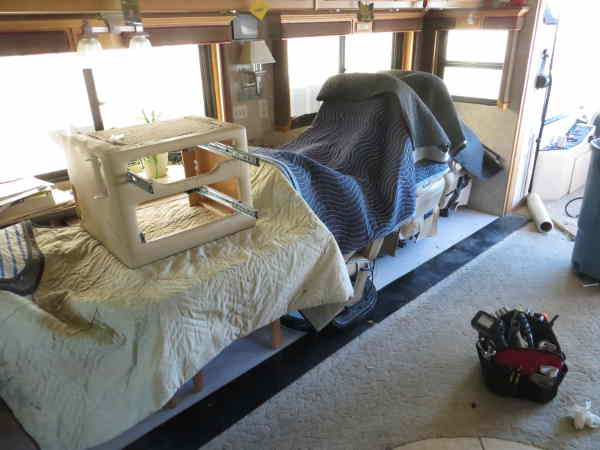 Returning to the coach to see how it was going we saw the pile Ryan had told us about. On top is the center dash console. It all has to come out to put the new tile in.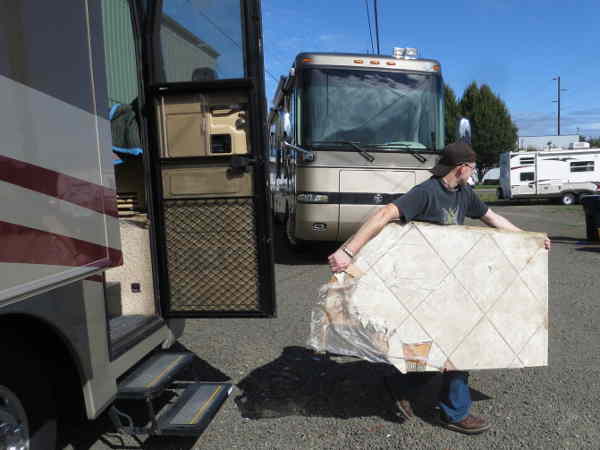 Ryan was pleased the old tile in the front entrance all came out in one piece.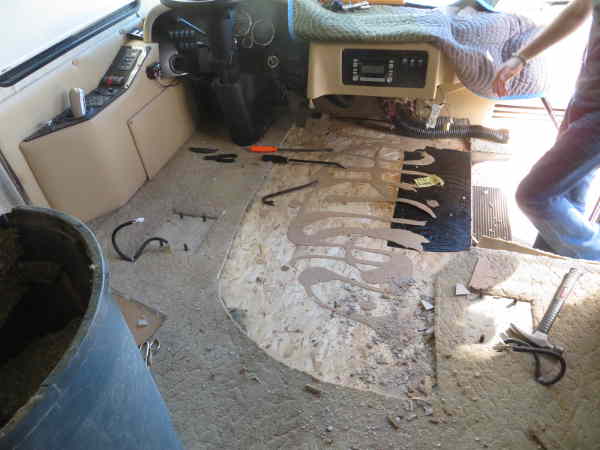 It isn't pretty now, but is going to be when it is done.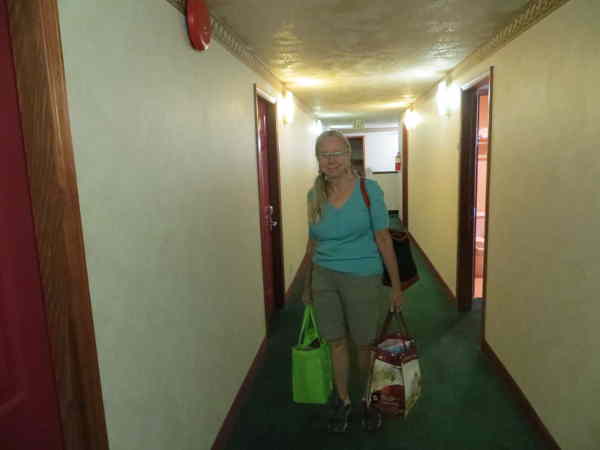 Moving into our home away from home for four days. We really had a good laugh because we have with us four times as much "stuff' as we take when we go the Europe for three months. It took three trips to the Explorer just to carry it all up to our room. So much for traveling light, even if we are only a block and a half from the coach.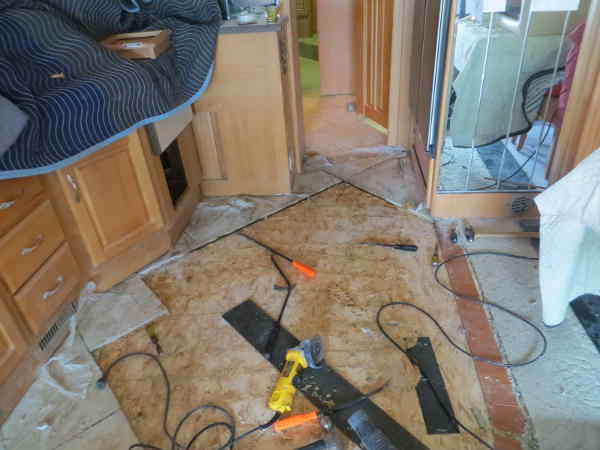 More tile coming out. This wasn't nearly as easy to remove as that first section by the entrance. As Ryan said, "What kind of tile did they put in here? I hit it with my hammer and it just bounces off, it's like a half inch thick."
Later we spent time with our neighbors, Jeff and Val. So what if we are fulltimers who call East Texas home, they are from Manitoba, Canada, but we are next door neighbors in the Rio Grande Valley at Retama. When you get a chance to get together you do. Of course we were so happy to see them, and spent so much time talking that I forgot to take any photo's. That's okay because it was the visit not the photos that were important. It's one of those things that makes the fulltime Life so special.
---
Tuesday September 17 Junction City, Oregon
A Rainy Day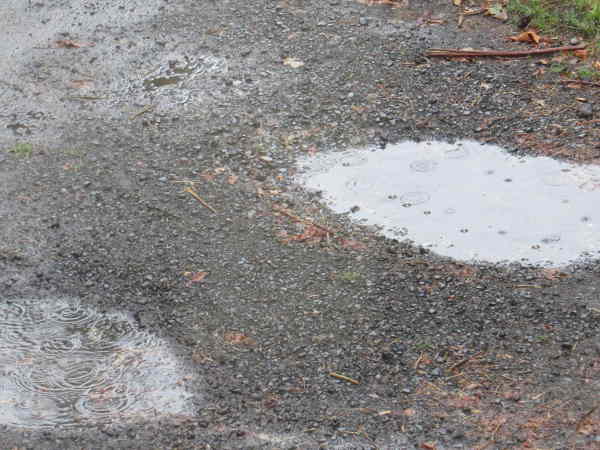 When Linda checked the weather report this morning it predicted rain, which is what it did, and for most of the morning. It wasn't like we had anything we needed to do planned, so we just stayed in the motel room and let it rain. Like that old song, you got to know when to hold and when to fold. Or as in this case, you got to know when to complain and when to remain.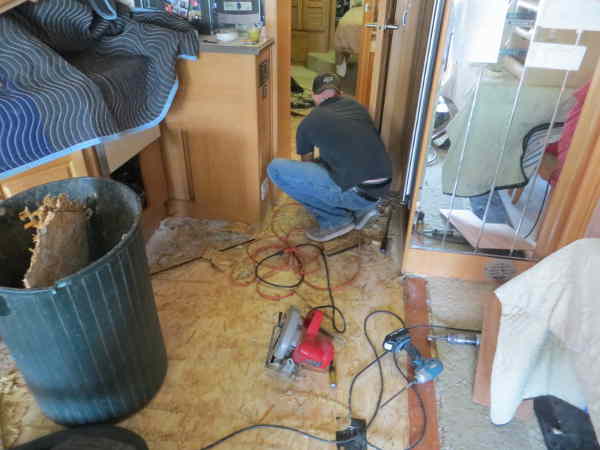 When the rain stopped we walked over to check on the coach. The tiled area is coming out very slowly, Ryan commenting it was the most difficult floor to remove he had ever encountered.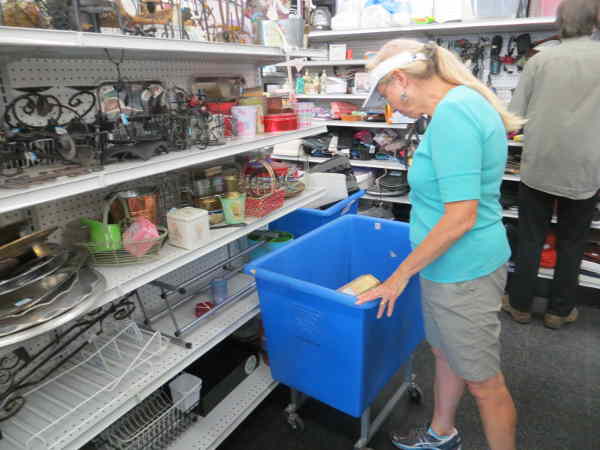 "Linda, what are you doing?" But to my everlasting relief I learned she was not using the blue bin as her shopping basket at the nearby Goodwill Store.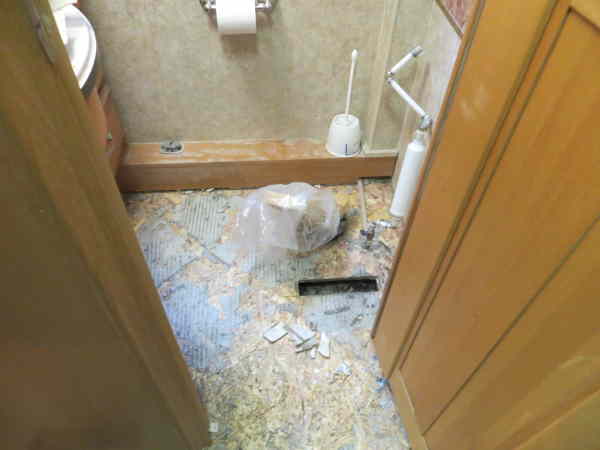 Checking in the late afternoon, all the tile was out, with the old subflooring yet to be removed in the bathroom and hall. The plan is put down the new subfloor in the front area tomorrow while the hall and bathroom will have the last of the subfloor and carpet removed. It has us wondering if it is all going to be completed by Friday evening. No problem if it isn't as we have no where we have to be.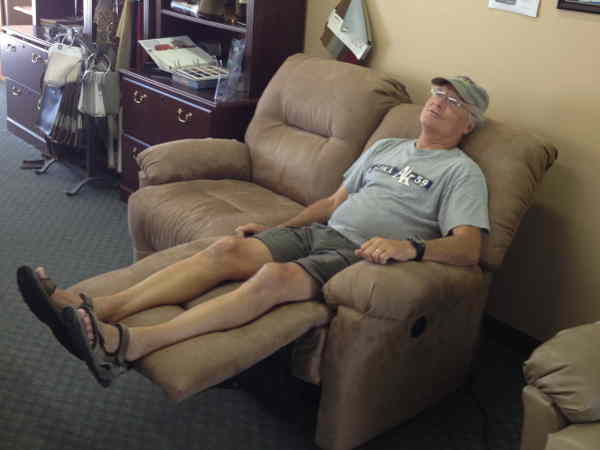 Dreaming of the future and trying out a love seat very similar to one we are having installed. Life is Good.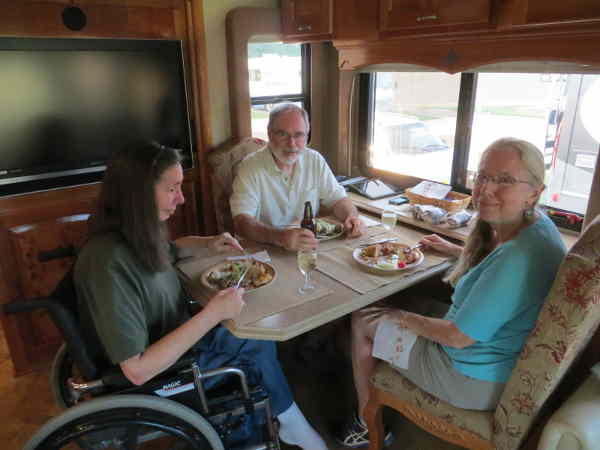 See, I did remember to take a picture of tonight's dinner. Good Bob.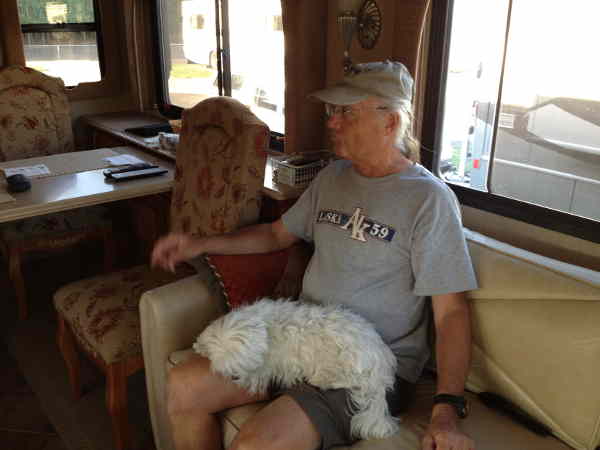 It's Linda who usually gets this attention. Tonight it was my turn. Wonder if Maggie was just feeling sorry for me because I have to spend so much time in the doghouse?
---
Wednesday September 18 Junction City, Oregon
Another Rainy Day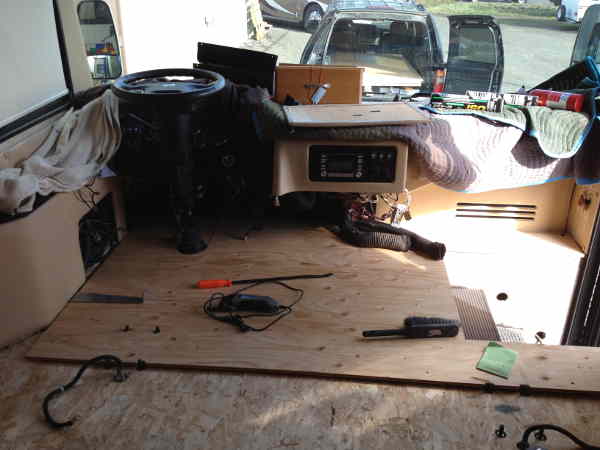 Day three of the remodel, looking at the front of the coach. The new subfloor is going in and it is 1/2" plywood rather than the 1/4" they normally install. The result will be a more stable surface, though with an increase in the cost, but the end result will be worth it.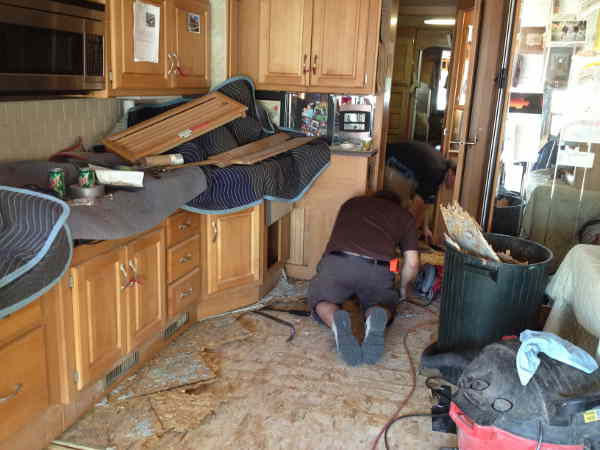 Steve, the owner of Countryside, removing the last of the subfloor in the kitchen area. We were told this was one of the most difficult demo's they have had, comparable to the difficultly they have with Country Coach's. That made us feel very good about the quality of our coach.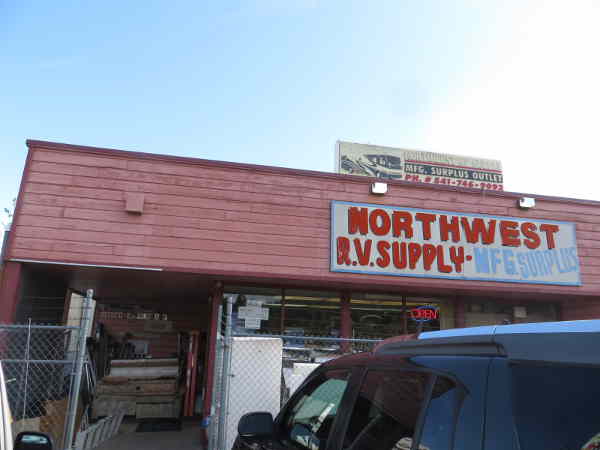 Today was an out and about day, the about being in the Eugene area. Among our stops was one to schedule an appoint to have the Michelin tires installed on the coach, and also to check out the best way to drive to the tire shop since it was near the downtown area of Eugene. Then it was off to our favorite RV store, Northwest Supply, mostly because they bought much of the parts inventory from the Monaco bankruptcy a few years ago. Every time we stop, their inventory is smaller, but boy do they ever have a lot of parts. As you can imagine, once again we made a contribution to their profitability for the year. My thinking is that maybe we don't need the parts I buy right now, but someday we will. For Linda's part, she is wondering if that day will ever come. Actually I think she hopes that day will never comes.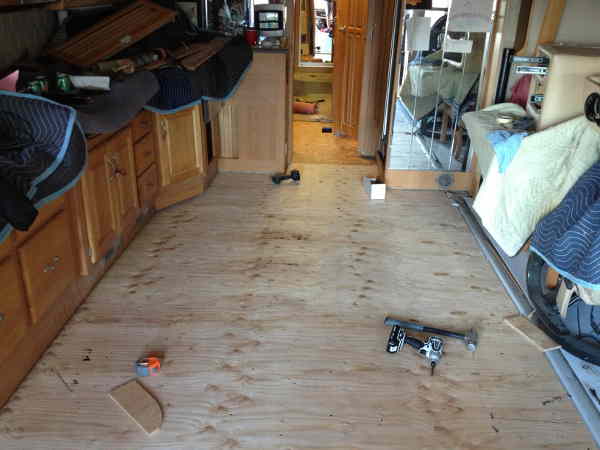 Checking back in the late afternoon, there had been a great deal of progress. The subfloor was down in the front section and the demo in the back areas was proceeding nicely.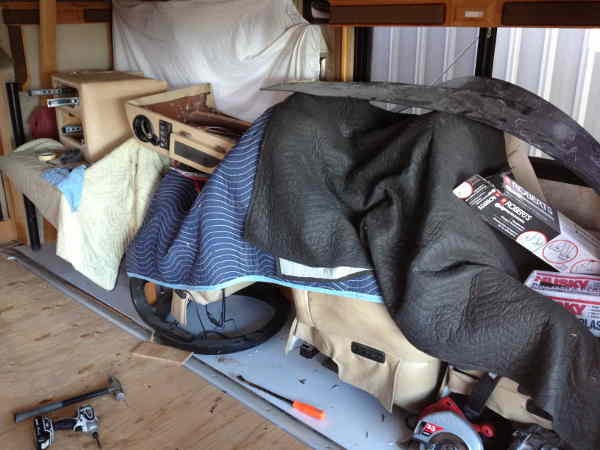 They cover everything with heavy blankets, but the dust and dirt still get on everything. Linda is telling me we are going to have a major cleaning job ahead when the remodel is done. I noted she put very strong emphasis on the word "we".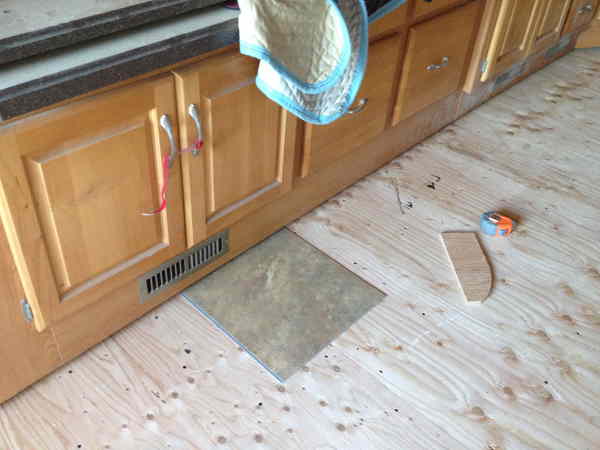 Hard to tell what it is going to look like based on a single tile, but Linda thinks it is going to be great.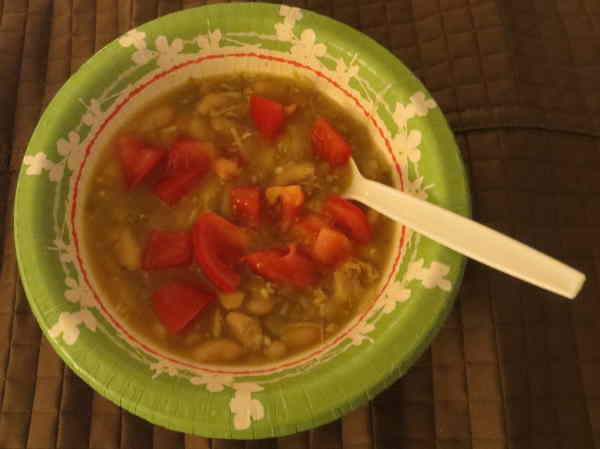 Dinner tonight. Green chicken chili heated in the motel room microwave. What can I say, you have to do what you have to do.
---
Thursday September 19 Junction City, Oregon
Touristy Day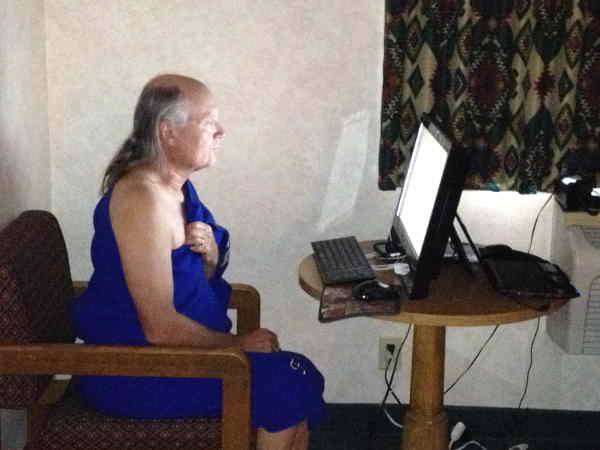 Day four of the remodel, and early morning found Linda looking at something that either badly needed a remodel, needed to be traded in for a new model. Maybe I should just say it defies description.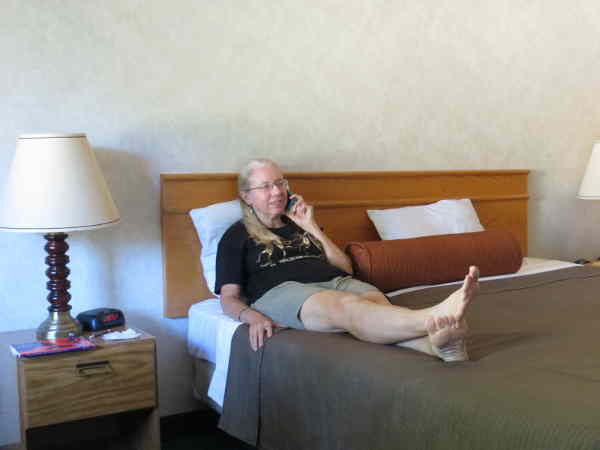 Linda has her own way of relaxing in the motel room.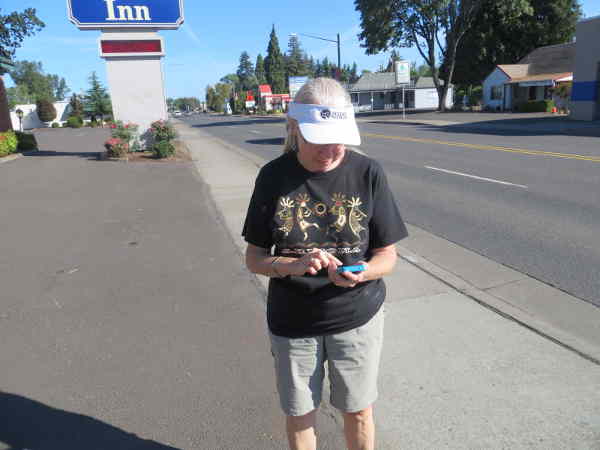 It has been a long time since I have posted a pre-walk photo of Linda starting her tracking program. We ended up walking through the residential streets behind the motel. We quickly learned that walking on the sunny side of the street was far more pleasant that suffering on the chilly shady side.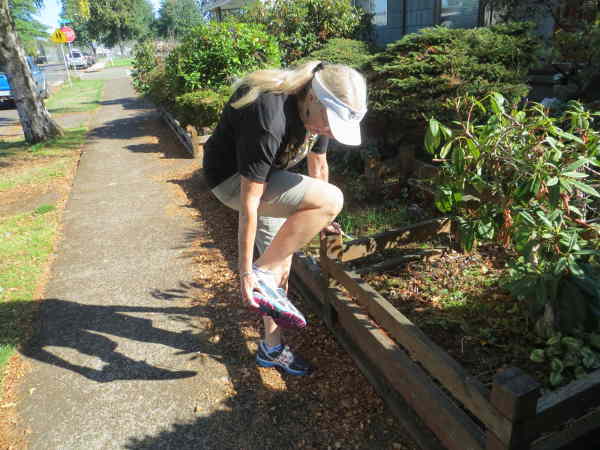 I don't see any rocks here. I do see leaves. No matter what type of debris can be found along our walk some of it will end up in "footie's" shoe.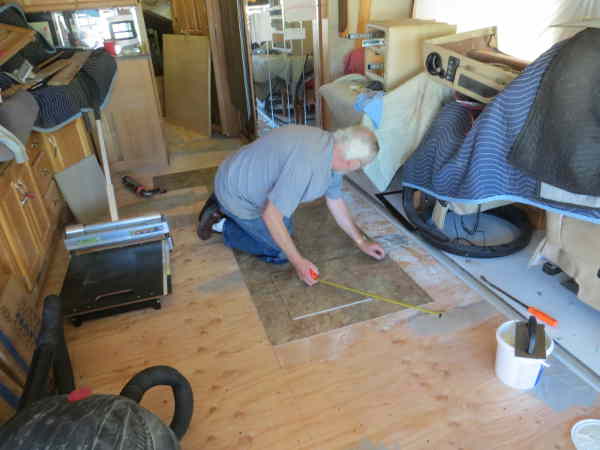 Today the tile started going in. Linda was very pleased with what she saw. Happy Linda. Happy Bob.
Linda was suffering from one of her headaches in the afternoon, so while she stayed in the motel room, I visited the two local history museums. By the time I was done with getting my fill of history from both museums I was so filled with facts I forgot to stop by the coach and take any photos. Linda made sure I knew she didn't appreciate that. I made it up to her by taking her out to eat. You have to do what you have to do, especially when a day begins like this one did. Which is probably why she got the headache in the first place. Poor Bob.
---
Friday September 20 Junction City, Oregon
Not the Last Day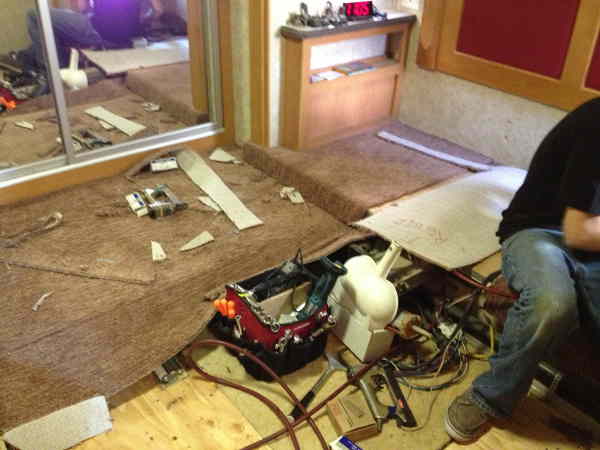 Day five of the remodel, and early morning found us checking out yesterday's progress. You know, the progress I forgot to check on last night. It was instantly apparent that unless a miracle happened the was no way they were going to be finished today. This was the first time Linda was able to see what the carpet would look like in place and she was very pleased. That is a good thing. She wasn't pleased on how slow it was going in. That was a bad thing. I mentioned how it was better to do it slow and do it right than do it fast and not have it look right. Linda was of the opinion they should do it fast and do it right. I decided there is no arguing with a woman who is that logical.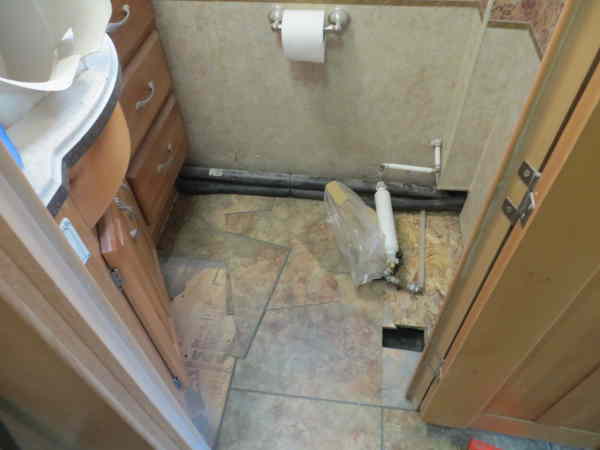 The bathroom floor tile was still missing a few pieces.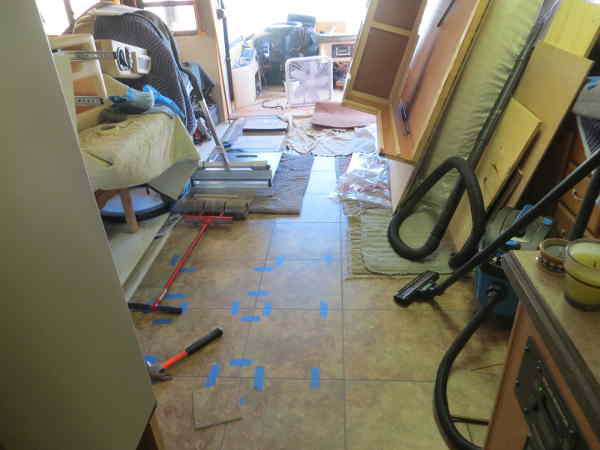 It looked like only the cockpit area of the front remained to have the tile installed, though it was hard to tell with so much on the floor.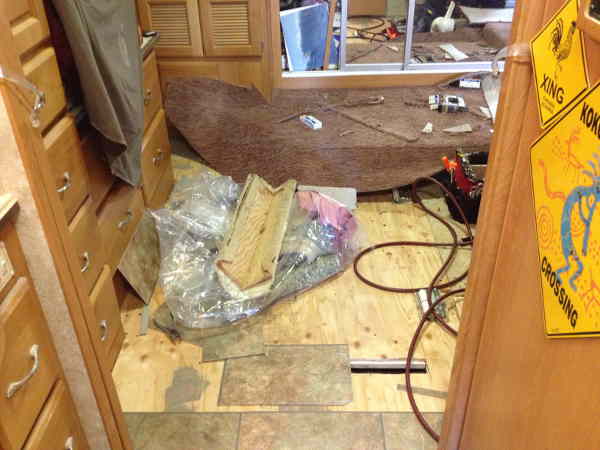 Another view of the bedroom floor. They were telling us the job would be done sometime on Tuesday.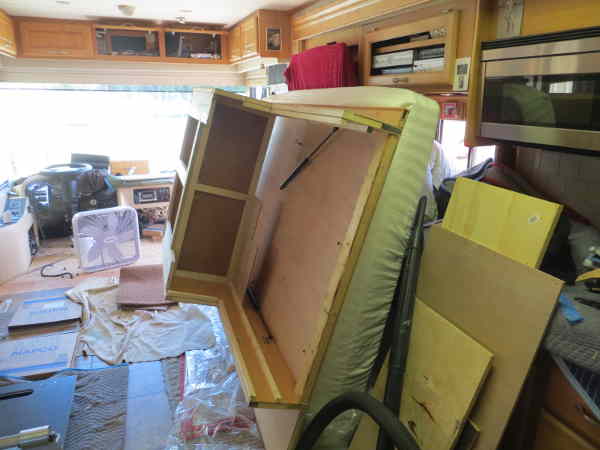 From the looks of the bedroom floor progress and the fact the bed was out in the living area, it was looking like we would be spending the weekend in the motel.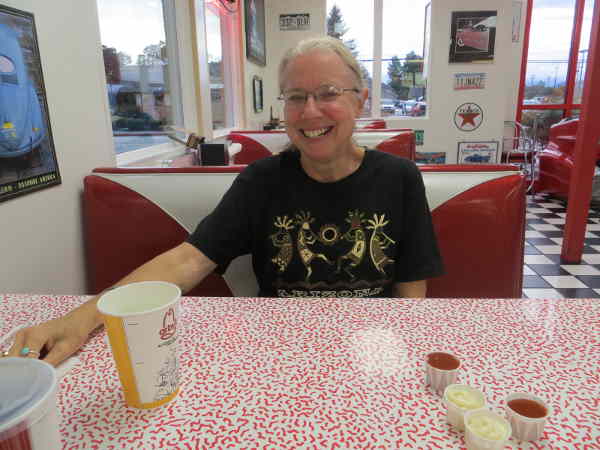 Going with the flow. Nothing like getting hit in the nose with the paper wrapper of your husbands straw to bring a loud laugh and big smile to a pretty girls face. We may have to stay in the motel over the weekend but we sure aren't to let it bother us.
---
---