Journal Archive 6/11 - 6/20 2012
Scroll down to read the latest post
Monday June 11 Concordia, Kansas
Travel Day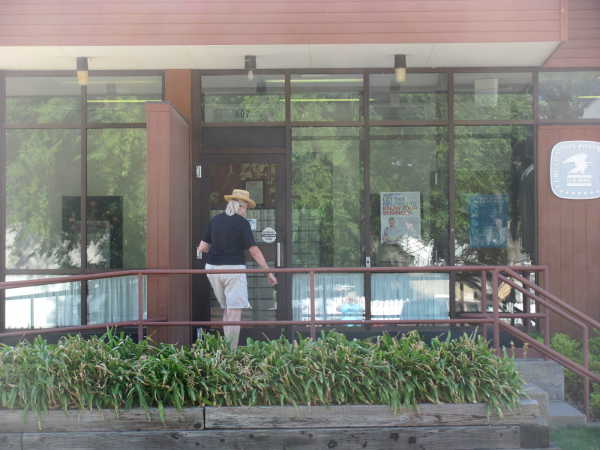 Linda had sold several more things on Ebay over the weekend, so she wanted to get them mailed before we left Ellis. Interestingly enough, when she walked up to the counter in the post office, the clerk asked her if she enjoyed her walk over from the campground. We're not sure how the clerk knew that, but it's exactly why we love staying in small towns.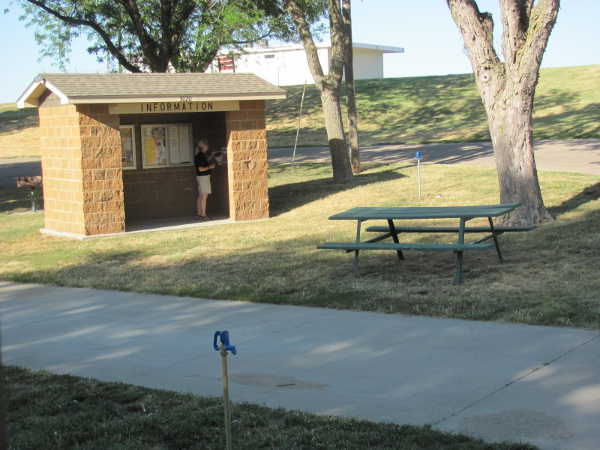 Some hours later we were in another small town in Kansas. We had selected a route that had us driving on roads we don't normally like to take, I-70 and a four lane state highway, but it really did make for an easier drive, especially with the wind blowing like it was. We have a number of things we want to see and do while we are in Concordia, so we are not sure whether we will be here for two or three nights. When we started out on our Kansas travels we were planning on only seeing the southern part of the state, but we keep reading about all these interesting places, so plans just keep changing. But we are not wandering up into Nebraska this trip, at least I think we are not.
We are at the city owned Airport Campground, which is just south of Concordia, and is another of the donation type RV and campgrounds that many cities in this part of the country seem to have. As I write, the birds are singing in the trees, Linda has deposited our donation, and Life is as good as it gets. The small towns of Michigan's Upper Peninsula last summer, the small towns of the midwest this summer. Thank you Sara N. Dippity, thank you so much. Since we really, really don't like to sit in one place for a long period of time, it's going to be interesting to see how spending three or four months at Retama goes this winter.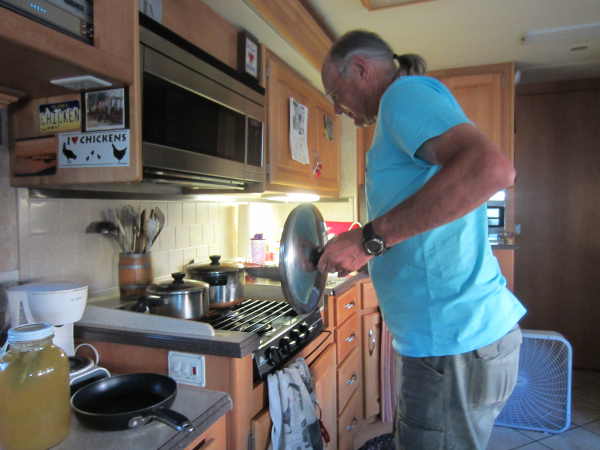 My attempt at flipping the shrimp in the skillet. Linda was laughing so hard at my non-flipping that it is a wonder she was able to take a photo. And it always looks so easy when they do it on the cooking shows. The good thing was the shrimp stayed in the skillet instead of ending up all over the stove. Plus Linda proclaimed they were really great tasting, so I at least succeeded in that regard.
Our day was not done yet, as later we drove over to a nearby cemetery to take a few photos of markers that people on the Find A Grave website had requested for the town cemetery. As always, things are never as easy or simple as planned, but we were able to find and photograph a couple of markers, and also confirm that there was no marker for another request. You know, some people retire and sit in front of the TV in the evenings. We go to cemeteries in towns we've never been in before, and try to track down the grave markers of the ancestors of people we don't know and will never meet. Life truly is what we make it.
---
Tuesday June 12 Concordia, Kansas
Seeing the sights of Concordia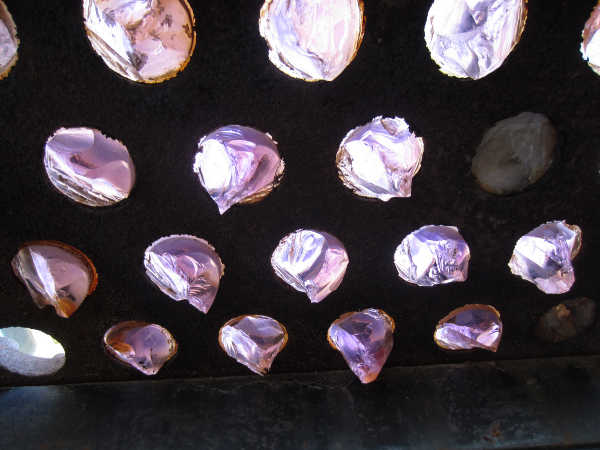 Concordia, Kansas,is not too far south of the Nebraska border. The heart of what the MSM call the flyover country. This is the real America, not the worthless pieces of S&%#t that inhabit the East and West Coast of what was once a great country. We spy a beautiful building, though now it is merely a shadow of what it once was. Glass pieces in the iron grates along the sidewalk. What beauty, what history.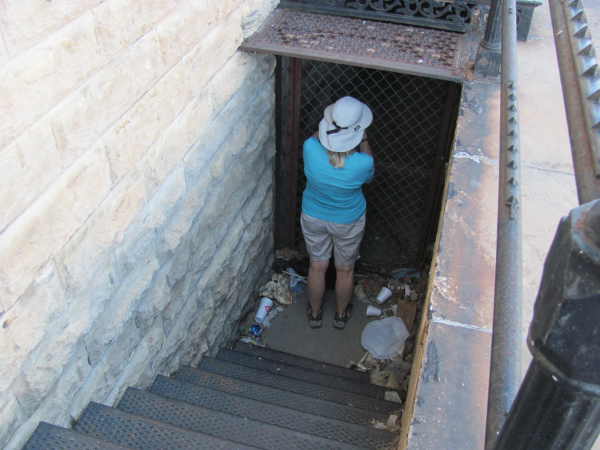 Imagine my surprise when I noted the beautiful purple glass pieces set into the cast iron covers along the sidewalk on the side of this strikingly awesome building. I noted the sparkling purple, but I also saw a poor street person down in one of the passageways. She stood among the trash that littered the passage. What horrors had she faced in her difficult life? How long would she survive under these intolerable conditions. Wait!! That is not a destitute street person. That is my wife!! How lucky I am, that where others only see trash, my wonderful wife sees jewels.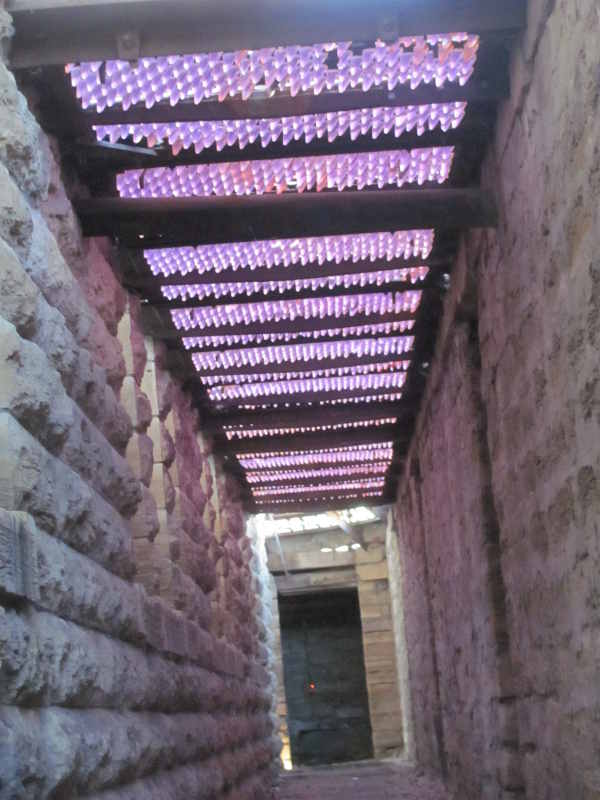 How could anyone not see the beauty in what she was looking at? This is what we do. This is what we see. Others see a town past its prime and hurry down the road, never stopping. We see an awesome sight, and wonder how many more wonderful things there are in this small Kansas town. Life is what we make it. Unfortunately far too many people make nothing of their life and wonder what others find that is so wonderful.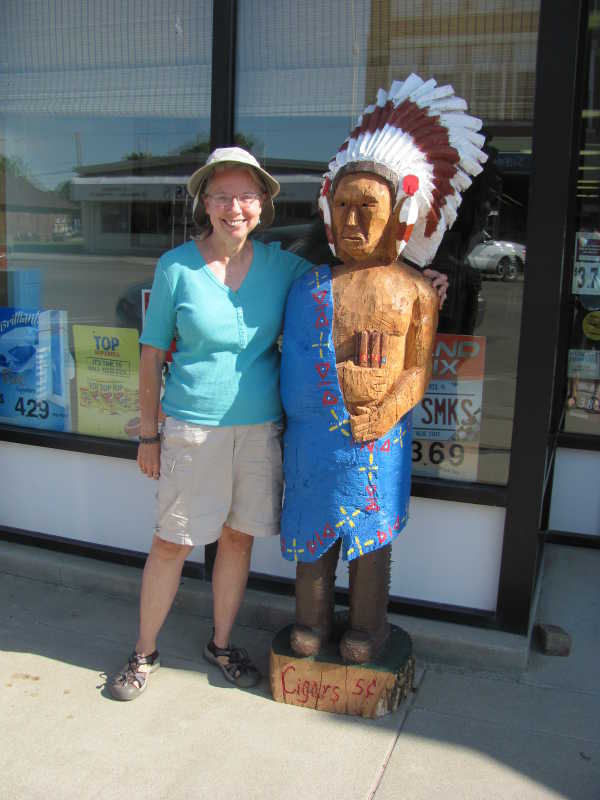 A Concordia street scene. A beautiful young woman beside an actual cigar store Indian. He was standing guard in front of the Downtown Smoke Shop. She was enjoying something very special. When was the last time you looked at something and saw more that what was there?
Orphan Trains. Google it if you have never heard about it. Not something that is in the history books, but something that makes america, America. People caring about those less fortunate than themselves. A chance for a new Life. Not perfect, but better than the alternative. Linda once worked for a man who said one of his ancestors had been put on a train with his name pinned on him. The result was a new home and good Life. No such story in our family, but what about yours?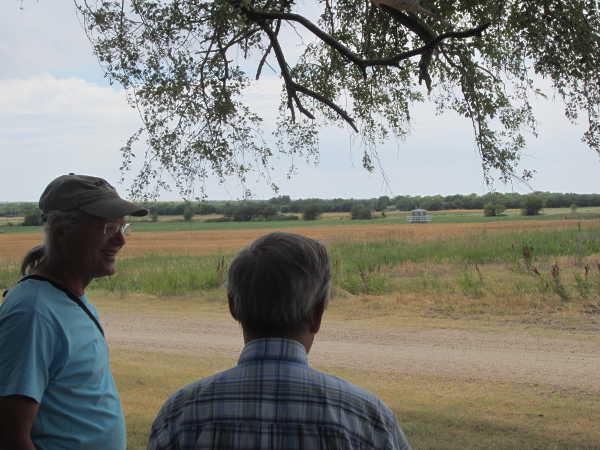 Fast forward some 80 years to the same small Kansas town of Concordia. World War II rages, German soldiers are captured, a POW camp springs up on the Kansas countryside a few miles north of that same small town. In Russia the Nazi's shoot the Russian soldiers they capture. In Russia the Russians shoot the the German soldiers they capture. In northern Kansas thousands of German prisoners work for American farmers, earning money for each day's labor.
Each of us has to decide what is important. Is it the health problem we face? Is it the lack of resources to do what we want? Is it something that happened many years ago to someone we know nothing about? I don't know, but here is a link that should cause you to think about what once was, but may not be known. POW Camp
Three hours with Paul Rimovsky, and the thousands of German officers who were imprisoned at the Concordia Camp were real live people. If ever get to Concordia, contact Paul and have him give you a tour of the POW camp. No charge, but when you are done, your going to give him a sizable donation for the preservation of the camp. We came to Concordia on a whim. We know we will be back some day. We are so very glad we don't plan where we are going, but let Sara N. Dippity lead us, otherwise we never would have visited Concordia, and our Life would have been less for missing it. Much of our upcoming three months in Europe this fall will be letting Sara N. Dippity guide us. What adventures await us? We don't know, but we can't wait to experience it. Two months and 2 days until we are crossing the Atlantic. Yes, what an adventure await us. What adventure awaits YOU?
---
Wednesday June 13 Lindsborg, Kansas
A hot day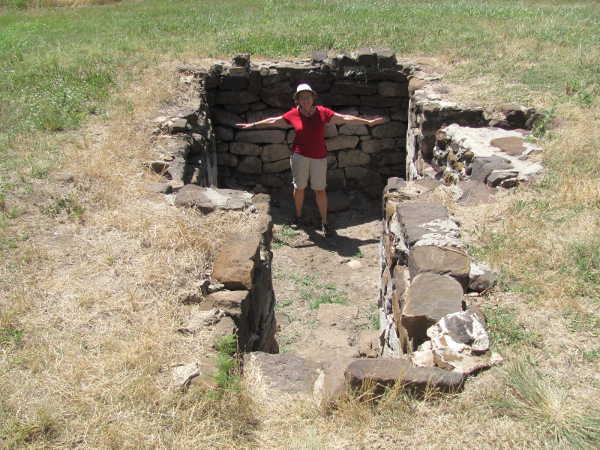 We had a short drive from Concordia down to Lindsborg this morning, then spent the afternoon enjoying this small town with a huge Swedish influence. The 70 miles we traveled and the large luxurious space our 38' triple slide motorhome provides can be contrasted to the journey and dwelling of Gustaf Höglund who left Sweden in 1868, journeyed to Lindsborg and lived in the 12' by 6' hole you see, for two years while he built a stone house. We live in our coach, he used the wagon that brought him on the last part of his journey to cover the top of this rock lined pit. History. It's not just dates, it's people, places and the things that they did.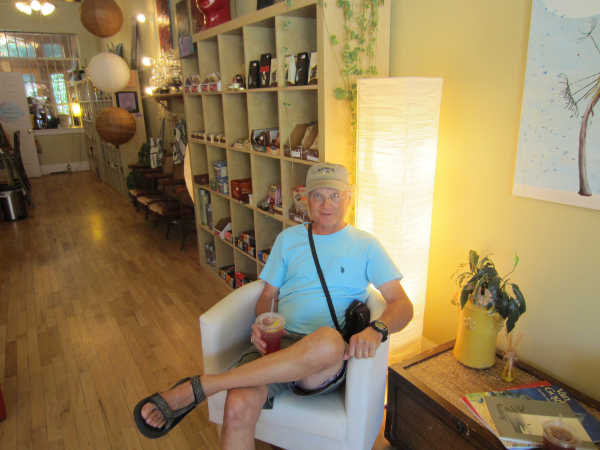 Later we walked around the downtown area, window shopping (me), doing some real shopping (Linda) and just enjoying small town America. When we saw the sign in a window saying there was seasonal lingonberry lemonade available, that stopped my window shopping and I became a buyer. Lingonberries are a popular Scandinavian food, and since we were in a Swedish town, I had to try it. It was all fresh squeezed, the real thing with those little pieces of lemon floating in it and the little round red lingonberries in the bottom. We just might have to go back tomorrow and have another one.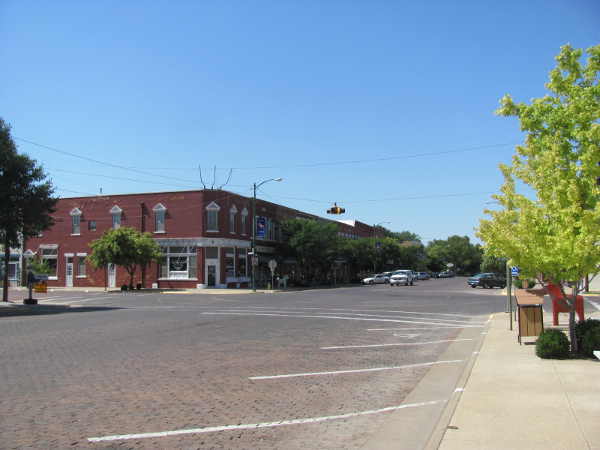 How could anyone not enjoy walking around the downtown of a small town that looks like this. And there isn't even a stoplight in the old section of town. They are all out on the main highways that go around the town where all the MacDonald's type of crap businesses that make America ugly are located. And out there you can also get the artificial lemonade that's all just a bunch of flavored chemicals that far too many people think is real lemonade.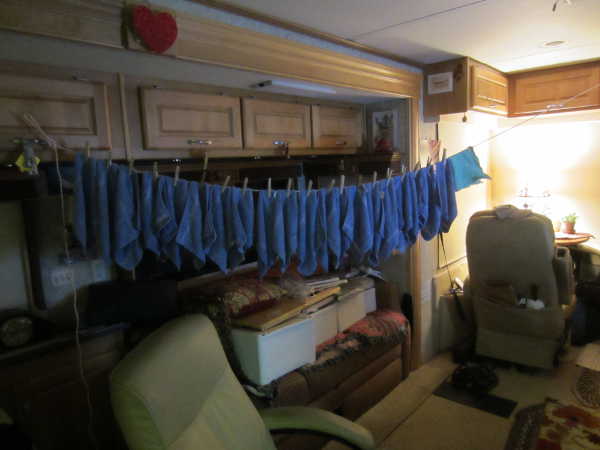 We have a 30 amp full hookup site tonight, but the past week we were at parks with no sewer hookups, meaning it was time to do laundry, and what you see is what we did. After seeing the dugout where Gustaf Höglund lived for two years, a little bit of laundry hanging out to dry in the coach is nothing. Tomorrow we will be visiting more of Lindsborg, but even though we learned they are having their annual Swedish festival this weekend, we will be moving on Friday to the big city of Wichita. Until then we will enjoy as many small town pleasures as we can. Life is Good.
---
Thursday June 14 Lindsborg, Kansas
In hot water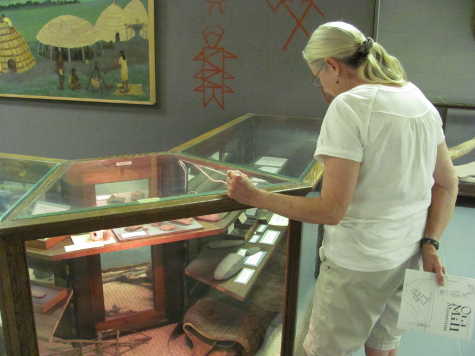 We spent much of the afternoon in the local history museum. As you can guess, Linda sure got to do her thing, including looking at all the indian artifacts that had been collected in the local area.
What caught my eye was a display of life like figures created by a local man out of cement. No wood carving here, those likenesses, including Henry Ford and Thomas Edison, are cement. The one in the center was supposed to President Franklin Roosevelt, but I just wasn't seeing the likeness that was so apparent in the other two. Still it made for another of those fascinating finds while traveling off the beaten track. Either that, or we are easily impressed.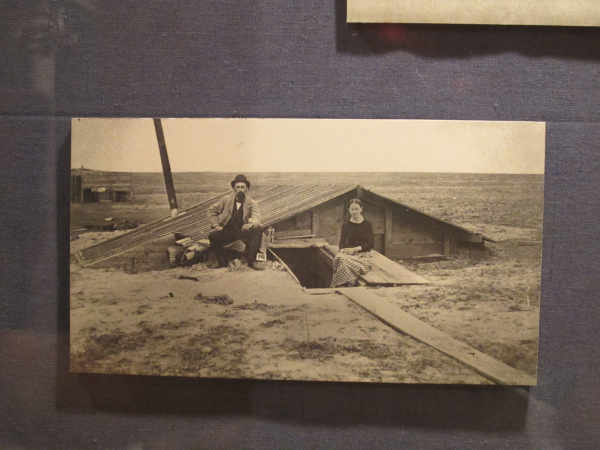 Yesterday's Daily Journal had a photo of a small hole in the ground which was all that remained of a pioneer dugout. Here is a photo of what a much larger one looked like. We have the saying that home is where park it. I wonder if on the Kansas prairie back then the saying was home is where you dig it. Guess we could say the same thing today, except that the meaning of the word "dig" would be completely different.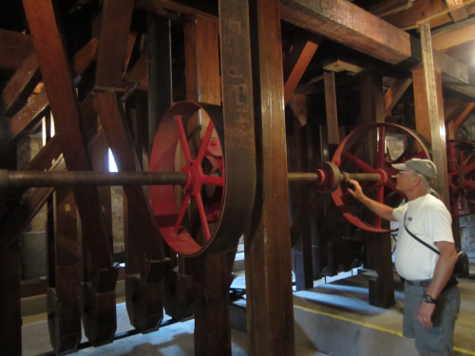 I will not post more than one photo out of the fifty or so Linda took inside this old flour mill that was the museum's gem. We both expressed so many ooh's and aah's as we walked through it that I can only say that to appreciate it, one simply has to see it. As Linda commented when we finally walked back outside, it would be worth coming back to Lindsborg the one weekend a year they operate it, just to see it running.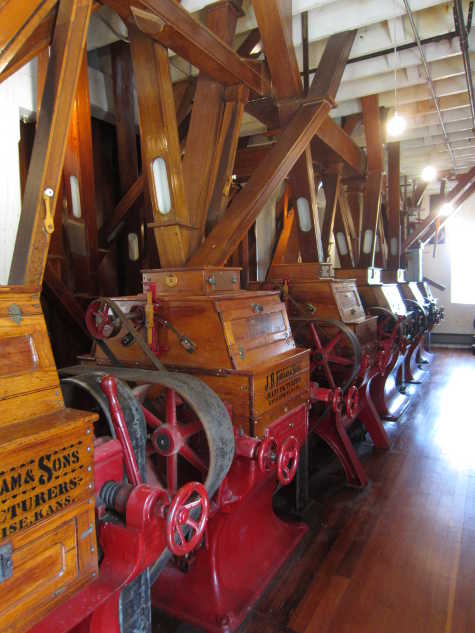 Just one more mill photo to whet your appetite. I suspect there will be many more on Linda's blog, but I will tread lightly there.
After the mill, we visited a number of outdoor exhibits in the 95° heat. As we were finishing up I looked over at Linda and noticed a slight sheen of perspiration on her skin. The kind of look they spend hours spraying on the models during photo shoots to get that just awesome look. So I blurted out, "Wow, do you ever look hot", thinking I had just given her a really nice compliment. The problem was, she was hot, but not in "hot" hot, but in heat hot, and I'd just elevated her temperature even more.
With a very hot glare, I was hotly informed that I was in major hot water for that hot comment I'd just made. That meant we hot footed it back to the Explorer while I kept my mouth shut to prevent any heated discussion from breaking out. Once we were back in the cool confines of the coach, things immediately cooled off, both physically and emotionally. Now looking back over it, if I had it to do again, I'd still tell her she looked "hot". Because she really, really did.
---
Friday June 15 Lindsborg, Kansas
When it rains, it pours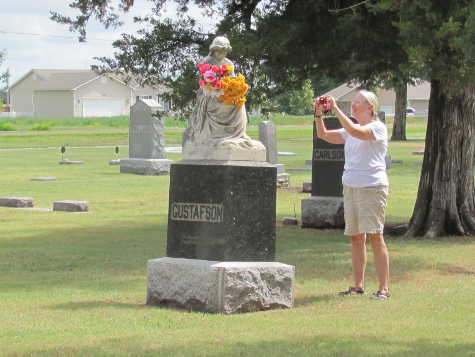 It had been too hot in the afternoon and evening both days we have been in Lindsborg to visit the nearby town cemetery, but not this morning. Linda was specially drawn to this larger monument decorated with several brightly colored bouquets. Yes, they were artificial flowers, but that in no way detracted from the beauty of it.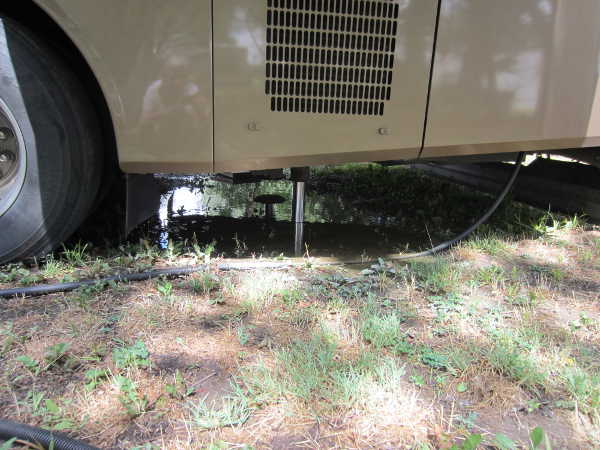 Major rain last night, like in inches of rain. Major water this morning. This jack had sunk several inches into the ground.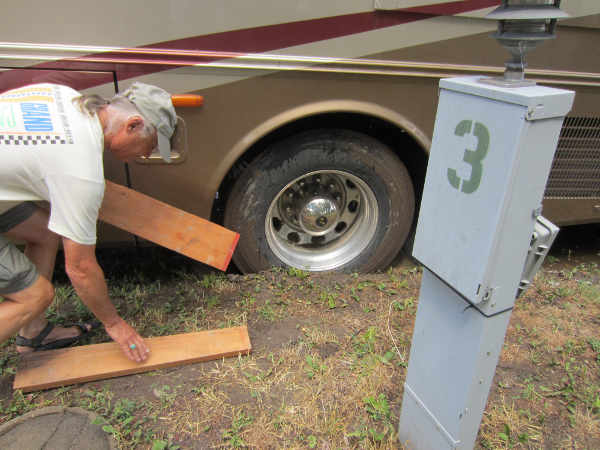 Now this is a problem. It's never happened before, but it has now.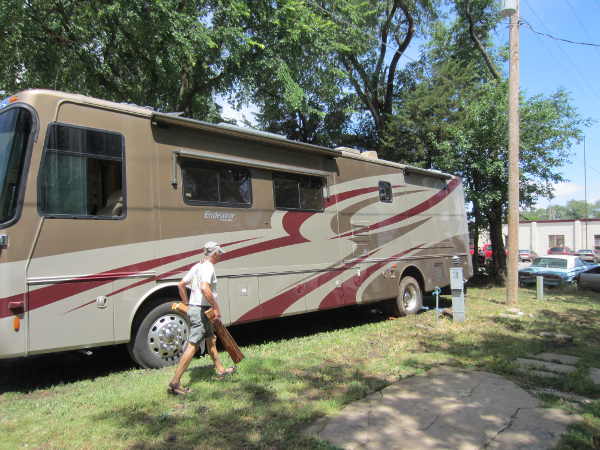 Use the coach jacks to raise the wheels, more boards and more boards.
When the best you can do just isn't good enough, there is always someone else who can do more. That's why we have Coach Net.
A slow steady pull with the winch and it wasn't long before we were on terra firma that was actually firm. It delayed us a few hours, and it confirmed our dislike of parking on grass sites. Other than that, it makes for a good story. C'est la vive.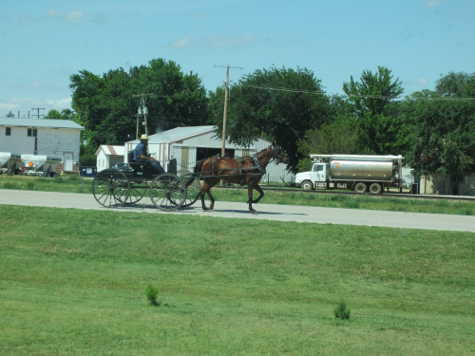 50 miles and a world away from Lindsborg is Yoder, Kansas where we plan to stay for the next three nights with views like this out the front of coach. We're here because we changed plans slightly, taking to a tip from a reader, and with our dislike of big cities are now staying just south of Hutchinson. Tomorrow we will drive into Wichita and visit the World Treasures museum and spend some time in the old town area. Sunday we will tour the salt mine in Hutchinson, then it will be on to Oklahoma and a town that played a very big role in our former life, Bartlesville.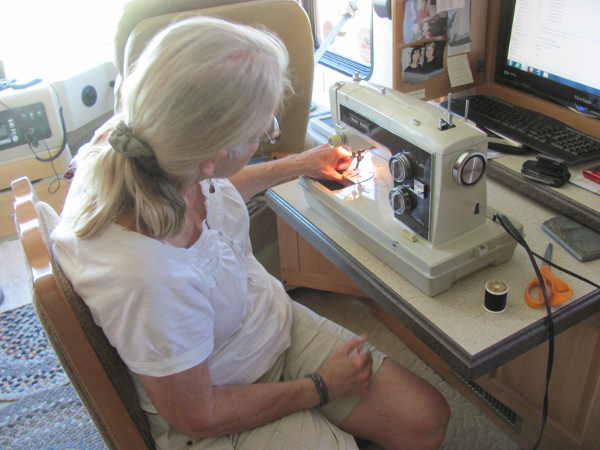 The end loop had broken off the strap on the window awning over the windows where I have my computer, and today we were parked in such a way that it would be nice to be able to use that awning. The strap turned out to be easy to remove, Linda sewed the broken loop back on the strap, I switched the strap on the passenger side window awning with the repaired one, and everything was as good as new. We will buy a new strap the next time we are near an RV place, but until then, it is working just as it should.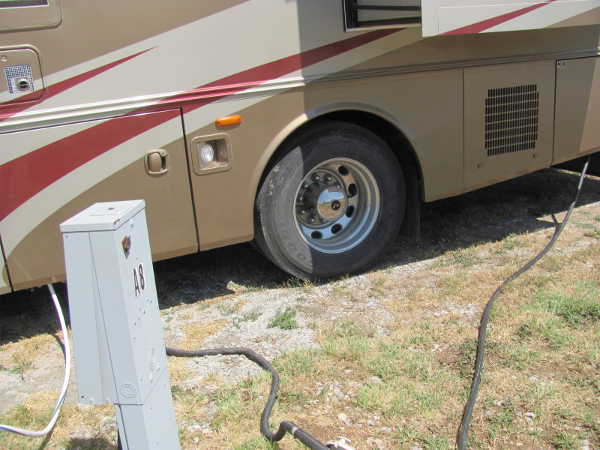 Just to let you know that we don't make the same mistake twice in a row, we are parked on a good solid gravel surface here in Yoder. To say the least it was an interesting day, but with the help we had from the folks at the RV park as we tried to extract ourselves from the mud, the ease with with we were pulled out and the pleasant surroundings of where we are now, made it memorable day instead of a stressful one. What more could we want out Life
---
Saturday June 16 Yoder, Kansas
Visiting Wichita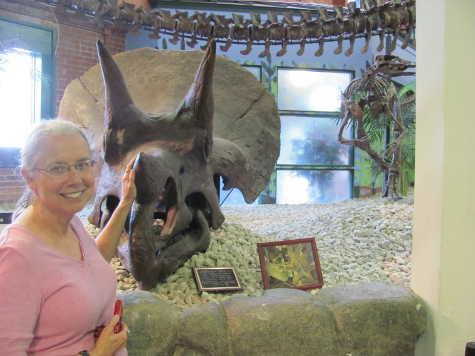 Today we were off to visit the Museum of World Treasures in Wichita, the main reason being the above. What made it even more special was the fact this is a real Triceratops skull, not a cast, and the docent took down the little barrier and let Linda get very up close and personal with it. She may no longer look exactly like the little girl walking around picking up fossils on the farm, but I have to believe the smile is the same.
Linda wasn't the only one who found something to smile about. For years I had a Smiling Buddha on a high shelf that smiled down on me every morning when I first got up. Today for me it wasn't only kneeling down beside these marble carvings to pose for a picture, it was also seeing the deep luster, the softness and the smooth lines of their forms. It brings a certain contentment, and it reminded me of the special glaze I applied to my Buddha when I made it.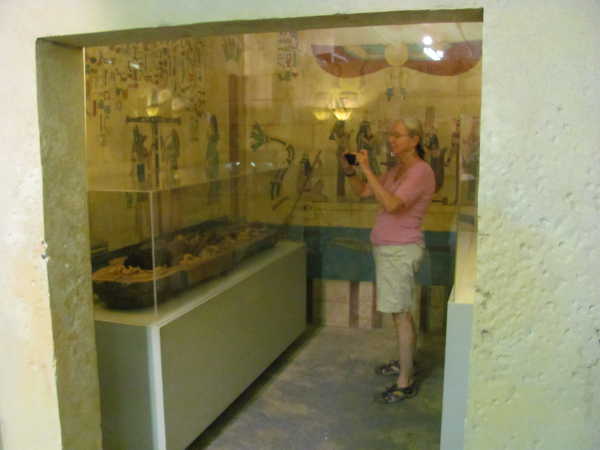 The museum has an Egyptian section. I found the hieroglyphics interesting. I looked around and Linda was not to be seen. A little search and there she was. She just had to take a photo of the mummy, and I know that Zachary will be getting a text message of that photo. Someday I'll find out what little girls are like when they grow up, but it doesn't look like it will be happening very soon.
My turn to be a little boy. I can remember buying the toy ones when I was much younger than I am today. They were so obviously fake, but it didn't matter. I guess what really matters are the memories.
When was the last time you had your picture taken with the founder of a museum while standing in front of the museum's most prized acquisition? Dr. Jon Kardatzke, a retired Wichita physician is the reason the Museum of World Treasures exists, while partially shown is Ivan, one of the most complete T-Rex skeletons ever discovered. We spent over 20 minutes talking with Jon about the museum and some of the things we had overlooked on the second floor. And yes, we did go back upstairs and hunt up what we had missed.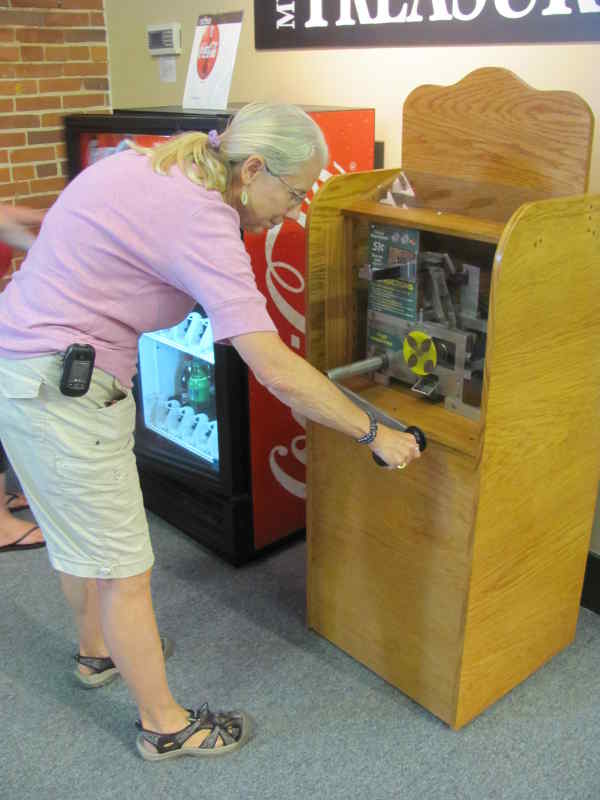 No museum is complete unless it has a smashed penny machine in its gift shop. And no visit to a museum gift shop is complete unless we leave with a smashed penny for Zachary. Then it was time to walk around the Old Town area of Wichita before driving back to Yoder where we are staying. Bright lights and the hustle and bustle of the big city one minute and an hour later the clop of horses feet as an Amish buggy passes in front of the coach. And to think, some people probably stayed in front of the TV watching sports today. Life truly is what we make it to be.
---
Sunday June 17 Yoder, Kansas
Visiting Hutchinson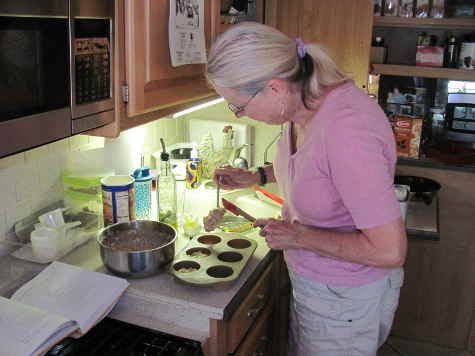 Great breakfast this morning as Linda cheerfully set about baking some awesome and very healthy muffins. I don't know what all went into them, but I saw her chop nuts and add some dried fruit, plus I saw her looking at a recipe, but knowing her, she used it only as a guide, adding those special secret touches that she does so well. We ate those muffins with a little almond butter smeared on them and were they ever good.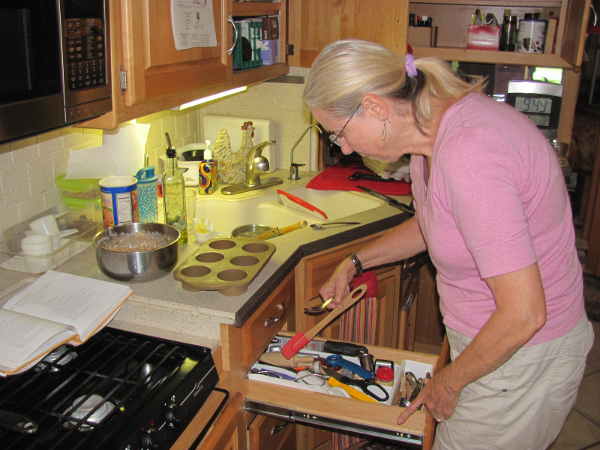 Before the above there was this. "You are not going to use a photo of me in the drawer."
"But it will show how hard you worked to make the muffins."
"No it won't, it will just show how messy the drawer is."
Way to go Bob. Great way to start the day. Here she tries to do something nice for me and I mess it up by taking a picture of a drawer. What is it with us men anyway? We men go and pull so many dumb stunts like this it's a wonder any of us ever got the opportunity to become father's. Oh well, at least I must have done something right at least three times in my life, since we ended up with three great kids.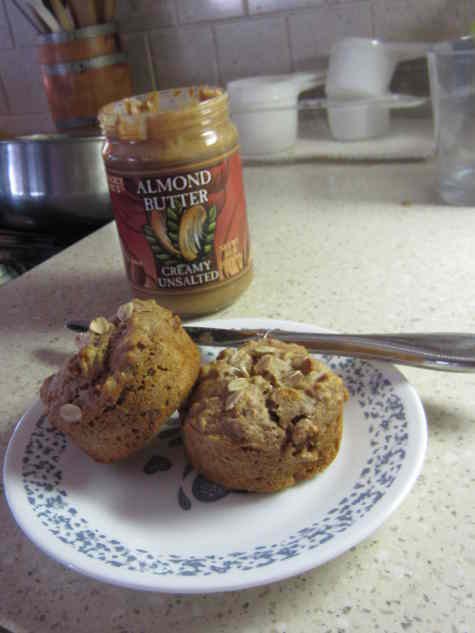 This one is to get back into Linda's good graces, if there are any graces left for me to get back into. And yes, they were as good or better than they look.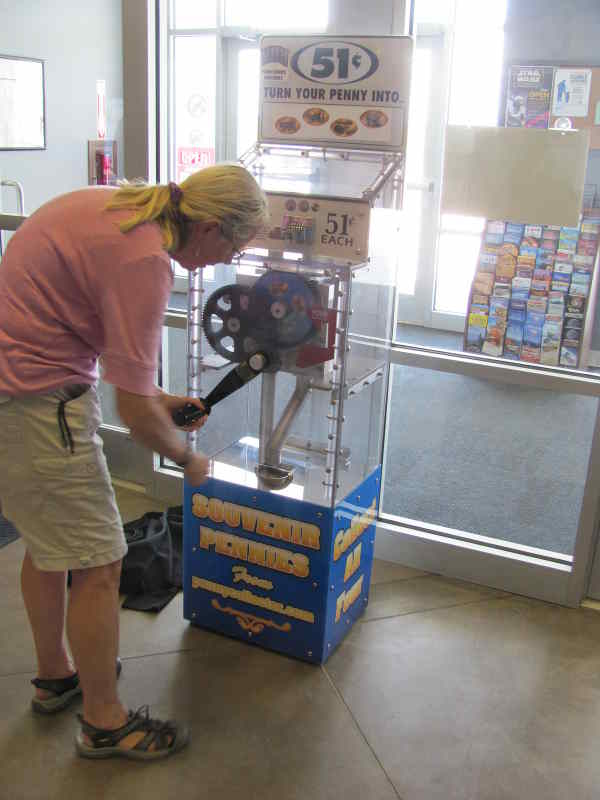 Another day, another museum, another smashed penny. This occurred above ground, but we were headed 650 feet underground to visit a salt mine. Hundreds of millions of years ago this area was something akin to the Great Salt Lake or The Dead Sea, but on a much more vast scale. Now all that salt is hundreds of feet unground and we were going down to see what it was all about thanks to a tip from a reader who suggested we might enjoy visiting it.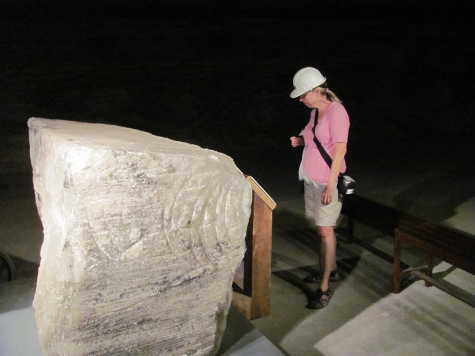 A little old and very salty miner looking at a large crystal of salt. It is really an interesting place, as all the displays are down below. There are only three underground salt mines in the world that are open to visitors, and after having toured the one near Krakow, Poland several years ago, we have now seen two of the three. The mines and tours are so different that it is impossible to say which one is better. Think of it as this one having the American experience and the one near Krakow as having the European experience, or put another way, industrial might versus cultural heritage.
There are displays of the older equipment that was used in the mine. We heard over and over that goes into the mine stays in the mine. This piece wasn't going anywhere soon, but it was going somewhere eventually. Notice the ring of reddish material on the floor underneath it? That's rust. 68 degrees all the time. 40 percent humidity all the time. Trillions of tons of salt. Equipment made out of iron. Salty humid air and iron equals rust. Given enough time and it will be a pile of rust dust. Glad we saw it when we did.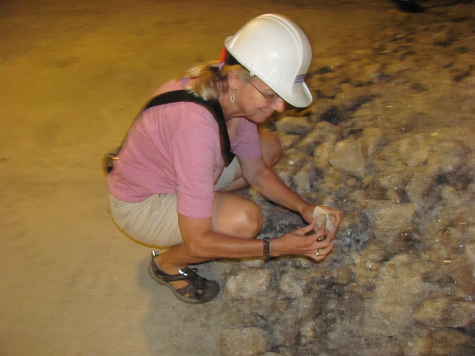 Miner hard at work. Underground there is museum with displays, a train ride and a tram ride. During the tram ride there was a stop at a pile of salt where you could pickup a sample, either a fist sized lump, or by filling a small bag. I went for the bag, filling it with what I thought were treasures, including black, red and crystal clear pieces of salt. Linda first went for the lump, then decided on the bag. It really wasn't what we ended up with, it was the fun of collecting it, and Linda sure did enjoy that part.
The family salt miner getting ready to go back up to the surface. This is one of those places where photos just don't seem to do it justice, making it a need to visit place. We both really enjoyed our time underground. You are on your own much of the time, and you can take your time or rush around, the choice is up to you. To say that we have enjoyed Kansas is a major understatement, and just as we discovered the Upper Peninsula of Michigan last summer, so did we discover Kansas this year. Just another of those unexpected pleasures we have stumbled across as we wander around, living the fulltime Life.
---
Monday June 18 Bartlesville, Oklahoma
Down the road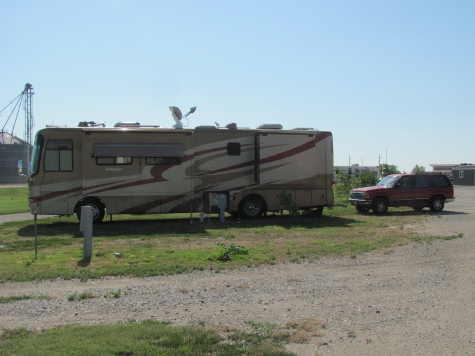 Not every RV park is a four star resort, and in fact I don't think we have ever stayed at one of those places. This park in Yoder had been perfect for us. A 50 amp full hookup pull through site, gravel pad, open sky, and not too much noise. Just a nice place to spend a few nights while doing our thing. Nothing to do for kids, absolute minimal bathroom facilities. What can I say, it's our kind of place. Still today it was time to pull up stakes and head to Oklahoma and another page out of our past life.
We opted to take the US highways, staying off the Interstate and turnpike. That meant we got to see a number of small towns, each with a main street lined with old buildings. We also left the wheat fields behind and traveled through rolling hills carpeted with green grass and dotted with trees. That also meant the roads were narrower, with hills and curves as opposed to the wide flat straight roads of Kansas.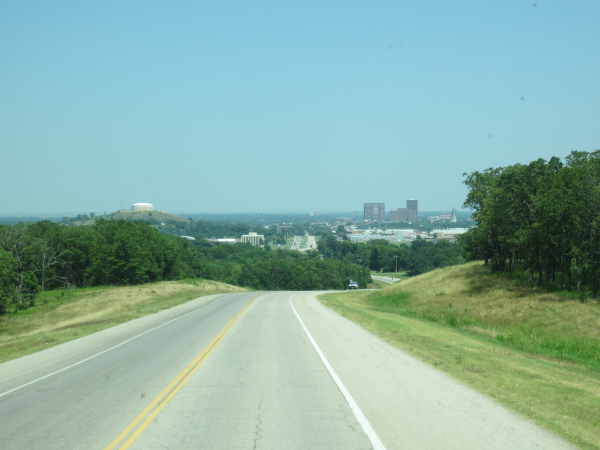 Some four hours after we had left Yoder we topped that last hill and the towering office buildings of Bartlesville appeared in the distance. We are where we are today because of the many years I spent with Phillips Petroleum, or Phillips 66 as many know it. We never lived here, but I was here on business many times, and the time we spend here now will bring back good memories. It will also be a first for Linda as she has never been here before.
We are in a RV park just a few blocks from downtown, and instead of the view out the front, here is the view to the back. Good memories of the past, good times now. The next three days should be fun. Tough drive today with the high winds and narrow roads, time to hang it up for the night.
---
Tuesday June 19 Bartlesville, Oklahoma
Doing Dewey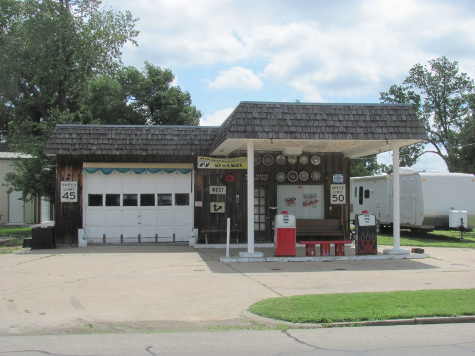 Dewey is a small town a few miles north of Bartlesville with nothing particularly outstanding to recommend it as a place to spend the day, so that is what we did. Maybe it was the connection between my beloved "Aunt Fern and Unky" and the cowboy movie star Tom Mix who's museum is in town. Or maybe it was the fact that the people we ran into were downright nice. Then again, maybe it was because we discovered most people our age had at one time or another worked for Phillips, or just maybe it was because being there just felt right. What ever it was, we had a great time, and the photo pretty much sums up the way I saw how the town looks at Life. Look close and you will see there are no hoses on the gas pumps.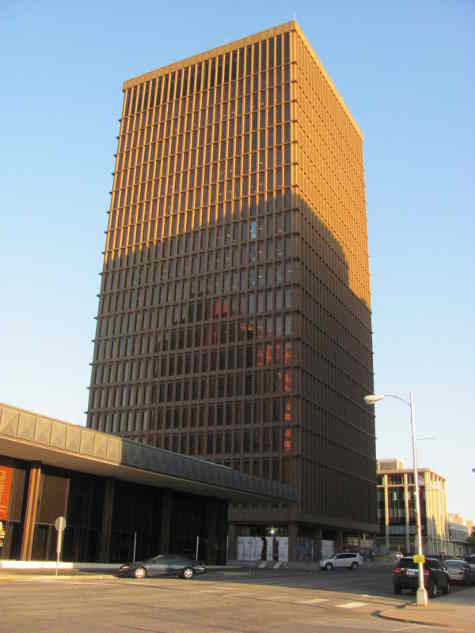 Back in Bartlesville, I drove Linda around the downtown area, but told her we would come back in the early evening and walk around as there wouldn't be any people there then. I was right, after five o'clock it was practically deserted with just the occasional person coming out the doors of the massive office buildings, all of which have a Conoco Phillips sign on them. As we walked along the sidewalk one obviously rather tired man carrying a brief case came out of one of the buildings just before seven o'clock, and I remarked to Linda, "Once that was me." She replied with a smile on her face, "I know, but not anymore." Nothing more need be said. It was a very nice day in more ways than one.
---
Wednesday June 20 Bartlesville, Oklahoma
Woolaroc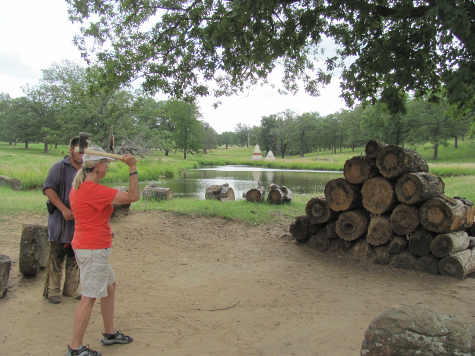 Woolaroc was the country home of Frank Phillips, founder of Phillips Petroleum, and in his later years he turned it into an awesome museum that seeks to show what Oklahoma was like before the modern days of the 1930's. There is so much to see and do that we spent all day there and really need to go back some other time to see all that we missed. Speaking of missing, Linda got to throw the tomahawk three times and she was 100% successful, missing all three throws.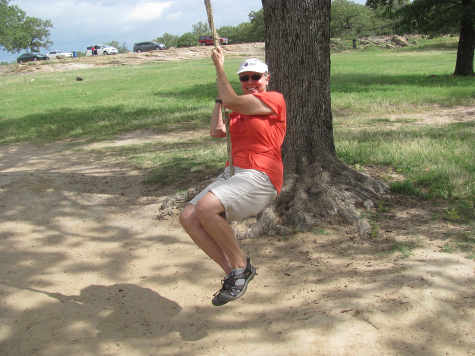 When it came to the rope swing she was again 100% successful, this time at acting just like a little girl. But since she really is a little girl at heart, it really wasn't that hard for her. I just couldn't get the hang of this knotted rope swing, and was lucky to swing once and get off without falling on my butt.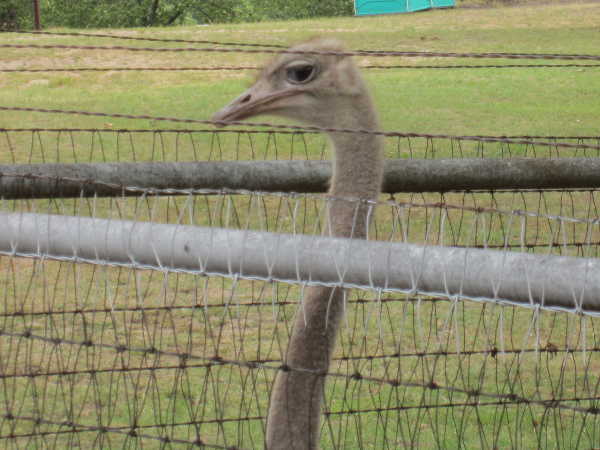 Besides being a museum Woolaroc is also a game preserve, which means I have had to sort through dozens of animal photos in order to find the perfect picture. I have to believe that as we drove around Linda never saw an animal she didn't photograph. And just not one photograph but two, three, four of each animal. What can I say, she loves animals, and that is good because when she treats me like a dog, it's usually like a good dog.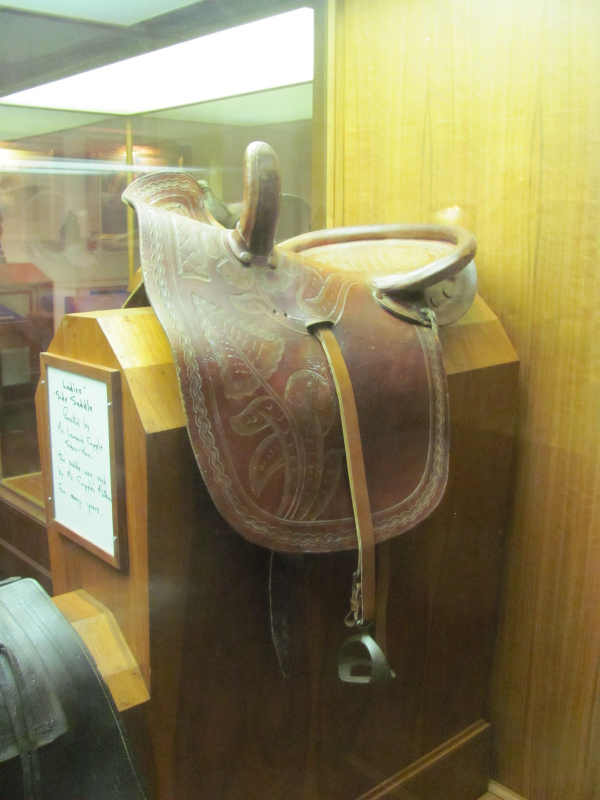 One of my continuing pet peeves. Museums are full of side saddles. TV shows and movies always show the female riding the same as the male. Didn't happen that way. Of course some people believe what the people of the make believe world of Hollywood have to say about politics. Which leads some people to the conclusion that intelligence is not a strong point for many in this country.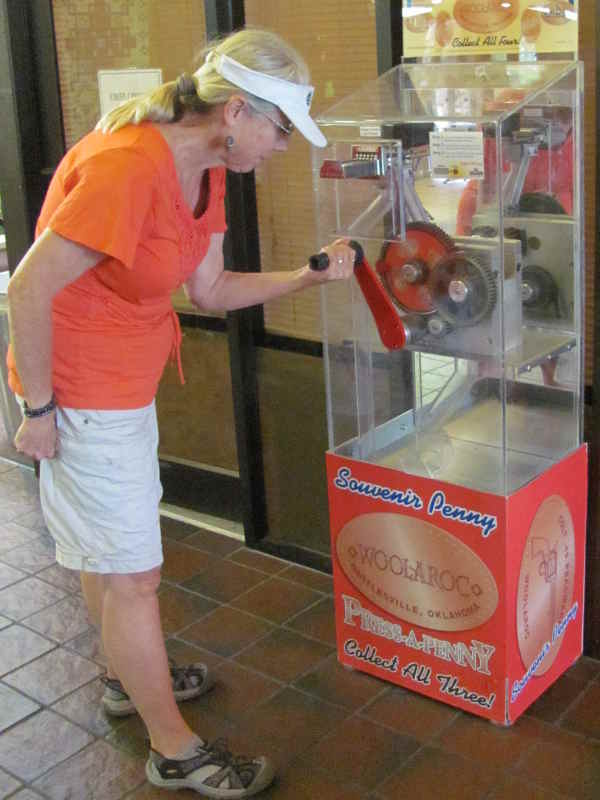 Guess who's getting a package with a smashed penny? Linda has so much fun deciding which image to use. I on the other hand have learned not to contribute my opinion as to which image it should be. How come things like this were never discussed in the "How to be a good husband" book that the minister gave us before we were married. Something tells me the bride got one titled, "How to get your way with your new husband".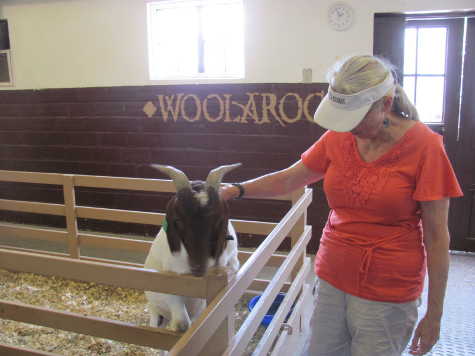 As I was told, "Just what part of 'You can take the girl out of the country, but you can't take the country out of the girl' don't you understand."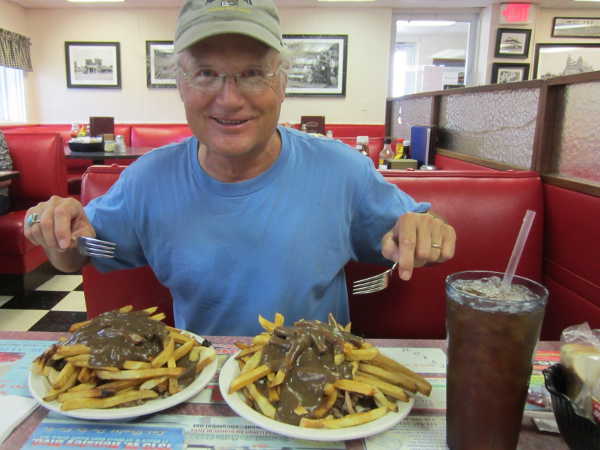 The fitting end to a great day. From the bottom up, two pieces of white bread, a huge mound of chopped roast beef, a layer of crunchy french fries and a topping of beef gravy. It has been 30 years since I last ate at Murphy's Steak House, but it was every bit as good as I remembered it. And you guessed right, there was no way we could eat all that was on that plate. Long ago when I was in Bartlesville it was a figurative case of too much business on my plate. Now it's a different Life I live, and today it was a case of too much food on my plate. Life is not a dress rehearsal. Don't be afraid to laugh, love and retire early.
---
---