Journal Archive 10/21 - 10/31 2011
Scroll down to read the latest post
Friday October 21 Washington, DC
Along the Mall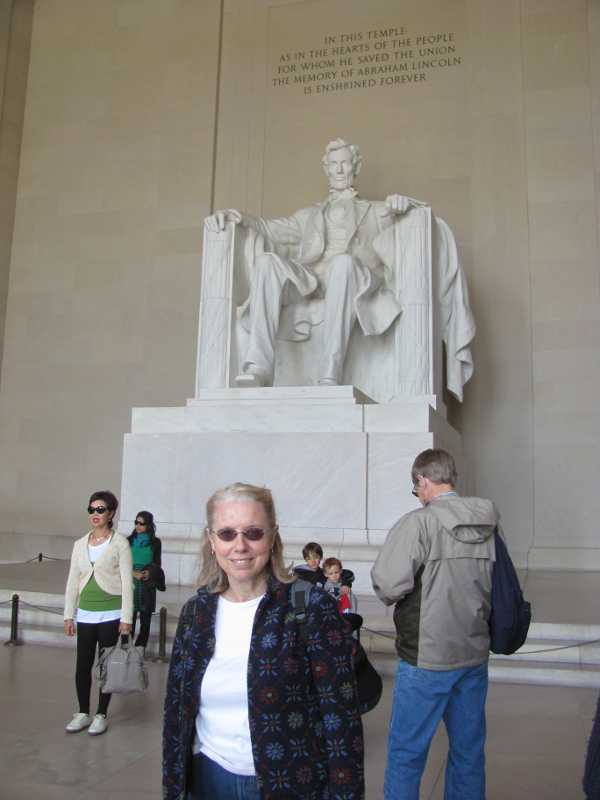 The plan for today, and we did have a plan, was to take the Metro to the Foggy Bottom station, walk down to the Lincoln Memorial and work our way back up the Mall towards the National Archives. We had two transfers between lines on the Metro, Green line to Red line to Orange line, and we were at Foggy Bottom, then it was a walk down 23rd Street, past impressive building housing The State Department, and there was the Lincoln Memorial.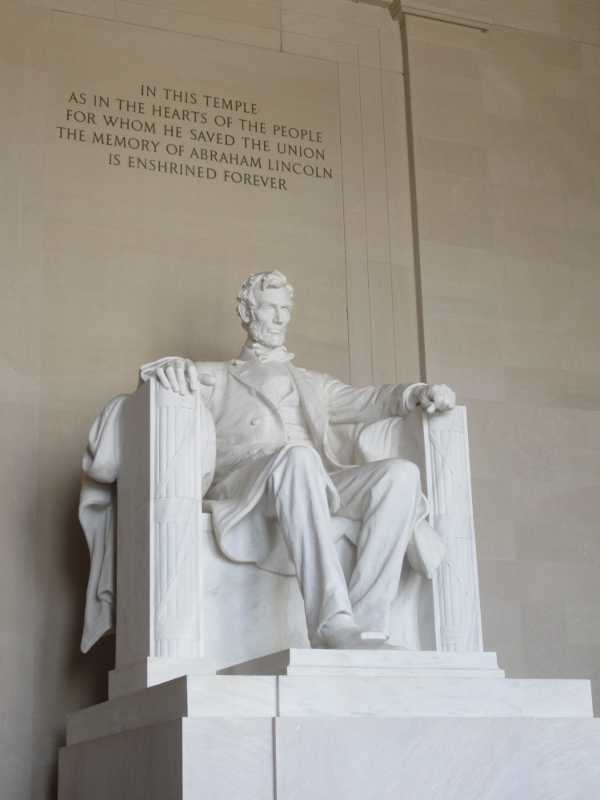 The crowds here are enormous, but that is fitting for the man who, when all seemed lost, saved our country from itself. A bonus was that our timing was such that we were there when a Ranger gave a talk about the monument and its history. It is hard for us to believe, but before that bullet ended Lincoln's life he was the most despised and hated President we had ever had. And that hatred was not found just in the south, but also throughout the north.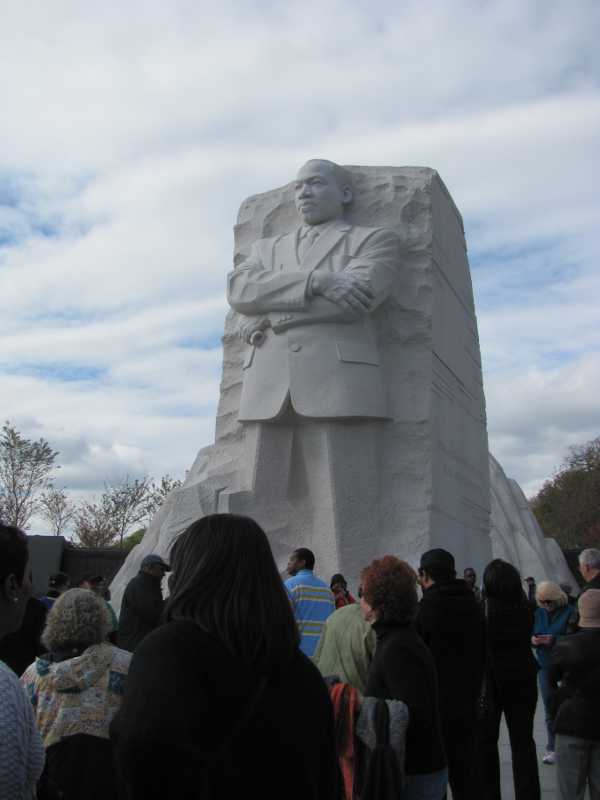 Not far away is another memorial, also to a man who was hated by many. And like Lincoln his life was cut short by an assassin's bullet. A man who dedicated his life to finishing what Lincoln had started. The Rev. Martin Luther King, Jr. Memorial has only been open for less than a week, the crowds are enormous, and the emotions are evident. For one to stand at these two memorials and watch people is to understand what our country is all about.
We all know these words from the Declaration of Independence: "We hold these truths to be self-evident, that all men are created equal, that they are endowed by their Creator with certain unalienable Rights, that among these are Life, Liberty and the pursuit of Happiness." It has taken two centuries, and we are not completely there yet, and sometimes we seem to take more steps backwards than forward, but in the end, in the words of Dr. King, "We must learn to live together as brothers or perish together as fools." I will leave with what is my favorite quote of Dr. King, and is even more true of attitudes today than it was some 50 years ago, "Nothing in all the world is more dangerous than sincere ignorance and conscientious stupidity."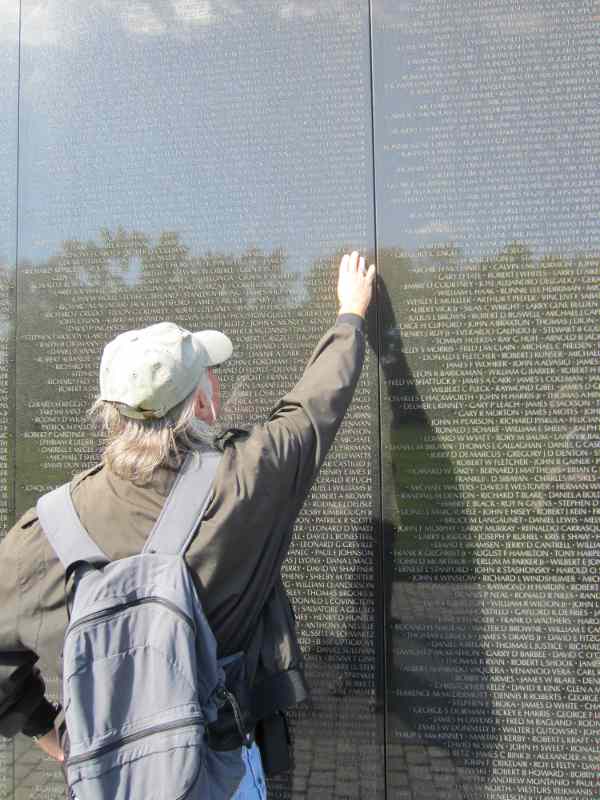 Touching my brother's name on The Wall. I think of Dr. King's last quote above and President Johnson. Nothing more need be said.
---
Saturday October 22 Washington, DC
The inhumanity of man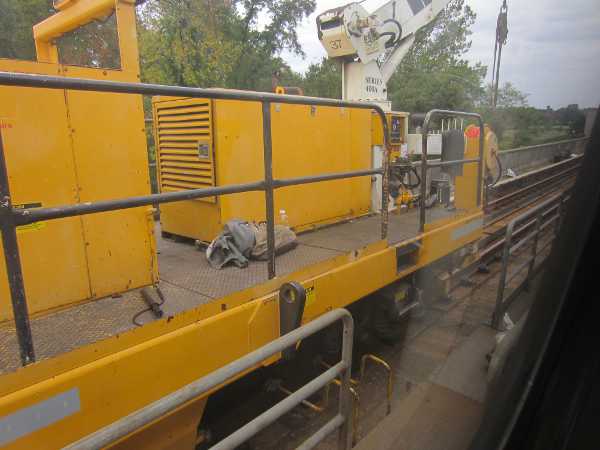 Interesting trip into DC this morning. First the bus was late, and then the Metro was late. Not sure about the bus, but since were trying to go into town about 90 minutes earlier than we have the past two days, I guess it was expected. They were doing track maintenance on the Metro, so one way traffic for several stations resulted in delays. In the end we arrived at our destination at the time it opened.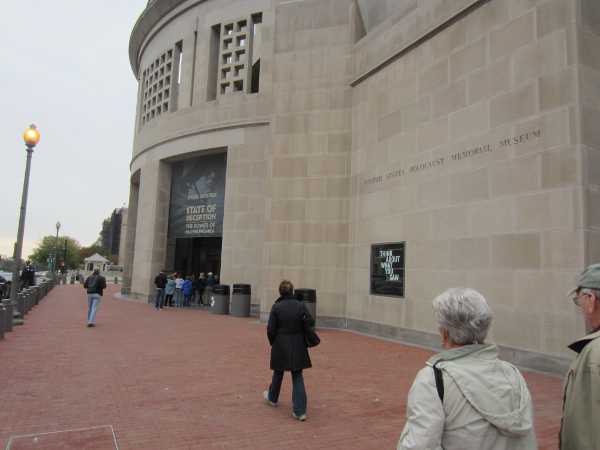 No photos from inside our destination, one because photos weren't allowed, and two because we were so absorbed in what we were seeing that photos were not on our mind anyway. The museum was the Holocaust Museum. We have seen a number of museums dealing with the Holocaust in Europe, Auschwitz, Sachsenhausen, Dachau, the Holocaust Museum in Berlin, and the unforgettable Warsaw Ghetto Museum. As in every case we were moved nearly to tears as we followed the evil that humans do to their fellow human beings. The Nazi's murdered their own citizens and we are disgusted with it. We prosecute them, and rightfully so as war criminals. In the last few weeks our government murdered one of our own citizens and it is celebrated as a triumph of good over terrorism. As always, right is the eye of the beholder. I can not believe one can visit one of these holocaust museums, where ever they are, and not be changed.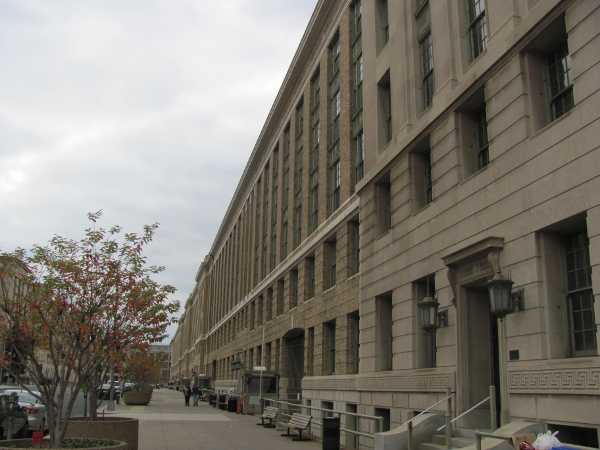 One entire city block, the US Department of Agriculture building. Impressive? Yes. Necessary? I know not. And it is not my place to judge. There are enough people in our country who have opinions on that. I do know that as I walk the streets of Washington I feel something that is mostly undefinable. It is a pride, not in anything material, but simply the knowledge that what is here is us. We Americans. It may not be perfect. Our leaders may not be perfect. But I would never doubt that there is something intangible, something that defies description about what is here. It is us and it is more. Never for a minute should we doubt the rest of the world looks up to us, even those who would try to destroy us. It was that kind of day, as we visited our nation's capital, including the four and one half hours we spent in the Holocaust Museum.
---
Sunday October 23 Washington, DC
Part present, part past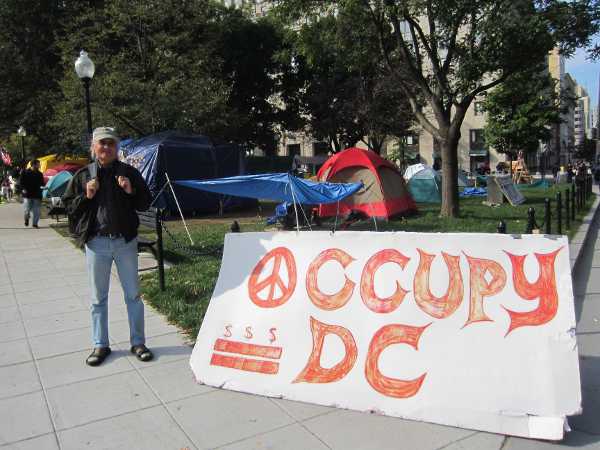 Yes readers, there really is an Occupy D.C., just as there is an Occupy Wall Street. Tents, kitchen, and even a library of the take one, leave variety. We walked through the middle of it. Nice people, who come in all types. Whether they are right, wrong, or somewhere between in their motivation, as well as their aim I do not know, but I can certainly admire their willingness to make a statement. Will it fizzle and fade away, or will it grow to be a revolution? Only time and circumstances will tell.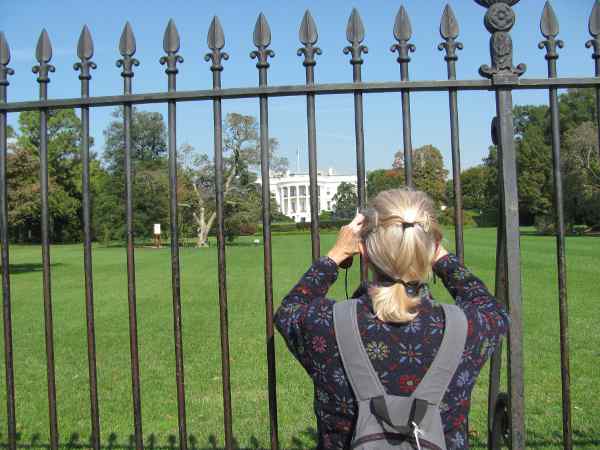 This our third time visiting Washington during our marriage, and as happened the two previous times, there will once again be no visit of the White House for Linda. We did circle it, and she did get to see a collection of White House furnishings in a nearby Smithsonian Gallery. I enjoy watching the people looking at the place as much or more than looking at the White House. Linda wants to tour the inside, but it seems like she is no longer believing me when I say that we will the next time we are here. Bad Bob.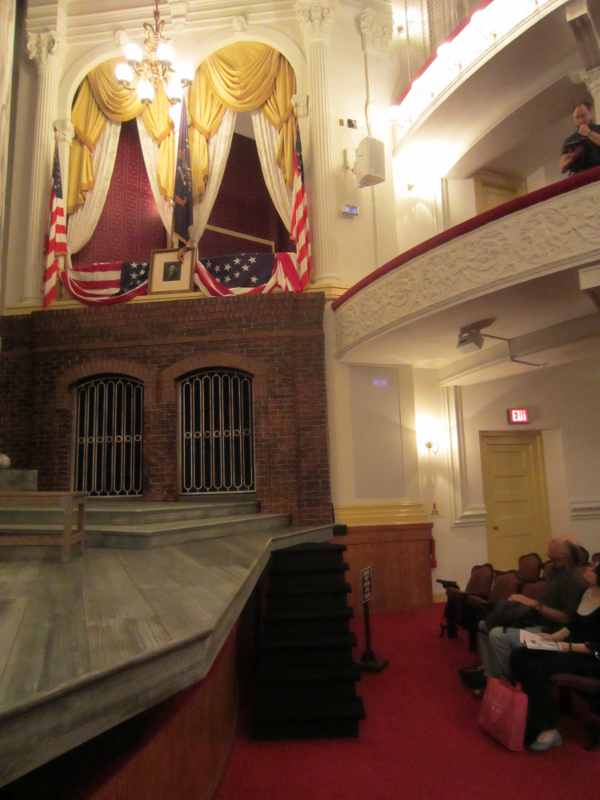 The past was more than we ever thought possible. We attended a play in Ford's Theater in the afternoon and our seats were below President Lincoln's Box. John Wilkes Booth would have leaped onto the stage within a few feet of where we were sitting. All through the play we would find ourselves glancing upward, imagining President Lincoln sitting there. History simply doesn't get any better than this.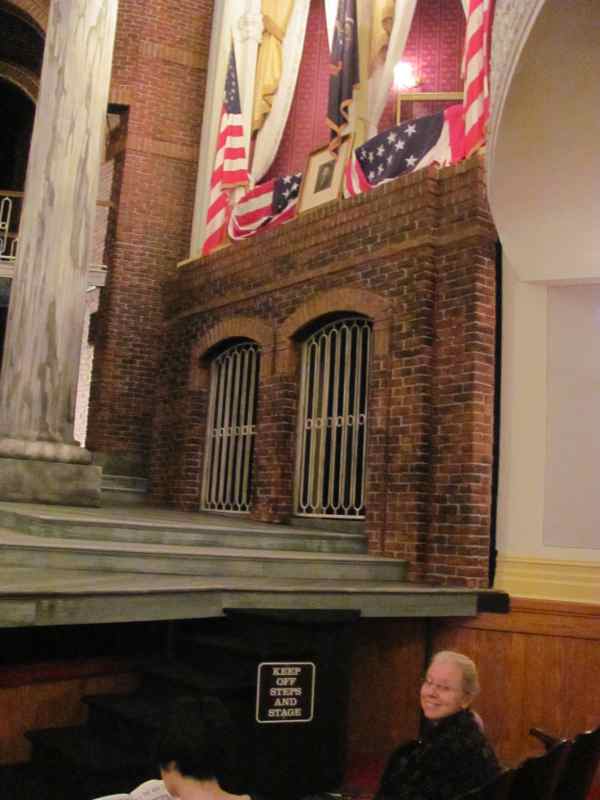 The Lincoln Box from another angle, this time with a pretty model in the photo. Like I said, we had very good seats, and we got them yesterday evening online. A word about the play Parade based on the life and lynching of Leo Frank, early in the 20th century in Georgia. After the play we stayed for a discussion of the play and it was a shame more people didn't stay, though many did. It was an opportunity to see what prejudice really is from those who feel the effects of it. Yesterday we saw that hatred resulted in the murder of millions of Jews by the Nazi's during World War II. Today we saw that same hatred result in the murder of a Jew in America. We are white and Presbyterian, but things like we have seen the last two days open one's eyes to a world that others experience. There is nothing like seeing the other side of Life to help understand what Life is all about, and sometimes it isn't very pretty at all.
---
Monday October 24 Washington, DC
Arlington National Cemetery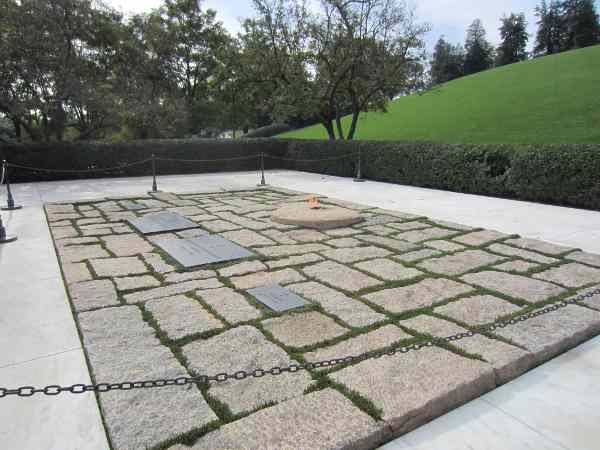 Another very long day, all of which was spent at Arlington National Cemetery, and yes, we did eat lunch there, though we ate outside the cemetery proper. I will leave most of what we did today out, as we are once again recovering from the effects of many hours in sightseeing mode. We just realized that starting on October 2nd, and continuing to the present we have either been driving the coach or sightseeing every day. It is supposed to rain on Thursday, and we may get a day off, though there are always museums to visit on rainy days.
But dealing with the present, it was a day again for taking the bus to the Metro station, then riding the Metro with a couple of line changes to our destination. We were not alone, and there were many people who got off the Metro at the Arlington Cemetery station. We decided to get tickets for the Tourmobile, which turned out to be a very good choice as Arlington is quite hilly. Out in the cemetery our first stop was at the graves of President Kennedy, the First Lady, and their two children who died in infancy. It is a place where the eternal flames burns, and as we gaze upon it, we wonder what might have been.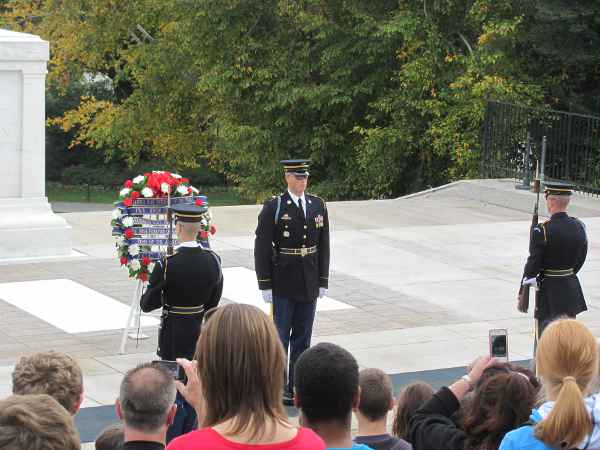 No visit to Arlington would be complete without watching the changing of the guard. Since we were there at noon, we not only saw the change of guard, but also the changing of the wreath. There is a dignity to this that transcends words.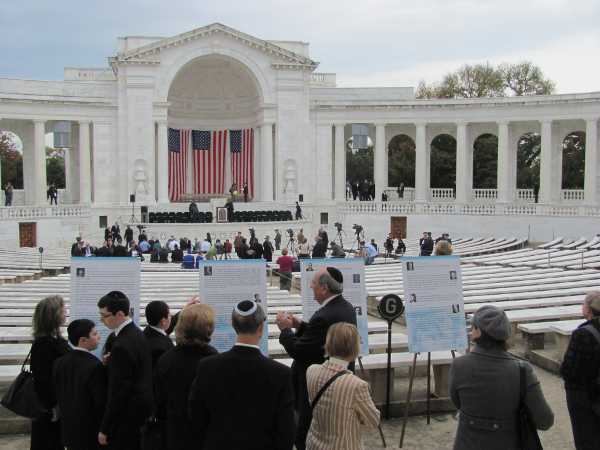 Everyday there are two dozen or more burials at the cemetery. Currently there are over 300,000 interred here and fifty years from now they estimate it will be over 500,000. This was not one of the burials, we took no photos of the ones we saw, as was both requested of visitors, as well as being what respect would dictate. Today was also the dedication of the Jewish chaplain memorial, which would join the Protestant and Catholic chaplain memorials that have stood for many years on Chaplains Hill. One of the 14 Jewish chaplains honored in the memorial was on the Dorchester, the Attack Transport that was torpedoed during WW II. The four chaplains, two Protestant, one Catholic and one Jewish that were aboard the ship, gave their life jackets to troops that had none, then joined hands and went down with the ship.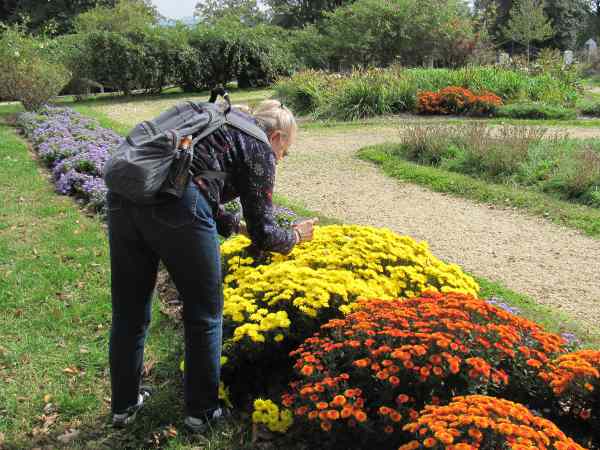 I wasn't sure what Linda was taking a photo of when I first saw her doing this. I thought she would be back farther if she was trying to capture the brilliant colors of the flowers. When I finally walked over to her I could see bees all over these mums, and that was what she was photographing. Sometimes we get so caught up in the big things that we overlook the little things. At those times Linda has a way of putting things into perspective for me.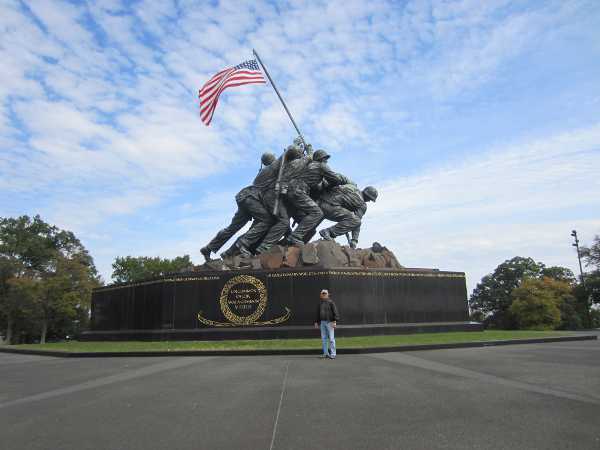 A special place that we walked to after visiting the cemetery. I look at it, Jimmy, and wonder what might have been.
---
Tuesday October 25 Washington, DC
Mount Vernon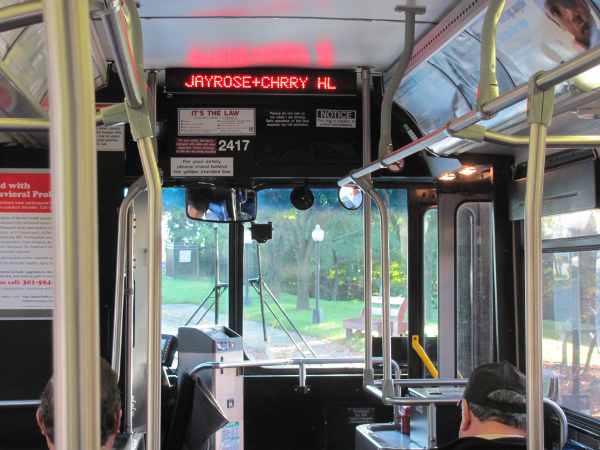 We were off to Mount Vernon today, spending the whole day there, and we can confirm that you don't have to drive to get there if you don't want to. Take the bus to the Metro, go to the end of the yellow line and take the 101 bus to Mount Vernon. It isn't fast, but there is no stress, no driving in stop and go traffic, just sit back and relax and eventually you will get there. We chuckled as we watched the bumper to bumper traffic the few times we saw the freeways from the tracks. I guess our travels in Europe have really changed the way we approach visiting big cities.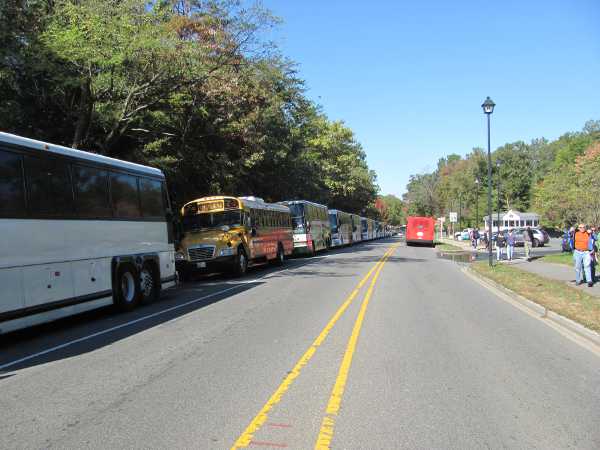 On the right side of the road is our bus, the city bus that just dropped us off at Mount Vernon. On the left side of the road is a hint of what we were about to get into when we entered Mount Vernon. Another hint, tours of the house are scheduled 5 minutes apart. The best part was when we were waiting in line and one of the docents replied to someone's remark about it being crowded, "We aren't crowded at all at this time of the year, you should be here in the summer."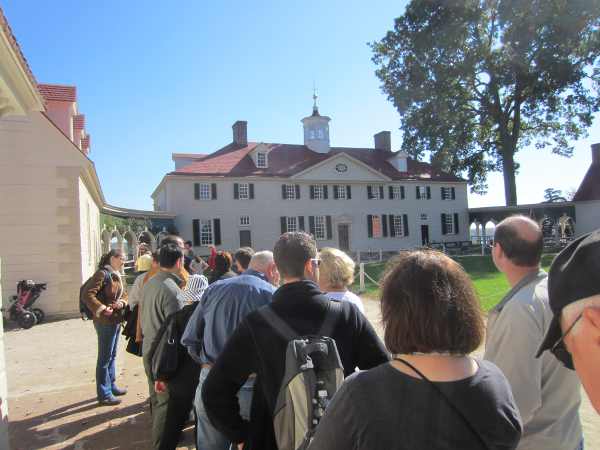 One of the interesting things about Mount Vernon is that is no longer the color I thought it was. They have taken it back to 1799, and it doesn't look like the Mount Vernon from my old history books. The color is a light sandy tan, and the wood siding has been carved in such a way as to resemble stone blocks. Another of those childhood memories dashed.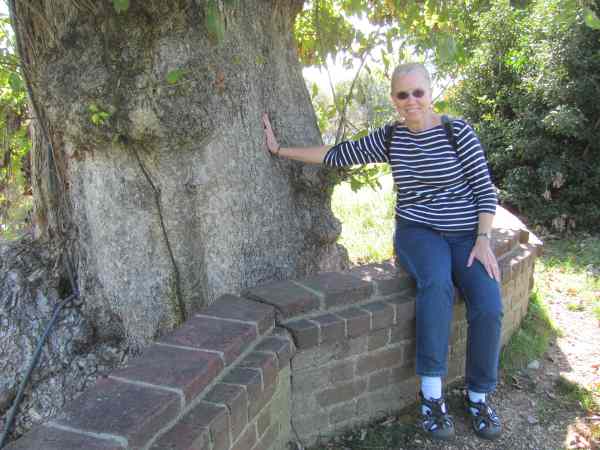 That tale about Washington chopping down the cherry tree is pure fiction, but this photo of Linda touching the Swamp Chestnut that was growing when Washington lived at Mount Vernon is real. It's down the hill to the left in front of the portico, and it really meant something to both of us to touch it. It was like there was a direct connection to both the former President and Martha as we placed our hands on it. The more of these types of out of the ordinary things we do, the more that history becomes real.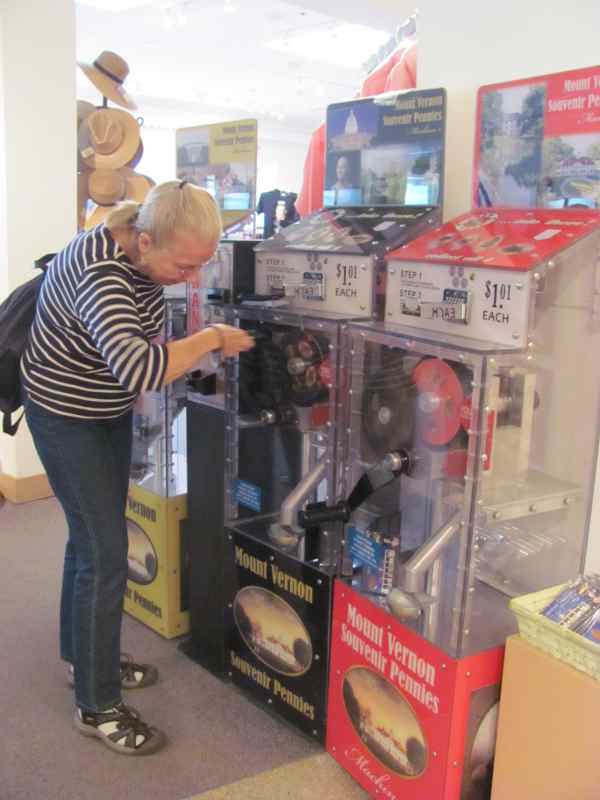 This one is for Zachary, a George Washington smashed penny. And in a way this sums up our visit to Mount Vernon. Sure it is very nice. The home and furnishings are great. The movie and museum are superb. But underneath it all, it came off as just one big glorified commercial tourist attraction. It was just too perfect. There was just to much cleansing of Washington's owning slaves. It was like everything was what it was, only because we were told it was, not because it actually was that way.
I'll leave off with this: everywhere we go, a smashed penny is 50 cents plus the penny. Here it was a dollar plus the penny. In the end we came away with the feeling they were out to separate you from as much money as they could. That Mount Vernon is a lot of show with very little go.
---
Wednesday October 26 Washington, DC
The heart of Washington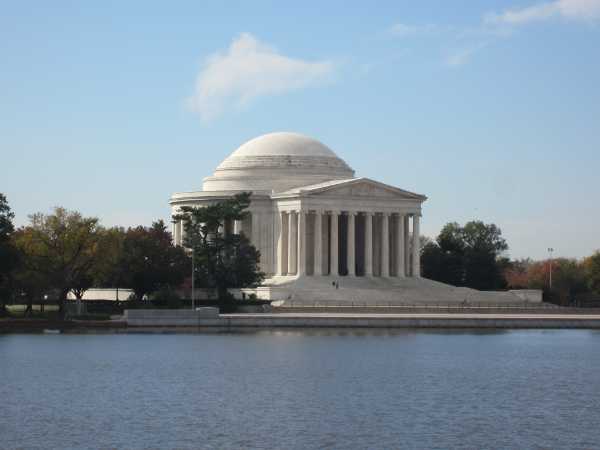 After yesterday's very long day at Mount Vernon, we decided to put the brakes on today and visit the Capitol end of the Mall. That actually didn't last very long, and early morning saw us walking from the Mall to the Jefferson Memorial. We could only imagine how beautiful this must be when the all the cherry trees lining the path to the monument are in bloom, but still it is a special place. It is not mobbed with people as are the monuments on the Mall, yet it displays a quiet dignity coupled with a sense of grandeur that befits the man who was the principle author of the Declaration of Independence.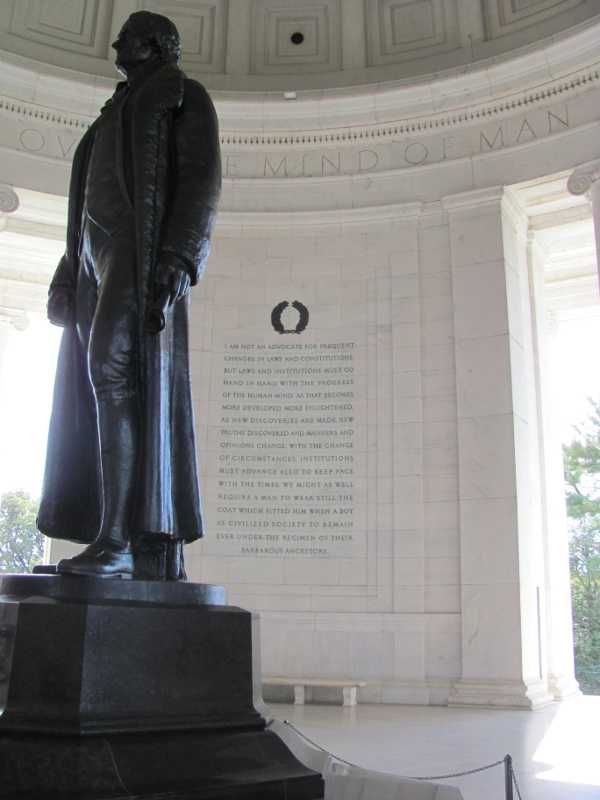 Jefferson wrote many missives during his lifetime and it is easy to take issue with any one of them. Yet if we can attack one as unrepresentative, we can attack all. With that in mind I will quote what is on the wall behind Jefferson. "I am not an advocate for frequent changes in laws and constitutions. But laws and institutions must go hand in hand with the progress of the human mind. As that becomes more developed, more enlightened, as new discoveries are made, new truths discovered and manners and opinions change, with the change of circumstances, institutions must advance also to keep pace with the times. We might as well require a man to wear still the coat which fitted him when a boy as civilized society to remain ever under the regimen of their barbarous ancestors." Those who would say that the Constitution should be be interpreted only in light of the intentions of the original framers would do well to read one on the original framer's words.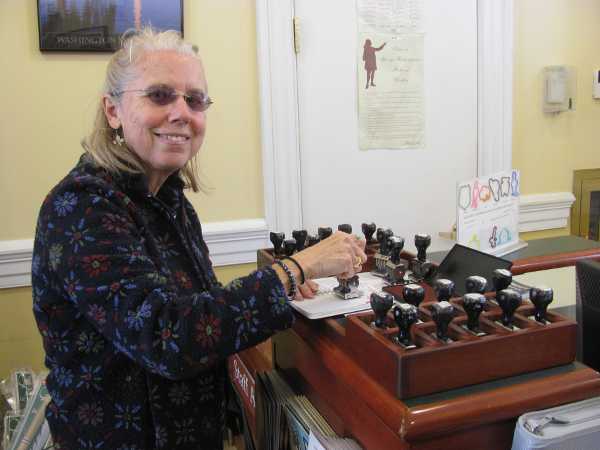 Happiness, joy, total bliss, joy beyond compare, nirvana. Call it what you want, but by whatever name it is known, Linda was experiencing it. More than twenty NPS Passport Stamps, twenty four to be exact were at this little building on the Mall where you get your tickects to ascend the Washington Monument. The good news was that we were the only ones in the building. The bad news was that the reason we were the only ones in the building is because the Washington Monument is closed because of damage from the August 23 earthquake. I was afraid I was going to have to ice down Linda's wrist tonight after that stamping marathon, but with wrist strengthened from a childhood of milking cows, she did it without a pause. Appalachian hill girls are the best in the world. Take it from me, I know it first hand.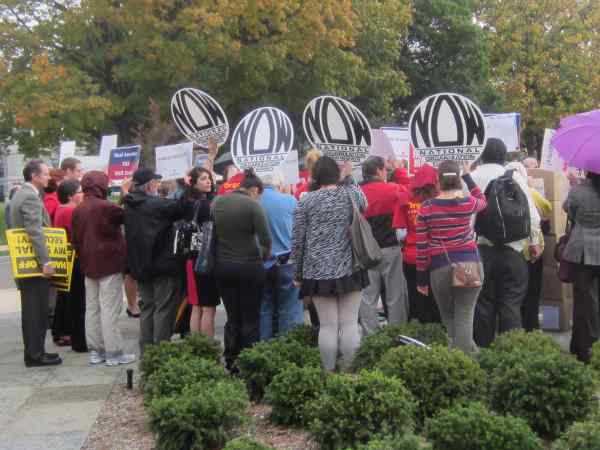 Our next stop was Capitol Hill, and as we walked up towards it, I stupidly remarked to the beautiful young Appalachian Hill girl I was lucky to marry that it sure was a hill. Very bad choice of word on my part, especially since it was raining at the time I said it. Note to self. When climbing hills and wife is looking unhappy, do not ever make remarks about the hill. Worse than Bad Bob, Extremely Stupid Bob. As an aside, and mostly for Linda's sister who thinks Washington is rife with protests, we did see a couple of dozen NOW protesters behind the Capitol, but what it was they were protesting, we never did learn. My take. If you believe what you see on TV, perhaps you should look again.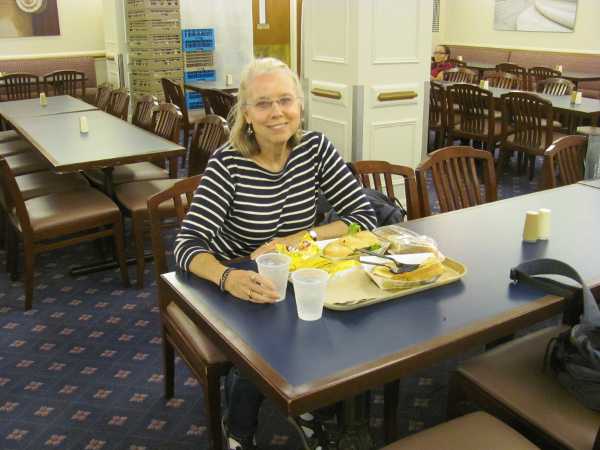 Forty three years and eleven months ago, give or take a few days, we had a noon meal in the Supreme Court cafeteria during our honeymoon in Washington. I guess we could call this our anniversary meal, thought the cafeteria is considerably different that we remembered it. Didn't matter though, because we were back, and we were together, and we were just as much in love as we were in November of 1967. Life simply doesn't get any better this. When I was in my early twenties, women in their early sixties were really old. So why is it then that Linda is more beautiful today than she was nearly 45 years ago. Maybe it is Appalachian Hill girl genes, or maybe it is in the eye of the beholder. Never the less, the answer is the same. My wife is beautiful and I am blessed.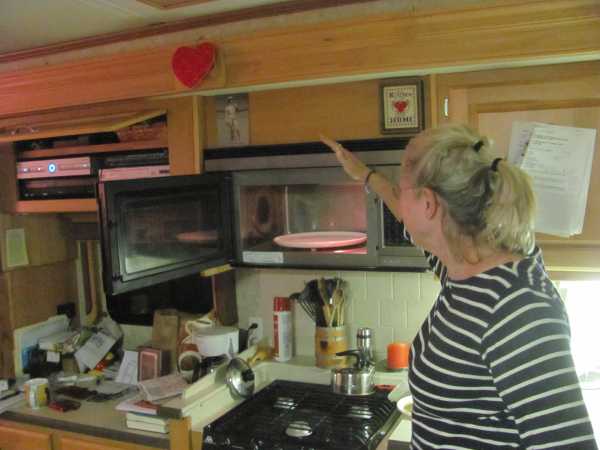 I'll leave off with this: Linda is not perfect. Take popcorn, place in popper, put in microwave, set time, decide it needs one more minute. Terrible burning smell comes form microwave. Smoke comes from microwave. Container comes out of microwave with orders for me to get it outside NOW!. Smoke alarm does not go off. Husband wonders what wife was doing. Wife says not to ask what she was doing. Husband does not ask. Life is good.
Moral of the above story? Life is not a dress rehearsal. Don't be afraid to laugh, love and retire early.
---
Thursday October 27 Washington, DC
A day of rest
The weather forecast called for rain, our bodies called for rest and so it came to pass that today we did nothing. Maybe not exactly nothing, as we did go out to the grocery store, but otherwise we tried to do our best imitation of sloth people. Because of this we only ended up with four photo's today, two by Linda and two by me, so there is an excellent chance we will both have the same photo's in each of our Daily Journal's/blogs. Should be interesting how we each approach the subject matter. Link to Linda's blog Because We Can II.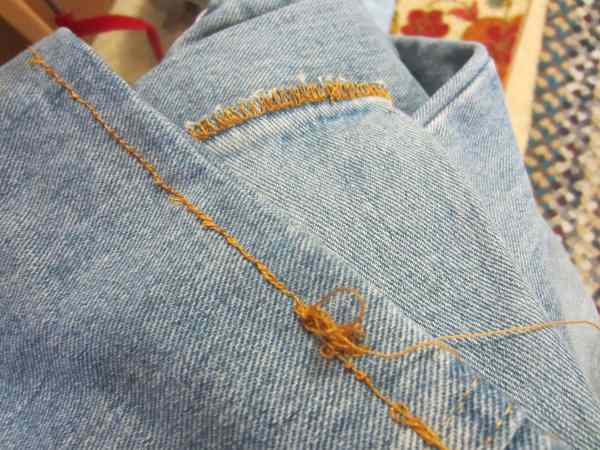 Besides our doing nothing, we also did something. In Linda's case it was hemming that pair of jeans she started on many months ago, but with her sewing machine not working as she wanted, it was never completed. The photo is of the seam I volunteered to rip out so he could start anew. The zigzag stitch stayed but the rats nest had to come out. It took a little while, but I soon had it out and she was ready to try again. The original problem had to do with the thread tension, but she thought she had that figured out. Unfortunately her first two attempts indicated that the problem was not yet solved. Really no problem though, as the experience I gained removing that old stitch made removing these next two miscues, a piece of cake.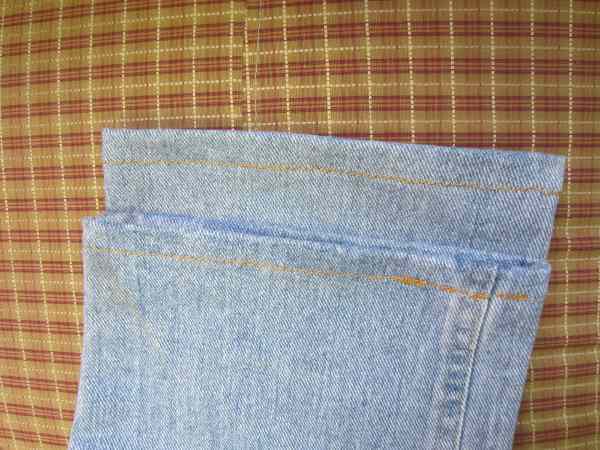 I probably sound like I brag about Linda too much, but what can I say, and besides I have this photo to prove just how good she is. Do not think there was no testy reaction to those first two foul-ups of the seeming unseamed seam, because there was. But with the proper amount of channeling of that angst, plus a good dose of knowing what she was doing, the seams seemed to seam with the seemingly greatest of ease. When you are good, you're good, and is she ever good. Lucky Bob.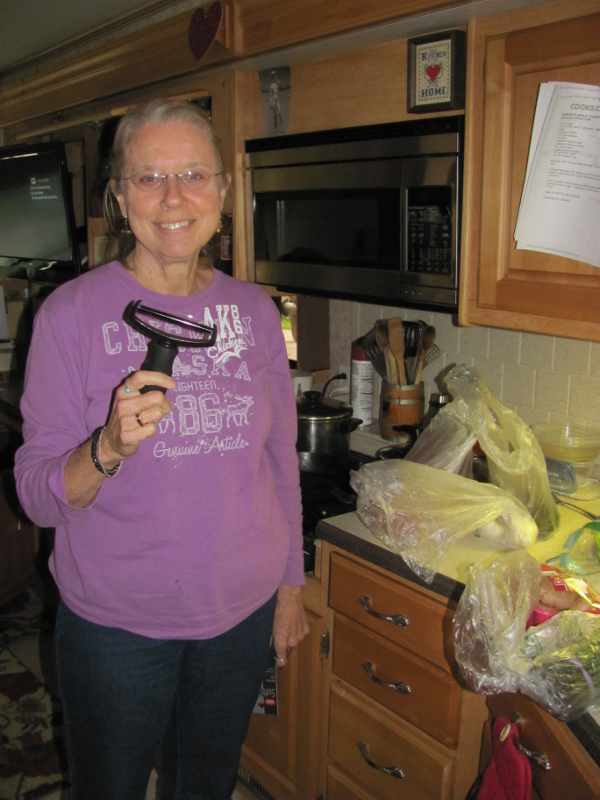 There is a tale here, and no she is not threatening to do something to me. When you live in a small home, one where you have a single drawer for all your kitchen gadgets, sometimes things happen. In this case the thing was the disappearance of our cheese slicer. We think that Linda's sister, Katherine, has it, Linda believes she left it when she took our dishes in the house to wash them at Katherine's sink. That maybe true, but Katherine may also be holding it for ransom as a way of ensuring our return, or at least that was one of a number of hare brained ideas I proposed to explain why it was missing.
Actually it was so old, and the wire was so stretched that it was almost useless, especially if you wanted any consistency in your cheese slices. A new one was on today's list, and so we bought one. Not that we had any choice what with these Maryland stores carrying only one style of cheese slicer. It's enough to make you wonder if Maryland is actually part of the United States, what with such a limited choice. Most place we travel there would be at least three different styles of slicer, if not more.
Hopefully I've outsmarted Linda, and will only use three of the four photos, but should we have the same photo's in our day's writing, rest assured that what I have written about them is the true story. As far as what others may write, history will be the judge. Or something like that. Have a great day, we did.
---
Friday October 28 Washington, DC
Day at the Museum: Natural History at the Smithsonian
We decided that this would be our day to visit the Smithsonian Natural History Museum and if we had enough time, while hoping to get back to the coach before 3 PM, we would spend the extra time at the Smithsonian Museum of American History. To fast forward, we spent the entire day at the Natural History Museum, getting there just after 10 and leaving at 4:30. And now returning our regularly written Daily Journal, it was definitely Linda's day as she took almost 100 photo's while I took just over ten.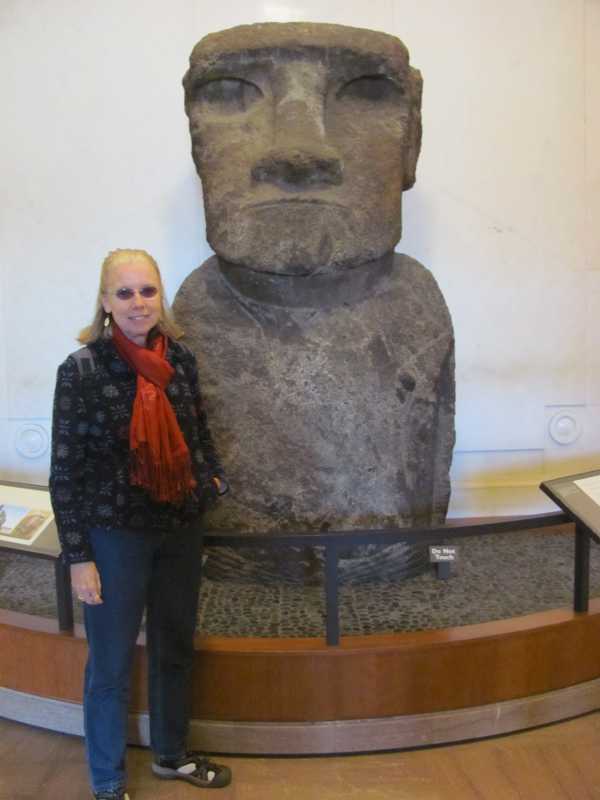 This is not a sculpture of Linda, even though there are a striking number of similarities between old stone face and young smiley face. It did remind us that a trip to Easter Island is on our "to do" list, most likely in 2014. Of course with most things we do, that is written in jello. As far as the Museum was concerned, we saw about three fourths of it, though we hurried through half of what we saw. But what we really saw, we really enjoyed. This is certainly a world class museum. The problem being there just isn't enough time to go back and see what we missed.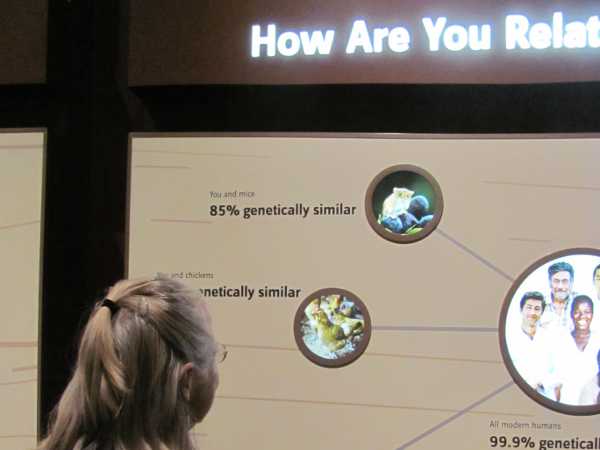 Interesting exhibit. The title was "How Are You Related?" The graphic showed just how close we as humans are related to several animal species. With each animal it gave the percentage of genetic similarity. Maybe it was a fluke, or maybe it was meant to be, but if you will notice in the above photo, the percentage in the case of the chicken was blocked by the lady who loves chickens. Could it be that all along I have been wrong with my grizzly analogy for Linda, and she is really a Banty?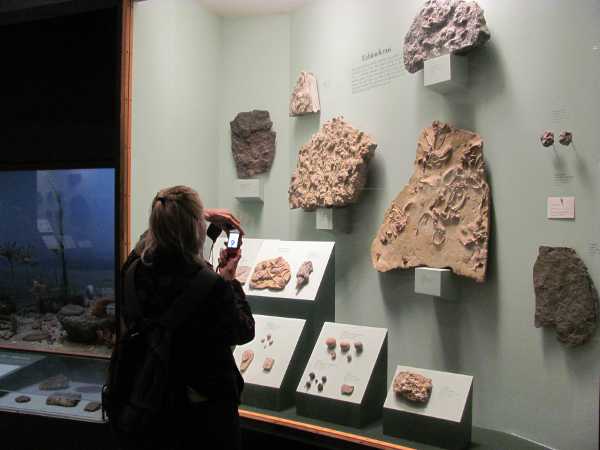 What Linda spent time doing today. But wait a minute, it wasn't her picture taking I was referring to, it was her time spent in front of many of the different displays. This is a childhood memory exhibit for her since the farm she grew up on was littered with the fossilized stem sections of the crinoid, an underwater animal that looked more like a plant than an animal. That fostered her lifelong interest in fossils, and needless to say, it also helps explain why we spent so much time in the museum.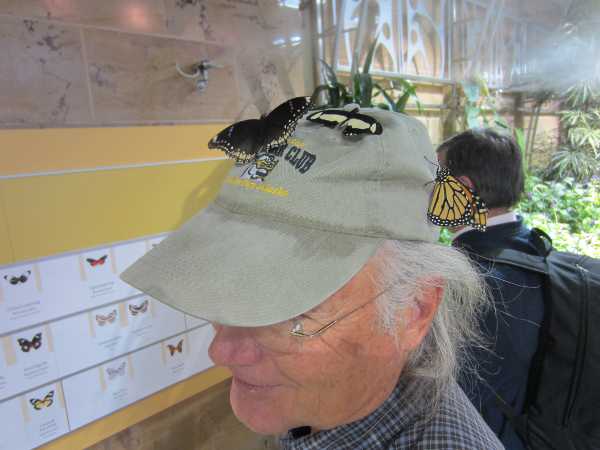 One thing we did that was especially enjoyable was to visit the butterfly pavilion, an enclosure that houses butterflies galore. It was only $5.50 each with our $.50 senior discount, and it was worth every penny. We not only learned all there was about butterflies, but Linda also learned something about me. Butterflies feed on sweet nectar, meaning they love sweet things. I most certainly pointed out that fact to Linda, and with three butterflies perched on my hat, it could only mean that I most certainly am a very sweet person. I wasn't sure if she said something about when pigs fly in response or not, but at least this is some additional evidence to support my claim regarding what a nice guy she is married to.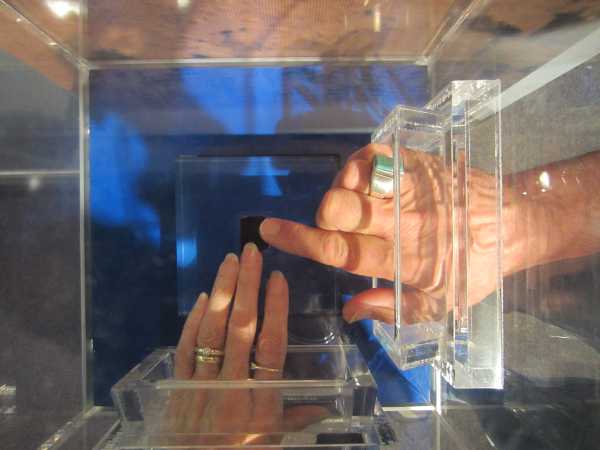 We both had a great time, and this is a perfect final photo, showing us touching a piece of Mars. That's the great thing about visiting a place like this, you learn about things you never knew about. Are we having fun? You bet. Is there more to see in Washington than we will have for during our two week stay? You bet. But it is starting to get cold, and the warmer weather of the south is looking better all the time.
---
Saturday October 29 Washington, DC
Weathering the storm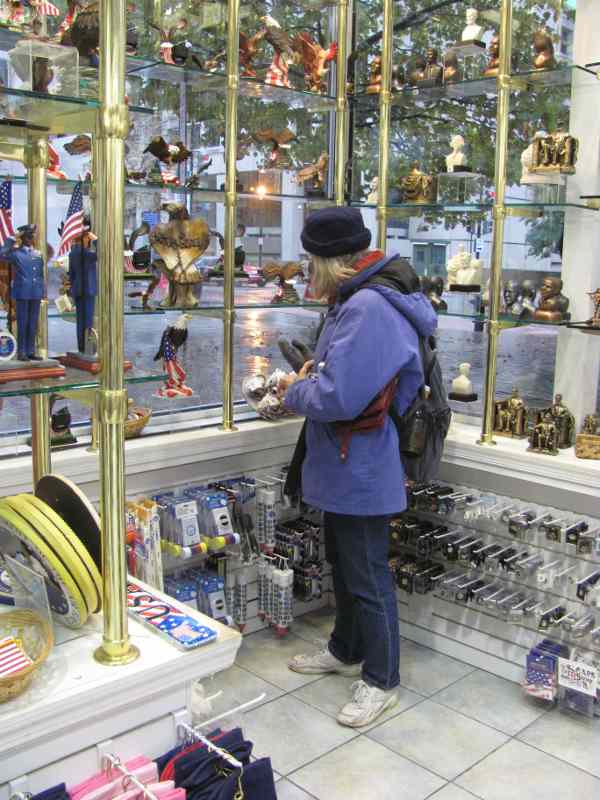 So many souvenirs, but that wasn't the reason we were here in downtown Washington very early on a very, very rainy, and very, very, very cold Saturday morning. Linda wanted to go on the History on Foot walking tour of the sites pertaining to the Lincoln assassination, so last week she signed us up for it. Money paid, history luring us, a cold rainy day before us, no problem, we just dressed really warm, carried umbrellas and took the Metro downtown.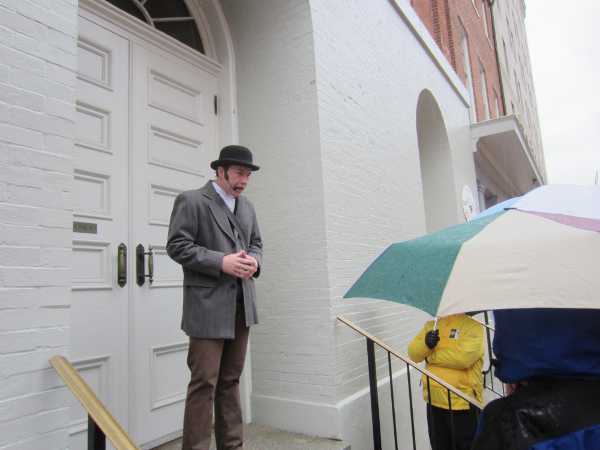 The tour was played out as if we were with a detective who was investigating the Lincoln assassination. Miserable weather aside, we really enjoyed it, and it seemed as if everyone of the other people on the tour got into it also. We would walk to a location that was associated with one of the conspirators, which might be a still existent building for example. Here we would learn another piece of the puzzle that surrounded the killing of the President and the attempts on the life of Secretary of State Seward and Vice President Johnson, though the man who was supposed to assassinate Johnson lost his nerve and ran off without attacking him. The above is the front of the entrance to Ford's theater which was where Lincoln was shot.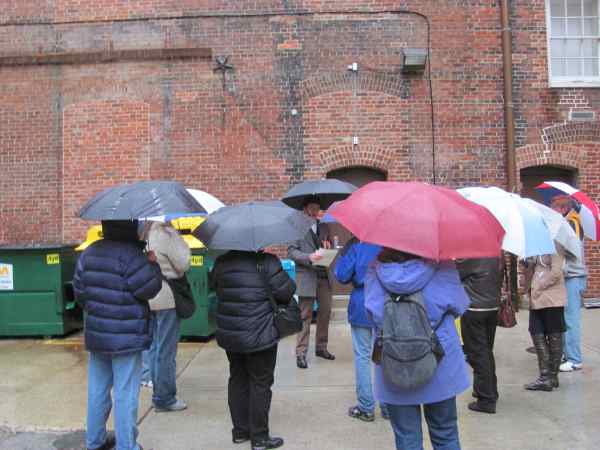 This was the back of Ford's Theater, and while it has been changed over the ensuing years since that fateful night, it was still very special to be standing where John Wilkes Booth came bursting out the back door and hobbled to his nearby horse, especially after watching that play below Lincoln's box last Sunday. It was history brought alive in an unusual way, and what more could we have asked for. The funny thing was that neither of us was bothered by the cold and rain until the 2 hour walk, all of which was outside, was over and we were walking to the Smithsonian American History Museum. Really experiencing history can do that to a person. You get so lost in the past that you don't notice the present.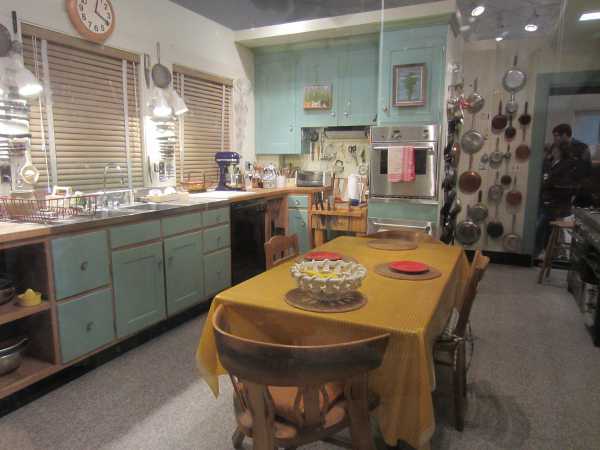 With it being a cold, rainy day, the museum was packed as everyone wanted to be inside. Of the the exhibits we visited, and we skipped at least half of the museum, if not more, and zoomed through much of what we did see, two exhibits were jam packed. The first was the Star Spangled Banner, where no photos are allowed, and you move when the person in front of you moves. The second was this one, Julia Child's kitchen. It is not a replica, but is the actual kitchen in her home which she donated to the Smithsonian in 2001. It all there, the cabinets with higher than usual counter tops, as well as her pots, pans and utensils. Needless to say, it was a place I had to almost pry Linda away from. It just goes to prove that history doesn't have to be something from hundreds of years ago, or be associated with something the government did to be interesting.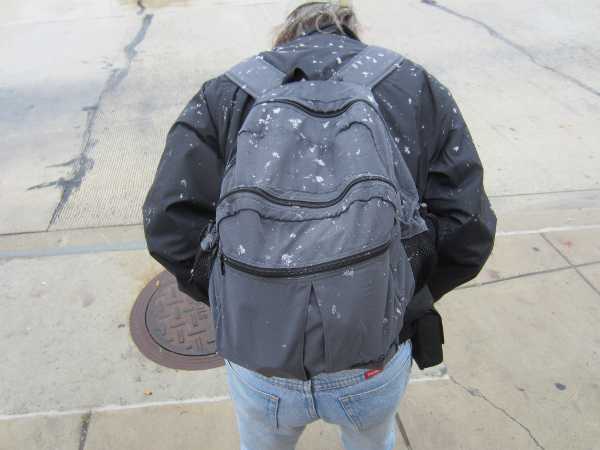 It is what it looks like, as long as what it looks like is snow. There was a little snow mixed with the rain when we left the museum, but by the time we exited the Metro in College Park, it was snow with a little rain mixed in. We never did get any accumulation, but we did get to see snow. Now the key thing is that we want this to be the only snow we see this year. Daily the drum beat of the south gets louder, and in less than two weeks, that's where we will be. Now if it will just be warm when we get there, where ever there is, it would be nice.
---
Sunday October 30 Washington, DC
A cold day in DC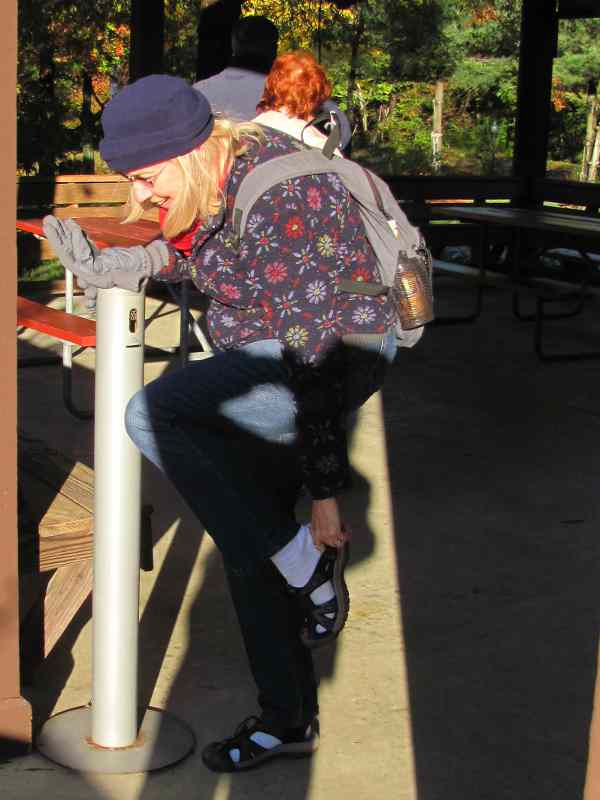 It was a very cold morning when we set off at 8:45 to catch the early bus to the Metro station. Just look at how Linda is having to defrost her foot to keep from getting frostbite as we wait for the bus if you want to know how cold it was. Alright, so that may not be exactly what is happenings here, but it sure sounded good, at least to me. There was a coating of frost on all horizontal surfaces, and one look at the way Linda is bundled up should confirm that the thermometer reading of 34.5 degrees was accurate.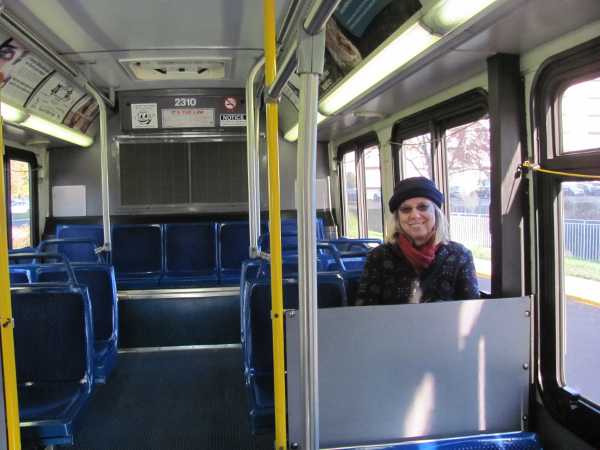 The nice thing about going downtown early on Sunday morning is that it certainly isn't crowded on either the bus or the Metro. This is our favorite seat on the bus, and one we have been able to get almost every time. We got in the habit of grabbing this seat during our travels in Europe because it gives a better view of what is going on and it is close to the back door of the bus. As always, your methods and results may vary.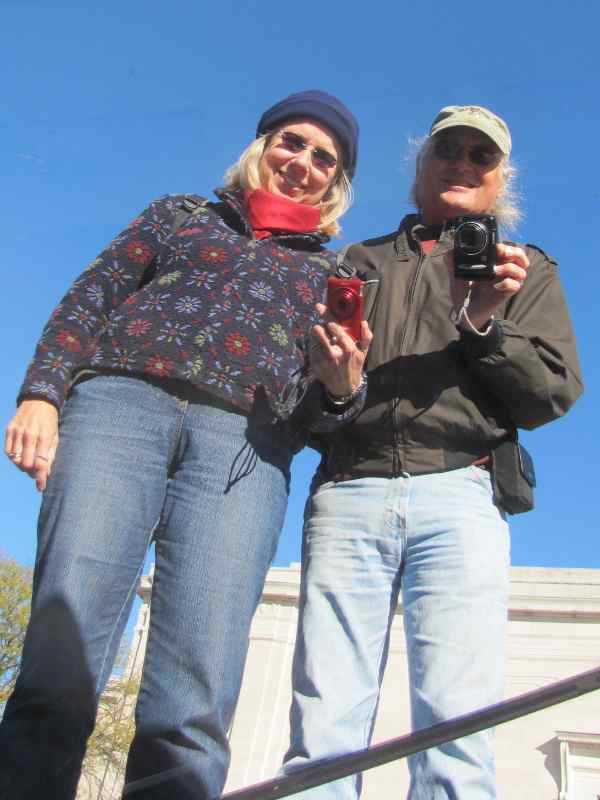 This one is titled: Self photo photo. While waiting for the National Art Museum to open we decided to create a little bit of art on our own. They have skylights in the passageway between the two wings of the museum, and with the sun out, plus the reflection of two wonderful people being bright and clear, we just had to take a photo photo. I don't know which of us took this photo photo, but we sure had a great time taking it. And it proved once again that the best way to live Life is to remember that Life is not a dress rehearsal. Don't be afraid to laugh, love and retire early.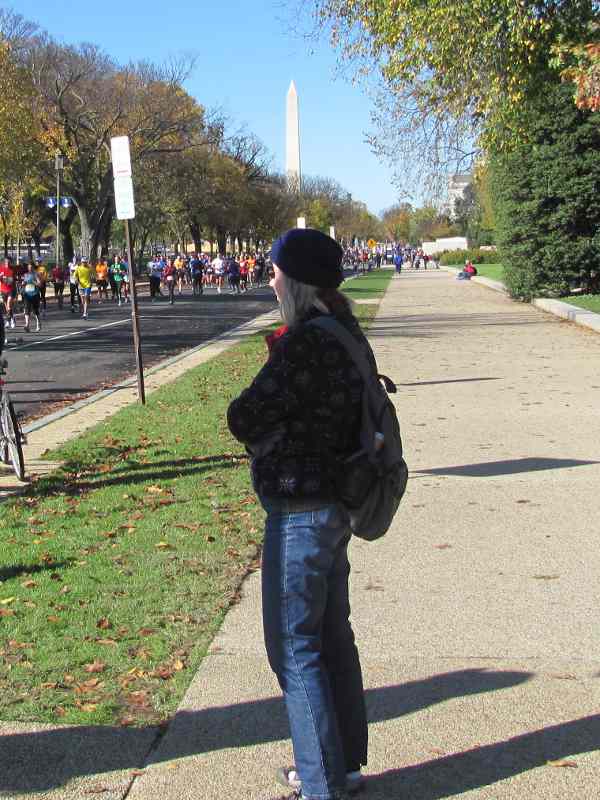 It was also the day of the Marine Corps Marathon, and with Marines in my family, both past and present, we had to watch for a while. You will note that not only did the runners look great, some of the spectators also looked better than great. I don't know how many runners started the marathon, but we saw number placards in the 30,000's on them as the men and woman streamed past us. We had a great location for watching along the Mall, and we were astounded at both the number of runners as well as the number of spectators. Someone said it was one of the biggest marathons in the US and I'll believe it. The best part was that it was to raise money for the Toys for Tots campaign the Marine Corps always has at Christmas time. Good people doing good things, it's what makes our country so great.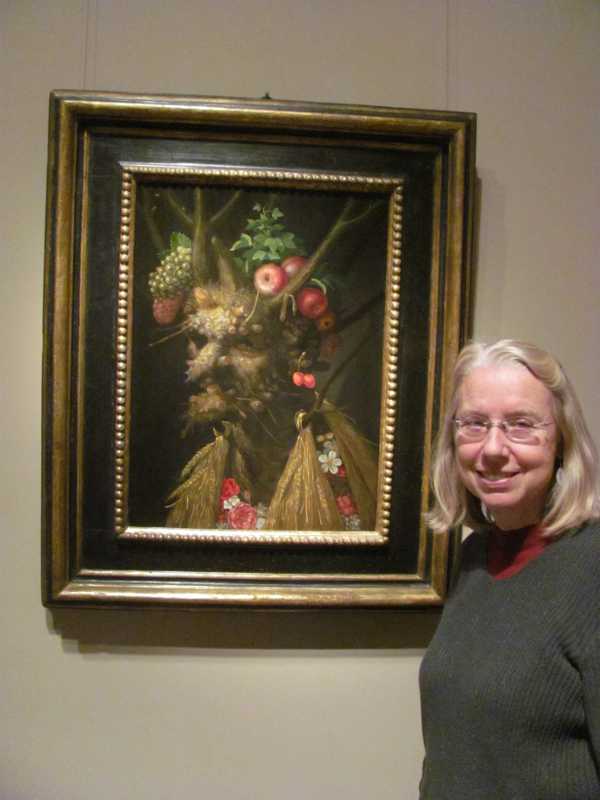 This is not a portrait of the vivacious young model in this photo. Neither is it some modern painting by Piccaso or another painter. It was actually painted in 1590 by Giuseppe Arcimboldo, proving that someone else always had the same idea earlier, no matter what you think.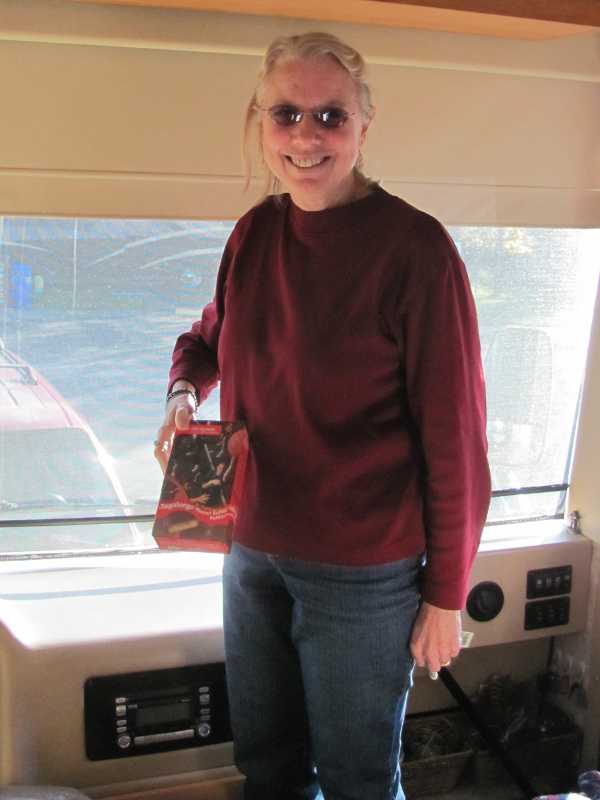 We called it a day a little earlier than normal, partly because we got an early start to the day, partly because we had seen all we wanted to see at the Art Museum, and partly because we are finding out our get up and go has been slowly getting up and going away. That lethargy disappeared in a hurry when I made the remark that it looked like someone was selling something. It was a golf cart pulling trailer with a sign about Girls Scout Cookies. Fortunately I jumped out of the way in time to avoid being knocked over as Linda bolted from the coach. This is what she looked like upon her return, box of cookie secure in her hand and smile of triumph on her face. It is an annual event that makes life, Life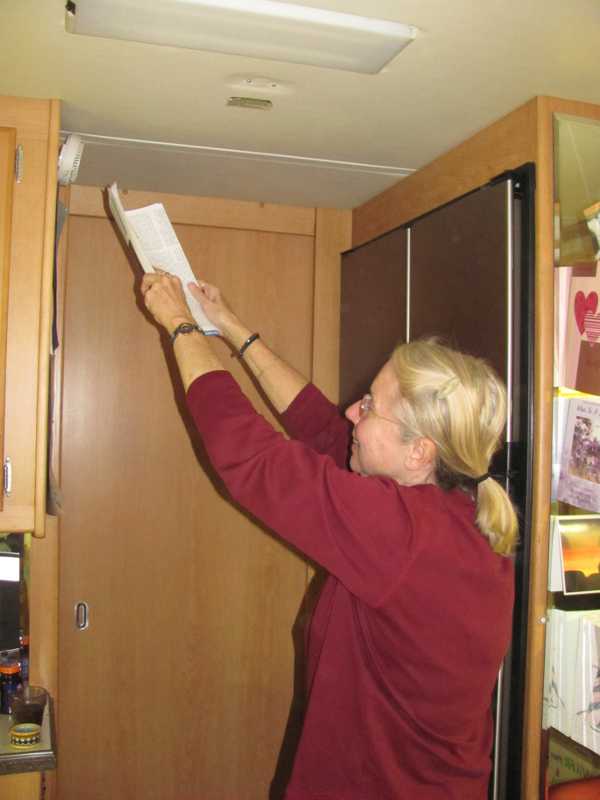 Interesting pose by this young blond full time RVer. As to exactly what she is doing, note the smile on her face. Note the newspaper being waved back and forth. Note the smoke alarm above her. Note what you can't see, her husband who is cooking at the stove where the smoke that set of the smoke alarm is coming from the skillet of asparagus and garlic. I don't care how great your day was, I am here to tell you ours was greater!!!!
---
Monday October 31 Washington, DC
A very special day in DC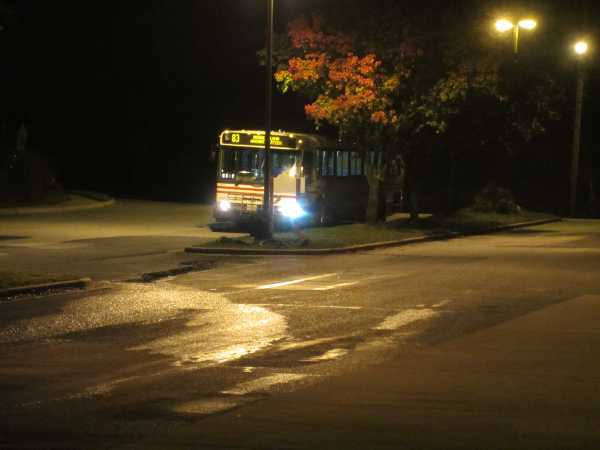 It was most definitely O'Dark O'Clock when we got on the bus this morning for a very special day in Washington. Usually when we board the bus there are between two and six other couples that are also waiting at the RV Park bus stop. Not this morning, or at least not when we boarded the bus at 6:15.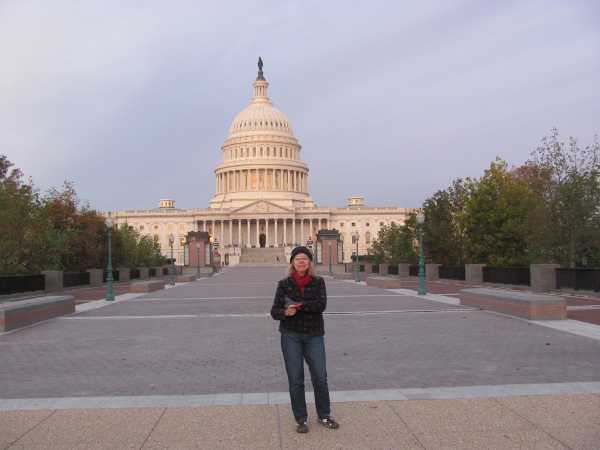 We boarded the bus in the dark, we boarded the Metro in the dark, but we emerged from the Metro to dawn's early light. It didn't take us long to determine that the US Capitol in the early morning, with the sun illuminating its east side, is beyond a WOW! moment, a fact that we later confirmed when talking to a guard at another nearby capitol hill building. Myself, I'm a little partial to the beauty of the young blonde in the photo as being a WOW! moment, but the beauty of the building wasn't bad either.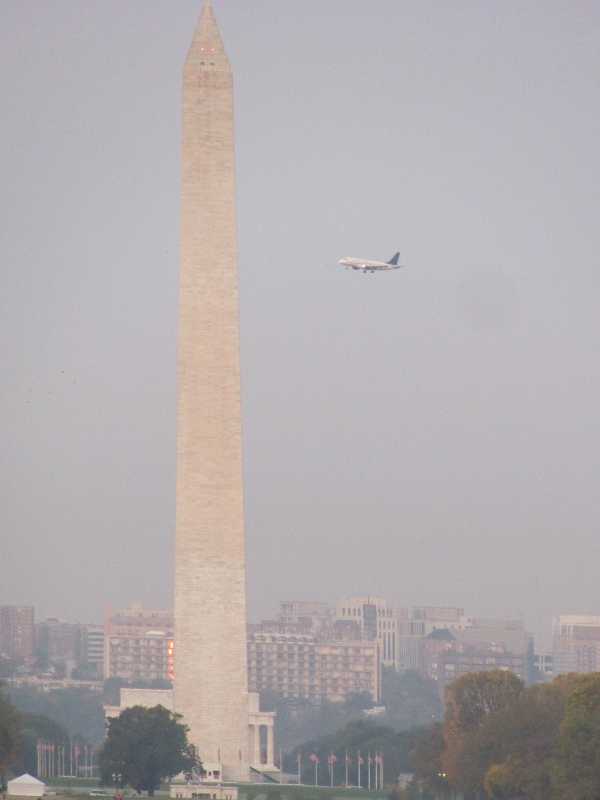 This one isn't what it looks like. However, walking around to the west side of the Capitol, the view of the Mall and the Washington Monument as the sun comes up is a sight that most visitors to Washington never see. I don't know if we will ever see this sight again, but at least we saw it once.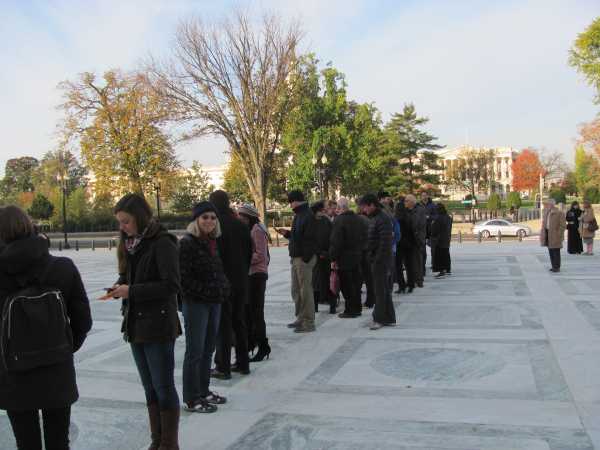 This was the reason we were in the heart of the Nation's Capital at an ungodly early time of the morning on a 28 degree morning at the end of October. We were numbers 56 and 57, which after standing in line for longer than we wanted on the very cold morning got us in to see something that only very few American's have ever witnessed. A hint is that were at the building directly behind the Capitol.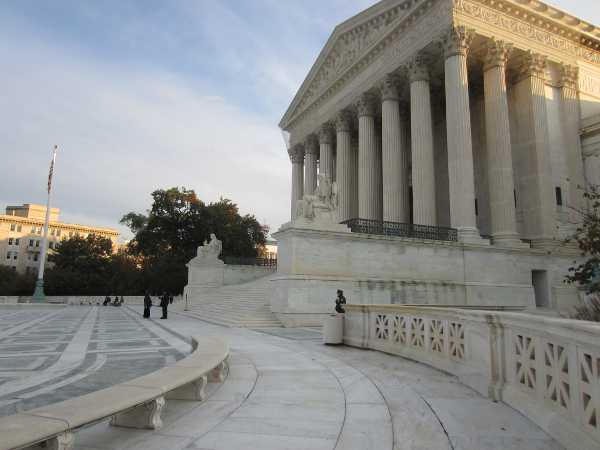 Some of you may recognize this building from an earlier post, if not, it is the building that houses one of the three branches of our government. Lafler v. Cooper and Missouri v. Frye. Every year only a figurative handful of citizens get to do what we did today. We watched and heard the oral arguments in the Supreme Court. To see the Justices, to hear the way they literally tear the attorneys apart, is something that no words can describe. It was far beyond a pinch me moment. I think of our journey, I think of what we call this journal of our journey, and I could never have imagined it would take us to this place. All I can say is that for anyone who comes to Washington, if the Court is hearing cases, give up anything and everything else, you must sit in on a session of the United States Supreme Court. Today's case's may have hung on mundane interpretations of the Sixth Amendment, but this is truly what makes our country what it is. For years I have diligently read the Scotus Blog everyday, never thinking that I would get to actually sit in on a case in the Court, let alone two cases. If I've said Life doesn't get better than this in the past, I've been remiss, for truly this is what Life doesn't get better than.
In years past, on prior trips to Washington, we have seen the Senate and the House in session, but compared to this, they were a mere charade. Anton Scalia can eviscerate a lawyer in just a few words. Justice Ginsberg can tie a lawyer into a Gordinan knot that not even a sword can cut thru. And unlike the reporters that ask a question of a politician, then let them weasel out of the answer, that doesn't happen here. If a Justice asks a question, it most definitely is going to get answered, because they will not stop bombarding the lawyer until it is. Virtually no one who visits Washington does what we did today, and I simply can't say enough about how fortunate we were to be able to do what we did. Thank you, thank you, Sara N. Dippity.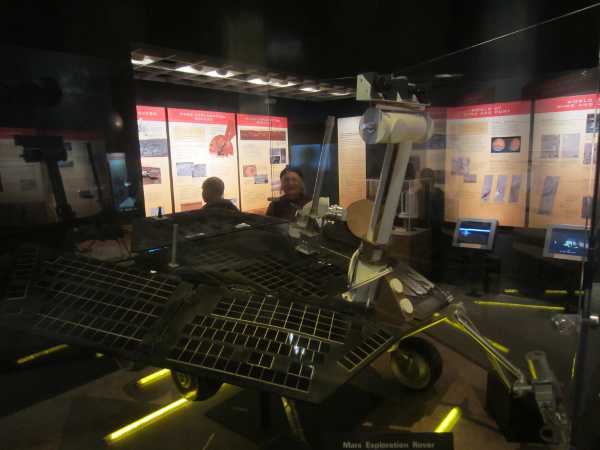 We were in front of the Supreme Court Building at 7:30. We got into the building at 9:30, the sessions lasted from 10:00 to 12:00. Afterward we went to the Air and Space Museum, but it was a pale aftermath compared to the morning. I did get to visit another of my Life dreams, and even if it wasn't the real thing, as the real things are some 200 million miles distant on Mars. We stayed up to 2 AM two different nights many years ago watching the Mar's Rovers' land, and followed them all these years. But while seeing this Rover was great, we'd already done something far better. Can you say Great Day. Can you say Day Beyond Wildest Dreams. We say - Because We Can.
---
---