Journal Archive 1/11 - 1/20 2010
Scroll down to read the latest post
Jan 11 Monday
Relaxing in the desert is anything but work, and today proved to be no exception to that adage. Breakfast was our recent usual, which is sure making Linda happy. That woman never saw a tomato she would like to eat, the pile of diced tomatoes on scrambled eggs was just what the doctor ordered, meaning no repeat of yesterday's close imitation of a grizzly dear. Even got her to admit to John and Judy during dinner last night that she was a bit more than merely surly when she made her grand entrance yesterday morning.
Hey, you think I make this stuff up about her? Just be glad you don't have to spend a day in my shoes. [Editor's comment: Don't believe a word he writes!] If nothing else your toes will get cold where she's gnawed the leather off them during one of her grizzly attacks. Okay, maybe that last one was a just the tinest bit of exaggeration, but I never know when it could happen. She calls herself a pussycat, enraged Bengal Tiger is more like it.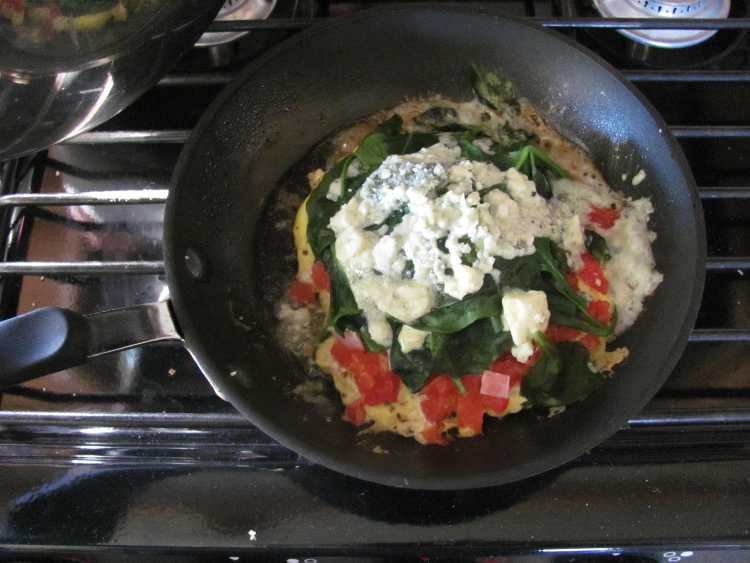 It's been too long since I posted a food photo, so you get to see my breakfast efforts of the day. Not bad for just, eggs, buttermilk, garlic powder, black pepper, Canadian Bacon, tomatoes, spinach and blue cheese.
Most of the morning was spent on the computer, especially for me, as I found the search for the perfect phraseology difficult at times and nearly impossible at others. Meanwhile Linda was busy Facebooking and farming. Time flies when your having fun like she was, and before I knew it, she was clamoring for her lunch. Clearing my foggy brain just enough to garner some inspiration, I commented on how wonderful her tuna salad lunches always taste, and low and behold she was soon mixing one up. [Editor's comment: Do you think I was conned?] It was a day that begged for us to spend some time outside, so we settled into our chairs to enjoy our lunch in the desert.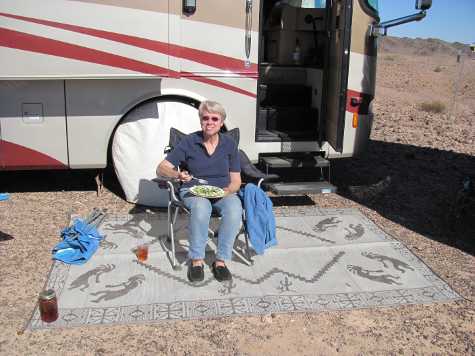 We had to take a trip to the post office in the afternoon, which was about 25 minutes away in Bard to pick up a very important package for Linda. Linda always gets a chuckle when we leave the little area we are parked in because of the sign that marks the entrance.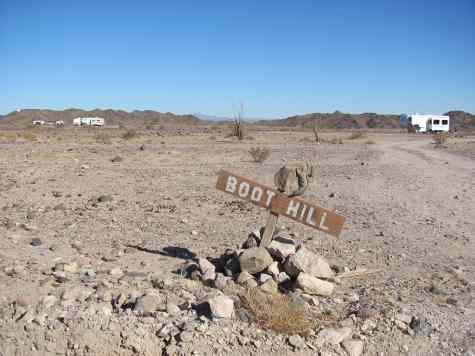 There are only two other RVs on the road, both of them 5th wheels, and both of them far enough away that we hardly notice them. The road is in fairly good condition, so in a way we were fortunate that no one had already claimed the spot we are in. We are also far enough back off the "main "road, Ferguson Lake Rd, that none of the dust created by the vehicles blows our way. It also helps that the prevailing winds don't blow in our direction from the road. Don't think it was an accident that all these good things happened, having been in these boondocking situations before, we know a few things about picking a spot.
S-24, the road that goes past the post office, traverses an area where vegetables are grown. Here is how that head of lettuce gets from the plant in the field to inside the plastic bag, and boxed for shipment. This particular field had four of these machines working.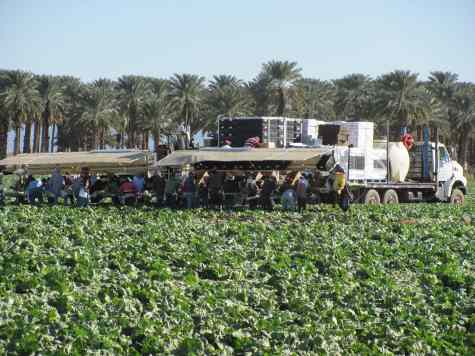 It didn't take Linda very long once we where back at the coach to "rend asunder" that box from the post office which contained some things she enjoyed very much as this photo shows. Birthday presents from Jenny, Ed, Justin, Lindsey and Abby. The card was hand made by Abby, who made sure we knew with "Pictures drawn by Abby" on the back. For us, Life is good.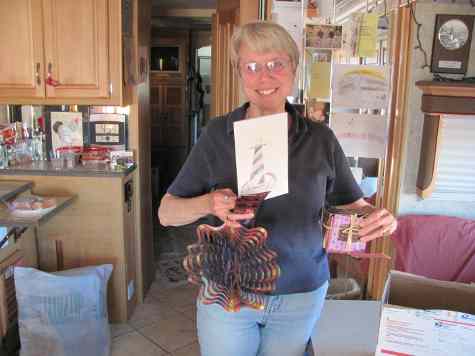 Living Life with a capital "L" wasn't over just quite yet. When I was busy getting the evening fire ready, Linda called out, "Look out behind you." I wasn't quite sure what she was talking about, but since she took a photo before she yelled at me, this is what she was referring to.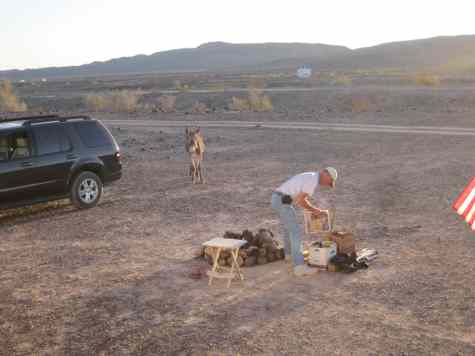 Apparently we had been selected as the winner of the people to approach burro contest of the evening. This guy was just as friendly as could be, and it wasn't long before we were good friends.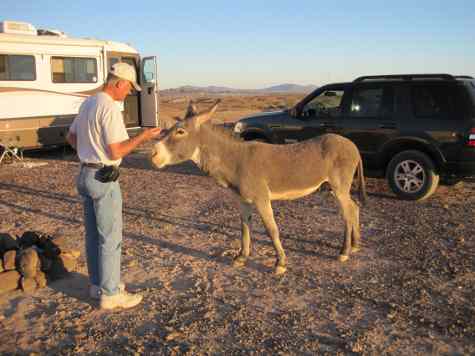 Everyone got into the act, here's Linda scratching that hard to reach spot.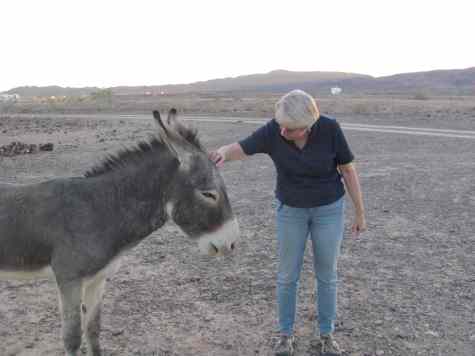 Here's Judy giving him a carrot treat.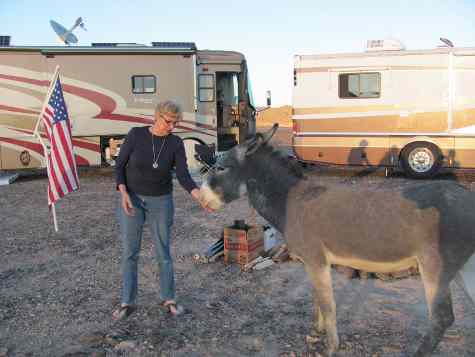 From the look on the burro's face, it looks like John is definitely making friends with him.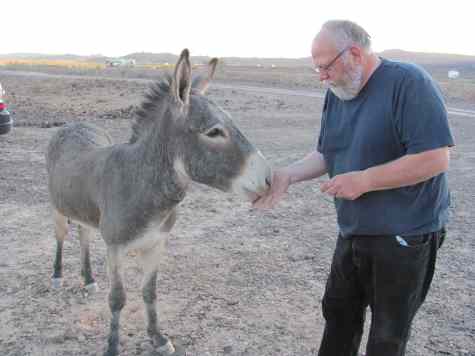 Like we say, Life is not a dress rehearsal, Don't be afraid to laugh, love and retire early. Otherwise you may never have the pure pleasure of moments like this.
---
Jan 12 Tuesday
Moving day today, leaving our little desert hideaway on boot hill and exchanging it for the frenetic world of Quartzsite. Actually it shouldn't be too bad at Quartzsite just yet, but come Friday it will be teeming with the arrivals going to the Big Show that starts Saturday. We've decided to stay once again with the RV America group, though we could have just as easily exchanged it for the IRV2 group. The problem with that is we like to stay in La Posa North so we can walk to everything, and when you are down in La Posa South, you have to drive to everything.
The other option is to stay off by ourselves, but we enjoy the evening get togethers and seeing old friends, so we will be staking out the circle for the RV America group. We know a number of them are arriving on Saturday, but several others will be arriving before then. It just gives us more time to search out the best bargains.
While Linda ran down to the Bard post office to mail an overnite package, it was my job to break camp. Things were humming right along until things really started humming. I had taken down the bird feeders and was returning to the coach when I noticed movement at the window beside my seat. Turned out to be a hummingbird, but the problem was it wasn't outside the coach, it was inside the coach.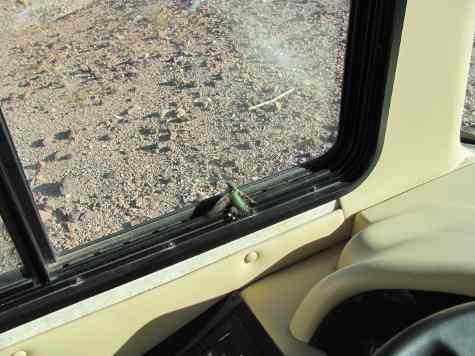 This wasn't the first time we've had a hummer in the house, and probably won't be the last. They are actually very calm and are easy to catch when like this. It's a cute little thing, that's for sure, and as soft as down. It didn't even struggle as I took this photo, though when I took it outside, it seemed to sense freedom.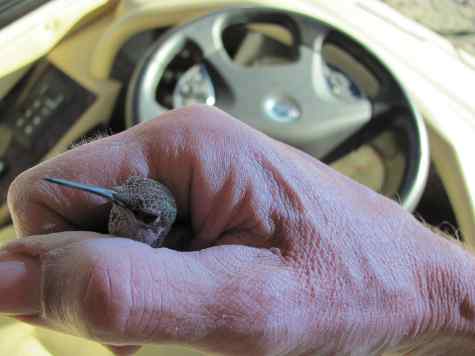 One nice thing about Imperial Dam versus Quartzsite is the ease with which you can dump and fill. When I got there all the water fill spots were occupied, so we dumped first. They have four dump stations, with one of them being unoccupied, so I got right in. That's one of the differences between here and Quartzsite. There usually are no lines and no waits.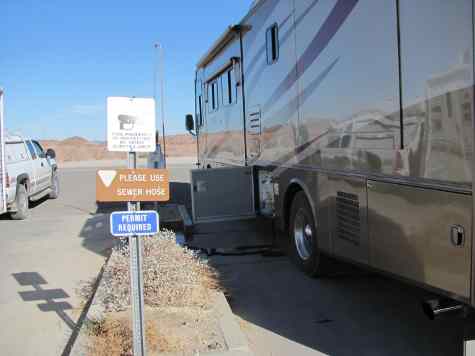 It was an uneventful trip North on Hwy 95. There were a number of sections where the speed limit was reduced to 45 mph for construction. Fortunately there was very little actual construction going on, unfortunately, at least for some people, they think this means there is no need to pay attention to the speed limit signs. Fortunately, the road is in good enough shape so that they were not a danger. Unfortunately the State of Arizona is in difficult financial straits. Fortunately the large fines those speeders will be paying after we saw them getting stopped will help the State with its financial problems. And all that just because someone was in a hurry. Hope it was worth it to them.
In a hurry was something we were not in, no way, no how. Especially after we pulled into La Posa North. After my attempt at carving out an RV road where one wasn't last year, Linda stated she would lead me back to where we would be going this year, and that we would be driving s-l-o-w-l-y. That was exactly what I did as you can see from the photo of the coach speedometer.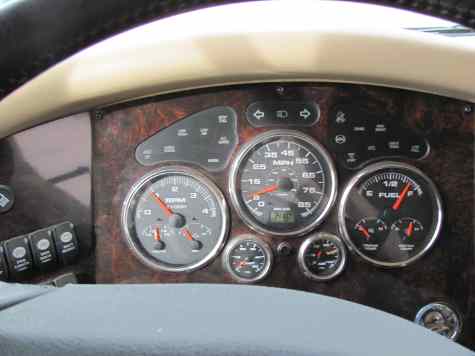 Linda was so intent on leading us to the right place that I don't think she ever glanced in her rearview mirror. As I tried my best to maneuver over the less than perfectly level road surface, she was disappearing into a cloud of dust. It's hard to make out, but down that road is a small dot that is the Explorer and Linda.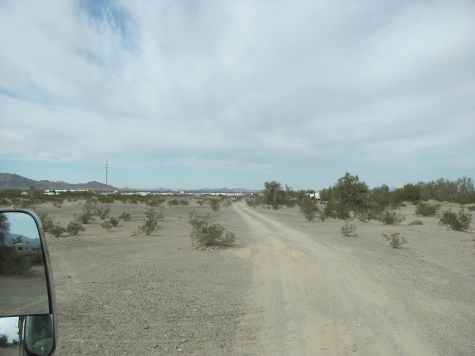 Once we were where we were supposed to be, the first order of business was to go into town, buy our tickets for the New Christy Minstrels, and then stop at the laundromat. Future entertainment and clean clothes. It doesn't get much better than that. As the sun set in the western sky, I worked to get the campfire ready, with no burro butting in tonight.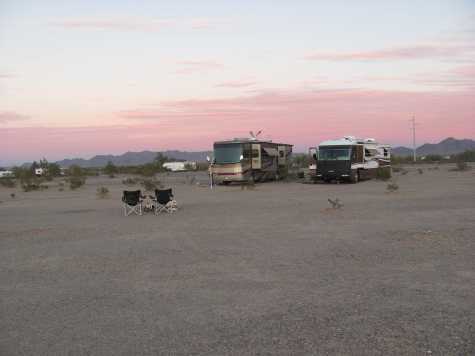 Over the next few days we will get to see old friends, meet new ones and enjoy the fun and frustration that is Quartzsite. It's a place a lot of people don't even want to come to, and a place where some that do, probably wish they hadn't. But for those that enjoy it, it's like no other place they will visit during the year. If you haven't been here and wonder what is so special about it, there is only one answer, and that is you will have to come some day and experience it yourself.
---
Jan 13 Wednesday
Our first morning in Quartzsite didn't appear to be much different from our last morning at Imperial Dam. There is the fact we are now facing west, so no morning sun over the barren desert in the front window. That has been replaced by a number of RVs, but as for the weather, it was the same with the low around 50 and then warming up quickly.
We wanted to go into town and check a few things out, checking out our old standby, K&B Tools. Then there is also the Rada kitchen tent and the discount food tent where we always stock up guacamole mix. Here's Linda in the Rada tent trying to find something for our kitchen. For once there was nothing that caught her eye, and we walked away without buying anything. That has to be a first in our Quartzsite routine.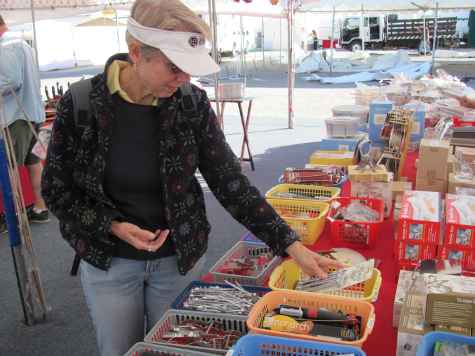 One thing about Quartzsite, there are some interesting things you simply happen upon. Take Trina's food stand for instance. You can get hamburgers, cheeseburgers, curly fries and more.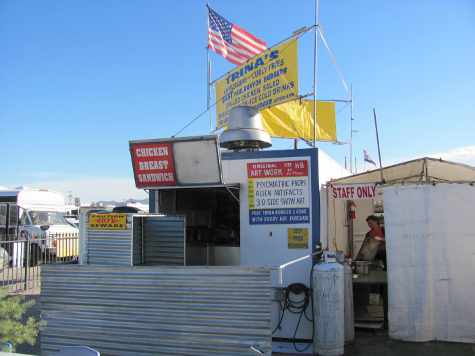 What I found most interesting was the more, as in what the other sign at the stand advertised.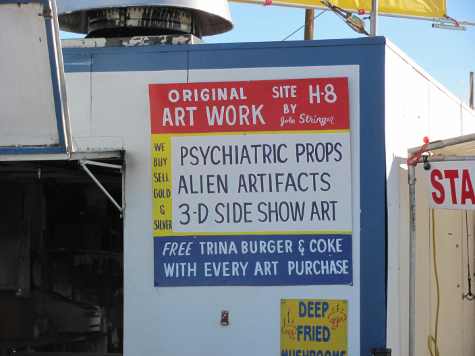 Didn't see any of that PSYCHIATRIC PROPS, ALIEN ARTIFACTS OR 3-D SIDE SHOW ART on display here, so it must all be displayed on site H-8 like the sign says. Wish they would have had even one little piece on display just to whet our appetite. We did figure it must be one whopper of an awesome piece of art, and probably at least a litlle whopper of a price if you get a Trina Burger and coke thrown in for free with every purchase.
Since none of the four of us seemed very excited about the prospect of wandering over to where ever that art was, we ended up checking out the discount food tent. They had the guacamole mix, but only in spicy. That didn't seem to faze Linda, and we bought 8 packages. As we were checking out I commented they were out of the mild, which seemed to take the lady at the checkout back, she was sure there was some over there. Since there wasn't, we will just have to eat our guac a little spicier than usual while in Mexico. Now that is something Judy and I can sink our teeth into as we seemingly preferring our food a little spicier than John and Linda.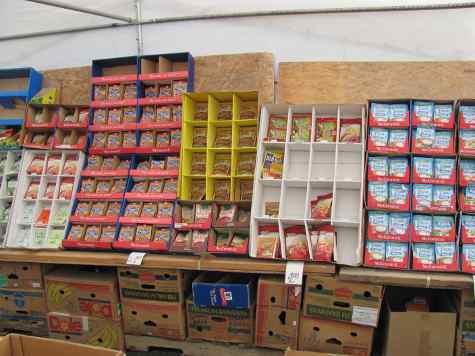 Back at the coach, I got up on the roof and repaired the broken bracket on the solar panel, then tilted the panels up for a better angle to the sun. Linda commented that she saw several increases in amps, which must have coincided with each time I tilted a panel. We will never offset all the money we have in the solar system, but it is like the MotoSat, it is a convenience thing. During our 12 days at Imperial Dam, the generator only ran once to actually charge the batteries. We did run it several other times for an hour or more when using the oven to bake something, but other than that, it was only on for brief periods while we heated something in the microwave. And that was with us using the computers up to 8 hours a day.
While I was up there I took photos in each of the four cardinal directions. I will do the same thing on Saturday when the The Big RV Show starts to show the difference a few days make.
NORTH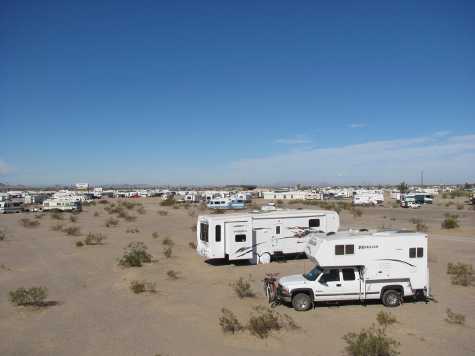 EAST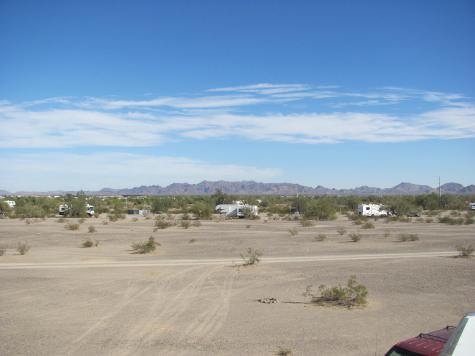 SOUTH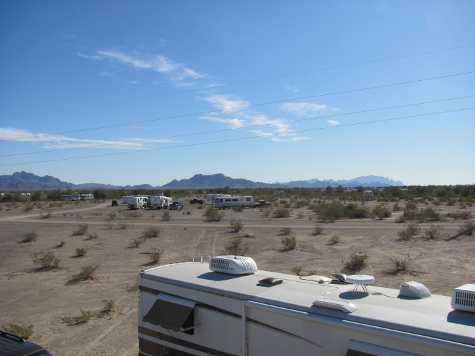 WEST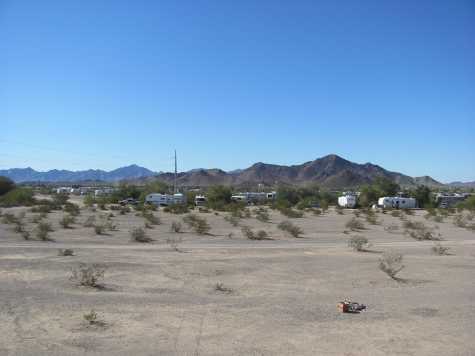 Our circle was a little barren, then around noon Virgil and Sharon pulled in. Virgil took the spot he always does, and was soon in the process of getting set up. We always joke that Virgil seems to spend the whole time at Quartzsite either setting up, or tearing down. While that is not true, he doesn't like to sit still, which is what probably helps keeps him acting so young. Proving you're only as old as you think you are.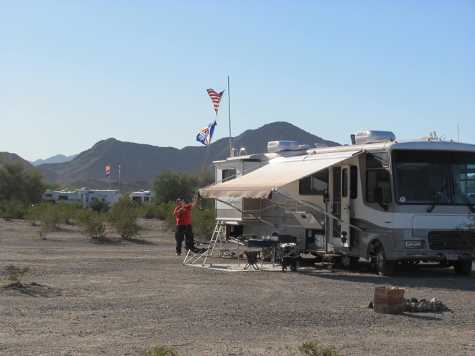 Later we sat around the campfire, burning the last of the wood we have hauled around for 14 months. Just as the fire was dying down, the wind suddenly started blowing in a way that soon had everyone scurrying for their RVs. It was so strong that the moment you stood up, your chair was whisked away, tumbling to the south. Linda proved very adept at rounding up chairs, and when we checked the wind gage, discovered it was only blowing about 20 mph with gusts a few MPH higher. That doesn't bode well for Thurday when the forecast is for sustained afternoon and evening winds of 20 to 30, and gusts of 40 or greater. And the winds will be out of the north, meaning it isn't going to be any fun driving out on I-10. Glad we are here, and trust everyone traveling will arrive safely at their destination.
I'll leave with a photo of our appetizers for the evening, which we enjoyed as the coach gently rocked in the wind. Pistachios, brie cheese, and soft cheese-lemon-horseradish dip distracted us, as the evening was spent with good food and friends. What more could we ask for out of Life.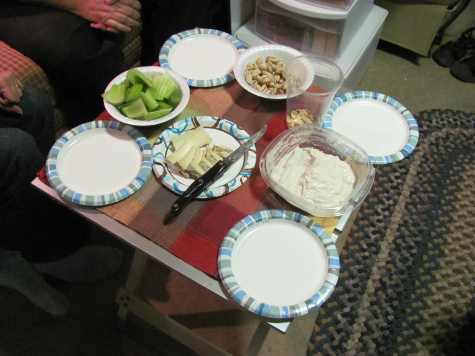 ---
Jan 14 Thursday
This isn't going to be much of a post today, as for some reason I felt like the fellow that got run over by a semi-truck for most of the day. Any day that Linda is up before me is day there is something not right in my world, and up before me she was today. Not that I was asleep, but even if I had been, the loud bang of the Wave Heater igniter would have cleared the cobwebs instantly. Next came the slightly lower volume, bang bang, as she lite the stove to make her coffee. How in the world she can sleep through all this racket every morning I'll never know.
When you have a case of achey breaky body like I did, you just want to shut yourself off somewhere until you feel better. By the time I was up, but certainly not at 'em, Linda was asking me if I was going to fix breakfast. I'm sure my unintelligible mumblings in reply got her to thinking that if she wanted something to eat, she was going to have to fix it herself. Soon a plate of eggs appeared before in the hands of what I took to be one of those surly grease joint, don't give me no lip buster, waitresses. [Editor's comment: Do you think someone was a little grumpy today?]
Maybe the hash house cook did leave out some the things I put in to make it a little upscale, but at least it was food. Oh, and also my usual side dishes of dried fruit and V-8 juice were missing, but there was no way I was going to voice any opinion on that matter. You know that old saying about letting sleeping grizzlies lay, not a peep from me by gosh. Maybe it was because she is so used to always having her breakfast fixed for her, or she was just upset because I wasn't my normal, your ladyships wish is my command, self.
I was able to get the Daily Journal written, not one of my better efforts, though it took the longest time. Then after Linda had performed her editorial chores, I somehow forgot to post it to the website. Like I said, I just wasn't feeling good, no how, no way. I eventually caught that omission and rectified it while trying to get the RSS feed working for the website. Finally got the RSS feed problem figured out, though I never did get the little orange RSS image on the homepage to do what I wanted. Of course the fact I'm not exactly sure what it is supposed to do probably had something to do with it not doing what I don't know it supposed to do. See, I told you I wasn't all there today.
While I was occupied by the mysteries of RSS, Linda was waving her magic cooking wand and producing a delectable batch of barbecued garbanzo beans. Its an appetizer the two ladies have been serving up for the past several weeks as we have tried to maintain a Phase I stance to our South Beachy style of eating. They really are good as a crunchy snack, and very easy to make. I'll have to see if I can get Linda to write out the way she makes them, and post it to the recipe section. Got to love how she starts with dried garbanzos, soaks them in water, cooks them, them bakes them to dry them out again. It's what happens between the dry and the dry that makes them so good. Here's one of the steps she has developed to get the most out of those little beans.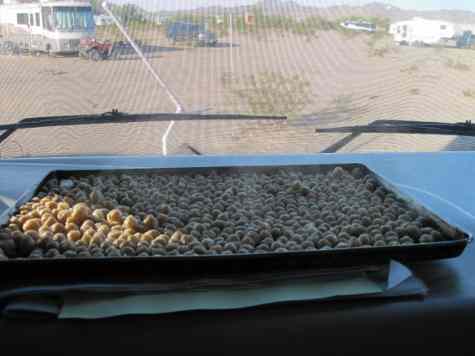 Later Linda, Judy and John went out to experience the Quartzsite version of how not to run a post office. The post office may actually have a few people who are competent working for them, but I sometimes think many got the job because anyone with a brain and desire to get ahead in life would never apply in the first place, making it easy for those that do apply. Anyway, the bottom line was they never did get their general delivery mail because of the hours and lack of signage concerning general delivery. I wasn't there, so I can't relate the whole story, but I believe the condensed version would be that if the people who run the Quartzsite post office had been working for John, they would have found themselves looking for new employment. Civil Service, protecting the incompetent at the expense of the competent and public.
No fire tonight, as all our firewood had gone up in flames last night. On the other had, Judy served up the most delicious chicken and white bean soup, which was comfort food for me if there ever was. It was like a magic elixir, and as soon as I tasted the first spoonful, I started to feel better. What followed was a life lesson for me in the form of Mexican Train. Feeling so much better, I was happy to play, but unfortunately was still operating in a state of diminished mental capacity.
The unfortunate part was what John, Judy and Linda experienced, not me. Instead of over analyzing every possible move, I just played, and found my self winning game after game. Something tells me I will let my success go to my head and return to my old ways of always making the wrong move at the first opportunity.
I seem to continually leave one member of our little group out, never mentioning Mollie, so now it's her time to shine. We really apprecite that she allows John and Judy to visit with us. Though on occasion, if we are sitting around talking for too long, she senses the need to exercise one of the them, and takes them outside for a walk. Life, it's all how you look at it.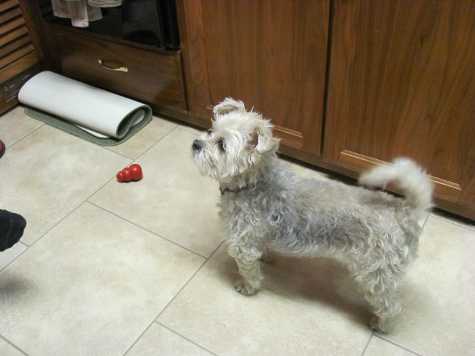 ---
Jan 15 Friday
Writing today's Daily Journal was much easier, what with the fact I was feeling more like a person who jumped out of the way of the semi that seemed to have flattened me yesterday. That still didn't mean my efforts were where they were supposed to be according to the erstwhile editor of my writings. I heard some comments about how she would have liked to have deleted some things I wrote, but with the way I had woven the thread through three paragraphs, she couldn't do it. Maybe I'll have to try writing like that more often.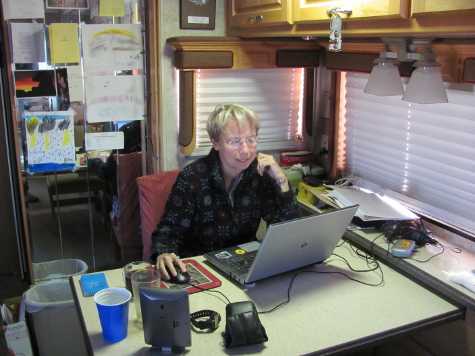 From the quirky little smile on her face, she must have found at least some of that writing amusing. I know I did. Once all the writing was done and the Daily Journal up on the net, I tried once again to solve the problem of the little orange RSS button. This time I succeeded, and for the life of me, I'm not sure what I did differently, other than look at the result in Firefox. I trust it will also work in other browsers. Now that is all taken care of, I'll do my best to keep the feeds current with whatever changes I make on the website. We use the feeds from a number of websites that Linda or I follow, and it makes it so easy to learn when an new post has been made.
Once all the technical problems were worked out, meaning Linda noticed me no longer discussing life in a not to subtle way with my computer, we walked up to the entrance station to get another 14 day pass. We're only going to be here for another seven days, but it is still a great bargain at $40, which figures out to be just less six dollars a day. Being out of the writing mode for so long, I forgot to take a photo of the process, so one of Linda holding up our permit outside the building will have to suffice.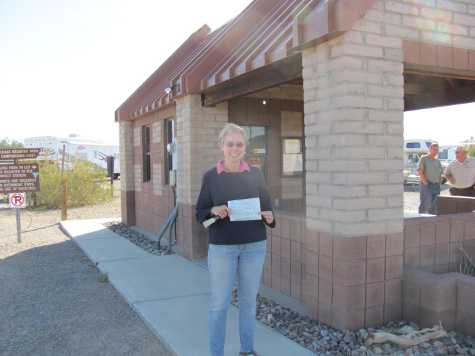 Since our path back to the coach would take us within view of Ron and Terry's coach, and knowing Terry was probably over at the gem club, but Ron would no doubt be there working on one of his websites, we took a little detour. As we guessed, Ron was there and we spent a pleasant half hour visiting and getting a peek inside their new 5th wheel which we hadn't seen before. For anyone who isn't familiar with Ron's websites, he is the brains behind the website that has as its mission "To be the best site to find RV Travel Adventures and Journals. To Keep It Simple, And Do It Well.", hitchitch.com
.
They also have a personal website where, besides following their travels around the country, you can also find some of the best information on Quartzsite and what the Quartzsite experience is all about. That website is fulltime.hitchitch.com. Of course I followed the path I'd been setting earlier in the day and forgot to take a photo while we were there, so here's one looking back at their Hitchhiker.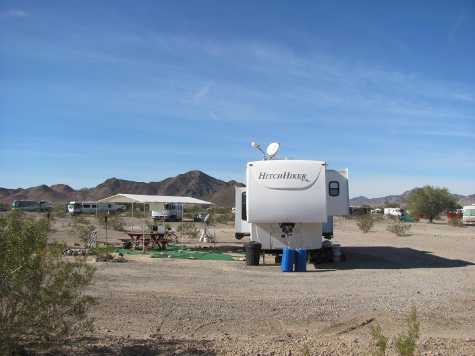 We knew exactly what we were going to be doing in the afternoon, which was the same thing we did last year on this afternoon.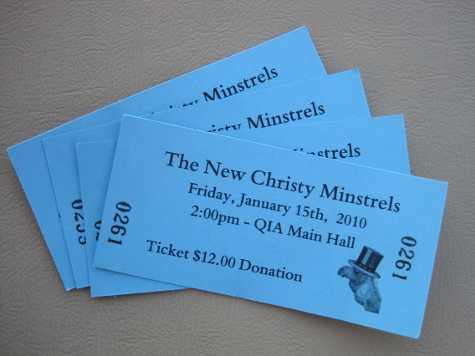 And the show turned out to be just as good if not better than last year. I just feel sorry for anyone who was in Quartzsite and didn't take in one of the two shows The New Christy Minstrels put on today. Mark your calenders for next year, as it is a regular on the Friday before the BIG RV Show. It's hard to believe they still have five of the original band members performing, though as their founder and leader, Randy Sparks, points out, one of those missing is impossible to replace, afterall who do you know that has a voice like Barry McGuire's.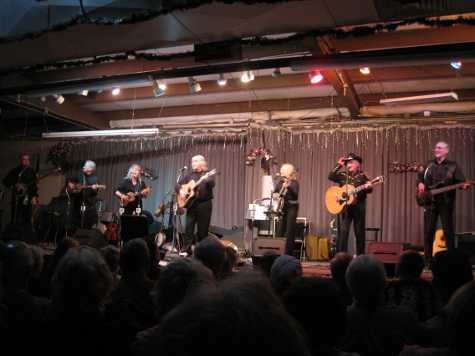 Sometimes they seemed to be merely talking to each other.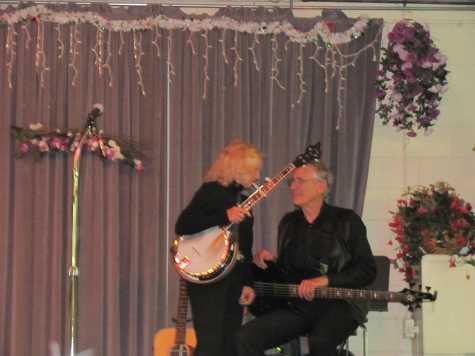 And sometimes they seemed to be singing just to you.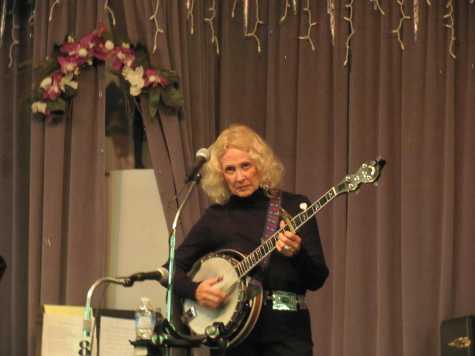 For a group where most of the members saw age 70 a long time ago, they do an awesome job of transporting you back in time and stirring up memories of days gone by. Once the performance had concluded, all the young grouppies, tightly clutching their newly purchased Cd's, lined up to get the cover autographed. Here' a couple of cute young chicks that caught my ever roving eye.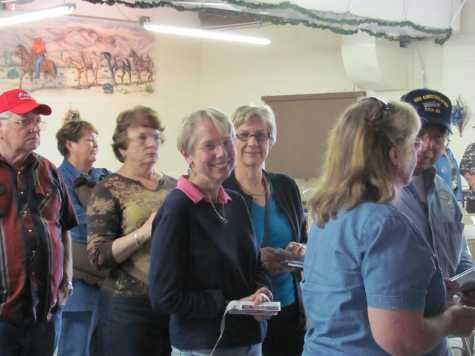 Then it is was autograph time. Afterward Linda gleefully reported Randy had said, "What are you two kids doing in this line?", when he looked up and saw them. It was great to hear her giggling like a teenager once again. If that isn't living Life, I don't know what is.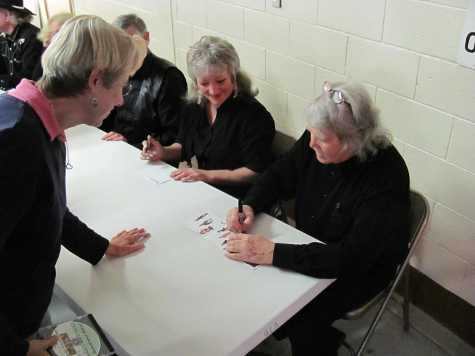 Here's Randy Sparks autographing Linda's CD cover. Meanwhile Judy was right behind her, and I rushed around the line to the other end of the table just in time to catch Dolan Ellis autographing a cover for Judy.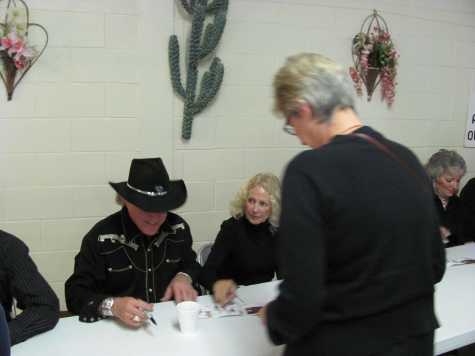 Meanwhile I was getting another of those special looks.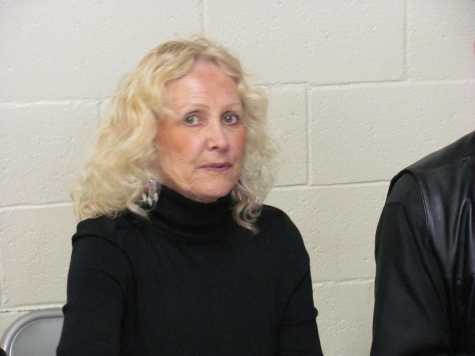 Later, back at the coach, several more RVs arrived, included our intrepid leader Mike. Here's his erstwhile navigator, masquerading as the Parking Princess, doing her best to get Mike hung up on some creosote bushes. After all the arm waving and tap dancing, it was a wonder poor Mike didn't end up parked sideways. With them embarking on a multi-month cross-country trip, the producers of RV, The Movie, may want to assign a writer to tag along. Looks like he could easily come up with enough material for two or three sequels.
Once darkness had settled in, it was campfire time. This will be our nightly routine for the next week as we visit with friends, both old and new.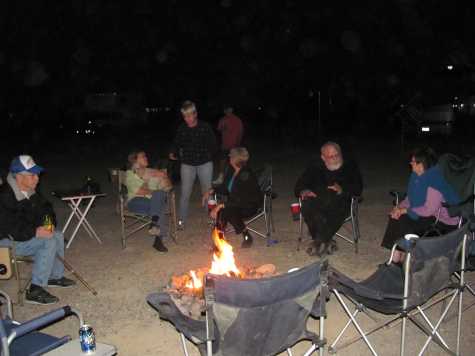 We finished up the evening in our coach with appetizers, fish soup and a game of Mexican Train. I was right in my assessment concerning my diminished mental state of the previous night and my recovery to my usual state of overthinking. I certainly attained that tonight. In the end it worked out perfectly however, as we played four games with each of us winning one, a good end to a good day, and the prospect of many more in the near future. What more could we ask for.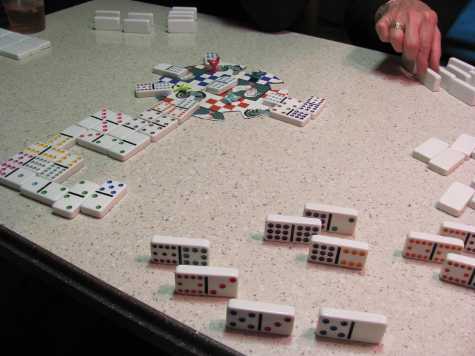 ---
Jan 16 Saturday
This is the day the Big RV Show begins, which is one of the reasons so many people come to Quartzsite. With that in mind, I was up early, having breakfast already cooked when Linda first made her appearance. Unfortunately, it was her turn to suffer as she had the beginnings of what would become a splitting migraine headache. I'd like to think my attempts at offering some soothing food helped soften its severity, but that was not to be the case.
The show was scheduled to open at 9, but looking out at Hwy 95, there was no line of cars as has been the case in past years. Normally with the traffic backup it is easy to cross the highway, but this year we had to wait for an opening. By the time we arrived at the tent, it was five after and we were surprised that not only was there no remnants of a line, the tent itself was not that jammed with people.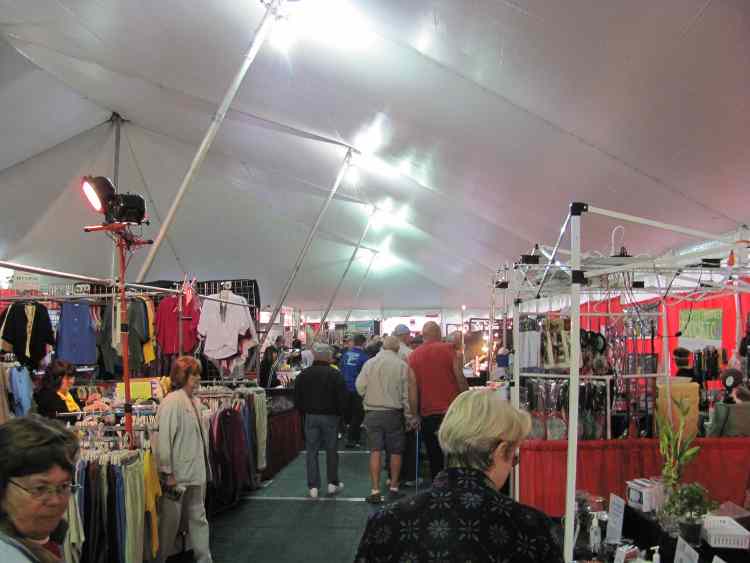 We were also a little taken aback at the further inroads the non-RV related booths were making inside the tent. Cheap jewelry, cosmetics and other junk seem to abound. One place had Murano type glass, but when Linda asked about it, she learned it was nothing more than the cheap overpriced Chinese knockoffs. I have to feel sorry for the people who buy that crap since the real thing is not a whole lot more expensive.
It was also interesting as to what you overheard as you walked the aisles. We learned there had been a break-in at the Big Tent during the previous night and ten or more booths had been hit. Or how about the vendor who was telling the potential buyer that if he paid by credit card, sales tax would be added, but if he paid in cash, then there would be no sales tax. Wonder what the tax officials would think of that. I know what we thought, the money was going to go unreported. We didn't stay around to see what transpired but my bet is the people of Arizona got shortchanged on that sale.
Our own goal was not to buy, rather we just wanted to experience and observe, planing to return of Monday or Tuesday when there will be no crowds, and do any actual shopping then. One of our main interests was information on the Canadian Provinces and Alaska for use on our summer trip, and while their booths were not crowded, we stuck to our look only agenda. The most grumbling was coming from the area around the Good Sam booth, which was inside this year. The lines to try the "key to the treasure chest" were really clogging up that aisle.
We noted that some of the most heavily visited booths were the ones featuring LED bulbs, which is something we will probably be getting, at least for my, over the bed reading lamp if for nothing else. Once we were finished with our inside tour we headed outside, again observing the number of people seemed to lower than in the past. I will point out that the members our group that came later trying to avoid the early morning rush, reported the tent was packed, so maybe it was just a late arriving crowd, and attendance was not impacted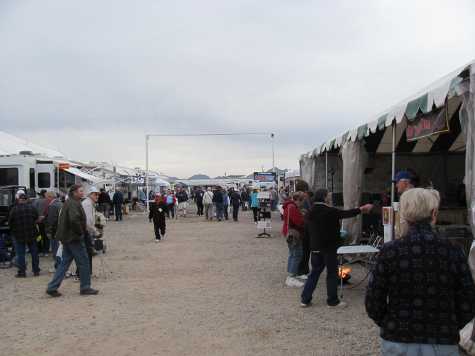 We did have one purchase on mind in the outside area, as we needed some new suction cups for our sunshades. Those months they were used in the Phoenix heat during our European trip being the veritable death of them as "suction" cups, having been more acting more like stick and fall cups the past several months. At 60 cents each they sure won't break the bank, and if Linda can ever find the extra set she bought last year, we'll be set for at least a few more years.
We did find one other item to spend our money on, and only because it was exactly what we wanted, in very limited supply, the vendor only having brought 4 of them to the show, and also because with the storms forecast to begin, on Monday, I'd rather get it installed today than later when it is raining. It being a bracket to hold the wooden pole the weather station is mounted on. Unfortunately I'm still sadly lacking in the need to take photos department and I so there are no photos. Linda had the excuse of laying on the bed, a cold cloth on her head, and multiple pain relievers in her system not making any head way on the that splitting headache of hers. I'm sure had she been able, there would have been multiple photos of me hanging by one arm off the ladder, trying to install those two brackets.
Jumping back in time, I did have the opportunity to photograph her with someone she always gets excited about whenever she sees him.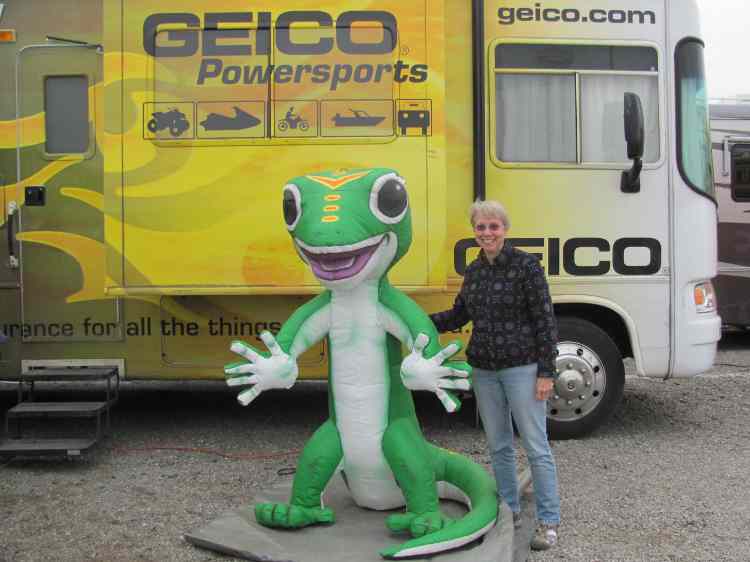 Our view out the front was also changing as more of our group had arrived. It was good to see Chuck and Lorraine once again, and we plan on learning more about their Alaskan adventure of this past summer, which will help us with ours of this coming summer.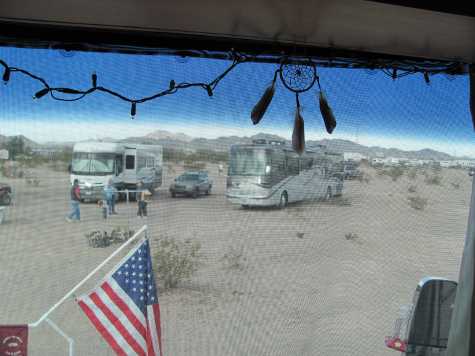 When I was up on the ladder installing the new brackets I had also taken photos in each of the four cardinal directions. Having done the same thing back on Wednesday, this will show the difference a few days makes.
NORTH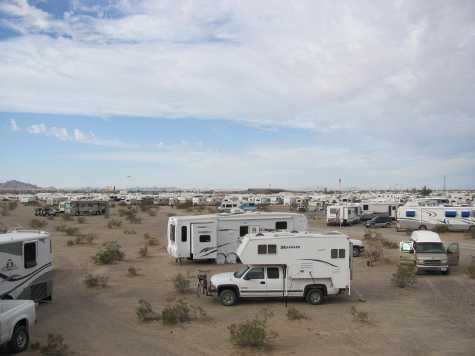 EAST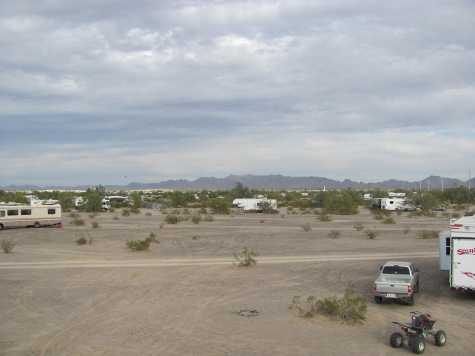 SOUTH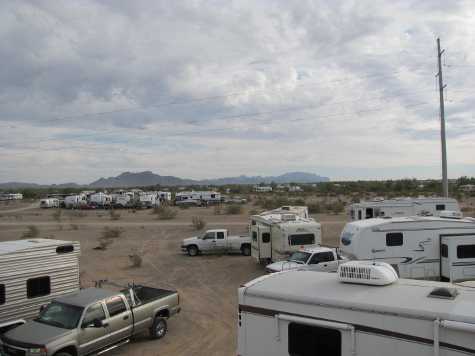 WEST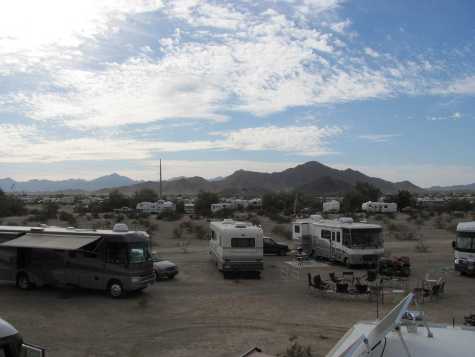 Our circle has grown some, as this photo looking down from the roof of the coach shows. We are still expecting several more RVs and when everyone is here we should have 10 of us in our circle. Not as big as in the Puerto Penasco years, but enough to have a good time and meet new people.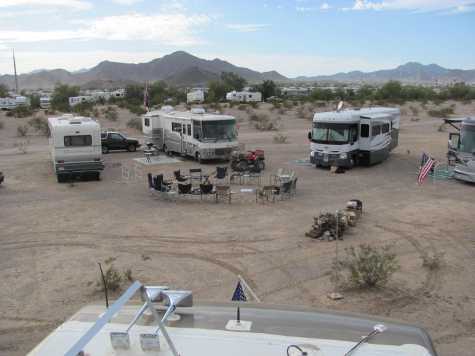 Last evening Virgil had issued one of those, "you will be here promptly at 5 pm for the beginning of Happy Hour" edicts. The kind that comes with the implied promise of dire consequences if you fail to comply with his exacting standards. Well, guess who came traipsing in long after the 5 o'clock hour, as the sun was begining to disappear from the sky. His badly belated entrance was accompanied by the perquisite hooting and disparaging remarks about his mental state, after all, what is good for the goose is good for the Virgil.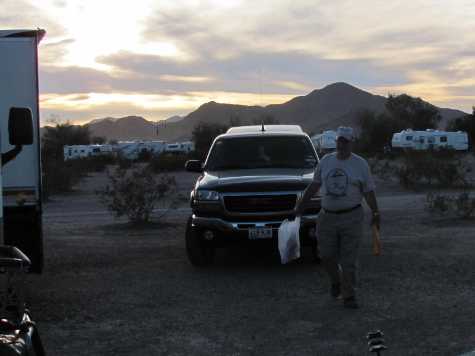 I had taken this photo of Mike passing a tiny birdhouse to Sharon, or at least I thought that was what I was capturing. Perhaps I should be called: unnamed person standing in the wrong place at the wrong time. I've heard of term: cast iron you know whats, but proving you've got them this way, is taking it a tad bit too far. Mike may be one tough guy, however there must be any easier way to show you're a tough guy.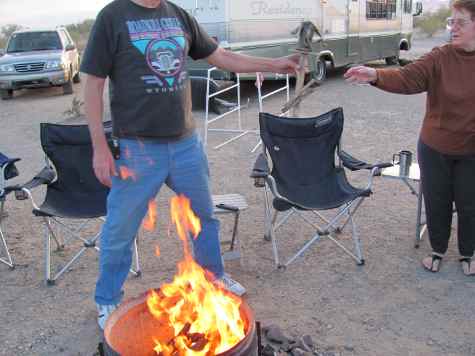 I'll finish up with a few, around the campfire shots for those that couldn't make it this year. Everyone else will just have to bear with me. Here's Chuck warming up to demonstrate the finer points of piling the most food on a paper plate without spilling any, while Lorraine beams at his efforts.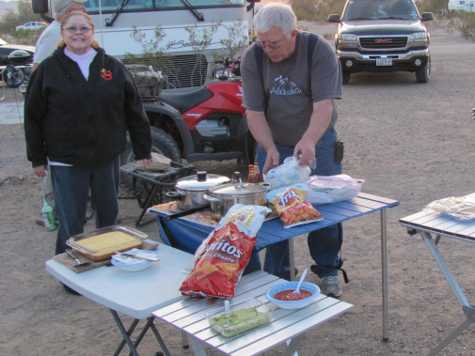 This one has Mike showing John the finer points of ignoring the little woman while Linda valiantly, but unsuccessfully tries to get his attention with a plate full of food. I believe this is called, the old guy teaching the new guy how to keep women in line. Meanwhile, to the right, John's wife, Judy, is telling Sharon, if they think that's going to work on me, they've got no more brains than the typical man.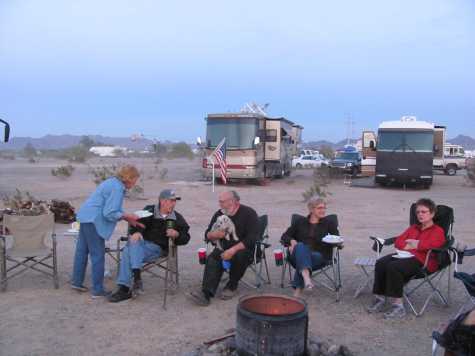 To end the day, here is Lorraine informing our latest arrivals, Bob and Allen, about the intricacies of Quartzsite. Lorraine is so soft voiced and pleasant, which is a much better way to be welcomed to our gathering than listening to Virgil's bellowing. Maybe this is the good cop, bad cop routine. Lorraine softens them up, getting them off guard and Virgil gets them to confess the truth about why they would come out into the middle of the desert with a bunch like us.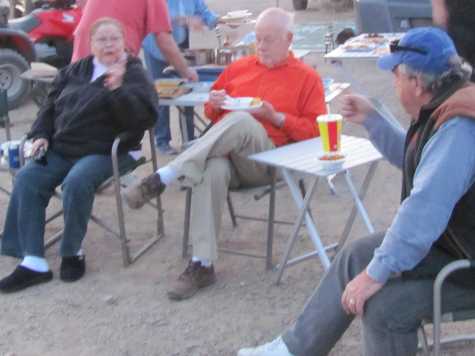 As we settled in for the night, the hum of generators all around us, it was time to once again rejoice in the wonder of Quartzsite. A place that must be experienced to be appreciated.
---
Jan 17 Sunday
It's not very often that we can look out the windows of the coach and see RVs all around that belong to people we know. In a way that is frightening given Linda's propensity to fling the front curtains open when she first gets up. Take today, I'd opened them up a foot or so once the sun came up, but no sooner had she arrived on the scene than we were exposed for all the world to observe. I'll just say she puts a great deal more faith in the sunscreens ability to block the inside view from outside than I do.
She was soon busy making deviled eggs for tonight's get together, and I was playing around with the best camera angle to only include what she wanted to show in the photo. I was so concentrating on the task at hand that I forgot to snitch a deviled egg as I usually due. Something that always requires the somewhat ineffectual taste test and/or quality control card be played.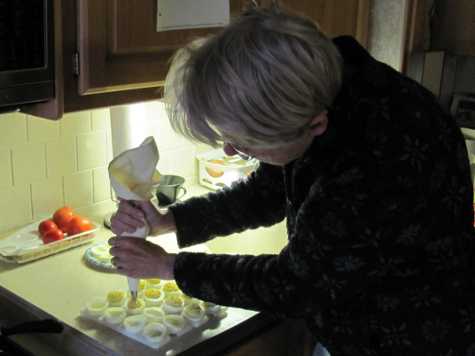 As part of all these photographic manipulations, she had also placed herself to block out the "things" she thought shouldn't be shown on the counter. I didn't see anything wrong with having them in the photo, since anyone who cooks has to have these "things" out, or they wouldn't be cooking. Therefore, here is a photo of what was hidden by her slim model-like figure. She'd probably use other terms to describe how she looks at herself, but since, you know what, is in the eyes of the beholder, and I'm the beholder, I'll use my words.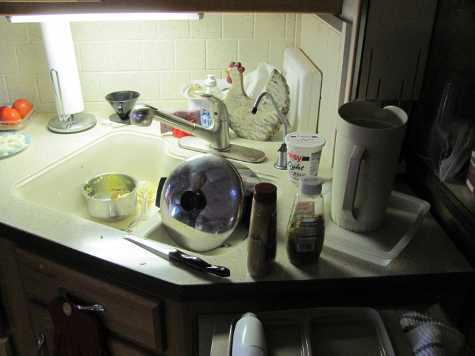 While at Quartzsite, there are other things to do besides visiting with friends, part of which is shopping, and so Linda suggested we get to work on the latter. As we walked over to the area where one is soon to be separated from their money, she started listing all the things she wanted to look for. As for me, I said I'd settle for a pair of soft leather gloves. It wasn't that her list was too long for her to remember, it was that it was too long for me to remember. Well not really, but what husband wants to admit he had tuned out the little woman when she was going on about all the things she was hoping to buy.
Our first stop was to rectify a problem we ran into down at the Benson SKP Co-op, the lack of SKP name tags. I think we joined Escapees in 2005, but we have never gotten around getting name tags. In Benson they wanted us to wear them, and in fact some people were downright nasty at times in their comments about our not wearing one.
Never two people to agree on anything, after all, opposites attract, Linda chose burgundy as her color, while I chose medium blue as my color. Linda got both a magnetic and pin mount on hers, while I got just the pin style. Then wonders of wonders, we agreed on the actual style of the design on the front, going with just the facts, name, number and SKP emblem. They will be ready tomorrow, and the rain god willing, we soon have them in our procession and all Benson SPK legalities can be complied with during our next visit.
Our choice of vendor was not an issue, since the only game in town worth using is at the same location every year.
After that, it was shop, shop, shop. Look at the neat portable dog waterer Linda happened onto. This one is just the size for John and Judy's Mollie. They had a larger size for bigger dogs, and looking at them, they seemed like one of those neat little contrivances you sometimes stumble across that truly proves, all who wander are not lost, they just look that way.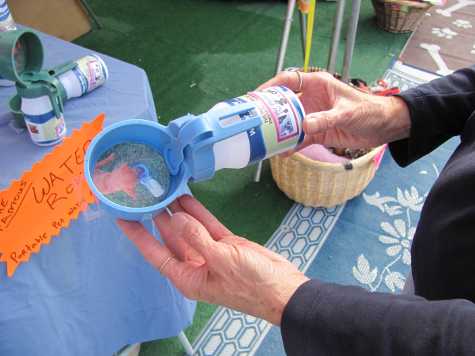 Nearby was a burger stand where we so wanted to spend some money at, but our conscience, aka Linda, wouldn't let us. Well maybe it was me that wanted one of those giant, heaping Walla Walla Burgers, but I wasn't hearing anything in the way of complaints by Linda as she dragged herself away, towing me along. What a shame waist won out over taste.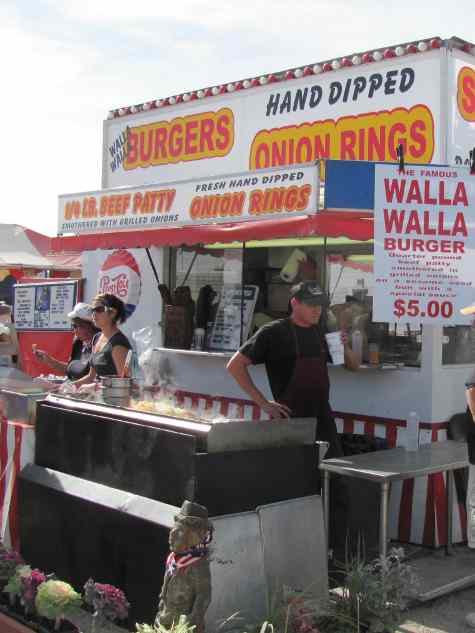 The great thing about Quartzsite is that no matter what you want, if you just keep looking you will eventually find it. Take turtles for example. Not everyone is in the market for turtles, but if you are, this is the place to find just the one you were looking for.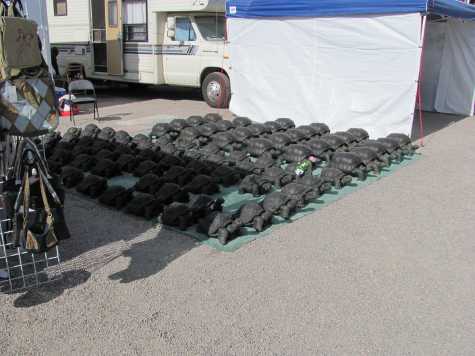 After we returned, and ate lunch and I decided the only way I was going to get rid of my headache I'd picked up during our shopping trip, was to do something that required brain power, which hopefully, would cause me to forget about my head. Deciding, with a not so gentle assist from Linda, that now was as good a time as any to replace our balky MotoSat transmitter, I got the tools out, and climbed up on the roof. Using the old bucket on a rope method, the new transmitter was hoisted up. That was when I discovered one of those little things that make you wonder about the level of job commitment by the current generation of workers.
If you compare the existing transmitter on the arm of the MotoSat with the transmitter in my hand you will note a disparity in their appearance. While Sunday afternoon isn't the easiest time to get things straightened out, the family pit bull latched on to this with all her teeth, and more ferocity that a mother bear protecting her cub. Meaning soon we knew what the problem was, indeed, the wrong transmitter had been shipped to us, and also what the solution would be. More to follow on this later in the week.
Come 5 o'clock, Virgil was out doing his thing, igniting the evening's fire, attempting to make up for his faux paux of the previous evening.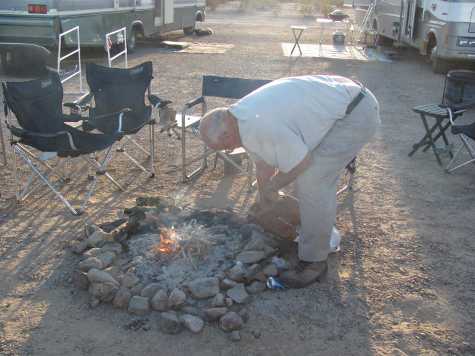 When Virgil was distracted for a moment, it left an opening for the often imitated, but never duplicated, one and only original pyro-mom to take over. Her attempts at having an airtanker called in to extinguish the resulting conflagration was was halted only by the limited amount of firewood available. A short time later I heard someone mentioning we were going to have a real fire tonight. Pyro-mom strikes again.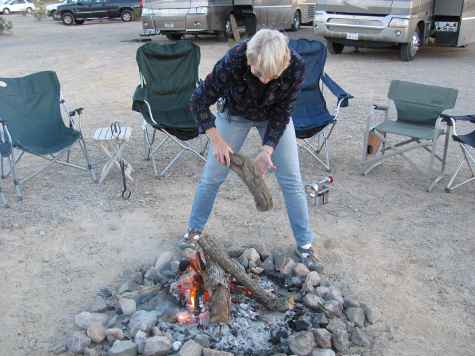 Continuing his role as the maestro of the food table, Chuck took our newest Bob under his wing and began educating him on the finer arts of plate loading. As you can tell for Chucks body language, he's like many of the great stars in his chosen field in that he doesn't like we paparazzi types trying to steal his secrets.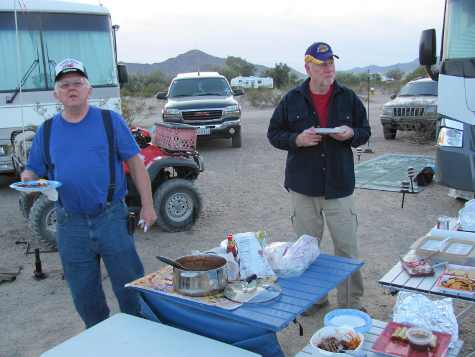 Once all the food was gone, it was time for our fearless leader to conduct the annual right of passage that all newbies to the group must undergo. Here is one of the lastest batch of riffraff, John, proudly displaying his newly acquired badge of honor.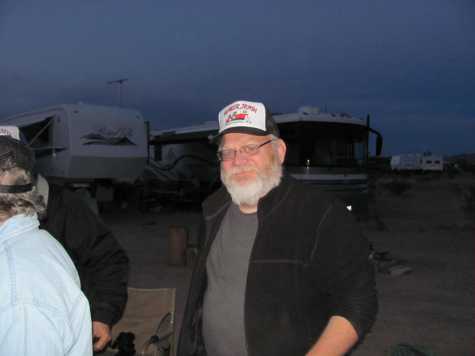 After the ceremony, all eleven of this year's Quartzsite Trailer Trash Gang posed for the annual mug shot. Left to right: Virgil, Randy-n, Bob-n, Chuck, Mike, John-n, Sue, Mike, Allen-n, Bob and Earl. New members have an "n" after their names.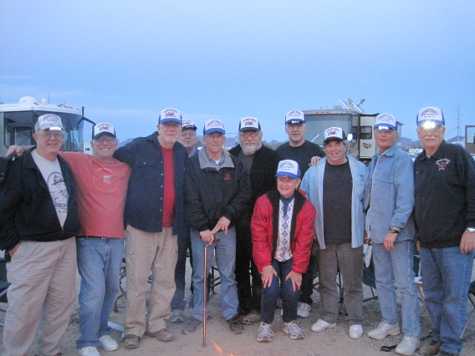 ---
Jan 18 Monday
A rainy, not very warm, sometimes windy day today, and one where we did very little. How about separate breakfasts for a start, Linda having taken some aspirin the moment she got up, hoping it would ward off another headache, needed something to eat right then, as she put it. Uncle Sam cereal and yogurt for her. Later I fixed some oatmeal, since with the weather the way it was, I preferred something hot. I still can't believe how out of practice I am when it comes to taking photos of the mundane things that make up our day, so no food photos today.
The biggest thing in the news where we are right now other than the calamity in Haiti, is the wet weather. That's what I like about our little personal weather station, we can now tell if it rained overnight by looking at the monitor. We could hear the patter of little drops, and at other times the thump of big drops on the roof during the night, a fact the rain gauge confirmed this morning. What was even more fun happened after I got up. I could hear it raining fairly hard, and was able to watch the rain gauge slowly increment up at the same time. It really does work. Now if I could just figure out how to reset it.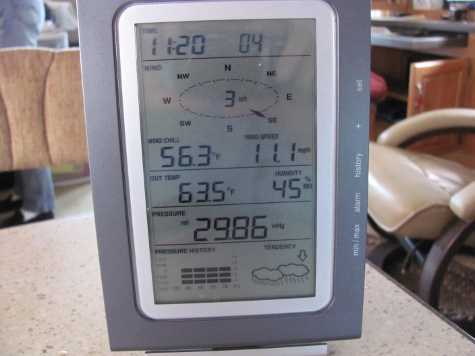 Not all our entertainment was of the weather watching variety, as we also got in some neighbor watching. The adage, old buying habits die hard, is more than proven in this photo. On the other hand, maybe they just make a lot of messes that need wiping up. No names will be mentioned to protect the guilty, but ten rolls of paper towels....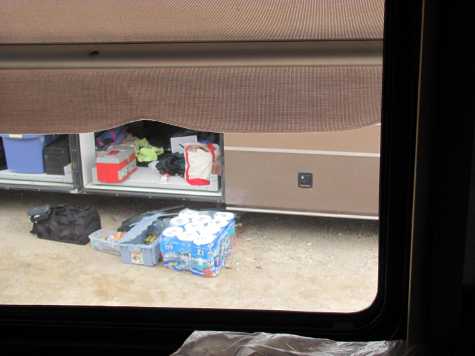 While we just lazed around, not doing much of anything, next door there was activity galore, what with the arrival of John and Judy's new Trojan batteries on one side and Earl working on his rooftop satellite dish on the other. I had to feel sorry for Linda with all this activity going on, and if she doesn't have a neckache tomorrow I'll be surprised. Tilt head down to look at the battery installation, swivel 180 degrees, and tilt head up up to see the satellite work, then repeat over and over made her resemble the original mechanical marvel. She was probably used to it back in her Appalachian hillgirl days. Most likely then it went like this: look down as she milked the cow, swivel head and look up to make sure no one was bothering the still. She'd no doubt claim it wasn't so, and even if it wasn't, it had to of been something similar.
John was also getting his exercise, though in his case it was his legs that were getting the workout. it seemed every few minutes would come a knock on the door and there would be John needing something or other that he knew he had, he just couldn't find it. I wonder if it would be more humane to suggest he let Judy pack the tools as well as the paper products next time. Besides this only reinforces the fact that the bigger the RV, the more places there are to forget where you put things.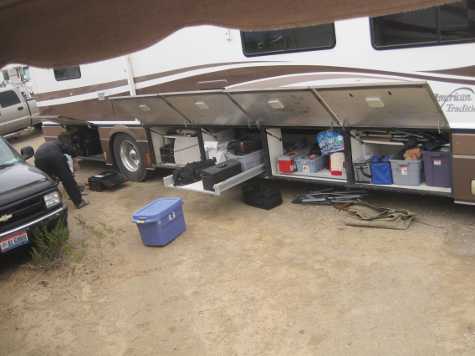 Meanwhile over at Earl's coach, while it appeared he had all the tools he might need, it seemed like he never had the one he needed where he needed it. Which meant he too was getting his exercise, going up and down the ladder. I was just hoping Linda wasn't going to pipe up with some remark about me getting out there and getting exercise like these two yo-yo's were. That's like up and down yo-yo's, not yahoo yo-yo's for those of you who might have been reading something into that choice of words that wasn't there.
Just to prove there was actual work being done, here is the battery guy working at removing John's old house batteries.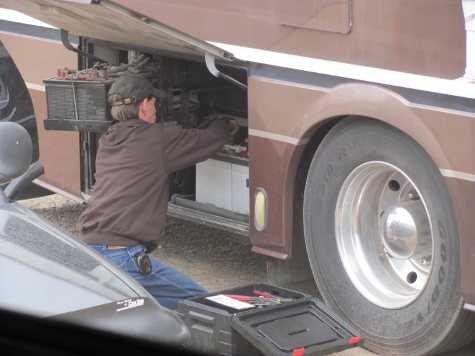 When the 5 o'clock hour rolled around, the scene out the front window told the story.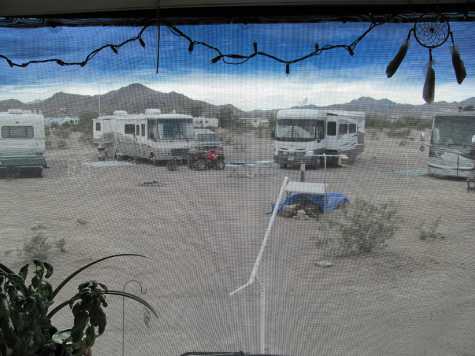 Having had our Happy Hour called off, we decided to do a dumpster run and see if anyone in the other groups parked nearby had the desire, or lack of brains, take your pick, to sit outside in this weather. About half way to the dumpster we passed by a group that more closely resembled some Eskimos gathered around a seal hole than Quartzsite campers around a fire. There was almost enough fur lined parkas, glove and boots among them to outfit an Arctic expedition. They seemed to have smiles on their faces, but whether that was because they were frozen on, or they we having a good time we couldn't tell, since with all the clothes they were wearing, even if they had moved you wouldn't have been able to see any motion.
Having braved the wilds of the outdoors, we decided to be stay at home RVers for the remainder of the night, inviting John and Judy over for a little Mexican Train.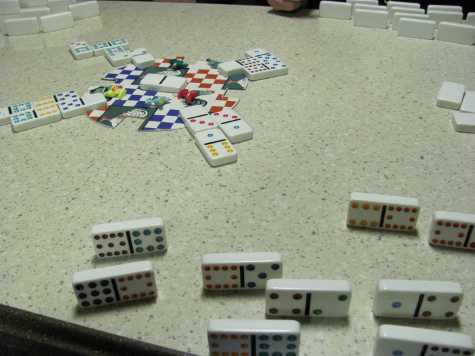 The game gods did not shine on me tonight, but I'll blame it more on the stupid set of rules Linda proclaimed for the game, something about chickenfoot where you can build three ways off each double. Man, with her if it's not one kind of chicken, it's another, but this is one chicken I'd personally like to wring its neck. Now you can say my dislike is simply because I was the only one not to not win a game, but that wouldn't be the case, at least not in my mind. I think it was a nefarious plot by the other three to pay me back for winning nearly every game the night I wasn't feeling too well.
I tried to catch them, but I couldn't, and everytime I'd concentrate on one of them, another would put one of those pesky doubles on their own train. As for me, I couldn't even get a starter, and if I did, the only play was a double I couldn't cover. Now they may have got me this time, but next time I'm coming loaded for chicken, which means they will probably switch the rules once again, confusing me once more. It's like they intentionally picked on the old guy, figuring I wasn't quick enough to keep up. Whether they were right or wrong I don't know, proving that as Linda's sister is fond of saying, she being much older than me, getting old is pigeon poop. But as long as that's poop with a capital "P", it's a Life with a capital "L", and one I don't mind living.
---
---