Journal Archive 7/11 - 7/20 2009
Scroll down to read the latest post
July 11 Saturday
Tubing, market day, London Bridge, Churchill's WW II command bunker
This morning we both had what was termed, a full English breakfast. After our disaster with the restaurant meals of yesterday, this was something we could really sink our teeth into. The grilled tomato is so good we are going to incorporate it into our breakfasts when we return to the states.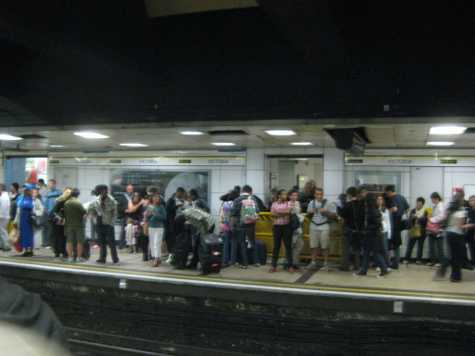 Yesterday we had explored on foot. Today we were going to range farther afield, which meant using the underground, or tube. We bought reduced fare, off peak, day tickets and headed down to the platforms. Our first problem was one of the lines was out of service. Our second one was that everyone who would normally take that line was taking the line we were using. The cars were crowded, and we needed to switch lines once, but in the end we got off at the right station.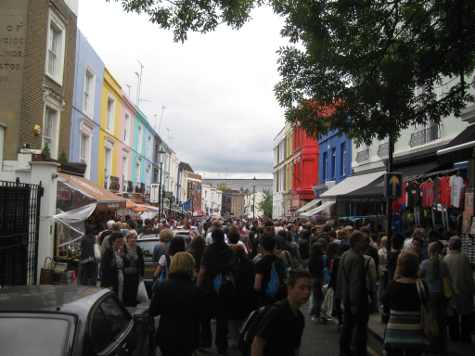 Our destination was Potobello street, where the Portobella market takes place. Finding it proved very easy, we just went along where everyone that got of the underground went. Collectibles, antiques, fruits and vegetables, fish and cheeses, and anything else you could think of were for sale along the blocks and blocks the street ran.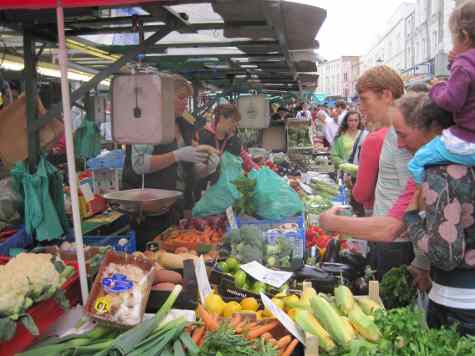 The people weren't just looking, they were buying, and we eventually joined them. Our purchase wasn't going to make it back to the states, however. It was two sandwiches with rocket, cheese and sun dried tomatoes and a Belgian chocolate brownie for each of us.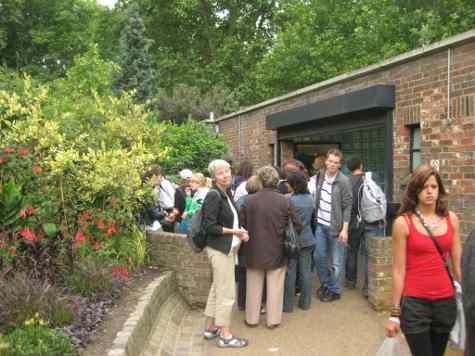 With day tickets, we could use the underground whenever we wanted, which was what we did. One of our stops was at St James Park where Linda joined the line to use the Ladies room. Got to love how they label those necessary rooms over here. No men or women, no male or female, here it's Ladies and Gentlemen.
Another thing we did was to get off the underground whenever we saw something interesting. Not that we actually saw anything, traveling deep underground, but the names of the stops gave a hint as to what might be above ground. For example, we got off at Monument Station, to discover that there was a monument above ground. This fire is the reason most buildings in the city date from a later time. They were all built from wood, and they all burned in the Great Fire.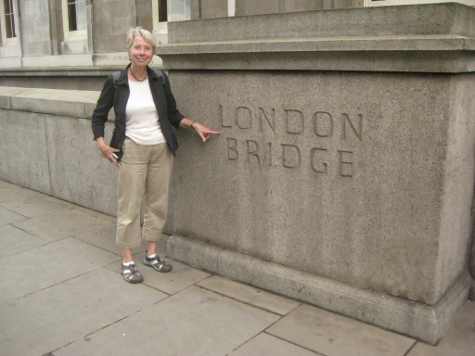 Since we were in the neighborhood, we visited one of the nursery rhymes we learned as children. Of course it really isn't here, as this is a modern replacement bridge for the old one which is in Lake Havasu, Arizona. Another childhood dream shattered by those greedy American money grubbing capitalists. Is it any wonder that after living in London, Lenin went to Russia where his ideas were better received.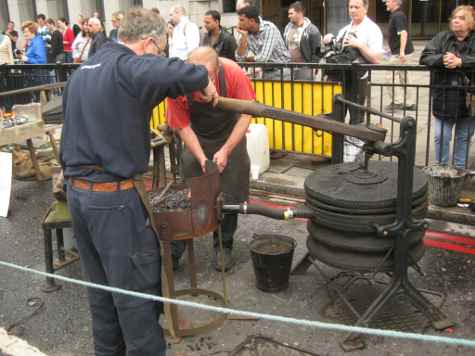 The bridge was closed to traffic because of a special event under the auspices of the Lord High Mayor. There were many displays set up representing different crafts, such as ironmongers, bowyers, chandlers, and on and on. It was one of those stumble upon moments we so highly cherish, and this one was one of our better ones. Got to love that bellows set up with the hose clamps and radiator hose, though.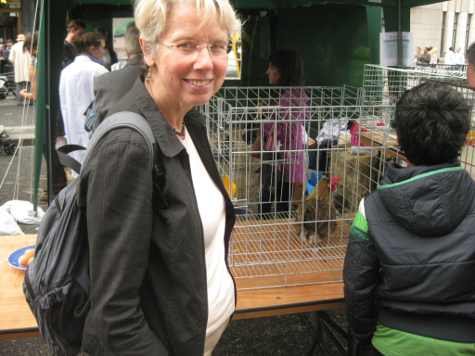 I think Linda's favorite was the Worshipful Company of Poulters.
Down on the River Thames there was activity as well, with a rowing contest.
Linda also enjoyed talking about all the bits and pieces of history that can be picked up along the banks of the Thames. Fortunately there was no, "I couldn't help myself moments" today. That surprised me as she was really fondling some of those artifacts.
During the time we were on the bridge it had been raining off and on, which made for a pretty view of the London Eye when we later exited the Westminster underground station.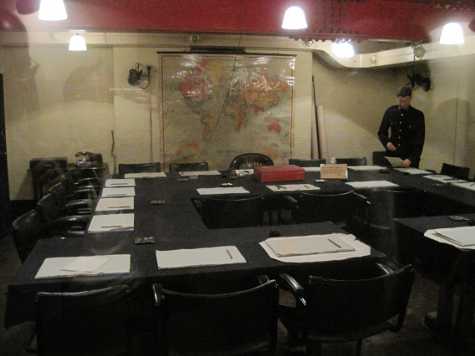 Another place we visited was the Churchill Museum and War Cabinet Rooms. This was the underground bunker where the those responsible for the British War effort during WW II meet to plan, plot and direct the course of the war. They are careful not to describe it as a bunker, no doubt to distinguish it from Hitler's bunker, but it sure seemed like a bunker to us.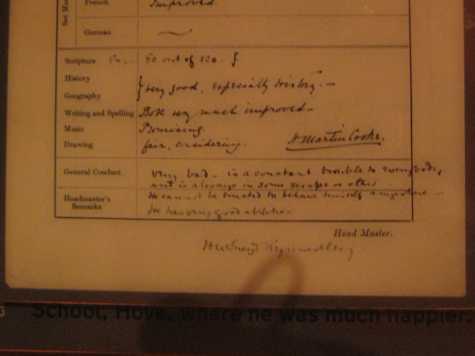 One of the more interesting exhibits was Churchill's report card, It was for when he was ten years old, the same age as our grandson Zach. We just hope Zach doesn't get the same comment about his general conduct as Churchill, which was "Very Bad."
---
July 12 Sunday
Visiting THE museum and a library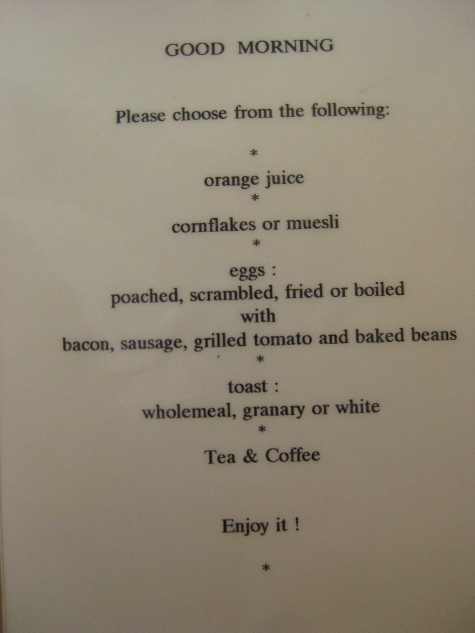 The breakfast at the Morgan House is different from what we have experienced during our travels in a way other than the food. Instead of a buffet, you order off a set menu. This is probably done to reduce waste, improve quality and also because there simply isn't any space in the tiny breakfast room for a grand buffet. The space where the kitchen is located is under the sidewalk and was used for coal storage during earlier times.
Because most of the day was spent at the British Museum, and there isn't enough time to describe all we experienced, this post will be somewhat brief in that regard, but that doesn't mean the post will be short. Photos were permitted, and we took a lot, but it is simply one of those places that photos and TV can't begin to do justice to, and there isn't time to describes our feelings about all that we saw.
This doesn't have anything to do with the museum, it's one of the views from oru room, but I do find it fascinating. While one of the black pipes on the outside of these buildings is a downspout carrying away rain water from the roof, the others aren't. They are the sanitary sewer pipes for the sinks and toilets. I'm sure there is a good reason as why this is done this way, and when we get back to the states it will be just one more of hundreds of things to look up on the internet.
As was the case yesterday with our trip to the market, finding the museum was easy once you were packed in the subway that was heading to the station nearest the museum. Just let yourself be carried along with the mass of people exiting the station and pouring down the sidewalks. When we arrived at the museum, in the morning, there was a river of people entering, and when we left in the late afternoon, there was still a river of people entering. The wonderful thing is that the museum is so huge, that once we were inside with a couple of exceptions, it wasn't very crowded.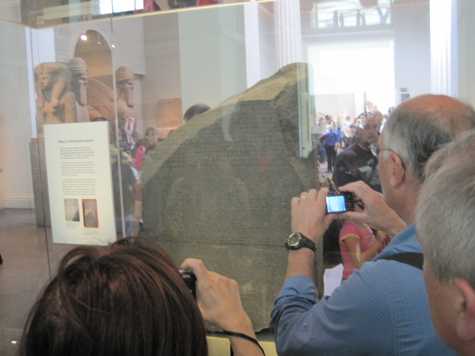 Our first stop was one of those crowded places, but it was worth the effort it took to get an up close view. One of the great discoveries, and something we all learned about decades ago in school, we got to gaze upon the actual Rosetta Stone. Like looking at the Code of Hammarabi in Paris last year, it was one of those I can't believe it moments for somebody who got upset if he didn't get 100 on every history test in school, which waqs me. It was the first thing we visited, and after that, everything else was a bonus.
Remembering the illustrations they used when describing those ancient civilizations our high school history books, as we wandered around, we discovered where they can from. They were photos and drawings of the holdings of the Museum. We have the British to thank for collecting and preserving them.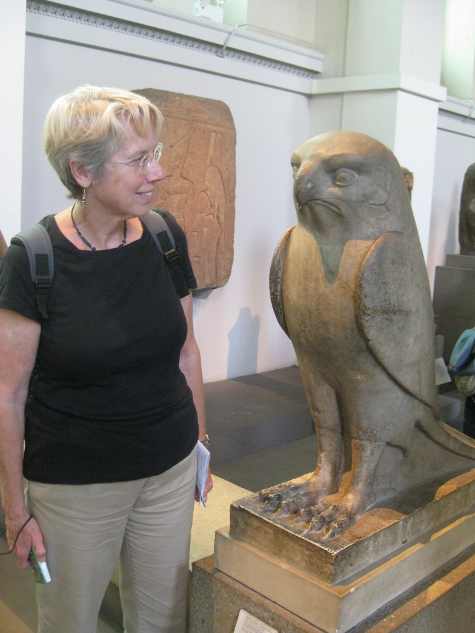 Meanwhile, Linda was excited with her own finds. A lover of statuary and sculpture, it was everywhere she looked. Should the title of this one be, a couple of tough old birds? Something tells me I better not go there, lest I get in big trouble.
Linda was also fascinated with hieroglyphics, and we certainly have the photos to prove it.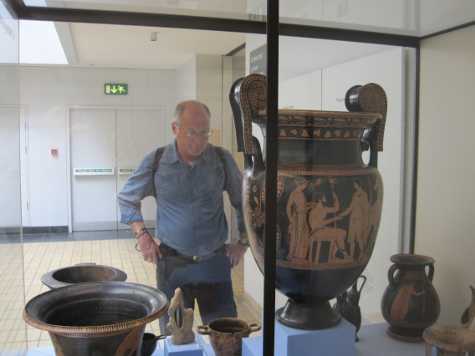 Then it became my turn to once again get excited when we moved into the displays concerning Greece and there was Pottery.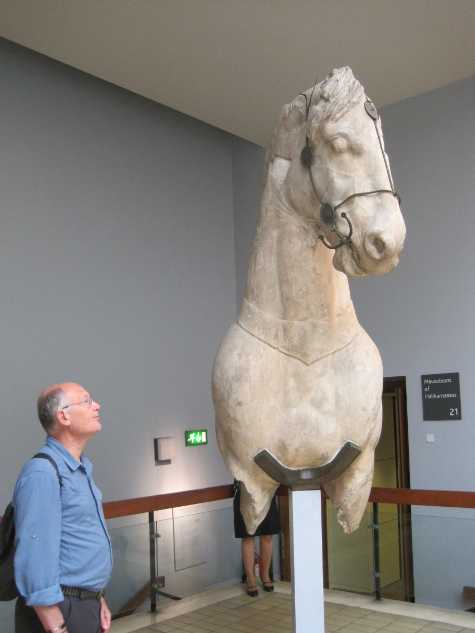 Another interesting display was what remained of the first mausoleum. Mausoleums are called that because that was the name of the man who was buried in this grand tomb, and so his name was used to described other such structures. Kind of like how my name is Bob, and I like to wear my hair short, so other things that are short are called bobbed. Well, maybe that's not exactly how the word bobbed came about, but you get the idea.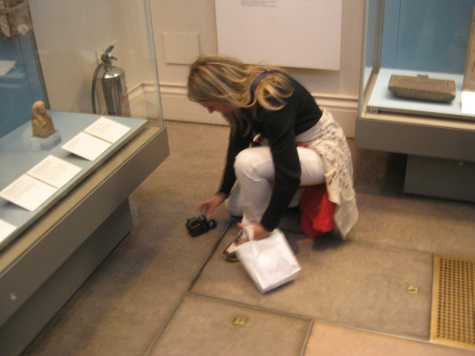 Once Linda gleefully pointed out a young woman who was having a problem with her shoe. "See", she said, "I'm not the only one to have shoe problems." Little did Linda know I had already taken a photo, since this was the first time in years I had seen anyone other than Linda doing something with their shoe.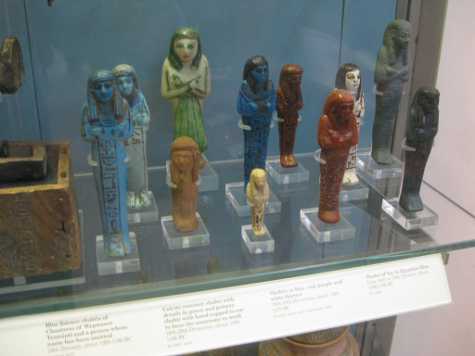 Nearby I discovered these small brightly colored figurines. One wonders if these were the ancient world equivalent to all the souvenirs we buy today?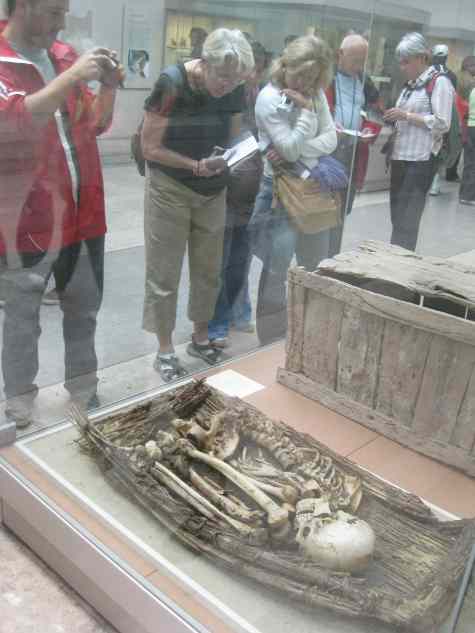 Meanwhile Linda was off in her own little world. What is it about things like this that fascinate us so?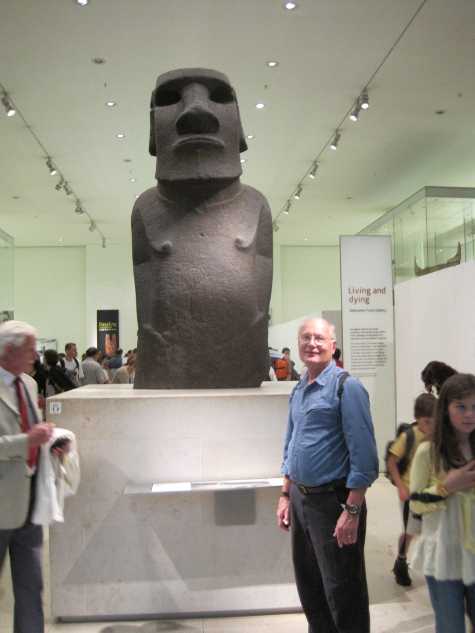 It was also the first time that I can remember that we saw an actual statue from Easter Island, another place we want to visit in the future.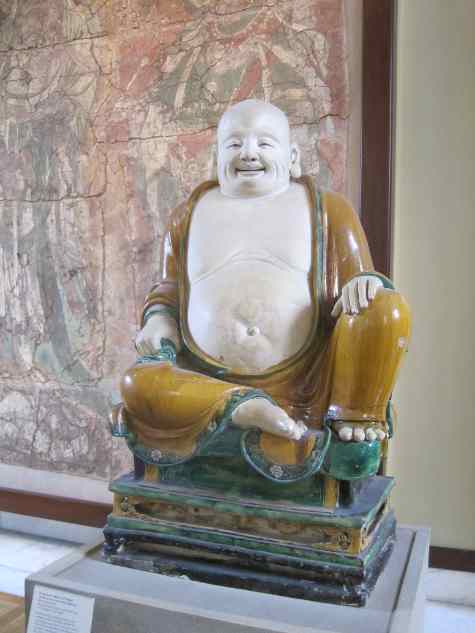 This was one of the very last pieces we saw, and one that Linda saw as particularly humorous. Something about having a close resemblance to the man she married, or something like that.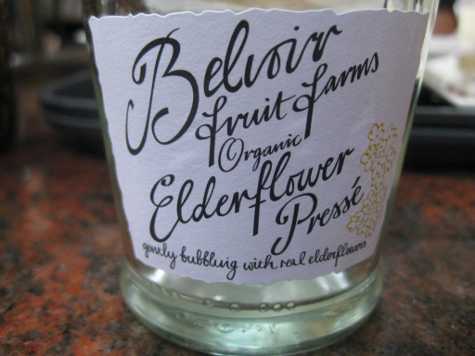 During our visit we experienced several other interesting things. The first was a great lunch, which may have had more to do with our staying away from standard English fare than the fact what we ate was great. Yesterday at the Churchill museum I had a elderflower drink, which is based on elderflower and carbonated water. And no, I don't know what elderfloweris, but I do know the drink tastes very good. Maybe we are finally getting the hang of this island.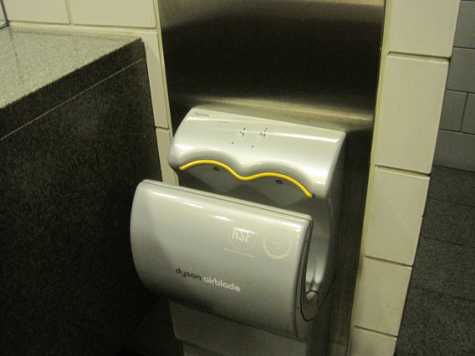 The other thing was this, well, this thing. While it has a generic name, jet engine in a box would be a good description. It is the most efficient hand dryer we have ever used. We had to laugh as the first words our our mouths as we exited our respective restrooms were about these dryers.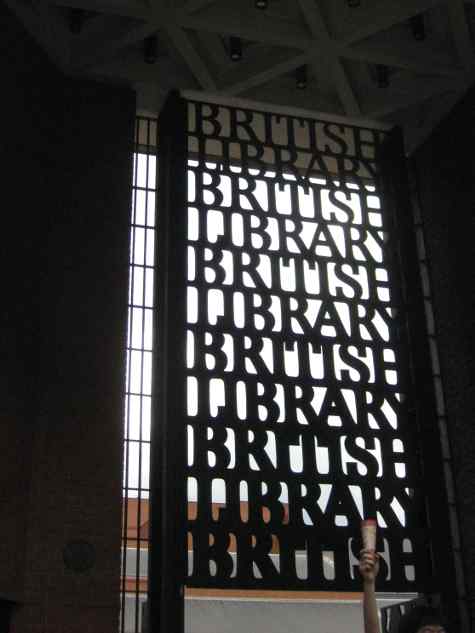 Another place we visited was the British Library. In there vast collection are many of the most famous documents of the past. Displayed in a special gallery is the Magna Carta, something that I've wanted to view most of my life.The also have on display the original score of Handel's Messiah, the hand written lyrics for Yesterday, I want to hold your hand, Help, and other Beatles songs.
The original Alice Through the Looking Glass, and some Leonardo DiVinci's notes are also shown. The most poignant was Robert Scott's diary, opened to the final page he had written just before his death on his return from the South Pole. For the history lover that I am, this was without a doubt the finest hour we have spent on the trip. Even Linda was impressed with what we saw, and was just as reluctant to leave as I was, but since it was closing time, we had no choice. Unfortunately no photographs were permitted, but the things we gazed upon will stay with us for years to come.
For dinner we tried something new, though it was also old. We went to a cafe that was famed for its authentic Polish food. One look at the menu confirmed we had done good,and the food was as good as expected. On the way back to the hotel we discovered where we may have been going wrong with our meals up until today. The sign says it all, as it looks like they reuse food unless they say otherwise. Who knows, maybe that is why all of Linda's ancestors left England for the American colonies some 200 plus years ago. Old English food had ruined their stomachs, a heritage that was passed down to Linda.
---
July 13 Monday
A very early morning, a very old Inn, the Romans again, fish and chips
Due to a special day trip tour we were taking, we started the day with something which was most definitely not a full English breakfast. It also gave Linda the opportunity to learn that when the container says biscuts, the contents are a cookie. She laughed that she was eating oatmeal, since the ingredients were just oats and sugar.
We were supposed to be at the meeting point at 5:40, and the bus would pick us up at 5:50. Linda, the original early bird, decreed we would leave our hotel at 5:25 for the five minute walk to the meeting point. That meant we would be there very early, which we were. Unfortunately the bus didn't arrive until 6:15, by which time, Linda and some of the other people waiting on the tour were just a little upset.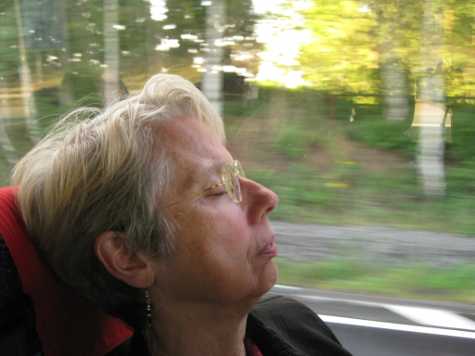 All that steam quickly dissipated once we were on the bus and the grizzly went into hibernation. Fortunately most of the other tour members were in the same frame of mind, and whether due to late night hours, or the early morning hour, had joined her. Which brought to mind that old question, when a snore reverberates through a bus when the other passengers are asleep, did the grizzly make a noise?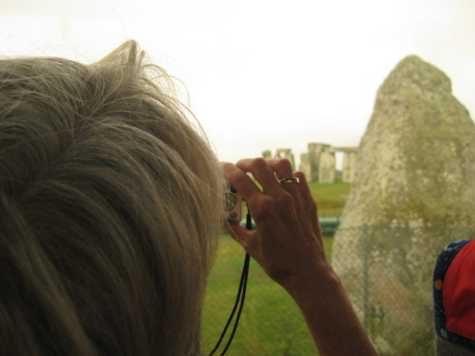 After riding for a little over 90 minutes, we were nearing our first stop of the day. We all have those few special places that we figure we will probably never get to see, yet hope that we will. For Linda this was one of them.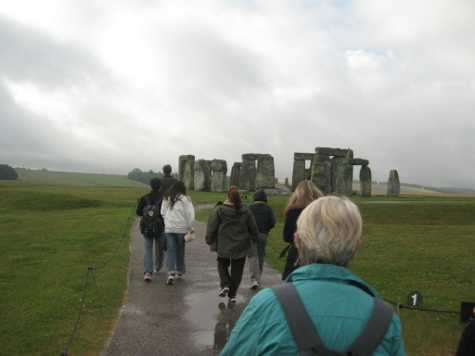 Stonehenge, a place of her dreams, and she was here, following the path up towards the stones.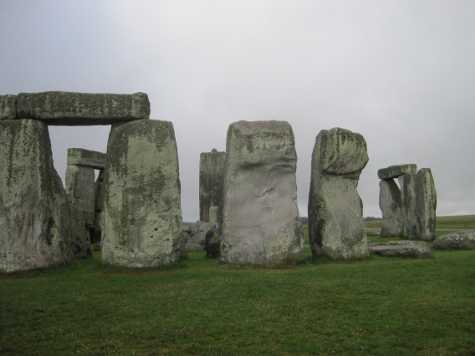 Linda's first impression was that the actual ring was much smaller than she thought it was. I wasn't sure if that was the case for me, but I hadn't realized that two main highways ran so close to it. One thing that was good was the fact we were there so early in the morning, which meant we were there before the daily horde of visitors arrived.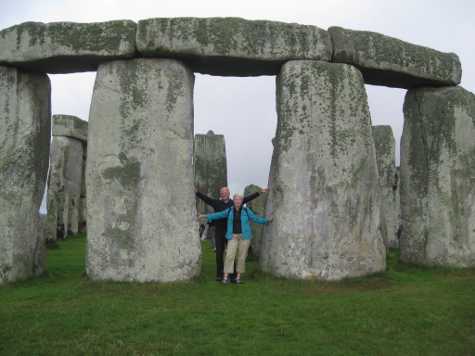 But the best was yet to come. This was one of the limited number of special tours to Stonehenge that occur every morning and evening. Visitors are not allowed to walk among and touch the stones unless they are on one of these special tours. You pay for the privilege, but some things have no value and this, for Linda, was one of them.
The blocks that make up the circle are not colossal in size.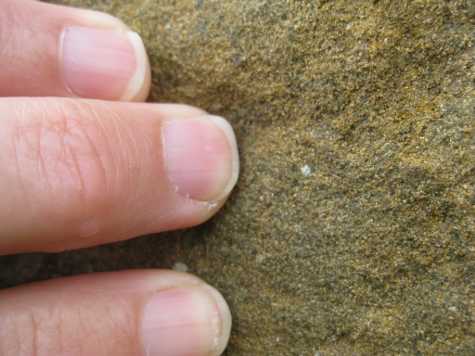 The rocks are gray colored, but this is due to a covering of lichens. There are some places were you can see the actual rock, which has a brown hue to it. I can't describe the feeling of touching those rocks. As we looked around we could see that everyone would occasionally reach out and touch one rock or another. There is a special connection here that can't be described.
I think of all the catholic churches we visited were we couldn't take photos. let alone approach the alter. Here we were one with whatever Power these people came to worship. Who is to say this is not one of mankinds high alters. Or which belief is the right one, because to believe is to think yours is the right one. In this case, to experience was enough, We'll let the people who claim to be religious leaders, but are really dividers argue over whether theirs is the true faith or not while we experience something special.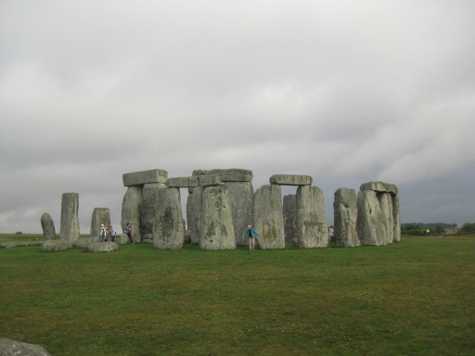 Keeping with her first impression, Linda kept commenting on how small the diameter of the circle was. Not that it was bad, it wasn't, because it simply made it easier for her to touch each and everyone of the stones.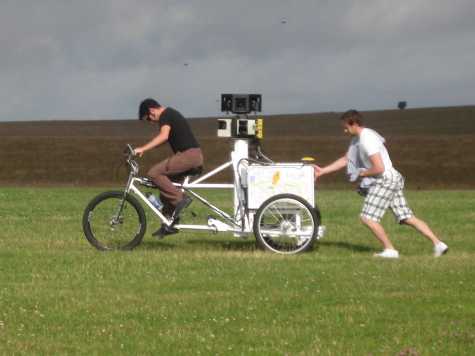 As we were leaving, the next group to view the stones were just entering the grounds. It was our first time seeing the Google Street View camera.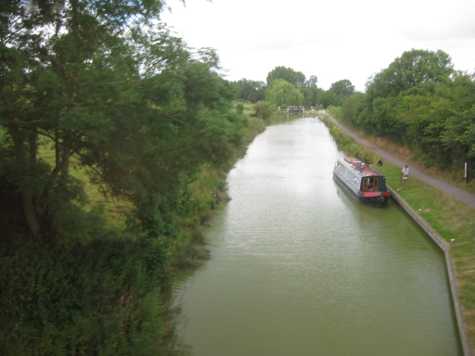 Leaving Stonehenge, the bus traveled through the countryside along roads that were walled with hedgerows. As we watched out the window we realized that we were going to have to come back to England and spend time out in the country. We also got a reminder that canal boats are another way of seeing the countryside. As we crossed a canal, a narrow boat was being tied up along the bank. It had been three months ago this week that we had been on the canal boat in France with John and Judy. Had time really flown by that fast?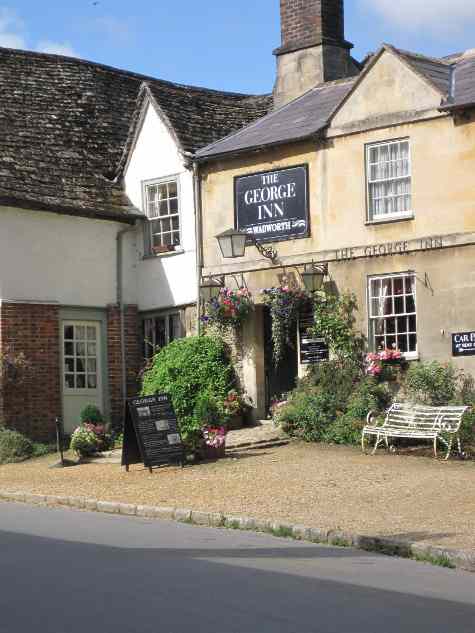 About an hour later we stopped in the little village of Lacock. While not many people may know the town, they have probably seen the town, especially if they have watched any of the movies that have used the village as their setting. The main purpose of the stop was so we could eat breakfast at the George Inn, which, dating from 1361, was the oldest pub in the village.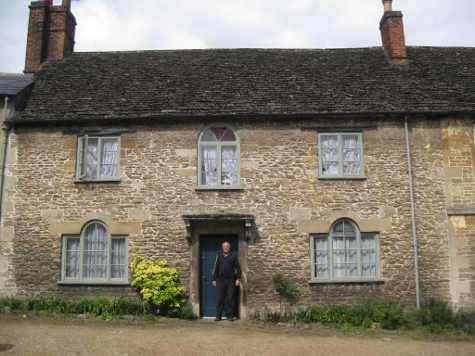 Speaking of movies, the building beside the inn was used for a backdrop in one of the upcoming Harry Potter movies, so with one of us being a great Harry Potter fan, it was time for a photo in front of it. Wasn't quite my equivalent to Linda's Stonehenge experience, but it was still a really cool deal for me.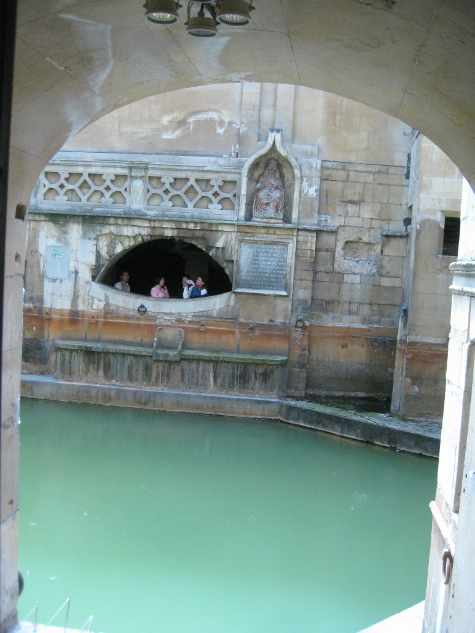 There was still another stop, which was in the town of Bath, the center piece of which is the ancient Roman baths that gave the town its name.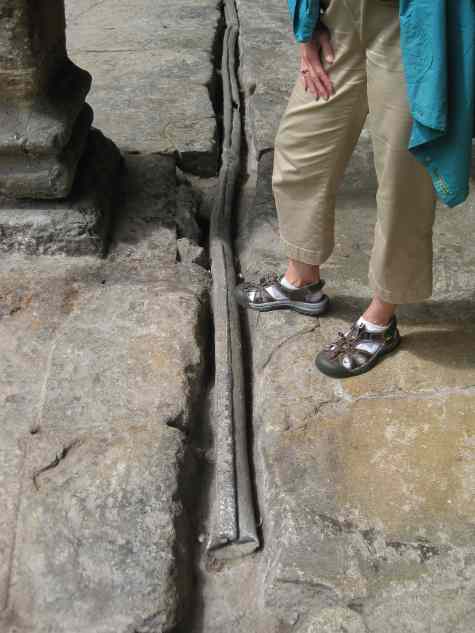 Linda always gets a kick out of seeing the plumbing systems at the Roman sites we visit, and this one was no exception, with some of the lead pipes still in their original locations.
While Linda was into lead pipes, I was fascinated with the Roman's use of hollow tiles in the roof.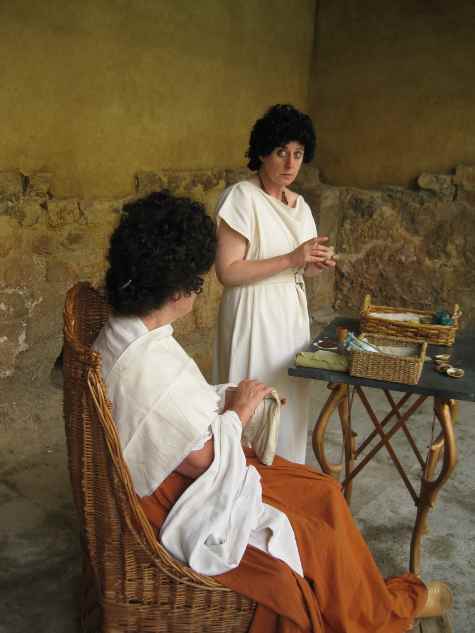 Not everything is as it seems because even though the Romans had supposedly left many centuries ago, there were still remnants of their civilization to be seen. It was amazing to see this slave girl applying makeup to a Roman lady.
Just before we left the complex, I spied another slave owner, but this one was taking a drink of the waters from the baths. She was even kind enough to allow a lowly slave like myself the opportunity to taste the water. I found it highly mineralized and quite warm, yet in its own way, it was refreshing. The slave owner on the other hand didn't like it at all.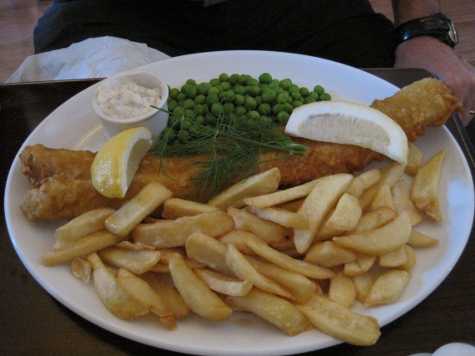 Needless to say we were tired by the time we arrived back in London, but more so from the wonderful experiences we had, rather than from the length of the day. For our evening meal we decided on a nearby pub, where, looking at the menu I noted they had daily homemade beer batter on their fish and chips. Taking a chance that it would be as good as my mind was saying it would be, I ordered it, meanwhile Linda went the safe route, ordering lasagna. Both choices turned out to be right on, and it was the perfect ending to a magical day.
---
July 14 Tuesday
Last day in Europe, visiting museums and a touch of the states
We had been here for a week, and even though the sign by the door had indicated no vacancies each night, breakfast had always been a relaxing, uncrowded affair. This morning was different story, with every table being occupied and several people being told they would have to come back later. If London is going to get this crowded, it looks like it time for us to head back home, something we will be doing tomorrow.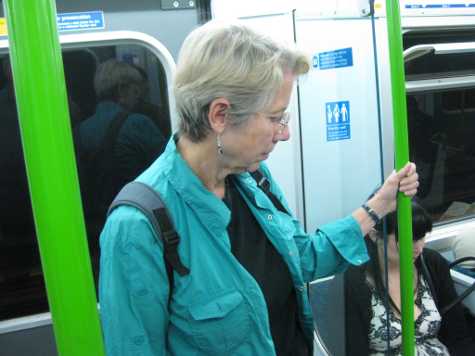 Following our usual pattern, we walked up to the underground station and bought day passes, then headed out for a day of Linda's least favorite activity, visiting museums. It almost looks like she is using the underground ride to work up courage to face the upcoming day.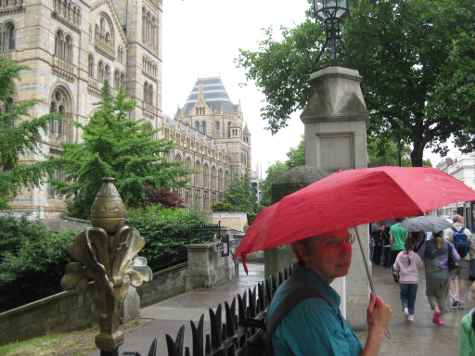 If all that wasn't bad enough, once we arrived at our first museum of the day, which hadn't open yet, it was raining. Me thinks the gloom in the air is not only because of the weather, especially after catching a glimpse of the look on her face.
We had worked out a deal for the day, each of would get to pick a museum, and that would be the only ones we would visit. Emphasis added to show the degree to which Linda was making sure I would remember our agreement after we had visited my museum. To make sure we didn't visit any more museums, she was insistant her choice be the first one we visited, and mine be the second. Her thinking was that she would be too tired to enjoy her choice if mine was first, and she wouldn't enjoy mine no matter when we visited it. Like I've pointed out many times, a museum person, Linda is not. Something that goes doubly for art galleries, another of my favorite places.
Looking at this, you'd think it was my museum, but it was really hers. It's just that I get a kick out of all museums, especially natural history museums like this one. By the way, that's a statue of Charles Darwin behind me, he of the concept of survival of the fittest.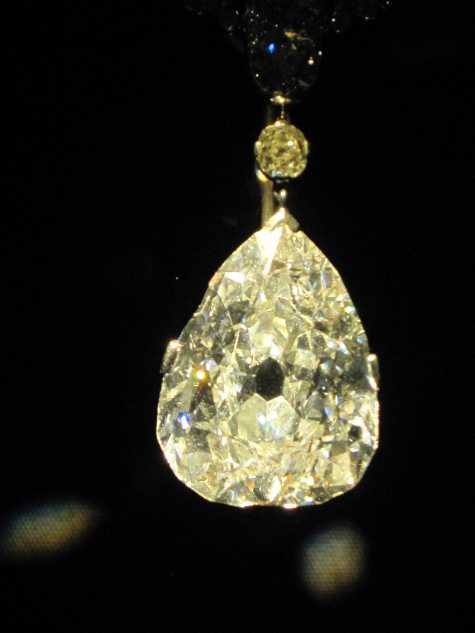 One of the highlights was the museum's collection of rocks and minerals. As you might guess, there were some minerals that got more of Linda's attention than others. This is the nearly 50 carat Star of South Africa diamond, the find which started the South African diamond rush in the late 1800's.
Also part of the required experience was braving the mobs to visit the dinosaur exhibit, something the little woman was going to do with or without me, as she put it. I think she was already getting a head of steam worked up over the upcoming to my museum, but little did she know that I also wanted to see the dinosaurs.
Leaving the Natural History Museum, we tried to get a photo of the building, but since it takes up an entire block, and is ringed by trees, there was no way to do justice to its architectural details. At least it wasn't so bad for Linda, not because she couldn't take a good photo, but rather because the distance to the next museum was short, it being in the next block. Or maybe I should say, it taking up the next block. One thing we have learned about the British National Museums, small they are not.
The dedication stone will have to do for a photo of our next museum, the Victoria and Albert, which houses the world's greatest collection of art and design. Now if that's not something that Linda sink her teeth into I don't know what it is. Believe me when I say she was really skeptical when we walked in the door, art and design being something in her mind that could only be spelled, boring.
We had no sooner taken a few steps inside the building when then the first "look at that" escaped form her lips. "That" was the magnificent chandelier that hung in the entrance hall. It looked like the best that Murano could offer, and it reminded us of all the wonderful things we had seen during our time in Europe.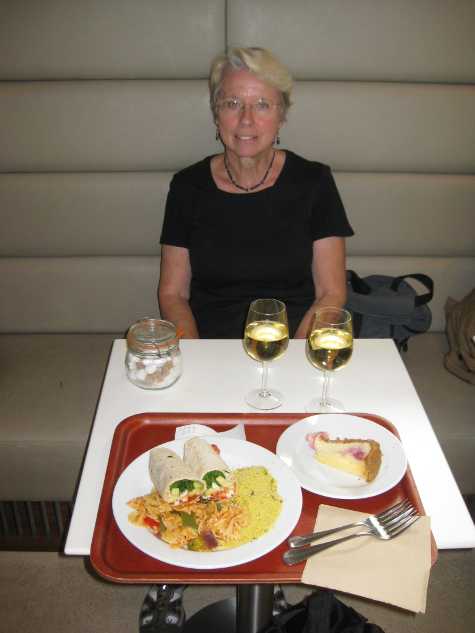 Having spent all morning in the Natural History Museum, it was past time to eat, so our first task was to head to one of the several places in the museum where we could get something to eat. As has been our experience during our London museum visits, the food was once again exceptional, with the cute girl at my table making it even more so.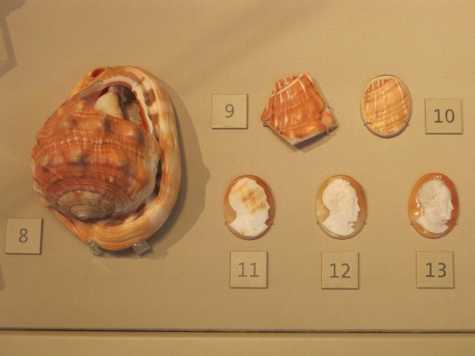 The museum itself turned out to be one of those places where something you never expected seemed to appear around every corner. Take this display of the process of making a cameo from a conch shell. And yes, next to it was an awesome display of conch shell cameos, something that I was afraid I was going to have to drag Linda away from.
She also got her David fix, what with the museum having a full size plaster cast of the famous statue. In fact their collection of plaster casts of many works of art are growing more important by the day. Many of the original objects have remained outdoors, continuing to deteriorate, loosing details, while these casts preserve the appearance at the time they were made in the 19th century.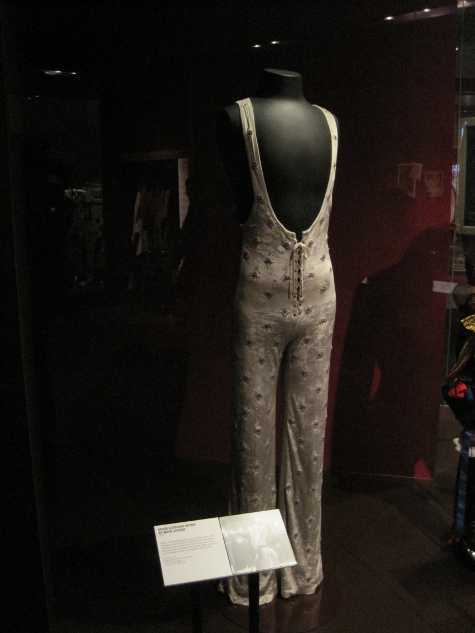 One of Mick Jagger's costumes he wore during a performance early in his career. There is something for every taste in this museum.
The harness worn by the actress who played Peter Pan in the original production of the play. It certainly was proving to be not the kind of museum Linda thought it would be.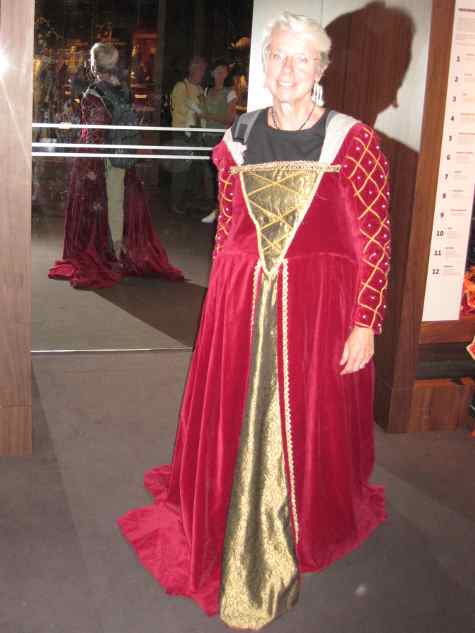 It wasn't long before Linda was really into the museum. They had some various costumes that actors or actress would wear in a play for you to try on. I noted that the costume she picked was one that a member of royalty would have worn.
It wasn't only what was displayed in the museum that was fascinating, the museum building itself was truly a work of art.
So what did we do for dinner on our last night before flying home. It was one of those big decisions, and what won out was a last night picnic. We had learned there was a whole Foods store in the South Kensington area, and since it was only a short way on the underground, off we went.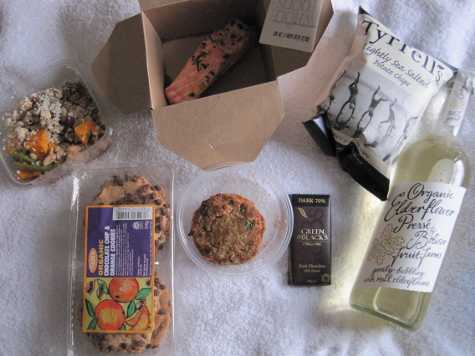 Clockwise from the upper right we have salads, salmon, potato chips, elderflower drink, a dark chocolate bar, crab cakes and a package of cookies. Not exactly what we had for our first meal in England a week ago, but it will do to bridge the Atlantic as we return home tomorrow.
It had been 3 and a half months since we left Phoenix, it had gone by so fast, and the things we had experienced were a lifetime worth of memories. From the cultural differences we felt in Turkey to the wonderful food of Germany, it was something we were glad we had done. To say which countries we liked best would be difficult, but say what the most memorable experience was would be easy. It was back in the first weeks of our adventure. It was a day in France when the four of us, John, Judy, Linda, and I took the canal boat up the famous set of seven locks on the Canal du Midi as the thunder boomed, lightening flashed, and the rain came down in buckets. That is something we will probably never experience again. New memories, the reason we live the Life we do.
---
July 15 Wednesday
Flying home, the closing chapter to our 2009 European travels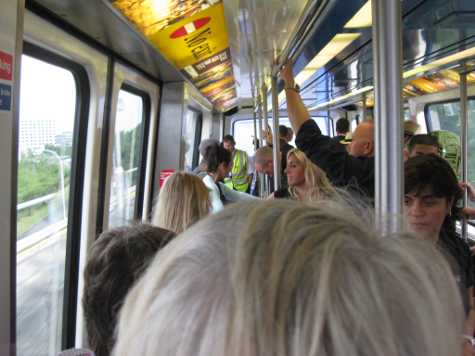 We skipped breakfast this morning because we needed to leave for Victoria Station just about the time the Morgan House would begin serving breakfast. It took only a few minutes to walk to the station, where we caught the Gatwick Express train to the airport. It was a 30 minute ride, and almost before we knew it we were back to the airport where we had landed some 110 days ago at the beginning of our adventure. We are always amazed at how efficient the public transit systems are in Europe, and this was no exception. I think part of it is that they expect it to be so, and secondly because government operates in Europe to help its citizens live a better life. We are just so used to having lousy government in the states we don't know what good government is.
To get from where the trains arrive at the airport to the terminals, they have a tram system. One guess as to whose head that is in front of the camera. For once it was a breeze to find the right terminal, as all the signs were in English, and in fact the Delta counters were in the same area as the EasyJet counters we had been to back on our arrival on March 31. Nothing like familiar things to brighten our day.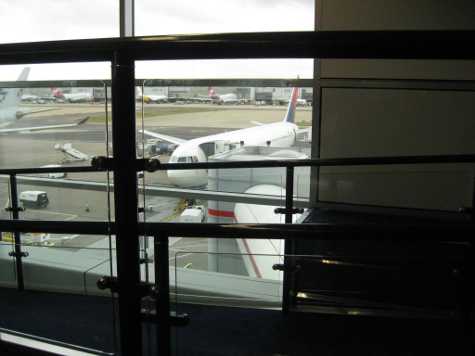 Our plane was waiting at the gate, and in fact, we had walked out to the gate beside the flight crew. As we waited, we ate our breakfast, which was a couple of breakfast bars and some dried fruits and nuts that Linda magically pulled out of her backpack. From the number of people at the gate it didn't look to be a full flight, and it wasn't, there being a few empty seats on the flight. So much for my being able to estimate the number of people on the flight from the looks of the waiting area.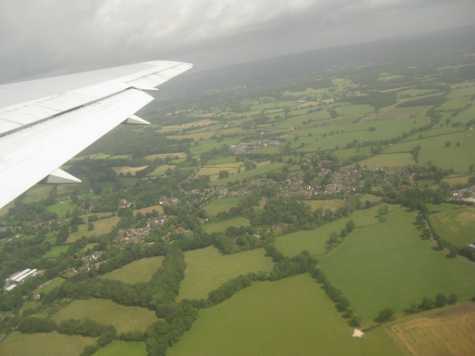 The flight took off on time, and as we gained altitude and the clouds started to close in, we got our last glimpse of the beautiful English countryside. We know we will be back here once again, if for no over reason than to explore the towns where Linda's ancestor came from. If we can find out what those towns are of course. Hey, maybe her ancestors were kicked out of England and that's the reason it is so hard for her to find out where they lived.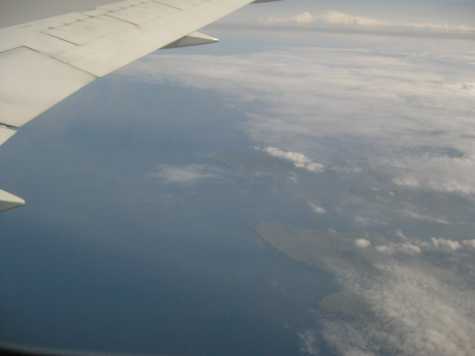 As luck would have it, there was a break in the clouds just as we were clearing the coast of Ireland and heading out over the North Atlantic. From then on it was clouds and more clouds. The flight was nine hours long and once the meal service was over, they started the movies. It was time for me to read, while Linda decided that it was a perfect opportunity to take a nap. Luckily most everyone was listening to the movie through their headphones so the growls coming from the cat napping next tome didn't bother them.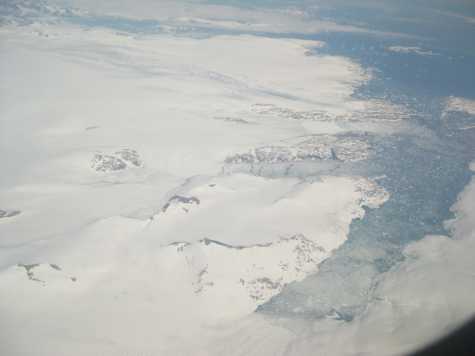 I don't know what causes one to look out the window when one does, but what luck. Here we are passing over the east coast of Greenland where this bay is filled with icebergs.
It wasn't long before one of those intense blue lakes that dot the surface of the country came into view. I remember last year year how excited Linda got when she saw them, saying it was just like the blue in the glaciers up in Alaska. It also reminded me that next summer that will be exactly what we will be doing, seeing Alaska.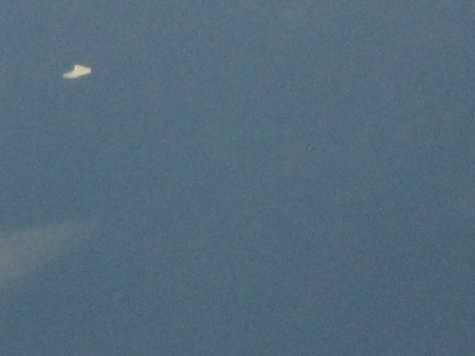 The white shape in the upper left hand corner is an open water, iceberg. Who could look down on it out here in the North Atlantic and not immediately think back to the night of April 15, 1912.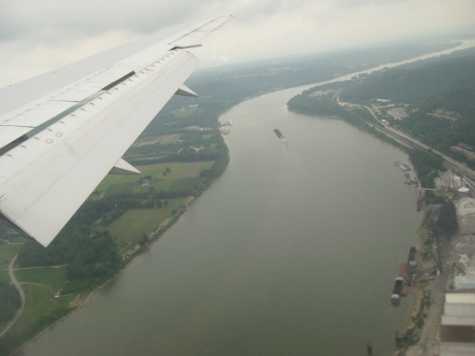 Eventually we were once again over land, this time Canada, then at last a readily recognizable landmark came into view. A river from past days, the Ohio, and soon we were touching down at the Cincinnati airport. While we there, Linda got to visit with here sister, Katherine, who had driven down from her home which was several hours from the airport. Then while they were talking, she heard a familiar voice. It turned out to be Terry from our recent Eastern European tour, and he was waiting for Janell, who was also on the tour. Talk about coincidences, when Janell arrive, it truly was one of those small world moments.
We still had to get from Cincinnati to Phoenix, which we did by way of a stopover in Memphis, then another flight to Arizona. As before, we each had our own way of passing the time, and while I finished up my second book of the day, Linda finished cutting down most of the trees in North America, or at least it sounded like it.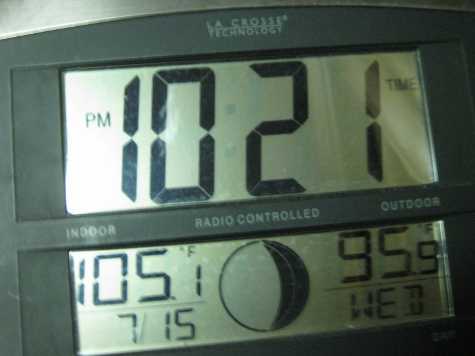 It was after 10 PM, almost 24 hours since we had gotten up in London, when we arrived back at the coach. We knew it was hot, but until we looked at the thermometer, me didn't know how hot. Even with the heat we were so tired that sleep came easily. As I drifted off, I couldn't help but wonder why we were so anxious to leave the wonderful weather of London for the miserable heat of the American Southwest. Maybe it is just part of the adventure of Life. Whatever it was, we were still glad to once again be back home.
---
July 16 Thursday
The first day back home was a day to try and get back into the way of Life we lived prior to leaving for Europe. It was also a day without photos, even though there were a number of times we should have taken one. Chalk it up to jet lag brain fade. It was also a day of problems.
The high today was supposed to reach 110 or above, and with the refrigerator only turned on last night, it was really struggling to cool down. Of course there wasn't any food to put in it, so the first order of the day was to go to the store. We immediately learned there was another first order of the day, which was to jump the battery to start the Explore. With the help of another RVer's battery charger, we got it started and also learned it was most likely the clock that had run it down..
The battery was almost ten years old, so we decided to replace it, since it was long past the end of a normal battery's life. Combing two needs, we drove to the nearby WalMart, and while they installed a new battery, we did our shopping. Back at the coach, we put everything into the not to cold refrigerator, ate some lunch, and promptly fell asleep. So much for being hardened travelers.
When we revived ourselves we discovered the circut breaker for the front air conditioner had tripped. That began a series of rest it and some time later it would trip again incidents. Obviously there was something wrong, and we were going to have to get it fixed, but it wasn't going to be here in Phoenix, as we had decided that we we would be leaving in just a couple of days.
---
July 17 Friday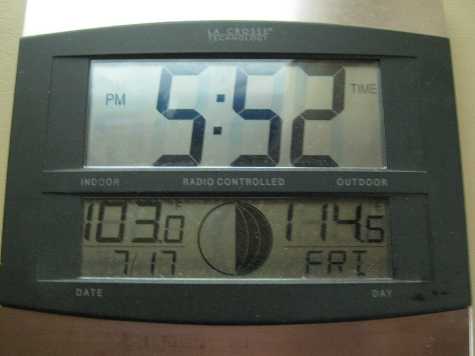 We'll let the thermometer speak for itself, but will add that it was one really hot day in Phoenix, and with the forecast calling for even higher temperatures tomorrow, we are leaving early in the morning. That meant it was another of day of shopping, especially at Trader Joe's where we got all those great things that we have come to love to eat and cook with.
Another stop was at Sam's Club, as much to keep out of the heat as to shop. It also altered Linda's normal pattern of buying. Because we were trying to kill time, we did a great deal of shopping compared to the amount of buying. It also gave us a chance to stock up on some healthy foods, something that we are going to be eating in abundance in the coming days. It seems that we both gained far more pounds than we expected during our travels, though I will readily admit to beating Linda by a very significant margin. This means a strict change in eating habits, hence the need to stock up on certain items like reduced fat sharp cheddar cheese and pork tenderloins. Just because we have to reduce the intake of certain substances doesn't mean we can't eat good.
Once it neared sundown, we also got all the outside jobs done in preparation for leaving in the morning. We were sorry that we couldn't visit our friends, Bruce and Tressa and relive some of our canal boat moments, but it will make the next time we are in town even better. I also did much better in the photo department today, even if it was to take only one photo. Maybe it's best to ease back into our RV Life, rather than jump in with both feet.
---
July 18 Saturday
We were ready to go at the proverbial dawn's early light, as we wanted to get away from this heat as quickly as possible. Note to self: if we ever have plans to permanently settle near Phoenix, make sure to buy a summer cabin somewhere that has cool weather during the summer. I have to believe the people who live here year around have had their brains fried from the heat.
We were also going to have to say goodbye, and no doubt cause a major problem for this bird who was staying near the RV. Linda had seen two little fluffs, as she called them with the mother. When we had first arrive she was near the Explorer, but with our comings and goings, she had moved nearer the coach. And unfortunately, after this morning she was going to have move a far greater distance if she wanted some protection for her babies.
We had also decided on our destination, Baker City, Oregon, which would take a couple of days of travel. We had stayed there three years ago and loved it, plus we needed to be in Salem, Oregon in a week to watch our grandson, Justin, while his sister Lindsey participated in a national softball tournament. So with that in mind we headed out.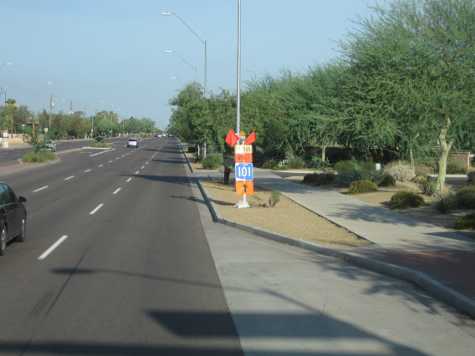 It didn't take very long until our first little bump in the road took place. The freeway we were taking was shut down for road work, which meant a lot of backtracking on city streets, and a good deal of lost time. So much for our early start to escape the heat. The good thing was that since it was very early on Saturday morning there was hardly any traffic out. Eventually we got back on the freeway, and soon were heading north toward a higher elevation, and hopefully, lower temperatures.
The miles rolled by and before we knew it, we were north of Flagstaff, heading up US 89 toward Page, AZ where we would be crossing the Colorado River. We love the beauty of the red rock country, and will try to come back in the fall when the temperatures are more reasonable.
Almost before we knew it we were in Utah and definitely enjoying looking at the ever changing scenery. Tired after the long day, and no doubt still feeling some of the residual effects of jet lag, we decided to stop in the town of Beaver for the night. What ensued was one of those marriage testing moments. While Linda did the best she could, getting us a parking spot at a full campground, I stayed in the coach. When she told me what she had done, I took exception to it, and when the dust, spittle and blood finally cleared, well maybe there wasn't any blood, but we were close, we headed on down the road to find another spot.
This time Linda called the RV park, making sure there was a full hookup site available. My major point at the previous park had been the lack of electricity for our air conditioning. The park at Fillmore where we finally stopped filled the bill so to speak, and it wasn't long before we were plugged in and once again blowing the circut breaker on the front air conditioner. Deciding that maybe the circut breaker was bad, I replaced it with a new one, but eventually this one also tripped. By that time it was cool enough outside that we no longer needed it.
Least you think that was the end of our problems, we also noticed the temperature inside the refrigerator had climbed significantly during the day. If it isn't one thing, it's several other things. The good news was that we were back home, which was also quickly becoming the bad news. Knowing that anything that breaks can either be fixed or replaced, we called it a night, looking forward to a much better tomorrow.
---
July 19 Sunday
This morning when we getting ready to leave the RV park we noticed something new, or at least something we hadn't noticed before. Hopefully they had already flow the nest before we left Arizona, but if they didn't, no telling what we will find when we open it up, something that isn't going to happen for a few days at least.
We also needed to fuel up this morning, something that was going to be new to us, since we hadn't done it for months. Of course I managed to pull up to the wrong pump, then when we got to the right pump I proceeded to tell Linda it was okay to just use the card at the pump instead of going inside like she usually does. Wrong thing to do, as it was one of those low value on the credit card type of pumps.
That wasn't the only thing that was already going wrong, as it wasn't long until we noticed the refrigerator was once again climbing in temperature. It looked like it was working alright on electric, but something wasn't quite right on gas. Deciding that there was someplace around Boise where we could get both the air conditioner and the frig fixed, we once again changed plans, now making Nampa, Idaho our destination. It was only about a hundred miles east of Baker City, so things should still work out okay.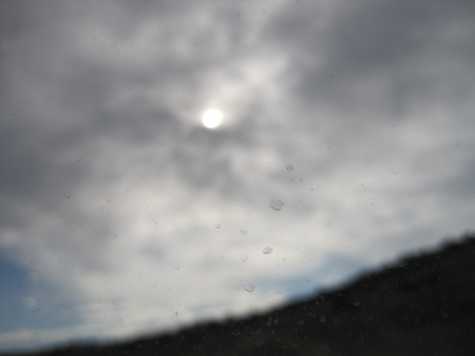 At least the weather was cooperating, with a cloudy sky and temperatures cooler than we had in Phoenix.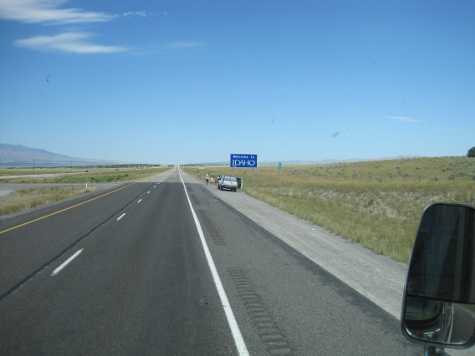 Ever since the debacle at the first campground last night, when we couldn't get a site with electricity, we had been traveling on Interstate Highways. We passed through Salt Lake City, then Ogden on I-15 before branching off toward Twin Falls on I-84. It was a good drive except for one moment when someone pulled right out in front of us while we traveling down a hill. We were in the slow lane and they were in the fast lane, and even though we were going well under the speed limit, it was one of those big eyes moments. Fortunately they realized we going to hit them and pulled off onto the right shoulder, before speeding up and pulling away. I don't think they ever looked before coming over into our lane. At least all was well that ended well, but it was our closest call during our three and a half years on the road.
It was late afternoon when we finally pulled into a RV park, and after today, it was definitely time for a little rest. Of course the fact the Air Conditioner wasn't working like it should, plus knowing the frig was also on the blink wasn't making for a relaxing atmosphere. It was with the optimism that we could get both problems fixed tomorrow, plus the three bags of ice that we now had in the refrigerator and freezers, which made us feel much better. Without a harsh word between us, we called an end to the day.
---
July 20 Monday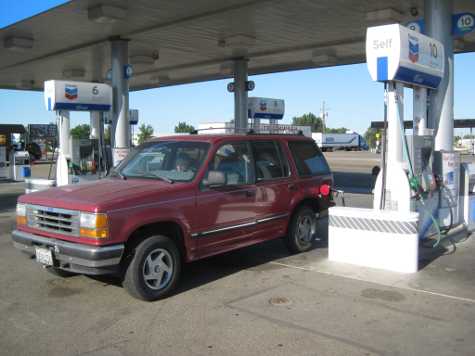 Just up the street from the RV park was the RV repair place where we going check to see if they had an opening so we could get the coach in for repairs. Of course, the nothings easy streak that we have been on, once again reared its ugly head, and fortunately I realized the Explorer was almost out of gas before we actually ran out. I'd planned to fill it before leaving Phoenix since we were running on fumes at the time, but had forgotten. Then i'd asked Linda when she went to get her haircut the day before we left, but she also forgot. Between the two of us we are lucky to equal half of a person at the moment. At least we are making great progress on being the good half of that person.
The RV center gave us one of those good news, bad news stories. Yes they could get us in, but it wouldn't be until Wednesday afternoon. Having nothing else to do until next Monday, we told them it was fine with us, and drove back to the RV park feeling much better, even if we still had the problems to deal with.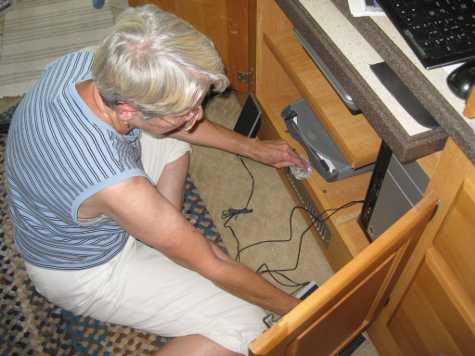 Back at the coach we had another problem to fix. Along with all the other problems we were having, Linda's computer had finally given the up the ghost. it had been acting up before we left for Europe, but now it had decided that it simply wasn't going to boot, no matter what we did. The solution was a new CPU which which we had bought at Fry's in Phoenix. It was one of those, we don't want Vista, but have no choice things.
The old computer was an Everex, and we had learned that the words: cheap, Everex, and also the phrase: just little better than a piece of junk, all went together. This time we bought a Lenovo, and no sooner was it out of the box, than I needed to open the case the case to work on it. Not because there was anything wrong, but because we needed to install the wireless card so Linda could connect to the Internet.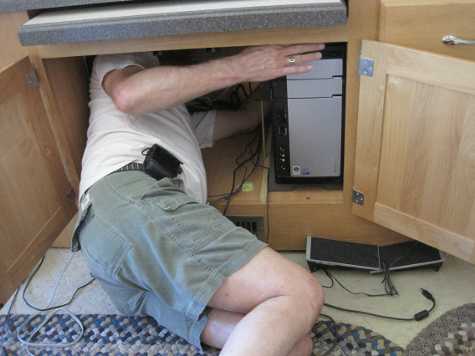 As always, it takes more than brains to set up a computer. It also takes a limber person to crawl back inside the cabinet and connect all the wires correctly. But just as we expected, once it was turned on the first time, it worked perfectly, and Linda was once again a happy girl.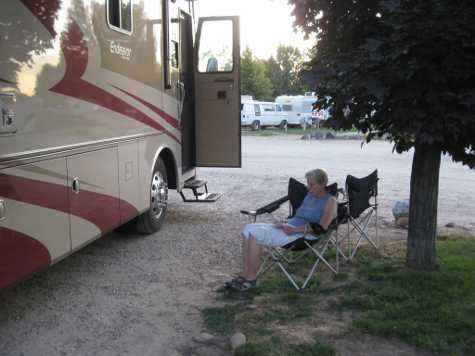 So what did Linda do after I had played contortionist to get her computer up and running. She claimed it was too hot in the coach to work on the computer and proceeded to sit outside and read, something that I immediately joined her in doing. Maybe we were finally turning the corner on our spate of bad luck, or maybe there wasn't any more bad luck left. Whatever it was, it sure made for a pleasant remainder of the day.
---
---