Journal Archive 06/11 - 06/20 2008
Scroll down to read the latest post
June 16 Monday
Time has just been flying by as we continue our countdown to June 19th. With the typical obliviousness to things that man seems to innately possess, I see everything in readiness for our departure. Linda would not only beg to differ with that observation, she would vehemently disagree with it. To my don't worry, we can get that train schedule in Europe, she demands that everything be printed out ahead of time. Why she has even gone so far as to book our rooms for most of the first week and a half of the trip. I do think I am beginning to detect a little sense of adventure breaking through that thick planning veneer of hers. Just the other night I heard her comment to someone who was incredulous that we wouldn't have our lodging reserved for every night, "Well if all the rooms are taken we can always sleep in the train station." Now that's my kind of woman.
One of our last purchases was to buy new shoes. Of course we were more than aware of the adage, never wear new shoes on a trip to Europe, but then by the time we leave they will be a week old and hopefully broken in. Linda choose a pair of Keen Venice sandals in black olive and surf spray, almost the perfect choice given that we are going to Venice and there will no doubt be both olives and surf spray enjoyed in our time in Italy. I also chose a pair of Keen's, though they were Keen Austin's in potting soil color. I can just guess what went through Linda's when she first realized what I had picked, something on the order of making a connection between what my mind is full of and what one of the main ingredients in potting soil might be. It wasn't my take that it is a marvelous medium from which great things spring forth. No, for her it was probably a direct correlation between what her husband's brain is usually full of and the potting soil ingredient that is, shall we say, cow deposits.
One thing that is not full is our luggage. We are going the lightweight carry-on route with Linda taking between 14 and 16 pounds and me bring all the heavy stuff which come out to between 16 and 18 pounds. I was amazed when Linda opted for the backpack rather than roller type of bag, but after lifting her bag, it is so light that she should manage just fine. Besides with under 40 pounds between us, if it gets to be too much for her, it shouldn't be a problem for me to carry both.
Of course you will notice that all the references in the paragraph above and the accompanying photo were about Linda's luggage. That's because I have been somewhat tardy in the preparation department. Not that I won't be ready, I will, but to hear Linda point out the lack of progress on my part you would think I was planning on leaving with no more than the clothes on my back. One thing we will be doing is having a long day on Thursday, a day that won't end until Friday evening. Getting up at 2:45 am, leaving the west coast at 6:30 am, arriving in Amsterdam at 6:40 am. That's 13 hours in the air, 2 hours in airports between frights and 9 hours of time change.
When we arrive in The Netherlands we will then have a 3 hour train ride and most of the day to do things. Should definitely make for a most interesting day, and also a most tiring day. I think Linda probably has the best take on it, "We'll be so excited that we won't notice how tired we are until we collapse." Given the opportunity to post updates, it looks like there will be far more more Daily Journal articles in the coming two months than there have been for a long time.
---
June 20 Friday
This will be a post for both the 19th and the 20th, not because I am lzy, but rather because those days ran toggether. Backtrack to 2:45 am the morning of the 19th and out alarm went off. Then at 3:45 am Super Shuttle picked us up for the trip to the airport.
We had decided that Super Shuttle wsa by far the best and most economical to carh our plane on time. Of course you can bet that we both were wondring if they would actually pick us up on time. At 3:40 am Linda opened the front door to let us cool morning air in and guess what drove up-Supper Shuttle. It ended up that we and the other three passgrson board got to the airport at 4:20, which was plenty of time to catch our flight as it ws not scheduled to leave until 6:30. We zipped through security in less than one minute and patiently waited to board. Once on board, we sat and sat, finally the pilot announed we had had a mechanical problem, but it was fixrd and they were waiting for a m4chanic to sign off on it.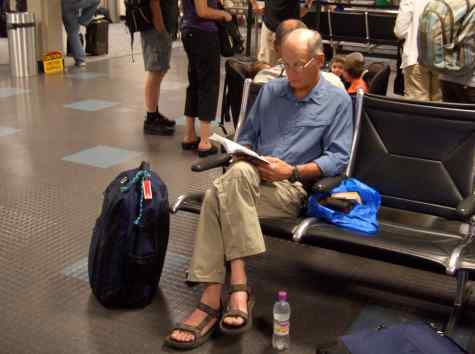 This was not the kind of news we wanted to hear, especially since we only had an hour's time between our next flights. Finally after a 25 minute delay, we pushed back and were soon airborn. As I looked down and saw the bright green rice fields below us I couldn't help but wonder what the land would look like around Schipol Airport in Amsterdam.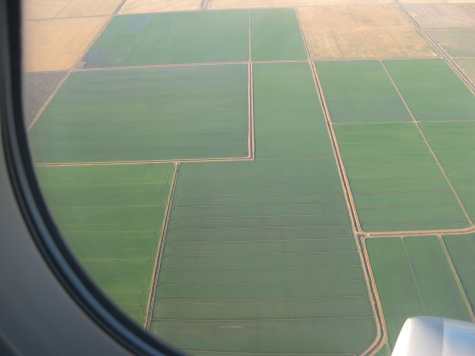 Our itinerary consisted of flying to Minneapolis-StPaul, changing planes for a flight to Hartford CT, then leaving Hartford at 5:30 pm, crossing the Atlantic and arriving in the Netherlands at 6:30 am the nex day. During the 7 hour flight, we both managed to get at last some sleep, though between the roar of the engines and Linda I found it a little difficult. Unsderstand that they served a meal an hour and half aft4r we took off and then served a snack an hour and half before we landed, meaning 4 hours in sleep at the most. Guess that is why they call them the Red Eye Special..
The Netherlands is famous for its windmills and we saw them while still out over the North Sea.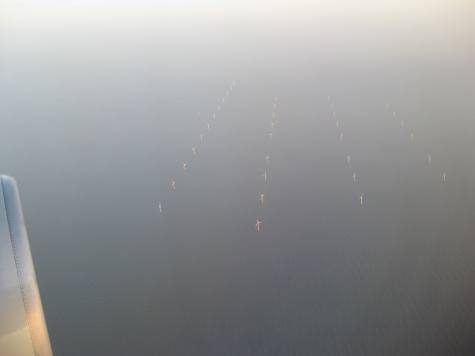 Once we were over land and the fields began to appear, it was almost what we had never left in California.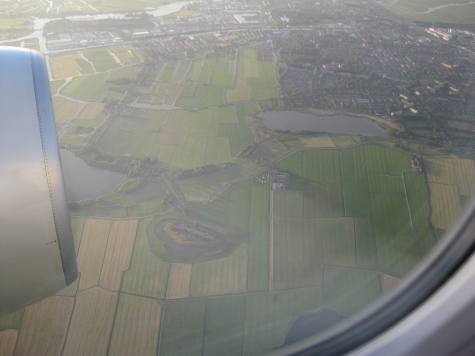 We touched down early, taxied for what seemed life forever and finally there it was, Schiphol Airport, our gateway to the next seven weeks we will be spending in Europe.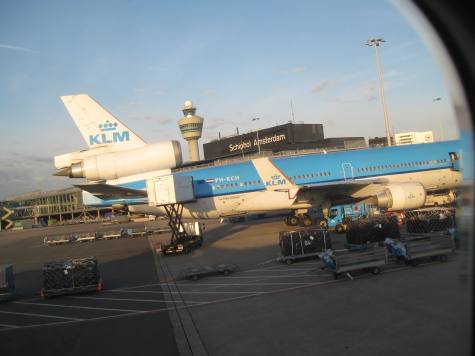 It took only a mnute to get our passports stamped,then togo through customs, which is one of the advantages of arriving so early in the morning. Then we got some Euros from the ATM machine, had breakfast which consissted of a chocolate croissant and what was without a doubt the best cup of coffee I have ever had in my life. Linda would probably beg to differ though tthe differene would be her claiming both the chocolate croissant andcoffee were the best she had ever had.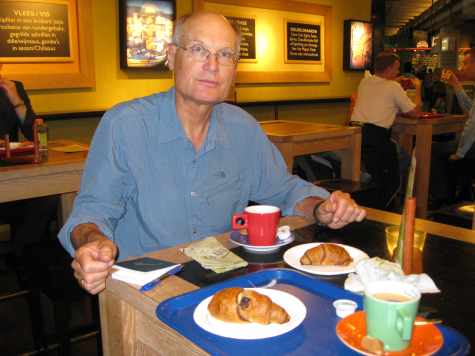 Next we bought our train tickets to Heerlen, our stop for the next 5 days. My inability to speak Dutch with the proper accent caused the ticket agent to give us a very quizzical look when I said Heerlen. Spelling it out immediately solved the problem. With tickets in hand we descended to the correct track, checked the sign and waited with a large number of other people for our train.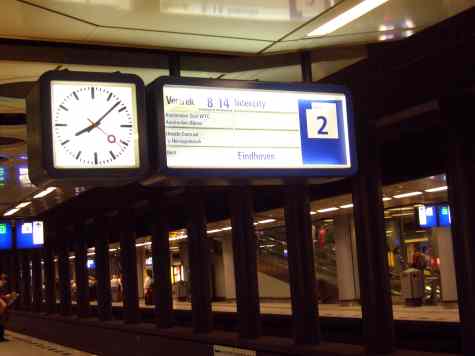 Since we had to change trains in Utrecht, we decided to walk into town and do some exploring, then catching a later train to Heerlen. It was our first real introduction to the Netherlands and we both knew instantly this is going to be an absolutely wonderful trip. We finally arrived in Heerlen just before noon, stowed our luggage at the station and spent time exploring the downtown area. Lunch was a continuation of our snack on the train, a glorious repast that consisted of dark bread, garlic cheese and cookies that we bought at the supermarket inside the Airport. It wasn't South Beach, but was it ever good.
The afternoon passed by quickly and we eventually found ourselves ensconsed in our Bed and Breakfast. Oir host was very delightful and we are really looking forward to our stay. We partook of dinner at an outdoor cafe. Linda enjoying a fruity beer while I had a glass of pilsner. The meal was far beyand our expectations consisting of a creamy white asparagus soup and toasted ham and cheese sandwich. That description does not do the food justice, you simply just had to be there to understand.
On the way back to our B&B we stopped at a bakery to get a little something special for dessert, a cheese filled pastry. As you can see below, we had one other thing to do, write up what happened over the last 24+ hours and use the WiFi at the B&B to update the website.
---
---