Journal Archive 06/21 - 06/30 2007
Scroll down to read the latest post
June 21 - Thursday
Another morning where we look out the window and depending upon which way we look, we see different things. There is traffic on the road, there is activity in the parking lot and there is thinking about what the day will bring. After a quick breakfast of oatmeal, we walked over to office and talked to the service manager. He said it sounded like something simple and he would have someone look at it shortly.
We saw a service tech come out of the shop and walk to the back of the coach several times. A little later the service manager walked out to the coach and gave us some bad news. They couldn't fix it. In a use of twisted logic, we looked at that as good news. I'd rather have everyone tell me they can't solve the problem rather than spend a lot of time throwing things at it, most likely only to make things worse. The bad news was that here we sat, unable to move and not sure what to do.
We finally decided it was an Allison Transmission which was causing the problem, so why not call an Allison dealer. This was where having an Internet connection proved to be a real bonus, and soon we had the list of "local" Allison dealers on the screen. Local being a relative term since the closest dealer was almost 50 miles away in Tacoma. A phone call resulted in the fact his "transmission guy" was on vacation this week, so it was back to square one. Looking at the list of dealers, the Allison distributor was located in Kent, which is on the South side of Seattle, so we decided to give him a call.
It was a very refreshing experience talking to Jeff and in short order we were looking forward to meeting him, as we felt Pacific Power Products would solve our problem. It did mean there would be another wait on a tow truck, but at least the future was looking much better. While we waited, I worked on the website and Linda, not one to waste time, decided the coach was in need of the domestic touch. At least the domestic touch as far as the cleanliness of the coach was concerned.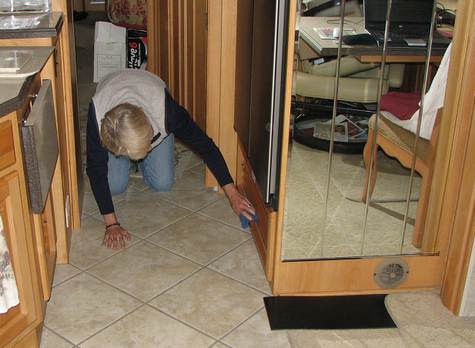 The cleaning was accompanied by a running commentary on the nature and quantity of each spot on the floor or front of the refrigerator. I soon understood that everything that Linda spills on the floor, she immediately wipes up. I on the other hand not only spill something every time I get something from it, I also never clean it up, and even worse, try to camouflage it so that she can't easily see it. After a while what she was saying started making sense to me. If I was doing such a good job of covering it up, then why change, especially since it had taken her such a long time to discover these transgressions on my part. With that I tuned her out and happily continued to work on the website.
It was mid afternoon before the tow truck arrived and this time it was called Pete's Towing and the operator's name was Kevin. As had been the case with Melvin yesterday, Kevin was very professional and kept us informed about what he was doing and why. Of course my mind was doing what it often seems to do, wandering about aimlessly, stray thoughts constantly popping in and out of my awareness. One thought was intriguing, which was, given the names of the last two tow truck operators, would it be a stretch to predict the next time we needed a tow, the drivers name would be Devin?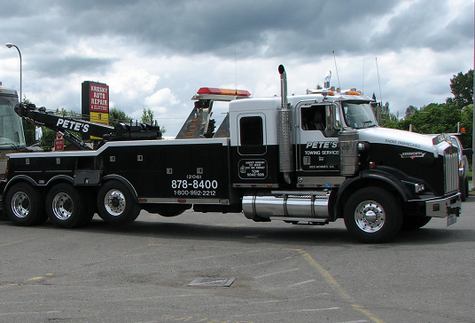 As we watched Kevin, I had to laugh at Linda's running commentary on what he was going to do next. Once she stopped, turned to me and said, "Now I know what all the little boys who play with toy tow trucks grow up to be." Then she added, "Just look at my brother, he was always playing with tractors and that what he did all his life." This got me to thinking about what Linda played with when she was a little girl. Maybe she played with boy dolls, ordering them around and complaining about all their bad habits. After thinking about it for a microsecond I realized I had better not go there.
Once everything was ready, it was time to pull out, though in this case it was actually backing out. There wasn't enough room in the lot to turn around, so Kevin was going to have to back out onto the four lane highway. Once again Linda was getting nervous, worrying about her home, but I figured this was what tow truck operators do, so I'd just watch and see what happened.
As soon as a break in traffic occurred, Kevin had the coach backed out, then pulled ahead and off to the side to make one last check of the tow setup. In a few minutes we were driving North on the city streets of Centralia heading towards I-5.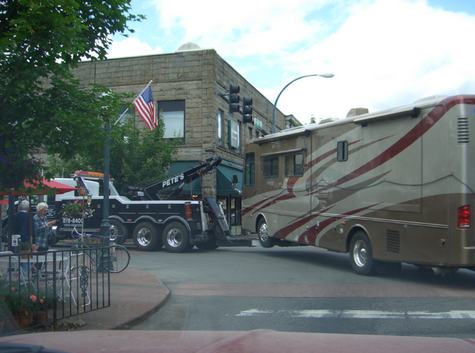 As we drove along, passing through Olympia, then nearing the Tacoma/Seattle area, Kevin left I-5 and headed East, eventually taking 167 into Kent. We were later to learn that there was always severe traffic congestion on I-5, plus there was a very difficult lane shift in one location where they were doing construction work. Seems the lane shift involved a 45 degree turn where the lanes were very, very narrow and had been the site of numerous incidents. He suggested that if we had thought about going that way when we leave the area, it would be a good idea to take another route. As for us, the drive was easy, all we had to do was follow the RV with the Because-We-Can on the back.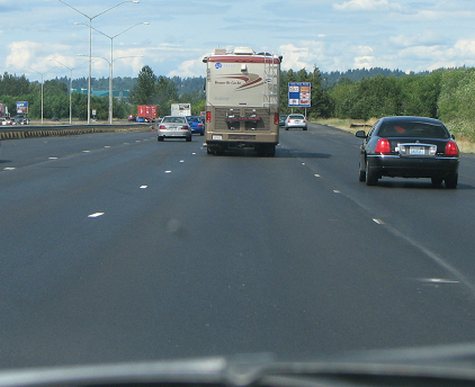 The conversation between people in our situation can certainly be interesting. There is the nervous excitement you feel and the sense of uncertainty about what the future holds. And on the other side there is joking and laughter. Each time we would pass another RV, we would tease each other about what the people in the RV were probably saying to each other. If it was a 5th wheel, we decided it may have included the statement, "See, I told you those motorhomes broke down all the time. You should be happy I wanted a 5th wheel." If it was a motorhome, it was, "See I told you those big diesel motorhomes broke down all the time. You should be glad we got this gas coach, even if gas is much more expensive than diesel." We also decided to add our own statement to the list, "See, RV's do break down, but we'd rather be out here living our adventure, being towed than back in the life we used to live." I guess how you look at it depends on your point of view, as much as what the situation is. As for us, we like ours the best.
We were almost to the repair facility when Linda spotted something that brought this sense of attitude even more sharply into focus. As we waited at a stop light, she pointed out a fence which was covered with something which was nothing more than a veritable pile of pigeon poop. Now put yourself in the position of this fence. Did it seem to be whining about the humiliation it was undergoing? No, it stood, stoically doing its job, seemingly unmindful of the crap that was raining down on it. Maybe it was a sign to us, that we were not alone in having to endure things that shouldn't be. It also helped us remember that to get to where you are going, sometimes the way leads uphill and other times down, but if you just keep lifting your feet and moving ahead, eventually you'll arrive at your destination.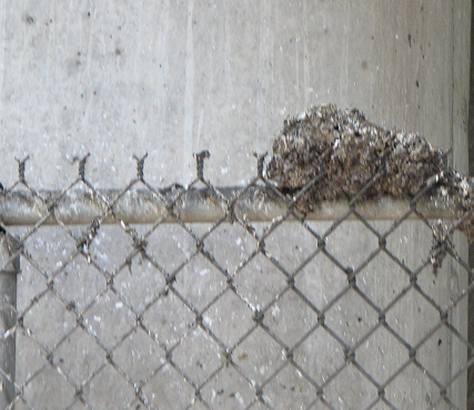 Soon we were at the Allison dealer, the coach safely parked and the paper work taken care of. That was when we got the last bit of bad news for the day. The coach was in their fenced and locked area, which meant we couldn't stay in it overnight. The good news was that we wouldn't have to be out of it until they locked the gates, which was at 11:30. We decided that we would fix dinner, then find a room. After a delicious meal of garlic pesto sausages, sweet potatoes, bell pepper and onions, sautéd in olive oil, we got ready to leave. It was just as we were backing out that Linda pointed to the fence that surrounded the facility and told me to look straight ahead.
Another fence which was having an encounter with a bird, but what a difference. It seemed to be another gentle reminder that with Life, it's more how you look at what it throws at you, than what it is throwing at you.
---
June 22 Friday
What a change from what we are used to, waking up in a motel room. What really made it bad for Linda was not having her coffee, but since the motel had a free breakfast buffet, she figured all was not lost. How wrong she was, since the 'breakfast' consisted entirely of none of the foods we prefer to eat. Oh, we could have certainly eaten the food, but our desire for the life we live won out over the the sugar and fats that spread out before us, hence no jelly rolls or donuts this morning. Instead we headed off towards the Allison shop, which was less than a mile down the road. It turned out the service manager was going to take a look at our problem, and he commented that it was most likely something in the wiring since the shift controls hardly ever go bad, and that it may be something as simple as a loose connection or a bent pin. Though we weren't sure what was going to follow, at this point we were quite pleased with the way Pacific Power Products were handling our problem.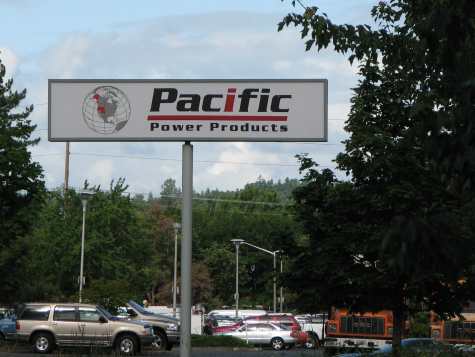 We debated whether to leave and do some shopping or just head upstairs to their customer lounge. Deciding that we would probably be spending enough getting the coach fixed, frugality won out and we headed towards the stairs, I had brought the computer along and was soon happily engaged in writing about our adventures over the past several days. Linda discovered how to work the Dish remote and filled the room with the sound of one of those woman's channels where they show you how to make things you will never use out of things you should've throw away in the first place. At least that was what came to mind as I peeked in on the show. In it a woman who obviously had far too much time on her hands was gushing over the the fabulous ornaments she had made for her garden. At least she said they were for her garden, but there were so many of them there was no way to see if she really did have a garden. Somehow I just couldn't relate to a garden full of fake ceramic do-dads made from distorted plastic soda bottles which had been painted in the most garish colors and designs. The good side was that I could see I had nothing to worry about because living in the coach, we don't have a garden, and besides we don't drink soda.
A short time later, someone who appeared to be a trucker having his vehicle worked one wandered into the lounge. Given the entertainment options, it wasn't long before he left. I will say it was fun watching him try to find something to do, and I could see that he would have loved to grab the remote and turn to something worth watching. I was silently urging him own, but he didn't get the message. After having been thoroughly distracted from my writing by all this, I walked over to the big window at the end of the room which looked out on the workshop floor.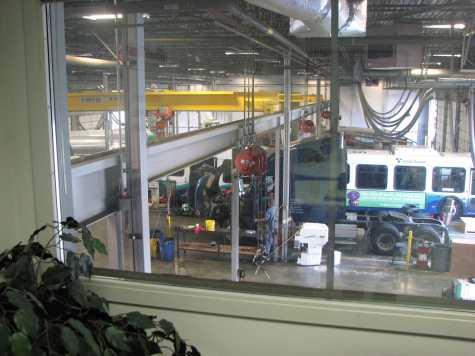 It was then that the service manager stopped by to let us know that he had discovered what was the likely cause of the problem, a loose connector in the wiring harness running back to the transmission. He had checked everyting from the battery to the shifter, the controller and the wiring runs and that was all that seemed to be a problem. The next thing would be to take it out on a road test, and if everything checked out, we should be on our way with everything working as it should. That was certainly good news. A little later I recieved some other news from Linda. Seems she had decided to utilize the womans restroom and found something she thought was hilarious. I guess you could say that depending on the circumstances it could either be funny or the reason for a hasty retreat.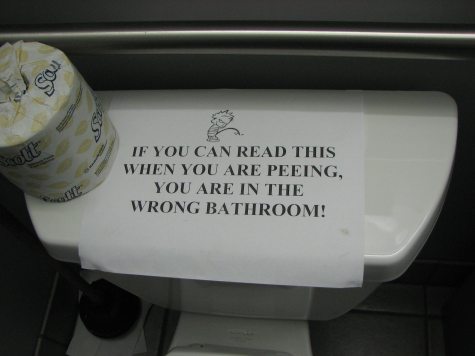 Eventually we were given a sign of our own, we just didn't know if it was a good sign or a bad sign.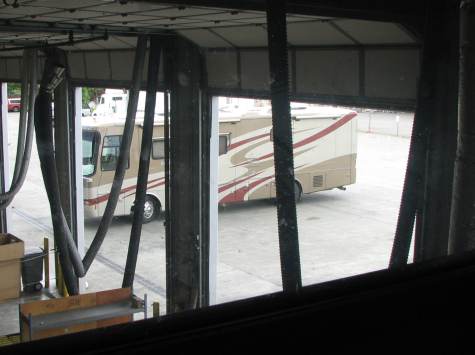 Fortunately it turned out to be a good sign and sometime later we were once again on the road. That in itself lead to another problem, which was where did we want to go next. Our original plan had been to take Hwy 12 over to the northeast side of Mount St Helens, stay at Randle, and do some exploring. We realized we had no good reason to change those plans and plotted a course to get us down to Randle. Because we couldn't find a suitable place to get diesel, plus it was raining making driving less than a pleasure, we ended up taking I-5 south. By the time we were to Olympia the rain had stopped, the traffic had thinned and the navigator was no longer lost, all of which made for an easy drive. Our stopping place for the night was a Passport America park, and is almost always the case, the owners couldn't have been nicer people. We really lucked out because not only was it a very inexpensive place, but we were also able to get on the Internet. When the park is called Shady Firs, you have to wonder, but they had several sites in the front that had a clear view of the sky. Thus ended a day when we got our home back and life returned to normal.
---
June 26 Tuesday
The plan for today is to head on over to Walla Walla and get in a day of tourist type things. That it is a day of touristing sort of implies an early start is in order, and when Linda emerged from the back of the coach just after 8 AM it looked like that was going to happen. Since we still had plenty of fresh asparagus left over, it also meant breakfast would be another omelet, something about which I had no complaints. Plus, topping it with a few dashes of Habanero Sauce and a dollop of fat free sour cream only makes it better.
Once the dishes were done and put away, we started packing in preparation to hitting the road. As always, I am in awe of just how much we can drag out when we are just staying someplace for two days. It's not a problem, instead it's an attitude that we have become quite comfortable with. This is our home, and sure we are currently changing locations with a greater frequency than we usually do, but so what. We live here, we make it pleasant, we move, we do it all over again, doesn't matter if it is for two days or two months. Every once in while we arrive and there is something which has found its way onto the floor, but it is easily picked up.
One thing which had become readily apparent since we had crossed the Cascade Mountains was the difference in climate. Where once there were trees, now there were only grasslands. Grass wasn't the only thing which sprouted on the hillsides, as Linda was quick to point out. There were also wind generators, which also implied that we might be in for some buffeting as we drove along. (It wasn't long till that proved to be the point, though it wasn't very bad.)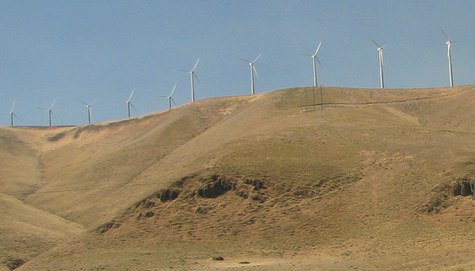 The miles passed by quickly and soon we were off the Interstate and traveling on Hwy 12, the type of road we prefer. That it was summer was more than once brought to our attention by the construction zones we passed through. Once we had to stop for a flagman and we couldn't recall the last time that had happened. There was one other new site that we began to notice, onion fields, which of course were also accompanied by the usual sign and roadside stand proclaiming the availability of Walla Walla Sweets.
One of our reasons for stopping in Walla Walla was to visit the Whitman Mission National Historic Site and learn more about early life in the Oregon Country. While I may consider myself a history buff, my knowledge of the Whitmans was next to nothing and consisted mainly of a mental image of a tall monument and the fuzzy memory of murdered missionaries. There was also the recollection of a diary which was kept by Mrs Whitman, which was famous for its depection of life on the Oregon Trail. To say that I wasn't prepared for what we found was an understatement, the result being a complete junxtiposition of my expectations.
What we found was an almost total lack of things physical, but a near overload of information. When we were at PEFO, volunteering in Interpretation, we learned that the concept of "prevoking" the visitor to think and hopefully act on the information we provided was one of the basic tenets of what interpertation was all about, something which they manage to do in abundance here at Whitman Mission. Granted that once you become even casually aware of the circumstances what took place on this very spot in the 1830's and 40's, infinite shades of gray appear to completely blur, what on the surface is black and white. It can probably best be summed up with the trite phrase, it is an eye opening experience.
The location, just a short distance off Hwy 12, has changed substansially over the last 150 plus years. There are no longer any ruts of the Oregon Trail, even though it passed right through the site. The river in which the Whitman's young daughter drowned has changed course and no longer flows through the site. All the historic buildings are long gone leaving no visible trace. Given this lack of "eye appeal", the NPS has put together an excellent film and museum that provides a glimpse into the past. One where, walking the grounds, you can close your eyes and see with more clarity, those events which took place so long ago, than you ever could if the structures had reconstructed.
One thing which also helped with our understanding of the site, though we didn't know it at the time, was our visit last week to Fort Vancouver. It turned out that the Whitmans had shopped for goods at the Fort's store and had consulted with the Chief Factor before heading back West to Walla Walla to establish their mission outpost. Linda enjoyed reading how Narcissa Whitman had purchased her dishes at Fort Vancouver, and though these weren't her dishes on display, they were of the same type.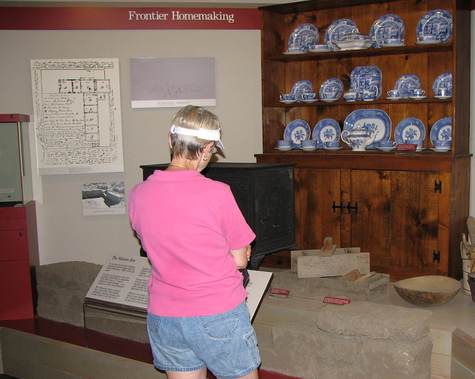 Another interesting fact was that they did not live in a log cabin, but rather in an adobe building which Marcus Whitman built. The purpose of their being in this place at this time was to teach the Native American people. They attempted to teach them things both spiritual and practical, but unfortunately things did not work out the way the Whitmans had planned. The term "cultural differences" is much over used, but that is exactly what the problem was. Both the Christian Religion and the way of the farmer was not what these people needed nor wanted, so a clash was almost inevitable. Reading and studying the past is not the same as being there, which makes it so difficult to comprehend the tragedy which took place. As we looked upon the signs, whether in the museum or outside along the trails which bisected the grounds, we were constantly challenged by the words we were reading. I couldn't help but remember one of the mantras of Park Service Interpretation that we learned during our stay at Petrified Forest, which was to "provoke" the visitors and cause them to really dwell on what they found out during their visit. Whitman Mission does that and more.
Our visit was not all filled with results of a clash of peoples, as it also had something very familiar, the Oregon Trail. When you are the first person to ever guide a party of wagons into this country, it is natural that you stop at your house. That's what Marcus Whitman did, and that's why the Whitman Mission became a famous stopping point on the Oregon Trail. The fact that the Oregon Trail was only a hundred or so feet from their house was a surprise. I don't know for sure what we were expecting, but it wasn't that. Of course just like every time we are near a portion of the trail, Linda had to walk along it. And the discovering they had a replica covered wagon, it was just as natural for Linda to have her photo taken standing by it.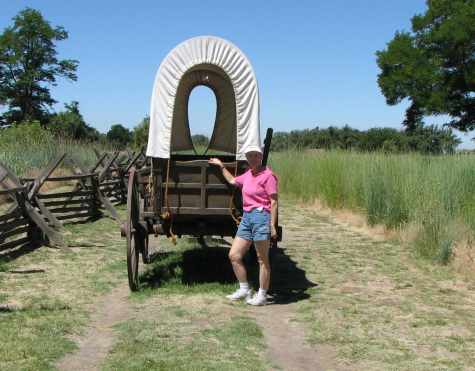 The Park was just outside Walla Walla, which was where we were planning on spending the night. We had debated whether to just do some touristy type things in the area during the day, then stay somewhere else for the night, or stay here overnight. Staying here won out. The other place we wanted to visit was the Fort Walla Walla Museum, and as luck would have it, there was an RV park almost next door. When we were checking in we mentioned that we were planning to see the museum, and were given a coupon good for $1 off the admission price, and directions for what was the best way to walk to the Park, which was the shady way as opposed to the sunny (hot) way. The walk over to the musum was made more interesting by the fact that both of us was sure the other didn't know where we were going. Add in the fact that you could not see any distance ahead due to all the trees, plus the road was the opposite of level, which sure didn't make Linda very happy. In the end, we took my route which involved a shortcut down the hill, across the bridge and through the trees proved to be a winner. Based on Lind's remarks about what would happen if it turned out to be the long way around, I was one lucky boy when it proved to be a winner.
The entry fee for the museum was $7 each, but then we got lucky. Linda handed our $1 off coupon to the person behind the counter, then asked what the AAA discount was. It turned out to also be $1, but we could only use one or the other, then he looked at me and asked if I was a senior. The end result was that we only spent $10, rather than $14 for our admissions. The only problem (besides me apparantly looking old for my age) was that we weren't sure it was worth even the reduced price, not because we didn't like the musuem, but rather because it was not at all what we expected. As a side note, during our walk around the RV park later in the evening , we stopped to talk to a couple who we had seen at the museum when we were there. They had the same sense of disappointment that we did, there was nothing on the Fort, just on the town and surrounding area. Just because there was no fort didn't mean there weren't interesting things. Take this sheepherder wagon for instance, it looks like RV's were around for a long time before they became what they are today.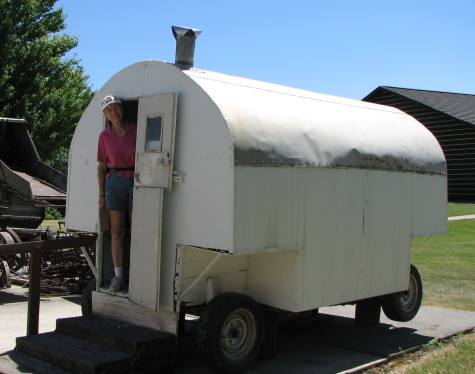 The inside had nearly all the comforts of a modern RV.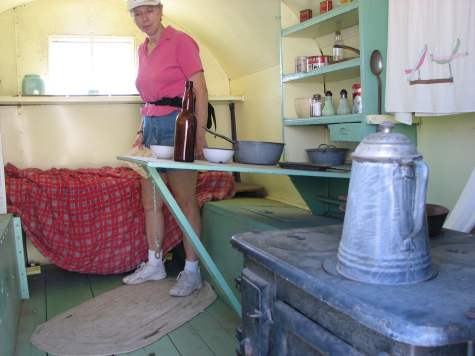 We also found out what the area was famous for, and it wasn't apples or cherries, it was mules. More specificly, mules teams harvesting wheat on the rolling hills of the area. Remember that TV show, Death Valley Days, and how it was brought to you by 20 mule team Borax? Up here, 24 mules is a little team, it takes 33 mules to pull the big combines up and over these hills.
Of course the mule teams are long gone, replaced by modern machinery. Yet they are only gone, not forgotten, for one of the buildings in the museum comlex houses a combine and 33 mule hitch. The mules, men, and boy who either pulled and operated the combine may be manikins, but everything else is the real deal. I'd have hated to be the person who harnessed the team, just think of the hours they must have worked. And they weren't the only ones working hours completely different than what we of the 21st century would consider "normal". The cook was up at 3AM, served breakfast at 5AM, dinner at 8PM,after which there was the clean up; it had to be a job that you loved.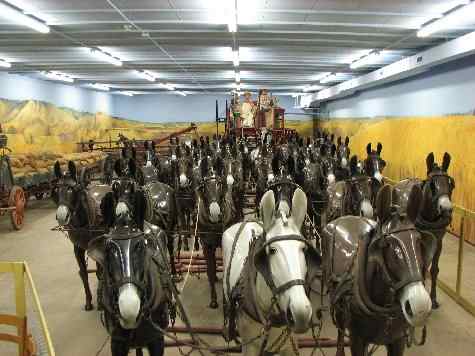 Now you can see why we said we were somewhat disappointed in what was at the museum because there was absolutely nothing on Fort Walla Walla, but still we very much enjoyed what we saw. Back at the RV park we planned our journey for the next day when we would be crossing into Idaho, spending a few days at Hells Gate State Park in Lewiston, then topped off the day with what has become our best dessert ever, lemon pound cake with peanut butter topping, but even those words don't begin to describe what it is or how it tatstes. Linda describes it as a South Beach style fat free, sugar free, lemon pudding pound cake with South Beach style peanut butter cookie dough for a topping. Of course the cookie dough isn't cookie dough in the ordinary sense, then maybe that is what makes it taste so good. Served with a couple of sips of apricot brandy, it makes the day for us. Once we have it a few more times and Linda has the recipe down, it may be something she will want to share. As for me, I just want her to make more of it.
---
---