Journal Archive 05/11 - 05/20 2007
Scroll down to read the latest post
May 11 - Friday
No alarm this morning, but both of us were up early anyway. It's always interesting how each day is different and we were obviously both hoping that our time together today would yield some of those magical moments which rise above the usual. We knew it couldn't be a repeat of our day with Marshall, walking to the ruins, but not all trips to ruins are the same, so we were eagerly looking forward to our time in the back country.
There were a few regular items to deal with before we could leave, there was breakfast, lunch and the daily journal to first take care of. While Linda was handling the first two, I worked on the third. It immediately became apparent we were getting off to a better start than yesterday when she started fixing oatmeal for breakfast. Yesterday on the way back from the Anasazi Center we had stopped at the Wal Mart in Cortez for some much needed items, the foremost of which was a pair of boot laces for my hiking boots. Of course our route to the back of the store took us right by the display of fresh strawberries. It did what it was supposed to and a package of those luscious, little red berries was soon setting in the bottom of the cart. They weren't of "Dan the Steel Driving Man" quality, but they still were quite good.
Breakfast over, lunch fixed, and the camelbacks filled, Linda was ready to go and consequently asked me if I was also ready, or would I prefer to finish the daily journal. It was one of those days that I was struggling with the journal, the words just not coming and so I decided to take a page from the homepage article I had recently written about just these things and lay it aside, figuring I would finish it when we got back. (Something that proved to be not so easy, however, later in the evening I just finished it and said good enough, which is something I have never been able to do before.) So just where were we going? We had several stops planned, Lowery Pueblo, Painted Hands Pueblo and Sand Castle Pueblo, plus, if time allowed, a stop at the Goodman Archaeology site where they are currently excavating another pueblo. All these sites are in the Canyon of the Ancients National Monument and because it is administered by the BLM, you can check out the BLM website or for more on the archaeology, check out the Crow Canyon website.
I think, one of the best descriptions I found of Canyon of the Ancients was in a tourist guide we picked up someplace. it states: "The enormous Monument is a difficult place to interpret, much less navigate. There are really few areas ready for the public, the rest is un-signed, un-mapped, and un-excavated. This is an area to discover on your own, if you're prepared. You may find tiny rock-walled granaries tucked up on canyon ledges, or mounds of rubble that outline the shadow of an enormous village." It not only sounded like just the perfect place for us, it was the embodiment of what I tried to impart in the people who attended my Ranger Tour of Puerco Pueblo at PEFO. Our route was going to take us north of Cortez, then out into the country and it didn't take too many miles before the view to changed from the rocky buttes and mesas to something entirely different.
The first stop was planned for Lowery Pueblo, the most northern point on our route. As we drove along the paved road through rolling farm land, the pavement ended and the road surface changed to gravel. Eventually we came to a small sign that indicated we should turn left and after driving a short distance on a dirt road, arrived at our destination. That this was one of the more 'public' sites was immediately apparent.
Between the huge cover over part of the structure and the grass growing everywhere, our first reaction was one of a little disappointment. However, those feelings were soon mitigated when we walked up to the ruins and started reading the interpretive signs. One thing we have noticed in our travels is how varied the quality of interpretive signs are from place to place. There is a real art to grabbing hold of the visitor and these signs were aimed right at our interests. I think that may be more due to the fact that this is not a place the masses visit, but rather a place for those who are genuinely interested in these types of sites. As you can see from this photo, it's a place to explore, even if you have to duck to get inside.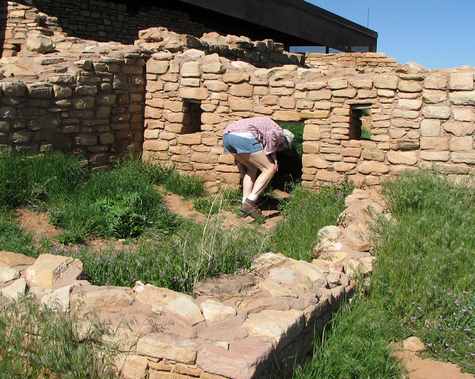 One thing to point out is, there was quite a bit of soil infill left in the various above ground rooms so the original floor would have actually been at a lower level. Another interesting thing also dealt with the walls, and was something I tried to incorporate in my Puerco talks. It was, how do they know that some rooms were built after others? Just look at at how the low wall butts up to the high wall. If it had been built at the same time they would have tied in with one another, which would have made for a much more stable structure.
Modern people often look at these structures and see only a very primitive culture. If you look at the crude log structures the early white pioneers built in this area, which, if the inside walls were covered, was often covered with just a piece of cloth, then contrast it to the plastered and painted walls of the Ancestral Puebloans, you can see remnants of the plaster in this photo, which were actually the "more advanced" of the two?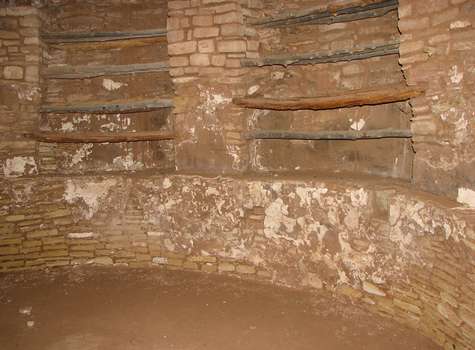 Situated a short distance from the main structures, across the plaza area, was the Great Kiva. I find it so intriguing that at the same time the great cathedrals were rising in Europe, the Great Kiva's were being built in the this area. Is there a connection?
There is so much about a place like this that we can never understand, but there is also so much that it can teach us. We look at ourselves and think we are the greatest there ever has been, but are we? Have we been good stewards of what we have been given? Have we made things better for those who will live a thousand years in the future? Are we better off for our complex life? Does the past help us understand the present and the future? May we have the ability to not only look, but also to see.
As we left the Lowery Pueblo another vehicle was pulling into the parking area. The entire time we had been there no other visitors had appeared, which in a way was a shame and in a way was good. Our next stop would prove to be in an even more isolated area of the Monument, and in fact this would be the only other vehicle we would see. What a pleasure it was to have these ruins to just ourselves.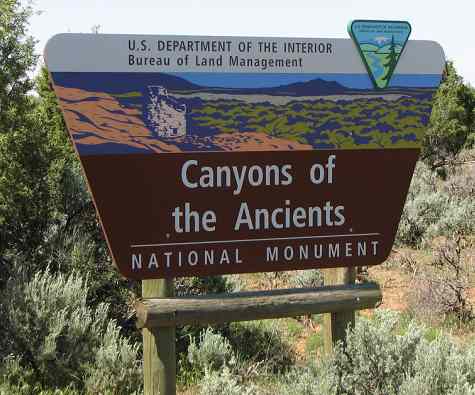 Yesterday, when the volunteer at the Anasazi Center had described our next stop it had come with the high clearance four wheel drive vehicle warning, which meant it sounded just like the place to go. It turned out the road was not nearly as bad as we had envisioned it to be, though a little wet weather would made it nearly impassible.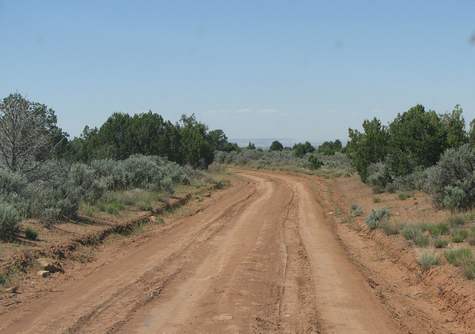 Arriving at the site, or rather at what passed for the parking area for the site, we looked along the wall of the canyon and finally spied the remains of a tower. There was also supposed to be a 20 room pueblo nearby, but we could see neither hide nor hair of it. As we were to learn during our time spent exploring the area, they were mostly detached and scattered rooms tucked into whatever ever nooks and crannies they could utilize for that purpose.
To get to the ruins, we first walked about a quarter mile to the point where the trail led down over the edge. Linda has become so used to climbing around on rocks and slopes that she never hesitated but simply started right down.
There were some places that only the thin can fit. I found out that with the camera bag on my hip, I had to turn a little sideways to fit. Linda, of course, had no problem.
It really wasn't very hard to hike to the tower, pose for a photo and then begin exploring.
Pottery sherds were everywhere and it soon became impossible to take a step and not see a sherd or two or three, or more. Here's one that shows the contract in color between the inside and the outside. Most were a rather plain gray with a smooth surface, though we also saw many corrugated sherds, as well as other styles and colors, including painted pieces.
Later, as we walked down below the site we found a seam of clay underneath a large boulder. Whether this was one of the ancient ones sources of clay or not, Linda showed just how it worked, crushing a small bit then working in some water to form a paste.
Here is Linda standing in front of the clay source.
Later a rock that had just a hint of gloss caught my eye.
Though we weren't 100% sure, it looked exactly like a pottery polishing or smoothing stone. Plus, even though we spent over four hours at the site, we never did see another stone like this one. Just a comment on what we photograph: if we picked it up to examine it or photograph an object, it was returned to the exact same spot we found it.
Objects weren't the only things we observed.
There were many more stone flakes than pottery sherds, however stone tools were not to be seen. We figure one reason is because they are something people want, so they ignore the rules and take them. Eventually I did spot what was most likely a knife, which may have broken when it was being made, as the edge showed no wear.
One thing that Linda really wanted to find were the petroglyphs and pictographs at the site. Thinking they may have be located a little farther from the site, we roamed around. While Linda's eyes were looking up, mine were focused on the ground, which was when I spied a different looking cobble, which turned out to be a hammer stone, and then a really big litho flake just a few feet away.
Now that I had located that "special thing" of mine, it was time for Linda to do the same. Her special thing was actually special things, rather than just a single thing, the petroglyphs and pictographs. Talk about a woman on a mission, she started over near the tower and scanned every square foot of outcrop and each boulder in the area. It was sometime later that she appeared above me with a big smile on her face and I instantly knew she had found something.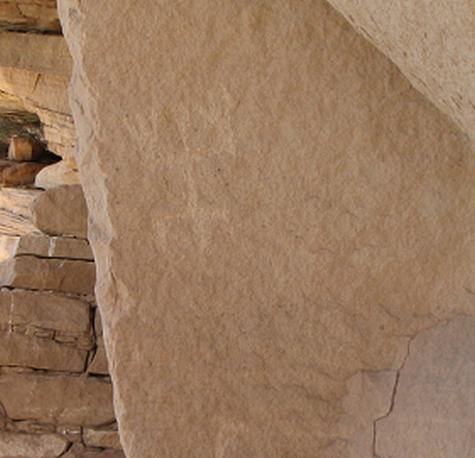 It is really hard to see, but that is also why it was so hard to find. That was one down and one to go, with the painted hands pictographs yet to be found. This was when I was able to help, mainly by deducing where we might find other symbols based on the location of the ones she had found. The funny thing was that they were exactly where I had suggested they might be. But not only were there petroglyphs, the painted hand pictographs, faded as they might be, were also there.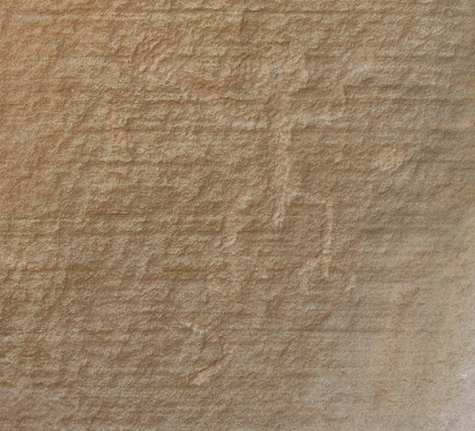 It takes a little imagination to see the painted hands, so Linda is holding her hand near them to give you something to go by. Please note that she is not touching the sandstone, only holding her hand near it - you never, never want to touch any petroglyphs or pictographs as the oils in your hands will destroy them.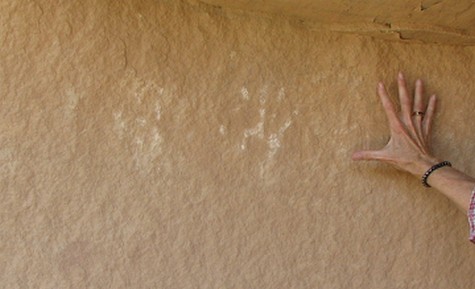 Here is the pretty young explorer sitting in front of her find.
I know this is one of those posts from you know where, that goes on and on, but I've left out far more than I've put in. Is it any wonder it took me three days to write it? Anyway, before we leave the Painted Hands site, we just wanted to include this photo of a corncob which was placed in the adobe mud in one of the walls. It is one of those unusual things that you seldom get to see.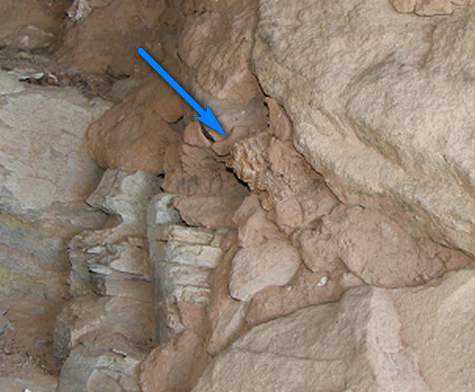 As we were leaving the site we couldn't believe that we had been there for over four hours, not only out in the bright, hot sun, but also climbing up and down the face of the mesa all that time. To say we were tired would be an understatement, but then so would saying we were excited by what we had seen and done be an understatement. The long drive home was filled with excited chatter regarding our day and then it was capped by coming up on a pair of cowboys driving a herd of cattle alongside the road.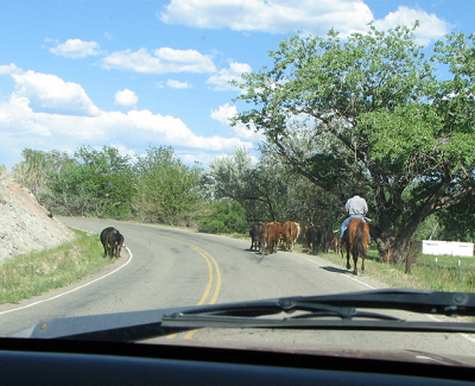 I'll end this post with the realization that I put far too many photos in it, but that we left out many more great photos, that I wrote of far too many things, but that we left as much out as we wrote about, but still knowing that this was one of those very special days that only come along once in a great while. We were not through with our adventures though, as we we fixed something for dinner that we had not had for ages, cod and leeks, which proved to be the perfect ending, and is where we will end this post.
---
May 12 - Saturday
A travel day today, though it is going to be just a simple hop, skip and a jump up the road. It's one of those, 45 miles as the crow flies and 90 miles as the road goes deals, but so what, in a hurry we are not. In a way we will be sorry to say goodbye to the Cortez area, but we also know that we will be back in the future, after all, there are literally hundreds of ruins sites that we have yet to visit and explore in the area. To get us off on the right foot, I decided to once again bake huckleberry scones. I didn't think I did anything different from a few days ago, but for some reason this one decided to really raise, and boy but was it ever good.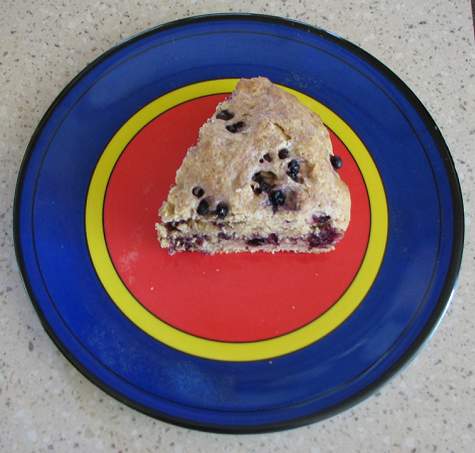 The drive up to Bluff, Utah would only take a couple of hours so we were in no hurry to leave, though we did pull out at just after 11AM. Just think, ninety miles, two hours and a whole different world, what's not to like about a home that has wheels. The scenery changed as we neared Bluff, with the towering sandstone of the mesas and buttes changing to chocolate topped with buff.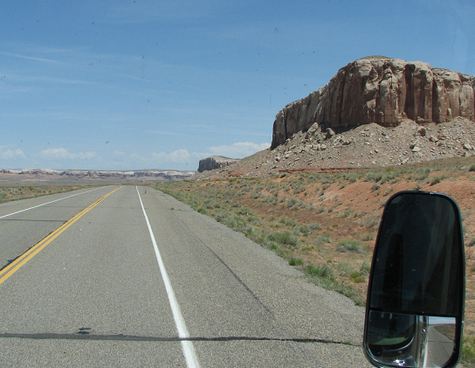 Our stopping point was the Cottonwood RV park, where we got the longest pull through we have ever had, at least 125 feet, plus we had a tree just beyond the curb slide, plus we were set up and on the Internet in jiffy quick time. It was just that since it was nearly 90° outside, even with both air conditioners working, it was going to be a while before the temperature was at a reasonable level. To spend the time wisely, Linda put a load of clothes in the washer and we headed off to find the Bluff Great House ruins. Built between 100 and 1200, it serves as a training ground for archaeology students from the University of Colorado. The nice part was that it was only about a mile down the road.
One thing that we found really amazing was fact that the campground owner, who had lived in Bluff all her life, had never heard of it. When Linda described exactly what it was, the owner commented about a dirt pile up near the cemetery that groups of people dug into sometimes during the summer. Bingo, that was what we were looking for. The directions, go East towards town, turn left at the big pile of rubble from the building they had just torn down and drive up towards the cemetery. It was easier said than done, but in short order, and some hesitating as to whether what we were driving on was a road or a driveway, we had found the site.
Our first stop was at the small kiosk in the parking area, where we read the information to learn about the site. Yet, at the same time learning that we were being watched by a local resident. Whether he was the designated site watcher, or was just curious we never did find out. It was also funny that when I did try to get a photo of him, every time he saw me looking at him, he would look away. I finally caught him not paying attention to us, and took a photo to show what he looked like.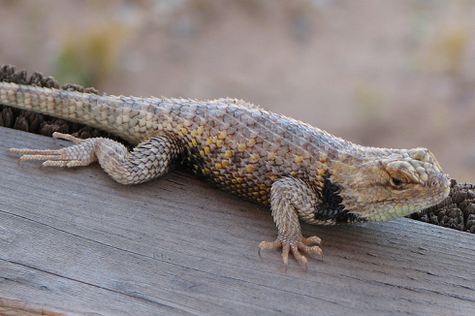 The reptilian creatures were not the only thing which caught our eye. The prickly pear cactus were in full bloom in an old road bed. When we say old road bed we mean old, as it was estimated to have built at the same time as the pueblo and was used the same way other roads in the Chacoan culture were used. (They think this pueblo was related to the Chacoan culture.)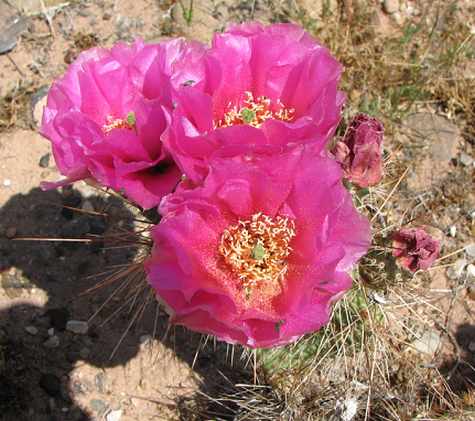 The site was across the road from the parking lot, but you had to know what to look for to see it. The depression in the foreground is the Kiva, while the mound in the middle is the pueblo ruins. As we have learned over and over these past few months, it is a case of looking for something different or unusual.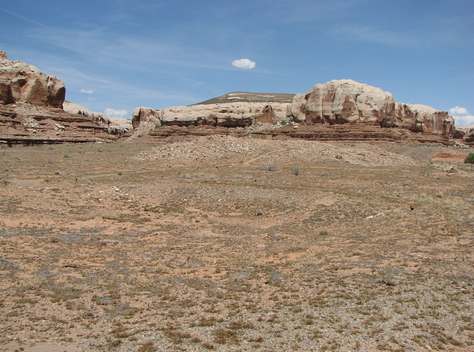 There is actually nor much to see at the site, other than the surface rubble, but one really neat thing they have done is to cut into the slope and not refill the excavation. Covered by a low structure, it gives you the same view the archaeologist sees. Here is a photo taken in the cut showing a "T" shaped door.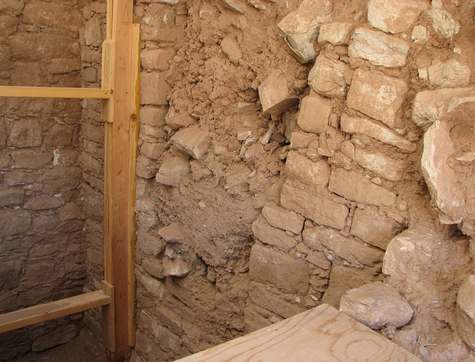 On the surface it looks as if nothing is there, but if you look around you will see differences.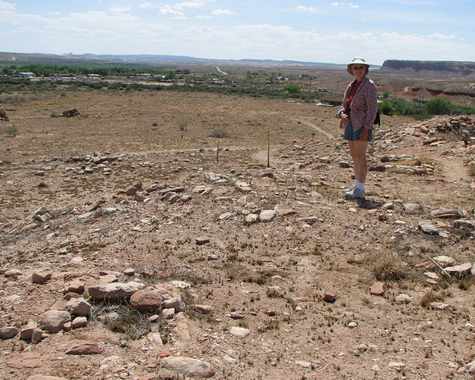 One thing is the ever present--pottery sherds, all you have to do is look down and you will see them. There are three in this photo, for example.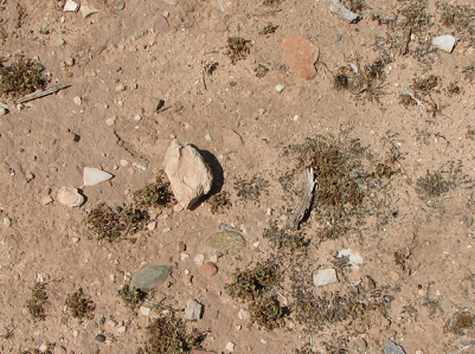 Here are two sherds that were laying in among the cobbles you see (Linda put them back exactly where they came from) and even though they were several of the larger sherds we saw, they give an idea of what we were seeing.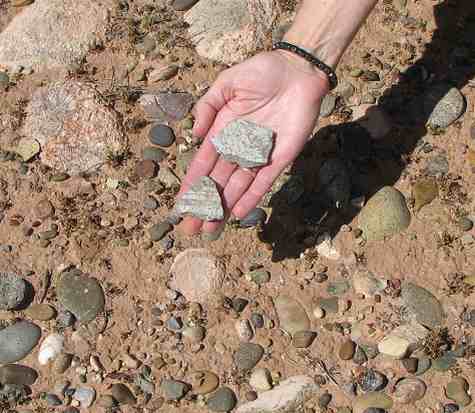 We had really enjoyed the visit, but when we got ready to leave we decided to have a little fun, which was to walk back over to where the car was parked and see if we could find an sherds in the parking lot. And find sherds was exactly what we did, as they were everywhere. We got a chuckle at our own expense, realizing how we would have come to this site a year ago and after seeing a couple of piles of rubble and looking at the trench cut, we have have left without really seeing anything. We also wondered how many people park there vehicle here and walk over to the site never realizing all that is underfoot. As we have said to many times, the more we know, the more we realize that we don't know.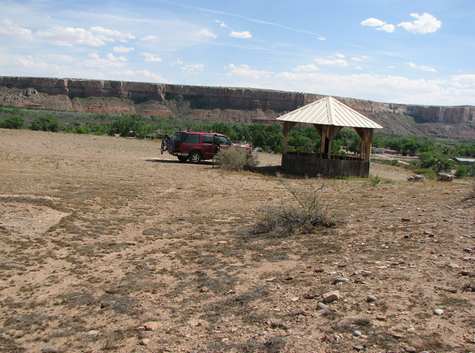 Since the cemetery was near the ruins, we drove up to it and spent a pleasurable half hour walking and thinking. As always, in a cemetery there is the simple and the elaborate, the crude and the ornate, but always there are the stories, stories which we will never know. We wondered what the story was behind this plot. Were they brothers, cousins, or what? Why all the rocks? What was the significance of using coal to line the pathway? We never knew these men in life, but in death we thought of them.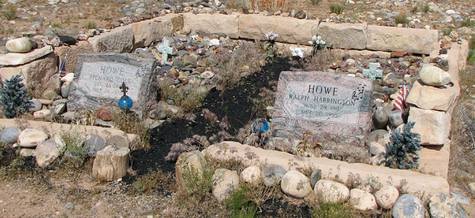 As we came down the hill from the cemetery we noticed some older buildings off to the East and that was how we ended up taking a walk through "old historical Bluff", a place that takes a good deal of imagination, but also speaks of the pride the people of the town have in their past. Bluff is not the kind of town that if you blink your eyes you'd miss it, it's to long for that, but even if you were watching, you'd still wonder where the town was, or where it went. I guess that was what the purpose of the display was, to give visitors an idea of what once was and why it was here.
Somewhere we read that the early pioneer settlers were too tired to go further and it was to difficult to go back, so they just stayed here and built the town. I suspect that is probably exactly how the town was founded since there doesn't seem to be any other reason for its existence. It's one of those places that you would never go to on purpose, even if we did, and consequently only discover things about it by accident. Linda just couldn't get over one of the signs in the historical area. A sign that marked a patch of weeds and spoke of what once was.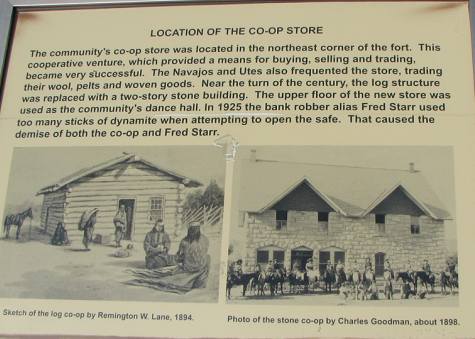 Back at the coach we enjoyed a margarita and relaxed. One thing that is always fun is crushing the ice for the margarita's. While our technique is certainly not the same as it was in our former life, what with an ice shaver and all, we sometimes just have to make do, given the space limitations of our current life. It takes a little practice not to burst the bag, but a Zip-Loc and axe is quite efficient once you master the technique of using just enough force.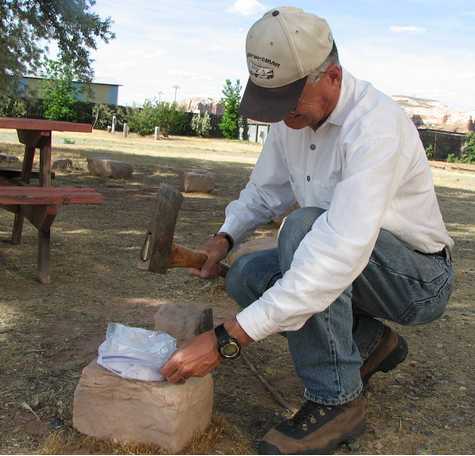 With the pleasant weather, we grilled turkey burgers and enjoyed a leisurely meal outside. Besides, a view like this, it was one of those special experiences. Linda referred to it not just as a postcard view, but as a painted picture meal and I think she was right.
As the sun was setting we took a walk, which ended with us passing by the Cottonwood Steakhouse. We didn't stop, having already eaten, but from what we observed, it must be one of those don't miss kind of places and the next time we are in town, we will eat there. To say that it was just another day in our life would be correct, but it would, as almost always, not do justice to the life we lived. My your days bring as much joy to you.
---
May 13 - Sunday
Another travel day today, though it was going to be about the same distance as yesterday, it was in a way, a world apart, for today we were heading to Moab. As usual, we didn't break any speed records leaving Bluff, though we did enjoy another delicious breakfast of grapefruit and scones as has become our recent custom. What made it especially pleasant was the fact we ate outside at the picnic table. It is almost like summer has sprung, unawares, and in full bloom, upon us as we have traveled during these past several weeks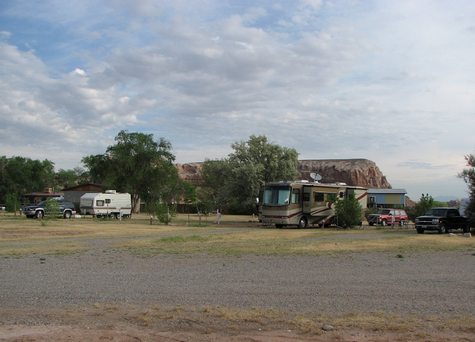 The drive up to Moab would take just a few hours, but before we packed up and left Bluff, we had one more place we, or I should say Linda, wanted to visit; the Sand Island Petroglyph panels which were west of town along the banks of the San Juan River. The area is well marked and we had no problem finding the turnoff, so, of course, (editor's comments !!!)) I still had to drive past it, then turn around and go back, but that is just the way I do things. Linda was very cool about my meanderings and managed to refrain from saying many of the things which were obviously on her mind, even though I could tell she really, really wanted to say them. The location of the panels is near a very popular rafting spot, so needless to say, they have been heavily damaged. It looked like placing a chain link fence in front of some of the panels hadn't been much help either. One wonders who the moron was who carved AMY into the wall? Perhaps she got what this indicates she deserved in life.
Apparently mountain goats were of major importance to those who made the drawings.
Linda's favorites are the Kokopelli's, and there were an inordinately large amount of them on the walls of the canyon.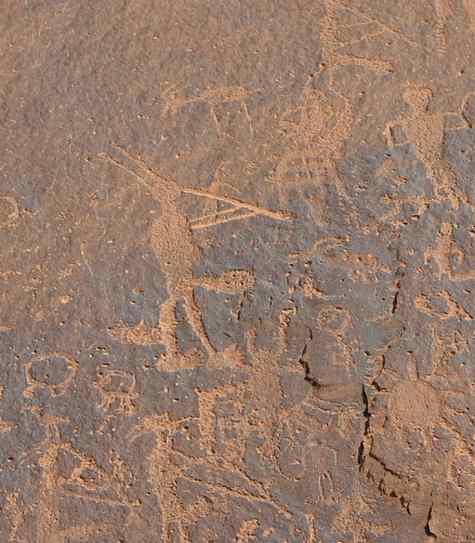 The site was not in very good shape, but the sun was right for photographs and the interest level of Linda was displaying was also high, that we spent a good deal of time looking and looking some more. I like pottery and litho, she likes petroglyphs. Yesterday was my turn, today was hers. After all, life is a two way street.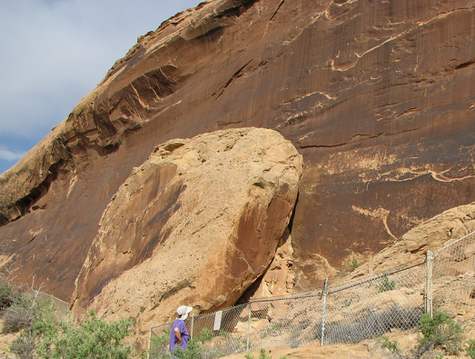 Back at the RV Park, we packed up and then headed north toward Moab. While the trip was uneventful, something we have come to really appreciate after our incident of the way to Gallup, it was not without its moments. When we were at Petrified Forest NP, one of the geologic features in the Park had the very descriptive name of Martha's T**. When we had discovered the fossil bone with the teeth marks in it, there was a similar feature nearby which we called Martha's sisters (body part). Much to our surprise, during the drive to Moab we saw another similar landmark, which we promptly christened, Martha's cousin. Take a look and you can guess which body part was being referred to by our descriptions.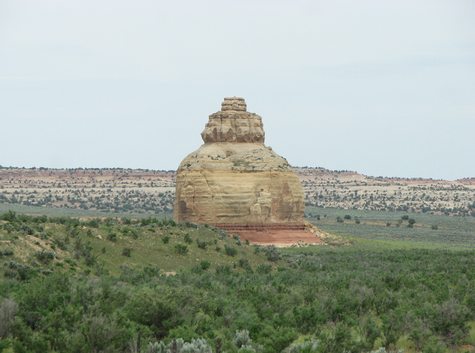 We also went past the famous Hole N' the Rock, a house that was carved into the sandstone cliff by modern men. A tad different from the Ancestral Pueblo cliff dwellings. One wonders if the archaeologists a thousand years in the future will discover and study it, and if so, what conclusions will they draw.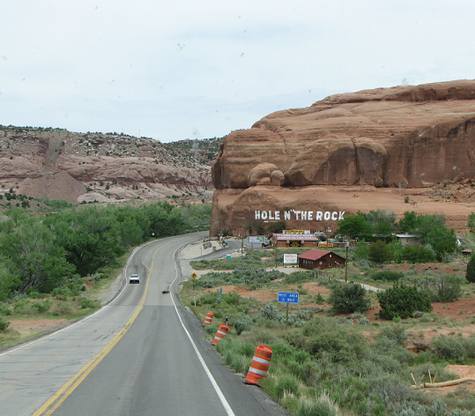 Once we arrived Moab, I had do my usual and drive right past the RV Park (editor's comment-!!! Yet again) where we were planning on staying. Once got done apologizing for driving too fast, then managed to find a place to turn around, it wasn't long before we were parked in front of the office and Linda was inside getting us a spot for the next several days. She had to laugh when she came back out as the owner was all apologetic because she didn't have a site with cable or sewer, to which Linda replied that we didn't need either. The way the owner reacted you'd think we were the only people who had ever said this was no problem. Maybe it's just a matter of attitude.
This one one of the many Passport America parks we have stayed at, and they were full because it was the busy season in Moab. Besides we didn't have a reservation, but then we hardly ever have reservations for anywhere that we stop. Early on we were into the reservation thing, but the longer we have been out, the more we realize that you really don't need them, at least for the way in which we travel. Once we were settled in, Linda found she had messages from all the kids, so it was time to return some calls. I don't know where you were for Mothers Day, but as you can see, Linda's was was spent where the weather was great and the view was awesome.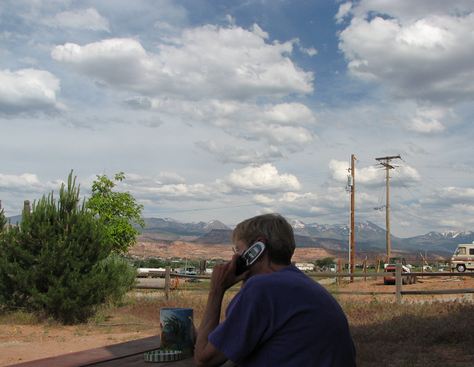 And indeed, since the weather was so nice, we decided to grill dinner, rather than cook inside. The turkey burgers, sweet potato salad and bean salad were just the thing.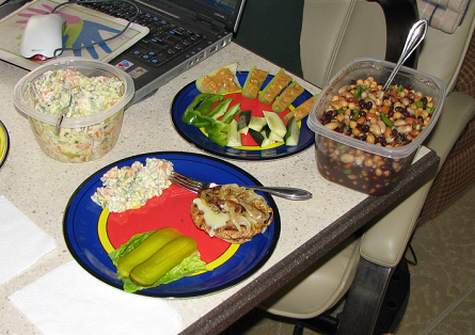 Not only was the meal outstanding, but for the second night in a row, the scene outside was almost surreal. The play of the setting sun on the leading edge of sandstone mesa once again contained more of the qualities of a painting than of reality. It brought to mind the the old saying about pinching yourself to make sure it is real, which seems to be the hallmark of the way we live. When we first cut the ties, quitting our jobs, and then taking off, we tried to tell others, including many that we knew in our former life, how wonderful the freedom and lifestyle we were now living was. In a way we, and especially me, were like evangelists of our new life. I would listen to those who would say, "but I could never do it", and try to show them how they could, but over the past 16 months my mindset has completely changed when talking about how we live to others. Now when they say they couldn't, I just agree with them and hope that wherever life leads them, they will also be as happy as we are. It's just that the longer we are "out here" so to speak, the more we realize that this truly was the right choice for us, and our only regret is that we didn't do it years earlier.
---
May 14 - Monday
We were up early today because we had adventures awaiting, places to explore and things to see. The plan was to drive along first one side and then the other side of the Colorado River, checking out Petroglyph sites. Then, in the afternoon drive up north of town to several boondocking areas to see if they would be good places to stay in the future. That meant a quick breakfast and no working on the daily journal, which lead to my falling behind in my postings once again. I'm still struggling with the "gotta be exactly like I want it" syndrome for the daily journal, rather than the need on some days to just get it done and move on even if it's not what I would like to have it look like. Looking out the window, we discovered that we weren't the only ones grabbing a quick bite to eat this morning.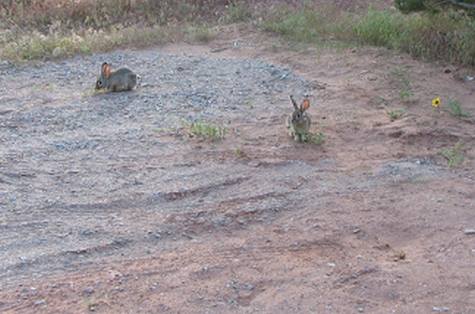 One thing we knew was that it was going to be hot out there today, so extra water was one of the things we would be taking along. We were not planning on doing any extended hiking, looking forward to driving to the locations for a change, but Linda has learned to never assume anything when we are out and about.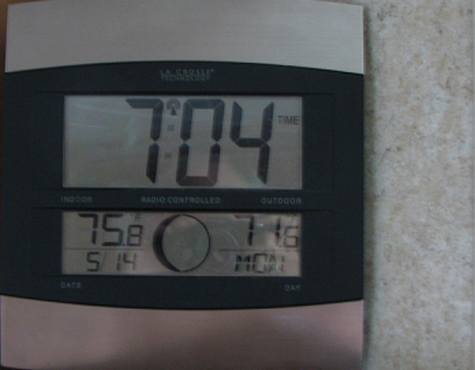 Linda, as always had done her research and had the way plotted out, plus she had even found a listing of the mileages for the petroglyphs we were going to be visiting. This of course required that we have an accurate reading of the odometer, something which Linda quickly decided I was totally inept at, which led to some lively discussions and our not always seeing the things we were supposed to see. However, by the time the day was over I had been fully trained, think Marine recruits, and was able to give her accurate mileage readings, enjoy the drive and observe some very interesting petroglyphs. Besides, she may have also taught me a new word or two, meaning I had a day that was both culturally and linguistically enhanced. Did I marry well or what.
The first drive was along the south bank of the river and even though the mileage was not correct, when we came to a parking area, I pulled in. This lead to a minor skirmish, this lady takes her petroglyphs very seriously, but all was forgiven when it turned out to be where we wanted to be. It was here that Linda discovered something every bit a intriguing as the rock walls with drawings, and that was the way the people had climbed to the top of the sandstone cliffs using the clefts in the rock face along with logs which they wedged in the openings.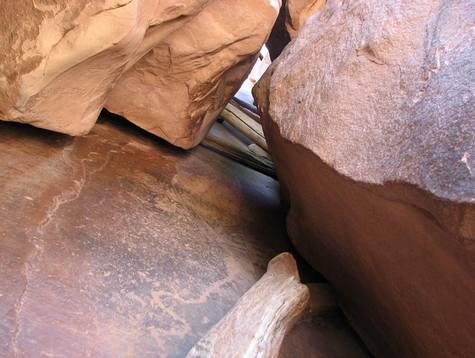 This was an interesting place, as the soil was not soil in the normal sense, but rather just sand that had apparently eroded from the cliffs. There was a trail which we could have taken back into a side canyon, but since Linda was focused on petroglyphs and nothing she had read had indicated there were any petroglyphs to be found along the trail, I didn't get to hike back into this canyon. One thing did stand out and that was one of the largest cottonwood trees we have seen in along time. The little white blob in the center is Linda.
The road then began to veer away from the river and started climbing up on top of the mesa. At the same time the scenery changed from the cool, lush, shaded greenery of the river bottom to the dry rocky terrain and sparse vegetation smothered by the oppressive heat of the ever present sun of the open mesa, which was broken only by even higher rocky outcrops, or sliced by deep canyons. At last we arrived at the spot she was looking for, though we couldn't tell it by the odometer reading, or at least by the way the odometer reader was reading the the odometer. (Obviously this was before I was fully trained) The object of her desires was a large boulder which was down below the road that clung precariously to the side of the cliff, which was the famous 'birthing scene' petroglyph.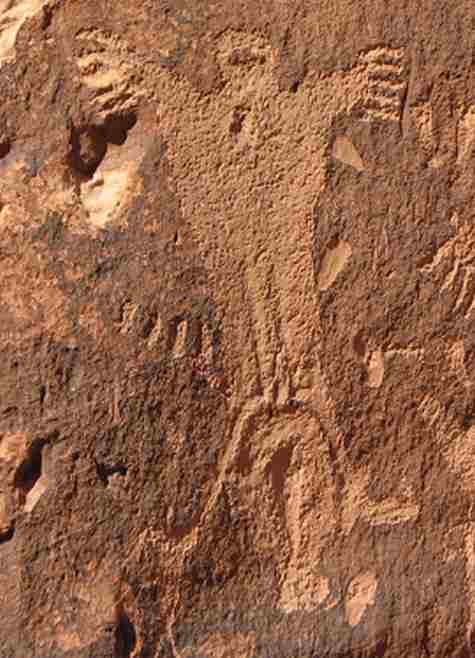 While Linda took dozens of photos of this rock, I wandered the area, looking down into the canyon below. How anyone who has been to this country doesn't marvel at the intrinsic beauty which is found everywhere one looks in this land, is beyond me.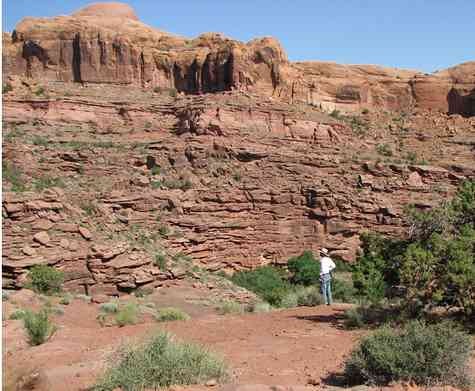 The most amazing thing was the profusion of wildflowers. There was color everywhere you looked, the large stiff solid yellow and rose blooms of the prickly pear cactus contrasting with the willowy movement of the blues, oranges and reds marking the presence of wildflowers. While underneath the tiny flowers and small specks of brilliant color put forth by the little, low, ground hugging plants added to the splendor of it all.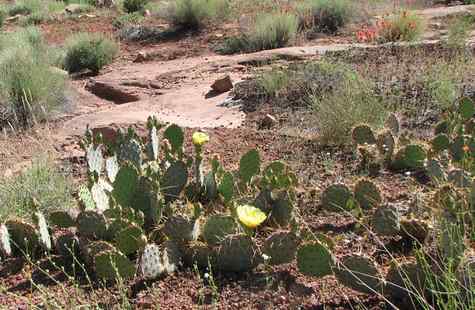 The term, desert southwest not only gives the wrong impression, it doesn't begin to do justice to the beauty of the land. But then again, neither do the photos we take. It is necessary to be here and experience it to understand the majesty of the landscape we witnessed.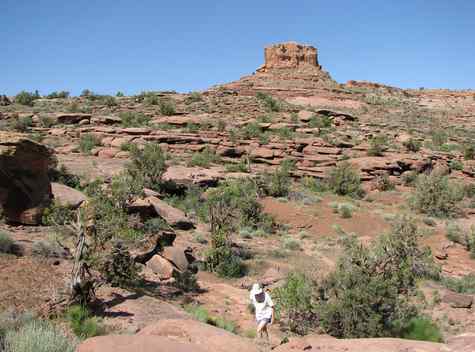 On the way back out to the main road, luck was with me and I spied one of the panels which my inept mileage readings had caused us to miss on the way in. This did not make up for those transgressions, but it did serve to mollify the dictator, I mean director, of the trip we were taking.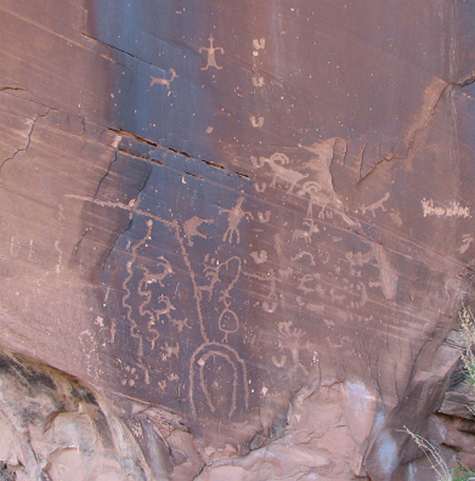 After going back to town, though not all the way, as we discovered 500 West was a shortcut across town, we crossed the Colorado and started up the other side of the river. It turned out that even though Linda had the mileage markers, we really didn't need them as most of the walls had some type of petroglyphs on them. As you can tell, after about the fifth stop in a quarter of a mile I was really into this Petroglyph thing.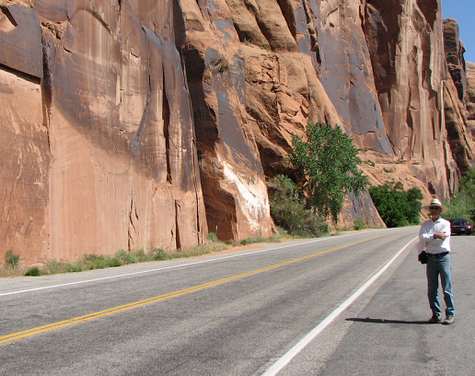 I will admit that not all was simply repetition of what we had already seen, though at times it sure seemed to me we had already looked at what we were looking at. Take this bear for example, which was one of the largest petroglyphs we saw all day.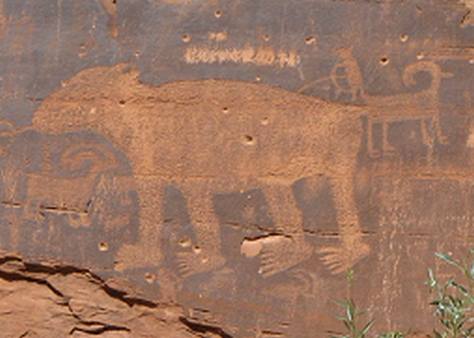 Another thing that I really enjoyed were the cactus blooms. One of my hobbies in my former life was growing cactus, so this not only was a pleasing sight, it also brought back many pleasant memories.
Further up the road was the rock with the Three Toed Allosaur tracks on it, which was a must do on Linda's list, her having never seen dinosaur tracks before. This was something I wasn't driving past, even to the point of driving the entire distance at 2 mph if necessary. That wasn't necessary as the location was well signed and Linda made sure we turned in at the right spot. As Linda pointed out, it looked like maybe I was trainable afer all. The rock with the tracks on it is in a rather inaccessible location, with no trail leading to it. That didn't stop Linda from wanting to get a better look, so off, cross country, she headed. The red circle is Linda, showing just how far she got before she turned back, while the yellow circle is the rock with the tracks on it.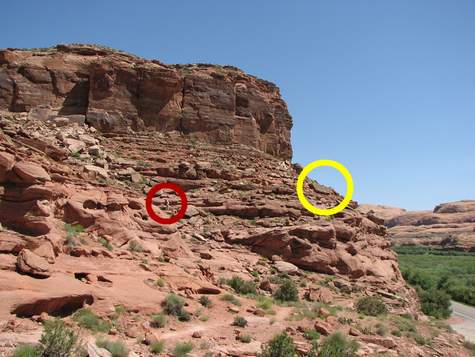 After all that, I used the telephoto lens to take a somewhat closer photo of the tracks. Guess it's one way for the daring darling of the family to see what she missed. Though looking at the photo, I'm not sure what she missed by not getting there.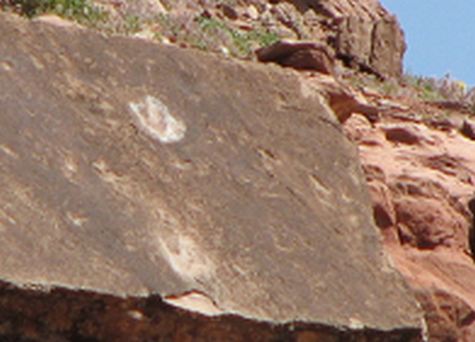 After this little adventure we headed on up the road to see the Potash plant. To see a Potash plant? Don't ask me why, Linda was the navigator on this trip. Then a fortuitous thing happened, just at the point that I was about to ask her why in the world we were going to look at a Potash plant. The sign which indicated the trailhead to Corona and Bowtie Arch appeared in the windshield. To my question as to whether she would prefer to go on to the Potash plant or hike the Arch trail, she answered exactly like I knew she would.
After donning our camelbacks, we headed up towards the trail. It was somewhat more difficult than we anticipated, a classic understatement if there ever was one, but in not so short order, we had rounded a corner and before us loomed our goal.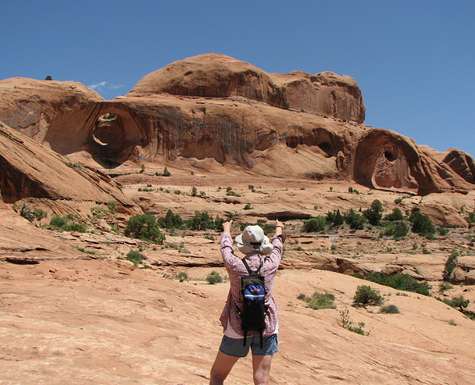 In one of those tricks of the camera, you can not see the deep canyon that was between us and the arch.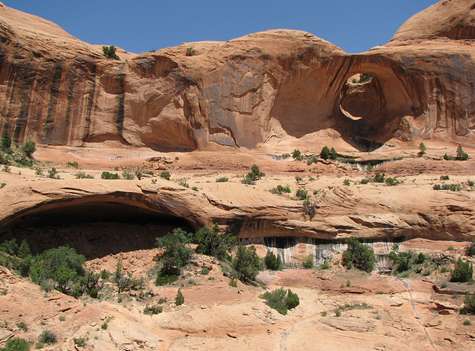 Here is a closeup of Bowtie Arch, which is an arch in the making.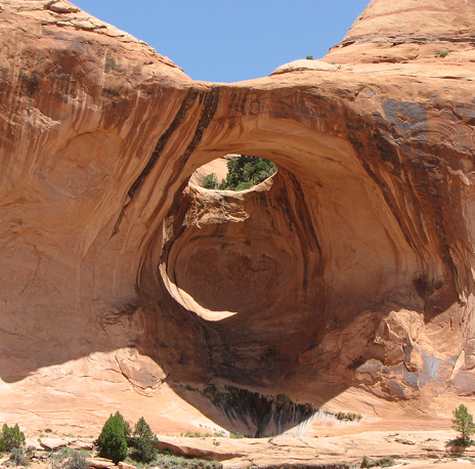 On the other hand, Corona Arch has also been called Rainbow Arch because of its classic shape.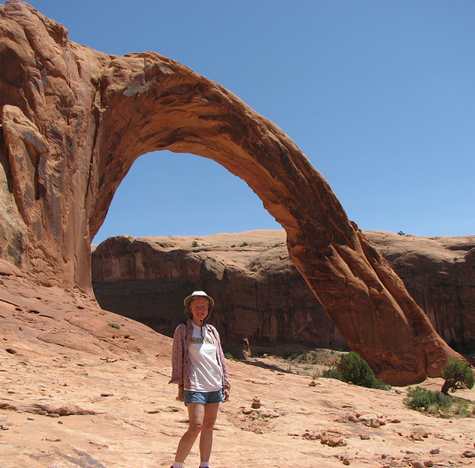 By the time we finally arrived at Corona Arch, it was noon, and so we decided to eat our lunch. Linda may be an girl from the hills of Appalachia, but that sure doesn't mean she is lacking in the brains department. You will note that place she selected to have lunch was in the shade of the arch. The only bad thing was that she chose to sit on the right side of the patch of shade which turned out be the wrong side as far as the movement of the sun was concerned, so she soon had to move out of the sun.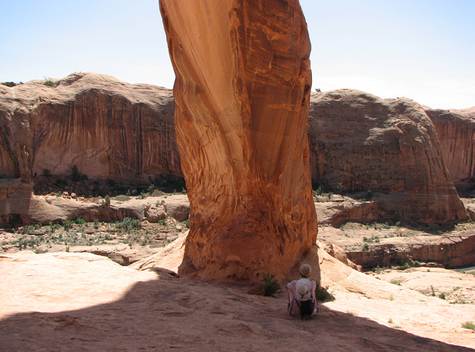 We sat there, eating out turkey wraps, surrounded by wildflowers. Wildflowers you say, yes wildflowers. It was amazing because if there was a crack in the sandstone that collected some soil and managed to retain a little water, the flowers seemed to spring forth.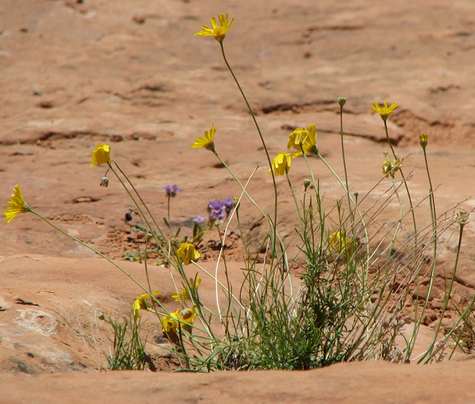 As always. the hike back was not nearly as difficult as the one coming in. It didn't mean that the slopes and dropoffs were any less steep, but having already seen them, they just weren't the same.
Neither were the cable stayed slopes anything to be concerned about.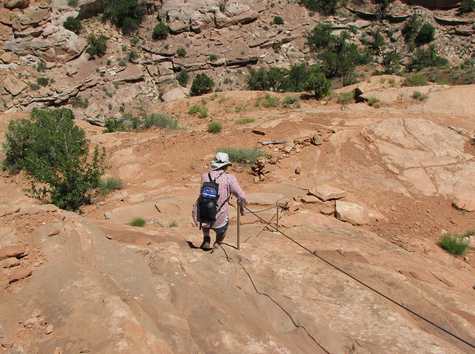 As we descended the final long slope, the view of the Colorado River was one of those special, you had to be there to see it, moments.
All in all, this had turned out to be a great day where once again our guide stepped in just when we needed her. Thanks to Sara N. Dippity we had exceeded our fondest expectations for the day.
---
May 15 - Tuesday
When you're on a roll, you're on a roll and that's what we will be doing once again today, rollin' West that is. Linda was also on a roll of sorts, deciding that if her husband could make something different for breakfast, so could she. Not that it was something new, no far from it, as what she fixed was something from our past. As we keep mentioning, we eat a low fat, whole grain, sugar free diet, based on the principles of the South Beach Diet, and have done so for almost two years, losing 40 pounds each and then wonder of wonders, keeping it off. This leads us to Linda's breakfast, which was a throwback to those early days when weight loss was the goal, a compote of a half a cup of fresh sliced strawberries, half a cup of nonfat sugar free yogurt and a quarter cup of Uncle Sam's cereal. Everyone has their likes and dislikes, but we will tell you, that is a true "Breakfast of Losers", despite what Wheaties might claim.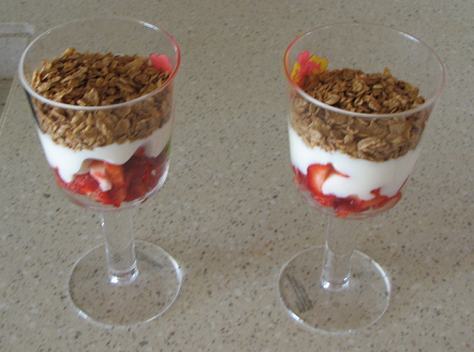 We then did the usual poke around thing, not wanting to get caught in the morning rush hour traffic of Moab. You laugh, but it's true, there is a rush hour in Moab, it is just not to get to work, it's instead, to get out and play, whether traveling off road, sightseeing or whatever. We found it fun to watch all the 'Jeep People' go through their preparations prior to the day's adventure. I suspect, that knowing there is a Jeep in our future, we will be here joining in the fun some day ourselves. For now we limited ourselves to the usual preparations with the coach. One thing I added to the list was cleaning the windshield. After months, heck it had been since last fall, with no bugs, we had finally driven through our share, so it was time to clean them off.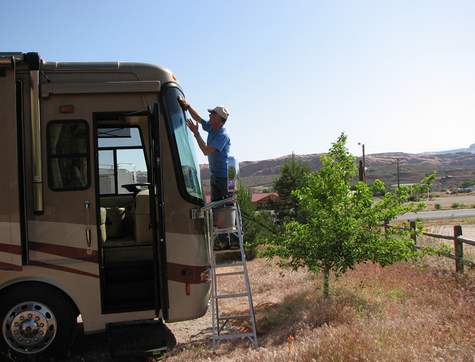 Linda, as always had provided me with her observations on this little project. It seemed to her that I was just going to make a mess, since washing windows in the hot sun always results in a dirty window due to the fact the water dries almost instantly on the hot glass. While some may look at this as a conflict between two opposing points of view, I prefer to think of it as healthy discourse between spouses. Of course, since my way of thinking was the right way of thinking, I proceeded to retrieve the sponge and bucket in order to provide us with a clear view of the world. Linda, on the other hand, stationed herself inside the coach, ready to point out the smallest speck that evaded my futile efforts and misplaced endeavors as complete vindication of her position.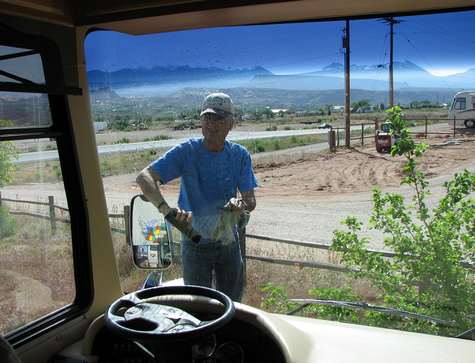 The first few feeble attempts I undertook, seemed to validate her point, but she didn't reckon with the effort I was willing to invest to ensure that my position prevailed in the end. I quickly determined that, indeed, the water dries quickly, but by using the bug scrubber all the glued on parts could be removed, after which it was only a case of more soapy water and a few swipes of the squeegee to remove most of the residue. I think I definitely surprised her when I switched over to a clean water rinse and almost like magic the glass began to sparkle. A final rinse and dry with one of her micro-fiber towels and it was as clean as when new. I knew I had done good when she even complimented me on the fine job. Sometimes in a relationship, even the little things matter, and you never know what can make each others day.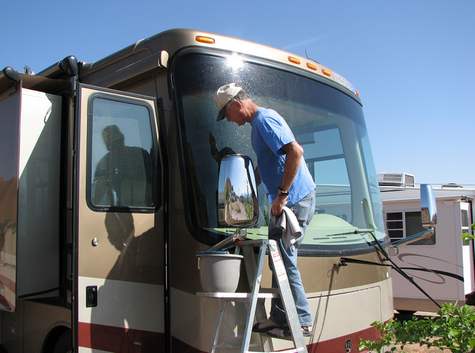 Eventually we did leave the park, though not before triple checking the Explorer to make sure it was hooked up correctly; that one is going to haunt me for years to come. Leaving Moab we passed by the entrance to Arches NP, then began the climb up along the fault line that the road follows. Geology is a most fascinating subject and it is hard to believe the the rocks on one side on the road have been displaced nearly 2000 feet vertically compared to the other side. Once up on top, the view changed and we quickly noticed something different. Whereas all the rocks had been reddish in color climbing up through the canyon, suddenly turquoise blue began to appear in the distance.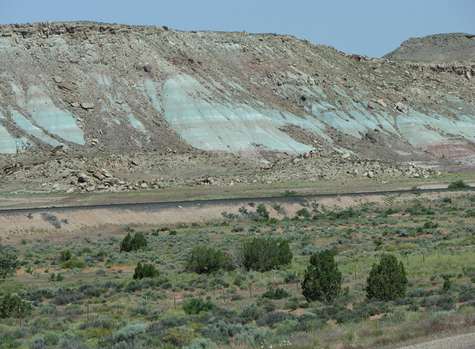 After traveling north for not too many miles, we ran into I-70, which we took West, all the while enjoying more views of mesas and canyons as the miles rolled past.
Our destination for the night was Delta, Utah, a place we had visited many years ago to get a tire fixed during a rockhound and fossil collecting vacation. One pleasant surprise we had when we arrived was that diesel was cheaper here than it had been along the interstate, so we save a few bucks. All in all this was one of those, not a whole lot happened in our life days, but we had a day of safe travel, a day made more interesting by listening to an audio book as we traveled, and also a day where we moved a few miles closer to seeing our children and grandchildren. What's not to like about a day like that.
---
May 16 - Wednesday
Because we live on a motorhome, we sometimes tend to forget that old adage, if you don't like where you're at, just move. Take the view out our front window for example. We are staying at an RV Park that one of the people whose blog we follow recommends. Given the fact that it cost us $25 to get this view out the front window, I doubt if we will be staying here again. Of course for them it is free since it is their home park, but for someone just wandering through and not affiliated with one of the memberships they are affiliated with, it is badly over priced for what you get. Of course all this has gotten us thinking about these types of memberships and the potential value a used or resale membership might provide. Don't know where this will take us, but it's got us thinking that maybe it would give us other inexpensive options as to where we might be able to stay.
We had one little miscue to start the day, seems like all the info we had listed the opening time of the museum in Delta as 10 AM except for one, the park map with advertisements around it, which listed the opening time as 9 AM. While I went with the majority of information, Linda hung her hat on the single thing which listed 9 AM. Knowing full well that if I insisted we wait until 10 AM and by some unfortunate bit of happenstance, it had opened at 9 AM today, probably the only day of the year it opened at 9, I would most certainly never hear the end of this. Hence at 9:20 we drove the Explorer over to the museum, but unluckily for Linda, the gates were still closed. Knowing that my life swung in the balance depending on the next words to come out of my mouth, I suggested we stop at the supermarket and pick up some things, then head back to the coach, pack up, and drive the coach back to the museum as there was parking along the street. Now that's what you call a "Good Bob."
It didn't take long to shop and pack up, but rather than drive over to the museum, we first headed down to refuel the coach for the long drive across Nevada. We always look kindly at the Phillips 66 shield, as I have nothing but fond memories from my over 25 years working for them, well maybe with one or two small exceptions. It is hard to believe that it was 40 years ago this month that I received my job offer from them, which started us down the highway to where we are today.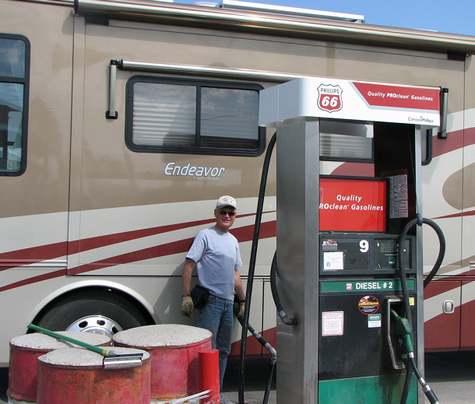 Arriving at the museum, we found it open and spent almost an hour and a half looking at the different exhibits. We had visited the museum, back 15 years ago, when we were having the flat tire I mentioned yesterday repaired, but this didn't look like the building we had visited. The first thing we saw was a exhibit on the Fremont and Archaic peoples, mostly litho, as would be expected, but also including some ceramics. But the main reason I had wanted to stop was to see their display on the Abraham Relocation Center, more commonly known as the Topaz Relocation Center where totally innocent people were placed in an American concentration camp, simply because they where of Japanese ancestry and lived on the west coast. Our country does many wonderful things, but it also does some things which are simply despicable, and this was one of them.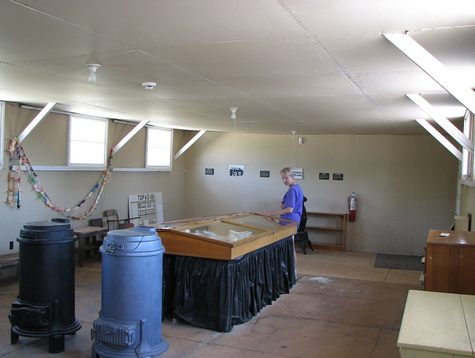 The one remaining piece of original sheetrock wall. The building was wood framed, the exterior siding was only tar paper and the interior was sheetrock. You try living in a building like this where the temperatures in winter are below zero and in summer above 100. Some things make me angry, but when I think about this episode in our history I am not only angry, but also ashamed. In fact it makes me so angry I'm just going to let the photo's do the talking.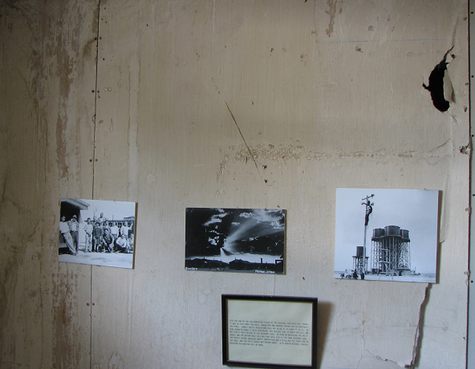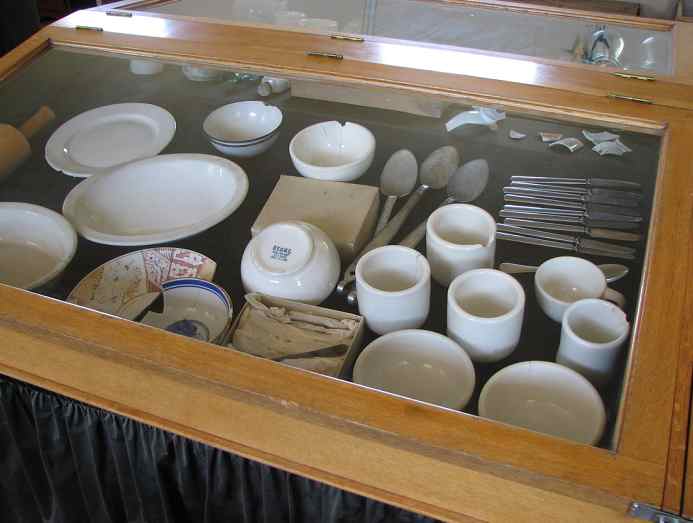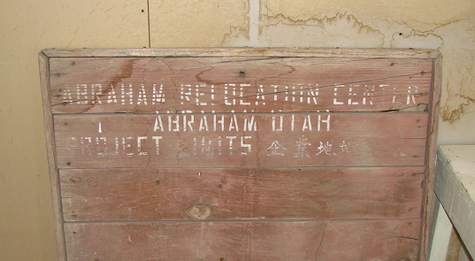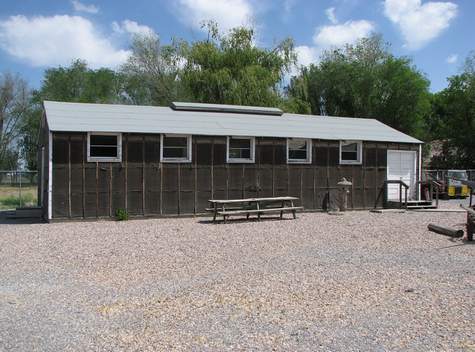 Just as those many years ago when ordinary people had to give up everything, but the wealthy or the powerful became even more wealthy or powerful, the same thing happens today. It turns my stomach to see the underlings get chewed up and spat out while the incompetents like Gonzales or the pieces of human slime like Wolfowitz get praised. (End of rant)
There was one other building outside the museum, and while it appeared to be a log cabin, Linda was able to correctly identify it.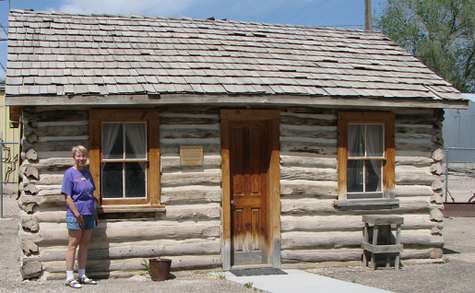 It was after reading this sign that she realized the true significance of the structure and the fact that while it may have looked on the outside to be a one room log cabin, in reality it was something else entirely.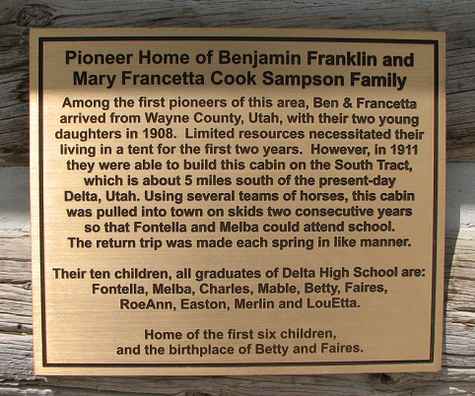 What she had done was to read between the lines and understand that they were describing the very first RV. Now is that one smart woman or what. To leave the complex it was necessary to go back into the main building and it was there that we got to go back a few years to our childhood. How many of us put our feet into a machine like this and saw just how small the shoes we were wearing were, or how perfectly the new shoes our parents were buying for us, fit our feet. Something tells me Linda didn't have to bend over quite so far to look through the viewfinder in those days. Memories, sometimes good, sometimes bad, and sometimes the only thing that we have.
Once we left the museum we were in for a long day of driving, as we planned to go as far as Austin, Nevada today. I took the first shift and drove to just past Ely, Nevada, where we stopped for lunch, then Linda drove to Eureka, where I again took over. Her portion gave her some great experience with mountain driving and using the exhaust brake. I think her comment about the fact that there were some serious ups and downs during her drive, spoke volumes. She really did a great job of safely getting us through that section and is just one more feather in her cap. During the past several months we have both learned that there are many things a person can do, if they will just be willing to try.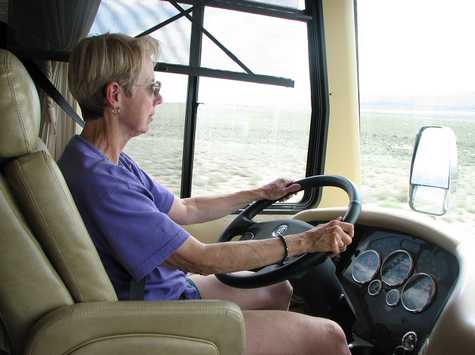 We arrived in Austin shortly after 4 PM Pacific time, and that was when I did my usual by driving by the road to the RV Park. Fortunately there was a turnaround only a few blocks away, which was amazing given the fact that Austin is literally built on the side of a mountain. So in short order we were parked in a spot and fully functioning. What followed was one of the best meals we have had in ages; Chilies Rellanos, a skillet of fresh mashed, refried pintos, sausage patties and a plain lettuce salad with chipolte sauce. It seems like every time we make these Chilies Rellanos they get better and better. This time the coating really puffed up and the Mexican cheese added the perfect flavor, even though they are baked and not fried. I know the purists would decry our cooking method, but such is life.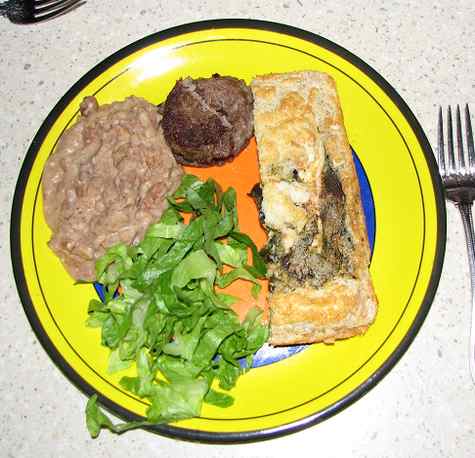 We spent the evening relaxing, Linda watching TV while I tried vainly to get caught up with the daily journal. We were both tired after the long day of mountain driving, and so before long it was a bowl of ice cream, a chocolate brownie and lights out. One thing I did discover was that there were no radio stations to be listened to in this town, but not to worry, because we were so tired it was snores galore as soon as our heads hit the pillow.
---
May 17 - Thursday
Got up this morning, looked out the window and this was what I saw. Now I know I wrote some less than kind words about yesterdays view, but there is a difference today, because this view cost us $10 less, plus all that equipment you see is parked and not running. In fact I would classify what is across the road, as something akin to a line from the song, "The City of New Orleans" , which went - 'And the graveyards of the rusted automobiles', or perhaps putting it more in line with what we see, a junkyard of things not needed.
p>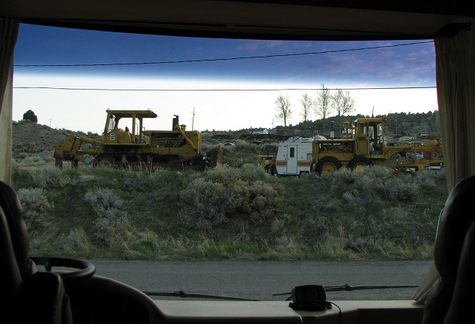 The problem with being me is that one thing leads to another and in short order, those lyrics had been replaced with some others that Peter Noone, aka, Herman's Hermits, had popularized. As always the words aren't exactly the ones written by that famous team of songwriters, Carole King and Gerry Goffin, but Don't Bring Me Down just because of that, because after all, It's One Fine Day.
Woke up this mornin' feelin' fine
There's somethin' special on my mind
Last night me and my girl were in a new neighbourhood, whoa yeah
Somethin' tells me I'm into something good
(Somethin' tells me I'm into somethin' good)

I'm sure there are many people who would look at the above picture and say they would never stay in a place like this. And you something, they'd be right. The problem comes when we make judgements in life without really looking at things. For example we knew people in our old life that said they couldn't retire early, the money just wasn't there. Was it a case of the money not being there, or was it a case of the tastes they had acquired over the course of their lives being a little too rich for their income. Linda and I enjoy this life so much, we get to experience so many new things and places, but if we wore blinders all the time based on our perceived sensibilities, would we really live? And would living through my eyes look the same if viewed through another person's eyes? Doesn't make either of us right or wrong, the real challenge is to do something other than simply exist and bemoan what we can't have. Like the song says, Somethin' tells me I'm into something good, and it's the life Linda and I live.

Speaking of something good, it didn't take the distaff side of the duo long to arise and make her usual grand entrance this morning. We had a do nothing day planned, except for some things we both needed to get done on the computer, so it surprised me that she was up so early. Soon the smell of coffee filled the air, which was followed in short order by the sizzle and crack of Canadian Bacon frying in the skillet. Combine the bacon with scrambled eggs, plus a slice of warm apple oatmeal scone and you have the perfect start to the day.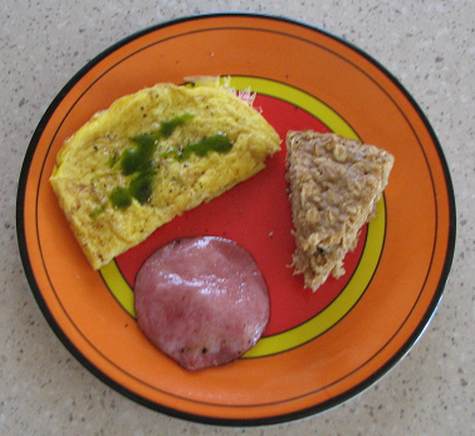 Since we didn't have much to do today, I was into thinking, and soon found myself contrasting this breakfast with the breakfast most dieters say they eat. Unfortunately the breakfast most dieters report having is nothing, which is what all the articles I read say is wrong about most diets. Eating nothing for breakfast only makes you even hungrier later in the day, when you're most likely to eat the types of food that are not in your best interest. Life is composed of many little things, constant choices, some easy, some not so easy, but the best ones in my book are the one that lead to something better. I wonder if what we do today will lead to something better for Linda and I?
It didn't take long to begin answering that question, for when Linda turned on the TV this morning, the screen was showing a message indicating that it couldn't find the satellite. Now, since I wanted to do a good deal of writing today, meaning I hoped to get caught up on the daily journal plus update a few other portions of the website, I took this as a very good omen. Linda, on the other hand, especially since she was looking forward to watching "Rachael Ray" for the first time in ages, took this as a very bad omen. As you can guess, it didn't take her long to do a web search to see if it was a simple fix, then call in a service tech to work on solving this unacceptable situation.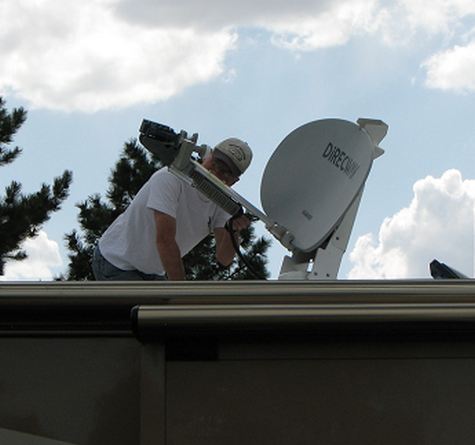 The only problem was, we had no cell phone service, so she had to call in a local service guy. Being out in the middle of nowhere, it was very slim pickin's as to who she could get, and somehow or other my skills in this area and the complexity of the problem proved to be on decidedly different levels. For a while I was concerned she was going to remove the ladder I had used to climb up on the top of the coach, planning on replacing it only if I fixed the problem. That was not the case, even though I never did get the TV to find the satellite.
Maybe she really wanted to watch TV today, but unfortunately it just wasn't going to happen, however, there was one other potential avenue to a positive resolution of the situation, as suggested by this photo of the RV Park sign and another nearby sign, which was to pray.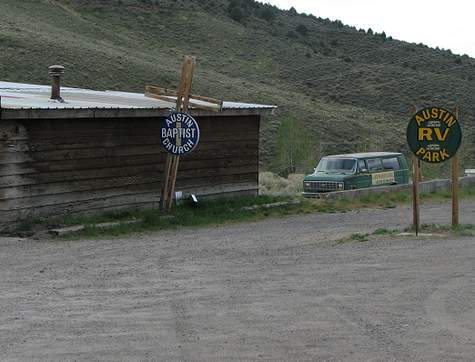 As you can obviously tell, I had left something out during my earlier discussion regarding the relative merits of the RV parks we had stayed at the past two nights, including the respective view out the front window of the coach we had at each park. I had to admit, this was the first time we had ever stayed in Church parking lot that doubled as an RV park, or stated another way, the first time we had ever stayed in an RV Park that also doubled as a Church. Linda wasn't accepting my explanation about why the TV satellite wasn't working, especially the one about this being a Southern Baptist parking lot, so there wasn't going to be any ungodliness tolerated in this little corner of the world. Somehow or other she wasn't able to relate my interpretation of the strict Baptist style of living to the fact that there was not going to be any TV watching by any heathen Presbyterians who might be staying next to this Church. In rebuttal, she immediately pointed out the TV worked fine last evening, and if it was considered so evil, why was it permitted then. My answer suggesting those Good Southern Baptists were so caught up in their usual Wednesday night prayer meeting, that they didn't notice the Presbyterian heathens parked right outside the door wasn't what they were looking for.
Having to find something other to do than watch TV, while I got the daily journal up to date, Linda was outside, washing the coach, and getting some exercise. At the same time she had noticed what could be called, a pleasant odor in the air. Since she can really work up a sweat when she labors away, I thought at first she might have put on a triple application of deodorant before she commenced cleaning the coach. Though that may have been what the case, it was not the source of the flowery fragrance, which turned out to be several nearby Lilac bushes, something we have not enjoyed in a long, long time. We later learned from the lady who watches the RV park, that it is unusual for them to bloom so heavily, since in most years they get a frost that destroys the blooms just as they are opening.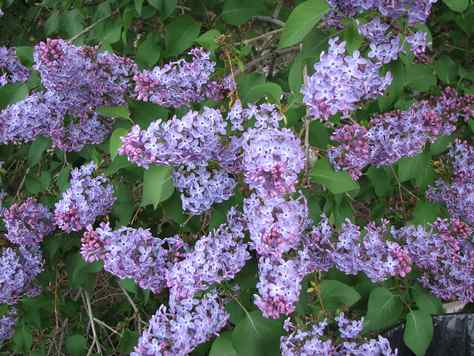 Since the park is on the side of a hill, even though there are two ways in and out of the park, only one of them is suitable for use by RV's. To get the point across they have several signs posted in hopes that those who stay here understand that they mean what they say.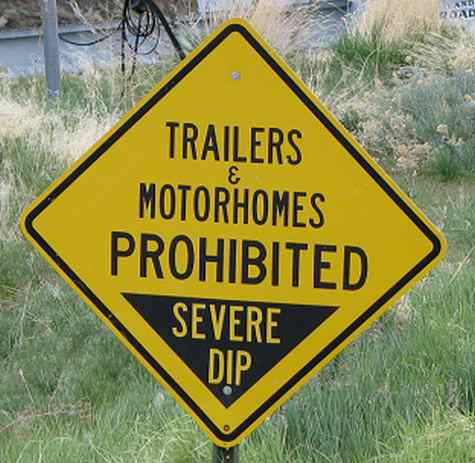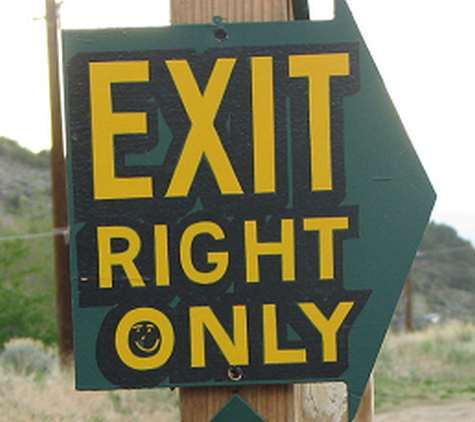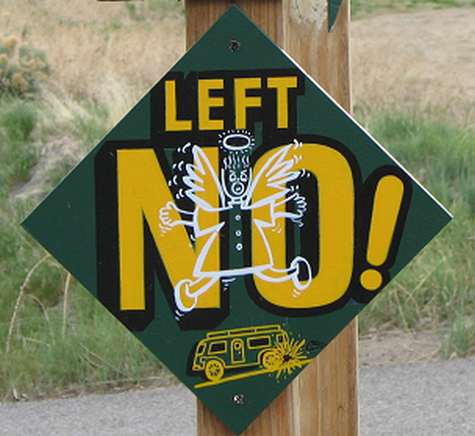 The remainder of the day was spent making up for my earlier failings. Linda had some recipes she wanted up on the website, plus she also wanted the kitchen tips she had written up, listed in the Odds and Ends section (can only be accessed right now from the "What We Did Today" page). Of course, it couldn't be as easy as it would seem, at least for me. The recipes, which were for that wonderful whole wheat bread and also the Chilies Rellanos, needed to go in new categories, plus she forwarded them to me as a word document, which I needed to change into html before they can be uploaded, otherwise they are one giant run on paragraph. This time I got smart and showed her how to type the bread recipe in html, which cut my work in half, smart Bob. Later in the evening I worked on something which has been neglected for months and months, the RV Park Review section of the website. Not that I made much headway, but at least I managed to get all the places we have stayed in Arizona finally entered and upload. I've got to remember that it is little chops which fells the mighty oak.
We also found time to eat, enjoying our 4 o'clock peanuts, then later, another of those meals from nowhere that Linda manages to conjure from the depths of her mind. Dinner was a most pleasant surprise, a combination of mini sausage sandwiches, sweet potato salad and four bean salad. Since food has such a high priority in our lives, I would be remiss if I failed to mention dessert, which was chocolate brownies, chocolate ice cream and hot chocolate, and with that we closed out another day in the wonderful life we live.
---
May 18 - Friday
Today will be a day of change, and tonight for the first time in months we will not be at home, instead we will be at our house. Just as we did last year, we are heading towards were we lived for many years and will be watching our grandson while his parents and sisters go on a Disney Cruise. Of course we will also be doing our semiannual, several day cleanup of the yard and house, which should make for an interesting several weeks.
That did not mean we planned to be up at some unreal hour, eager to hit the road, but it did mean that we wanted to be on the road at a reasonable hour. I was working on the daily journal, which is finally current, except for all the missing days in February, March and April, days that are most likely never to get done, though I am toying with posting some more photos of what we did during that time. Linda on the other hand, was as current as current could be. All her Ebay sales have been completed, she had gathered what she would need while we were away from the coach, and while I pecked away at the keyboard, she fixed breakfast.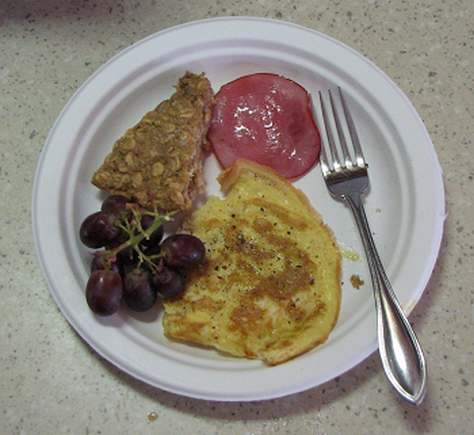 I'd say one of the signs that I'm back in the groove, when it comes to writing the daily journal is the fact I am once again starting to comment more and more about what we eat. Sorry, but I just can't help it, it just wants to come out. This morning was more than food, as it also had a moment or two of hilarity. The best one occurred just as we were down to the point of leaving. Linda had brought in the rear and curb slides while I tried to get everything done to upload the revised web pages. For some reason, the connection just didn't want to work, stalling out, with incomplete transfers. After restarting the computer, things started moving along like they should. Unfortunately, I decided to do two things at once while the final upload was taking place, dropping the leveling jacks. Bad move because the MotoSat lost the satellite signal. That meant another delay while it was repositioned and locked on the signal. One of those, it doesn't pay to hurry, life lessons.
We finally pulled out of Austin, except that by now it was 10:15, a good 45 minutes later than we planned. It was not important at the time, but the afternoon rush hour traffic later in the day would make me wish I had been a little more cognizant of the time this morning and so, would have actually started earlier. The things you wish you knew at the time. It was only a matter of driving a couple of hundred feet and we we back on Hwy 50, once again, which is certainly and correctly called 'The Loneliest Road in America' for good reason. This week, we will have driven close to 500 miles on it, a road where towns and services are few and far between. One thing the road does have in abundance is scenery, and it wasn't too far down the road, taking the word "down" literally, since Austin is on the side of a mountain, that we saw the ground covered with what looked like snow but wasn't.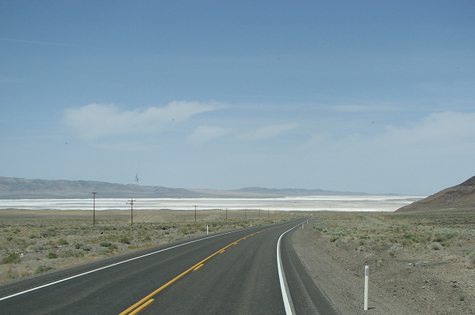 While the salt does indeed resemble snow, and is something that looks pretty, it's not where people like to play. The playground, or more appropriately, the sandbox, was on the other side of the road, a gigantic sand dune acting like a magnet to attract all manner of enthusiasts and their boys toys.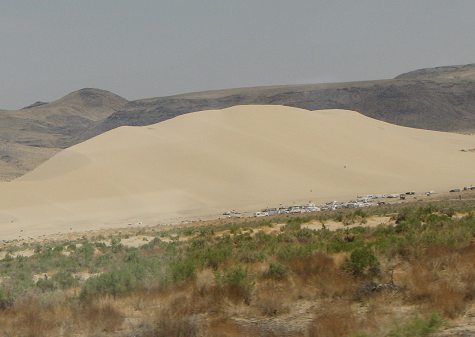 The sand had been far back from the road, and was but a brief interruption in the never ending panorama of salt that sweep out from both sides of the road, giving us a view that resembled a winter scene. The mind of man looks at things in many different ways, and it was obvious many minds weren't seeing this as a winter scene, but as a blank canvas upon which to create. We drove drove for the longest time looking at their handy work, which in this photo appears to be a jagged dark line along both sides of the road.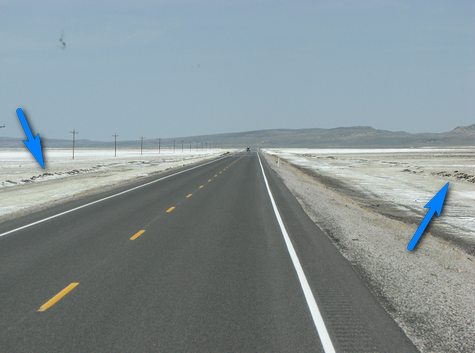 A closer look reveals a seemingly unending line of messages, messages that touted someone's name or proclaimed the unending love and devotion of a couple. Linda had to play photographer under the most difficult conditions, but she still managed take a picture that gives a good idea of what it was like.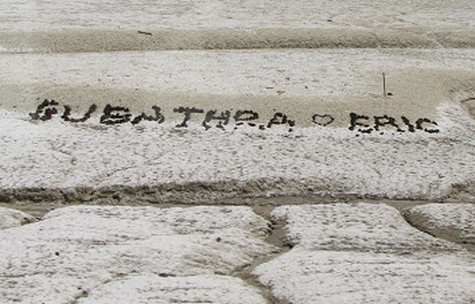 Eventually we once again found civilization and with it the road widened and the view changed once again, this time with snow capped mountains in the background. Though we would not be going up and over these peaks, they still served as a gentle reminder of the Sierra Nevada and Donner Pass which loomed further down the road.
East of Reno we transferred from the tranquil, leisurely pace of Hwy 50 to the crowded, hectic life that flowed along the concrete river known as I-80. What a change it was after months of laid back easy living. It also was a stark reminder of why we had decided, those many, many months ago to just dump the way were living, quit our jobs and live how and where we wanted. Everything was different here, and heck, we weren't even in California yet. We figured that no matter what the price of diesel was in Nevada, it would be higher in California, so we filled up at a Reno area truck stop. Having been used to the two or three pump islands of the southwest, the row after row of rumbling trucks, served as a wakeup call for what was to come.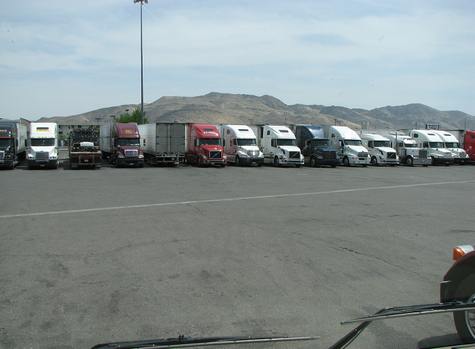 As we climbed into the mountains west of Reno, the 'Welcome to California" sign came into view and receded behind us as Linda vainly tried to get the camera turned on and take a photo of it. What she got was a stark reminder of one of the many things we left behind, the forest fires that ravage the mountains, those tongues of fire and flame that had forced us in past years to alter our weekend camping plans. The mornings spent sitting at our campsite watching the huge clouds of smoke fill the sky and blot out the morning sun. Things that we experienced, but now are glad to miss.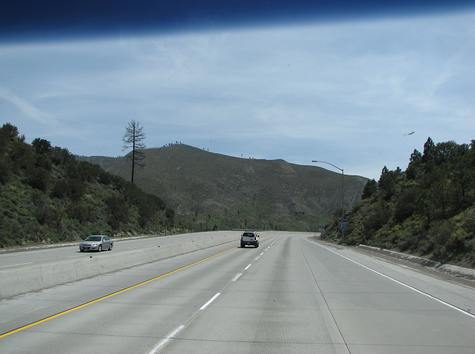 The comment from Linda that should I say anything about her missing the photo of the sign, I would regret it, snapped me out of my daydream. It was good I started paying more attention to things, because before long, the road surface became gouged and mauled, deep ruts keeping the coach focused on the concrete ribbon ever climbing towards the west. Forest fires in the summer, endless snowfall in the winter, a land that lures man for many reasons. I always laughed at the "foreigners", aka non Californians, who would decry the deplorable condition of I-80 over the summit. Think all weather road, think snowfalls measured in feet, not inches, think endless lines of trucks and even more cars, think each of these vehicles with chains, pounding away at the pavement, that is why the road looks like it does, that is why there is almost always one section of this road undergoing reconstruction. Of course now that we live the way we do, we are no longer one of the herd going and coming to the Golden State, at least not on a routine basis.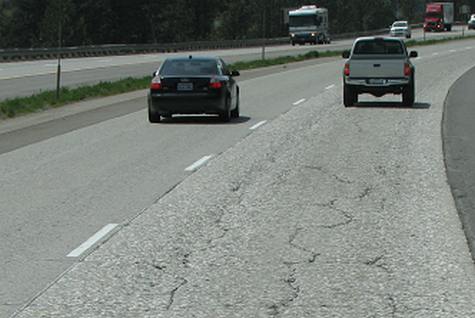 Once you safely reach the top without the need to subsist on portions of those accompanying you, remember how the Donner Party made it through the winter when they couldn't make the top, it is all downhill. Of course this is were you trust that the exhaust brake is working, keeping in mind that a slower pace is far less stressful in the long run.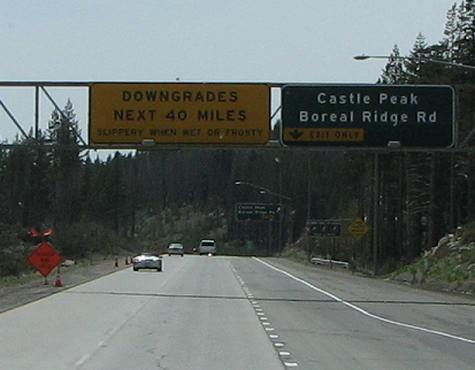 With time, the descent was safely made and the Central Valley came into view. What also came into view were endless lines of slow moving traffic, with this photo showing eastbound traffic, just trust us, our time was coming, and we ended up spending close to an hour moving at a snails pace. That laid back attitude of this morning had come back to haunt me big time.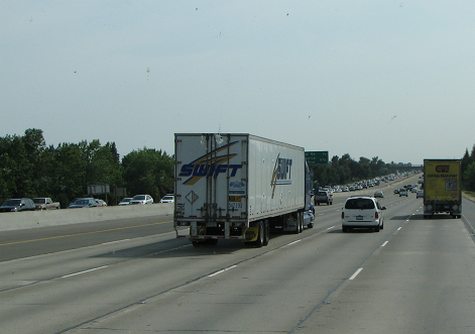 Far later than we had planned, we arrived at the house, having been gone since late November. As usual, the sight that greeted us in the back yard was that of a small jungle, yet we look forward to spending a few days working at cleaning it up, a job that gives Linda a chance to do her 'Lady of the soil" thing. One thing that made us feel great were the tomato plants and cucumber growing in one of the raised beds we had gardened in for all those years. Looks like our youngest daughter had started to develop her own green thumb.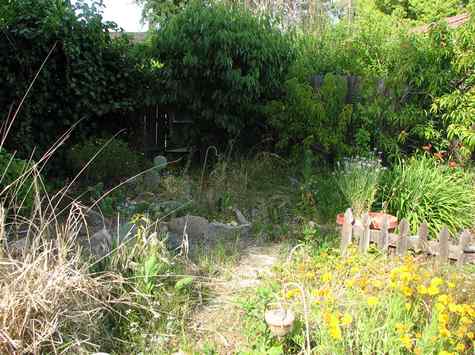 We had one last reminder of something about having lived here that we certainly haven't missed, our olive trees and the mess they make. Trust us, if you ever have thoughts about having an olive tree near your house, immediately wash your mind out with soap. True, they are absolutely beautiful trees, but that is only for two weeks of the year. The other 50 weeks they are making a mess, either they are blooming and covering everything with pollen, the blossoms are dropping, the leaves are dropping or the olives are dropping. Suffice it to say we have far fewer olive trees on our property now than when we first bought it.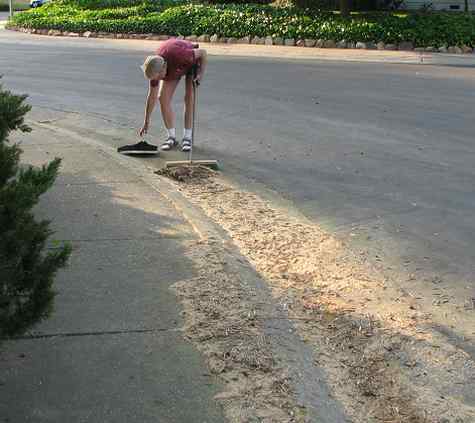 That was Linda cleaning up the spot on the street where we will be parking the coach and those are the past several days dropped olive blossoms she is sweeping up. We have a few days to work around the house before our jobs change to watching our grandson. Are we glad to be back? Yes. Are we glad to be at the house? Yes and no. There are still a few things here that are the memories that are so hard to give up, but once the real estate market in California turns around, it will be time to make the house a thing of the past. Our home is now sitting out in the street, ready to take us to new places, that is the life we want to live. Given all the stories we hear about people who sold their house and regretted it, or found that they really didn't like life on the road, we are glad we did it the way we did, but the far, far more important thing is that we did something, we grabbed at the brass ring and are living the life we want to live.
---
May 19 - Saturday
Lifestyle change is happening, temporarily as it might be. Sleeping on a strange mattress last night was not the most comfortable thing we've done, and besides, we couldn't beleve we slept all those years on a mattress which was that hard. Didn't mean we spent a fitful night tossing and turning (no I'm not going to the do the obvious and do something with the lyrics to Tossing and Turning), but we still managed to get a good nights sleep. However, 6 AM found me up and at 'em, or in this case just walking around and looking.
Before long Linda was also up and also started doing what I was doing. I think we were both lost, not because we had forgotten where things were, it was just that we were so far out of our normal routine that we simply weren't sure about what to do. Food being the great comforter, we were soon sitting out by the pond, getting reacquainted with our fish, noticing some old friends had disappeared and some members of the younger generation had grown significantly. We also took delight in seeing the quickly dating, small, dark shapes that indicated the next generation was also on the scene and doing well. Looking into the water I could still recall that day many years ago when I laid out its rough shape with a piece of garden hose and started digging. Though those first few years were a lot of work, getting everything built, planted, and balanced, the pond now takes care of itself and is a thing of immense enjoyment, both to its inhabitants and to those who look into its liquid eyes and find a moment of beauty, peace and contentment.
The day, however, was not going to be one of simply sitting around.That was because we had a Jiujitsu competition to attend. We managed to surprise our grandson, plus got to see what we had been hearing about for all these months. Every time he would get another color belt or add a stripe, grandma and grandpa would get a phone call from a very excited little boy, telling us to look at our email for pictures of his latest accomplishment. Today we got to see him in action.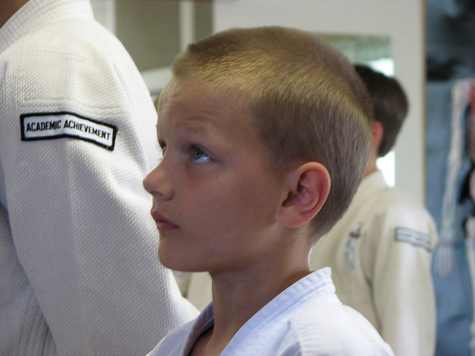 All the kids who were competing were great and it is amazing to see how disciplined, considerate and polite they all were. Of course it wasn't all paying attention and bowing, there was also a time of action.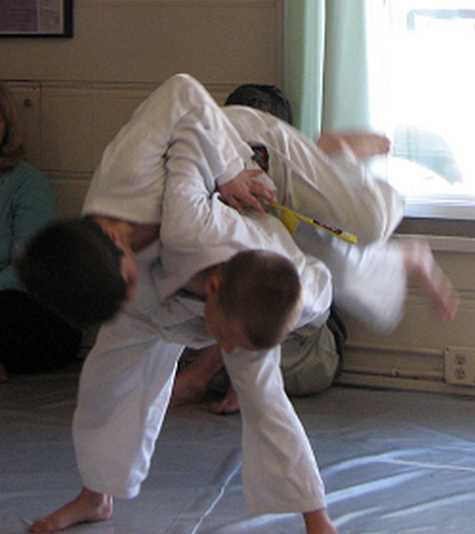 And more action, and all the while the judges eyes were the competitors.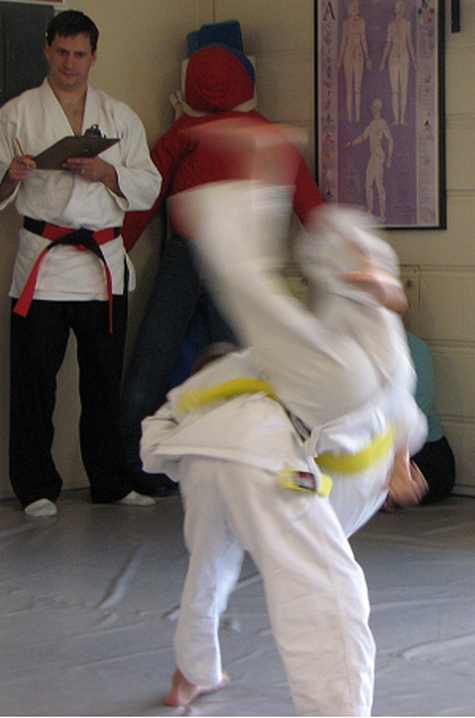 It was hard to believe how easy they made it look. Before the awards were passed out, the Professor said a few words, mentioning how Jujitsu changes lives, builds confidence, rewards all who compete, meaning not just the 'winners' as is normal in the sports that society holds in high esteem. It was interesting hearing him relate how he, the Professor, would handle someone who was threatening his life, first asking the person if he would like to turn around, walkaway and live, second by explaining to the assailant how he was going to kill him so he would know how he was going to die, or third, giving him the option of just having his life snuffed out, the assailant never knowing what happened. Looking at the soft spoken, white haired, 64 year old man standing there, you realized that he was more than capable of doing exactly what he spoke about. He was man you would never want to mess with, no matter how tough you thought you were. He then demonstrated three throws on an opponent being nearly the same size as the professor. In each case the Professor only moved his hands and arms, his body was motionless, yet his opponent was flying through the air. It was the most amazing demonstration of strength and agility I had ever seen. He was not someone a bad person wanted to met in a dark alley. As always, real life is far more impressive than anything the movies can make up.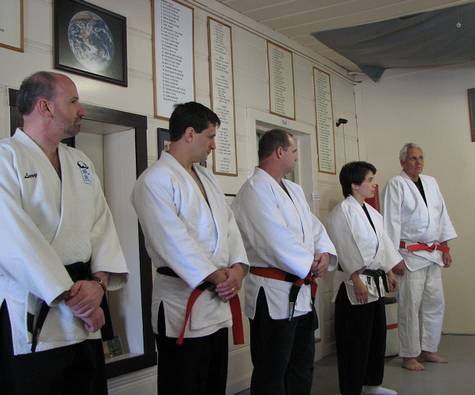 Then came the rewards, and with medal around his neck, the competitor looks within himself, bows, then dashes over to mom to show her what he won.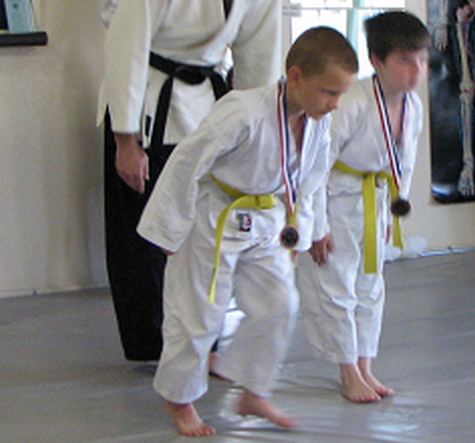 Back at the house, it became play time. Out came the table, stool and plastic bricks I played with when I was also eight years old, and through a little boys smile I got to relive a few moments of my childhood.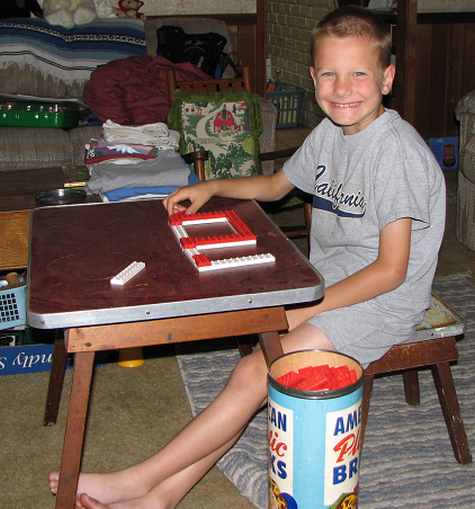 Later, after dinner, it was project time and Linda started helping build a school project. It was to be a horned toad and this is what the two of them, grandson and grandma, came up with.
By the end of the day we were both more than ready for a good nights rest on that hard mattress, knowing that tomorrow we would get to see the rest of our family. For years our vacations were more work than rest, but ever since we changed our lives, the time spent with family, vacation if you will, has taken on a totally new meaning. At long last, our daily life and our vacation life are as one. The locations are different, but the attitudes are the same. Life, meant to lived, life, being lived. Once we existed, now we live. We trust your life brings the same joy to your days.
---
May 20 - Sunday
We are most definitely outside our normal universe and try as I might to see the parallels, I can't quite bring it into focus. I recall that when we first started our new life, I would read articles, web pages and forum posts referring by different names to people who lived in their RV's. Descriptions, or phases that seemed to depend more on the writers point of view, than fact and substance. One we got on the road and traveling, especially after the passage of time, we would talk to people and tell they how we live. We always made the comment, we still own our house, we just don't live there, yet they would always brand us as fulltimers. That also was, and is, how we looked at ourselves, as fulltimers. The reason I ponder this point is the fact that many people who sell their house and fulltime, list as one of the key freedom points, the weight of no longer having to be concerned about a 'sticks and bricks' house.
Last year, the two times we came back to the house, it was like an old friend, a joy to see, with many memories to recall, and with things we could do together. We had always enjoyed yard work, so we would plunge right in, getting our green thumb fix, with some exercise thrown in. Maybe one could term it a dose of emotional and physical exercise. This, our third time back, something has subtly changed, a wariness that wasn't there before. The snowbird leads two lives, especially if it involves repeatedly visiting and staying at the same areas most years, the break in the routine being the route traveled to reach either destination. The extended RV traveler, the one who tends to travel for two to three months at a time, then return home lives more or less in our old 'vacation mode' when traveling, returning to the familiar and easily taking up where life left off.
Knowing that we shouldn't type cast each other, and having just done that, I look at ourselves as betweeners, though very closely related to what the purists refer to as fulltimers, which is why we refer to ourselves as such. So here we are, caught between the total sense of freedom those with only homes on wheels enjoy, and the lingering desire to keep our stuff, those objects of no real monetary value, but rather of high memory value. There is a solution and it appears to be time, time spent away from those memory objects, time which dims and sorts those memories into things not important and things to be treasured. An ongoing process which slowly and methodically reduces the quantity of treasures we hold dear, sifting and sorting to reach the point where only those of the very highest value are left. I realize that there are many people who have no qualms about walking away from memories, whether physical or mental, but for us, it is still something we struggle with.
Maybe the above is one of the problems with waking early in the morning and having time on one's hands to just sit and think. Then again, maybe it is simply what makes each of us who we are. I do know that without food, we most definitely wouldn't be who we are, and once again at an early hour, Linda was up and breakfast was cooking. In a way it probably wouldn't matter how it tasted, given this setting in which to settle back and savor those bits of scrambled egg and Canadian Bacon.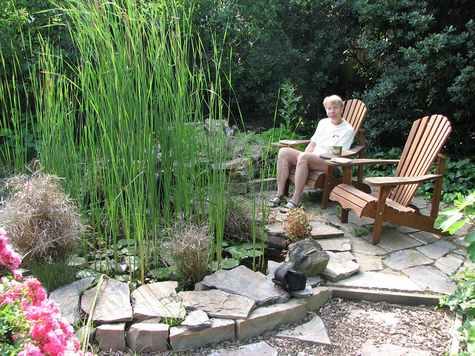 Even here, all is not beauty, Linda excepted, for around the edge of the pond there are the brown mounds of plants which record the ravages of the below freezing temperatures of this past winter. That didn't prevent us from relishing these moments, enjoying the morning as the fish eagerly crowded the edge, once again welcoming us to their abode. Breakfast was followed by a renewed attack on the weeds which covered much of the rest of the garden area. It was hard, nasty work, and it was with a true sense of welcome that greeted our grandson as he came through the garden gate. Help had arrived and even though he is only eight years old, he quickly donned his work gloves and started to help. Soon, his mom came in carrying another cucumber plant and they shared that special time that can only come to gardeners, planting not just a bit of green, growing matter, but also the dreams of things to come. Before long the outside work was completed, at least as much as we wanted to get done, and we headed inside to cooler weather.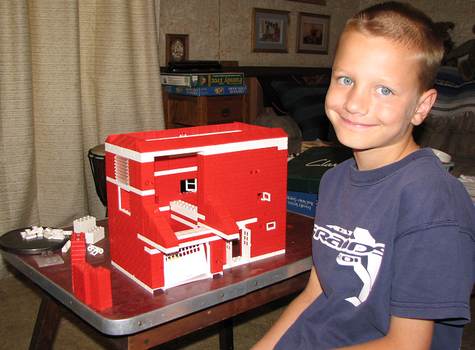 The first order of business was to complete the building we had begun yesterday. And no sooner had the final brick been placed, that it was announced that it was time to tear it down and build a skyscraper. Grandpa wasn't quite ready for this to take place, an eight year old having a seemingly inexhaustible source of energy, so the suggestion was made that it first needed to be photographed before the demolition process could begin. Just as the last photo was taken, grandma announced it was time to finish something else, his school project, the horned toad.
All these projects completed, they headed home, which gave me time to get caught up on my daily journal posts and Linda time to prepare some things to take along for a get together at our other daughter's house. Linda was planning to take an old standby, Guacamole, and something that was different, to say the least, one plate of lemon ginger cake and another of brownies, the new part being they would be made using beans instead of flour. They had already gotten their first test when our youngest daughter, a person who vows that beans have only ever touched her lips once in her life, was completely fooled and not only couldn't guess what the unusual ingredient was, she even took multiple pieces once she knew it was beans. It will be interesting to find out what her sister, who is both a very venturesome cook and eater, has to say about them.
Once we arrived it didn't take grandpa long to discover that our youngest granddaughter, who is in kindergarten, was already an avid reader. I believe this is called entertaining grandpa while her older sister and her very proud mom watch.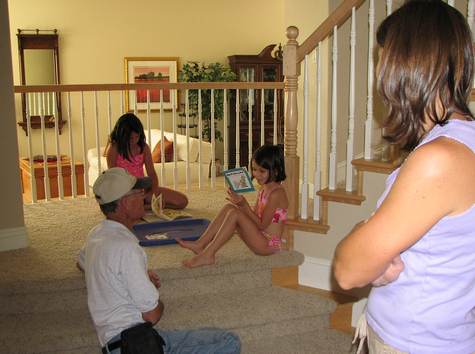 Then it was time for swimming, an activity which everyone under the age of ten immediately engaged in. For the past two and a half months construction had been the order of the day as the pool was being built, our daughter serving as both mom and construction manager, scheduling both subcontractors and supplies, all the while doing what she normally did. Meanwhile our son-in-law was busily engaged in buying all the equipment, plus working on the little things mornings, evenings and all weekend long. As they said, it is nice now to just be able to go out and enjoy the rewards of all that time and labor. As you can see, regardless of how much the adults enjoyed the pool, the kids enjoyed it more.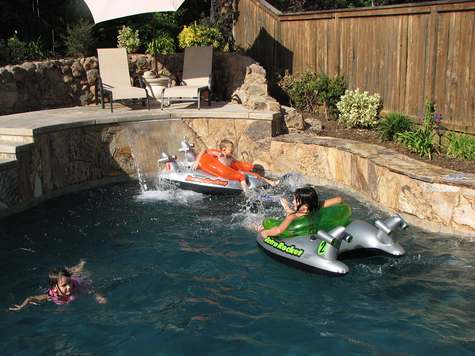 When you have a water feature like that, the fun thing is to try and push someone into it. Maybe this one should be called, happiness is dunking your cousin.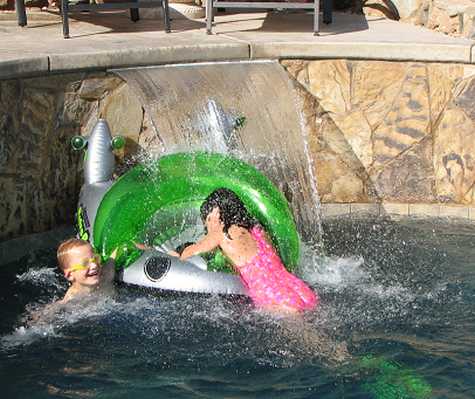 Even our son got into the act, being the official wave maker by doing huge cannonballs into the water. It must not only have been fun, it also appeared to have burnt up a little energy, because when the dinner call went out, everyone immediately came out of the pool and gathered around the table. A table that had grilled chicken breasts, crunchy green beans (fixed absolutely to perfection), baked beans and tossed salad.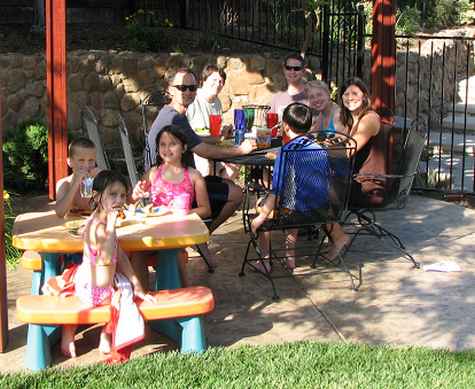 By the end of the meal, our youngest daughter was almost beside herself in anticipation of how her sister would react to the bean cake and brownies. It was as much fun watching the one as the other during the taste test. The great thing was nobody guessed it was beans, and meanwhile the kids devoured the chocolate bean brownies without a second glance, all of which made for one of those special moments, a memory that will come back every time Linda makes the lemon cake or brownies. Then later in the evening, back at our house, we had another memory come back, a six pound ball of fur that was the cat that used to own us.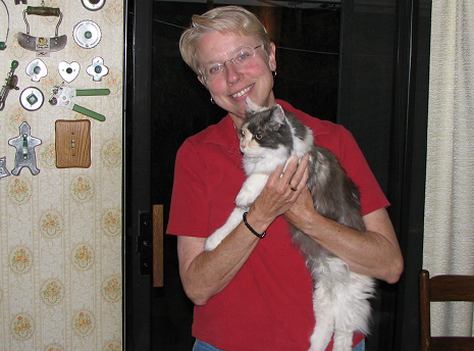 I think "Bit", as we called her, was mad at me, because she didn't want to have much to do with me, and in fact she wouldn't even let me touch her. This was my cat for over twelve years, other than during the time she ran away, only to return after being gone for three years. Guess you could say based on that, she was her own cat and does what she wants to do. The real blow to my pride was the fact that for many of those years I was the only one who could touch her, as she always moved away from Linda's touch. Hey, I got to have nine great years with her, maybe I should be happy for what I had rather than what I'm missing. Maybe I should use that same thought to reflect on the words I wrote to start this post. To be glad for what I had, not what I might have to give up in the future. Dreams and memories, isn't that one of the things that makes us human?
---
---