To a daydream believer
And a Appalachian queen.

I had got the early duty today, which meant I had to be over at the Painted Desert Visitors Center (VC) at 6:45, while Linda got to sleep in since she didn't have to be at the Painted Desert Inn (PDI), until 8:45. Oh well, my time is coming next week, what with having two days at the PDI all to myself. The song wasn't quite right, what with it being necessary to actually wash the sleep out of my eyes, somehow just a quick wipe not sufficing. Hey, I'm an old retired guy who's not used to getting up at these early hours anymore. Breakfast was shredded wheat and milk which I microwaved to heat the milk. Unfortunately I may have wiped the sleep from my eyes, but I hadn't cleared the fog from my brain as I unintentionally used one of the bowls which are not supposed to be microwaved to do just that, microwave the milk, something I was oblivious to at the time, but which was most certainly brought to my attention by a very much, not so sleepy Lin, in the evening.

It was with a light step that I headed up to the VC and a started the process of opening. Amy was to be the trainer today, but she was 5 minutes late and hence I had a number of the things done before she arrived. I did run into one problem and that was with counting out the money into the till. There I was trying to concentrate on counting out the piles of pennies, nickels, dimes and quarters , and all the while she was standing beside me chattering away to some of the other people who work at the park. Since counting out money is something I don't have a great deal of experience with, I found the noise to be very distracting, but decided to just not say anything, but rather just persevere, knowing full well that in Life, what goes around, comes around and thus I know that someday my day will come.

Once we were open, the clock ticked, but nothing much happened until almost 8 AM when our first few visitors made their appearance. Then about 10 o'clock the floodgates seemed to open, though it seemed that is was more like the St. Lawrence River that was flooding rather than the Mississippi. What happened was that our little visitors center had been overwhelmed with French speaking visitors, which, upon inquiry lead to the conclusion that the annual migration of snowbirds back to Quebec from the southwest had begun.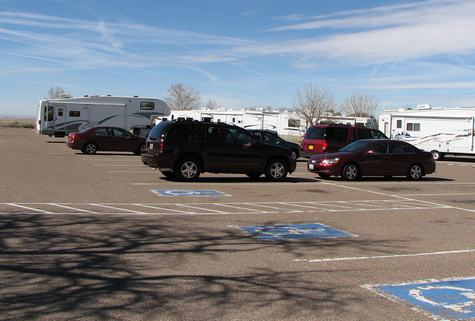 For the next hour they kept pouring in, one group of Quebecoize after another, till there had been more than 30 couples come through. Many of whom had virtually no English language skills, but since we had a pamphlet in French, it made it much easier for them (and us as well). The percent of our visitors who watch the park movie is typically less than 50%, but surprisingly all the French Canadians watched it. I'm not sure what that says, but surely it says something.
While I had been busy at the Visitors Center, Linda had been witness to another form of drama over at the Painted Desert Inn. Oh, sure the French Canadians had descended on her, but she also had another form of drama in the person of a lady who tried to walk where she shouldn't have and ended up falling into the petroglyph that is in front of the large windows overlooking the Painted Desert. Needless to say there was quite a bit of excitement for a time until help arrived. The really bad thing is that the petroglyph may have suffered a slight amount of damage, though they weren't sure. The curator is going to take a look at it to determine if the lady's camera may have scratched it.
Being the first one off work I was responsible for dinner which turned out to be leftover chicken breast and salad, not our usual repast, but at least I managed to fix something. The sky tonight was special, though this photo does not do it justice, just as today was a special day. Our Life is good and we are happy.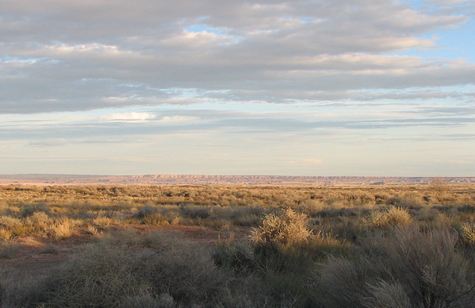 ---
Mar 7 - Wednesday
Since I had the early shift at the Painted Desert Visitors Center again today, while Linda didn't have to be over at the Painted Desert Inn until 8:45, the 6 AM alarm was for me. I notice that when we both have to get up, she sets it to buzz, then after it goes off, changes it to the radio. On my days to get up first, she just sets it to the radio, which may be the reason she didn't even stir when it came on. I did stir but wasn't a hot bed of activity, rolling over and just laying there, lost in idle and fleeting thoughts. I hadn't been able to shake of my feelings of lethargy and disappointment during the night, so I guess it was time to just feel sorry for myself for a while. Eventually the necessity to get moving overcame my reluctance to face the day and I entered the world of the living.
One thing that I immediately became aware of was the lack of heat in the coach. Someone, not me, had been tinkering with the settings on the heaters with the one in the bathroom being turned to its lowest setting and the one in the living area set way lower than normal. This had resulted in the temperature of the coach being a lowly 53 degrees, not really cold, but at least colder than what we have become used to having in the morning. Since it was only going to be 20 minutes before I left, I chose to make no adjustments in the temperature, which was going to cause me a some grief tonight, but was totally oblivious to at the moment. (Note to self: Linda does not like to wake up to a cold coach when she doesn't have to. Next time turn the darned heaters on if they're off, even if I don't need the heat.) After a quick wash job, that hot water having sure felt good, I fixed a bowl of shredded wheat and milk, warming it in the microwave using the microwavable bowl this morning instead of the non-microwaveable one of yesterday. It was easy since Linda had set the right bowl out last night, probably not trusting me to get do it right if left to my own devices. A little Stevia and a dash of cinnamon made for the kind start to the day that I really needed.
Leaving the coach at 6:43, I dropped off the trash in the dumpster, then turned to walk up to the Visitors Center when I realized that I had forgotten my water bottle. Deciding that I'd rather be on time, especially since I didn't have down all the little things which were connected with opening the VC, I left it behind. I had most of the opening tasks done by the time Amy arrived, with the exception of the cash drawer and the flag. Being a burden I bear, the counting of the cash, as always, took longer than expected bringing a not so gentle reminder the flag was supposed to be up 5 minutes ago. Now I'm a big boy and was well aware that was the case, but you would think maybe she could have put it up. I've decided that one of the reasons that this place operates the way it does is because of little things like this. The NPS staff people are all the greatest, but the Petrified Forest Museum Association personnel seem to leave a little to be desired, at least from my perspective.
Even though the VC opened at 7 AM, the first visitor didn't walk through the door until 7:53, then it was almost a half hour until the next ones came. Eventually the number of visitors picked up and I was lost in the world of being the face of Petrified Forest NP. Informing visitors of what to see and do in the Park, teasing, joking and laughing with them, showing them the movie, it is amazing how quickly time passes and soon Lu, who would be closing, came in, giving us three staff people on duty. Now three people are more than are needed to take care of the visitors, so soon Amy had us putting price stickers on some of the merchandise. This was another case of how not to lead people, as we managed to put the labels on wrong which brought a quick reprimand. Maybe it would have been better to show how to do it right in the first place, but then again, I'm just a lowly volunteer and what do I know about getting things done the right way, never mind what I did in my former life. The one thing that I will not ever do however, is let things like this interfere with putting my absolutely best face forward to the our visitors.
The Park has a program where on the first Wednesday of the month an outside speaker is invited to make a presentation on something which relates to the park. Today's presentation was going to be about the first 100 years of archeology in the park and I had told Amy earlier that I wanted to attend. The presentation was at 10 AM and as fate would have it, we had quite a few visitors when it came time to leave. I again mentioned I was leaving and that was when Amy turned to Lu and said she (Amy) was going over to the office for a while, which would leave Lu all alone, an action to which I drew my conclusions and I'll let you draw your own.
The program was great and I came away with a better understanding of what archeology is really about, which is many steps in many directions, sometimes backing up and taking a fresh look at things, but always filling in more of the puzzle that is the past. Sitting there I couldn't completely wipe out the thoughts a little boy once had many years ago about being an archaeologist, a path which every adult he let in on those dreams heartily tried to discourage him from pursuing, an objective they succeeded in achieving. As I've said before, how different my life would be, could I live it over again. How could I have known that the way my mind works, it would have been the perfect career for me to pursue, but then again, maybe I did and I was just too young to understand that. Maybe I didn't get to pursue those dreams of my childhood, but then again, I am pursuing my dreams of today. Thank goodness I didn't pay any attention to all those people who told me, you can't just quit your job and take off. To them, or anyone else I say, don't be afraid to listen to your heart and live your dream, I finally did and I wouldn't trade it for anything, even though it isn't always perfect.
Leaving the program during the question and answer period, I ate a quick lunch, which Linda had made before she left for the day and got back to the VC at 11:30 which is when our normal lunch break would be over. The afternoon just seemed to fly by as we had a constant stream of visitors. The absolute highlight of my day was when one visitor shook my hand and said I was the best person he had ever talked to at a National Park. Now that's why I do this and also why when I leave visitors with the words, "It's your Park, enjoy your visit.", I genuinely mean it.
Eventually it came time to do the remit, a task that seeming does its best to thwart my efforts to enjoy every aspect of this experience. Today was a different story however, as I was left on my own and everything went without a hitch, balancing out perfectly on my first attempt. I still hate the fact that all the pennies pile up in the till, but will take care of that the next time I do remit, stay tuned. There was still a few minutes before it was time to leave and before long I was immersed once again in helping visitors, when I was reminded it was time to go. Jeesch, do I ever lose track of time when I'm 'on'. I did do one good thing just before I left, which was call Linda over at the PDI and find out if I needed to do anything about supper. She just wanted the pork taken out of the refrigerator, something that I hoped I could remember to do when I got back to the coach, and fortunately for me I did.
Eventually Linda arrived back at the coach, having had a great day over at the Painted Desert Inn, and we sat out at the picnic table talking about our respective experiences of the day. She had found out that there were several neat places that we could hike to which were out in the Painted Desert, so could see there was going to be some exploring on tap over the next three days when we are off. For dinner the marinated pork tenderloin was barbecued to perfection by yours truly while Linda turned out a great salad well laced with Blue Cheese and a side of broccoli done just the way I love, which is very lightly cooked, leaving a bit of crunch.
I continued my lethargy of the past month when it came to witting the daily journal, though we did enjoy watching Criminal Minds before having the last of the zucchini chocolate cake and calling it a day. We are off the next three days and besides the change of pace, it also looks like we are going to have some new adventures what with the bowling and pizza on Friday night and the prospect of a day hike out into the Painted Desert. (It's good to be back writing and the reason for not being any photo's is that this was one day, for whatever the reason, that I took none at all, not even a photo of those pork tenderloins. Guess I have really slipped.)
---
Mar 8 - Thursday
Today was the first of our three consecutive days off and according to Linda we had plans for an expedition into the northern wilderness area of the Park. She really was intrigued by several areas, notably the Onyx Bridge and some nearby petroglyph's. Little did we know what finding them would entail, but as the redoubtable Mr. Harvey has been known to say, "Now for the rest of the story", or at least words to that effect. One of the little joys of being here are the big sky views we have and they can be accentuated by the sunrise. This morning I looked in a another direction and while it was not the normal view which seems to go on forever, the play of light and object was certainly different.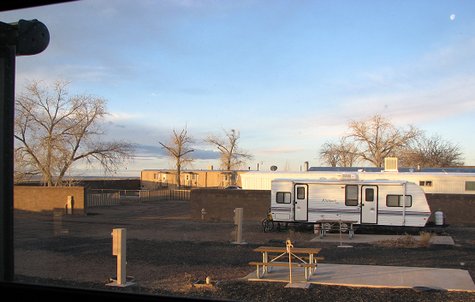 There was something about this scene that caused me to just stand there for the longest time after taking the photo, lost somewhere in the murky mists of time. For just those few moments I was in the past, back 225 million years ago seeing a group of trees gently bobbing in the slack water of a giant river system. Trees which had been uprooted and fallen into the water, their journey downstream having striped off their branches and roots. Today, 225 million years later I was seeing exactly what the sky may have looked like on that day. The key is the small white object in the top right corner of the photo, the Moon. It was there then, it is here now and so I wondered what this small patch of earth will look like 225 million years in the future.
Not having to eat a hurried breakfast for a change this morning, it was time for a return to the past and Linda was more than up to the task, whipping up her special scrambled eggs with fresh spinach. Knowing we would be spending most of the day hiking cross country, she added a handful of energy on the side in the form of a helping of walnuts and dried cranberries. Talk about the perfect breakfast, I don't know how she does it, but I sure did marry well if I do say so, even if our meeting each other those two score years ago was a simple case of dumb luck (a blind date).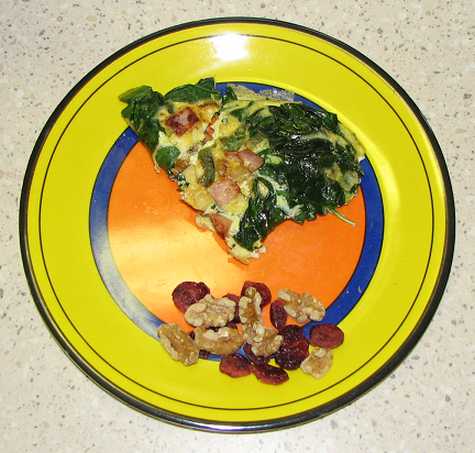 During all this culinary creativity I had not been merely a bump on a petrified log, since I had decided that today was the day that the daily journal was coming back to life. It may take a while to get back into form, but I'll just try to be up to the challenge. While I created, Linda took care of our finances, trying to determine just how much we had splurged in the food department last month, a number that was most definitely not very pretty, but then again, maybe this month will make the average once again look good. All this took a good bit of time and it was nearing 11 o'clock before we were ready to leave on our adventure.
Our departure point was to be the trail leading down into the wilderness area that started by the Painted Desert Inn, so loading everything into the Explorer we set off. Now when I say we loaded everything into the Explorer it may conjure up visions of a major expedition, but such was not the case. We each had a Camelback and were also taking along two snacks and lunch, all of which fit in the Camelbacks, so in essence we were traveling lightly. We stopped at the Inn to let Dennis, who was working there today, know that we were heading off, then realized that Marge, the Ranger who was in the process of giving a group tour of the Inn, would be able to give us better directions to where we were headed. She was able to give us a pretty good idea of where we would be going, though there seemed to be a good deal pointing and gesturing at things which looked all the same to both Linda and I. Then came Marge's parting words, "Don't worry if you don't find it today, it took me three trips out there to find it the first time, myself." Filled with the enthusiasm of the ignorant, we set off down the very, very steep trail that lead to unknown places and adventures.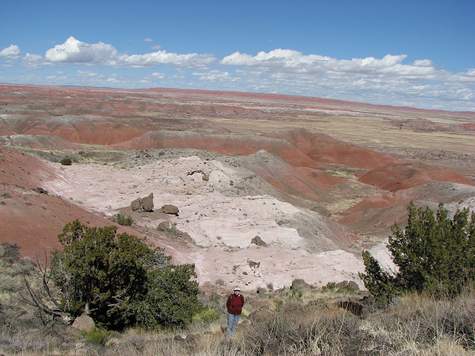 Our first destination was going to be the Onyx bridge which was about a mile out into the desert and after that we planned to head west towards the petroglyph's. We weren't sure what petroglyph symbols we would find, but since petroglyph's can be anything that the pre-Pueblo peoples may have chipped into the rock, we would at least know it when we saw it. In case you don't know what a petroglyph can can look like, here's a photo of one that is thought to portray a mountain lion which is in the Painted Desert Inn, having been recovered by the CCC in the 1930's.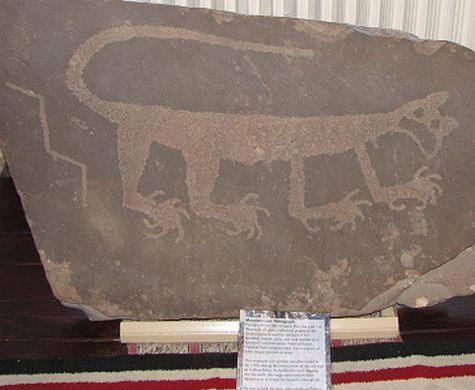 Once down the trail a whole new world opened before us. Nothing down there was the same as it looked from up above. The land is much more rugged, with what looked like flat terrain actually being a series of very steep mounds and what had looked like steep mounds being nearly impassable very steep hills. Suffice it to say that what looked like hills were more on the order of mountains, though on this trip we didn't venture that far back into the desert. As you drive the Rim Road above the desert you will see what looks like pieces of glass glinting and sparkling in the sun. It is not glass, but rather, large sheet like crystals of gypsum. Here's Linda holding several to give an idea of their size.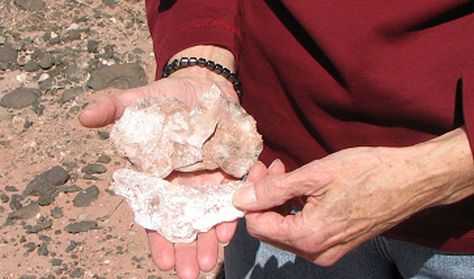 Since this land was once an immense ancient river system of such a size that would dwarf the imagination, there are all kinds of examples of water deposits. On this sandstone outcrop you can see an example of what is called cross banding where water deposited the sand in different directions as it meandered along those millions of years ago.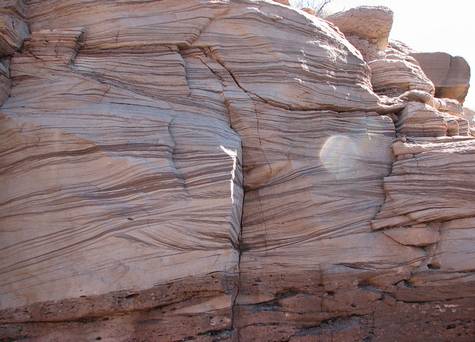 The dark area at the bottom is an example of conglomerate rock which is a mixture of sand, pebbles and rocks indicating that at one time the water was flowing much faster and hence was able to transport heavier objects, which is probably more than you wanted to know, but we sure found it interesting when you are looking at something which you've only read about. How many times do we hear that the more things are different, the more they are the same? Well just a few feet away we saw the truth of that saying, as looking down, we saw that those 200 million year old rocks which were now slowly eroding into grains on sand were being redeposited in the same way (cross banding) in the dry wash stream bed. If you look closely you can see the sand grains being deposited in different directions. Talk about a first hand real life geology lesson, it doesn't get any better than this, or so we thought at the time.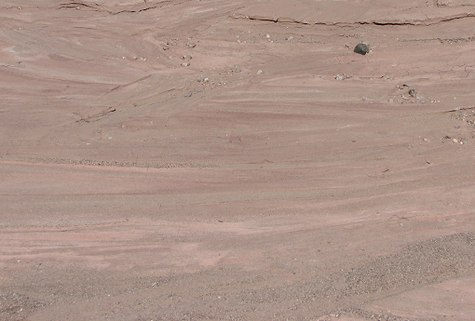 Now I can guess what you're thinking, here he is prattling on about all these things that are nice but what about the petrified wood. You have to look at it from our perspective which is that some things are so commonplace that you just don't seem to notice them and such was the case with the petrified wood since it is seemingly everywhere, so here is an example of a typical piece which showed a good bit of crystallization.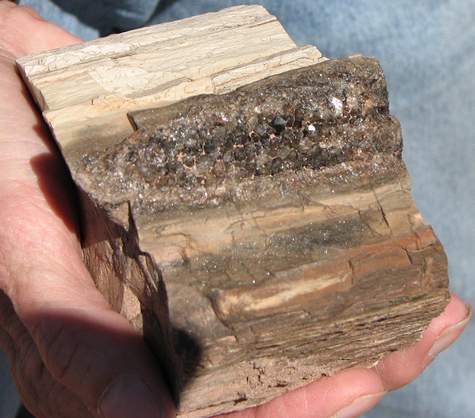 As we set out across one of the more open areas in search our first landmark, a dry falls, the view dramatically changed and we suddenly had nothing to which we could relate.
Luck turned out to be with us and somehow or other we managed to stumble upon the dry falls we had been looking for, or if not the one we were looking for, at least a dry falls.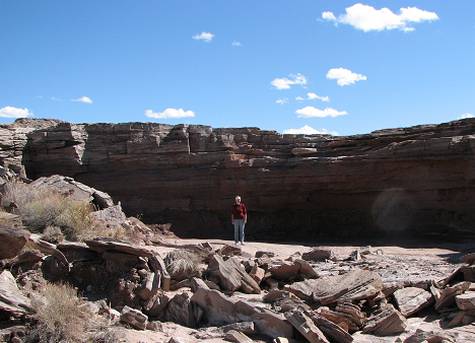 We spent some time exploring the area of the wash at the base of the falls, trying to decide if we were better off going back out the canyon and climbing to the top taking a roundabout route, or just finding a place here where we could climb up and out of the canyon. Our directions had indicated the place we were looking for was to the right of the falls, so we kept looking in that direction, which, as we later learned was the wrong place to have been putting our efforts. We did locate a rock drawing, but unfortunately it was not he one we were looking for.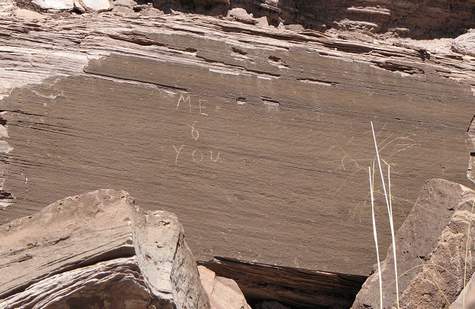 My personal feeling is that there is only one punishment appropriate for anyone who does something like this, no matter what their age, whether adult or child, and that is a punishment that is meted out in the Middle East, which is to cut off their hand. We may have some serious differences with those people, but they do have some things right. We finally found our way out of the canyon, though it did require us to take on the persona of a pair of mountain goats to accomplish it. This photo does not even begin to hint at how steep and rugged this climb was. Hey, that old story about the little engine who thought he could is more than just a story, it a way of living. It may have taken us a good many years to realize the truth of those words, but now we are living it. Two years ago Linda wouldn't have even considered doing this, yet here she is only a few feet from the top. Life, reach out and grab it, we finally did and so can you.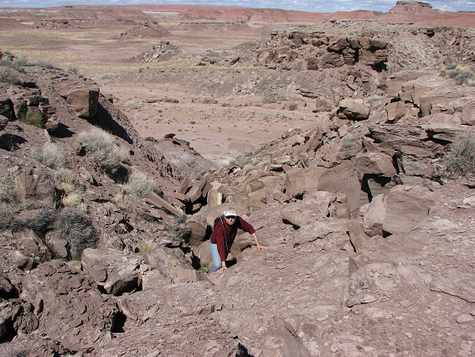 If you climb to the top, you get to see the view from the top, and even though she is not what you would exactly call close to the edge, here is Linda enjoying the view.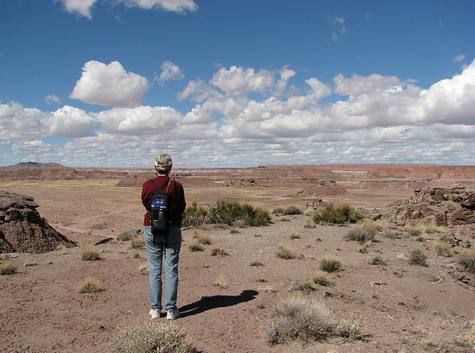 Walking back towards the dry falls we discovered something, which was that it would have been much easier to have climbed the canyon wall to the left of the falls than doing it the way we did. To give an idea of what the falls looked like from the top, the family model walked over that way and posed.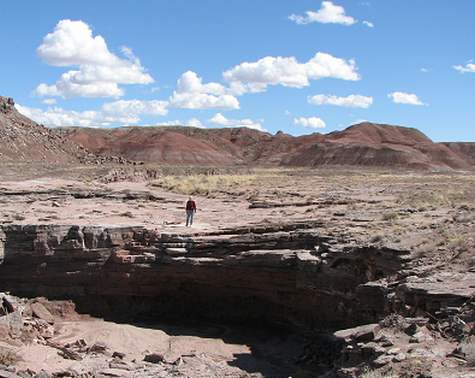 Then the hunt was one for the Onyx Bridge. However, look as much as we might, no bridge was to discovered, and eventually finding ourselves a considerable distance from the falls, we decided to stop for lunch. Finding a nice wide stone at the foot of a nearby clay mound we set our table.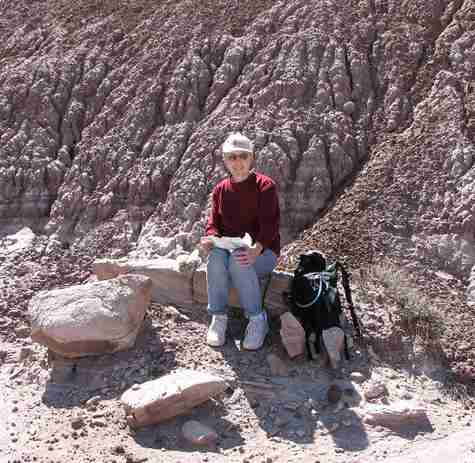 Now that might not look like the ideal location to be stopping to eat, but keep in mind several things. First of all there is no shade in the Painted Desert unless you bring it along. Also, you were only seeing where we were sitting, not what we were seeing.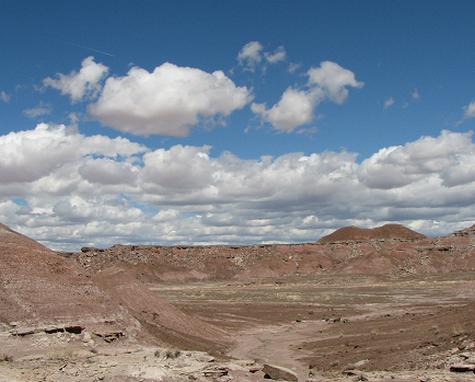 Now, long time readers know that our staple for lunch is the Turkey Wrap, a simple rollup which we have taken to what we consider an art form. We've enjoyed our turkey wraps in many places but never one like this. Add a cut up Granny Smith apple, plus a handful of grapes, sit where we were and what you have is the best of all possible worlds, but without the satire found in Candide. Lunch over, we were leaving when I noticed something unusual over to the side and walked over to investigate.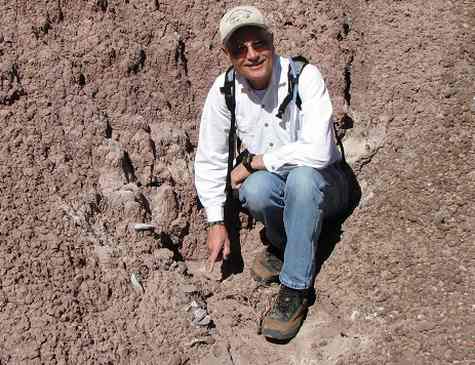 Those words which Voltaire had penned were not correct, as that had not been the best of all possible worlds since it had just gotten many times better.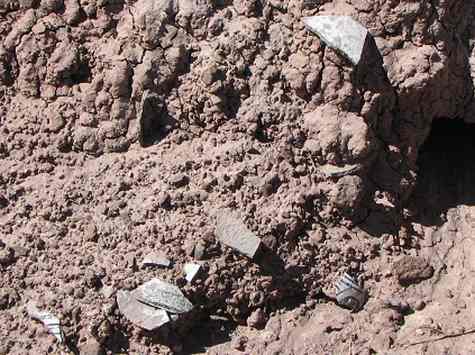 We had set out trying to find a specific petrified tree and petroglyph, but never in our wildest imagination did we think we would find something like this.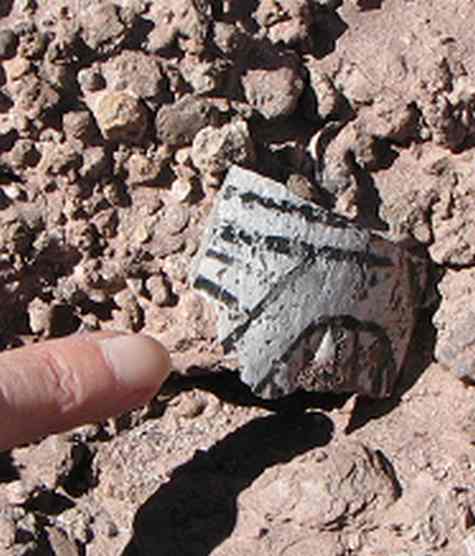 Looking down on these shards we wondered who was it that had held the pot in their hand? How had it ended up here? Were we the first to look upon it, or had it been exposed for a long time allowing others to also see it? Ever so gently we touched the pieces, then leaving them exactly as we had found them, we walked away knowing that we had experienced something that very few people ever do.
A long, long time later in a land far, far away from where we found the pot shards, Bob once again noticed something different and stooped down to pick it up from the dry wash we were traversing. Laying it on the soft sand of the wash, he took a photo.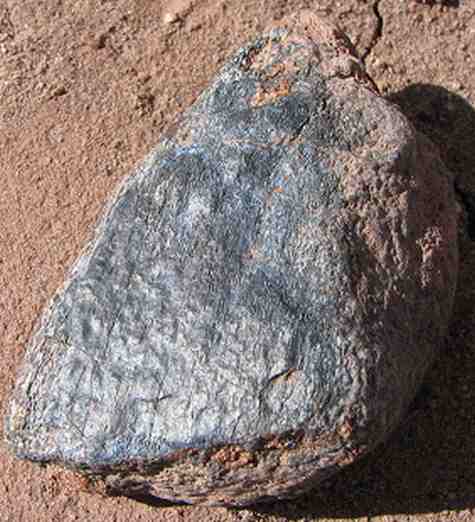 After taking the photo, he picked it up and did something very odd.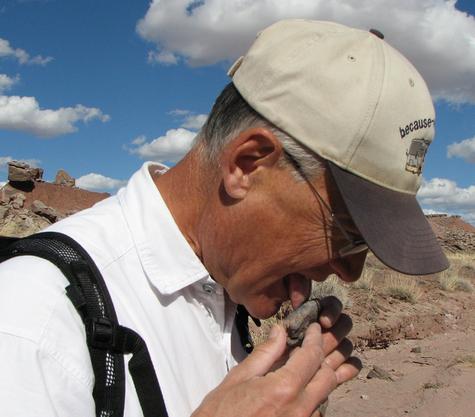 Bringing it up to his mouth he licked it and let out a yell, it was a piece of fossil bone. There are good days and then there are great days. This day had simply become the day to top all days. Those dreams of that little boy had all come true today. Maybe he didn't get to live the life he wanted, but today it didn't matter. Had he pursued that dream, he would have experienced that first find and maybe it is 40 some years later than he would have preferred, but today he got to do it.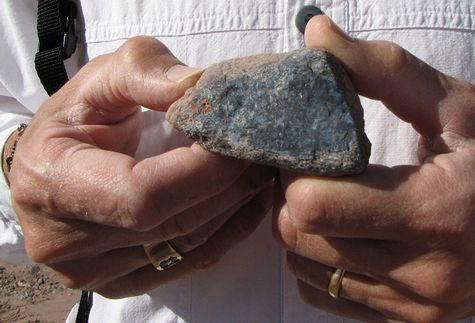 All this begs the question, what did putting your tongue on the rock have to do with the fact that is was a piece of fossilized bone? Due to the porosity of bone, your tongue will stick to fossilized bone. Another question is where to look for fossils. Here's where we were looking.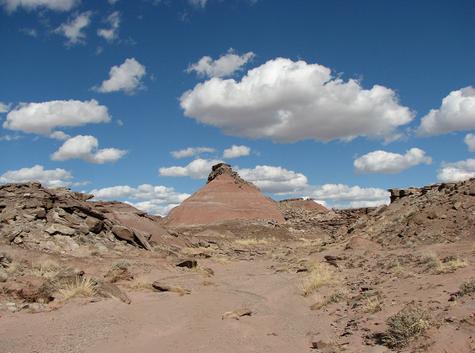 As we continued walking in this area we found a number of other bone fragments, and indeed it was we who found them, since Linda also found a piece. It's a case of simply knowing what to look for and suddenly they are leaping out at you, something I never would have believed, except that I was doing it. Besides the fossils, we also found quite a few visually interesting things. Take this piece of petrified wood for example, which has many lines radiating out from the center.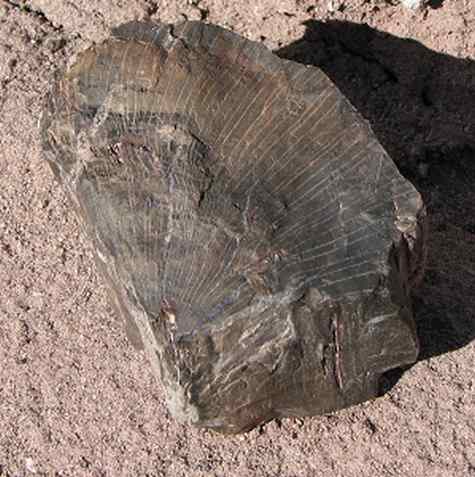 Some of the interesting features included this toad and stool.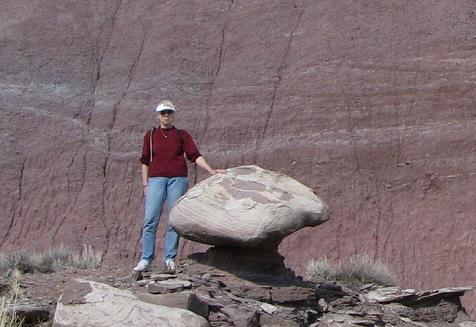 Then there were these rounded rocks out in the middle of the desert.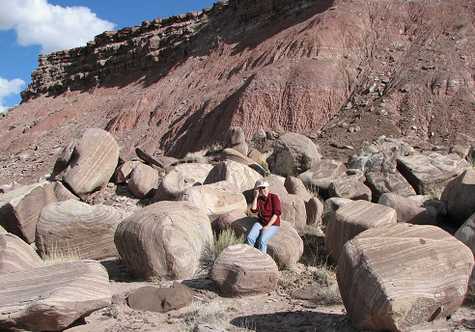 Eventually our journey ended and checking our pedometers, we found we had covered almost 11 miles during the time we had been out. Our bodies were telling us it was more like a hundred miles, but what ever it was, it was certainly worth the pains we had acquired. Dinner was hamburgers, refried beans and salad, which really hit the spot and provided a fitting end to a day that we shall remember for a long time to come.
---
Mar 9 - Friday
Our first day in a long time that we could do pretty much nothing, but it was not going to be that kind of day. Oh, we did plan to laze around some but there was also clothes washing, a huge daily journal post, a hike along old Route 66, a trip to the supermarket and finally, a bowling party on tap. So much for just staying at home and doing nothing. While we spent the morning doing things around the coach which in my case was spent more or less on a much larger than usual daily journal post and some other updates on the website, Linda exercised her legs by making three trips up to the laundry room. And those loads of wash were in addition to the three loads she did in our washer in the coach.
It was early afternoon before we ready to venture out from the coach, at which time we headed cross country once again, looking for old Route 66. Petrified Forest NP was the only National Park that old historic Route 66 actually traversed and while there is a pullout on the park road where you can see the old road bed and the telephone poles which followed along its path, we were going to a different part of the park and actually walk the last little bit of remaining pavement. As we hiked towards this area we crossed open land where the only other inhabitants we could see were the ever present rabbits, or perhaps I should say the ever present signs of jackrabbits.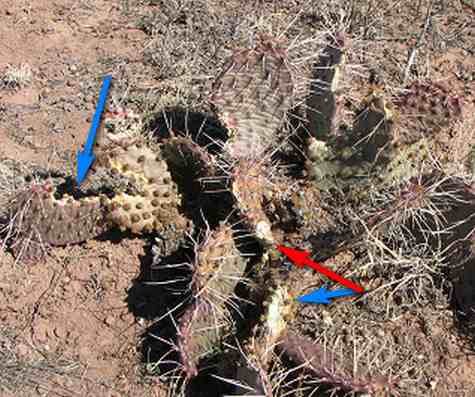 Not there is anything wrong with eating cactus, after all we both enjoy nopalitos in our scrambled eggs, but somehow or other, eating cactus on the vine so to speak, leaves a little to be desire from my prospective. Since jackrabbits do not look upon cactus with the same eye that I do, we'll just let them eat what they like. To say they eat it may be an understatement. Love to eat it is more like it, just look at this cactus nubbin and all the rabbit droppings strewn around it.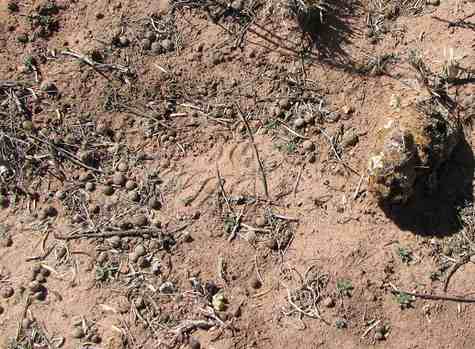 From what we have read about jackrabbits, it appears they are more or less nocturnal in their habits, preferring to rest during the day. Though we are not rabbitoligists, we took it that this was a jackrabbit resting spot, having seen one moving away from the vicinity as we walked through the nearby grass.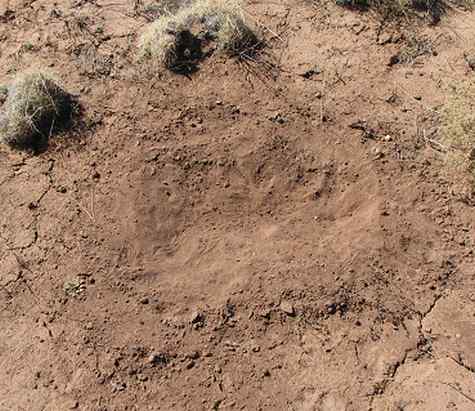 Speaking of grass, this country is termed short grass prairie, which looks like this from a distance.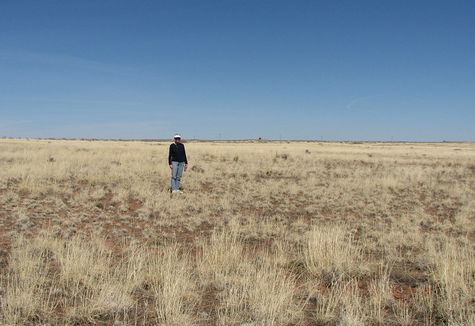 And like this from close up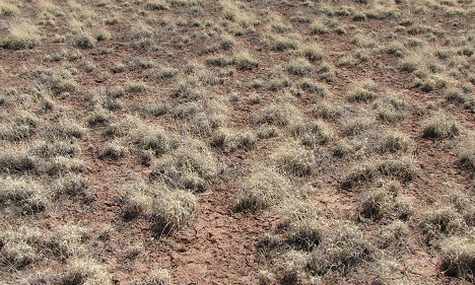 Where rain fall is scarce, the plants limit their top growth and maximize their root system, a level to which we humans, or at least Americans, have not yet evolved. Just look at L.A., San Diego, Phoenix and Las Vegas as examples.
After many adventures of this nature, including seeing and identifying a number of plants which we have read about since our arrival, we finally arrived at our destination. A long time ago when you drove across old Route 66 from the east, your first views of the Painted Desert came as you neared the park. Maybe this was what some of our relatives once saw, no doubt accompanied by a few involuntary oh's and ah's.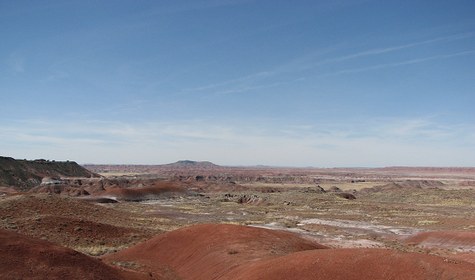 At the same time they were approaching the Park they were also going by the tourist trap of its day, the Lion Farm, which was a petting zoo, souvenir shop and snack stand all rolled into one, but one that was at best termed an eyesore and at worst things not repeatable. It is the reason I-40 does not give travelers the view of the Painted Desert it could have, had the Lion Farm not existed. If the new highway is built away from Lions Farm, and then the old Route 66 is abandoned, there is no longer any access, which means no customers, which means no income, which means no way to continue, which means the eyesore will eventually be gone. Free enterprise is not always what it is cracked up to be, especially when it benefits only the pockets of one or two at the expense of the common good. Hence you have no magnificent view of the Painted Desert on that section of I-40 because of greed, combined with a hatred of the Park by a single landowner who is long gone from this world.
Not much exists of the old road now, just a stretch of over grown and badly cracked asphalt which marks the passing of another era.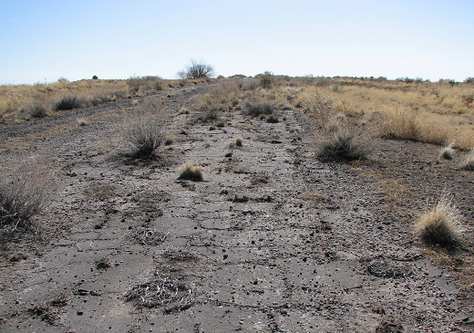 Looking around we found a few small patches of yellow that may have marked the center of the road, there probably having been a no passing zone in front of the Lion Farm.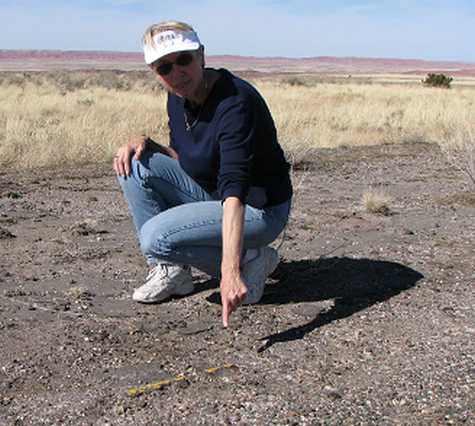 The ground in this area is littered with trash and junk and one can only try to imagine what a dump the Lion Farm must have been when it was operating.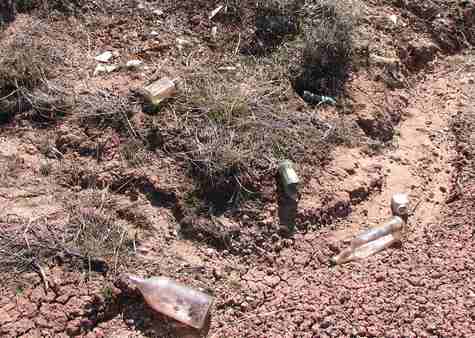 Bottles were not the only trash that was here as this photo shows, which brings to mind one line out of a song sung by Arlo Guthrie, "And the graveyards of the rusted automobiles", as my mind wandered and once again dreamed of the times of the past.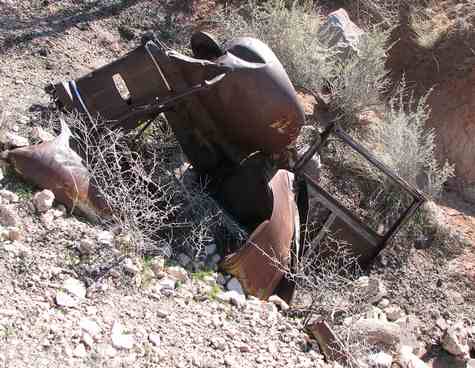 It's hard to tell from the photo, but that is a Model T Ford laying there mostly buried in the ever eroding clay. Will it someday emerge at the bottom of the ravine, petrified, at which time someone will come along and use it to try and prove that these petrified trees are not really hundreds of millions of years old, but rather just hundreds of years old, because why else would the petrified trees and the Model T be found together. Our exploring completed for the day we returned to the coach to get ready for our evening of bowling. One thing that Linda made me do was change my shoes and socks. Now I can understand why she might object to my wearing my hiking boots to the bowling alley, but what could possibly have been wrong with wearing these socks?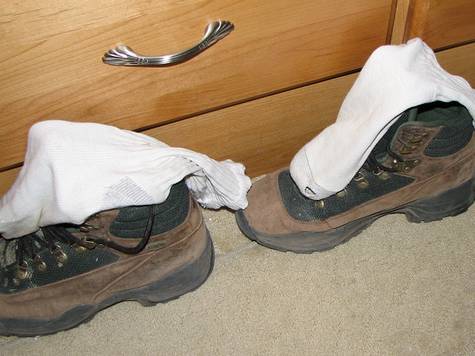 It's only a short 30 mile drive into town, but none the less, we decided to buy a few groceries when we were there, so Linda came prepared with some extra grocery bags and a container of ice cubes, which I thought was extremely inventive. Arriving at 5:30 on a Friday night we found that the Safeway Store was not crowded at all, plus were also pleasantly surprised with the selection and quality of the produce.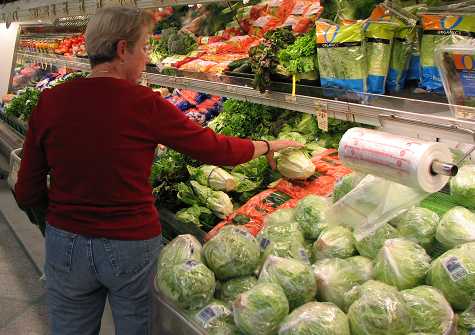 Just down the street is one of the old Wigwam Motels, so a photo was in order.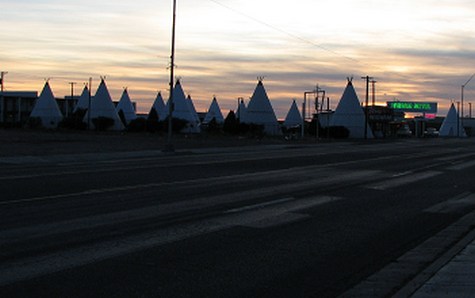 I would like to think that photo is emblematic of Route 66. This street was the old historic Route 66 of those many years ago, but now time has passed by both the road and the era it represented and so the rapidly dimming twilight is most appropriate. I did discover there is a very interesting history to the Wigwam Motels which began in the late 1930's in Cave City, Kentucky. Here is a link to this particular one, and here is some more general information posted on the website of the one in Rialto, California, which makes for interesting reading, or at least it does to me, the lover of things gone by.
Now just down the road was that local den of iniquity, the Holbrook bowling alley which is disguised under the name, P & M Lanes, being the place where the local reprobates were to gather tonight, a group of individuals which we were well acquainted with. One of the first things I noticed was the type of footwear which had been worn by the members of our group.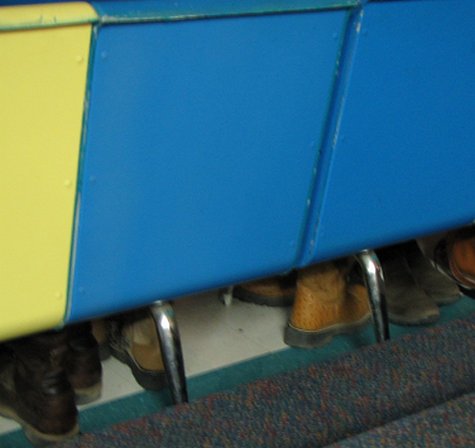 To think that Linda had suggested I should wear shoes, as boots would be out of place. After all, what in the world did she think a bunch of people who work for the National Park Service wear on their feet. In addition I won't even begin to go into the condition of the socks that I observed. When the Park Service says they don't have enough money to do what they want, they mean it in more ways than one. It's beginning to look like one of those jobs you do because you love it, not because of what it pays. Linda was eager to join in the fun and she was soon shod in the appropriate footwear but was a little lacking in the fundamentals of the game. I'm not sure whether she was looking for the rules, or just acting liking like she knew what she was doing when I took this photo.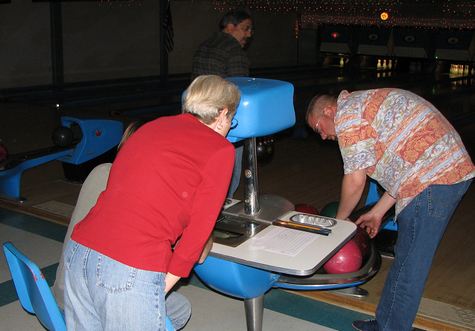 It didn't take her long to get into the swing of things and start racking up the big scores. Here she is turning from her best throw of the night, notice she is showing how many pins she had just knocked down.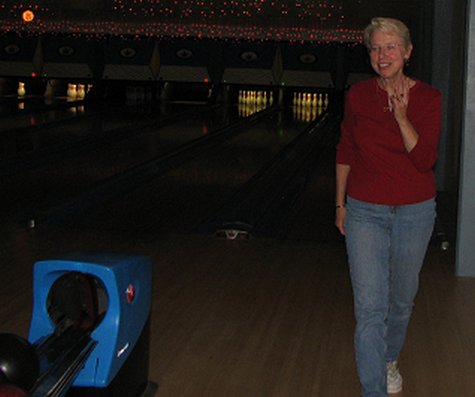 By the time she was done bowling, if you could call it that, the pins at the outside edges of her lane would probably soon need replacing, she had banged and battered them so much. I wasn't sure but I thought I heard here tell someone that, "Everyone seems to be always knocking down the ones in the middle all the time, so I thought I'd just knock down the ones at the edges." It may have just been my imagination working overtime, but on the other hand, I could really see her saying something to that effect.
The great thing about bowling is that once you are finished with your turn, you can retire to the back of the alley and watch every one else make a fool of themselves. Here is a recent set of the former watching with glee as others emulate their recent actions.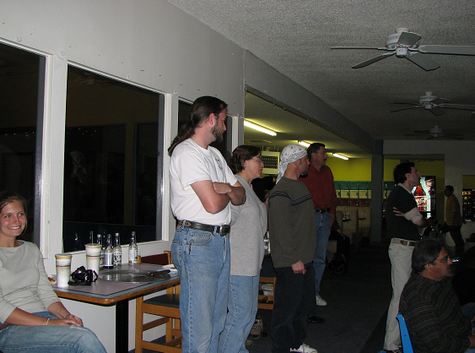 My final take on Linda's bowling was that while her score wasn't very high, after all she was the oldest person bowling, you'd have to go a long way way to find a better looking bowler in the bunch, which is my story and I'm sticking to it.
Before I go, let me admit to taking up the mantle of photographer tonight, letting the bowling be handled by the younger set. Not that I'm afraid to make a fool of myself, doing that on almost a daily basis, no, it was rather that two consecutive days of cross country hiking had taken a toll on my ancient body and I was also focusing on the morrow when we had yet another cross country hike planned. Thus I thought it best to pass on this opportunity for more exercise, aka, pain and suffering..
Back at the coach, we had low fat Ricotta cheese flavored with almond extract and stevia topped with slivered almonds and bittersweet chocolate chips for desert, something that we haven't had for a long time, but which tasted wonderful. Every time we eat like this I thank my lucky stars we stumbled onto that little blue book by Dr. Arthur Agatston. What a difference it has made in our lives.
---
---