Journal Archive 11/21 - 11/30 2007
Scroll down to read the latest post
November 21 Wednesday
Our first morning in Quartzsite and how wonderful it was to watch the sun rise over the mountains to the East. Always before when we have stayed in Quartzite we have faced the West, mainly to maximize the solar panel effectiveness, but also to allow us enjoy the view of the nearby mountains to the West and the nightly beauty of the setting sun. That was why the sun cresting the mountains and pouring into the coach was such a welcome sight, though it also helped that the sun was warming the interior of the coach, it having been a brisk 56 degrees when I first got up this morning.
It didn't take Linda long to figure out how to enjoy the view once she was up and getting on with Life. Once her coffee was brewed she knew just where to sit to get the greatest pleasure from that first cup in the morning.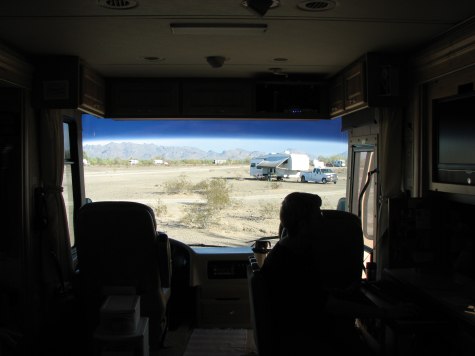 We spent most of the morning just getting caught up on things, as I worked on the Daily Journal, and Linda worked on her financial record keeping. Since the Hi Jolly area where we are staying, is a 14 day free area, the turnover of vehicles is fairly significant, partially because of it being just a few miles north of town, a good number of through travelers use it as an overnight stopping point. Deciding to take a break, we took a walk and happened across a rather interesting grouping of rocks. It was off the side, outside of the camping area, and try as we might, we never did figure out who Gene was, or if he was still here.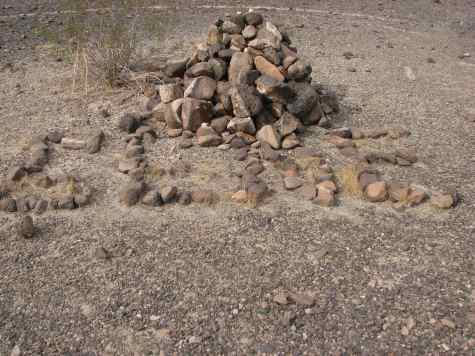 Once we had gotten our exercise and returned to the coach, Linda decided it was time to do a little advanced preparation for Thanksgiving Day. Since Thanksgiving pies are always baked ahead of time due to the oven being occupied with the turkey on Thanksgiving Day, she set about making our pumpkin dessert. It didn't matter that it was not a pie, neither that it didn't need to be cooked, nor that we would be doing the turkey in the grill tomorrow, it was tradition and traditions are important to Holidays. Besides the pumpkin fluff dessert, the recipe for which can be found on the desserts page here, there was also a cranberry sauce cooking on the stove, plus the bread for the stuffing had been put out to dry.
The bread was something different this year because when we had gone to the Great Harvest bakery last week, Linda had spied something different, stuffing bread. Not bread for stuffing, stuffing that was bread. There is a definite difference in the two, the former requires application of butter, onions, celery, thyme and sage to create stuffing. The latter only requires that you eat it, all the goodies that make it stuffing having been baked into it. To bite into a warm, moist slice is just like picking up a forkful of stuffing off your plate, which made me wonder why she was drying the slices, since they were ready to go, straight from the package.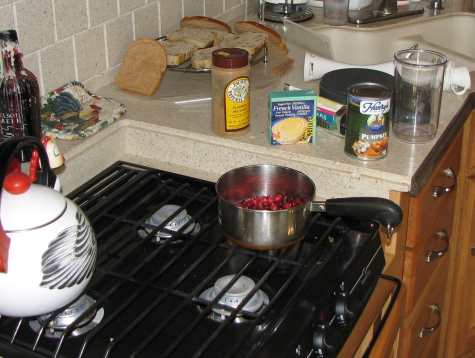 Once it was explained to me that if the bread was dried out, it would absorb more juices from the turkey, I saw the wisdom in her actions. It was one thing to prepare for tomorrow's feast, but what about tonight's few crumbs, or at least I was told that was what it be unless we got to the grocery store. We had closed out the chest freezer when we had been at the house, so we had an RV freezer full of things that helped make things, but not the thing itself. In other words, we had no meat, save our turkey, so off to town we went, saying a temporary good-bye to the coach.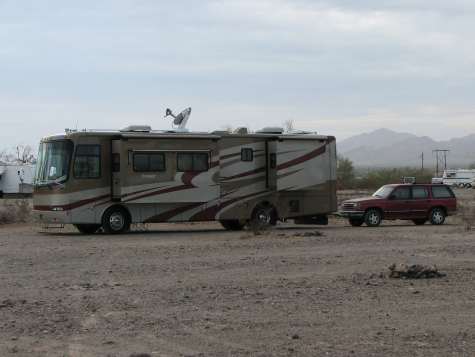 Our, her, first stop was at the Post Office, and upon exiting Linda remarked that Jeff, the fellow who had replaced our windshield, was supposed to have a tent nearby for the winter. Looking up, what did we see across Main Street, but Jeff working on the tent. We crossed over, had a nice visit, and wished him luck.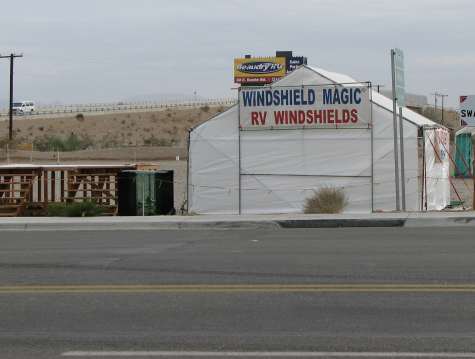 Last year they were putting up the Big Tent when we had arrived, this year all we could see the vacant lot. The white posts resembling bleached bones, and the dirt and gravel, the dusty remnants of what was, and a harbinger of what will be be. We will miss the excitement, the friends, the prospect of another trip to Mexico, but this year it had been Texas that had called us. The opportunity to live somewhere new, to see Linda's sister, to share the love of history, the story of the War in the Pacific, and the sacrifice made those who gave us the opportunity to live like we do, was something we wanted to experience.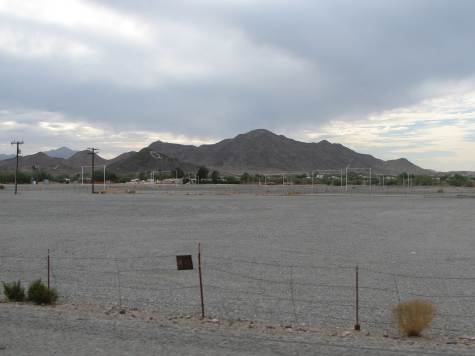 There are two grocery stores in Quartzsite, and each has their pluses and minuses. Since this trip was to secure meat for the nights table, we weren't sure which would be be the better one. The General Store being the one furthest East, was our first stop. As expected, on the afternoon before Thanksgiving there was a good crowd of shoppers. The store has a meat counter and many people swear by their meat, but there was just nothing that appealed to Linda. We did find some fresh chicken breasts, but at $2.99 a pound and with a color that was grayer than Linda looked for in fresh chicken, it was back to the Explorer, and a short drive to the West, where we tried to find a parking spot at the Roadrunner Market.
That first action, trying to find a parking place, was something we took as a good sign, making for a busy store where people shop. It was indeed busy and the wait at the meat counter was one to try a lesser persons patience, but Linda had her eye on some really meaty pork country ribs, so she was the picture perfect woman, rather than the %*@#$ she oftentimes can be when she sometimes has to wait. On our way to the checkout, we walking by the produce section, and while most of the wilted and browned vegetables didn't deserve a second glance, she saw something which, deserved far more than just a glance, it deserved to be on our plates. Pencil thin, firm asparagus for $2.19 a pound, it had indeed been a good trip to town.
Back home I set about building a fire ring for pyro-mom to do her thing. We had brought along wood to burn while we were here, something that was most definitely going to happen, either that or the wood was simply going to be left for the next person. Understand that while there are rock fire rings everywhere, there wasn't one exactly where we needed it, in the lea of the coach, neither too close nor to far away. Once it was constructed, it didn't take her long to put it to good use, burning the junk mail that we had received with our name on it. It got so bad, the flames threatening to envelop me, that I was forced into the coach while she played.
The pork had been simmered in the tomatilla sauce for about two and a half hours, when Linda pronounced it was time to shred the meat and mix it into the sauce, a job that usually falls to me, tonight being no exception. We ended up with enough for about six meals, but the best part was when Linda made us each a pork quesadilla, which was topped with sour cream and salsa. It was a nearly perfect meal, and we could only try to imagine what it must be like to only eat one kind of food. Life, meant to to experienced in so many ways.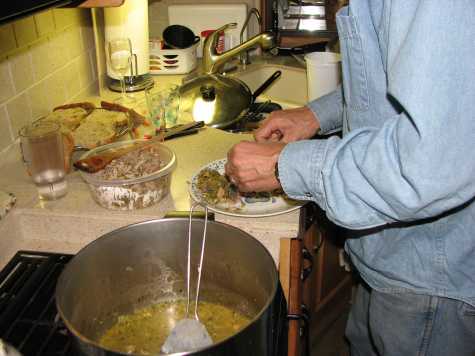 A day in Quartzsite is just not complete without a spectacular sunset, and tonight was no exception, whether it was looking to West...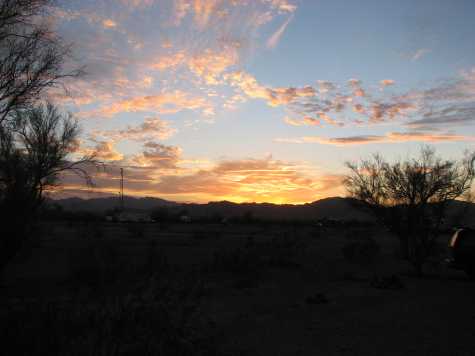 Or to the East...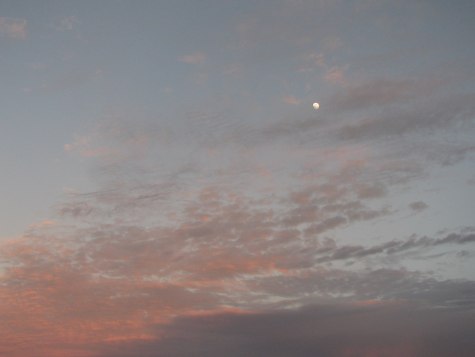 The show was one that reminded us of why we so very much enjoy boondocking out in this place in the Arizona desert.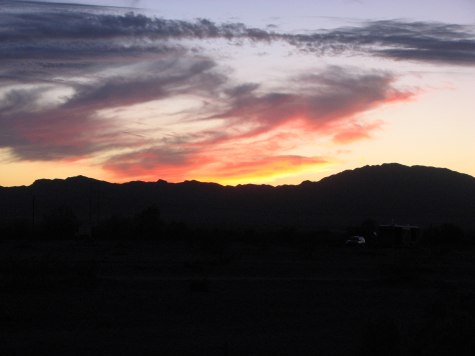 ---
November 22 Thursday
Thanksgiving Day dawned clear and cold, and even though you didn't need the thermometer to know that little fact, it didn't hurt to take a peek at it.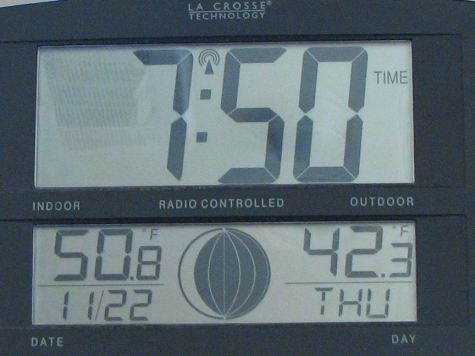 While it wasn't exactly frosty, neither was it what you would call warm, so it was a morning that saw neither of us leap out of bed. However, once were up the entertainment was not far away as our nearest neighbor was busy burning his trash. It was interesting watching him slowly disappear in a dense cloud of smoke for a time, then reappear, only to once again be enveloped again. I could only wonder how his lungs were reacting to what they were being subjected to.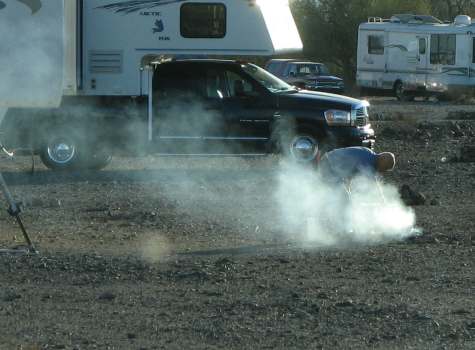 Somehow or other we managed to lose most of the morning, suddenly discovering it was 12:30 and way past the time to start working on the turkey, especially since our plans had been to eat around 2 o'clock. We debated the best way to grill the breast of bird, finally deciding to cut it in two before grilling it.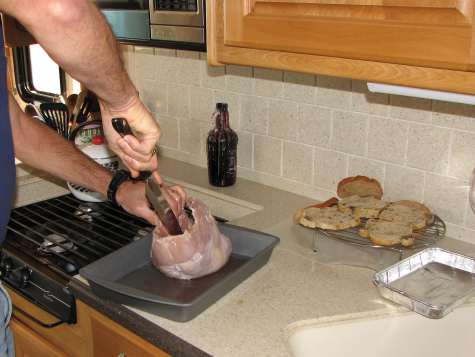 Once it was out of the package we discovered the joke was on us. For some reason we both had thought it was a boneless breast, something it most decidedly was not. Out came the chefs knife and after a struggle that consumed more time than it probably did to kill, dress and de-breast the thing in the first place, we had it cut in two. They also included a little surprise inside, a 10 ounce gravy packet, so we never did figure out just how much meat we actually bought, but I do think we won't be buying any more Butterball turkey breasts in the future. When they wrap it in something you can't see through there is usually a reason. Whatever the Butterball people's reason was, we won't be fooled a second time.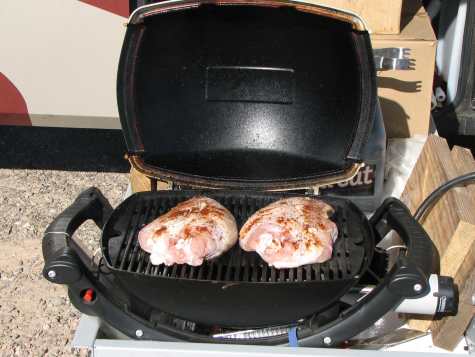 We did add our own special twist to the turkey, rubbing it with olive oil, patting course ground pepper over it, and finally dusting it with paprika. Then it went on the grill where it was going to cook for an hour and a half, at which point we would take its temperature. As I worked on the bird, Linda was busy cutting the bread and other ingredients to make the stuffing. There is just something about onions and celery cooking in butter that screams Thanksgiving Day Dinner.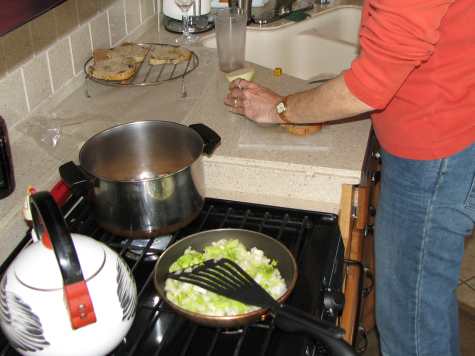 The weather had also warmed up from this morning, something that made for a change in Linda's dress, as she decided shorts were the uniform of the day.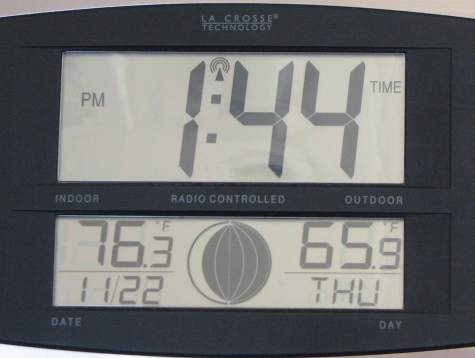 I tried several times to get a photo of the legs of hers, but the blinding white light just completely ruined the photo each time. Falling back to cause and effect, I could only show the cause, not the effect.
It was while waiting for the turkey to cook that Linda took a page from the past and got out her honey do list. We had gotten several things done last week, but she still had several more on that hundred foot long piece of paper. First off was fixing the cabinet door latch on the cupboard above her work counter. Once that was done to her satisfaction, it was time to straighten the windshield wipers. For some reason, rather than being level, one side was up a couple of inches, and the other was down. It took a while to figure out how to adjust them, but once I did, they soon as good as new.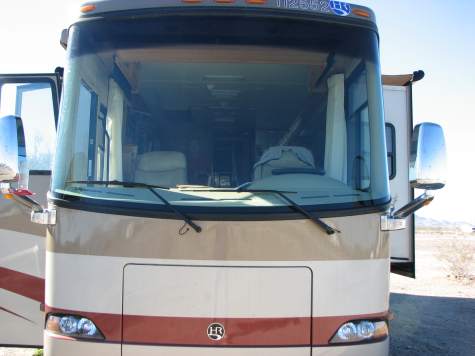 As I was gathering up my tools, I thought I saw movement out of the corner of my eye. Thinking that perhaps I had tightened the wiper improperly and it was drooping, I stepped back to take a look. Needles to say, what I saw came as a shock. It also made me wonder what was, or maybe had been, in the container she was holding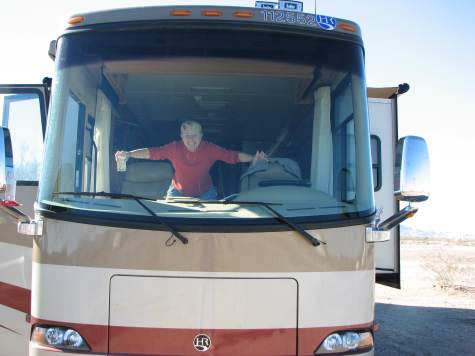 Eventually the turkey timer went off, the thermometer confirmed the bird was cooked, and a photo of the masterpiece was taken.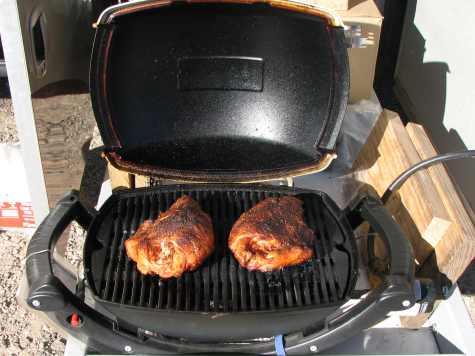 The meat was sliced, the sweet potatoes and stuffing dished up, the obligatory Thanksgiving Day meal photo was taken, where I just made it to the chair before the camera went off, and we dug in.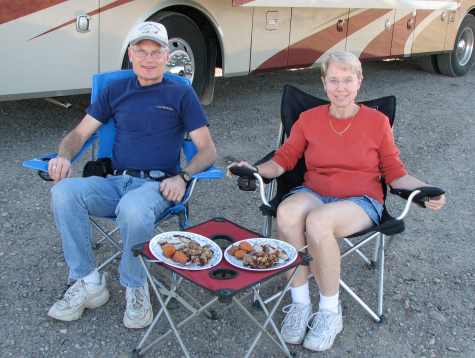 It only took me one bite to discover something was wrong, but in short order I had run into the coach, found the cranberry sauce and was spooning it out onto my plate. For tasting so good, why is it that we always seem to gobble down this meal? Today was no exception and I'm not sure who was done first Linda or me. It would appear that not even the camera was fast enough to capture the victor in the clean plate race.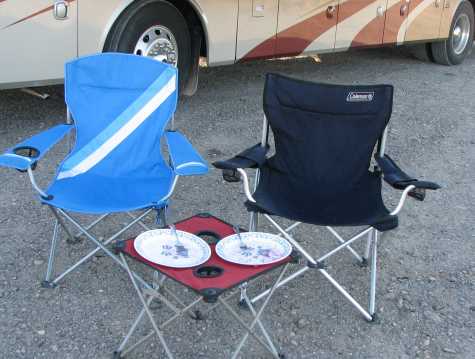 To cap a perfect day, we had pumpkin fluff for dessert, then in the evening enjoyed leftover sliced turkey on a thin slice of stuffing bread covered with a swipe of cranberry sauce. Then it was time to sit around the campfire and reflect on all the things for which we are thankful. I'm sure our list was just as wonderful as yours, and after a cup of warm hot chocolate, we called it a day.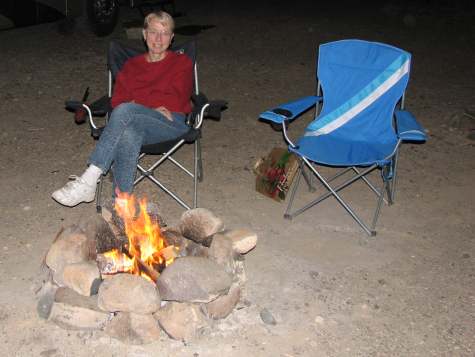 ---
November 23 Friday
The day after Thanksgiving is supposedly the biggest shopping day of the year, and Linda wasn't going to be left out just because we were living in the middle of the desert, after all that's why we pay all that money to have a Internet connection.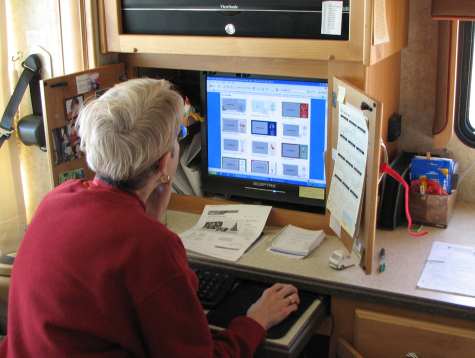 It turned out she was just looking, not buying, but something tells me the buying will come later. What she was looking at were Christmas cards with our photo on them to send to family. At first she was looking at Snapfish, then I suggested she take a look at Wal Wart. The same thing was 33 cents each at Wal Mart vs 55 cents at Snapfish, plus delivery was free if you picked them up at a Wal Mart. Since there is going to be a SuperCenter within a mile or so of where we will be staying in Fredericksburg, we will probably go that way when the time comes.
Unfortunately it was one of those days where the restless urge to do nothing overcomes the desire to do something. After fiddling away most of the morning on the Internet, but give us a break as we haven't had a day to do nothing for a long time, we finally decided to do something, eat lunch. Rather than the usual turkey rollups, we opted for another turkey meal, grilled turkey breast on stuffing bread with cranberry sauce. If that sounds familiar it should, it's what we had for dinner last night. Don't ever try to tell Linda she doesn't know a good thing when she sees it. Also don't try to tell her that you just had the same meal yesterday or you'll find yourself fixing your own sandwich.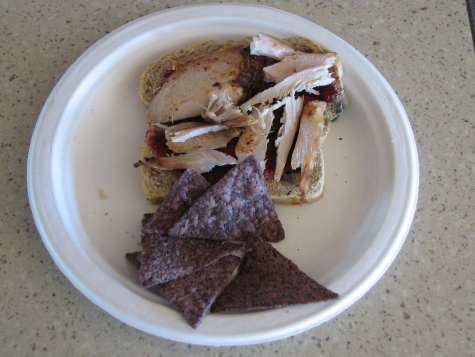 The food seemed to revitalize us and soon we were driving east on Dome Rock Road, looking to find a place where the little old prospector could do her thing. No sooner had Linda started metal detecting than I teased her about the similarity between the old man Sagauro Cactus and the old woman Prospector. She turned around and pointed out that in the desert, there is often a burro near the cactus plant, but in this case it wasn't a burro, it was a jacka$$, and it was taking her photo. I knew when I was whipped, oh why, oh why, did I have to marry such a sharp woman?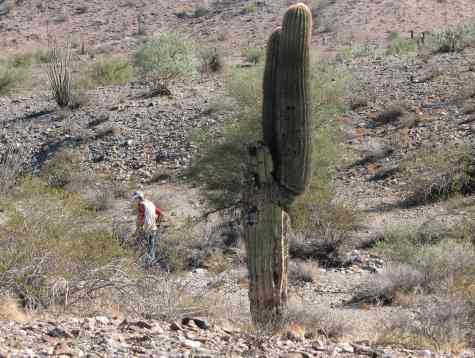 I had to admire her patience and work ethic, as she spent nearly an hour fruitlessly searching the dry washes for any hint of gold. Every once in while she would get a signal that something was in the ground, unfortunately it always turned out to be a tin can lid or some other iron object. Rust, not gold, seemed to be her color for the day.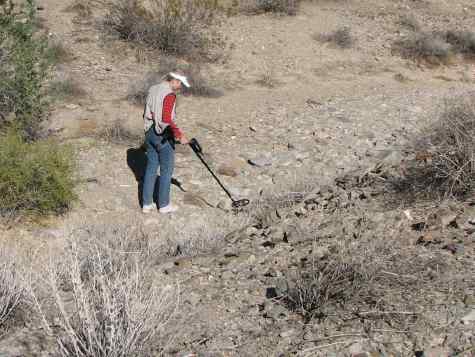 All the while she searched, I sat and read a book, though I did get up occasionally to move in the direction she had disappeared. Somehow or other the story I was reading about two people trapped in cave on Christmas Eve seemed just a little out of place in the setting in which we now found ourselves. Looking around I began to see the beauty of the desert, whether in the mountains, the rocks or in something as simple as several small plants growing in the protection of a low rock.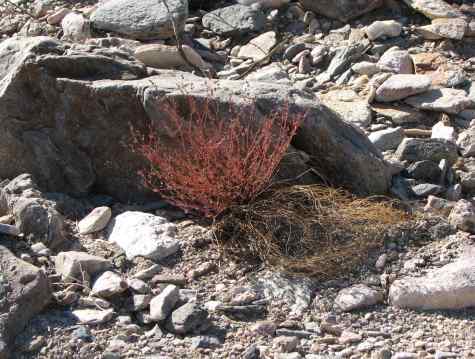 Once she had decided that treasure was not going to be hers today, it was back to Quartzsite to do a little shopping. Little is the best word to use to describe what were doing, since we did virtually no buying even though great deals were to be found in abundance. It was just that with the "gotta have a place for it, or something has gotta go", rule it is tough to justify something you don't really need. As you can tell, we weren't the shoppers who weren't exactly flocking to scoop up all the bargains that were available.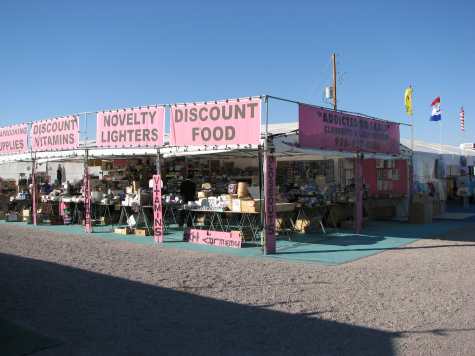 Before heading back to the coach we decided to take a drive down to La Posa North, the LTVA area we had stayed in the past several years and check out the old neighborhood.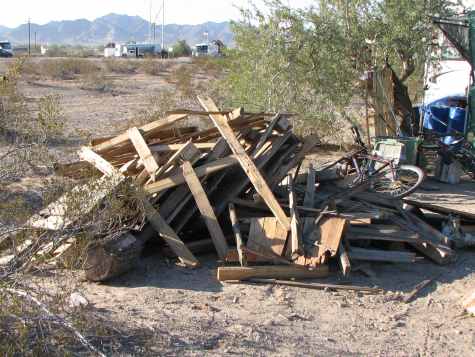 Actually it isn't at all what it looks like, at least it's not if you're a devotee of Quartzsite camping, in which case you'd recognize it as one of the many wood piles that people gather up so they can ward off the cool evenings with a fire. In this case it was the wood that Ron & Terry of the Hitchitch website had collected. They had recently posted they had been unable to acquire much wood, but it looked to us like they were doing okay. The only bad thing was they were away when we stopped by, so we will have to wait till next year to see them again, as we are heading off to Texas tomorrow. I like the ring of that phrase, "heading of to Texas tomorrow."
Back home, we sat outside, freezing our little you know whats off, and watched two hummingbirds fight over who owned the property rights to the feeder we had out. Picking up on the eating part of what we were watching, once the four o'clock alarm went off, we feasted on peanuts. Okay, we snacked on peanuts, then read for a while before having leftover Barstow Salmon Patties with sauteed asparagus for dinner. Later it was time for Linda to prepare herself for the next month of Ebay selling, as she started researching how best to list the items she had brought along.
Things may not have gone exactly the way we had planned today with the treasure of Dome Rock still safely buried and old friends missed, but any day when we live this Life, even one that is less than perfect, is far superior to a good day in the life we used to live.
---
November 24 Saturday
Moving day today, which we would probably be doing even if we weren't moving. The Canadians have moved in big time and we are becoming surrounded on all sides. You know how it is, kinda like that Tennyson fellow put it:
Canadians to the right of them
Canadians to the left of them
Gollied and blundered
Into the desert, where they wanted to dwell
Drove the many hundreds.
Well, maybe it wasn't quite that way, but you got to believe, there were Canadians parking everywhere, so we were outta there. Besides, if we didn't leave this morning, we might end up being late in arriving in Fredericksburg.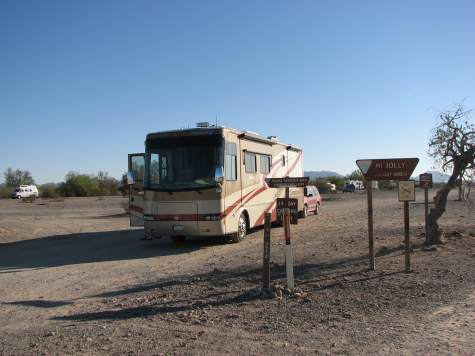 Our route took us across I-10, then down Arizona Rt 85 to I-8, and back to I-10 again. Every time we come this way we marvel at the fields of cotton along the road, and today was no exception.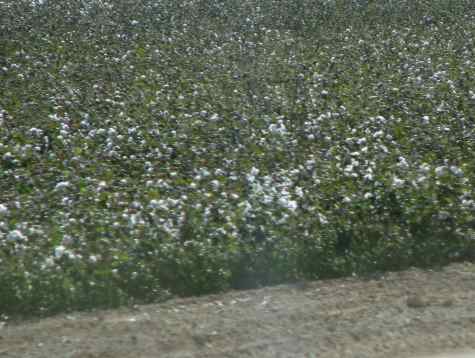 Linda was really been diligent about taking her turn behind the wheel, and today was no exception. I hadn't been driving but for about an hour when she said she wanted to drive. She ended up driving for about an hour and half before she got tired, then pulled over at a rest area so we could eat lunch. It turned out to be a long day, as we had left Quartzsite a little after 9 o'clock and didn't get to Bisbee until nearly 4:30 (includes an hour of time change), so you can see the method to her madness. It also got her out of having to drive through all the construction in Tucson. Was it that I wasn't very smart to marry such a smart woman, or was it that she was a smart woman to marry a man who wasn't too smart?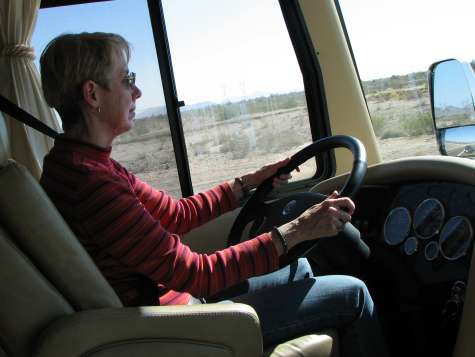 As we usually do, we listened to a book on tape while we drove, which really helps to pass the time on days like today when we are more interested in miles than the sights. There is one thing that Linda can never resist, which is the Saguaro cactus that grow along the road. She takes enough photos of them that we could probably fill a hard drive with her slightly blurry photos.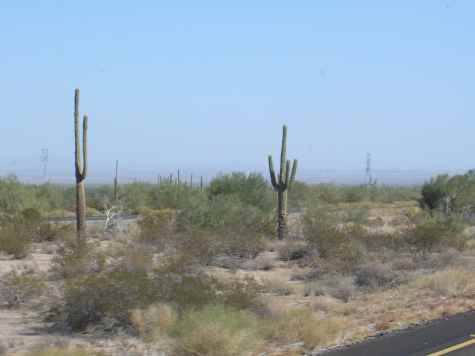 Once we had passed through Tucson and turned south towards Bisbee, the weather started looking somewhat foreboding, the dark storm clouds piling up against the mountains. We thought it was rain, but heading up the last long climb before Bisbee we discovered it was something else.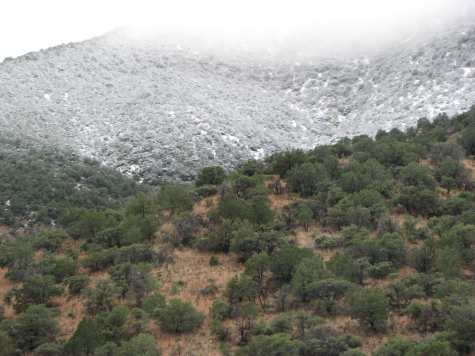 At first we were excited thinking we would be getting into some snow. But then the reality of driving in the mountains in the coach in the snow hit us and the higher we climbed the more the weather changed. Near the top of Mule Shoe Pass, the snow was at an elevation only a few hundred feet higher than the road, and such a pretty sight it was. The last obstacle was the one thing I don't like to encounter, a tunnel, though I will admit this one wasn't bad as we met no oncoming traffic, plus it was quite wide.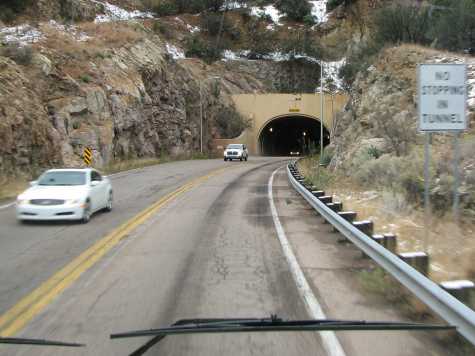 Then it was down the long grade into Bisbee, and after a couple of very sharp tight turns we arrived at the Queen Mine RV Park. We had called for reservations based on our visit to Bisbee last winter and we were glad we did since the park was full. Tomorrow should prove to be a good day when we can spend time simply being tourists. We did wash several loads of clothes, then disconnected the water line since it was supposed to get down to 24 degrees to night, we are in the mountains after all. The Quartz heater was making the coach nice and warm, the ice cream and pumpkin fluff made for a perfect dessert and all was right in our world. Life is good.
---
November 25 Sunday
Sara N. Dippity was in charge of our morning, our erstwhile guide leading us to something that we had only seen of TV until now. It started last night when we made our daily check of the DataStorm map to see who might be nearby. (The DataStorm map can be brought up by clicking on the "Where are we at" links found on all of our website pages.) There was another user shown near Tombstone who had the following comment posted: Here for the "Ace Larue" Memorial SASS match by the Tombstone Buscaderos.
Not sure what that was all about, but ever curious, I learned after a few Google searches that there was a Cowboy Action Shooting contest being held this weekend. Reading that it was similar to the mounted cowboy action shooting we had watched in the summer of 2006 while in Ohio, we thought, why not go and watch this one, especially since it started early in the morning which would give us plenty of time to drive up to Tombstone, watch and still do everything we wanted in Bisbee.
That's what we were in the process of doing morning, except it was 27 degrees outside and Linda was not going to stand outside in the middle of nowhere freezing her cute little butt off. She had already started dressing for the weather when she got up this morning, and this was only to do things inside the coach, not outside.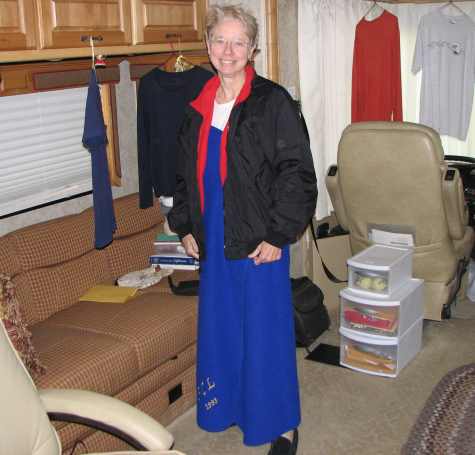 As you can see, her ensemble consisted of a blanket skirt and my jacket, and when I opened my mouth to comment on her mode of dress, she said, "Either I'm warm or you cook breakfast." I simply complemented her on how nice she looked. Once breakfast was over and it was time to venture outside, her preparations included silk long underwear, one of my tee shirts, a turtleneck sweater, one of my wool sweaters, wool socks, a stocking hat and heavy insulated winter gloves. She also brought several jackets and coats of various weights. She called her mode of dress, layering, while I was unable to call it anything, staring, speechless that a human being could even move when bundled up to this extent. I thought about making a comment to the effect that we weren't going on an expedition to the Antarctic, but fortunately thought better of it.
The cowboy shoot was being held outside of town, and all the participants were dressed in costume. To say that we had a fascinating time would be a pretty good description. We spent time talking to some of the participants learning what was going on, watching how everyone helped each other, and how safety conscious they were. We also learned how they kept score and were invited to use their guns and ammunition after the shoot to try our own hand. We had to decline the latter, but only because we couldn't stay to the end.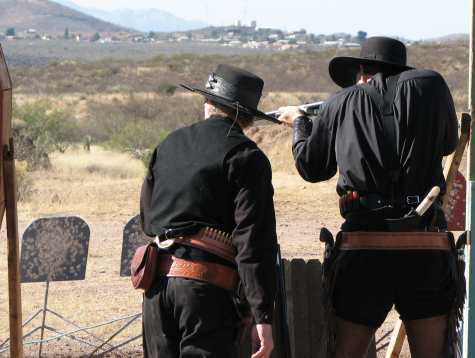 I find the above photo much more emblematic of what Tombstone is all about than what we discovered on our trip down here last year, and most especially similar to those mental images of Tombstone this little boy had those many years ago. The shooters in the foreground, Tombstone rising up in the background, a connection with the past, history come alive for a brief instant. The stuff of dreams.
We learned that there are many different categories of competition, based on age, dress, shooting method and type of firearm used. We also got to see the world champion cap and ball shooter in action, and just watching him in the reloading process you could tell he was somebody special. The best part of all was how he spent time with the other contestants helping them with their technique. As one of the people we were talking to told us, both the dressing to the part and the marksmanship are all great aspects of the sport, but the best part of all is the people. To which, after spending several hours being totally enthralled by what was going on, we could add a hearty amen.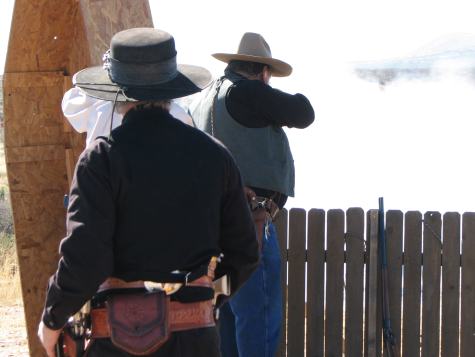 We enjoyed all that we saw , whether the enormous blasts of smoke from the black powder shotguns or the sight of the all the different wagons and carts they used to contain their shooting gear.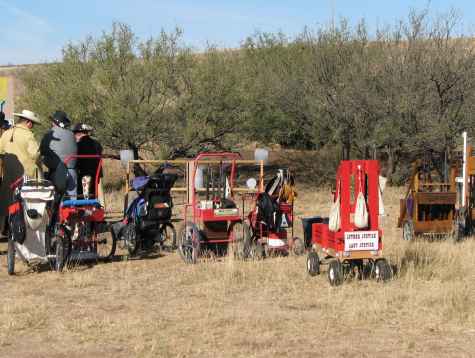 One of the statements they make is that this is as close to the old west as you will come short of a time machine. Here is a link to one of the websites about the sport, but a Google search of either SASS or Cowboy Action Shooting will turn up many more links. It had been one of those things that pops into Life, that you can either grab hold of or ignore. We were glad we grabbed hold of it, but then that's also why we are living this Life.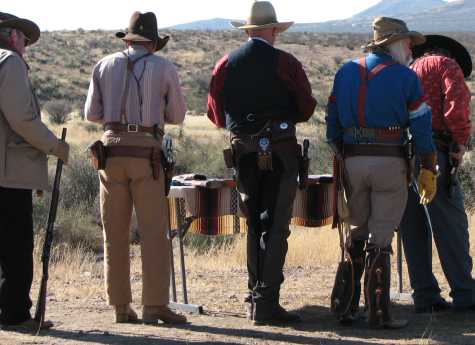 Once we had returned to Bisbee and walked into the old town area, it wasn't as if we were still in the past, but still, we were jarred into the present. The sidewalks were marked by the processions of tourists, the shops selling the trinkets (and trunkets) that tourists want, when we wandered into the clutches of the Old Bisbee Roasters, a cart in a narrow alleyway that provided an alternative experience. We were walking down the sidewalk when a cheery voice coming from somewhere said, "Could I interest you in a free cup of espresso?" Which was how we ended up with a pound of Papua New Guinea Water Process Decafe custom ground especially for our little espresso maker.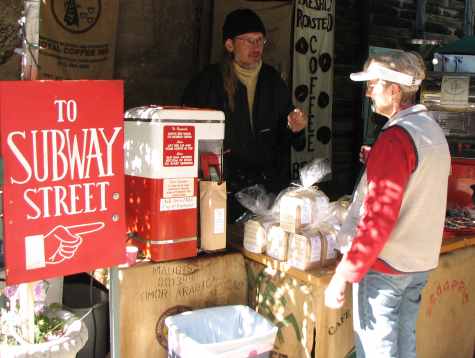 We had a great time after that, wandering in and out of shops, buying those special things that we just couldn't do with out and being entertained at the same time. One of the really nice things about a town like this is that if you go into enough shops you will occasionally run across the artist who made the item you are looking at, no made in China junk for us, which opens up a whole new experience.
Linda ended up with a ceramic sponge holder that will set beside the sink, a small metal Kokopelli to hang on the wall above the microwave, and a twisted copper wire bracelet to wear on her wrist. Not bad for an afternoons shopping if I do say so, plus each and every one was bought off the artist who created it. Of course you also have to understand there were all kinds of things we didn't buy, but who knows, they may be something that would fit perfectly in your decor.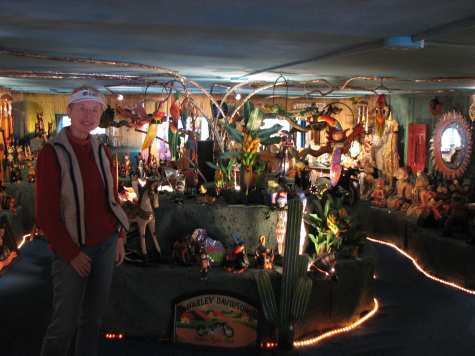 What with all the hard work of lugging Linda's load of treasures around town, a pound of coffee gets mighty heavy after an hour or so, it was time to renew our energy reserves, so down Main Street to Cafe Cornucopia we went. This was the little hole in the wall cafe we had eaten at last year, and we were looking forward to repeating the experience. We weren't disappointed as today we had raspberry lemonade, a half of a meatloaf sandwich, a cup of soup and an accompanying thick slice of bread. Ginger carrot soup, the same as last year for me, and chicken tortilla for Linda. Linda liked her soup so much we bought two bowls to go so she wouldn't have to worry about fixing supper.
Other than the raspberry lemonade, we had asked for the tangerine but unfortunately they were already out of them, and Linda's chicken tortilla soup, it was the same meal we had last year. A meal that turned out to be just a good, or maybe even better than last year because of the anticipation, but we will echo the reviews we found on the Internet, it's really great food and more than worth the visit.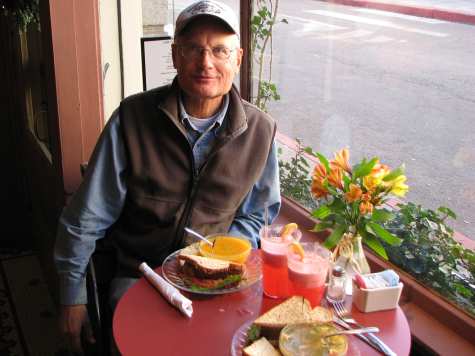 We had one last thing we wanted to do today, which was take the tour of the Queen Mine, something that we had heard was a, not to be missed, part of any visit to Bisbee. We had managed to miss it last year, but not this time. One you've paid for the tour and signed the waiver of liability, you are going some 1500 feet into a mine after all, they hand you a metal tag like what the miners wore on their shift. The tag is your "ticket" to get on the tour.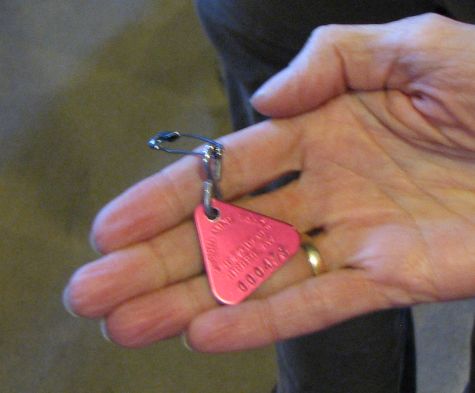 We looked at the mining exhibits while we waited for the tour to begin, then when they called out for all the red tags, we lined up and were outfitted with hardhat, raincoat, leather belt, battery pack and electric miners lamp.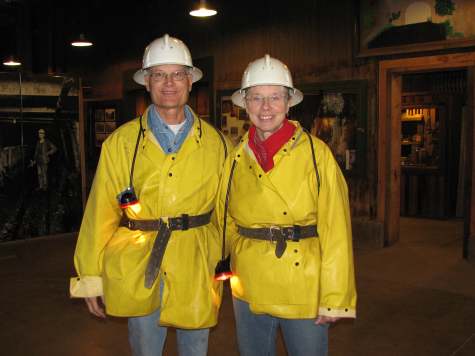 It's one thing to see what a little old copper miner and her strong, handsome husband look like from the front, but the family model wanted to also provide the view from the rear. (Lets see if that one makes it past the little old editor.)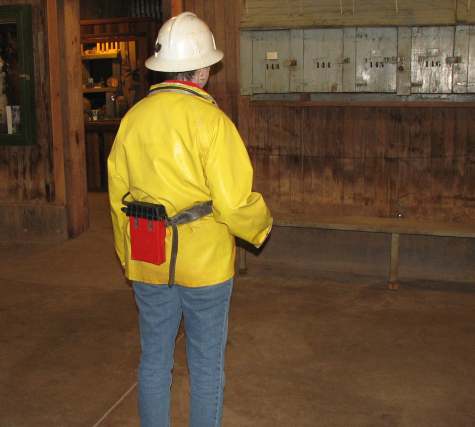 You ride into the mine on cars that carried the miners (I think).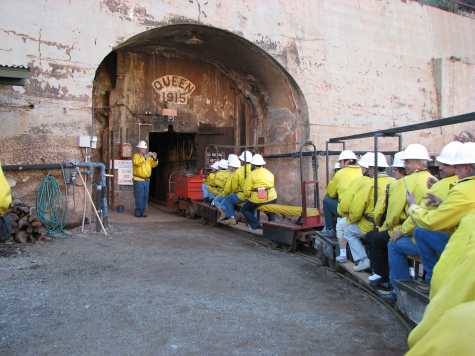 One thing we quickly learned is first, the interior of a mine looks pretty much all the same, and that there is a good reason they came up with the saying about the light at the end of the tunnel.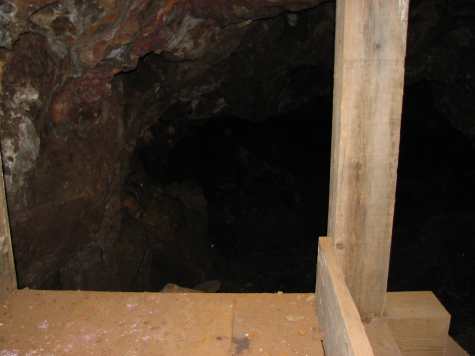 There were two stops inside the mine where we disembarked and walked to points of interest. The first dealt with the mine, the second with mining. Bet you can guess what the purpose of this car was.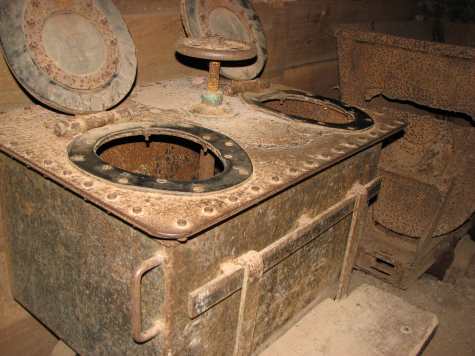 Imagine my surprise when I wandered off from the group and in a back corner, found a little old copper miner hard at work.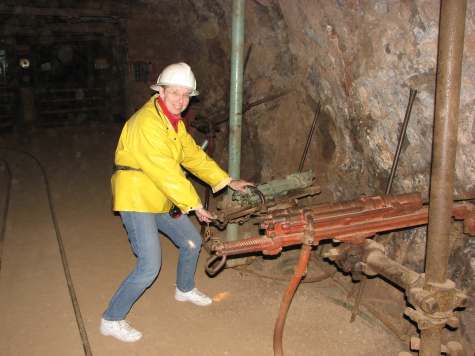 I watched fascinated as the powder charges were set, then realized I'd better get out of their before they went off.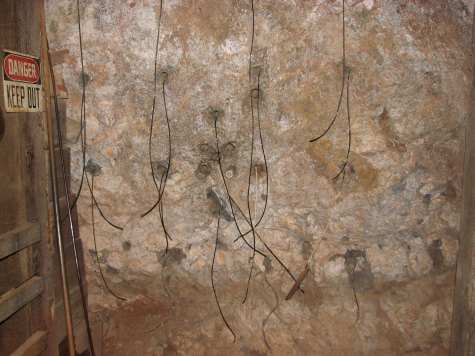 A glance up towards the mine roof confirmed what we were thinking, this wasn't no fake Disney experience, this was the real thing. No wonder they make you sign the waiver of liability form. By the way the mine was shut down in the 1940's and there is no mining taking place today.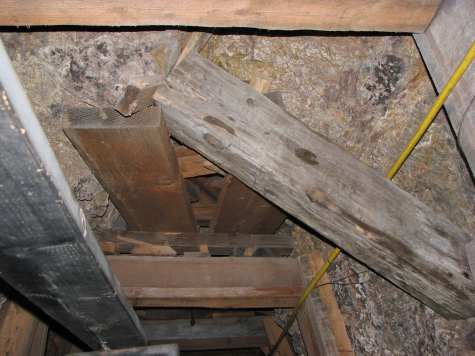 Back once again in the light of day, we changed out into our normal clothes, yet we were different. We had experienced something we had wanted to do for a long time, something that brought me closer to my beloved "Unky" than anything had in years. He had, for a time, been a miner, I can still remember his miners bucket when I was a little boy, and while ours was but a brief trip inside, it was a wonderful experience. Once again I had been able to reach out and touch the past. Once again a connection had been made. Life, its little bits and pieces sometimes fitting together in ways unimagined.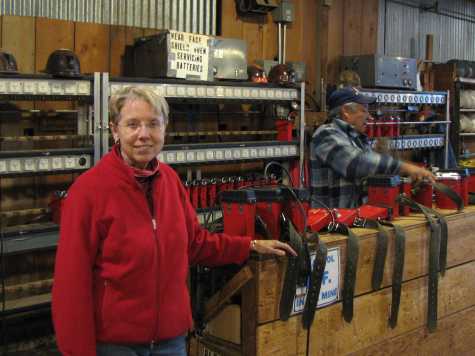 ---
November 26 Monday
We were leaving Bisbee this morning, heading east towards the town of Columbus, New Mexico, one of the most famous towns in the United States. It was while we were getting ready to leave that I noticed someone acting in an unusual manner down below the RV park.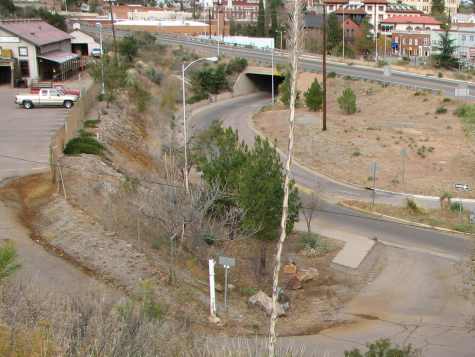 As you can see, it was very hard to make out what, or who it was. But by using the power of the telephoto lens in the camera, I was able to determine what was going on.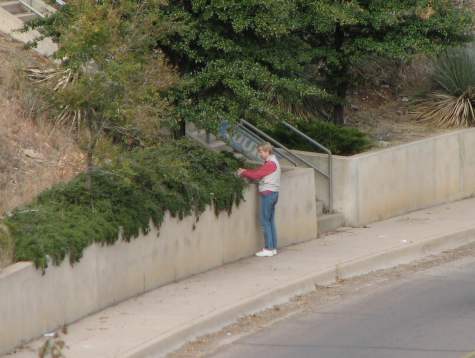 It turned out to be my wife, busily pruning the bushes along the sidewalk. It wasn't to make Bisbee look better, it was to purloin some fresh rosemary for future culinary uses. We had been discussing using more rosemary in our cooking and had intended to cut some off the plant growing at our house. Unfortunately we forgot to pick any, but had merely served to motivate Linda. Talk about fragrant, even though it is in a Zip-lok bag, the refrigerator still fairly reeks of the smell of rosemary.
Once Linda had returned to the coach, and we were getting ready to pull out, I looked down at the odometer to see another unusual sight.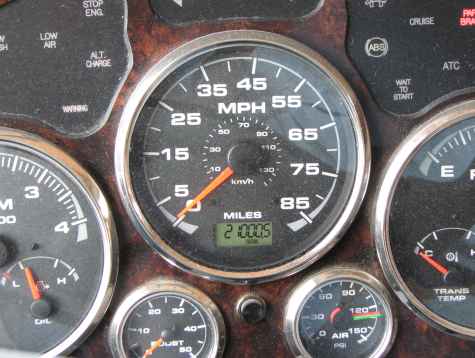 Today's destination, Columbus, NM, was near El Paso, and our plan was to take Rt-80 down to Douglas, then continue on it as it turned back to the north, then travel east on Rt-9. It was while we were driving across Rt-9 that met some unusual traffic. As you can tell, we pulled over and gave them as much room as needed to pass us.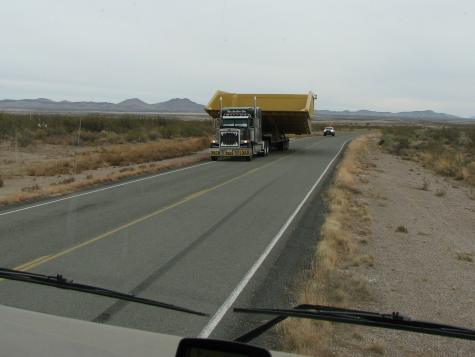 One of the other odd things we saw were the portable observation towers along the border. Down here the Border Patrol is everywhere. You see the white and green vehicles driving along the dirt tracks beside the paved roads where ever you go.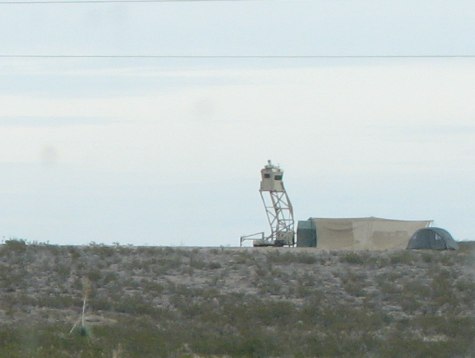 Columbus sits only two miles from the border with Mexico and it was this proximity which lead to the historical incident which took place in 1916.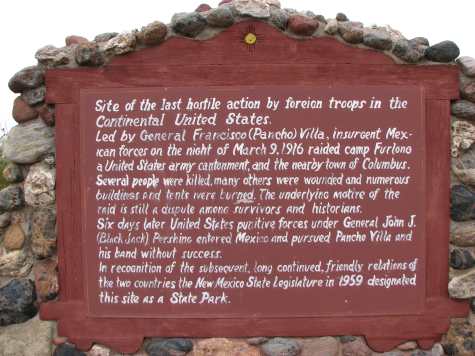 We were here because I had posted a question on one of the RV forums asking about Rt-80 and in one response, this park was mentioned as a great place to learn about Pancho Villa's invasion of the United States. Once we were settled in our site in the park's campground, we walked over to the museum. Just like yesterday, again today we had stumbled upon something which was more than we ever expected.
They had recently completed a new exhibit building and did we ever enjoy the displays. We discovered the pursuit of Pancho Villa had been the last hurrah for the horse mounted cavalry in the US Army, and had also been the proving ground for the modern mechanized Army forces of the 20th century.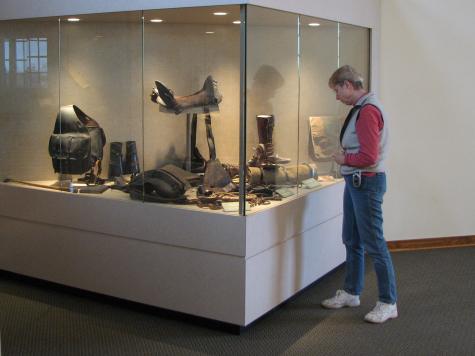 One of the more unusual exhibits was the car Archibald Frost drove from Columbus to Deming on his 35th birthday. He and his family had been awakened early that morning by the sound of shots being fired, and after observing what was happening, decided that fleeing in his car was the best option he had to save his life. The fact the Villistas had already shot him in the right shoulder probably had something to do with his decision, but once made, he loaded his wife and six month old son in his car and took off.
Realizing what was happening the Villistas opened fire, hitting him a again this time in the right arm. Driving out of town in a shower of bullets which fortunately only hit the car, they eventually made it to Deming. Here you can see Linda pointing to a few of the bullet holes in the car body. Once again, history had come alive for us.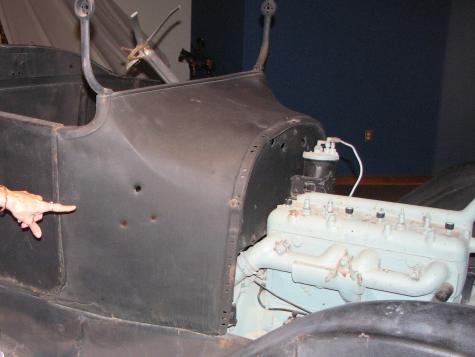 We also toured the small botanical garden that is within the park, and though we may not remember all the varieties of cactus and cholla, it was one of those, "I can't believe there are this many kinds," type of experience.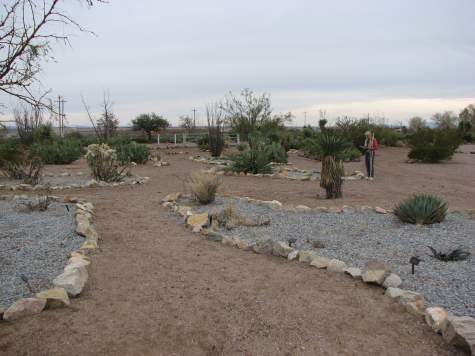 Back at the coach, we marveled at the setting we were in, what with cactus, cholla and yucca in abundance everywhere we looked.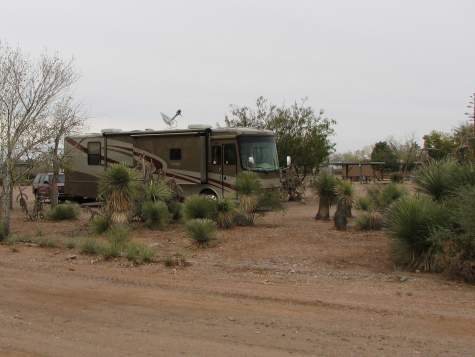 There was one other thing we could see, which was in the view out the front window of the coach which faced to the south,the lights at the border crossing. Then as we were eating dinner, a Border Patrol truck drove by right outside the fence from where we were parked. Experiences in Life, differing day by day, never the same, but what a shame to never have the opportunity to live them.
---
November 27 Tuesday
We had planned on imitating Pancho Villa, by spending only one night in Columbus, and while he was off to Mexico after his night in town, we are off to Fort Davis, Texas. If the roads to Fort Davis are similar to the ones we took getting to Columbus, it should be a great drive. And indeed that was the case, with only one minor exception, but before I get into our route, I'd be remiss if I didn't talk about the great breakfast Linda fixed.
As I was raving about how good it was, she couldn't understand why I was making all the fuss, because according to her it had only been something taken out of the refrigerator and microwaved. Of course she was leaving off the fact that then it was topped with a mixture of two things, one directly from the container and the other from the freezer, but when you've had a breakfast of eggs and onions for who knows how long, change is good. In case your wondering, it was the pancakes we had last week topped with Ricotta cheese and frozen raspberries, but don't let me tell you how good it was, have a look for yourself.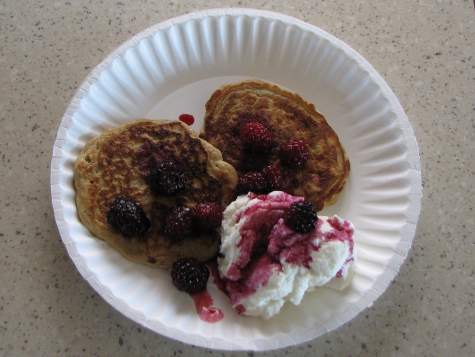 Once the dishes were done, and while I was working on the Daily Journal, Linda took camera in hand and documented the local flora. Her experience with the rosemary yesterday morning may have affected her, but I noticed she definitely wasn't into collecting samples this morning, only taking photos. At the museum we had bought two new walking sticks which had been made from the stalk of the yucca plant. I guess you could title this photo, walking stick plant, the word "plant" having two meanings.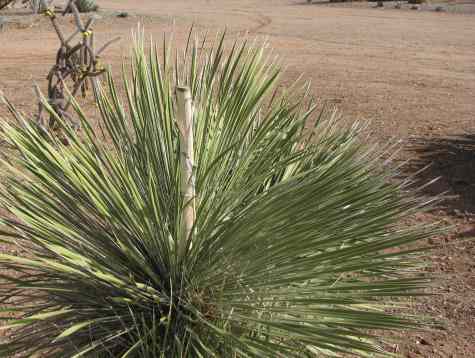 Of course there were cactus of all types.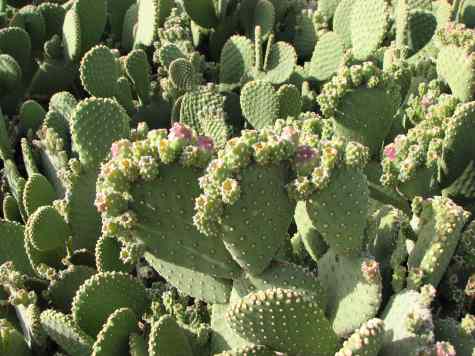 More cactus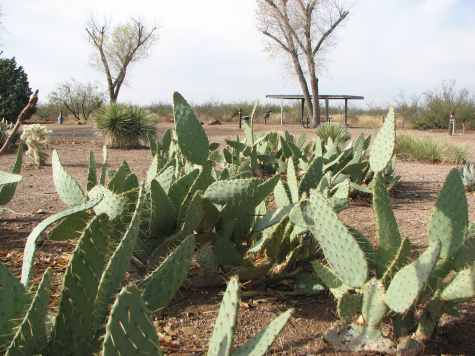 And still more, though this one is a cholla rather than a cactus.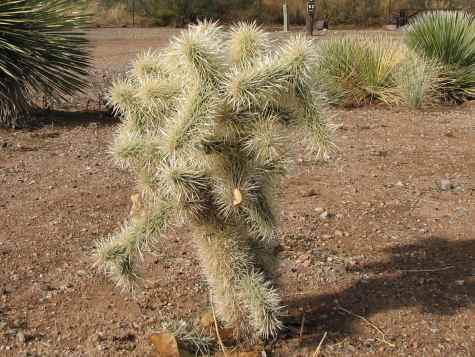 As we got ready to leave Linda recorded our mileage, while I disconnected the electric hookup. When we travel on a daily basis and stay in an RV park we very seldom hook up the water or sewer. The exception is when we want to do a load or two of clothes. We do record the mileage whenever we move, and try to post some statistics that give an indication of what our distances traveled and fuel costs are. Of course right now I am woefully behind in updating those numbers, Linda has had them up to date for months, I just haven't spent the time to enter them. That page also has our good intentions link, the one that says budget - coming soon. It's been coming soon ever since I put the site up and I have no idea of when I'll get around to doing it. Obviously it doesn't have a very high priority in the scheme of things as far as we are concerned. We can also give you the answer to the age old question, how much does it cost to live this way? For us it costs almost exactly what it did when we were working. It's the common answer you get on the forums, and for us it has proved to be true.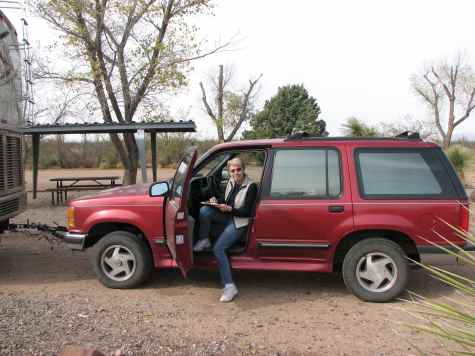 It wasn't long before we had crossed the last little piece of New Mexico and were in Texas and were soon on I-10 driving through El Paso. It had been almost two years since we were last in Texas, and I had forgotten how much I enjoyed driving on their wide roads that have the best signage of any state we have traveled through. It took a while to figure out what the little green arrows under the overhead signs on I-10 meant, but finally it dawned on us that they marked thru lanes as opposed to lanes that suddenly ended either at an exit or in a merge.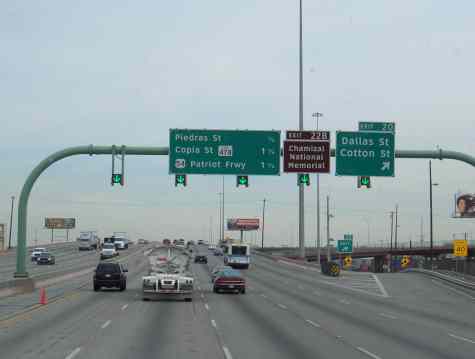 Yesterday we had giant truck beds coming at us, forcing us to pull off the road, today we had giant propellers going around us, heading off to who knows where.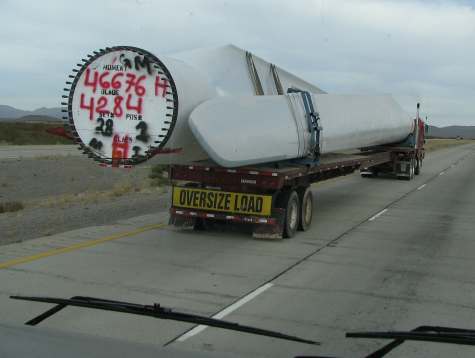 Speaking of beds, I wonder if this one made it to where it was going?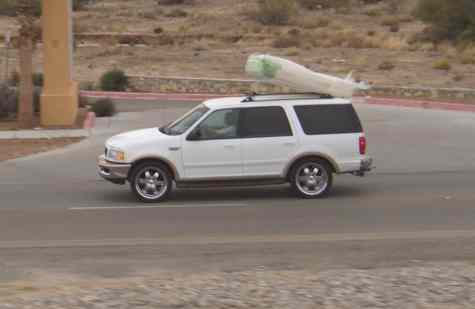 We left I-10 at Van Horn, taking US-90 past Valentine where we took Ranch Road 505 over to 166 for the final drive into Fort Davis. The only bad road of the past several days was 505, and it may be doing it a disservice to say it was bad, narrow would be a better term. We only met two vehicles over the course of the eight mile stretch we traveled on 505, one of which was a school bus and by slowing down, it was easy to pass by. It may have been shorter and easier to take either 118 or 17 from I-10, but we didn't, so maybe they will have to wait for another trip through here.
Linda had done her research and picked out an RV park in town to stay at, the Passport America park being too far out of town according to her. As we approached Fort Davis we passed a nice park and when I asked her about it, she said she knew nothing about it. Once in town it only took one glance at the park she had picked for the decision to be made to drive the mile or so back to the one we had passed by on the way into town. As we were waiting to pull back out on the main road Linda commented, "That's why we hardly ever worry about, or make reservations."
From the land of tiny cramped sites we were headed to the wide open spaces of southwest Fort Davis and, as we learned, McMillen in the Highlands RV Resort. Before you jump to the conclusion we've gone uppity and started staying at four star resorts, be advised that is turned out to be the Passport America park Linda thought was too far out of town. Level sites, 50 amp hookups and a free wifi for $14 a night for two nights, that's about as good as it gets.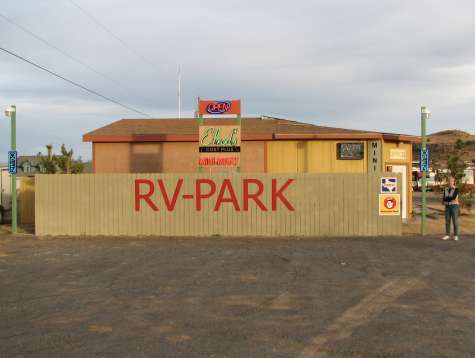 Once we were in our site, we relaxed, enjoying the late afternoon, then watching our first Texas sunset in ages. The only way to describe it was Texas sized, as it fill the entire sky. I think we are going to enjoy the next three months.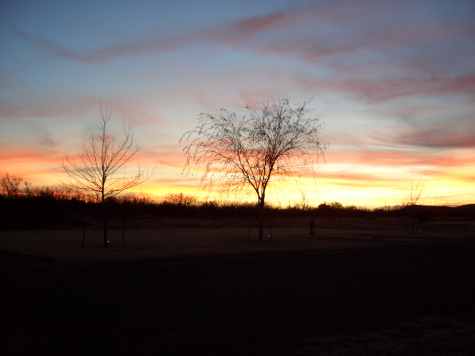 ---
November 28 Wednesday
With a tourist day on tap, we were up early with Linda repeating her breakfast of yesterday. Me thinks this will continue until the Ricotta cheese container has been scraped clean, but still, it is quite good food. As we ate Linda noticed we weren't the only ones enjoying the view in front of the coach. As we looked at Jack looking at whatever had captured his attention, we couldn't help but think of all the mornings at Petrified Forest NP we had watched the same scene.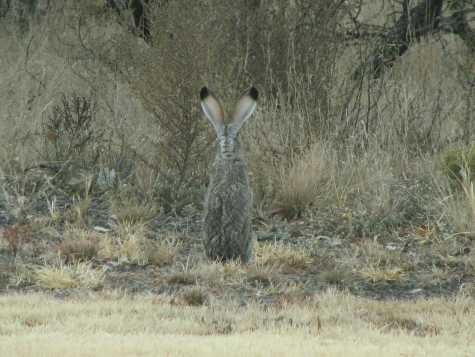 Our first stop was at Fort Davis. Yes, I know we are staying in Fort Davis, but this was the the Fort Davis that Fort Davis is named after. A late 1800's frontier fort that was the US Army's outpost in west Texas. This Fort Davis is a US Park Service facility, which means it is a cut above, and it showed. Looking at this exhibit, I could only try to imagine how difficult it must have been to haul those bricks all the way from St Louis. Were they hauled all the way by wagon for example, or part way by water or rail? I wonder what the teamsters who drove the wagons thought about as they hauled a load of bricks out here. They are not just bricks, they're an untold story, or more likely, many stories.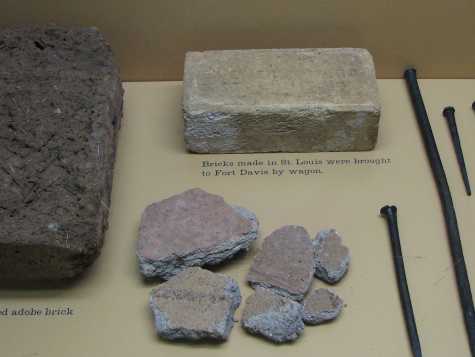 The fort consists of everything from markers showing where buildings once stood, building foundations only, or crumbling remains, to fully restored and furnished buildings. Looking out across the parade ground one can almost see into the past. And even if it doesn't stretch as far back as the late 19th century, it does conjure up images of the frontier outposts often portrayed in those early TV series , but even more so, the movies, the western matinees of our youth.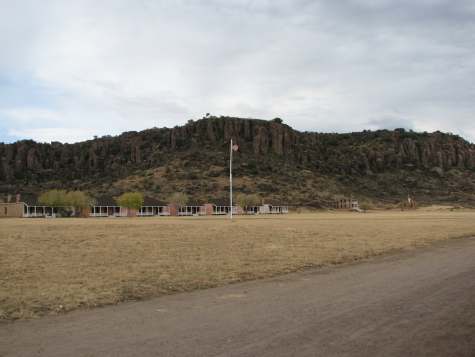 As we gazed on the ruins of one building, it almost seemed as if the sounds from those long past days were still echoing in the air. This was truly a place where, if the walls were be able to talk, what stories we would hear.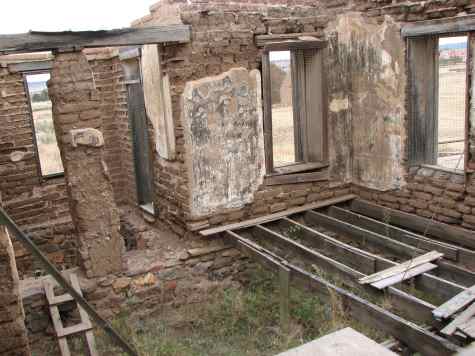 The Indian Wars of the Southwest, the Buffalo Soldiers, the kind Commanding Colonel, racial prejudice, the career ruined, death from accident and disease, the fort had seen it all. From the wonder of the construction of a running water system to the horror of a mother and father losing all seven of their children to diphtheria in a span of two weeks. All were gone. The cavalry troopers and their horses are what we picture these places to be populated by, but what about the infantry and the endless number of supply wagons, horses and handlers who were also here? The wives and families, the servants, the civilians and camp followers who lived just outside the fort. It was the stuff made for a day dreaming boy.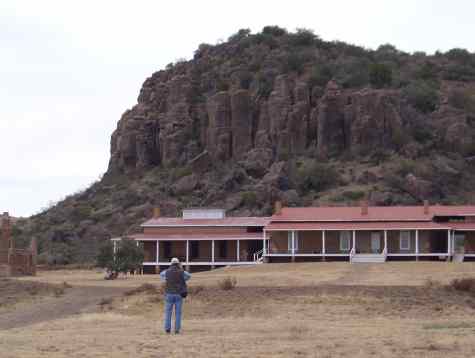 We could have easily spent all day here, but we had one other place we wanted to visit, something we had never seen before, an astronomical observatory. Just up the road about 15 miles is the McDonald Observatory of the University of Texas. This is also the location where the popular radio program, StarDate is produced, so you may have heard of the observatory before. What we really wanted to do was take the tour and gaze at the telescopes, but before you can gaze you have to graze. That was how we learned that the food in the StarDate Café, was even better than we had read about. The quesadilla's we had were absolutely delicious.
We weren't sure what to expect from the tour, so when they announced the people who were scheduled for the 2 o'clock tour should assemble in the auditorium, we simply followed the moving mass of humanity. It turned out that they have over 80,000 people a year do this and we were there during the slow time. Remembering the size of the parking lot when we pulled in, I had an inkling, that busy times made today look like no one was here.
Once the program began it didn't take long to discover, Kevin, our tour leader was one of those rare individuals who has the knowledge, enthusiasm and ability to make something complex not only simple, but to actually come alive. We had only been watching for a couple of minutes when I leaned over to Linda and said, "This guy is gooood." A comment to which she immediately added her affirmation. The introduction normally consists of a viewing of the sun, but since it was quite overcast today, we had to be content with photos from days when the sun actually did shine.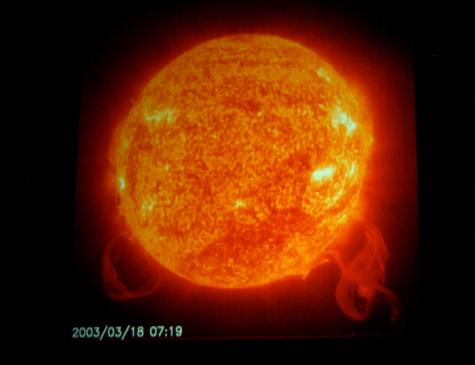 Once the introductory program was over, it was time to board the bus for the trip to the telescopes. They utilize two peaks with different types of telescopes on each. Our first stop would be the original observatory, built in the 1930's when the University of Texas didn't even have an astronomy program. A benefactor by the name of McDonald, who had never married, willed his estate to the university to build an observatory that was to be used to help educate the common people about astronomy. From that humble beginning, the University of Texas program had grown to where today it is the largest and most prestigious in the country.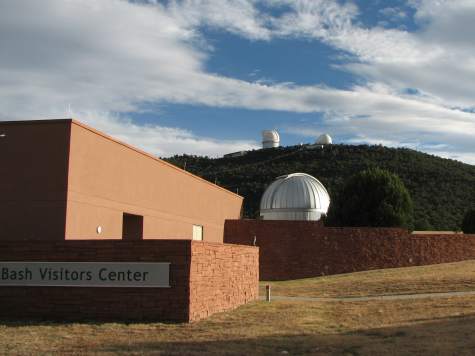 I loved the way Kevin, said, "While I know you Texans among us take pride in learning that we have the largest and most renowned astronomy department, I hate to tell you, but we do not have the largest telescopes. So, if you're so depressed and devastated by that news you want to leave the tour, I'll understand." Like I said, he was good. We were also advised to take along heavy jackets since the temperature inside the dome was being cooled to 47 degrees today. The reason it was so cold was to maintain the temperature inside the dome during the day the same as it will be outside at night. Remember, the dome has to be open to see the sky.
While this telescope is by no means the largest, it is still quite large and neither of us was prepared for just how large.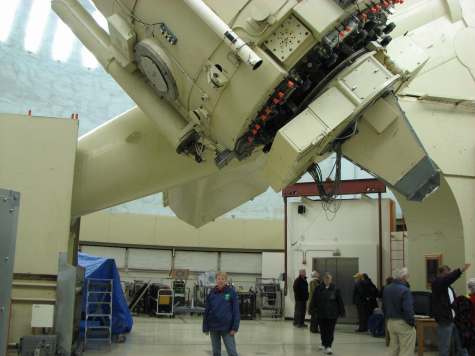 It was fascinating watching Kevin demonstrate how the telescope worked, rotating it first on one axis and then on the other. Next rotating the outside dome, then opening the top just a crack.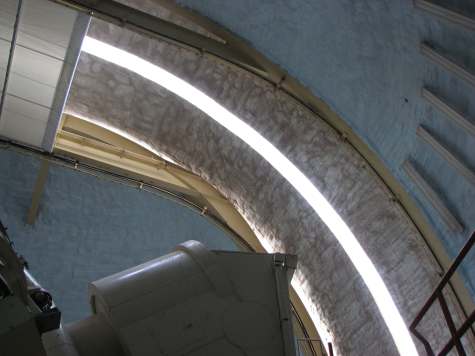 Later we drove over to the other peak and visited an entirely different type of telescope, one that was far larger, but made up of segmented mirrors rather than a single mirror. It sure looks different, not having a tube around the mirrors, and using computers for everything, whether aligning the individual mirrors or recording the images, which were fed by fiber optic cable directly into a spectrometer to be analyzed.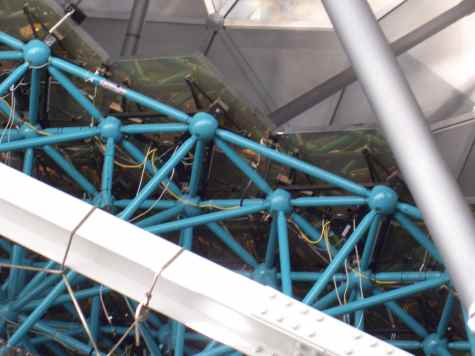 Once the tour was over, we visited the exhibits they have in the visitors center, thoroughly enjoying the hands on experience.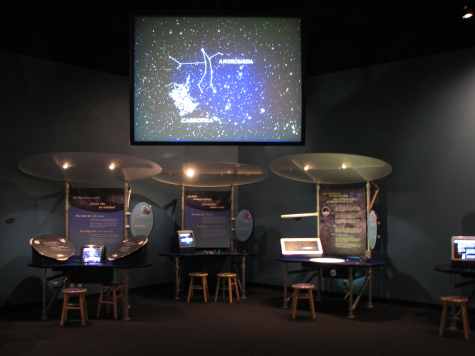 Today had been another of those special moments when we find ourselves involved in something we hadn't planned on. Understand that the reason we were in Fort Davis was because we don't like to drive the Interstates, preferring the slower pace and the interesting things to see found along the state and local highways. I had read a post some months ago on a forum that pointed out Fort Davis was a nice place to spend the night and do a little sightseeing if you were traveling across West Texas. That's what we had done, and were we ever glad we had. For everyone who rushes across Texas on I-10, potentially overheating their engine or blowing a tire, there are others who simply meander down the roads, taking things as they come. We don't always belong to the latter group, but when we do, Life seems to be so much fuller and richer, and today we were overflowing in almost unbelievable wealth.
---
---