Journal Archive 09/11 - 09/20 2007
Scroll down to read the latest post
September 11 Tuesday
Rocks, rocks, rocks, a day for rocks. A number of years ago, while returning home from one of our Oregon vacations, we stopped at a rock shop. To this day I can distinctly remember it, just off Highway 101 in Northern California. They had the usual rocks and fossils that such places have, none of which we wanted to buy, then my eye fell on something different. It was a large display of tools that are used to turn plain rocks and geologic pieces into something beautiful. They had tumblers, saws and polishers in abundance, plus they had bags of rocks that could be turned into works of art with those various pieces of the lapidary equipment. Thinking that one must learn to crawl before he can run, I asked Linda what she thought about buying something.
I had definitely taken her by surprise, but when it comes to rocks and fossils she is a quick study. It took her only a moment to ask what I had in mind, and so I showed her a couple of small rock tumblers. One thing lead to another, and before we had walked out of the shop, that's what they are, rock shops, not rock stores, we were the proud owners of a brand new Lortone 3A rock tumbler. Now fast forward to last summer and what did we find, but that same rock tumbler, still the box, in original and unused condition. Guess that purchase was what is termed a want rather than a need.
Now maybe we hadn't used it up until then, but that didn't mean we weren't going to use it someday in the future, so we found a spot in the coach for it, and along it came. Not that we have used it during any of these ensuing months, but guess what happened today? That tumbler finally made it out of its hiding place in the front bay and up into the coach. The next problem was to find some of the many rocks we had picked up over the past years. They were somewhere, but look as we might we couldn't find them. What about all the rocks we picked up last October done at Bandon? They were not to be found, but fortunately the rocks we had bought along with the tumbler were packed next to it, so soon Linda was a budding lapidariest, or whatever those people who have rocks in their head are called.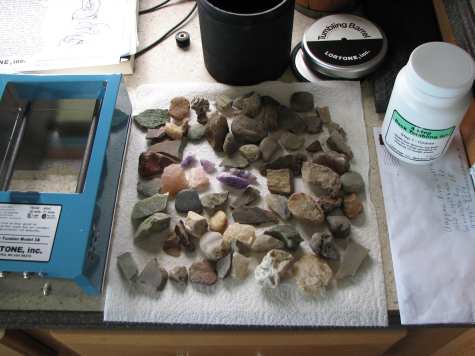 As you can see, it wasn't a matter of dumping the rocks into the tumbler or even into a pile for that matter. No sir, it was a case of lovingly lifting each piece out of the bag and carefully placing it out to be examined in minute detail, before documenting the entire lot. And hard to believe as it is, she did not take a photo of each individual piece, though I am sure the thought was there.
Eventually the barrel was loaded with rocks, grit and water, the seals inserted and the cap locked on. Then the noise started. We quickly came to the conclusion that rock tumbling is not something to be undertaken in a home on wheels if you are bothered by noise, and luckily we are not. It's one of those things that after a while just blends into the background and you are simply oblivious to it.
Of course while Linda was doing her thing, I was also doing mine, which for the past several months has been relearning everything I had learned about computers. You see I have finally made the great leap of faith into the world of Linux and have reached the point where I am not only comfortable with it, I find it a great improvement over Windows. I am not ready to write extensively on my experiences yet, so I'll just give you a brief glimpse into my new world. I'm using both a Gnome and a KDE desktop depending on what I am doing, but the underlying distribution is Ubuntu. Here's view of my Gnome desktop, you can see that Windows, it ain't.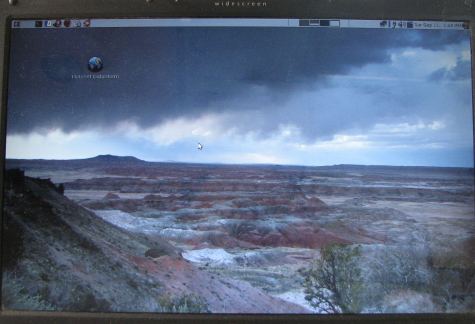 A closeup of the left side of the menu/task bar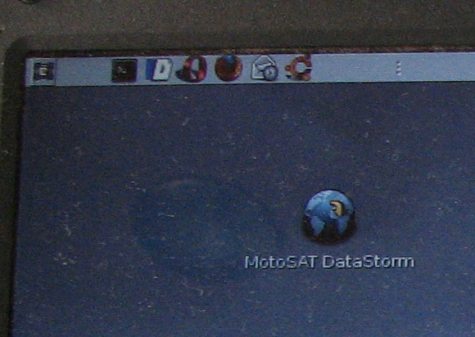 The right side of the menu/task bar, showing the four desktops I like to have running.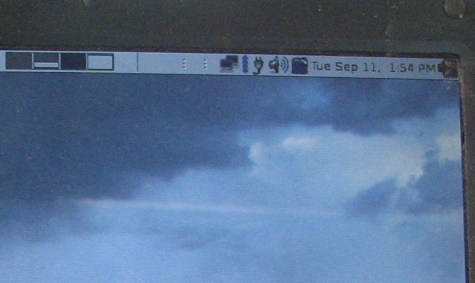 Everything I need is right there, and the reason it looks that way it does is because it is completely customized to my preferences. Life, we don't always know what is around the next corner, but if we aren't willing to take the chance and make the turn, the view never changes.
---
September 12 Wednesday
Not much going on today, in fact the most memorable thing about today was breakfast, so you shall read all about it. It is also the only thing I have a photo of to remind me what took place today. There, I said it, confession is sometimes good.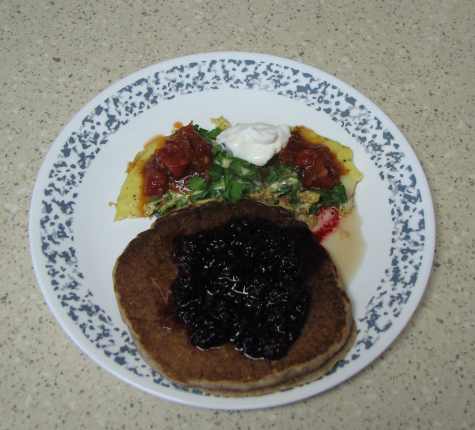 What you are seeing is a culinary masterpiece, a combination of grains and proteins designed to not only nourish the body, but to also provide a taste treat to the palette. First we have an omelet, but not just any omelet, rather one that provides a provocative enticement to the eye, induces the mouth to start watering in anticipation, while at the same time supplying a healthy quantity of the essentials for life to the vital organs of the body. Of course the most vital organ of all is the stomach, and this agent provocateur of culinary combinations brings that beast to the epitome of roaring rage. The proceeding can be translated into, it makes you very hungry because it tastes and smells great.
The omelet not only had the usual diced green peppers and onions, it also had diced garlic, the last of the Napalitos, slices of Mozzarella cheese and was topped by fresh cilantro. To top off the topping, it was finished by adding a dollop of FF sour cream and two big spoonfuls of chipolte salsa. However, this wasn't all, we still had some leftover blackberry pancakes, which when added to the plate made a meal fit for a king.
---
September 13 Thursday
Another day off, but we had a little trip planned. But it wasn't a trip somewhere in the car, it was a trip using muscle power, you see Lake Marie was calling. We had walked around the lake last year looking for huckleberries and not finding any, that wasn't the purpose of today's walk which was get a little exercise, but if we should happen on some of those succulent little gems, some serious grazing would definitely be in order. It also was a major since Lake Marie is just down the hill South of the Lighthouse and the trail that follows the shoreline around the lake is only about a mile long
It is amazing the games your mind can play, and as we walked along the trail around the West side of the lake we kept seeing things that we thought weren't there last year. The embankment we saw which had been constructed where a sand slide had taken place may have been new, but other than that, everything else had probably been there last year. We laughed when we reached the place the trail branched, with a short spur angling off towards the dunes, fondly recalling how we had taken it last year, ending up struggling through the loose sand we suddenly found ourselves in. Today we were not going to making the same mistake and so, we shunned the spur, following the main trail as it turned to the south. The lake exhibited an almost breath taking beauty along this stretch, as several trees had fallen into the water resulting in a very primitive kind of look to the shoreline. The fact the water was glass smooth and the trees towering above us were reflected on the surface also added to the scene. Suddenly the solemn cathedral like setting setting was pierced by a high pitched screech.
It took a while to finally pinpoint the source of the noise, but at least we realized it was coming from high overhead. There, atop a long dead tree that was now more of a silver gray trunk than any semblance of a tree, was perch a large bird. We never could never get a good glimpse of it, though there was no doubt that it was hawk of some kind. We were later able to identify it from its distinctive call. You can listen to the same screech we heard here. By the way, that website from the Cornell University Ornithology Department is the best for identifying birds that we two non-birders have found. More than just a few times we have used the bird sounds they have recorded to identify that which was heard but not seen.
Lest I forget, yes we were finding huckleberries, though it was obvious we were most definitely not the first passersby to sample these delightful taste treats. I took this to be a double benefit because the only berries left were higher up on the bushes and were what might be called US No. 1 grade if there was such a thing as a grading system for huckleberries. The joy of eating those berries was the first benefit, while the second one was the stretching exercise I got from reaching that high up for them. Healthy food and exercise all in one, does it get any better?
While I was busy grazing Linda would walk on ahead and I would then have to hurry to catch, heck that might have been a third benefit, aerobic exercise, but then one time I couldn't find her. I was looking around when I heard her disembodied voice saying, "Come in here." It took a while to figure out where she was but at last I combined the body and the voice. About 25 or 30 feet off the trail was one of those magical places that our guide, Sara N Dippity, sometimes leads us to. We knew we weren't here last year for it was one of those quite memorable places that are not to be forgotten.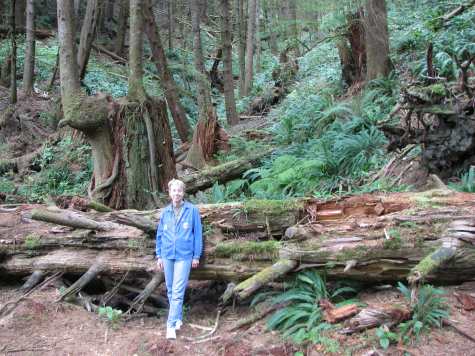 Because of the way the tree canopy filtered the light the scene took on an almost surreal atmosphere. That wasn't the only beautiful setting we were privileged to see today as the sunset was one of those, once a month, we've got to take a picture, moments.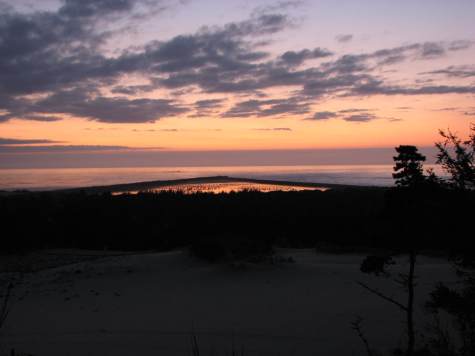 ---
September 14 Friday
Can you believe, it was time to back to work today, and for some reason the past few days had just seemed to fly by. I don't know if the word was out that I was giving tours today or not, but for some reason there were people at the Museum waiting for us to open this morning. I really like that because it means I will be busy all day, which was certainly the case. In fact let us take you on a quick tour of a tour. After Linda has roped the suckers in, I mean after Linda has greeted the visitors, explained the wonders they will see on the tour, taken their money and let them know when the tour will be leaving, I take over, introducing myself and finding out a little about them.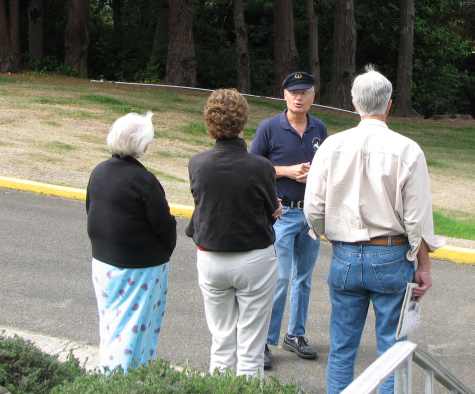 One thing neither Linda nor I can't resist talking about is the benefits that are part of this non-paying volunteer opportunity. The easiest way is to simply show them where we live and ask them to place a dollar amount on what someone would pay to have that view out the front window for two months each fall.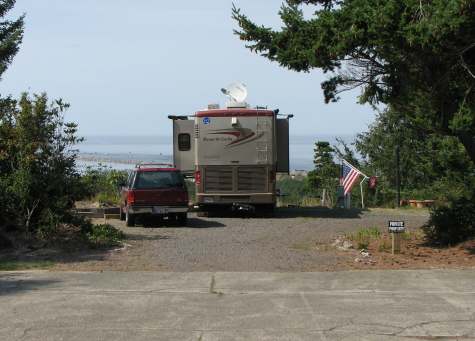 Next I briefly talk about the Museum building and its historical significance. As with all the things we talk about, there is far more information than there is time to present it, so each group hears a few things that are general, then a few details which vary from group to group. I do this at all the stops on the tour and it keeps the presentation fresh for each group, plus it prevents me from falling into the tour by rote trap that is so often prevalent at places we have visited. Am I ever excited about this place and I want our visitors to share in that excitement, not fall asleep to the sound of a droning voice that gives "just the facts ma'am, just the facts", á la Sgt. Friday.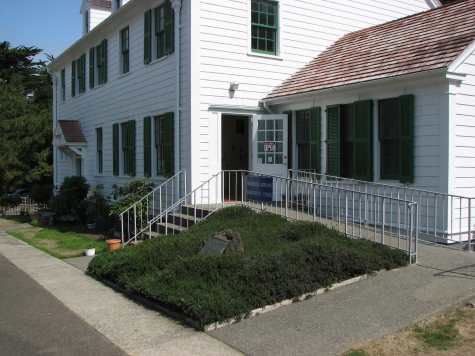 The next stop, at least sometimes, is the 36 foot MLB, where we sometimes talk about the U.S. Life Saving Service, other times about the Coast Guard which absorbed it, and still other times about the boat itself, or maybe any combination of the preceding. Like I said, every tour is different.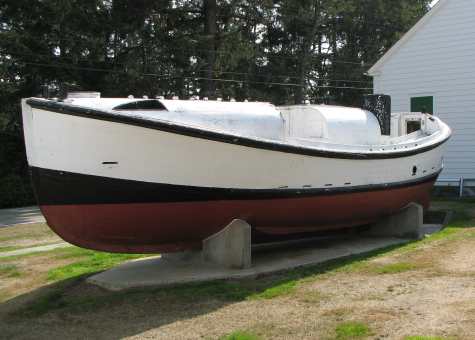 The remainder of the tour revolves around the Lighthouse, both the original one that once stood along the banks of the Umpqua River and the current one, now 113 years old, that stands on a sand dune far back from both the river and the ocean.
While I was completely engrossed in giving tours, Linda was also having a good time at the Museum, even getting a special show put on for her benefit by some of our feathered friends.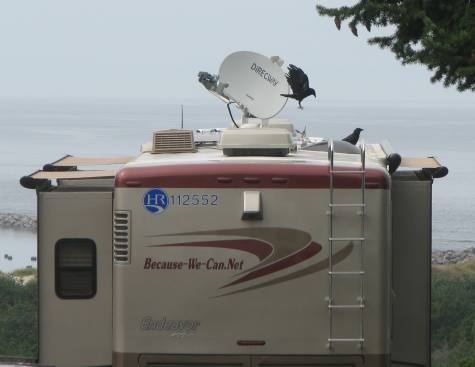 Linda's day is not only just talking to our visitors as they enter the Museum, or watching the birds frolic on the roof of our home, she also gets to pilot a boat on the Umpqua. Okay, maybe not for real, but standing in front of this mural in the Museum, you can blink your eyes and imagine what it was once like on the Umpqua.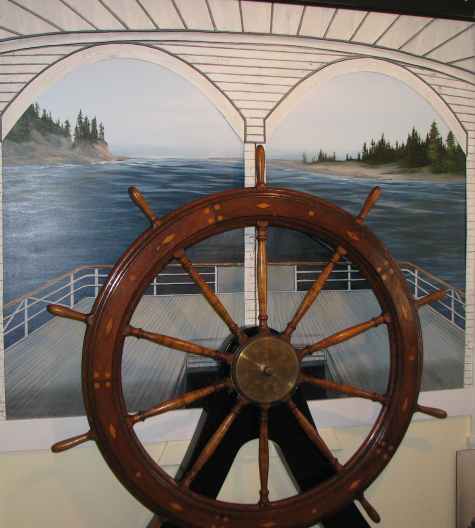 The day had been long and exhausting, with tours running constantly all day, so I was really looking forward to relaxing tonight so I would be refreshed and ready for tomorrow. That was why I didn't react with a great deal of enthusiasm when Linda first suggested we drive to Coos Bay after dinner. Then, the more I thought about it, the more exciting it seemed. You see, what she had proposed was that we visit with one of our long time hero's, George, of Ms Tioga and George, arguably the most famous full time RVer of all time. Once the decision was made, dinner wasn't dinner, it was more like a speed eating contest as we hurried to get on the road.
It only took 20 minutes of drive time, but our visit lasted for well over an hour. Driving up, we parked behind Ms Tioga and saw George through her back window working on Mr Chips (his computer if you don't read his blog). We saw him get up, and as we reached the sidewalk, he came out the door, a huge smile covering his face and from then on it was nonstop visiting. We told him how we had followed his travels for many years, recalling some of his early adventures, especially the one with "Mr Cop". He showed us his desk and explained how he was going to replace the top when he was in Concord visiting with his son David in a week or so. He also told us how we had decided not to head back to Santa Rosalia in Baja Mexico this winter, but instead would be slowly heading across the Southern states for a multi year trip in the East with the goal of eventually reaching Washington, D.C.
The reason for that trip would be so he could see the Constitution at the National Archives, something which is one of his goals before he dies. All the time we were talking, George was so animated, acting like a kid showing his newest toy to his best friend, that Linda and I couldn't help having the same degree of enthusiasm as we described our life in answer to his many questions. What he is on his website, he is in person. Before we left, George took our picture, and I took one of Linda and George, then it was time for the drive back to the Lighthouse. Actually, we had a stop to make first because having driven all this way, we wanted to do some shopping to do at the Wal Mart. When we got back to the coach and I was putting the groceries away, Linda made a startling discovery, George had mentioned our visit and put our photo up on his website. Just in case you'd like to see it, here is a link.
Talk about memorable days, today was one of those days we will never forget, it was special in so many ways and proved once again that the full time RV lifestyle is the best in the world.
---
September 15 Saturday
Another day of work, but there is something different today. Yesterday we gave a tour of one of Bob's tours, today we give you a tour of Linda's lair, otherwise known as the Museum. I thought about calling it the Mad Mademoiselle's Mystical Museum, but didn't think that had a chance of making past the editor. So while I'm off doing my thing at the Lighthouse lets see what Linda life is like down at the Museum.
Once the visitor has been hit up by Linda, I mean informed by Linda about the tours, a donation and a Lighthouse coin, they are free to take the self guided tour of the museum. The first room they walk into is the one which deals with the early history of the area, including the first Lighthouse, which was actually down on the river, and that is the reason why it was called The Umpqua River Lighthouse.
The area was also very important as a center of commerce in the mid 1800's.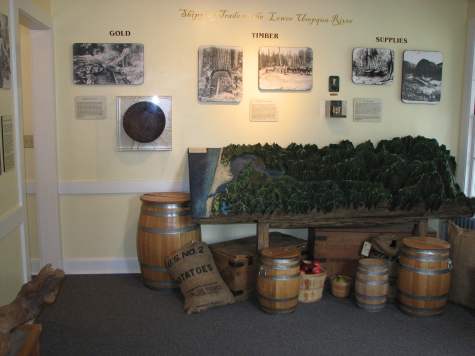 Whether it is the rooms or the hallways, there is history jumping out at you where ever you go. Speaking of going, if you wanted to go somewhere overland in those early years, this is the mode of transportation you would have used, a stage coach which used the sandy beach for a road.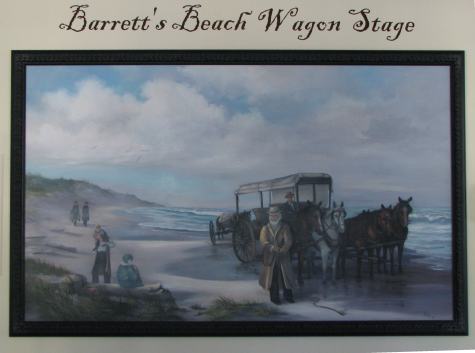 In another room there is a display which shows the relative size and shapes of the various Fresnel Lenses, ranging from the minuscule 18 inch high 6th order lens to the coastal giants like the Umpqua River Lighthouse lens that stood well over 10 feet tall and weighed many thousands of pounds.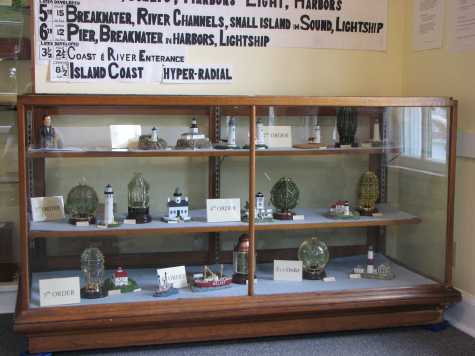 There are huge photo's of the the lighthouse under construction.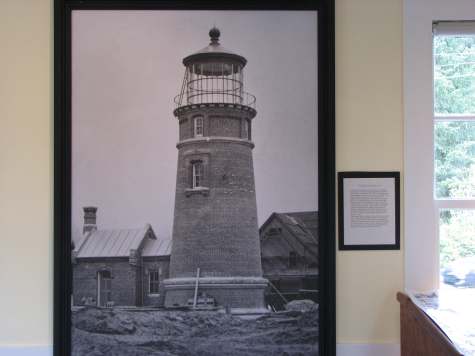 And photo's showing it soon after it was finished.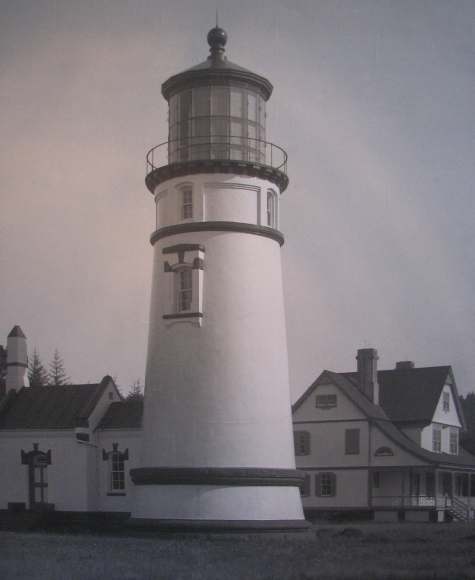 There is also a display of the Pacific Coast Lighthouse postage stamp set that was issued this summer, where the Oregon lighthouse selected to be depicted on the stamp set was the Umpqua River Lighthouse.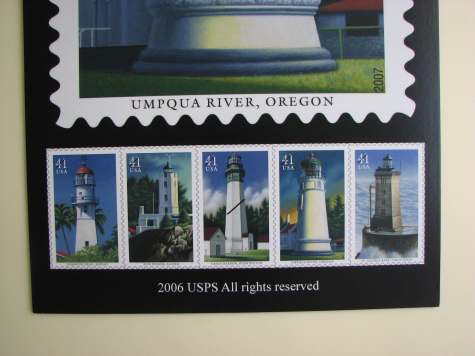 All of those displays, plus many more are on the first floor. The second floor is dedicated to the US Coast Guard, with a room dedicated to each decade the Coast Guard had a presence in the building, the 1940's, 50's and 60's.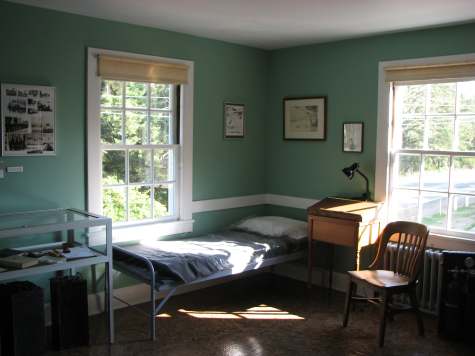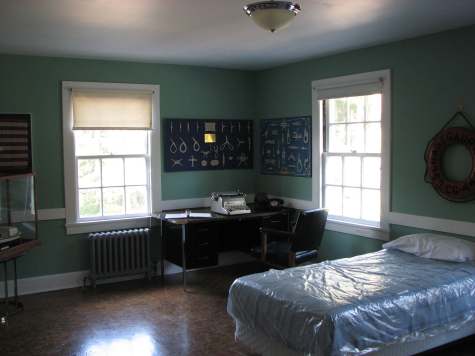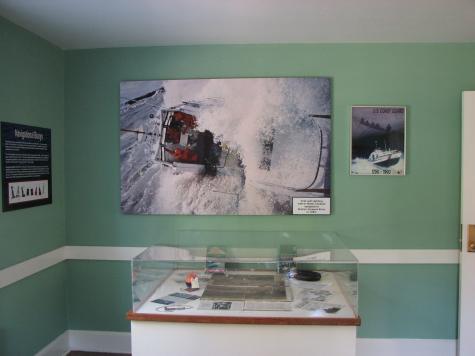 The last two days have allowed us to give a glimpse into what fun it is volunteering at the Umpqua River Lighthouse. May your life be filled with as much fun as ours. Then at the end of another day it is time to head back to the house. How would you like to head home to this view after a days work that was no work at all, during a work week that was only two days long. You know, we never imagined this would be our Life either, until one day we just up and decided to change it.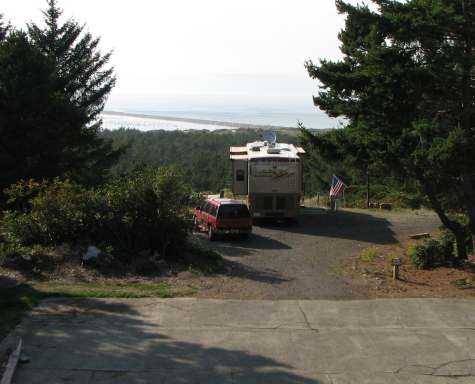 ---
September 16 Sunday
Some days you work and some days you play, the work week now over, today was a day for play. First though, we got to do something we had been looking forward to for the past ten months, which was going to church at the Reedsport Church of God, the church we grew so fond off when we were here last year. Peggy was the only member of the trio of singers who was still there, but that was okay because the music was still great, even if it had been stripped of some of its contemporary influence as the songs we sang were all still very up tempo and lively. Then came the best part, the Energizer Bunny of preachers, Allen, who was just as wound up as always. It's going to be a good two months.
Once church was over, we hit the Safeway store, and surprise, surprise, Linda's favorite was on sale, Roma tomatoes were 10 lbs for $10, which means a dollar a pound with the Safeway Club Card Linda was clutching in her hand. That gave her a new idea of what to fix for the noon meal, the pizza that isn't a pizza. The one that has just sliced tomatoes, mushrooms and Mozzarella cheese that is layered up with a splash of olive oil and loads of fresh basil. Are we ever going to eat good.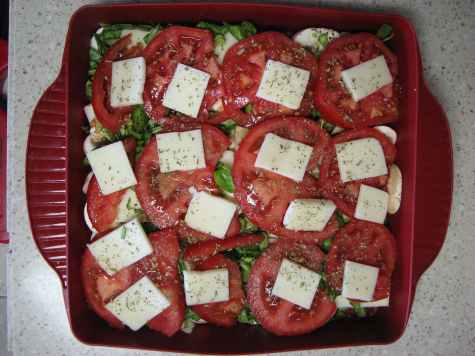 I guess you could say the only thing we did the rest of the day was to either eat or cook because that was exactly what we did. Oh, there was computer time and TV time, plus time spent sitting in the Euro-lounger reading, but the main emphasis was on food. To end this post we will show you one last photo of Linda preparing food after the Sunday noon meal. She wants everyone to know that this is not her preparing the Sunday evening meal, remember this is not something the women if her family ever did and she isn't about to start now. It is a bowl of salsa that will mean there will be less cooking during the week, plus we get to have salsa as an appetizer. What's not to like about a woman who can turn a half of ton of tomatoes she bought on sale into three or four meals. See, I told you tomatoes were her favorite food.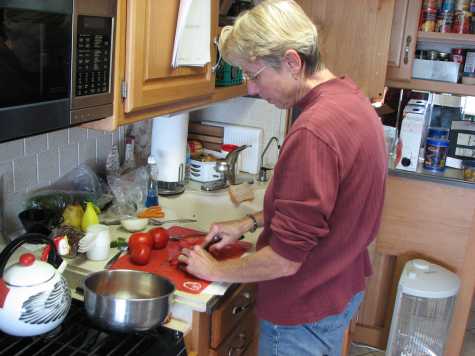 ---
September 17 Monday
Yesterday turned out to be a day of cooking, so it was good to once again return to a Life comprised of more normal pursuits. One of my major interests of late, but something I've not really written about, is the use of Linux as my primary computer operating system.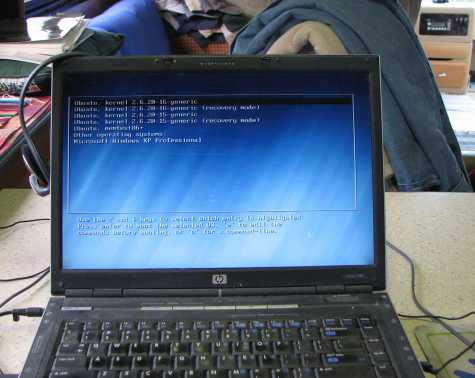 It doesn't look like much from the splash screen photo above, but does it ever give me a sense of independence. I've now become acquainted with things like gnome, KDE, packages, distros, samba, and the list could go on and on. I remember when I first studied Spanish, it wasn't easy, next was French, which I never could get the hang of and then finally I stumbled across the language of my ancestors, German and I knew it was for me. I enjoyed it so much I ended up taking three years of it in college. What I'm trying to do is make the same parallel with Linux, I think of it as my computer equivalent to German. It was always there, I had just never been exposed to it. The beat of a different drum, I hear it all the time.
Along those lines I wrote a little article that explains why I took this step. If you're curious and haven't already discovered it, you can read about the beginning of my adventures in the land of Linux here.
Of course there is more to a day than learning how to take baby steps in a new operating system. Actually I may be a good bit further along than baby steps in some areas of Linux, but as far as most elements of this thing called Linux, GNU, and Open Source are concerned, my knowledge is like a grain of sand in the dunes that stretch for miles in front of our coach along the coast. So much to explore, so much to discover, so little time to do it. Life was meant to be lived and after all those years, that's what at last, I'm getting to do.
Unfortunately the woman who has shared my life has a way of bringing me back to reality, which was what she did with the words, "I thought you said you were going to defrost the freezer?" My moment of daydreaming laying shattered at my feet, I looked up and smiled at her, she was right of course, but then every dreamer needs to be married to a practical person, else they'd probably starve to death. The only problem was that once you get me actually pointed at something and I pick up the scent, I become a driven person. It's the getting me to pick up the scent that's always been the problem. I know that over the years I drove more than one manager to total distraction because they could never figure out what motivated me, just that when I was motivated, I won, always, no matter what it took.
Don't expect me to tell what it is, because I don't know what it is myself, it's just that when it kicks in I have only one purpose in Life and that is to accomplish that goal. We are all alike, we each just have a different way of arriving at this point. Take Linda for example, she is much more directed than I am, meaning that once she had gotten me in motion with the goal being defrosting the freezer, things were proceeding much faster than she liked. I quickly had handed her everything out of the freezer and had the hair dryer pointed at the thick build up of ice on the back of the compartment.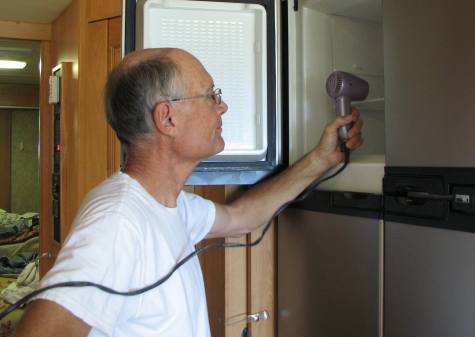 The job was soon done and the food packed back in the freezer when I asked her if she had made a list of the items. I got a answer to the effect that I had so rushed her in order to get the food quickly back in the freezer after it was defrosted that she didn't have time to write down what was in it. I decided it wasn't worth the fuss that would follow, to ask her why she didn't take an inventory of what was in the freezer while I was working at defrosting it. Like I said, everyone approaches Life from a different perspective, I guess one of the the keys to personal happiness is to understand that.
One thing we can all understand is the beauty of the glow of the setting sun on the ocean, and that is what we leave you with tonight.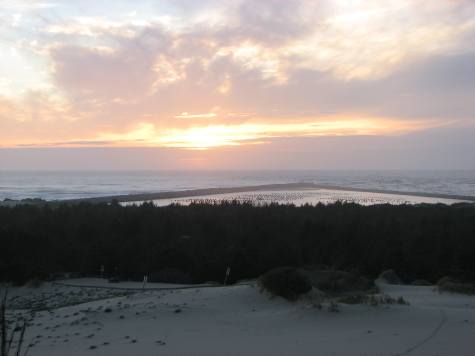 ---
September 18 Tuesday
Some days you get going, then some days are going to get you, and the latter is what happened today. Linda spent most of the day working on her Ebay account as she had bids closing and packages to get ready to ship. She also spent time listing more items to the point where she only had one more box of original items to list. Of course only a third of the items that she has listed in the last several weeks have actually sold, but since it is a numbers game they have gone back up and several have bids this time. As always, what doesn't sell after being listed 2 or 3 times (it depends on the item), will be humanely disposed of, either through donation to a worthy cause, or another similar method.
I on the other hand was a total do nothing, at least in Linda's eyes. It was my day to surf the net, which is what I did, trying to get the answers to several things that haven't been working to my satisfaction. In the end I actually did better than Linda with half my questions answered. I also spent a good deal of time on my favorite forums, mostly just reading, but also doing a little bit of posting.
No day would be complete unless I talked about what we ate, which was fresh sliced peaches, FF, SF, vanilla yogurt and Uncle Sam cereal for breakfast, which Linda made. This was followed by a turkey wrap, a side of bean salad and the last of the bean chips for lunch, courtesy of me. In the late afternoon, Linda decided that if we were going to have dessert tonight, she was going to have to fix something, so soon the pear and the last of the Granny Smith apples, plus a few other ingredients were being combined together to create a cobbler. For dinner we combined our efforts, Linda cooking some brown rice while I made one of our favorites, Easy Chicken in Wine Sauce, which is in the South Beach Diet blue book. For some reason both were not up to our usual standards, the taste was there, it was just the appearance and texture which was lacking. Later it was the apple/pear crisp, warmed in the microwave and doused with milk for dessert.
All in all it wasn't one of the most exiting days of lives, but then again, whenever we looked up from what we were doing, there was the sight of the breakers crashing on the south jetty, the colors so intense it was something that almost took your breath away it was so spectacular. Since we had managed to sit around all day, there had to be some exercise, so as the sun was going down, we walked down to the crab pier. There was very little activity going on, and the reports of those we talked was a universal statement that they had only empty buckets to show for their efforts, and since we are planning to go crabbing tomorrow night we hoped that all the bad luck was happening today. One thing that surprised us was how cold it was down by the Bay. Maybe the walk was a good thing, meaning we will probably take along a few more layers than we originally planned.
There is one bad habit I've gotten into which I need to work on breaking, this total lack of any photos being taken. In a way it is like gaining weight, it's something that creeps up on you, a little bit at a time. Then when it hits you, wonder just how that happened. Tomorrow we will see how my resolve to rectify that error holds up. As an aside, Linda and I have been on the South Beach Diet for more than two years and are both still down at that weight we never thought we would see again, when we started, now if I could just be as dedicated to my camera work as I am to my health.
---
September 19 Wednesday
This morning I decided that it was time to change the way I had been doing things for the past couple of months in several area of my life, mainly, exercise and writing the Daily Journal. The day resulted in a change in my behavior in each category, though the results in the latter we the only ones visible to anyone else. I'm not exactly sure what brought about this desire to change, and I hesitate to use the word 'improve' in these areas, though they have been on my mind for quite some time, meaning only time will tell if they will result in positive improvement or not.
I do know there are some things for which words are lacking and one of those situations was the view which greeted me as the sun rose and the ocean came into view this morning.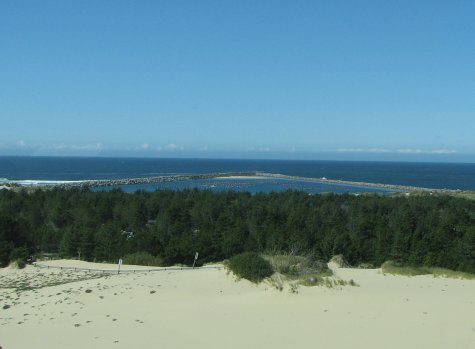 It was while I was rather aimlessly meandering around some the nooks and crannies of the net when I made the decision to change things. My first action was to don walking shoes, dig out the small clip on radio I had used for years during my noon walks back in the days when I was working, and stride out. Actually I didn't really stride out, first I had to explain to Linda my peculiar behavior, then withstand the withering glare from her when I said she wouldn't enjoy coming along because i was going to walk at my pace this morning. As anyone knows who has ever walked with me when I am in my exercise walking mode, the pace I have traditionally set can be unrelentingly fast.
As I headed out the door, I wasn't sure where I was going to go or exactly how far I would be walking today, though I had decided the general direction would be towards the Umpqua Lighthouse State Park. I ended up walking Lighthouse Road all the way to US 101, not because it was a goal to be reached, but because I wanted to walk for about a half hour total and that was where I was at at the end of 15 minutes. To say that it was invigorating would be an understatement, especially since it is uphill almost all the way, which made the the return trip much more enjoyable. One thing that I did do with great intensity was to listen to my body, as the last thing I wanted was to do something which would cause damage to muscles, ligaments, joints, etc. Nothing popped, nothing ached, somehow I kept up the pace, slowing only when I one again neared the lighthouse in order to properly cool down. I must say that I truly enjoyed it and wondered why I had gotten so far afield in the realm of exercise.
The only negative I noticed all day was that my hunger level shot way up, to the point where found myself snacking much more than normal on cheese spread before dinner. Speaking of food, Linda was a kind soul and had breakfast prepared when I returned, a scrambled egg topped with salsa, a dish which filled the bill as the saying goes. Then it was time to work on the second goal, writing the Daily Journal, something I hesitated doing when I realized I had taken no photos the day before, the day would be writing about, but then decided that the effort was almost more important than the result, so what did it matter. It also provided a corollary to the main goal, take at least several photos each day.
While i was busy writing, Linda was getting the Ebay mailing ready, then she tackled applying rhinestones to a denim jacket she had bought. Her sister, Katherine, makes these and had sent Linda the applicator as a present. She had done some before, but was now starting to get interested in the techniques in a major way. The result was very cute, but unfortunately my camera skills were still lagging. Maybe next time there will be a photo. Later it was off to Reedsport for some errands and also to mail her Ebay packages.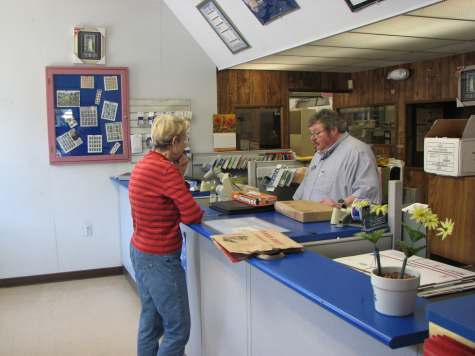 Once the packages were on their way, the next stop was the Ace Hardware Store for a few needed things, some 3/4 inch long wood screws. Of course there was more than just that in the bag when we came out as witnessed by the receipt which showed a can of spray paint, an exacto knife, some stainless steel bolts and nuts and last but not least, a 10" hacksaw blade. We have some projects coming up which will involve each of them and if I can keep up writing on a daily basis you will know what is used for. We had one last stop to make which was the thrift store, this time the result was not merchandise, we didn't find anything to buy, it was confirmation of health.
That's a scale like the doctor uses, and yes I was quite pleased with the result. Then wonder of wonders, Linda also stepped on it and low and behold, she too, was pleased. Later we watched Top Chef before enjoying the last of the grilled tuna and peach salsa. What with all the snacking we had done, the only other dish was a quarter of a Delicata squash for each of us. The tuna and peach salsa had given me an idea, so I put some of our home made regular salsa on the squash. I think I have discovered a new way to jazz up squash. A little experimentation and I learned that a small amount of fresh salsa juice mixed with some mashed squash makes for a simply exquisite taste sensation. To say it was a good day would barely be doing justice to what took place today.
---
September 20 Thursday
I was right on this morning, holding to my promise to myself of yesterday, which was to spend no more than one hour on the Daily Journal, with whatever went down being good enough. It wasn't like I started right in writing the moment I got up because that would have been a recipe for disaster. What I did was get up and just enjoy myself until 7AM, when I started. I did run over by several minutes, but that was only to finish up the paragraph I was working on. It did take another 15 minutes to proof and do some minor rewriting, but all in all I was very pleased and now realize that this plan may work.
Breakfast was once again fixed by Linda, and proving that when you have a good thing going, you keep it going, she once again fixed scrambled eggs topped with salsa. I did make one small addition this morning in the form of several dollops of FF sour cream, something she also added to her plate. If she's going to do breakfast, then she's not going to do the dishes, not because she doesn't want to, but because I'm not going to let her, and once I had finished with the dishes, it was time to gather everything up and head over to the Museum. Our schedule this week is to host the Museum and give tours on Thursday and Friday, which should be two good days.
As we were setting up the signs, and getting ready to open, Linda noticed a note on the desk indicating there would be a tour at 11AM for eight people from Riverside Home, which meant if we were going to have a tour before then, it was going to be rather short in duration. Walking up to open the Lighthouse, the usual people were in the parking lot looking at the ocean, and that was when I noticed a truck parked directly in front of the gate to the Lighthouse and also that the gate was open. The truck had no markings on it, but was the standard gunmetal gray of the Coast Guard. There was no one around and as I climbed the stairs to the watch room, I was the only one in the building. It was one of those special mornings, with the light doing magical things, so a photo was in order.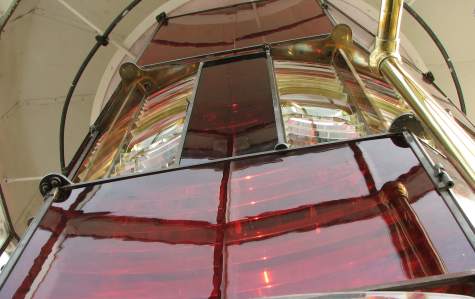 It was while I was closing the gate before heading back down to the Museum that I noticed a Coast Guardsman come out of one of the duplexes and walk towards me. Turned out he was a member of the Aids to Navigation Team, and they would be cleaning the lens today. It wasn't long until all four members of the team were getting ready to begin their work and I can assure you there was a fifth person up there with them, me. I let Linda know by radio that if she needed me for a tour, radio me, otherwise I was going to be in the tower with the crew until the 11 o'clock tour group showed up.
The first thing the crew does is to turn off the light, which is done at the switch panel in the workroom, then they throw the switch in the watch room which turns off the motor that rotates the lens. Next comes jacking up the lens to remove the pressure on the wheels. Something which is done to prevent flat spotting.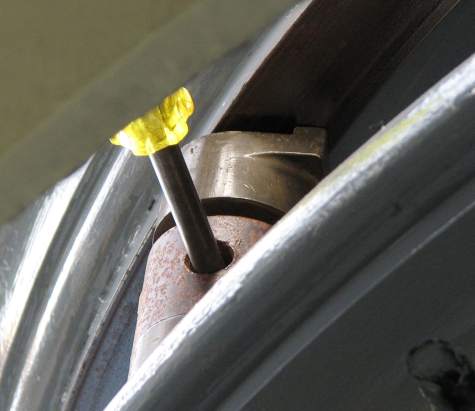 This closeup of the jack shows something being done wrong, and no, it's not using a screwdriver to turn the jack. The jack has several tabs which should be locked into the back of the track, but as you can see, the tab is under the the track. It only took one turn of the jack for the problem to manifest itself, and the jack was quickly reset, this time in the correct position. The crew is very careful to everything correctly, talking through each step of the process and stopping to rectify any problems which arise. The next thing they do is to close the curtain on the side towards the sun, then start the job of cleaning and polishing.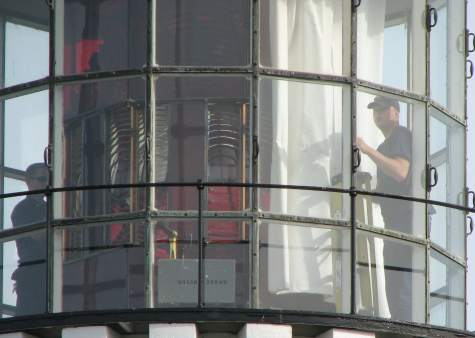 With all four men working it only took 45 minutes to clean the lens and polish the brass, and when they were finished, I had a unique opportunity to stand up inside the lens while the put all their things away and before they turned it motor back on again. Unfortunately the close quarters make it impossible to take a photo which does justice to what I was seeing, but just being able to stand there was more than enough. Once the fun of watching the cleaning crew at work was over it was time for even more fun, as we had non stop tours for the rest of the day. I wrote an article for Workamper News last winter about being a tour guide at the Lighthouse which was titled. The Job I Was Born To Do. Truer words were never spoken and the reward I receive in the form of the thanks from the people who take the tours is beyond value.
As always I would be remiss without mention of what was for dinner, and tonight was grilled turkey burgers, southwesternized kidney beans, Delicata squash and tomato salad. If I've said it once, I've said it a thousand time, but dog gone it, Life Truly Is Good.
---
---