Journal Archive 06/11 - 06/20 2007
Scroll down to read the latest post
June 11 - Monday
Today looked like it was going to be better than yesterday, though the weather report is something we will be foregoing for the next few days without the satellite. Oh, we could listen to the radio but that would take all the fun out of it. Since we were in for a change of pace today with our daughters' family scheduled to arrive, Linda opted for something different for breakfast, the breakfast parfaits we used to enjoy. We had about three dozen peaches we had picked from one of the trees before we had left, and they were in various states of ripening, so why not use some of the ripe ones for breakfast. Half a cup of sliced peaches, half a cup of no sugar added vanilla yogurt and a quarter of a cup of Uncle Sam's cereal in a parfait glass. Most likely an acquired tasted for the majority, but the two of us just love it.
In a way this is a really cool place, both figuratively and literally. I don't know if everyone would classify it as cool, since many of the people staying here seem to think shorts an tee shirts are more than enough clothing, but as far as being neat, besides not having satellite, meaning DirecTV and internet, we also have no cell phone service. Guess you could say it is a place where we are cut off from the outside world. Given that fact, we planned to spend some more time this morning exploring the world we found ourselves in, the land of waterfalls. Linda had us scheduled to drive to what is referred to as the Winter Falls parking area, where we would hike the Rim Trail to the North Falls, descend down into the depths and then loop back along the Canyon Trail, ending up at the parking lot. This would let us view all the waterfalls in the park between yesterday and this morning. Now don't get me wrong, this is not a case of, you've seen one, you've seen then all, but still, once you've seen a half dozen, the next ones may not be quite as impressive.
We completed our hike, deciding for the second day in a row that the first falls of the day was the best falls. Our vote for the best waterfalls in the Park goes to the South Falls and the North Falls, though your asessement may differ. The trip was not without a few moments of tension, no doubt initiated when the first turn I made was in the wrong directions and it took Linda about five miles to figure that error out. Once she had figured out I didn't know the way, she pointed out I was going in the wrong direction, then question why I had turned the way I did. My reply that I was just the driver and that she had the map and should be telling me where to turn was not the answer I should have given. It was only after I had been properly chastised and we were headed in the correct direction, that domestic relations improved. You'd think that one of these days I would eventually learn to keep my thoughts to myself and my mouth closed, sigh
We weren't sure when our daughter would be arriving, but we decided it wouldn't be in the early morning, given the fact they had three young ones. That allowed us to take a leisurely walk and still get back to the campground before they arrived. We did see one interesting thing as we arrived back at our site. An RV with a MotoSat was parked just a few sites from ours and the MotoSat was up. "How could they get coverage and we could not", was uttered by both of us, seemingly in unison. Our question was answered in short order, they couldn't, as their MotoSat was soon stored, never to poke its head into the sky again during their stay. I joked that we should deploy ours, then cut the power, leaving it pointed towards the sky, which would make it look like we were able to get on the internet. It would be a neat joke, but one which I never got around to carrying out. It was at this time that the a white pickup drove in, one carrying our daughter's family.
Fortunately it had not rained over at the coast to the extent which it had here at Silver Falls, so they had able to do the things they wanted. Driving up the coast they had driven through Winchester Bay and had stopped at the Umpqua River Lighthouse, where we host in September and October. It was great that they got to see where we have spent so many pleasant hours, the only bad thing, though bad thing is not the correct term, was they didn't see where we park our RV, nor did they drive by the crab pier. Oregon is such a great place to vacation, maybe they'll be there again in the future and have the chance to see it. Eventually the four o'clock hour rolled around and they were able to unload their things and move into their cabin.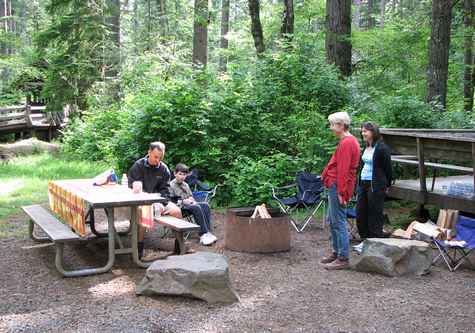 They were staying in Cabin 6, which was in a separate area from the campground. It was in a great location, at the end of the road, yet less than a minute from our site. As you might imagine, one of the first orders of business was building the fire for the evening campfire, something which gave us the opportunity to donate a bundle of the 2x4's we have hauled around in the back of the Explorer for months.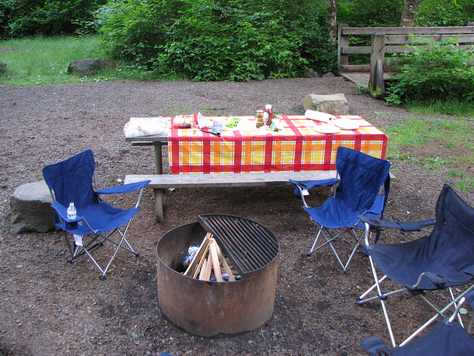 Dinner was hamburgers and all the trimmings, which were grilled to perfection. Everyone enjoyed the food, but the highlight was Linda's brownies for desert, something our grandson just loves. As his expression this photo shows, one is just not enough.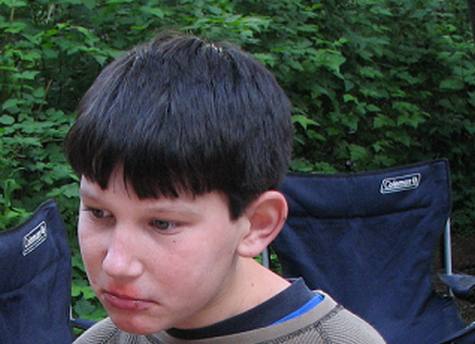 As soon as he got his next bite of brownie, all was okay once again.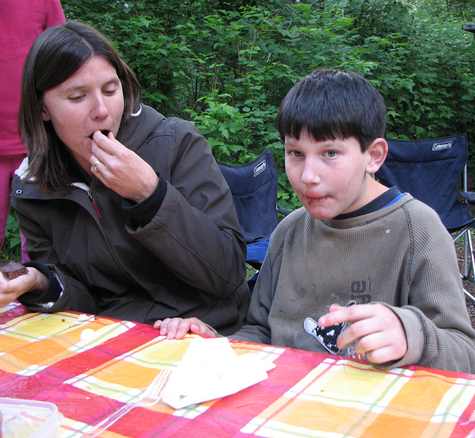 As might be expected, space is at somewhat of a premium in the cabin. It has two rooms, the back room is a sleeping area with with a double bed and over head luggage /storage rack, plus two bunk beds. The front room has a futon that converts to a double bed, a table and three chairs, a small microwave and mini refrigerator with a little freezer compartment. It also had a fair amount of storage area, as long as there was floor space. As far as actual shelf space was concerned, it is one of those places which Real Estate agents refer to as a "rustic, cozy cabin with quaintly designed, custom shelf space." You can say that again.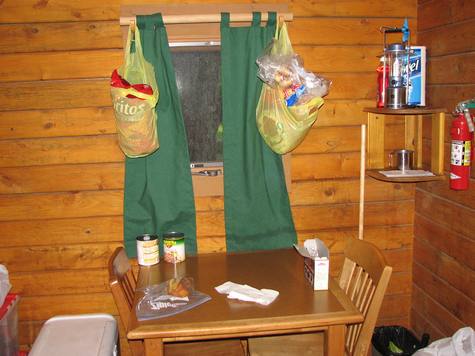 What with that campfire just waiting for darkness to descend, it only took the first hint of the sunsetting in the sky to strike the match, so to speak. We soon discovered that our grandkids were teasing Daddy about the fire the fire he had built the night before, so he was going all out to redeem himself tonight. As you could see from the smiles on the faces around the fire, whether or not it burned brightly, it had certainly met everyone's expectation of being built big.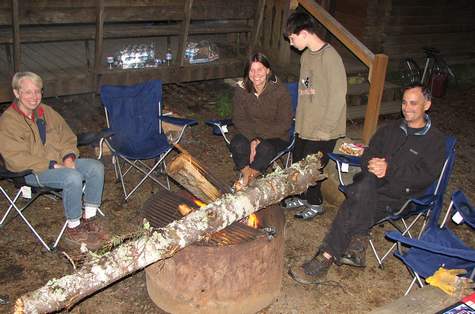 It was about the time we were ready for bed that the first tongues of flame finally managed to ignite all the wood in the fire pit. Looking at the good side, they wouldn't have to worry about bears, any that were within at least 5 miles would have been blinded looking into that conflagration. We eventually headed off to bed, after enjoying a game of Mindtrap, well maybe not a full game, but trying to answer the questions was a blast, especially the ones we didn't get, which were far more of the questions than the ones we did manage to answer. We couldn't have asked for a better time. Special times are the best times.
---
June 12 - Tuesday
Just what you look for on vacation, sunny weather, was what greeted us today. The other thing which greeted us were the birds enjoying a meal outside the coach. I guess I should say that was what greeted Linda, since I had gotten up early to work on the Daily Journal, having stopped long enough to spread a small amount of seed on the ground for those greedy Jays to fuss and fight over. They were in fine form by the time Linda made her appearance, so for once I had done something right. Now if I can just keep it up for the rest of the day.
I could tell she was in a hurry to get going when she had an asparagus omelet cooking before her morning coffee was done. I know the old saying, "haste makes waste", but in this case it needed to be changed to "haste makes taste." I'm not sure what she did differently and having to hurry myself to keep up with her, I never got the chance to ask. Whatever it was, I hope she does the same thing again. Looking at the photo as I get it ready to post, maybe it was the thin slices ham she added. Or maybe there was some secret ingredient, after all Linda needs to crank up her cooking a notch or two since our daughter is here, what with her being a far better cook than her mother.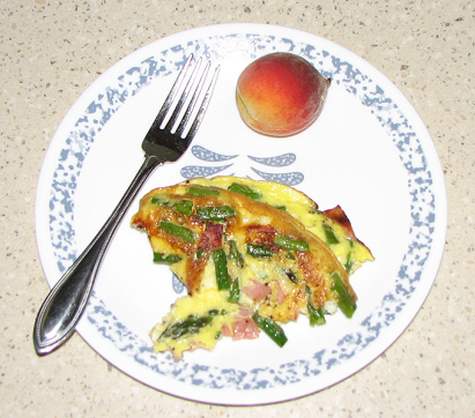 We arrived at the cabin just as breakfast was in the final moments of being cooked. The thought hit me that here was the chance to enjoy two great breakfasts in one day. I figured our daughter would think it was awesome, but Linda would think otherwise. Self preservation triumphed over taste bud tantalization. Then once their breakfast was over and the dishes done, everyone piled into the truck and we headed off to see some waterfalls. Because of our grandson's disabilities, he has a special stroller he can ride in over rough or steep terrain, or use on longer walks. When we had walked the trails the previous two days we had checked to make sure the stroller could also go on the trail, it could, so we were all off to see the South Falls.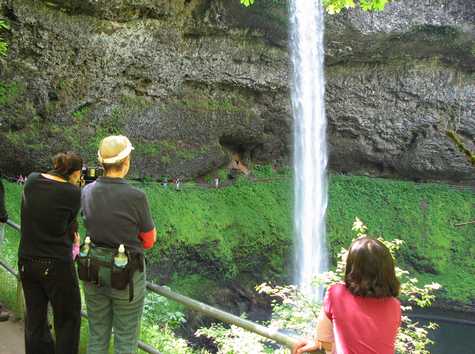 Some things are just special, and that's what this place was.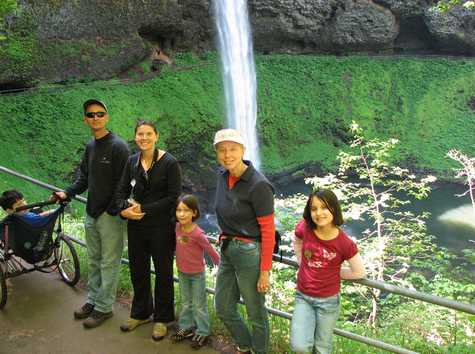 Just like we did on Sunday when we first took this path, once the opportunity for a special photo of Linda behind the falls occurred. After my experience with Linda always standing in the wrong place a few days ago, she redeemed herself, and got everyone situated in just the right spot.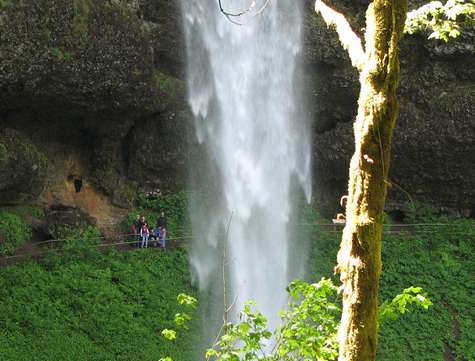 We weren't going to walk the same loop we did the other day, but there were some things that we did that were repeated. Foraging for salmonberries was one of those things. It didn't take Ed long to figure out where the best berries grew, it was where the ground was always damp. Next came the discovery that down along the sunny banks of the Silver Creek, the salmonberries were at there best. What followed was a search for the mother of all berry picking spots, then came a taste treat, followed by a return to berry picking. The picking process was interrupted only by the need to document what was taking place. It seems like some people acquire a taste for salmonberries faster than others.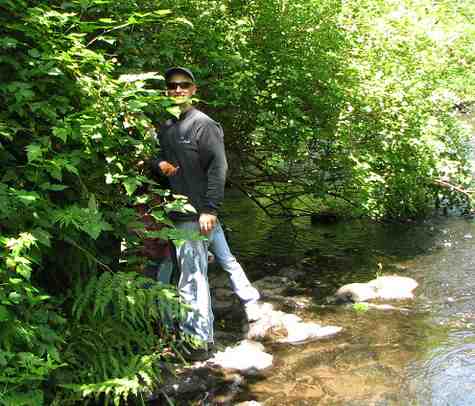 The trails were in good shape, some were steep, but that is to be expected where you hiking to view waterfalls, how else do you get to the top or bottom of them. Generally they are also smooth, though some areas have more rocks than others. There is also the occasional wet patch, though we noticed the trails were, in general, much drier today than a few days ago when it was raining. All in all, this is great place to spend some time, particularly in the 'off season' time of the year. We found out this is still considered off season since the schools in Oregon were still not out.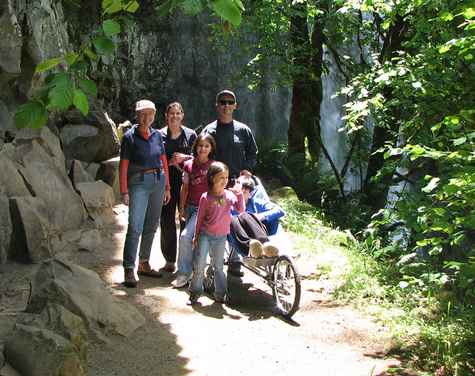 It was while we were climbing the trail back out of the canyon that we saw something different on the trail, or more properly, something starting to cross the trail. We all craned our necks to see what all the excitement was about, with Justin having the best seat in the house. It was a small snake, very timidly leaving the shelter of the one side of the path and attempting to cross over to the other side. Of course I was just like everyone else, trying to see the snake, then it dawned on me to take a picture. Of course by this time the snake had decided it had enough of all these dim witted humans and threw it into overdrive. Maybe I should title this one, photo of partial snake crossing path, or maybe, partial photo of snake crossing path. I figure this is probably the only chance I'll get to photograph something like this, but then again, we never know where the road will lead us.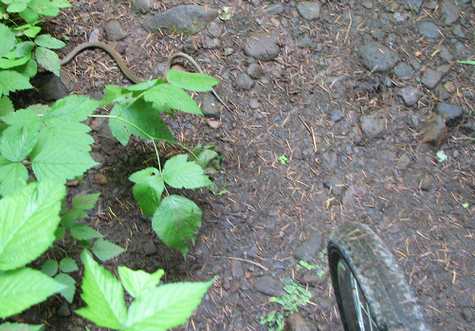 Once we were back, Linda had something special planned for the girls. Soon everyone was gathered at the coach, watching grandma as she started to explain what they were going to do.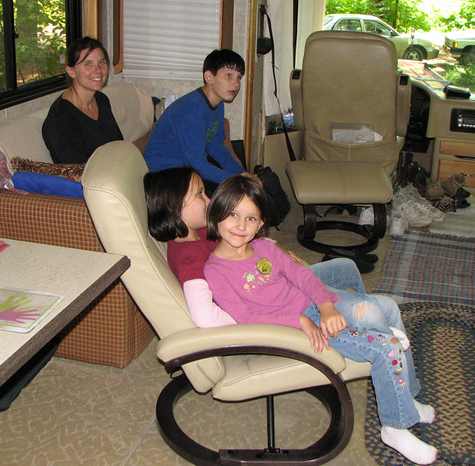 What they were going to do was to cook, or to be exact, bake. While Lindsey read off the recipe, grandma and her helpers added the ingredients and stirred them all together.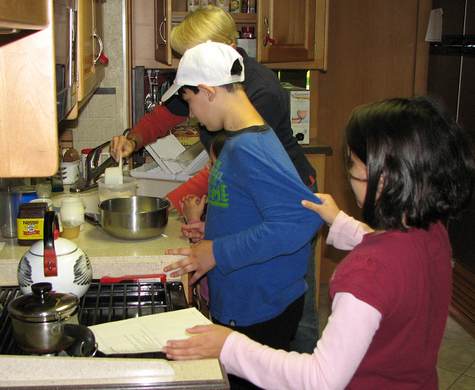 As you can tell, the main ingredient was love, oodles and oodles of love. That is how you bake the best brownies, plus a lot of good help from the entire family, though an extra spoonful of chocolate also helps. There are some things that only grandmas can do. This was one of them. It was also another special day, we hope yours was too.
---
June 13 - Wednesday
We had visitors last night, not just sometime during the night, but rather, all night long. We also got to have a first for the coach, our first overnight guests, because Lindsey and Abby stayed with us last night. They were as quiet as church mice, well except for this morning when, with a loud clunk, Abby fell out of bed. Securely bundled up in her sleeping bag, she suffered no damage and was still peacefully sleeping away on the floor when I got up.
I had been working on the Daily Journal for a while before Linda made her first appearance, and the girls heads soon followed, emerging from the depths of their sleeping bags. Abby was saying that Lindsey snored, but that wasn't true. What she, no doubt, had heard was the echos and reverberations from the grizzly bear that sleeps in the same room I do. Speaking of grizzly bears, we may not have had one in the coach, but we had something else that looked pretty scarry.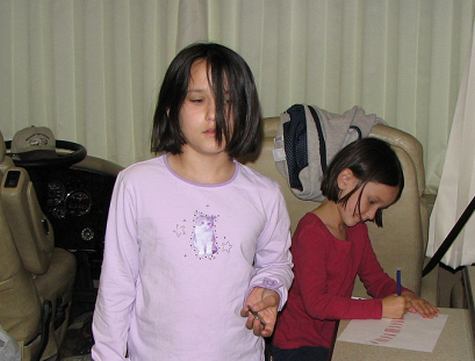 The girls had come prepared, so while grandma fixed oatmeal the right way, the girls drew pictures and colored them. Making oatmeal the right way is of prime importance to get Abby off on the right foot. While Lindsey eats dry ceral and milk, Abby has more exacting requirements. Two packages of instant maple and brown sugar oatmeal mixed with just enough hot water to make a very thick paste, and as grandma learned last year when we watched them, if it is mixed with too much water, there is a very big problem. Abby didn't seem to be concerned that grandma would make it wrong and busily colored away, oblivious of grandma who was just a few feet away crossing her fingers as she mixed the water with the oatmeal.
There are several artists in the family as you can tell from the intensity that Lindsey is displaying. Her drawing was a scene from the Park, complete with ferns and salmonberries. Abby's was of a waterfall and had everything labeled so grandma and grandpa would know just what it was.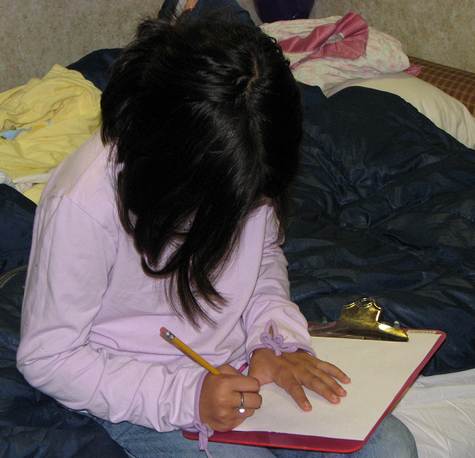 Just like we did yesterday, the morning was spent looking at waterfalls. Today we parked at winter falls and hiked down the very long and steep trail to the bottom. As we descended our daughter remarked that they were certainly going to get their exercise, pushing Justin in his stroller on the way back, and remembering our climb of a few days ago, I had to agree. We never could decide whether or not there was more water pouring over the falls because of all the rain, but Winter Falls, which doesn't flow in the summer and hence the name, was most definitely flowing.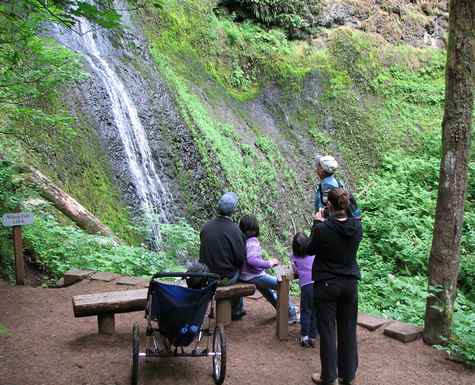 Given the fact that this area was logged heavily, the size of some of the trees is still amazing. While Abby may be standing looking at this waterfall, her mom is nestled up to the tree on the right, trying to get just the perfect picture. While it doesn't give an indication of the height of the tree, the diameter at the base gives an idea of its sheer size, which is monstrous.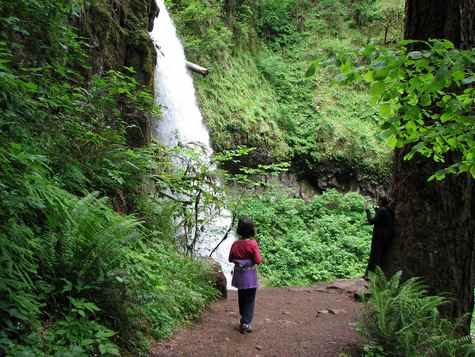 Eventually we saw all the waterfalls in this section of the park and started to hike back up and out of the canyon. The kids had fun racing ahead, hiding behind trees and in clefts in the rocks, then jumping out as the adults came by. Here you can see all four kids resting on a bench in front of Winter Falls, just before making the final steep climb back to the top.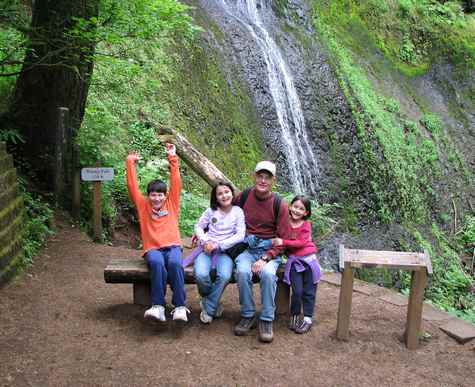 It doesn't take a mind reader to figure out who rode in the stroller and who pushed, it just takes a family photo. While Ed rests on the bench, Jenny tries to straighten out her back and Justin, full of energy after having been pushed to the top by mommy and daddy, celebrates. Meanwhile, grandma is showing Lindsey and Abby how to bead.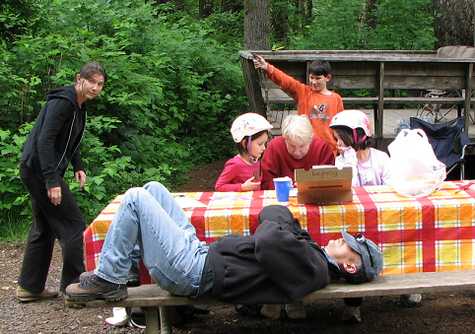 As you can tell, it takes an awful lot of intense concentration to do bead work, especially when you are old and your eyesight isn't what it used to be.
While the girls did bead work, the boys went off in search of boy things to do. It wasn't long till grandpa and Justin found just the spot to play the perfect game. That old, old, knock the little rock off the big rock with a stick game. We started with just one rock and by the time we were done, it was four rocks, and not just little rocks either. It was a special time for grandfather and grandson. How many times in our lives do we get to spend time with someone who only gives. So many people only want what's in it for them. Justin is only capable of giving and I am so glad he is my grandson. Life doesn't always give us what we ask for, yet sometimes it gives us far more than we could have ever imagined, it's just not in the form we expected.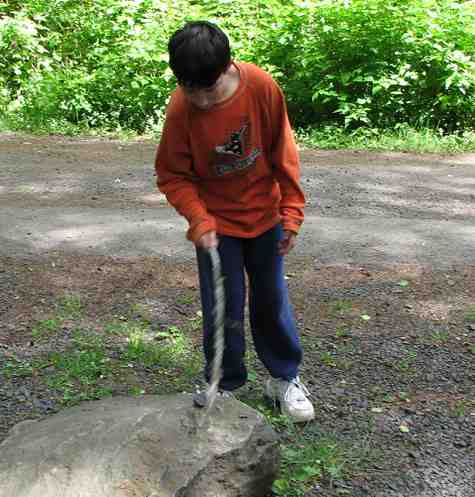 Later we played Mindtrap, then had a meal of pasta and sausage sauce, before lighting the evening campfire. It was day that actually lived up to the oft abused and over used phrase, "as good as it gets."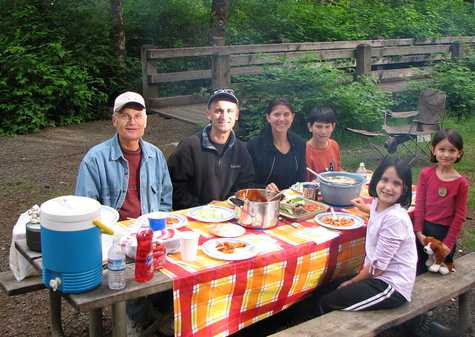 ---
June 14 - Thursday
We had visitors again last night, but they had a better nights sleep thanks to Linda. What with Abby falling out of bed the night before, Linda was going to make sure it didn't happen two nights in a row. Her ingenious method of decreasing the bedtime accident rate was to use our two dining chairs as safety bumpers, placing the backs against the edge of the bed. Talk about a great idea, not only were there no loud bumps in the night, it also furnished the girls with a ringside seat in morning from which to watch grandma fix breakfast.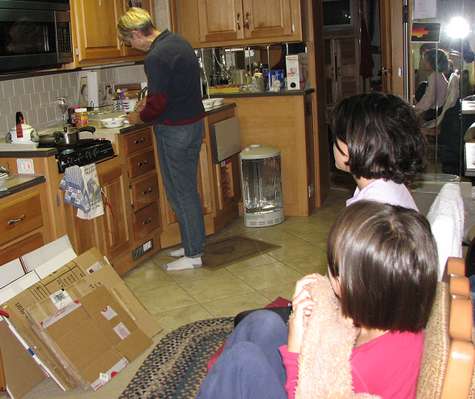 While grandma did her thing with the girls, I continued trying to keep caught up on the Daily Journal so that when we get a connection to the internet once again I can be reasonably up to date. Soon the girls were crowding around grandpa wanting to know what he was doing. What I was doing at that moment was to be finishing writing about something they had done and getting ready to add a photo of the girls to the narrative. Once they discovered that they wanted to see more. Talk about focusing your attention on something, they were so full of questions I couldn't keep up with them. Maybe when they return home they will follow our adventures on the internet. At the very least they will look at the days they were with us to see what grandma approved of what grandpa wrote.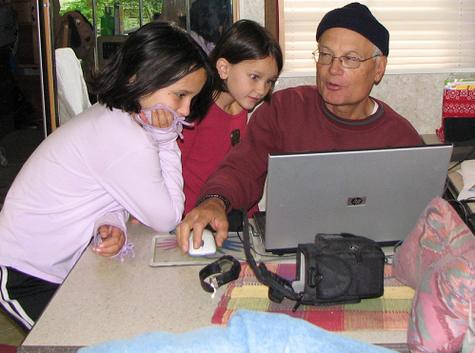 Linda had one thing she wanted to do before we took off on our morning trek to see waterfalls and that was to get a family photo. After spending time looking at several less than ideal locations, we settled on the area beside the cabin with the covered bridge over the stream in the background. I think it turned out to be a good choice, plus what are the odds that everyone would actually be looking at the camera and smiling when the timer went off.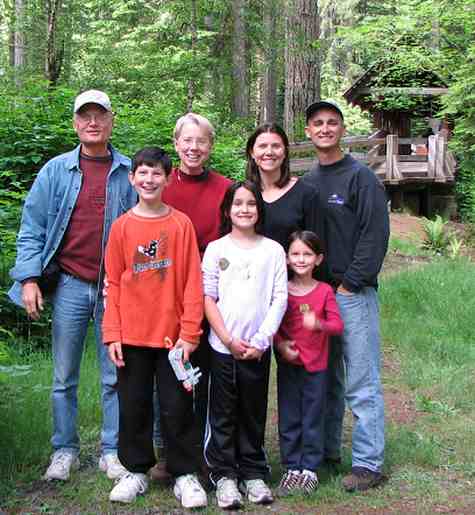 Just like we did the last two days, the morning was spent looking at waterfalls. Today we parked at the North Falls parking lot, then walked up the trail to the Upper North Falls. It was then that I caught one of those special moments with my camera.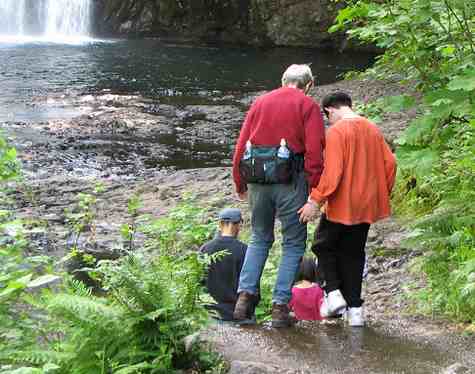 Back at the cabin the girls were riding their bikes, but not without incident. Lindsey was trying to skid without almost falling over every time, while Abby couldn't stop at all, or better said couldn't use the brakes to stop. The result was a couple of quick lessons in bike riding concerning the use of Abby's coaster brake. Soon Abby was skidding to a stop with no problem. She was having so much fun making the gravel fly that a photo was in order.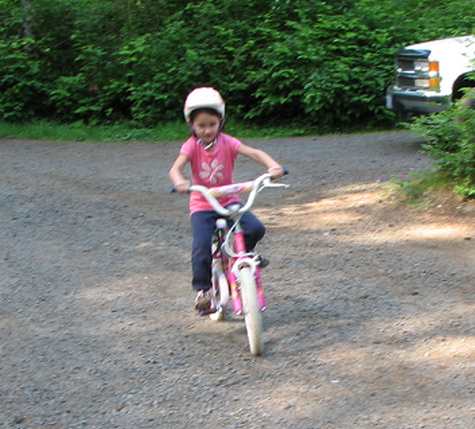 After watching Lindsey almost topple over several times, we realized she was using the wrong brake. Her bike did not have a coaster brake, and what she was doing was to use the front brake to stop. Once she learned to use the rear brake, she really started getting into skidding to a stop. It wasn't long until she was trying to do a sliding stop and her dad worked with her in getting the right technique down. Once she realized that she was creating a dust cloud when she skidded, it was photo time. The only problem was she would ride so fast, and right at the camera that it was hard to get a good photo. As you can tell from the blurring of this image, riding fast was something she did very well.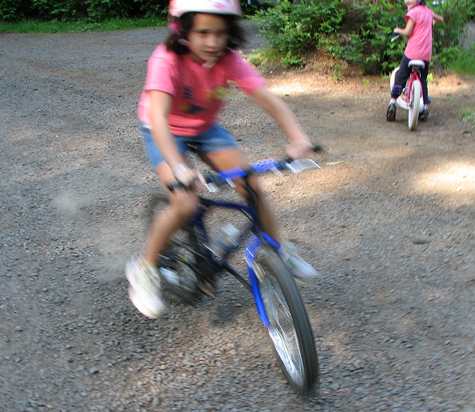 The evening was once again accompanied by a fire, this time of my making, around which we sat and talked. I had also promised the girls I would eat a Smore, but with two of them it meant two, not one. It was a tough job, but I discovered I was up to it. The result was a wonderful opportunity to spend time with our daughter, something we realized we hadn't done for a long time. Unfortunately it will probably be a long time before we can do it again, as both we and they are leaving tomorrow morning and heading in different directions. Still, we will treasure the time we have had rather than fret about the time will won't have together.
---
June 15 - Friday
It was a very quiet morning, with just one grizzly bear in the coach this morning, I miss my second grizzly bear, Lindsey, and so consequently had a hard time working on the Daily Journal. It was also hard knowing that we were going to be alone again, not that we don't enjoy it, but being with family, especially under these circumstances is so very special. They had set their tentative departure time as 9 AM, so about twenty till the hour we walked across the covered bridge and over their cabin. The girls were already out and ready, well as ready as young ones get with out being asked several times, and were soon having fun giving piggy back rides.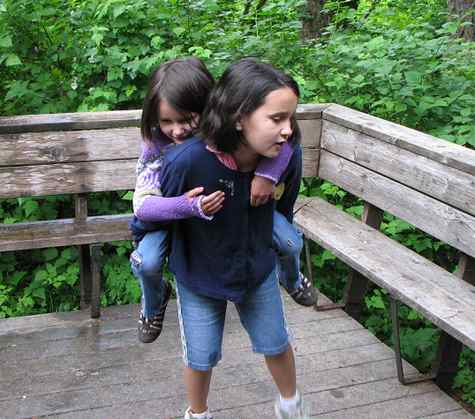 All too soon, their white Ford truck was disappearing in around the curve of the road and Linda and I were once again, on the road, alone. We headed back to the coach, but were in no hurry to leave, partly because we didn't have to be out of our site until 1 PM, and partly because we are only planning on moving about 25 miles today. That was when Linda remembered we had overlooked something on our two separate hikes to the North Falls, the tree chimneys, or casts that were formed by the lava flowing around and over standing, living trees some 15 million years ago.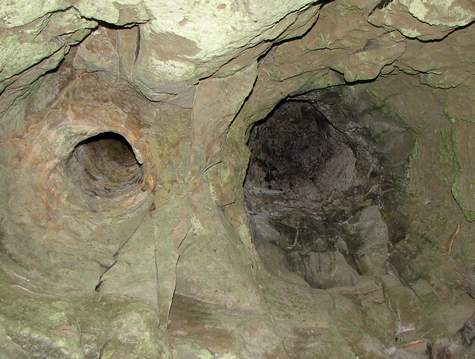 This time we didn't miss them, and in fact wondered how we had ever managed to overlook them. There are quite a few of them, as all you have to do is look up to the roof of the cavern as you walk behind the falls. Of course that might just be the problem, walking behind the falls, as all you will probably be looking at is the falls.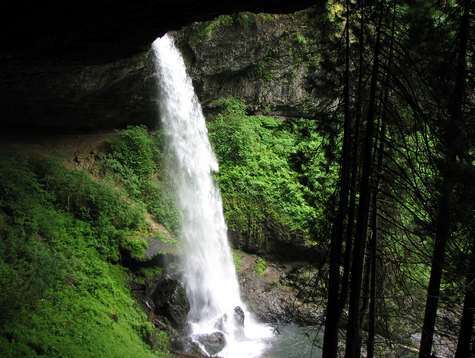 While the drive from Silver Falls State Park to Silverton was not lengthy, it was made fairly interesting by the scenery we passed. This is definitely an agricultural area, but one that is quite a bit different from what we Californians are used to seeing. At first we passed huge fields of tree seedlings, which we marveled at and then realized we hadn't taken any photos once we were leaving the area. This is a pretty wimmpy photo but it was the best my assistant could come up. Don't blame me for not taking any pictures, it was all I could do to keep us between the sides of the road. Guess you couldn't blame Linda either, as she spent all her time making sure I was keeping the coach on the road, plus any time she had left over was spent insisting that I slow down.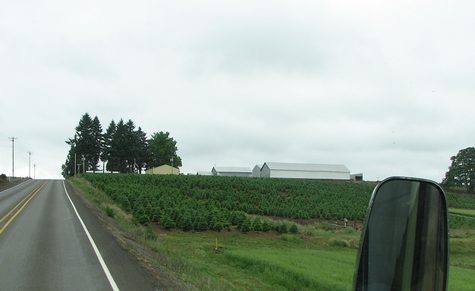 There was another kind of crop growing in the fields, one that took us both far longer than it should have to figure out what it was. At first I thought it might be hay, but that just didn't seem right. Finally it dawned on me, it was grass seed they were growing.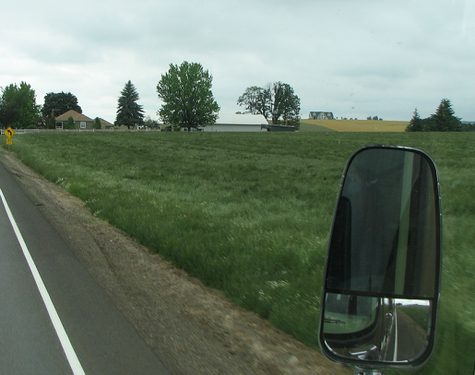 After all of 35 minutes, we pulled into the Silver Spur RV Park which would be our home for the next several days. It also meant that it was time for Linda to get out the sweeper and clean up all the needles which we had tracked into the coach over the past few days. We sure couldn't blame our granddaughters for this as they took their shoes off just as soon as they came up the steps. While I moved furniture and rugs, Linda cleaned up with the Oreck and it didn't take very long to have everything ship shape once again.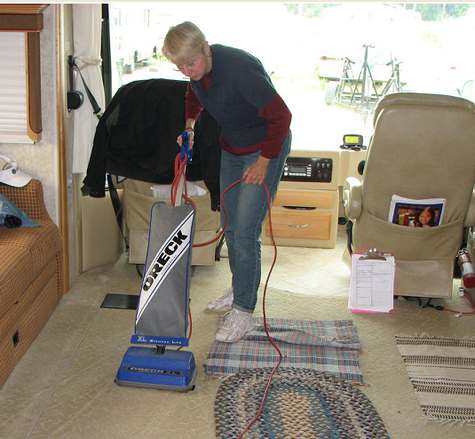 We relaxed for pretty much the remainder of the day, finding ourselves both succumbing to the need for rest, then finding that because of the nap, we weren't sleepy once evening rolled around. What with a great dinner of homemade chili, followed by the last of the peach cobbler, it made for a good way to end the day.
---
June 16 - Saturday
It's back to normal today, whatever normal is. Our plans are to stay here for at least one more day, getting caught up on a few things around the coach before taking off again. Linda had a list of things she wanted done, though it wasn't the kind of list she usually has, instead it was a list of places to visit and things to see. Silverton isn't a big town, but it does have things to do, especially if you're in the mood to do the unusual, plus having spent the past week doing things had seemingly left Linda wanting more.
Among the things on her list was a visit to a lavender farm, the local museum, the Saturday morning Farmers Market, the worlds largest Iris grower, and, on Sunday, the local strawberry festival. So much for just kind of sitting around, relaxing and enjoying life while taking it easy for a few days. In the interest of fairness I should point out that this wasn't a list of must do things, rather it was a what's available list, something to mull over and then pick and choose from. Listening to her talk about these opportunities as she called them, I soon got the idea that several of them were on the must do part of the list, those being the Farmers Market and the Strawberry Festival. It didn't take long to confirm my suspicions, at least as far as the Farmers Market was concerned, especially when I heard her asking, "Are you ready yet", as she stood by the front door.
It not only got my attention, it also got me moving, and in short order we were looking at the booths at the market. Thinking about the size of the town and other growers markets we have shopped at along the way, it shouldn't have been surprising that there were not a great deal of vendors, but it's not the number, it's what they have that counts. In this case, one of the three vendors who had vegetables for sale had brought just what Linda wanted. Of course there weren't any photos of the market taken, not that I didn't think about taking one, it was just that with my arms loaded down with all that produce, there wasn't any way to take a photo. I guess I could have asked Linda but since she was lost in her own world I let it pass.
We did make a couple more stops on our way back to the coach, the local Safeway Supermarket (they don't grow fresh limes in this part of Oregon) and then just because it was there and also because Linda had murdered our basil plant with kindness (translation: over watering), a stop at the Wilco store. We found the Wilco store to be quite fascinating because it is one of those farm/ranch type stores that has all the things people who live in an RV have no need nor space for. Linda was especially intrigued by the spurs and the lariats. One thing they did have was basil plants, lots and lots of basil plants. Lots in both terms of numbers of plants and lots in terms of varieties of plants, in fact so many varieties that the little woman couldn't decide which kind to buy.
She finally came up with an ingenious way to decide what to buy, a taste test. She would break off a small leaf from the plant and based on how it tasted make her choice. It was just that the means by which she carried this out required some serious evolvement on my part. Her job was to break off the leaf and put it in the mouth, mine was to actually do the chewing and tasting. Somehow I didn't connect the dots at the time, but if she wanted it to have a good, strong "basil" taste, why didn't she do the tasting herself. Once I had selected what I thought was the best of the lot, she did a confirmation tasting and handed it to me to carry out. Guess that's what is termed being equal partners and is why we get along so well together.
It wasn't until we had returned to the coach that we realized we hadn't taken a photo at any of the stops we had made. Linda was out to rectify that, and it wasn't long before she was standing outside the coach proudly displaying the head of buttercrunch lettuce and the bunch of green onions she had bought. You will note the photo has been edited to show only the produce and not the face of the pretty model we so often use in our photography. That's because the dumb blonde, err, the pretty model, had her eyes closed when I took the photo, anyway, here's what she bought, which shortly thereafter we found out tasted every bit as good as it looked.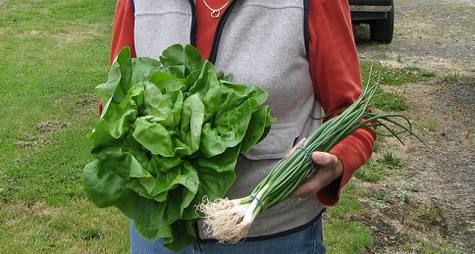 Once the lettuce was put away and the dishes done, I sat down at the computer to try to get caught up to date with my Daily Journal entries. I've got a weeks worth done, I just don't want to post until I'm current, which hopefully will be today. Then just about the time my mind was starting to form thoughts which could be transformed into intelligent phrases, that woman announced that it was time to leave once again, this time to visit the museum. What ever happen to the part of our adventure that involves just sitting around and doing a great deal of nothing?
A quick glance over the top of my glasses told me that we were going regardless of what I may have been planning to do. That was how we ended up in another of those wonderful small town museums. At one time in the distant past Silverton had been a mill town, with a number of lumber mills along the banks of Silver Creek, but before that it had been a frontier town in the Oregon Territory. Standing their reading the various cards which describe the objects before you, the movement of wagons and people to Oregon in the 1850's suddenly becomes very real. I don't know what it is, and it may just be me, but the feeling I get when I look down on an elegant, old rocking chair that came across the plains in one of those wagons goes far beyond just being words in a history book.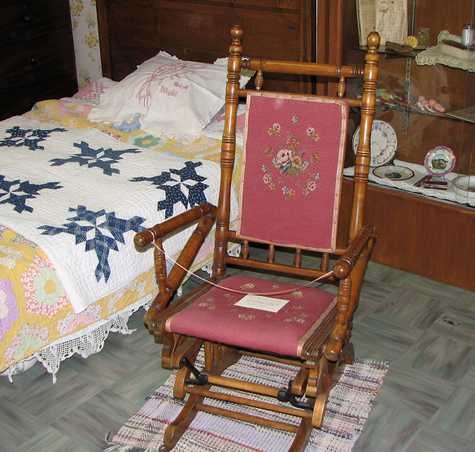 The stories the objects in this photo could tell. The quilts, were they packed away in a trunk for the journey or were they made after arrival in Oregon Territory? How long had they been used, what triumphs and tragedies did they witness, what events took place under the warmth they provided? Were they later packed away, becoming something know only as having once belonged to grandma? Were they forgotten, hidden away in some dark corner of the attic, or were then periodically retrieved, to be reintroduced to the next generation and, and their tales once more repeated. Unanswerable questions, but then, lost in a world of long ago, thoughts swirling around in my head, I once again became one with the past. What greater thing can a museum do than transport you to somewhere else and cause you to think. I have to feel sorry for those who visit, look, but don't really see.
One thing that always comes out in these small town museums is the pride with which they call attention to the local boy who made good. In this case it was just a simple country boy, Homer Davenport, who went on to become the most famous political cartoonist of the day. One of his books, The Country Boy, has been called a classic tale of small town American life. Here is a link to more information on this intriguing man who, though once very famous, is now almost entirely unknown.
Another famous "person" the town claims is Bobbie, a three year old who made a harrowing trip from Indiana to Silverton in the early 1920's. The almost unbelievable thing is that he did it on his own. Don't believe me? Read all about it here. Both the lives of Homer Davenport and Bobbie are celebrated on two of the many murals which can be found on the streets of Silverton.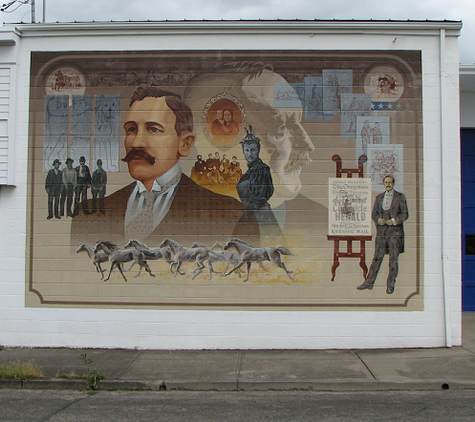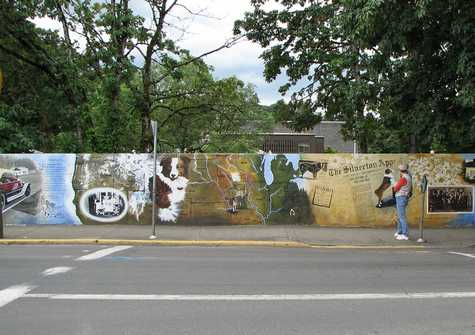 While there were a dozen or so murals that we could have visited, the weather was threatening, so we decided to head back to the coach. It wasn't until the 4 o'clock hour, as we sat outside eating peanuts that the storm finally decided to spend some time overhead and even then it was only enough to chase us inside. Linda did have one other task planned, though I wasn't involved in this one, which was to feed the birds. She had seen several flying around, so she scattered a small amount of seed to see what would happen. What happened was not much, as several very easily frightened birds would land near the pile, quickly take a peck or two at it, then hastily fly away. To say that it left Linda less than satisfied would be an understatement. Hey, there's always the next place we stop.
When we had stopped at the Safeway this morning, we spied some stew meat on sale and had bought a package. It was only three quarters of a pound, but it will make several pots of the Beef Burgundy we had so much enjoyed when we were at the Petrified Forest. And true to our hopes, it made for a wonderful meal, except that it seemed a lot thinner than the last time we made it. We'd followed the recipe, but something seemed to be missing. It was Linda who finally made the connection, we'd added whole wheat noodles last time. This just reaffirmed the idea that not everything comes out exactly the way you'd like, but for us, today was a day we'll keep, even if it wasn't perfect. In closing, I have to say the fresh baked chocolate zucchini cake we had for dessert went a long way towards making for a perfect ending to the day.
---
June 17 - Sunday
Father's Day dawned with the threat of rain in the air. That was not good, particularly if the the rain did actually come, because of what Linda had planned for the day, which was visit to the Silverton Strawberry Festival. Since I had finally gotten the entries for the past week posted to the Daily Journal, even if it was late last night, I wanted to stay caught up. So while I worked on the article for Saturday, Linda worked on washing the last of our clothes. I think she was also concerned about whether there would be enough food at the Strawberry Festival, so she also fixed an omelet for breakfast, just to tide us over.
By diligently applying myself I was able to eventually get the journal written, though not as quickly as Linda wanted. Sometimes the words flow out and sometimes they don't. Today was more a situation where the words came flooding, rather than trickling out. To those of you who waded through the whole post, apologies are offered, though it was certainly a labor of love on my part. Timing wise, everything worked out just about perfectly, as I finished up the post a little before noon, just as the sky stopped looking like it was going to rain. The best part was that Linda was able to make sense out of my jumbled scribbling.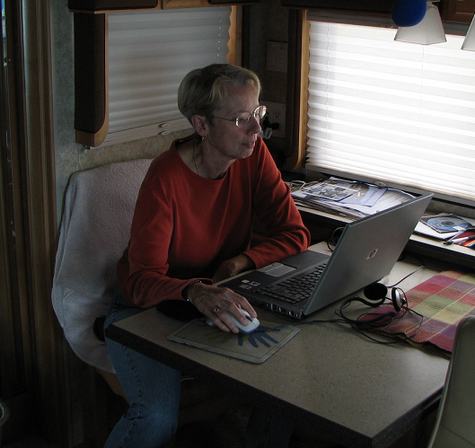 When we arrived at Silverton's Coolidge and McClaine Park, the Strawberry Festival was in full swing. Of course we made a mistake right off, driving back through a residential area to the Park. Naturally there was no parking anywhere in the vicinity and so we followed the line of traffic, driving a few blocks away and parked in a Realtors parking area, their office being closed on Sunday. It took less than five minutes to walk back to the Park and buy our tickets for $5 each. The ticket entitled us to have both firsts and also seconds in the strawberry shortcake department, but what stood out in our minds about the ticket buying experience is the grumpy man who was talking to the lady selling the tickets.
Seems that he took offence regarding the band that was playing. Complaining that it ruined the whole experience because he couldn't sit and visit with his neighbors. When he started complaining that this is the one time a year that he can set and talk to his neighbors we realized that what he really was, he was a bigot. Of course he was the kind of bigot who would call everyone else one, but never see it in himself. If you think about what he said for just a second, why would this be the only time during the year when he could talk to his neighbors. The other point was that the band was playing Christian music, and that was obviously what he took umbrage to. Somebody from the big city moving to small America, yet unable to comprehend what makes small town America the place it is.
Once that was past, we got our shortcakes and sat at one of the many tables under the pavilion. The strawberry shortcake was a work of art, with a small scoop of soft serve vanilla ice cream placed in the bottom of a bowl, then a very large, very dense shortcake, which was followed by a very large dollop of whipped topping, around which was ladled sliced strawberries. And at first we didn't think there were enough strawberries on the creation.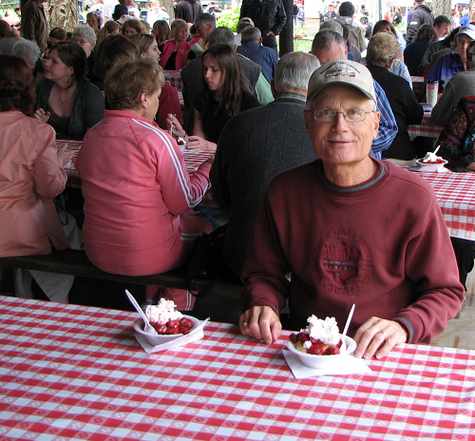 Then looking around, we discovered what everyone else was doing, and we were soon following their lead.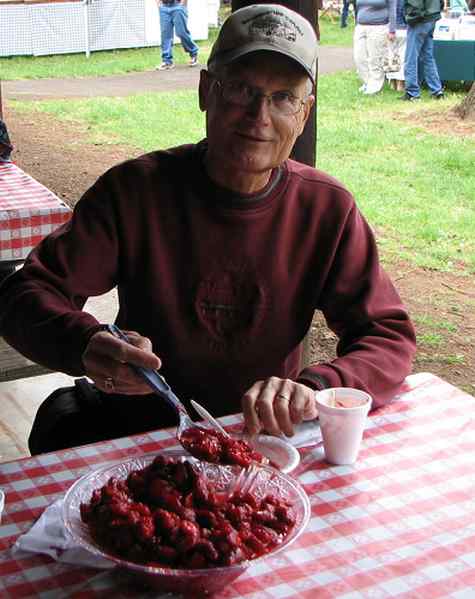 Once we learned the ropes, the strawberries began to be consumed in prodigious quantities. The best way to state just how much we ate is to use Linda's description of the amount of strawberries she shoveled down. "That was the most strawberries I have ever seen at one place, and it it was by far the most I have ever eaten at one meal in my life." I would be remiss if I didn't mention seconds, which was a styrofoam cup filled 2/3's with vanilla ice cream and topped with strawberries. Of course we had to ladle three or four more scoops of berries on top of the ice cream, but when you're on a roll, you're on a roll. As you can tell from this photo, there is still more damage to be done to that bowl of berries, we just had to leave it to someone else to finish it off.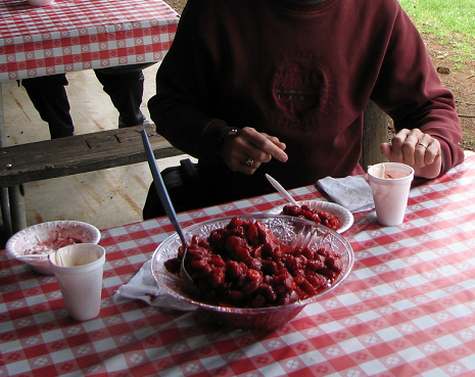 It was funny thinking about the complaining bigot we had overheard when we first arrived, because we spent most of the time that we were eating talking to a wonderful gentleman sitting a little further down the table, and even I, with my bad hearing, had no trouble joining in the conversation. Turned out that he had moved to Silverton about 10 years ago from southern California, but was full of information about the town. When we got ready to leave, he gave us his card and said to contact him if he could do anything for us. Looking at the card we discovered he was the Silverton Town Councilor. Again something you would only find in small town America.
Leaving the food pavilion, we wandered through the displays and exhibits, finding nothing to buy, but emensely enjoying ourselves none the less. The highlight of this wandering was having our photo taken for inclusion in an article about the Strawberry Festival. There really isn't much to tell, but if you know me, you know I will anyway. As we were walking out, there were several antique vehicles on display and Linda wanted to look at them. One thing lead to another and she didn't believe my explanation of what the two levers on the steering wheel of an old truck were for, so she asked the man standing next to her, who turned out to be the gentleman who had restored the the truck. Turned out the truck was a one of a kind, a 1923 Durant Utility Truck, the only one know to be in existence.
The restorers name was Tom Schwab from Silverton, and he was extremely proud of the truck. It was while he was telling us the method he used to bend the wood to make the back and roof of the cab that the photographer for the local newspaper took our photo, then asked us our names, where we were from and why we were at the Festival. Whether the photo will make the paper or not, we will never know, but just the fact that our photo was taken, made for one of those special moments. I think Linda summed up our experience very well, for as we were leaving she commented, "Based on what we've seen as long as we've been here, this is the town I'd pick if we were looking for a place to live permanently." How many times is it said that first impressions are the best impressions. Silverton, Oregon, a special place filled with special people.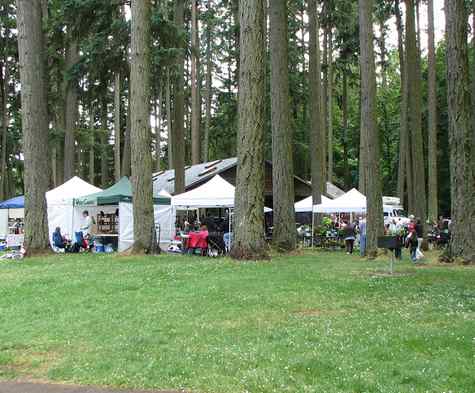 Back at the coach it was time to work off a few of the extra pounds we had added, what with all the eating we had done at the Festival. One sure way to get some exercise would be by climbing up onto the roof of the coach five or six times, something that Linda soon had me doing. As the lady I'm married to said, "It is time to either get our DirecTV working by what we could do, or find someone who can fix it." The former being the reason I found myself doing contortions on the roof of the coach.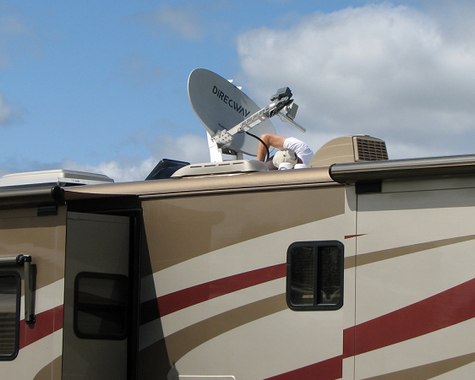 When those several trips up to the roof, checking connections, didn't seem to have any effect, it was time for plan "B". As I've learned over the past four decades, when the woman I'm married to references plan "B", a translation is in order. It's not really that hard as both the plan and the name of someone Linda knows very well both start with the letter "B".
It really wasn't as hard as I had thought it would be to get out the boxes for the DirecTV dish and tripod. Well maybe it did involve emptying half of one of the coach bays to get to the boxes, but isn't that what all the storage space down there was for? Then with Linda reading the directions, assembling parts proved to be quite simple, once she was reading from the right page that is.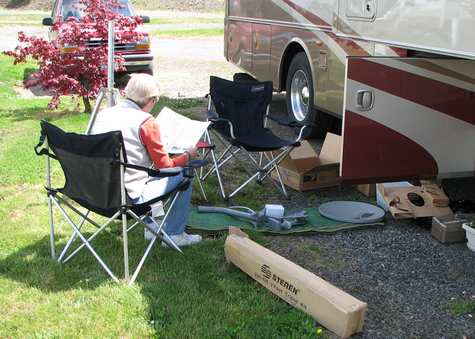 Now came the tricky part, placing the assembled tripod beside the coach and aligning it to pick up the signals from the satellite. Everything I had read about this job said it would take about an hour the first time, them about 15 minutes thereafter. We read the instructions, set the dish elevation, then using both compasses, set the azimuth and hooked the cable up to the dish. Then we fished the cable through the window and inside, hooking it up to the back of the receiver and got ready to begin the setup process. That was when it happened. I don't know what the odds are, but we were already exactly on the satellite, getting readings in the 90's for the transponder signal strengths.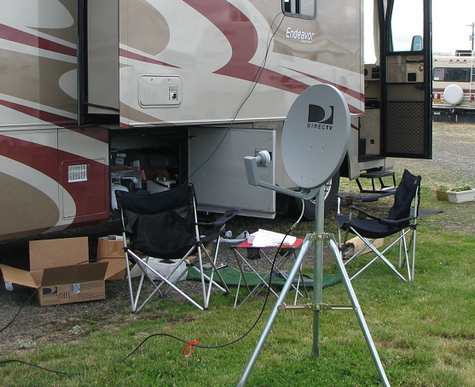 Whether you could call it beginners luck or superior intelligence, skill, and ability on our part, remember what the "B" in Plan "B" stands for, the bottom line was that we were watching DirecTV. It also meant we were going to have to look elsewhere for a solution to our problem. As luck would have it, Bill and Janet Adams, who originally installed the system, where down at Coburg, Oregon. A phone call to them resulted in another trip up to the roof where we determined it wasn't any of the simple things I could fix such as loose connections or an alignment problem with the LNB.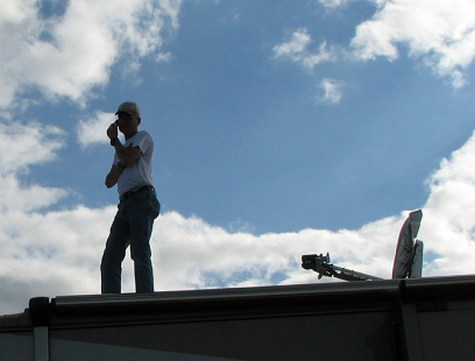 The result was that we would be taking a slight detour tomorrow and instead of driving due north to Washington, we would first be heading south to Coburg-60 miles. Linda needs her DirecTV, and besides, we can also stop at the Monaco retail parts store in Harrisburg and pick up a few items we can use. I believe that is called rationalization, but if Linda doesn't have her DirecTV, she's not a happy girl. Seeking to drown her sorrows, she fixed supper, not just any supper, but one fitting the day. It's probably not what most people would look at as a great meal, but then there are people in various parts of the world who relish grubs and other creatures that we decline to dine upon. A dilled egg salad on a bed of Buttercrunch lettuce, sliced warm, low fat swiss cheese and whole wheat Armenian cracker bread. Talk about different, talk about good, did I marry well or what.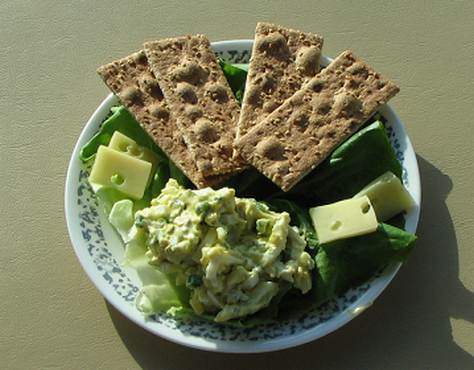 What with all the phone calls I had been getting because it was Father's Day, Linda decided it was her time to talk. Sisters are special and it wasn't long before she was on the phone to older sister. She also got in some exercise at the same time, pacing up and down the park roads. Now if I could just pry myself away from this computer and get some exercise myself, since I know those strawberries are going to be changing form and hanging around my middle for quite some time otherwise.
Walking and talking wasn't the only thing she had done, and so once she was off the phone I was being dragged form the coach to see the local sights which she had discovered. First I was taken to this moving mass of ants. Every brown speck you see in this photo was an ant, in fact there were so many in constant motion that it was hard to focus your eyes on them.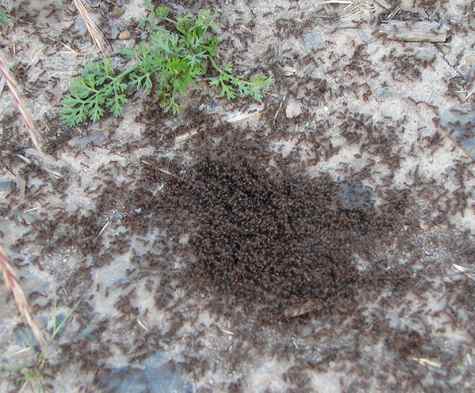 Then, a few steps further towards the trees which line the back edge of the RV Park, she had discovered several ponds. What excited her was not the ponds themselves, but what she had found floating in them, several quite large and very vocal bullfrogs. I listened to them and quipped that there roaring sounded familiar. It was also when I learned that it is never, ever a good idea to remark that the belching roar of a bullfrog reminds you of the noises your wife makes when she is first waking up in the morning. You can bet I'll never make that mistake again.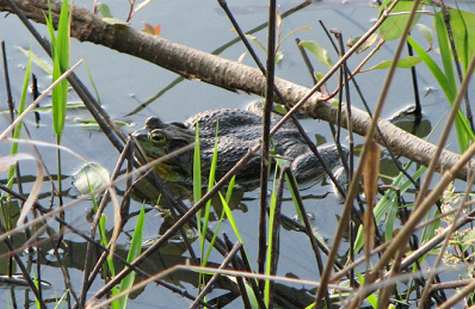 Once things calmed down after my Bullfrog fiasco, she took me back to a field that was nothing but row upon row of Iris plants. The blooms had all faded, but we could only imagine what this field must have looked like a month ago when it was peak bloom time.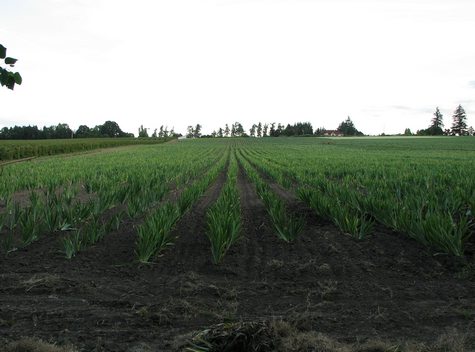 Thus ended another day in our lives, one with many more ups than downs. A day to really enjoy what life is all about. We hope you also had a chance to kick back a bit today, savoring the moment. I know we did.
---
June 18 - Monday
We got up this morning knowing what we were going to do today, then decided to change it somewhat. The change dealt more with where we were going to be spending the night, rather than what we were going to be doing. Before we thought we would drive down to Coburg, get the DirecTV fixed, then come back here for the night, since our plans are eventually to visit Mout St Helens. In checking things out, we found a Passport America park in Vancouver, just across the Columbia from Portland and decided to spend the night there. My preference has always been to procrastinate, but since beginning this adventure I have stopped that habit in one situation. That's when we have to drive through a major city. I want to get it done now, not later.
Since we had no set time to be in Coburg, we took our time, enjoying a bowl of oatmeal and dried cherries before packing up. The drive south on I-5 was easy, and almost before we knew it we were getting off at a familiar exit, the one were the Monaco Plant is located. We pulled into the gravel overflow parking area beside the TA Truckstop and called Bill with Internet Anywhere to let him know we had arrived. He asked us to deploy the MotoSat and just as we were finishing up, he and Janet drove in. It had been some time since we had last seen them, so greetings were in order, then it was time for them to set up the ladder and get out their tool kit.
The first order of business was to check all the easy things, such as loose connectors or obviously damaged parts. Unfortunately nothing of that type was apparent (which made me feel good since I had tried to make all of those checks myself), so it was time to look elsewhere for what might be causing the situation of there not being a signal. I don't know if it was what might be termed, calling in the big guns, but what ever it was, soon both Bill and Janet were hard at work on the roof.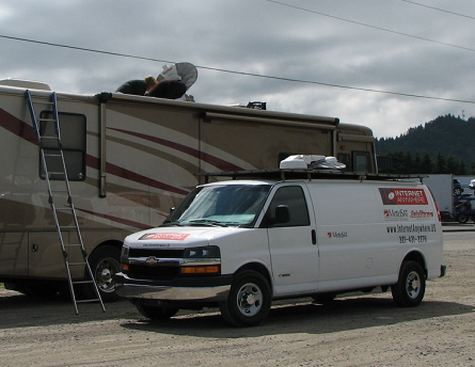 While one can never be exactly sure of what the problem is, all the signs pointed towards the LNB. Now a LNB going bad is something that doesn't happen very often, but it is easy to replace. Soon the new one was being installed and Bill called down to have us check the screen for signal strength, or as he put it, "Are we getting any numbers." There were certainly numbers on the screen, but they didn't look anything like the numbers we had seen yesterday when we hooked up the tripod, as every other column was a zero. A little adjustment brought no improvement and so Bill came down the ladder to check out the screen.
I could tell from the look on his face that this was not one of the usual problems they faced, but it wasn't long until they had it solved. It turned out the replacement LNB was also bad, something they had never seen before. Once all the installation brackets were installed, the LBN adjusted and the the connections tightened, the picture instantly appeared on the screen, and in much sharper focus than it had in a long time. I know it wasn't a celebration dance that I saw on the roof, but I figure Bill and Janet know they are very good at what they do. It was why we are glad to have had them do the orignal installation on our MotoSat.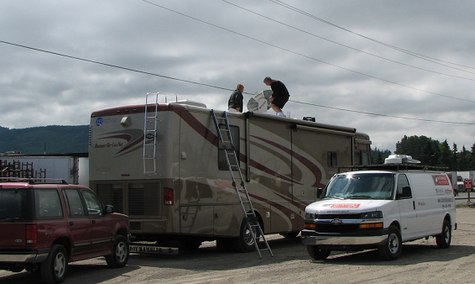 Once they were down from the roof and everything put away, Bill asked if we had spent a lot of time close to saltwater. We told them we had been parked near the beach in Texas for that week back in February of 06, and had spent last September and October on the bluff overlooking the Pacific in Reedsport. Turned out that there was an inordinately large amount of corrosion on the LNB bracket and Bill suggested that when we were back at Reedsport this fall it might be a good idea to occasionally rinse the LNB off with fresh water. There is no problem with the MotoSat as it is made with corrosion resistant materials, but the LNB was another animal. If you're looking for the best when it comes to a MotoSat installer, Bill and Janet are the people, their company is called Internet Anywhere and you can visit their website here. In case you are curious, the cost to have the LBN replaced was about the same as what we paid for the original installation, $100.
Once Linda was again a happy girl, it was time to head North, but not all the way to Washington, or at least not yet. Just a few miles North of Coburg is Harrisburg, where the Monaco Service Center is located. We didn't need any service, but the retail parts store is there, and we needed to pick up a few items. What a difference from when we were there in December, as even the front parking area was full. Well not quite, there was one spot left and we pulled right in.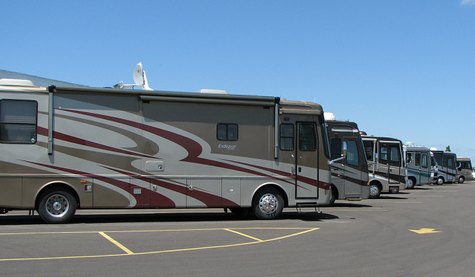 Of course as luck would have it, we were parked as far from the the parts store as was possible and when we walked all the way up to where it was, we discovered it was closed for lunch. Looking back it was actually not a bad situation, though at the time Linda was somewhat less than ecstatic about it. But once she realized it was an opportunity to get some much needed exercise, plus eat lunch, it wasn't a bad as she first thought. When we finally did get back to the store, store being not the correct term to describe a space that is not any larger than the bedroom in our coach, it only took a couple of minutes to get everything. When all the parts we wanted were kept in drawers in this tiny room, it told me that we were not the first people to have these switches, pilot lights, door catches and other items to go bad. Back on I-5, it wasn't long before we were approaching Portland and seeing Mt Hood's presence off to the East.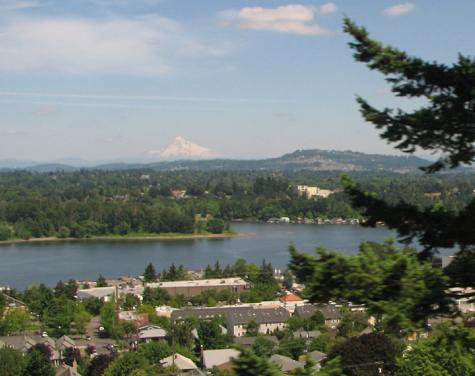 It was just a little past three when we started through Portland, and while traffic wasn't light, it wasn't stop and go either. It is always fascinating to drive through a larger city as each of them seems to have its own style and personality, sometimes expressed in the terrain, sometimes by the architecture. In Portland's case it seems to be some of both. We didn't plan on spending any time in the city on this trip, but sometime in the future we will have to stop and both literally and figurately smell the roses, Portland being known as the Rose City.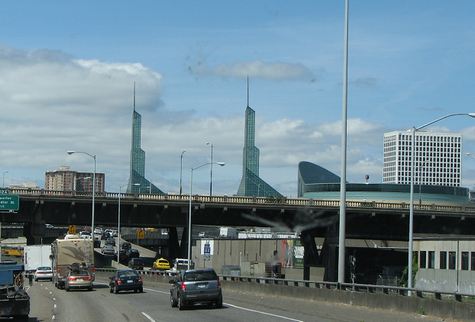 Sure there were some interesting buildings, but above all else is the water. Maybe I should restate that and say under and around all else is water.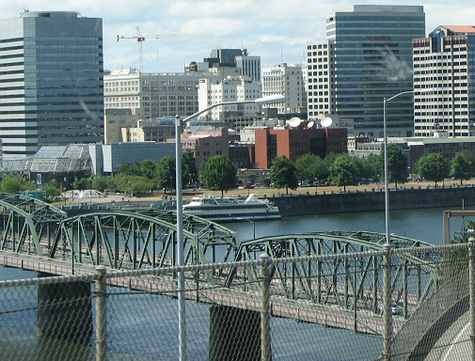 Heading north from the downtown area, the buildings changed but the water remained.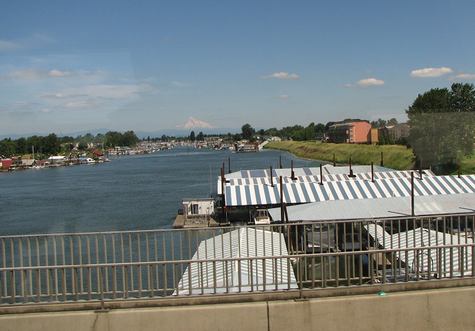 Of course once we came to the Columbia, all the other rivers paled in comparison.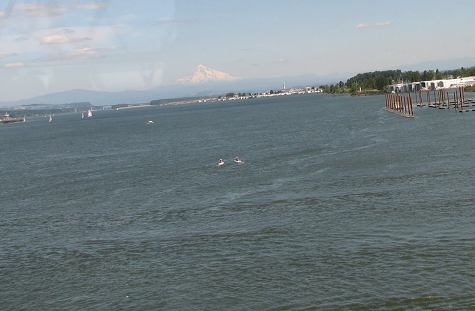 It wasn't much farther once we had crossed over into Washington that traffic began to thin out and we soon found ourselves at Exit 9, the exit we were looking for, and began to drive on country roads towards the Big Fir RV Park. Being a Passport America Park, we weren't sure what to expect but this was the sight that greeted us as we pulled up to the office the office.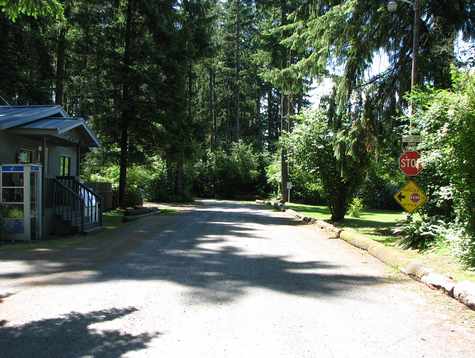 They were as good as their word, or name in this case, as the campground was smack dab in the middle of a fir forest. It was one of those good news, bad news deals. Or as a certain late, great, race car driver would have said if he was an RVer, "it was just one of them RVin' deals." The good news being that we had a pull thru site deep in the cool shade of a fir forest. The bad news was that we had a pull through site deep in a fir forest, meaning there was no chance that we were going to be able to get on the satellite. Such is life.
Deciding that if were going to be in the deep woods, we might as well enjoy what were were given, and besides, so what if we are few days late getting the website updated, after all we had been without coverage most of last week and survived. Of course that wasn't exactly what Linda was wanting, having just gotten the DirecTV working, but sometimes its simply a case of making lemonade. Our solution was take a walk through the back area of the campground, back in the more open areas where the tenters were. Yes, you heard right, all the RV's are in the heavily shaded woods and the tent sites, while in a wooded setting are mostly out in the open. I guess it is because sun is the enemy of mildew and mold, and that is why the tent sites are more in the open. Something else liked the open meadow areas, and that was the local bunny population. It's easy to understand why the rabbits in all of the children's story books are always called cotton tails.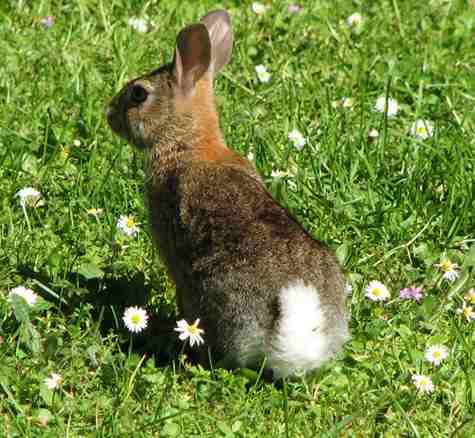 We enjoyed a dinner of leftovers, then just kind of sat around for a while, what with no TV and no Internet, guess we are more than spoiled. We thought about watching a VCR or a DVD, or even one of the movies we had recorded on the Tivo, but in the end it was cleaning up a few things on the computer for me and updating some of our records for Linda. After a dessert of Ricotta flavored with lemon served with a slice of chocolate zucchini cake, it was time to call it quits, particularly since we had such a big day planned for tomorrow.
---
June 19 - Tuesday
We have a busy day planned for today, with a morning stop at Fort Vancouver National Historic Site, then a drive up to Castle Rock and an afternoon visit to Mount St Helens. Since we couldn't get on the Internet we weren't sure just how early Fort Vancouver opened, but figured it would be no later than 9 AM (we were right on as they opened at, guess what, 9 AM). It was only about a 15 minute drive at the most and our trusty GPS got us there with no problems. Our first stop was the Visitors Center, where we watched the Park movie and toured the small museum. We both felt the volunteer who was at the Center was not up to our standards, but at least he was willing to volunteer. After checking at the Visitor Center for hiking shields, we drove down to the Fort.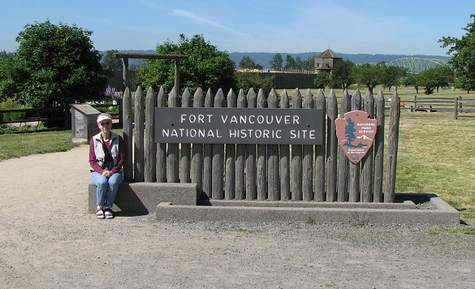 Once the photo of the glamorous model posing beside the entrance sign had been taken, and a tour of the gardens completed, it was time to actually enter the park. It was here that the rewards of getting old finally came into play. Once you pass that milestone in life, your 62nd birthday, you can have the option of spending $10 and purchase a piece of plastic the same size as a credit card that carries the simple words, Senior Pass. What you get is a lifetime pass to many of the Federal Recreational Areas, a good deal if there ever was one. Of course the entrance fee to Fort Vancouver was only $3 each, so instead of saving money, we were $4 in the hole. Still Linda was optimistic that it would save us money before long.
I had to laugh when I mentioned to the Ranger "that I'd recently passed a great milestone in my life", because she immediately responded with, "And so you can finally get a Pass." How right she was. It was also a moment that Linda was more than prepared to document for posterity as you can tell from the photo of the Ranger beginning the process of filling out the paperwork. It also brought back fond memories of our days at Petrified Forest where we always responded to the man, if he was applying, about how young his wife looked, and to the women, if they were applying, about how she sure didn't look old enough to be 62. Sure it was pure B.S., but the people sure liked it.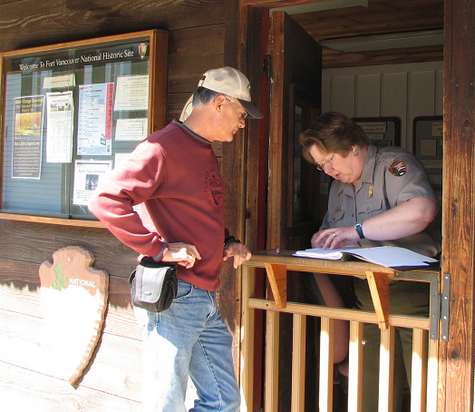 Once the old guy she is married to had made Linda happy, it was off to explore the Fort. The historic Fort Vancouver we were exploring was not the Fort where U S Grant was stationed as a Captain during his Army days prior to the Civil War. It was the original fort which had been built in 1825 as a Hudson's Bay Company outpost. One interesting fact was only the officers of the Company lived inside the fort, everyone else lived outside. The Chief Factor's house was, comparatively speaking, a mansion when contrasted to where everyone else lived. Linda, never passing up the opportunity to play the role of the model, stands in front of it. As you look at this house, remember this place was in what was basically the wilderness in those early years. The term "rank has its privileges", was never more apparent.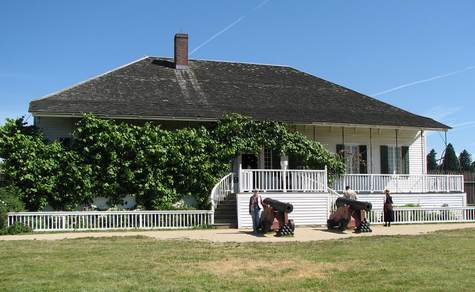 The Fort is a reconstruction of what the original fort with its various additions and improvements looked like. Among the buildings they have reconstructed is the carpenter shop, and outside it we found a reproduction of a Red River cart. This was a two wheeled cart that the fur trappers used to haul their supplies.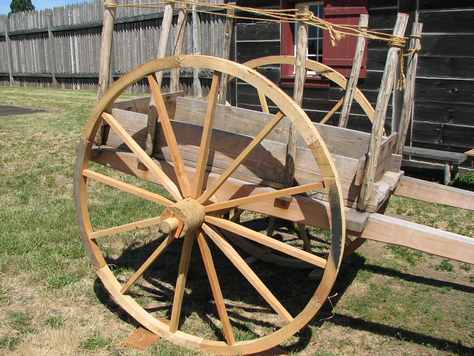 The most interesting thing about the cart was the fact that it contained no metal whatsoever. Being constructed solely from wood and rawhide. There were no metal band around the wheels, rather the segments of the wheel were held together by rawhide strips. It is always interesting that throughout history, people who have not had what is commonly used to make things find a way, however ingenious, to solve the problem and provide an acceptable alternative. Wonder if we will be stubborn and insist on growing ever more dependent on our vanishing sources of fossil fuel, or will mankind come up with a new way to produce the energy it needs to forge ahead, making the world a better place for everyone.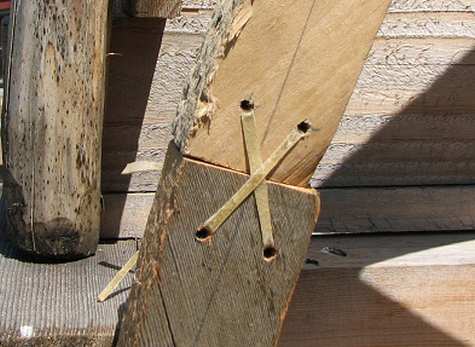 Our visit to the fort over, we returned to Big Fir RV Park, hooked up to the coach and struck out north towards our next destination, Castle Rock, Washington where we planned to stay at another Passport America Park, Mount St Helens RV Park. The interesting thing was that it was not in the book, but was listed on the Internet. It turned out to be a nice park and we were soon settled into our back-in site with only minimal yelling at each other. After a quick bite to eat, we were off heading towards Mount St Helens. We won't bore you with all the photos we took, but we will try to give you a little flavor of what we saw.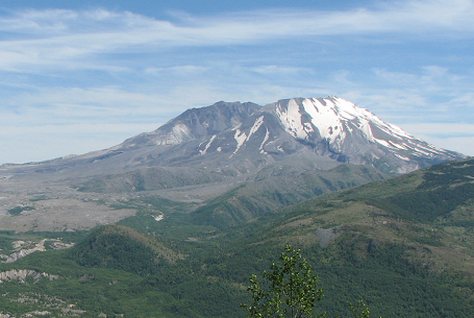 Heading ever eastward and upward, the view changes constantly, the mountain looming ever larger the closer you get. It must be pointed out that close is a relative term since the closest we could drive was to within 6 miles of the crater and that was high on a ridge across an enormous valley from the mountain. It is a very long drive, almost 50 miles from I-5, but the landscape is ever changing, then once you cross that imaginary line into what is called the 'blast zone' things may not be what they seem.
Take this photo of what appears to be small sticks scattered among some shrubs. What it really is are the trunks of trees blown done by the force of the blast. One thing you do not see are any trees near the volcano itself and your first thought is that maybe they salvaged all trees. It is only later that you learn that everything within 6 miles of the lateral blast was pulverized and shredded. Everything, people, vehicles, trees, rocks, you name it, it is gone. Everywhere you look the land was swept clean. Guess when a 670 mph wind blows through carrying the remains of a mountain, it is a little more than just a strong breeze. Somehow once you are there looking at this area, the term 'blast zone' seems to be a remarkably accurate description of what you eye is seeing.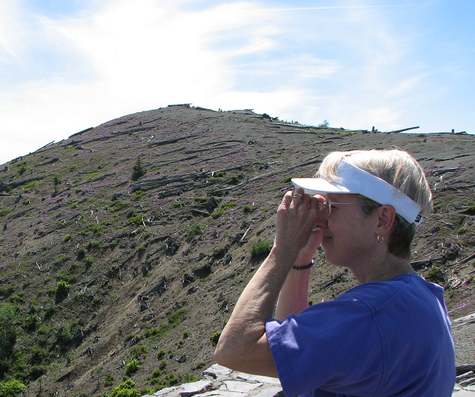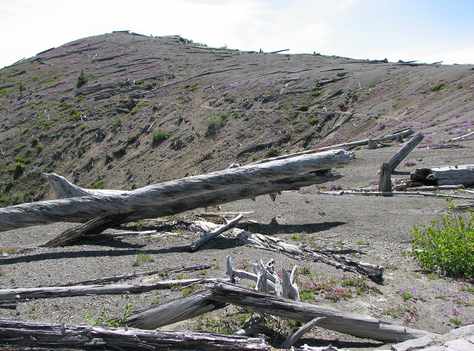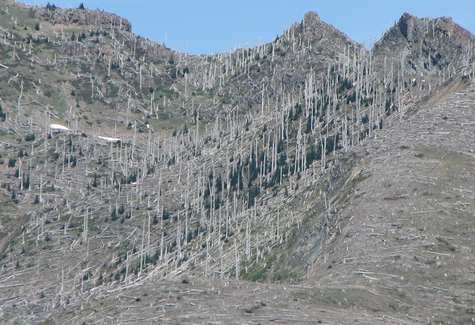 We arrived at the Johnston Ridge Observatory just in time to hear a Ranger program and one of the things we didn't realize about Mount St Helens is that it is not dormant, rather it is still active and erupting today. If you don't believe me, what do you call that white plume coming from the mountain directly over Linda's head, and don't you dare say it is some of her hair blowing in the wind.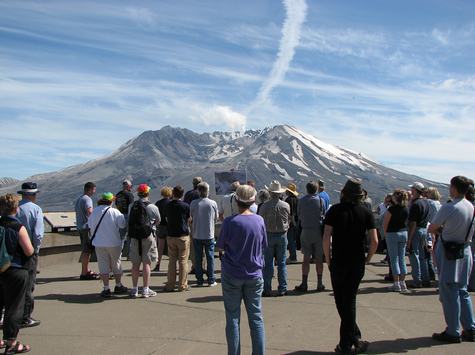 Here is a somewhat closer view.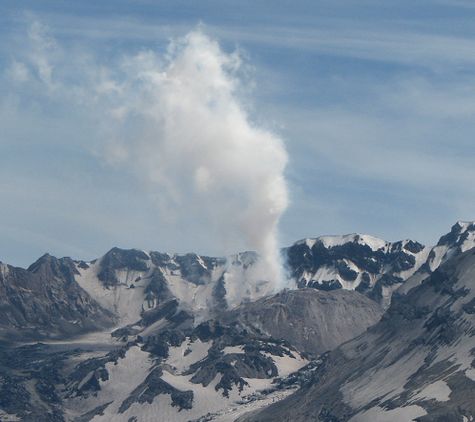 Even though the land has been changed forever, or at least until the next major eruption, from death there emerges life. Where once there was a heavily forested mountain, now there are wildflowers making their presence known.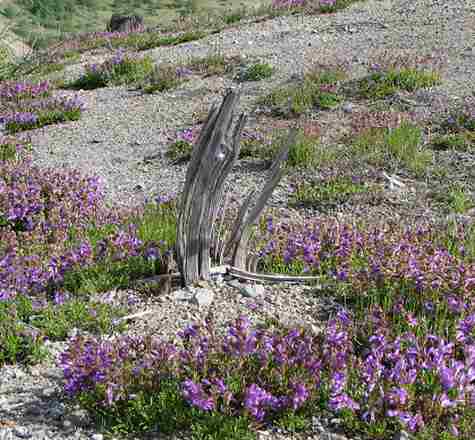 As we started back down the mount, Linda kept seeing something she couldn't believe. She finally asked me to pull over so she could get a photo of it. Can you make it out in the photo she took?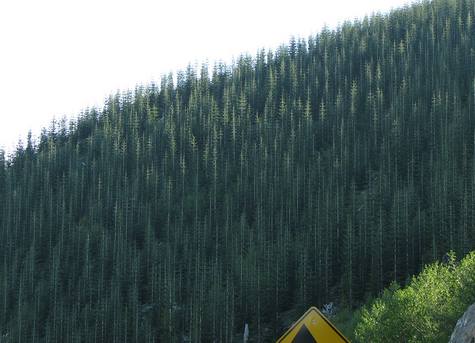 What your thinking is exactly what was driving her crazy. The shapes of the fir trees blended together in such a way that her eye simply could not focus on them. At least I was lucky, the road was curvy enough that I had to keep my eyes on it, otherwise I would have been suffering from the same problem she was. We did have one last stop we wanted to make, something which which involved a mile long hike up and down hills surrounded by a deep forest, only finally to emerge to behold the largest sediment pond we had ever seen.
I can guess what you are thinking, why would anyone want to undertake an arduous mile long hike to see a bunch of mud? Fortunately, or unfortunately, depending upon how you look at it, Linda and I spent the last few years of our working lives being associated with such things. As I used to state about what we were making, "It doesn't have to look like the wedding dress for the Queen of England, because in few weeks it's going to be covered with mud." The nature of a sediment control device is that it is going to come in intimate contact with sediment. Sediment being a more polite term for mud.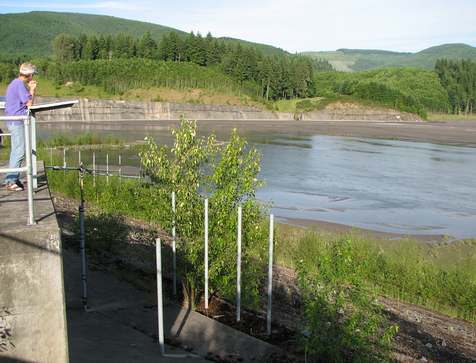 Once we got our fill of watching a giant mud puddle, we returned to the park and had another meal of leftovers. It was as we putting away the dishes that I saw a strange apparition out the window of the coach.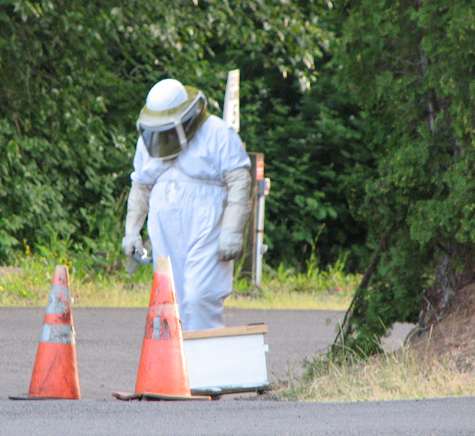 Actually it wasn't a monster, nor was it the EPA completing a hazardous waste cleanup. Linda knew right away that it was beekeeper, her Dad having kept several beehives, and we watched fascinated as he captured a swarm that had settled in one of the trees neat the park office. To say that today was filled with interesting sights would be an understatement, it was truly a day that exceeded all our expectations.
---
June 20 - Wednesday
Today is another travel day, though once again, we will not be moving a great distance. We want to explore the area on the East side of Mount St Helens, but not from here at Castle Rock, so the plan is to drive approximately 70 miles to the town of Randle from which we can then further explore the mountain. As usual, we don't have any set plans for what we want to do, or for how long we plan to be there. Checking the weather forecast, today is supposed to be a nice sunny day once again, which should offer great views of the mountain, but showers are forecast for Thursday. If that's the case, we'll just hole up for the day and resume our mountain experience later in the week.
Since check out time at this park was 11 AM and our driving time would only be a little over an hour, we decided to spend the morning catching up on a few odd jobs. First, however is the necessity for sustenance, for which Linda provided a delicious bowl of oatmeal. We had bought some frozen raspberries, so we used them, which was quit a change from the dried cherries we had been eating. Even though I gave them a liberal dose of Stevia to sweeten them up, they were still rather tart. How fickle our taste buds sometimes are.
Finally 11 o'clock rolled around and we got ready to leave which was when it happened, or more accurately, that's when nothing happened. At least that is probably the best description for the events which took place when I turned the key to start the engine. All the lights and warnings sounds came on as usual, the wait to start light went out, but when I turned the key to actually start the engine, nothing happened. Of course the shock was such that I didn't believe it the first time it happened, so I tried it again with the same results or lack of results depending on the point of view.
It's one of times that Linda asks, "is something wrong?" and to which I can only reply, "Yes." The first thing that went through my mind was that this was a repetition of the battery problems we had last spring. A check of the battery compartment indicated nothing wrong, the switches were all in the right position. A check of the gauges showed the voltmeter indicating we had over 12 volts. Then taking a page from the rundown batteries of my teenage years, I turned on the headlights and went outside while Linda turned the ignition, not even the faintest dimming of the lights. Time to call for assistance.
Once the preliminaries were over, they asked a couple of questions, then asked what was showing on the transmission pad. It mirrored the results of turning the key, which was nothing. From what we could understand, this was both a good news and a bad news situation. The good news was that it gave a good idea of where the problem was, the bad news was that it could be many things.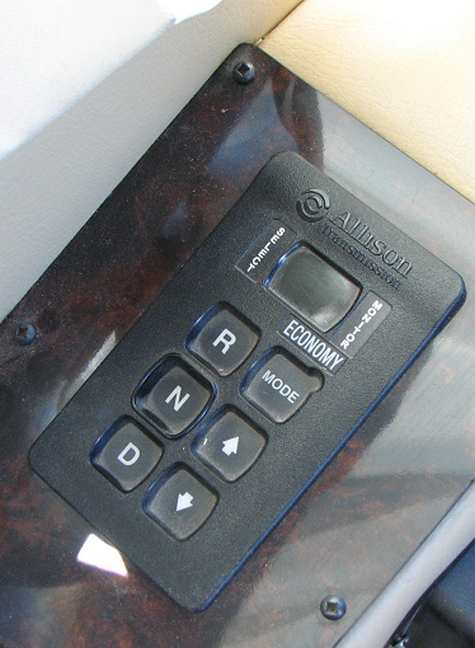 The solution was to dispatch a mobile repair truck from I-5 Truck and RV Repair, and so the wait began. As every truck would climb the hill to the park, we would both wonder if this was it. When it finally came, there was no question as to whether it was it or not. As has been the case every time we have had someone other than Monaco work on the RV, the words that greeted us were the same, "These RV's are all different, so it is not one of my favorite things to work on." The service tech's name was George, and other than being dressed in somewhat dirty coveralls, and having the bad habit of being a chain smoker, he soon got right to work.
The first problem we faced was the, "where is it located on this RV", question. Something I couldn't answer, but with a little searching, we soon discovered what he was looking for, which was the datalink connection. Given George's rapid fire and clipped way of speaking, it became apparent that the only way we were going to communicate would be by using Linda to translate whatever he said, and it actually worked out very well. The link he used was the one in the front electrical compartment and though he spent a lot longer than the techs at the other places, we were still optimistic.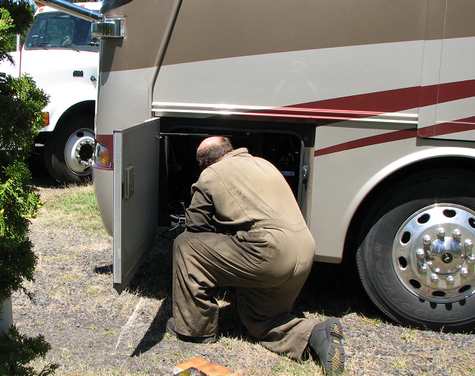 Once he had the codes, he needed to find out what they meant, First he called and talked to someone about the codes, but didn't seem to be getting anywhere. Part of the problem seemed to be that he was confused about who made the chassis for the coach. We had told him it was a Roadmaster chassis, made by Monaco, but he kept saying, then it's a Freightliner. We finally took the card for Monaco tech service out to him, and in short order he had what he needed. He also had the Monaco tech walk him through all he needed to do to check things out. One last thing he did was to jump the engine and start it to see if that would reset the controls. Nothing worked and he finally said he couldn't solve the problem, so would bill us and leave.
As soon as George was gone, we once again called our assistance plan, which resulted in arrangements being made for a tow truck to come that would take us to a transmission shop in Centralia. The tow company was Carl's Towing and the Campground owner mentioned that that they towed many of the Semi's around here. That at least sounded encouraging. How different it was from the experience we had with George. George was supposed to be here within the hour, but took longer, the tow truck was also supposed to be here within the hour, but was here much sooner.
The tow truck drivers name was Melvin, and he was everything that George wasn't. Courteous, efficient and no BS or complaining. The first problem he faced was how to get the tow truck lined up with the coach. Since we were on a slight incline, he first had me release the brakes and see if the coach would coast forward. No dice, so he hooked a chain to the front axle and pulled it out. I steered it onto the drive and soon he was placing the front wheels of the coach on the safety stands.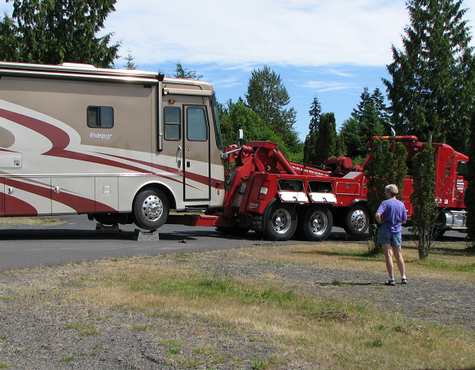 As you can tell Linda was very much into making sure her home was treated with the proper amount of care and consideration. She need not have worried because the more she saw Melvin do, the more confident in his abilities she became. I had tried to explain to her that just as she, in her former life, knew what financial account to put things into, Melvin knew what task and in what order things needed to be done in order to tow the coach. As time passed, the memory of George faded and she realized the coach was in good hands, even if it wasn't in Ed Reimer's hands. Here, the front axle is being secured to the towbar with safety straps.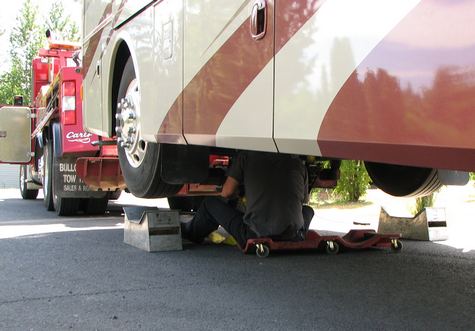 The last part of making the coach ready to tow was "securing the cans", which translated means making it so the air brakes can't come on. and then removing the drive shaft. The latter gave him a little bit of a problem and he had to use an extractor to remove it. There was also something else that happened, which was that one of the zerk fittings came out. It didn't break off, as all the threads were still there, it just fell out. Once we were all ready to roll, I managed to get a photo of our view from the front. To say this one was a first would be right on.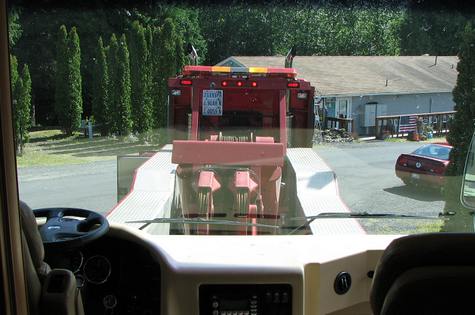 Melvin asked us to drive on ahead just in case they had a gate they closed at 5, so we took off. We had not been there for long when he drove up, and watched as he backed and dropped the coach in the grassy area exactly were they wanted it, all the while under the watchful eye of Linda.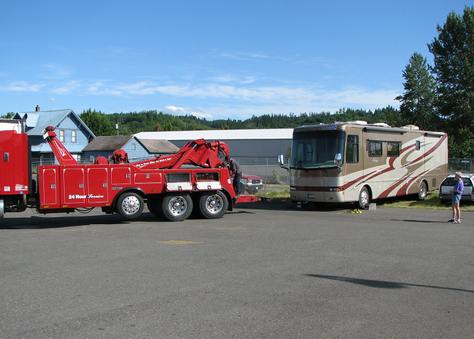 One thing we have learned over the past year and a half is just how accurate that old saying, home is where you park it, truly is. Though in this case, home is where the tow truck drops it, would be the most correct way of saying it. With that in mind, we got out the lawn chairs and sat out on the patio while sharing some peanuts. It might have been a little later than our usual 4 o'clock peanut time, but what the heck, we had gotten a load of lemons today, so we were just making lemonade so to speak. When a slight breeze blew in and started getting stronger and stronger, I headed for the heat and comfort of the coach. Linda on the other hand stuck it out. I think she was so wrapped up in reading Leota's Garden, by Francine Rivers that she wasn't aware of just how chilly it was getting. Good books do that, you know.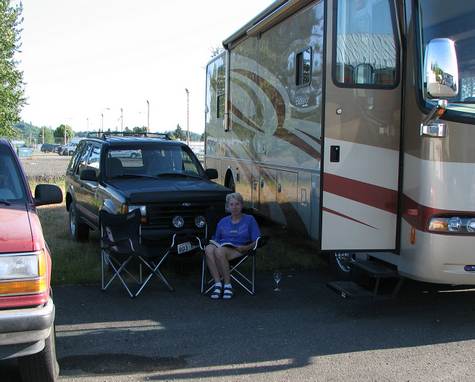 Dinner was some of the barbequed pork from the freezer, fresh cole slaw and a side of asparagus sautéd in olive oil and garlic, then dusted with dill weed. Talk about good, it was great. We spent the evening just like we often do, Linda reading up on what to see on the other side of Mount St Helens, while I finished and posted the Daily Journal for the previous day. While it wasn't a day that went the way we had planned, once the curtains had been drawn in the coach, it was just like any other evening. Lots of things in life don't go the way we want them to, but what good does getting upset about them do. In fact other than probably shortening the life of the person who gets upset, it accomplishes nothing. We have no idea of just how long the repairs will take, but you can bet we plan to enjoy Centralia while we are here.
---
---