Journal Archive 05/21 - 05/31 2007
Scroll down to read the latest post
May 21 - Monday
Since we are back where normal was once the normal way of doing things, today will be a work day just because it is Monday. That means yard work, or more correctly, backyard work since the front yard is just about the nicest looking one on the block. Our youngest daughter and our grandson do a great job of taking care of it. The backyard needs some work however. There is no grass back there, it being all garden area, where we grew either vegetables, flowers, cactus or other plants, with the pond thrown in for good measure. It was a place where we would spend time each evening doing some weeding and other maintenance, then on the weekends spend hours back there planting, repairing, weeding, watering and enjoying the fruits of our labors, both literally and figuratively.
Last year we put some ground covers out, hoping to lessen the degree of maintenance, and this year we plan to cover even more of the area. Our main strategy is to place landscape fabric over the ground, sometimes covering it with bark, other times leaving it exposed. For today our job will be to pull weeds, packing the green waste cans to their maximum. One of the major problems is of our own doing, which consist of a number of plant varieties we planted over the years that have now decided to take over the gardens. They were something we had to work on almost nightly to keep in check when we lived here, and since we have been gone, they have received a second chance at becoming the dominate species. In addition, we had imported some topsoil many years ago which was contaminated with several very aggressive weeds, including several vining types.
We had learned these were plants you kept in check only by constant weeding and the liberal use of Roundup. I write about this to point out the many things that we do in our lives that come to be so ingrained on a routine basis that we take them for granted. The sheer amount of work that was required to maintain the backyard was practically a fulltime job for Linda and I. But it was our hobby, we enjoyed being outside, seeing the different flowers and shrubs come into bloom, and also feasting on the fresh cherries, peaches and nectarines throughout the season. Now we enjoy doing other things and the burden of keeping up with all this work falls on our daughter. We don't expect her to be able to take care of it as we did, so today we relived some of our past life.
Maybe we don't miss the garden work as much as we thought, but there are some things we really do miss, or at least things that Linda really, really misses. If you'd ask her what she misses most in our little home on wheels, it would be no contest, this would be the hands down winner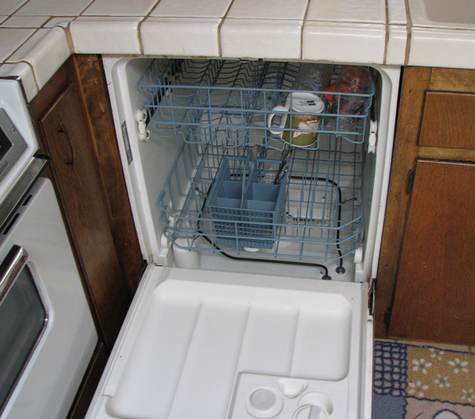 The dishwasher meant, breakfast was over and the yard work was to begin. A large section on the yard consists of raised beds, filled with the most nutritious soil imaginable, at least to plants, being fortified for years with a copious quantities of homemade compost. Last fall we covered some of these with heavy duty landscape fabric to help contain the weeds which wanted to flourish in them, and while it worked, there were still a few weeds peeking out from the edges. Peeling back the fabric we discovered that weeds weren't the only things that seemed to thrive in these conditions.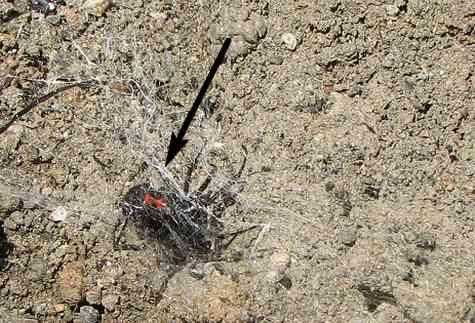 Yes, that is the well known red hourglass the arrow is pointing towards. Over the years we have seen lots of Black Widow spiders around the house, it comes with living here, but this may have been the mother of all Black Widows. By the way, she is still there, as we covered her back up after digging out the weeds, allowing her to keep the bug population in check. There are also other critters we have in our yard, though these we keep on purpose for enjoyment.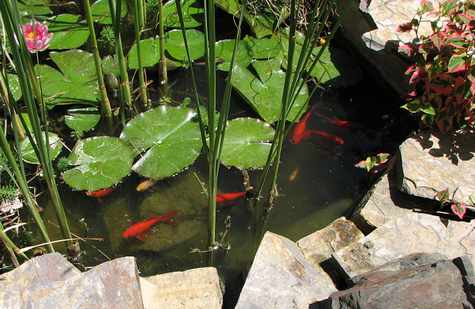 One thing about the pond is that it has reached the state of balance where it simply takes care of itself. Oh, we do have a pump and underwater filter, but we find that cleaning the filter a couple of times a year is now sufficient to maintain the pool. All the fish in the pond are now native, having been born in the pond and raised not on pelleted food, but on the natural food that grows in the pond. That doesn't mean they aren't curious, or that they don't like treats, but these are not things they need to live. The beauty of the pond, the tall willowy cattails, the horsetails which harken back to prehistoric times and the gorgeous blooms and colorful pads of the water lilies combined with the sound of the water fall combine to bring an island of peace to our lives.
Linda has almost as much fun with the fish as any other little kid would, loving to stick her finger into the water and watch those colorful shapes emerge up out of the depths. Years ago, every fish had a name, and we knew each of them not only by their markings but also by their actions. Which one always came first, which ones hung back, some never feeding on the surface and our one special fish, Goldie, who was the cleaning person, vacuuming the surface of the pond long after all the others had stopped feeding. Goldie is long gone, but we still see she her occasionally, reflected in the coloring of some of the fish in the pond. Good memories of good times.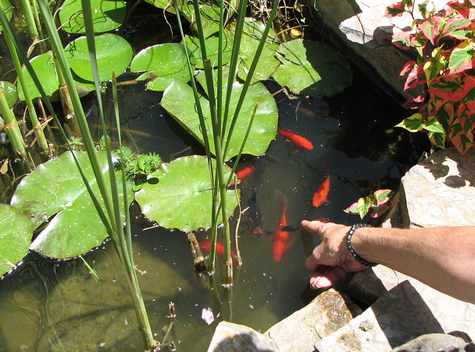 We had one last job to do for the day and that was to put the coach into storage while we spent the next ten days watching our grandson. We had found a local member of the "Escapees", who had a spot where members could park for short stays, so Linda had made arrangements for us to to drive it over there this afternoon. It was situated, not on a main road, but way back in the middle of nowhere, so to speak, which meant that even with our trusty GPS, there were still "words" uttered between as we tried to find it. The old complaint about how 'I drive to fast', versus the fact 'she doesn't tell me the the name of the street before I'm supposed to turn', discussion took place, varying in volume and intensity depending on how lost we were at the moment. The really bad part about where we were going was that the roads were very, very narrow, plus some of the streets were dead ends. We may have wandered a little, but we eventually arrived and with a good bit of jockeying around, got parked.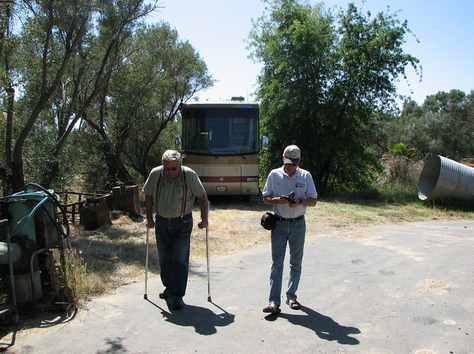 Our hosts had downsized a few years ago from a 5th wheel to a small Casita travel trailer, and had been across the country four times in it. Casitas are truly small, and the entire trailer would have fit inside the front part of our coach. Who knows what the future brings, but what is neat is that each of us can do it our way.
Our youngest daughter and grandson joined us for dinner, a meal were a little boy discovered he really like tomatillo sauce. Life experiences, something we should try to have more of. Something that is easy for a child, but as we get older, more difficult. Not because we have run out of things to do, far from it, we simply get comfortable with what we have. I spent the rest of the night preparing the best I could to be taken far, far out of my comfort zone tomorrow. A day when we have the honor to talk to a classroom full of 8 year olds about the Petrified Forest. I spent much of my life talking to groups of adults, so this is completely new territory for me and already I am more nervous than I ever was before speaking to a room full of experts on the subject I was presenting. It should make for an interesting morning tomorrow, if I survive. (I'm even getting nervous just writing this)
---
May 22 - Tuesday
Linda was up early today, eager to go out and murder some more weeds. This morning her tactics were different than yesterday, as she took sprayer in hand to try and totally eradicate those pesky plants.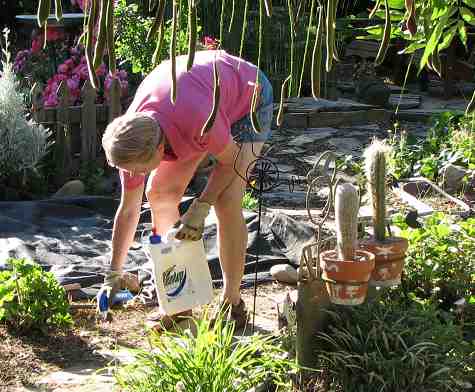 While she worked outside, I was busy inside, keeping the daily journal up to date. I was also avoiding something, which was getting everything gathered up that I would be using in a talk I would be giving later in the day. It is so funny that talking about something I am very familiar with would be so frightening, however it wasn't the subject matter, it was the audience that was the reason for my fear. In my mind, those twenty or so third graders I would be standing before in several hours were looming large, based more on wanting to help them understand the wonders of the Park than a fear of facing them.
I wasn't alone, not in the fear department, but in the preparation department, because Linda was a big help, gathering up several 'props' that would hopefully help the class understand the points we were trying to get across. I had also decided to use some photos we had taken to assist in illustrating the information, reinforcing the salient points and probably most importantly, to serve as a road map, reminding us to cover the things we wanted to get across to the class. Working on the daily journal had accomplished what I wanted, which was to use most of the time I had available prior to leaving to drive over to our daughters, working on something other than what I needed to. For some reason I have always done my best, when it comes to working on my presentations, where I am under a very tight deadline. Give me time and the result is some of the poorest work I have done. Give me very little time and my brain seems to go into overdrive, spuing forth fresh ideas and approaches versus the usual and mundane. The only glitch was that we did not have any blank CD's on which to burn the photos. Figuring our daughter had some, off we went, headed toward another opportunity to experience something new.
Once we arrived at our daughters, I set about transferring the photos to a CD. Of course this is not something I do everyday, or every month for that matter. For years I had used Nero Burning, which had come with one of the CD burners I had installed in an early computer. It was always a source of frustration, so earlier this year I had found a replacement, a freeware program called DeepBurner. It had been very intuitive to use at the time, so with the confidence of the ignorant, I started it up and soon found myself forced to look up the help file. It actually proved to be extremely easy to use once I realized I hadn't set the view correctly, and in just a couple of minutes and the disc was ready and tested. The only thing I would have done differently was to have organized the photos in a little more orderly fashion, but after the talk with the class was over, I realized that jumping around to the small degree we did, had actually proven to be an attention grabber for the kids.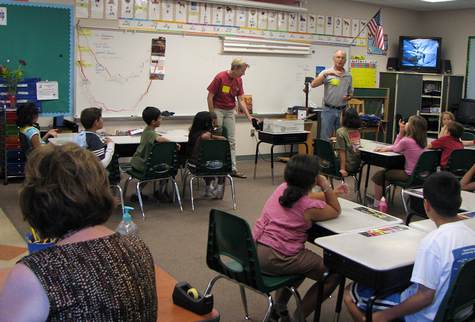 The teacher had our granddaughter introduce us to the class, and she did a great job. She was also wearing the Petrified Forest shirt and pin Grandma had bought for her, plus she had brought along her book on the Park. In a way she was better prepared than her grandpa. Not ever having been teachers, and having not been in third grade for over five decades, it was a new experience for both Linda and myself. We asked questions, showed things, wrote the big words on the board, and answered question after question. And, as you can see, there were times we looked to each other for guidance.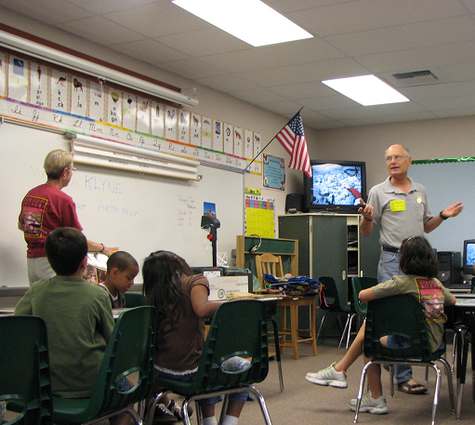 After we were finished, we began to understand just what a wonderful opportunity this had been. Our granddaughter, Lindsey, had given us a very special gift when she asked us to talk to her class, and we realized what a special gift God had given to us in Lindsey. As is so often the case, Sara N. Dippity had once again taken us to one of those magical places that you would never know about. Life, meant to lived. To experience the connection of being human. The joy of life. The spirit of individuality. The love of family. The adventure goes on and on.
Back home Linda realized that there was going to be hole in our lives tonight, or at least a hole in our stomachs when it came time to have our nightly dessert, only to find that the cupboard was bare. That brought about a search of recipes, so before long ingredients were lined up on the counter as the oven was preheating. The aroma filling the house from those cherry, chocolate chip cookies was so enticing that I kept wonder if they might need to be taste tested just to make sure they truly were as good as the smelled. I shouldn't have worried, because in short order Linda came over with the first batch, telling me that we both needed to taste them just to make sure they were okay. You'd think that after all these years I would have figured out that we think alike on at least one thing, taste testing cookies.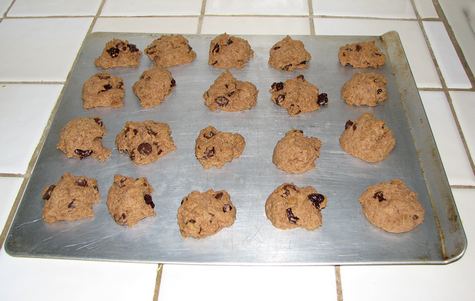 Fortified, I tackled some of the left over and uncompleted items for the website, finishing off a couple of partial posts I had tried to write when we was going through the busy days of March and April. The only problem was that our usually reliable cherry tree internet connection was not working. To upload to the server when at our house, I normally go out into the backyard and sit under our cherry tree, where I can get on one of several unsecured wireless networks. It had worked the first couple of days we were home, but this afternoon it was not working. Maybe we will be reduced to doing the old, drive around the neighborhood method of getting online.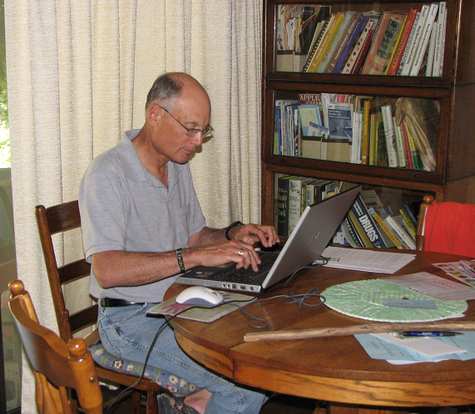 Eventually the day ended, a good day, a day when we got to do something very special. Thank you Lindsey, grandma and grandpa are so proud of you.
---
May 23 - Wednesday
The days are starting to run together, our time being consumed with working outdoors, punctuated by things unusual. A look at our plans for today reveals that same pattern will once again be repeated. All this meant that the day started with me working on the daily journal and Linda once again outside, working in the backyard. I think she really misses her time digging, weeding, watering and just admiring the display that nature puts on. We took a pause from our work, enjoying a breakfast omelet out by the pond, joined by our fish, then it was time for Linda to head off, shopping list in hand.
While Linda did her thing, I got lucky with my cherry tree connection, not just getting a connection, but getting a very good connection. That meant uploading the daily journal without having Linda do her editor thing. She did review it later and said she didn't find a single error, or any changes that she would make. Then she dropped the bombshell, she had not even found any double words, which had to be a first (my guess is she must have missed some as I never do a post without at least one double word)
We did have one special thing planned for the day, something we would do together, which was to attend a play at the B Street Theater, the theater we had regularly attended and enjoyed so much when we were living our former life. We had been season ticket holders for years and had received a coupon good for two free tickets as an inducement to get us to purchase them once again. Even though season tickets were out of the question, the free tickets were very much welcome. As always it was not your usual play you see at the community theater, this is a professional theater company and they are into the cutting edge of current drama. Even as professional theater, it is not something for everyone, particularly for the people who prefer the marshmallow fluff of musicals, something I don't enjoy. The current production was The Clean House by Sarah Ruhl, and as always it was a play you enjoyed, then the more you thought about afterwards, they more you began to grasp what the playwrite was saying. It was one of those plays that get Linda and I talking about it afterwards. I can get all the "entertainment" I want on TV, but to be challenged, there is nothing like live drama.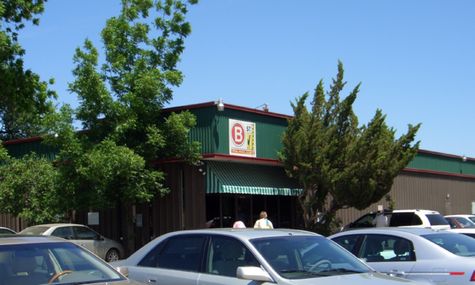 Since the play was a matinee performance we were able to escape the downtown area before the traffic reached stop and go status and in fact we made a special, though unintended stop on the way home. We had, years ago, bought some sugarfree Margarita mix at a store whose name and location had managed to escape us, then as we were driving home, Linda saw the store. It didn't take long to move over a couple of lanes of traffic, and make our way to it. Needless to say, we bought more than one bottle, so we are now going to have to find a spot to store three of those bottles. I think this means that there will be some margaritas in our future, or at least that is Linda's plan. She also had another plan, and that dealt with cleaning the windows. Since she needed the exercise, I decided to not reduce her opportunity to improve her health and served only as the official photographer.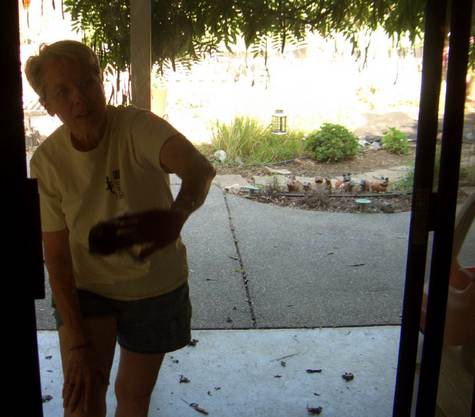 Meg and Zach joined us for dinner, especially since it was the night they normally mow the front lawn. So after filling a little boy up with spaghetti, it was time to work. Our lawnmower has an electric start, it having been the one my mothers used, but we found out it now had an 'automatic starter'.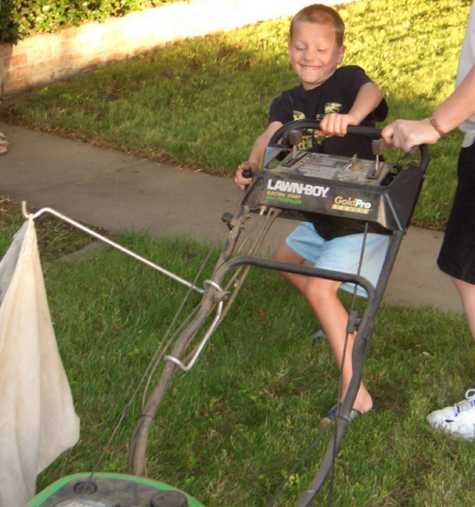 It was quite obvious that he knew exactly how to be the automatic starter. Push the primer button three times, and on the second pull, the mower starts. Of course, his mom steadied the mower and held down the cutoff switch, but the smile on Zach's face tells how proud he was.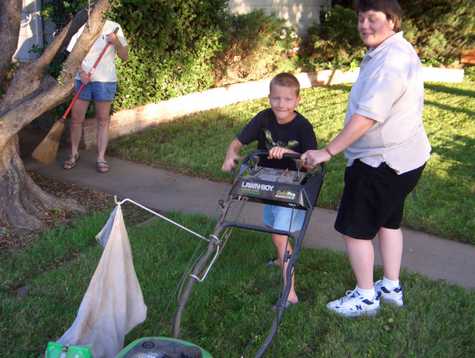 Excited by being able to show us how he helps his mom mow the yard, he decided he'd done enough work for the night, and let his mom do the actual job of cutting the grass. When you're eight years there is always something to do, especially when there are trees to climb.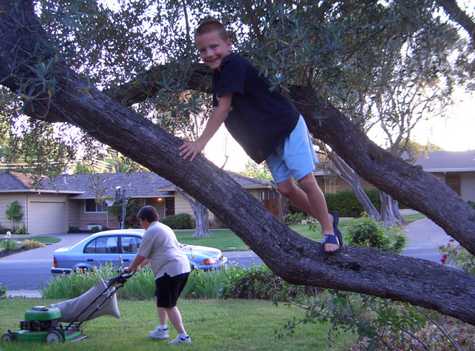 Eventually the light of day dimmed, but there was still one more thing to do for Zach and his mom, which was to spend some time in their garden. All those years that we were gardening, it was interesting that the kids were always part of it. When they were young we got each of them a plot in the local community gardens, living back in the midwest, and it looked like some of that early experience had a positive effect. Tomatoes, without any weeds, plus cucumbers all had their spot. Tonight there were radish seeds being planted, encouragement being given, watering and cultivating taking place. Connections. Connections with the past. Generations ago our ancestors tilled the soil, an activity which is carried on today. It is a link that continues on, unbroken. It makes us feel good. It makes us human. It makes us proud!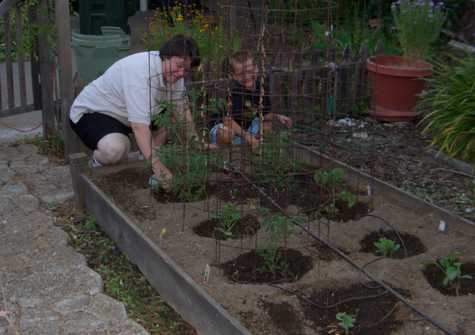 ---
---