Journal Archive 02/20 - 02/28 2007
Scroll down to read the latest post
Feb 21 - Wednesday
Having cleaned the windows yesterday, Linda was poised to capture one of those Cardinals that aren't this morning. While I typed away on the daily journal, she patiently waited by the window which looks out over our bird feeder, all the time licking her lips and making slight smacking sounds. Just what I needed to be able to concentrate on writing, but at least she was happy because before long she was taking photos. Just in case you were wondering what one of those Pyrrhwhatyamacallit's looks like, here it is.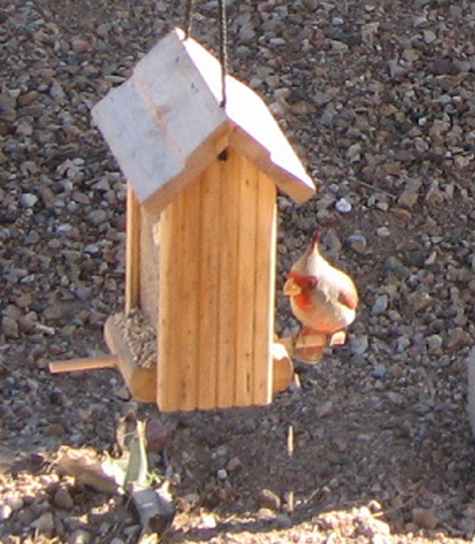 Watching the birds eat reminded her that we had not yet eaten, so it wasn't long before some of her, "I just added a little something extra", scrambled eggs where filling the coach with the aroma of things to come. Then it was time to wash the dishes, I passed on drying them as it was one of those days when I was here, but just not all the way here. The words were not coming to me, but it seemed like everything she was doing was getting to me. While I struggled with my writing, she started fixing lunch. Whoa, hold your horses you think, didn't he say they had just finished eating breakfast. How right you are, but the day was not going to be spent moping over lost words, it was going to be a day for exploring.
Yesterday may have been spent in a tourist trap, but today was going to be spent in just the opposite environment. Instead of the fake dirt roads of touristy Tombstone, we would be driving out real dirt roads to find the ghost named Gleeson. The remains of the old mining town of Gleeson, which was founded in the late 19th century and then abandoned in the mid 20th century, is located about 15 miles from Tombstone. And as we were to find, the old line about being just about in the middle of nowhere was certainly an apt description. Linda had read about it on the Internet and was anxious to go find it, but the directions she had were not to clear. However, I did a quick search and came up with the GPS co-ordinates with no problem, as well as good directions.
To get there we had to go back to Tombstone, and as we once again passed the location where the Earp's had lived while in Tombstone, I felt only the slightest connection with history. I find it interesting that I can look at the place which is now a modern house, but where at one time in the past, the tavern of one of my distant grandfathers had once stood and instantly be transported back in time, yet looking at what now stands where one of my childhood hero's once lived, calls up nothing. We indeed had good directions and soon we saw the sign indicating where we needed to turn off the state highway and wind our way through a residential neighborhood to eventually make the turn onto the road that would take us to Gleeson and then it wasn't long afterward that the pavement ended and the washboard dirt road began.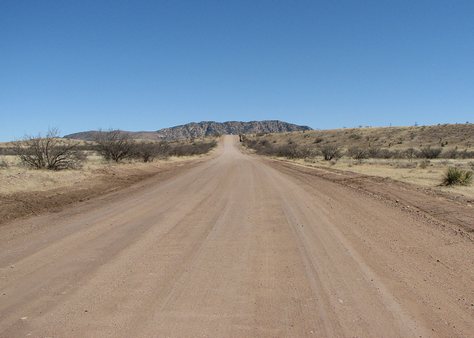 As we were about to learn, there was almost 12 miles of dirt road to drive over and it took me a good four or five miles to remember how to drive on these things, which is to speed up. Going 25 to 30 mph was no fun at all, but when I finally sped up to 45 mph it was much, much smoother. (Coming back it I drove 55 mph and it was even smoother, though Linda was hanging on pretty good sometimes when we were on occasion doing a little four tire sliding.) Guess you could say she will take smooth and a little wild over bumpy, rough and no fun at all, any day of the week. There was no problem finding the ruins when we finally got there because we first passed by the cemetery which is very well marked.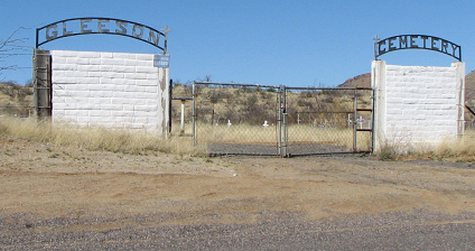 As we entered area where the town had once stood several old structures were readily apparent and we had learned from searching the net that this was either the school or the hospital. (It was the school, see the note at the end of the post).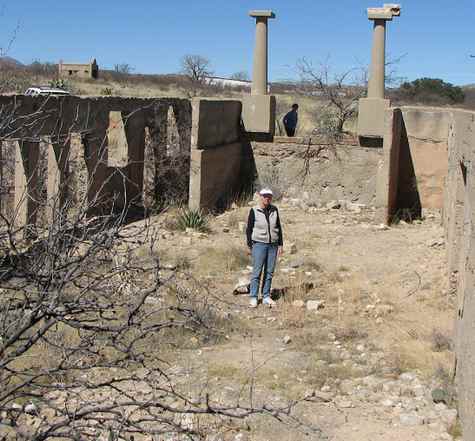 In the upper left corner of the photo you can also see the remains of the town jail, but what was most interesting was the somewhat unique method they used to reinforce the concrete walls of this building. One thing you're probably going to have lots of in a mining area is steel cable. The thick heavy type of cable which is used to hoist things up out of the local mines. Looks like they found a second use for those cables as you can see from this photo.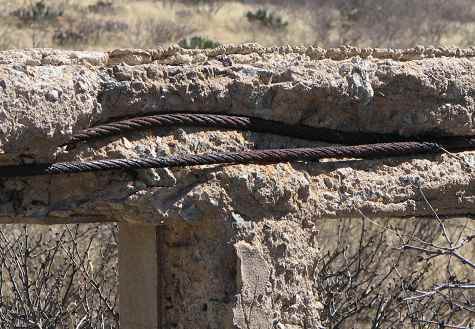 Here is a different view of where Linda was, taken from the top of the hill behind the jail.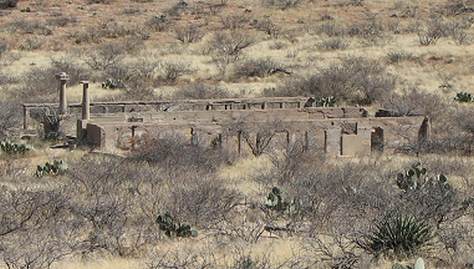 What were the stories of the people who lived here? What about the men or women who ended up in the jail. Were they bad or just unfortunate? In a place like this you can get lost in history.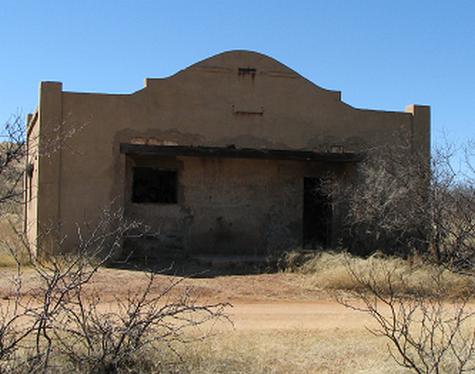 There were more ruins across the road which we also explored. One of the buildings was an old adobe structure which was being reclaimed by the weather. Built differently from the other structures which were apparently either concrete or wood, we wondered what it had been. With so many doors seeming to open to the outside, the story we had heard that it was built as a boarding house seemed to make sense. The lure of history can be so powerful that I wished I could look upon those early 1900 census pages and maybe gain a little insight into the past. Knowing that it wasn't going to happen and that photos of the present would have to do, we tried to capture the essence of the town in this shot of the old adobe building with an abandoned mine in the background. Did some miner rent the room were I was standing? Did he look up each morning as he passed through this door and wonder about his life? Or was it a young clerk in a store, newly arrived from the old country who was dreaming of some day owning his own store? If only walls could talk.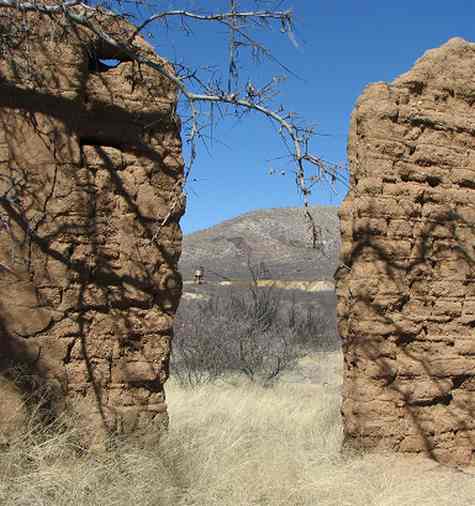 To experience the connection of being human. The joy of life. The spirit of individuality. The adventure goes on and on. It is everywhere around us if we will only open our eyes and experience it. What a difference a day can make. Only yesterday I was wallowing in the depths of disappointment over a broken dream of the old west and here today, I was soaring to the heights, my imagination running wild as I immersed myself in a place I had never heard of until a few days ago. The more I had read of the Earp's and Tombstone, the more I realized it was not history, but actually the words of the pulp fiction writers that a little boy had grow up believing. Kind of like society today with people looking up to athletes and movie stars who probably deserve our contempt rather than our adoration or perhaps our pity for being such pathetic examples of the human race. On the other hand, what Linda and I were experiencing today was the real thing.
Who the person in that grave was, what he or she had done and why they were here we would never know, but we were walking through the cemetery, just because we could. We had one other thing planned for the cemetery and that is something we have done on other occasions, enjoy our lunch while there. We sat for a long time, lost in the past, day dreaming of things not known. When at last I started to get up from my chair, Linda was still lost in the past. Life, meant to be lived to its fullest.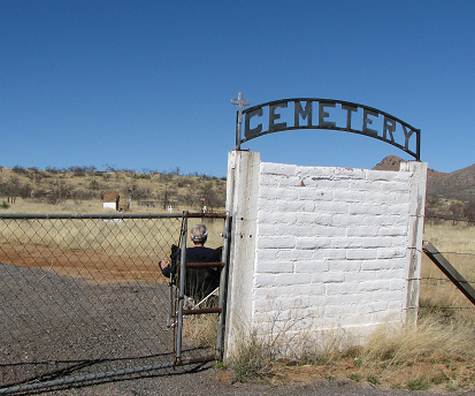 Beauty is all around us, we just have to look.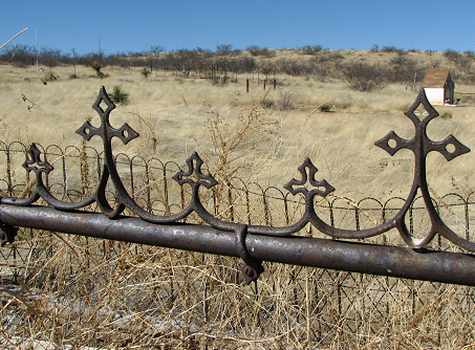 Leaving the cemetery and the past, we drove several miles back towards Tombstone and turned left off Gleeson Road, then descended down into a valley where we confronted the past, present and future all rolled into one. There was only one word to describe the place we stopped at and quite frankly I don't know what it is. Maybe it is the one place where a picture truly is worth a thousand words. If so it would take a book to accurately describe Rattlesnake Ranch, so I'll just let the pictures tell the story.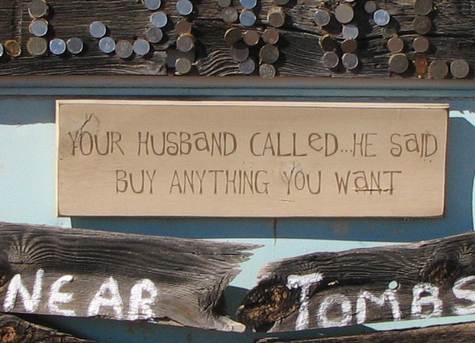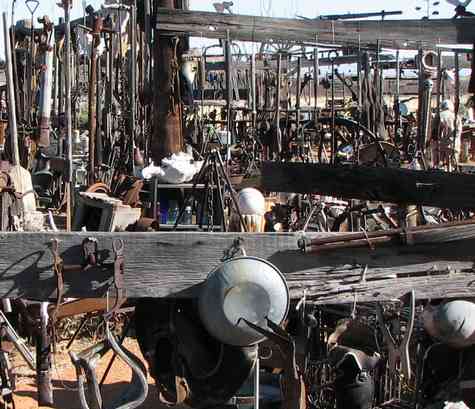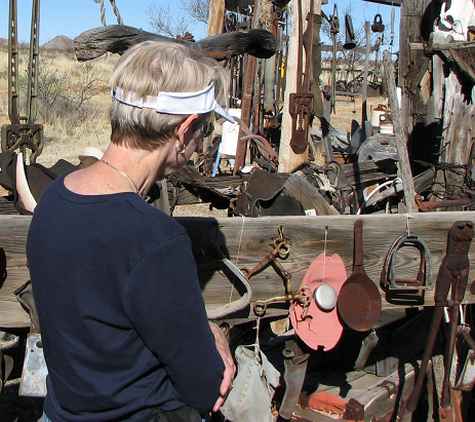 What you see above was only on the outside, but what was on the inside was everything rattlesnake. Just look at these photos if you doubt that. Understand that the inside was inside a very old travel trailer were things rattlesnake were the order of the day.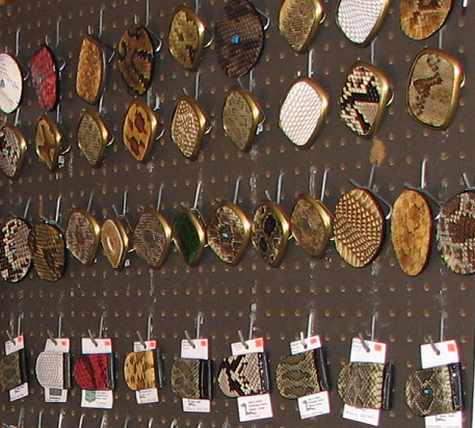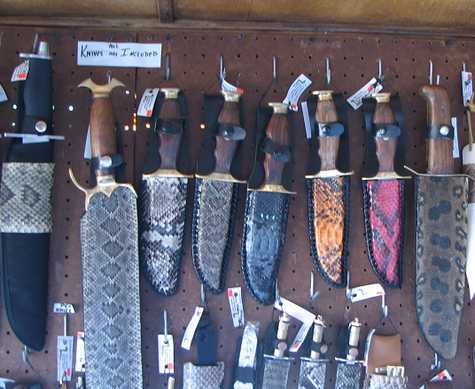 Remember my statement that they have everything rattlesnake? Remember the old question about what to buy the man who has everything? Well they have the thing that is the 'thing'.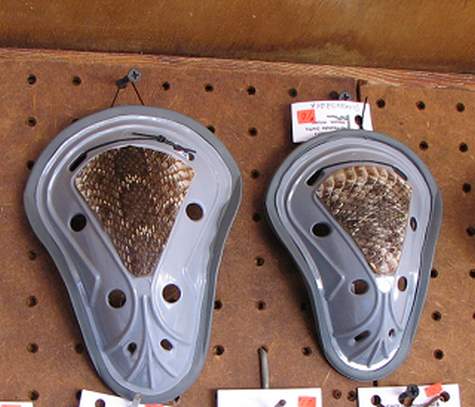 In case you'd like to visit, here's a website that talks a little more about this most unusual place and also gives directions. If you can find Double U Ranch Road, which is not hard at all, you'd literally have to be asleep to miss it.
Later, back home, we discussed what a wonderful day it had been, not only for what we had experienced but also for what we had learned from our readers. Turns out I was right about the funny looking thing along the road south of Casa Grande, it wasn't a fog horn in the desert. (No one ever accused me of being a dummy) In fact it was a indoor skydiving tunnel we thank not one, but two of our readers for letting us know.
One last thing before signing off, and that is that while typing this post we received an email from another reader who said we should be sure and stop by the Gleeson ghost town while we are here. Several emails later it turns out the big concrete building was indeed the old schoolhouse and how she knew was that when they visited the town a few months ago, one of the kids who had attended the school was there. He was now 84 years old, but filled them in on what the buildings were and more. Talk about a history fix, she said it was the absolute greatest as she was also a history nut. The wonders of our life never cease to amaze me and just around the next bend in the road is something that washes away disappointments we may have, for everything that yesterday wasn't, today was, and in spades.
---
Feb 22 - Thursday
After a day like yesterday we were ready for more of the real Cochise County, so today our tour guide had a trip to Bisbee planned. Before you can set off on an adventure you need to make sure that you're well fortified, so breakfast was once again Linda's special eggs, with the sun dried tomatoes and all, plus she topped them with a dollop of sour cream, fat free of course. Yesterday's trip to Gleeson had seemed to inspire me and consequently I wanted to write, so while I played with the keyboard she played with the camera. The landscaping plants around the campground were full of photo opportunities, such as this cholla.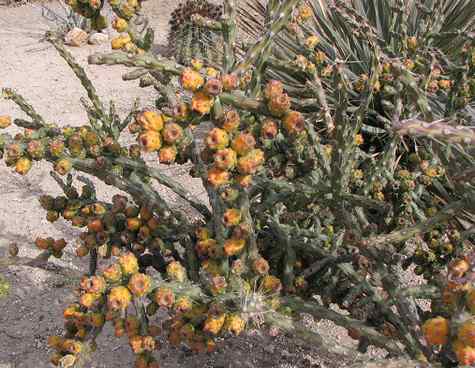 While cholla is an interesting plant, the one she really likes is the agave. Talk about wicked looking, just take a gander at those needles on the tips of its leaves, don't those things look like first cousins to skewers.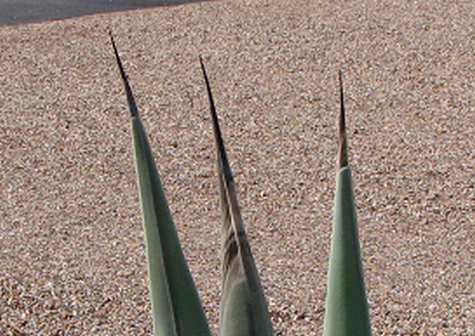 Linda was about to fix lunch when she remarked that maybe we could eat at a cafe or something in Bisbee as a treat. That sounded like a good idea to me, plus it also made the preparations to leave much more simple. All Linda had to do was take everything out to the Explorer, then pry me away from the keyboard and we were off. It wasn't like it was a long trip, since Bisbee is only about 25 miles south of Tombstone. There was one interesting sight along the way, snow on the mountains, or more properly, snow on these two 8,000 foot plus peaks. (Later I discovered we actually have a better view of them from our RV Park. Oh well.)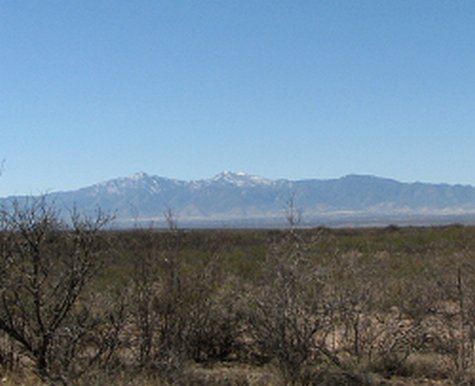 We didn't go over those mountains to get to Bisbee, but being like most mining towns, it is in the mountains. Of course that is also why the copper ore was there, those same mountains. Bisbee is built along the walls of a steep gulch or canyon in the mountains. The gulch is there because it sits astride a fault, that is, a crack in the earth. A crack where molten rock flowed upwards millions of years ago and eventually led to the formation the great ore deposits which, when finally discovered in the town we were to going to visit, had been part of the great Arizona copper boom.
The main street in town, which is appropriately enough called Main Street in the downtown area and Tombstone Canyon Road on the ends, winds around following the canyon, yet, interestingly enough only ever runs in two directions, either uphill or downhill depending upon which way you are headed. It's like stepping back in a time warp as the town seems to be stuck in the early 1900's. We made a quick stop at the Chamber of Commerce , where we learned that the mines all closed long ago and the town now has tourism as its main industry. As the man explained, "Since we are dependent on the dollars of tourists, you will find the town very tourist friendly." Before we left, we asked what his favorite little cafe was, a place that we shortly discover to also be at the top of our list of places we have eaten at during our 14 month adventure.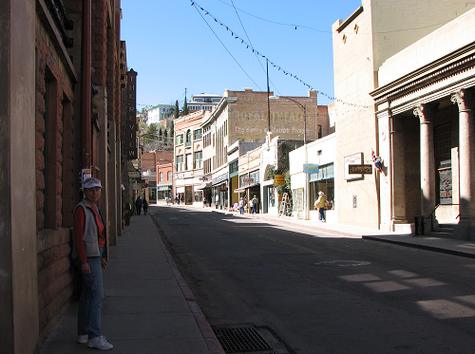 In looking at that photo I can visualize us moving from the darkness of the present into the bright light of the past. Maybe that is how a time machine works, but given the fact no such machine exits, ours minds substituted very well on this occasion. One of the interesting things about the town is how the houses were all built on the sides of the hills. Look above the last row of houses and you will see the remnants of the terraces where several more rows of dwellings, possibly miners shacks, once stood. The only way to get to these houses is up the long steep stairways that are built into the hillsides.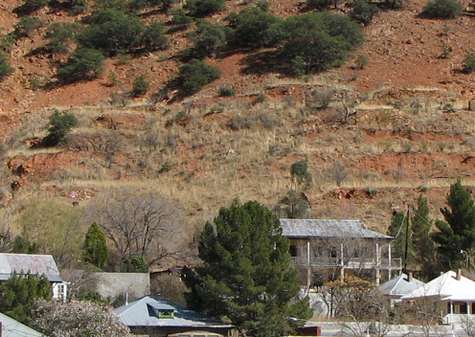 Other than the commercial buildings, everything is built on the hillsides. Homes, schools, churches, you name it, it's there.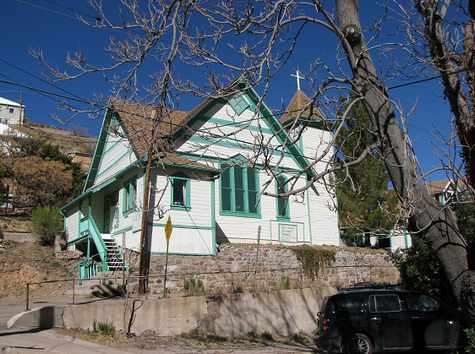 Eventually it came time to eat and that is when we had a real treat. We had originally parked uphill quite a ways on the main street and while walking down to the downtown area had passed the Prickly Pear Cafe which looked inviting with its menu and low prices posted on the board out front. However, we wanted something a little different today and so when one of the suggestions at the C of C had been the Cafe Cornucopia, we decided to check it out. Talk about pleasant surprises, looking at the menu board we both decided on a 1/2 sandwich on whole grain bread and a bowl of soup, then duplicated each others order as both of us ordered the special meatloaf sandwich and ginger carrot soup. We did differ on our choice of beverage, Linda opting for the peach lemonade, while I had designs on the tangerine lemonade. I know I may at times wax poetic about the food we fix and eat at home, but the food at this place was so good if we worked here we wouldn't even qualify as peach peelers or ginger graters, the food was that good.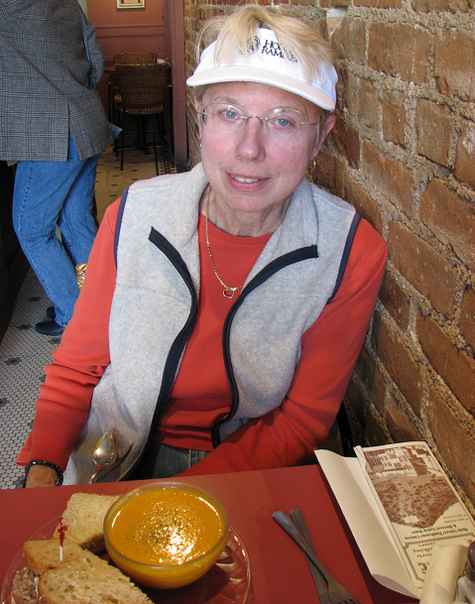 The cafe was just a tiny little hole in the wall place,and even though we ate shortly before 2PM, it was still very busy. It was hard to believe, but it was the best tasting meatloaf sandwich either of us had ever had, and if you grew up in a house with a Dad like mine, one who thought meatloaf sandwiches were the only meat sandwiches worth eating, that's saying a lot. Since Linda and I both love the taste of ginger the soup also instantly rated a ten in our book, having not only the crisp, pungent aroma and slightly edgy taste of ginger, but also balancing it with just the right amount of spiciness to bring everything together. But that wasn't all, as we learned when our server finally brought our lemonade to us. This was most definitely not your Great Aunt Cleo's lemonade, this was more like your great great granddaughters lemonade will be like. Think of peaches or tangerines put through a blender, then topped off with a splash of sugar and lemon water which results in something that has a closer ancestry to a smoothie than to a lemonade. If you don't think we aren't going to experiment with making our own peach lemonade this summer, you just wait, cause you're sure going to reading about it. There have not be many times in my life when, after paying $25 for lunch for two, that I thought I got the best of the bargain, but in this case it was true. Once again our guide, Sara N. Dippity, led us into something we would never have imagined.
After a meal like that, which was as filling as it was delicious, we decided to walk around the back streets of town to work a few of those calories off. Not that it was a high calorie meal, it was anything but that, it was just that having a different view of what a lunch could be, we now hoped to get a different view of Bisbee itself. Lest I forget it, there was one other thing with lunch which we both really enjoyed and that was the slice of bread which accompanied the soup. Obviously homemade and thickly sliced, it was everything that a multi grain bread should be and so scrumptious that words cannot do it justice. Back to our walk, when a town is built on the sides of a gulch, there is quite a bit of 'up' to 'up there'. That was what we quickly found out, but as we were also to discover, the view was worth the climb. Not knowing where we were going, we just went up.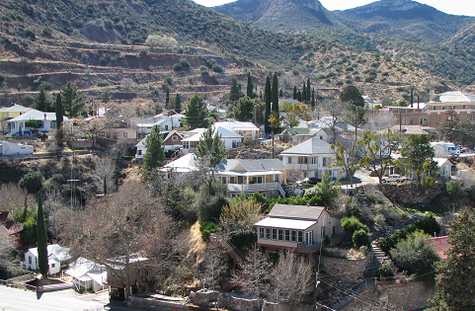 As we kept walking 'up' a very interesting thing began to happen, the terrain began to flatten out in front of us and was risen up to meet us. Imagine our surprise when still heading up the gulch, we walked down a short hill and came out just a scant few feet from where we had parked the Explorer.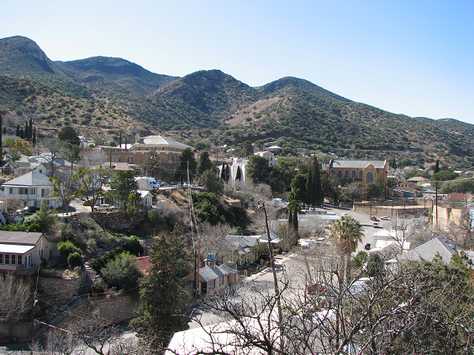 Before leaving the Bisbee area we had two last stops to make, the Lavender Pit and Shady Dell. The Lavender Pit was the second open pit mine south of town and operated from the 1950's to the mid 70's. While not nearly as massive as the Bingham Mine we had seen while in Salt Lake City, it was impressive in its own way with the colors of the rock being especially pretty.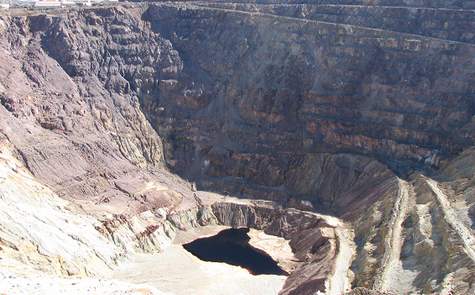 Shady Dell on the other hand is something different to say the least. Think 1950's trailer park, like in the movie The Long, Long Trailer, but with a little more room between the trailers. The best thing though is that you don't have to bring your own 1950's trailer, as all these are for rent on a nightly basis. Talk about something different, this is it, plus you can grab a bite to eat for breakfast or lunch at Dot's Diner, a restored 1950's diner that completes the scene from our childhood.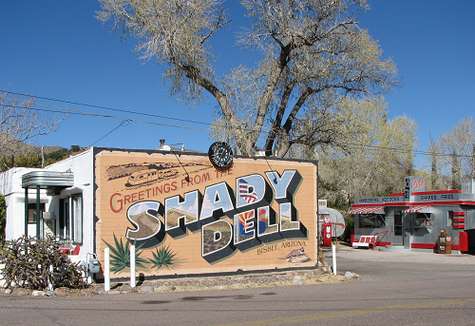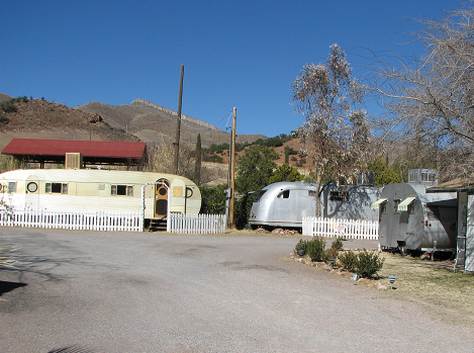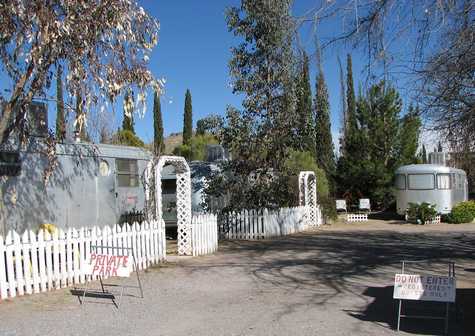 If you'd care to learn more, here is the link to their website which has all the particulars. When the Explorer finally topped the hill above Bisbee and began the long descent down into the valley that led back to Tombstone, we already couldn't wait until next year and a return to this most wonderful little town. Plus, with an RV park right next to downtown, it may prove to be more than just a day trip. We also took a different route back, taking Rt-90 through Sierra Vista and then coming across Rt-82 from the west towards the park.
After having had a lunch that surpassed all expectations, and also having listened to me rave about it for the past few hours, Linda set out to win me back over to her cooking by pulling out all the stops for dinner and fixing my favorite dish, Big Easy Shrimp. I could almost guess what would be coming and there was no good answer for it. Just look how good it looks resting in the skillet just before being served.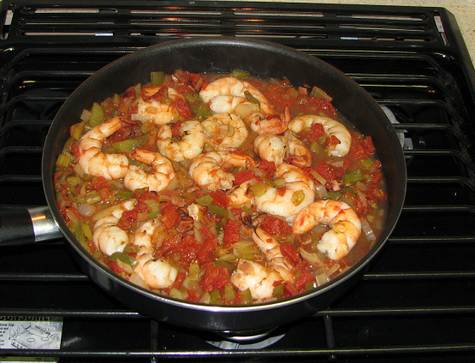 Then, to serve the meal, she emulated our lunch, keeping it very simple by serving the shrimp over plain brown rice and accompanying it with a spring mix salad.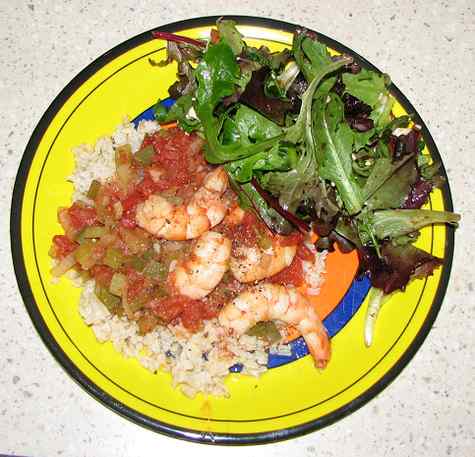 There was no way I could say which meal I liked best, because I loved all three of them, each in their own way, something that I hoped she understood. Besides that, she wasn't done yet, because dessert was more than just a slice of zucchini chocolate chip cake since she served it with a mug of warmed milk with sugar free carmel Torani. Not only that, but all this came after I'd had already had two mugs of steaming hot chocolate. Was it any wonder it was long after midnight until sleep finally overtook me.
---
Feb 23 - Friday
We had a 'do nothing day' planned for today, which we started working on as soon as we were up. That meant I spent some time on the daily journal and Linda enjoyed some surfing. Eventually the hunger pangs got to her, but as she approached the stove, she paused and asked if I wanted something different for breakfast this morning, which is how we ended up having French Toast for a change of pace. She really got into it too, using the rye bread we had bought in Quartzsite, then topping each slice with a small piece of Canadian Bacon. Just to jazz it up further, I topped mine with some syrup and strawberry jelly, both of which were sugar free. It certainly looked like we were continuing down the great food path we had established yesterday.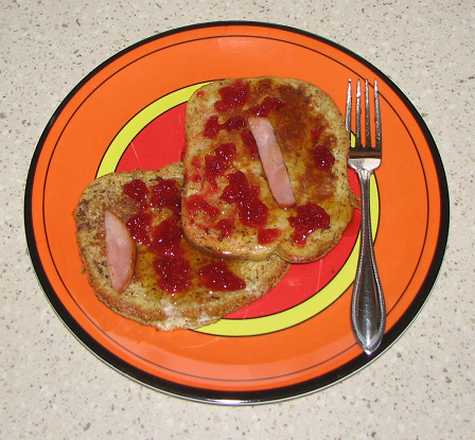 While I puttered around with the website, Linda first attacked the dirt which had piled up on the floors and infiltrated the carpet of the coach. I don't think she filled up the sweeper, but for all the sweeping she was doing around me, you would have thought the dirt was inches thick. When I am inclined to write, that is what I want to do, which was how I was feeling at the moment, the words pouring out faster than I could type. Then into the midst of this she comes, sweeper roaring and arms flashing back and forth. To say I got a little perturbed would be an under statement. I finally gave up trying to write and left her do her thing.
Trouble was that those things she wanted to do also included me. The clothes needed to be washed and someone had to help carry them over to the little building which housed the washers and dryers. Bet you can guess who it was. Proving that some good can be found in anything, while she loaded the three washers with our dirties, I studied the murals on the laundry room walls and made an interesting observation. The last time we washed clothes, Linda pointed out that the mural depicted several native American women washing some garments by rubbing them on a rock beside a stream.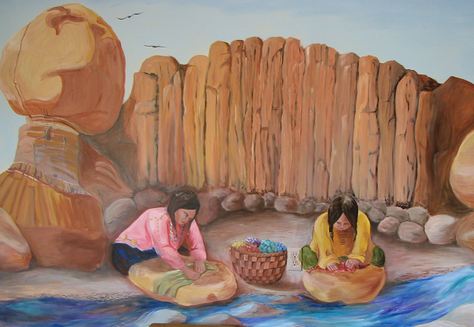 Looking at that scene I was struck by just how far we had come since those days. What had been a thankless, all day, back breaking job back then has now been reduced to a few minutes of work. A job where the most time consuming part is not the washing, but rather the time spent folding the clothes. Maybe, instead of complaining about doing the laundry, it would be better to reflect upon the difference between the way it used to have be done and how it is accomplished today.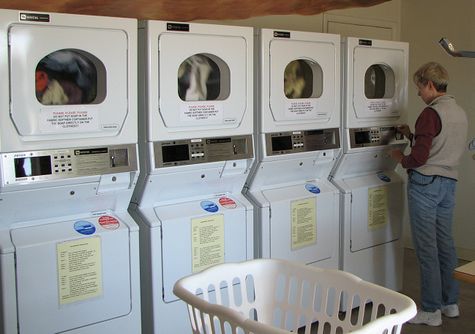 Looking up from taking this photo I spied something neither of us had noticed before, the scene of what the men were doing while the women washed the clothes. Do you think it is any different today?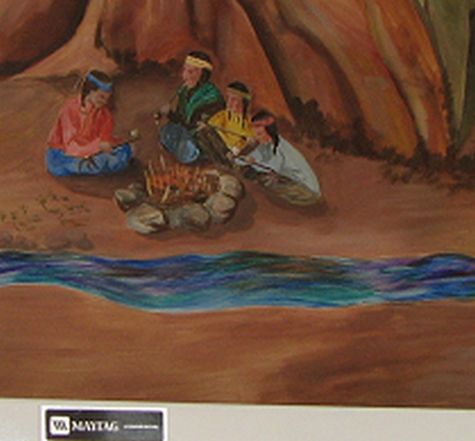 As we walked back to the coach, the wind was really whipping through the park, and a quick check revealed it was gusting over 30 mph. Before long the dark clouds were rolling in, which were followed in short order with rain. Fortunately it stopped just before Linda had to walk back over to put the clothes into the dryers, otherwise she would have gotten wet. I on the other hand, having taken my clue from the mural on the wall, busied myself at the computer. After all, washing clothes is womens work, isn't it?
Eventually the clothes were washed, dried and put away, thanks to Linda, while the daily journal was written and uploaded to the server, thanks to me. I must have been having some pangs of guilt because later, when I noticed the newly washed sheets had simply been tossed on top of the blankets, I started to make the bed. Just as I was finishing up, Linda came back and tucked in the last corner. I teased her that she had learned well. She wondered what I meant, so I related how she is always accusing me of showing up just as a job is done, so now it was her turn to do what I had always done. I'm not sure I liked the look in her eye as she left the room, just maybe I had put the wrong thought in her mind. I certainly hope not, but stand by for updates in the future, because if she tries to pull any of those shenanigans I practice, I will be quick to point them out to her and get them stopped.
One thing we had wanted to do was to take a walk, unfortunately the intermittent rain showers had prevented that from happening. Finally the weather seemed to clear and we headed out. It didn't take many steps to decide that only wearing my vest over a long sleeved shirt was not the way to have dressed for this adventure. When I suggested we walk the trail, Linda immediately demanded to know what trail. I tried to describe the signs I had seem at the corners of the park, but she was insisting she hadn't seen any signs like that. Thus our walk began in silence as we aimed toward the park's back corner, where we immediately encountered a sign with the words 'Hiking Trail' on it. With a bit of wisdom that I seldom utilize, I kept my thoughts to myself and my mouth in the closed and locked position.
While there didn't seem to be any well marked trail, there was a new barbed wire fence which disappeared of to the west, so we decided to follow it. All those earlier winds had been blowing from the west and while they had tempered their fury, that didn't mean there wasn't any wind and it turned out that there was just enough wind to make walking into it a less than pleasant experience, Eventually we came to the end of the line, the straight line that is, as the fence took an abrupt left turn, where we likewise turned. This proved to be for the better, as the wind was now blowing from the side, which made conditions feel not quite so uncomfortable. We continued along this line until we were forced to turn again and that was when we looked up and saw the rainbow.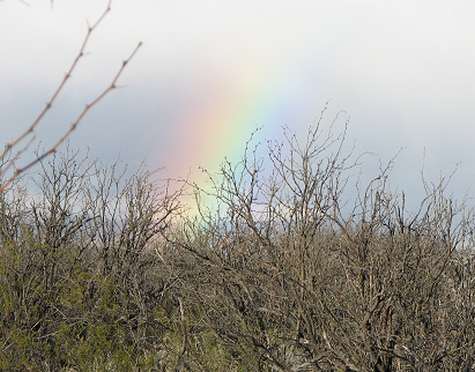 As you can see, this was not like the sharp distinct rainbow we saw on the day we arrived, rather it was broad and massive, spreading out across the sky making us think it was rising up just a short distance from us. No matter where it might have traced its beginnings to, its beauty was a special moment and I think we both took it as a sign, because the distance which had seeming separated us for much of the day vanished as we looked upon it.
Dinner was leftover mushroom-tomato stew which came out of the freezer, and proved to be as good after having been frozen as it had been when freshly made. Later we really enjoyed watching Monk try to come to grips with that new fangled invention, the computer, which he did in the fashion that would only happen if it were Monk. If you haven't ever watched it, be advised that it has really weird seasons, with next week being the the last episode for this season. With that, our last day at Tombstone ended, and we went to bed eagerly anticipating the morrow when we plan to head back north towards the Phoenix area for a few days stay before traveling on.
---
Feb 24 - Saturday
Moving day today, wanting to end up somewhere north of Phoenix so we don't have to fight the Monday traffic when when we leave the area. We did have another of those wonderful breakfasts which Linda just keeps turning out. This one being a spinach omelet replete with fat free sour cream. Isn't it interesting how easily we fall into habits when it comes to what we eat. It wasn't that long ago that every morning saw a bowl of dried cherry laced oatmeal being cooked and now we are in the scrambled egg mold. We do, however, have the last of our cherries set aside for when we drop the egg in the morning habit and go back to oatmeal. Wonder if that indicates we have habits of habits?.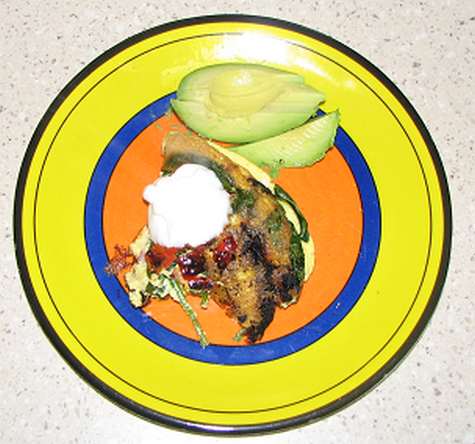 While planning our day's journey we did take one thing into consideration and that was a light which had come on just a few miles short of the RV park on Monday, the 'check engine' light. We hadn't noticed anything wrong with the way the coach was driving and believe you me, I had been watching and listening like a hawk. While it might be one of those freak things, maybe it meant something was acting up, so we decided to find out where we could stop just in case. Turned out that Cummins Rocky Mountain was on the west side of Phoenix, so we had a plan 'B' in case it was needed.
We weren't in any hurry to leave, but still managed to have the slides in before 10AM, which we thought was pretty darned good. Linda read the electric meter as the park charges extra for electric, then drove down to get our propane tank filled because the gauge was showing we were down to 1/3 of a tank. Falling into the small world category, the fellow who was having his tank filled when I pulled up, the fellow operating the pump, and myself, all three of us, had all grown up in Ohio. When I took this photo I heard the remark that this was the first time he had ever had his picture taken while filling someone's propane tank. Guess it just goes to prove that there is always room for something new in everyone's life. Also, please note the very stern faced inspector standing in the background.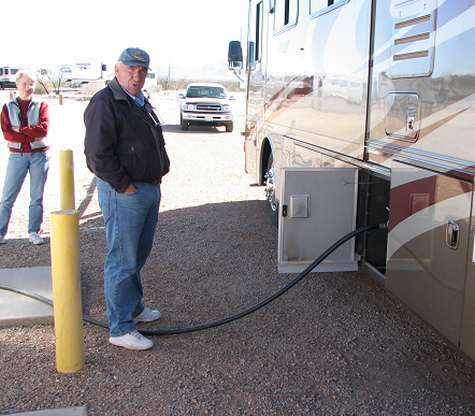 While Linda went over to the office to pay for the electric and propane, I started hooking the Explorer up to the towbar, and that was when I noticed the drivers side rear tire was not exactly assuming the shape a tire normally assumes. A quick check showed that it was nearly flat, not flat enough for Linda to have noticed it when she drove it down, but flat enough to surely have ruined the tire and possibly more had we been towing it on the road. It was while taking the tire off that Linda saw the culprit, a nail, which could have come from either the Pinal County Fairgrounds or the Gleeson ghost town as there were lots of nails laying around at both places.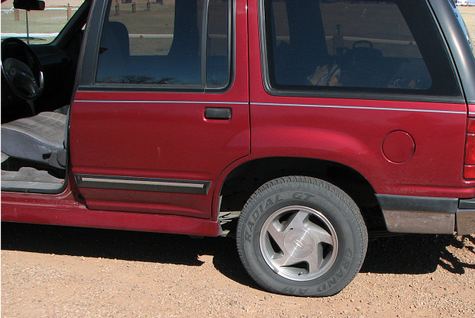 We didn't know whether to look at this as a good or a bad omen, but it didn't take long to find out which it was. After we had been on the road about three or four minutes the check engine light came back on. Then about ten miles down the road it went out. Then it came back on, then it went out, only to come on one more time and stay on. It also didn't take long to figure out where we were going to be spending the night, at the Cummins shop in Phoenix.
You can bet that we both watched the gauges quite closely during the drive back to the Phoenix area, but they showed nothing out of the ordinary and everything seemed to be operating normally. There was one interesting thing that occurred as we drove along, but it had nothing to do with the coach, rather it involved the other person in the coach. When we had driven down to Tombstone on Monday we had passed an Ostrich farm which had what looked like it had hundreds of birds. Now, as we headed back past it, I handed the camera to Linda and asked her very politely to take a photo. From the ensuing assault upon my eardrums you would have thought I'd asked her to walk to Phoenix rather than just take a picture. She did take a picture as we passed the farm, but I was informed that she was not responsible for how it turned out since I had not not stopped for her to take the best photo she could.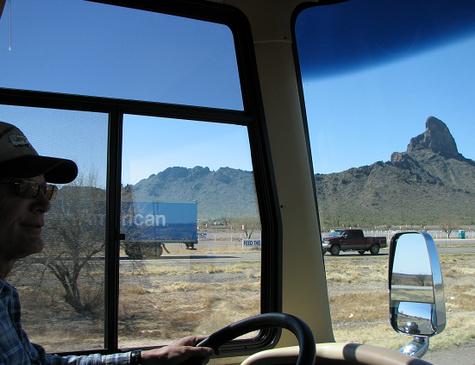 As you can tell, her photographic skills sometimes leave a little to be desired, but since she wasn't responsible for how it turned out, I'll take the blame. One other thing that we passed which puzzled us were all the signs north of Tucson that said, "special event traffic use exit 242 or 240." We didn't see any extra traffic and weren't sure what the special event was. There was a huge rodeo that was supposedly going on in Tucson, but this was to far out of town for that. My best guess was that it was a golf tournament, which we later found out was exactly what it was. I don't know what the attendance was, but either we passed by at a not very busy time, or it was one of those much ado about nothing deals. It was about this time that Linda actually found something she could photograph, so she started taking pictures. Just to show that not all her photo's turn out like the one of the ostrich farm, after a lot of searching and some judicious cropping, one was found which actually showed some trees.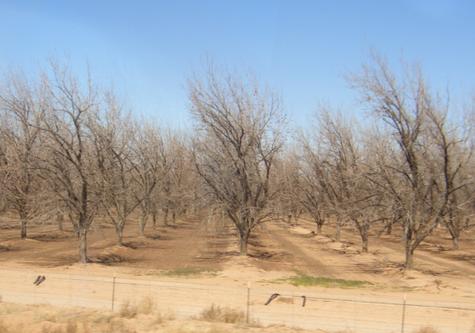 At long last we got to the Phoenix metro area and even though it was a Saturday, the traffic was not exactly what I would call light. One thing that the freeways around Phoenix have that makes driving easier is something that they didn't have, which are those infamous exit only, disappearing lanes. The freeways we were on had exit only lanes, but they were the continuation of the entrance lanes, which makes driving through town a much more pleasant experience when you are in a motorhome pulling a toad. Another thing we noticed was the skyline of Phoenix, or maybe I should say the lack of skyline.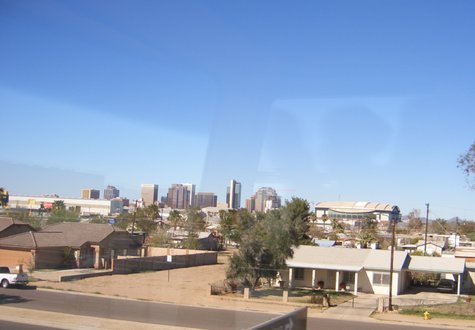 Eventually we found ourselves on the west side of town nearing our destination and that was when the fun began, though I must interject that before it was over, we were still married, even though our communication with each other may have been a little strained. Let's just say that the address were had was not where we ended up and that it was a map problem, not a failure of the navigator. Then, after a phone call to get directions while driving the wrong way through a school parking lot on a dead end street, thank goodness it was a Saturday, we got headed in the right direction. I leave it with a, if you've been doing this long enough you know what I mean, and if you're new at this, someday you'll know what I mean.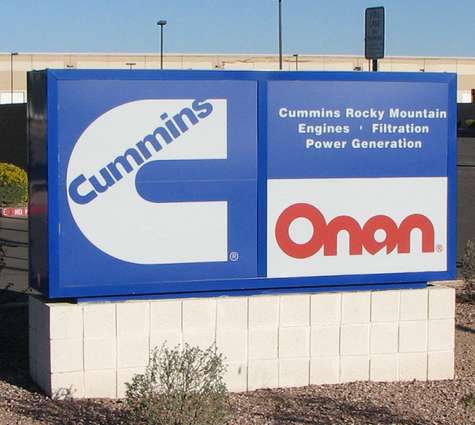 It was just after 3PM when we arrived at the Cummins shop, so all that happened was that we were written up and told that they started at 6AM on Monday and to be ready for them to take us in. We were the only ones there, which was nice, so driving down to the end of their lot, we backed into a spot and hooked up, or more accurately, plugged in. They had 30 amp hookups, but so as far as we were concerned, we were all set. Our service writer made a couple of comments that we found interesting, one that the see more Monaco Corporation RV's than any other brand and tow, that the end plugs didn't work. We may have been driving a Monaco Corporation built coach, but we sure as heck didn't park in one of the end spots.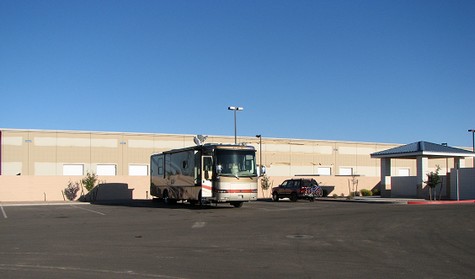 After a quick dinner we headed out to church. Yes, I know it is Saturday night, but we were in megachurch country, so why not take advantage of it. Also, for the next two months we would not be able to attend church, as the closest church was some 30 miles away and even then, there was a good chance we would be working on the weekends. There are megachurches and then there are mega-megachurches, which was what this one turned out to be, with more than 10,000 people in attendance each weekend. Christ's Church of the Valley as it was called, and since it was located only about 20 minutes away, after a quick dinner, we headed out. It turned out to be a great experience and simply further confirmed the wisdom of seeking out the different or the unusual and not being afraid to plunge in. A year ago when we had been in Phoenix, we had attended our first ever megachurch service on the other side of town, which caused us to attend other megachurches on our trip East. Now here we are a year later, in a way, starting the cycle all over again at another Phoenix area megachurch.
One thing we would like to do next year when we are in Mexico is attend a Catholic Mass in a Mexican church, preferably one of the older cathedral like churches in the downtown area of Puerto Penasco, we can just imagine what an experience that would be. We look at these experiences just as we do our problem with the check engine light, not as a negative, but as an opportunity to experience something new where we let our attitude remain positive and the experience be rewarding rather than disappointing. I feel sorry for the people who say they would never experience something because of some prejudicial preconceived notion or less that exhilarating past experience. We've only got one life to live and each day means one day less to experience as much as we can.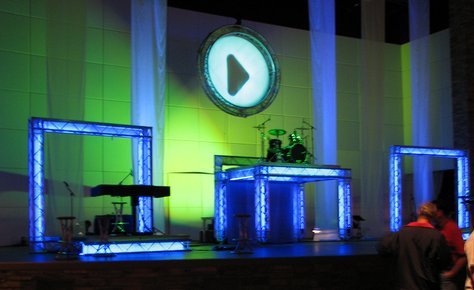 As you can see from this photo the pulpit and choir loft of a megachurch looks a little bit different form the usual church setting, yet it was the same. A lifetime attending only one denomination and 14 months spent visiting churches of all denominations has really opened our eyes. In a way it is like spending most of your life near the town where you were born, never seeing what the rest of the world was like, then suddenly starting to travel. Does it ever change you your view of what you thought the world was. Also, if you've never attended a church, these churches are not like anything you've ever imagined a church to be. Because there were so many people there and we could visualize the traffic jam exiting the parking lots, we went out onto their patio after the service and sat for a while, This being the winter in Phoenix, they had tall infrared heaters beside each table and we sat in the warmth of the heater and watched the throngs of people departing. I would hazard a guess that there were more people at this service than had been at all the combined services we had attended in the past six months and this was not one of their heavily attended Sunday morning services. In a way this is like that next bend in the road, you never know what is around it unless you take the chance and go that way.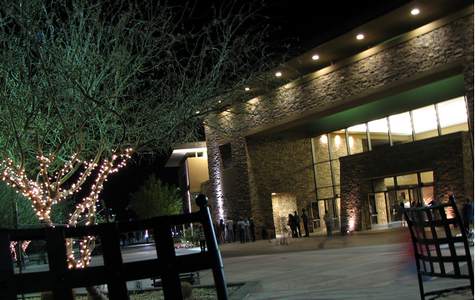 We eventually found our way out of the parking lot, which was an adventure in itself, and returned to the coach to discover that we were still the only ones at the Cummins shop. So soon after a dessert of warm milk laced with caramel syrup and a slice of zucchini chocolate chip cake we called it a day. And a very interesting day it had proven to be, what with first, the flat tire, and then the check engine light. Yet even though someday's are better than others, it is better to have lived, no matter how bad the day, than experience the alternate.
---
---