That's the sound of the men working on the chain ga-a-ang
That's the sound of the men working on the chain gang

Though the sounds may have been the same, this was anything but work. This was a true labor of love. We don't always get what we want out of life and it would be so easy to become bitter at what we initially look at as a disappointment. Or we can understand that life is what you make it, and love each moment we are given. Since he has to catch the bus at 7:15, it is up early, so soon we were up anyway. It is cute how our granddaughter who goes to kindergarten gets up at the same time we do, even though she doesn't have to go to school until after 11 o'clock, while her older sister who is in the third grade and needs to be at school by 8:30 likes to sleep in big time. Shades of myself and Linda, of course I could never point out to Linda that maybe our granddaughter got her propensity for sleeping in from her, leastwise if I want to avoid a verbal beating, lol.

The morning went by quickly and soon it was noon, which was greeted with the arrival of the sun from its hiding place behind the clouds. It looks like grandpa is in for another afternoon bike ride walk back from school. Yesterday Linda accompanied me to the school, then took pictures, today she drops me and the bike of some distance from school and leaves. I don't think she wanted to be any situation where the suggestion might come up that she walk home with our granddaughter, smile. We did have one major triumph on the way home. There is a street with a very long, very steep hill that our granddaughter had never been able to ride up without stopping. Well, today she climbed her mountain so to speak, as she rode all the way to the top without ever stopping. She even had her heavy book bag on. Was grandpa ever proud of her, way to go girl.

Linda left for a little while in the evening and it was just after she drove away that our grandson went through what our daughter humorously refers to as 'a meltdown'. One second he was happily sitting in the chair and the next, just as I left the room, he became a crying machine. When this happens, nothing can calm him until the moment (minutes actually) passes. The girls could not hear hear television over the din, so I took him off into another room. After a number of minutes the sounds suddenly stopped and all was okay once again. As the late Dale Earnhart would probably have said, "It was just one of them babysittin' deals.", lol. One of the jobs I was left in charge of was fixing supper. Fortunately for me, the freezer held the leftover pancakes from several nights ago, so it wasn't all that hard. Add a few sausages, microwave for 30 seconds, the kids where happy, and so was grandpa, smile. Of course looking at the expression on our youngest granddaughter's face in the photo below you might think otherwise, lol.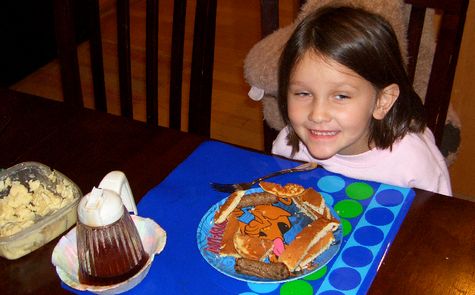 The dishes washed and the room straighted up, it was time for our nightly game. We had played Kid's Monopoly the past several nights, so tonight I thought it would be different. Wrong. It turns out that our youngest granddaughter had never been the banker before the other night. It isn't the game she likes so much, it's the opporunity to be the banker, lol. It was fun time for all and the made a great end to a great day.
---
Nov 17
The last day of school until the Monday after Thanksgiving began with our oldest granddaughter complaining about not feeling well. She thought that maybe she shouldn't go to school today. Grandma immediately stuck a thermometer in her mouth and learned she didn't have any fever, so there was no getting out of school. We never could figure out what brought that on, as she knew every one of her spelling words and she had said nothing about anything else she needed to know or do today at school. Things went well until it was time to leave for school, then grandpa made a big mistake. She had told me she wanted to play with some of her friends before school, so we made a deal to leave early. She was ready early, so we left. The only problem was I drove to school the back way. Now, how was I to know that traffic backs up horribly in that direction. Turned out it was lucky we had left early or we would have been late. I also had one upset granddaughter on my hands. Sometimes being a grandparent isn't as easy as it seems, smile.
Linda was gone when the time came to take the youngest to school, and as the saying goes, 'There are times that try men's souls.' I had her ready with plenty of time to spare, it's just that my ready and her ready were two entirely different things. I managed to get her and all of her 'stuff' out to the minivan when she innocently asked, "Did you pack my snack?" I told her I had. Then can the question, "What was it?" I told her it was a bagel. Wrong answer. After a brief discussion, I was back in the house putting the bagel in the refrigerator and getting out a cheese stick. Back at the minivan I was putting the the cheese stick into her backpack when I was informed that it didn't go into the book bag, it went into the lunch box. Now understand, I had packed her snack for four days and no mention of a lunch box had previously been made. Another brief discussion and I was back in the house looking for the lunch box, which I finally found and took back out to the minivan. As you can imagine, the clock continued to tick all this time and it was getting closer and closer to the time she needed to be at school.
At last we were ready to leave, or so I thought. As I started to get into the drivers seat, she, all so sweetly asked, "Did you put the Cheez-its in?" Since were really running short on time, no discussion ensued, I simply went back into the house, found a Baggy, put a handful of Cheez-its into the bag and headed back to the garage. I was brought up short since she was standing in the kitchen. I told her we really, really needed to get going and she told me that one handful wasn't enough. I know when I'm whipped and it was obvious that I had been whipped. We actually got to school on time, it also included one quick dash back into the house for the car keys I had left on the counter, at which point I was told, "You better hurry grandpa or I'm going to be late to school." And we call them 'little darlings', lol.
This was also the day we were to get our Healthy Check screenings done. We had bought Blue Cross health insurance and one of the benefits is a yearly healthy check. They check you out pretty good and both Linda and I came out with a clean bill of health. I did get to gloat over my percent body fat of 17% and a waist/hip ratio of .91, which ain't to shabby for an old man. We owe a great deal of our good health to the way we eat. I got to observe the effects eating and life play in health as I sat waiting for my turn. The center shared a waiting room with an outpatient surgery clinic. As I watched the near steady stream of overweight people going up to the counter, I couldn't help but thank my lucky stars we had decided to eat and live the South Beach Diet way. What a difference it has made in our lives.
Life can not be all fun and games, though it would be nice if it was, so soon we were back at the house watching the grandkids, fixing food for the masses and playing Candyland. I can remember our kids playing Candyland, but I don't remember much about it. Suffice it to say that the 'cookie' is a very bad thing to get. So bad in fact that our youngest granddaughter removes it from the deck before she plays. As always, she won which made her ecstatic as she said she never wins when she plays with her older sister. The joy in her eyes made life worthwhile for me today. Then all too soon it was time to head off to bed. Just like all kids, she has that one inseparably thing that always has to go with her, her 'puppy'. Tonight 'puppy' was doing tricks so grandpa just had to take a couple of pictures.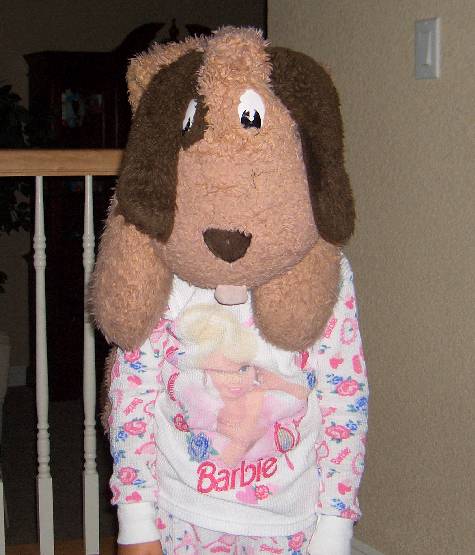 You have to believe it is hard to walk anywhere with a puppy covering your head, so soon there was a little girl peeking out.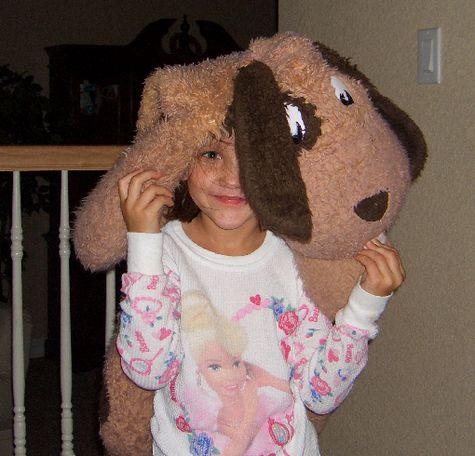 This was truly a day of joy for both Linda and myself. Good health and good times with our family. It doesn't get much better than this.
---
Nov 18
The last morning of grandchild watching dawned bright and sunny. What a contrast, and what a distance we had traveled since last Saturday morning when we awoke to rain, three little kids and the prospect of watching a soccer game under an umbrella. Today was also a good day for several other reasons, not the least of which was that we had sold our other truck yesterday. we had not been able to sell it before we left in January, so it had basically sat for 10 months, costing money for registration and insurance, but now we are back to where we were 35 years ago, a one car family. Of course we still own two houses, the one we live in now that has wheels and the one we used to live in, but that is also going to have to get cleaned out big time the next time we come back. We find we can no longer call it home, as home is the coach. The changes in life, the adventure of the new, the lure of the next bend in the road, it will never be the same.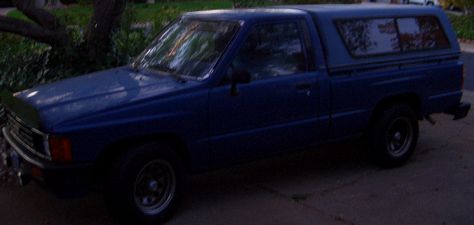 Our son came over in the morning to spend some time, plus Linda had ever so slightly bribed him with a promise of a home cooked meal, the green chicken chili, lol. We had a great time and he got to check out all the latest programs I had put on the computer. He was particularly intrigued by the RSS feed and the more I have played around with it the more I like it. He makes his living as an IT professional, while I am just an old guy that loves to try out new things. I think it is more than fair to say that we are definitely proud of each others accomplishments.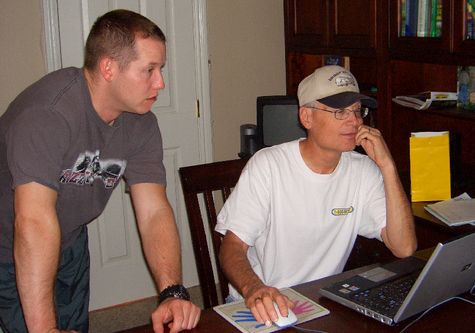 In the afternoon my grandson grabed my hand and led me up to his playroom. I soon found out it was time to play air hockey. It was so sweet. The excitement he gets when a goal is scored is just awesome. It doesn't mattter who scored the goal, he or I, it was just the fact one was scored. He moves some of the scoring markers, claps his hands, yells and is just so excited. It gives me a moment to see the world through the eyes of a young child again. I know that is all he will ever be all his life, just a young child, but rather than be sad, I can be glad in these wonderful moments we get to share together. They will only be be my memories, but they will be with me all my life, just as I still carry other wonderful memories of time spent with my grandfather. Don't ever forget that life is what you make it.
Speaking life being what you make it, I made some more wonderful memories just a short time later. That youngest granddaughter, the one who gave me fits yesterday trying to get her to school on time, did the absolute sweetest thing. The air hockey game was in full swing when she came upstairs, walked right by us into my grandson's room and from the sounds, started digging around in his closet. I couldn't peek in to see what she was doing, because if you don't watch what you're doing, an air hockey puck can come flying right at you, smile. In a little while she came back out with the biggest smile on her face and carrying the sign they wave when our grandson paticipates in the special olympics. It was enough to bring tears to a grandfathers eyes. Special moments, special memories. We just had to stop playing so I could get a picture.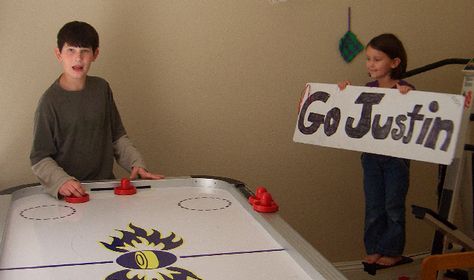 She never said a word, just stood there and waved the sign. It was one of those times when nothing could be said, as what she was doing said it all. In a few minutes she put the sign down and dissappeared into the room once more. This time she came out carrying some odd shaped pieces of wood. After several more trips, she asked me how I spelled my name. About a minute later this was the result.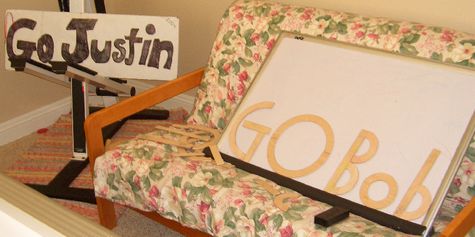 There are certain things that happen to each of us in our lives that are those very, very special moments. This was one of those for me.
Later we had supper, then the waiting started. Mommy and daddy were due back at about 8 o'clock and those kids became clock watchers. It was okay to have grandma and grandpa there for a few days, but it was time now for things to return to normal, at least for them. I had to feel for our daughter, here she had been gone for the week enjoying Mexico and the reality of next week was just hours away. The kids home all week, the Thanksgiving Holiday to get ready for as she was having it at her house, plus her parents leaving for another 6 months away. There is a something special for each of us in life. Don't be afraid to reach out and grab it.
---
Nov 19
The fun and games are officially over this morning. We get to spend six nights at our stick house before we are off to our home. The quiet of the morning is almost overwhelming, no kid's shows on TV, heck, no TV period, no one asking about breakfast, no gentle, yet persistent tugging on my sleeve by a little girl who wants something. I guess you could say our life will be in limbo during the few days leading up to Thanksgiving. That day will be spent with our kids and grandkids, then it will be back to our home on wheels for many months before we return to once again watch the grandkids while our daughter and son-in-law go on a cruise. I'm beginning to wonder if our daughter is planning these out of country vacations on purpose, just to get us back to see them, lol.
There is another side to being back and that is the endless amount of cleaning and getting rid of 'stuff' that we find ourselves engaged in. There is one thing good about coming back to our little 2000 sq ft stick house from their 6000 sq ft house, it gets us in the right frame of mind to return to little 300+ sq ft home on wheels. Not that we need to get into the right frame of mind as we both find that we miss it very much. Everything is so handy in the coach, we know where everything is and we have everything we need. It is almost ridiculous to think about it, but here we are, what in essence is, camping out in the house we lived in for almost 25 years. Linda does have one job today and that is to sort through and organize the gigantic pile in the middle of the family room, a pile that is a mix of what we brought back that we didn't use and the things from the house we want to take back, much of which is items Linda will sell on Ebay.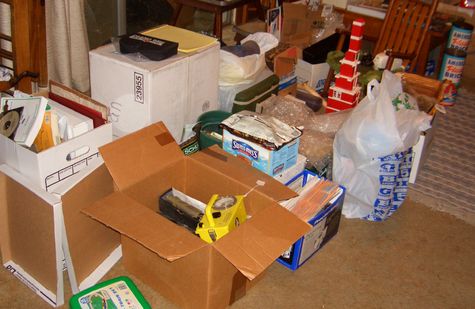 For the keen eyed observer I must point out that there are things in that pile that are not going to get sold. The American Bricks from my childhood and the Geiger counter are two of them. After all, who doesn't cherish a memory or two of their childhood. There was one other thing we did this morning and that was to go to our old church, the one we had attended for so many years. It is wonderful seeing old friends and hearing the old familiar songs, and I must add, the sermon was also right up there with the best we have heard on our adventure. You never know what you have been exposed to until you experience the rest of this great big wonderful world.
One experience from the past that we missed today was turkey wraps. Can you believe that woman I have lived with for almost 40 years had let us run out of turkey. The replacement was a tuna wrap made from Bumble Bee canned tuna, ugh. Now don't get me wrong, we used to eat a lot of canned tuna, it's just that during these past few months spent living on the Oregon coast we learned what real tuna was. We may be a tad slow, but at least we eventually get there, smile. The saving grace was being able to walk out into the backyard to the red raspberry bush and pick those big luscious, sweet, ripe berries to our hearts content.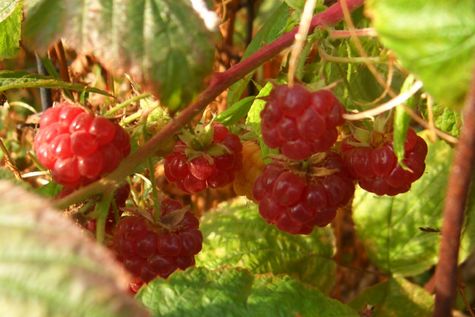 In the afternoon I did my really, really good deed for Linda. It was one of those true labors of love that only a loving and devoted husband with many decades of training would undertake. Back those many months ago when we left to see the world and live a new life, we had the cable disconnected at the house, which means that if we turn on TV it looks like, well, it looks like something that only someone who was desperate would watch.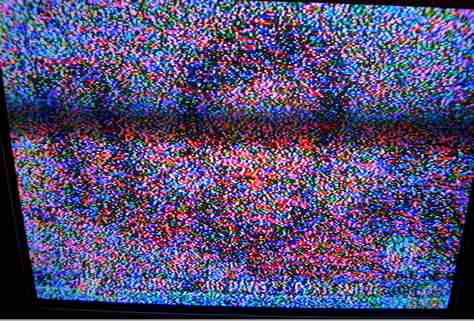 Of course the key word here is 'desperate'. It is Sunday night and there is only one show on TV that the woman I am married to cannot miss, the penultimate of TV shows, 'Desperate Housewives'. That was the reason why I found myself up on the roof reconnecting the cable to the ancient antenna that clung precariously to the top of our house. It had been so many years since we had last used this artifact that the connector on the end of the cable was not the type the TV's of today use, lol. A quick replacement job and Linda is going to be one happy girl tonight a 9 o'clock.
Things are not always what they seem, or said correctly, things are always not what they seem. For me this was the adventure outside and up onto the roof. The problem was - not the problem with the antenna - it was what my eyes surveyed from up at that high vantage point. The work that needs to be be done in the backyard. Work that in the past would have been done every weekend all fall long. Work that now needs to be done in one or two days. I see a huge pile of cuttings and trimmings that our daughter will have to put into the green waste can over many weeks appearing within the next several days in the back yard. Here's what it looks like today. If I can remember, I will post a picture of the pile when I get done trimming, which is going to be interesting to say the least, since the weather forecast calls for rain the next three days. I definitely think I foresee a poor damp and bedraggled Bob in my future.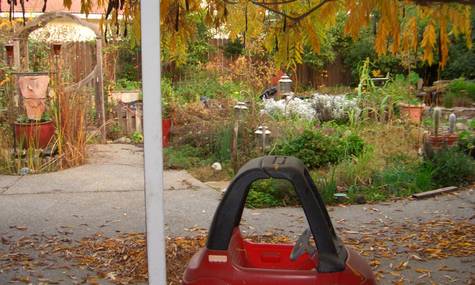 One of the things about cleaning out a house is that you never know what you are going to find. In fact some things that you find are better left as they were. At least that is the course someone who has no sense of adventure would pursue. That said, I must go back 30 years to show you what we were doing at that time.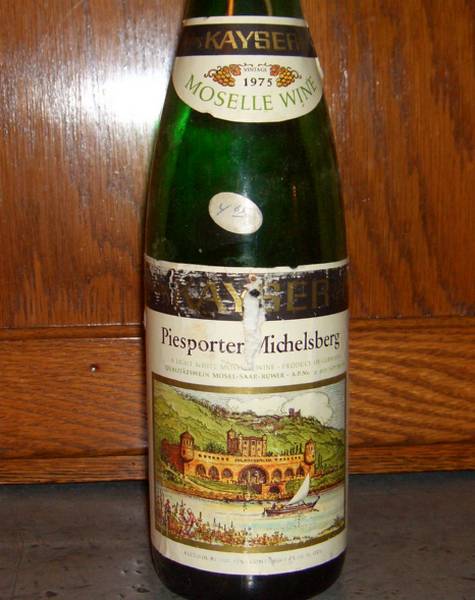 Now most people would take one look at a bottle of wine like this and head straight to the garbage can. They also probably wouldn't buy a motorhome, quit their jobs and take off either. Guess you figured out what we did with it. Pulled the cork and tried it. Not being anything other than a couple of kids from the country who have always remembered where they came from, we both found it palatable. Linda summed it up best when she said it reminded her of the taste of the Sherry she used when she had baked fruitcakes. I don't know if that is good or bad, but I will say that any alcohol that had once been in it was mostly long gone. Of course the fact the level of wine in the bottle was down about an inch may have had something to do with it. Nothing ventured, nothing experienced, as we say.
One of the problems with camping out in your house is a very limited food supply. Since we try to live such a healthy lifestyle, at least from the stand point of how we eat, we are not into eating out very often, hence dinner was another adventure in the culinary arts. We had some extra, extra lean ground beef, which, when fried in some EVOO with onions and served on a slightly freezer burned English muffin made a tasty start to the meal. The accompaniment was where it got interesting. Linda found some brown rice we had left behind and also a bottle of ground cayenne pepper. They made for a very interesting mixture. The first bite was pure fire so Linda commented that this pepper sure was different from what we had in the coach. There followed many bites that had no fire or flavor other than the rice. Then came another bite of pure fire. Me thinks she did not mix the pepper into the rice very well. She thinks the pepper was different. Far be it from me to contradict her, lol.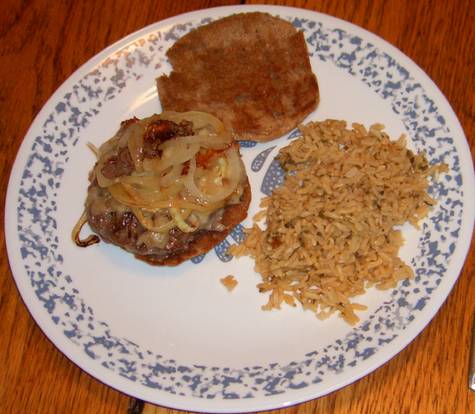 It's time to start counting the days until we drive back home as we are starting to miss our coach. Our vacations when we live on the road in our motorhome are completely different than wen we used to live in our house and go to work. Now we want to go back home. It's not that we don't enjoy seeing our kids and grandkids, it's just that we also miss our home, wherever it might be today, and that is the true joy of life on the road. May going home for you be as much fun as going home is for us.
---
Nov 20
Mornings have always been my special time and today was no exception. It is one of the joys of being an early riser that you most definitely have time that is all your own. I spent my own time my own way, working on the website, a labor of love that I so very much enjoy. I am currently working on a new article for the home page and have several different ones in the process of being written, though I plan to go with whichever appeals to me the most. I have one that looks like it may turn into a series of articles, so I will probably go with that one. Stay tuned to see the story unfold, lol.
As has happened on a daily basis over our 39 years of married life, she who orders me around and tells me what to do and when to do it, eventually made her appearance. So much for working on the website, it was going to be time to get down to some real work, and then she totally surprised me. No honey do list this morning, no what are you going to do today, no we need to ------ today. Instead she got out all the Christmas presents she had bought for every body and proceeded to wrap them. To say the least, I was major impressed, lol. This allowed me enough time to get the website brought up to date and also work some more on the new homepage. We needed to go over to our youngest daughters apartment to check out her computer as it had been giving her some problems. I was quite familiar with the computer as I had built it about five years ago, but we also wanted to give her something special.
Some years ago when she had been going through some personal problems she had given Linda a small sum of money to hold for safe keeping. Cleaning out the house we had discovered it and now it was time to give it back to her. When you are a single mom raising a little boy every little bit helps and as you can see in the photo below she was quite pleased with what Linda had found.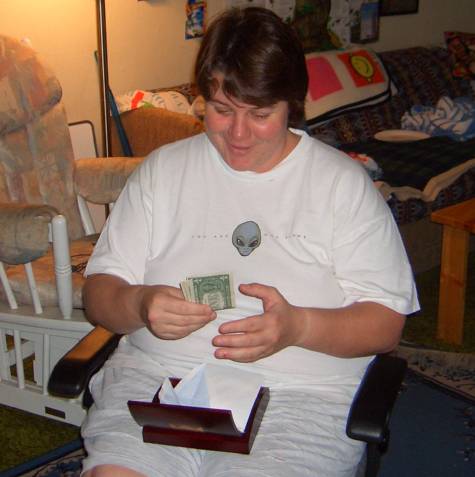 We had folded it so she would see the smallest bills first, then the bigger bill. As you can tell from the look on her face, our little scheme worked, lol.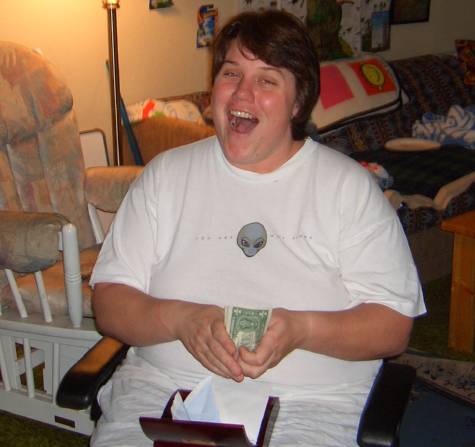 Our good deed done, it was time to check out the computer. Just like the findings from our Blue Cross Healthy Check, the computer was also in great condition. a hard disk cleanup and it was as good as new. We had also given her our old digital camera so she could take pictures of our grandson and email them to us. The only problem was we had never showed her how, smile. It was time for a lesson.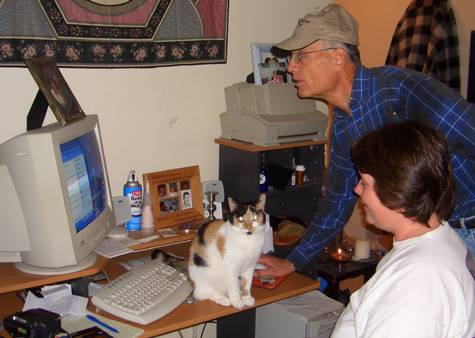 Linda redeemed herself after her faux paux at lunch yesterday by going to the store and buying some turkey so we could have turkey wraps. She even got an avocado which took it up another notch. Then it was time to go to work. To have a house in California means you will have jungle of plants if you don't keep them trimmed. Hence, it was time for us to do some cleanup. Linda took the front yard and I took the back and soon the loppers, pruners, rakes and mower were fully engaged in taming the vegetation monster. One particular nemesis of mine is a large palm tree that grows in the back yard and needs to have its dead fronds trimmed every fall. Last year I was a bad boy and had not trimmed them, so this year I was going to have to pay the price. Every year it grows higher and I grow older, but it is just one of those things I want to do. I got about half of it trimmed before I ran out of gas, so the rest will either get done in the next couple of days or I'll just have to content myself with always being a year behind, lol.
Linda found some frozen spaghetti sauce which she combined with the last of the extra, extra lean ground beef and served over whole wheat past for dinner. The evening was spent with me trying to recover from the excessive amount of work I did today. I have to shake my head at my lack of stamina. A year ago I was working 10 hours days at hard physical labor and quite literally working people less than half my age into the ground. Something has certainly changed in the way I live and I'm not sure that all of it is for the better. Of course a little exercise would probably go a long way, lol. Then on the other hand it is only three more days until life returns to normal.
---
---