And never fails to say,
Get a job Sha na na na, sha na na na na

From how she looks this morning, it is possible that is what she's going to be telling me tomorrow. On second thought, I don't think so, lol.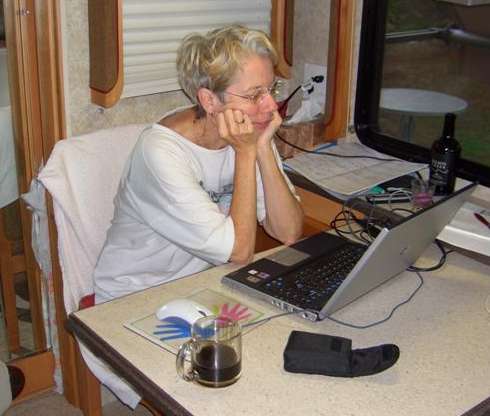 Breakfast was once again, Linda's creamy oatmeal and fresh peaches. While she was waiting for the oatmeal to cook she started a load of clothes in the washer. This was actually fitting because, after all, before we left on our adventure, Saturday morning was when we usually did the laundry. This being a work day in our current life, albeit the last one this year, we soon headed over to the museum for some rest. As we have approached closer and closer to the final days of this season, the crowds have become sparser and sparser. this morning we didn't have our first visitors until almost 11:30, so we got in some good computer time. The open source equivalent to Microsoft Office is OpenOffice.org, which I have downloaded and am trying out. I really like the spreadsheet and Linda likes the word processor. One thing she really appreciates is the ease of changing fonts where you can actually see an example of the new font as you select it. It's not perfect by any means, the presentation program will not let you synchronize music to the slides, but then you can't have everything. But for something that is free, it is better that grean. You can see from the photo of Linda, that we were definitely not overwhelmed by visitors.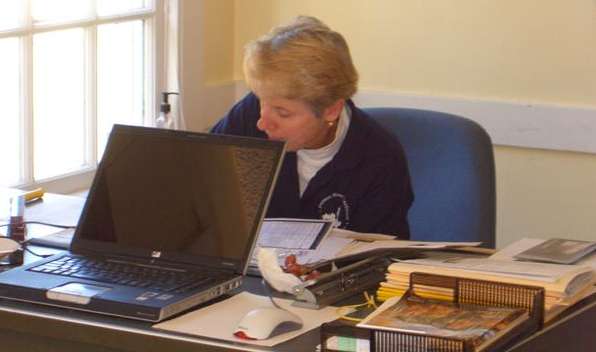 However, once the first two visitors came through the door, the rush was one. It was nonstop tours for the rest of the day. We were so busy that one tour even had 10 people on it, a number virtually unheard of this time of the year. The highlight of the day was when a former Coast Guardsman took the tour. He was not just any former Coast Guardsman, it had been his job to clean the lens once a week when he had been stationed here in the early 80's. The tour group he was on was treated to some very special stories of his adventures around the lighthouse. It's things like this which makes volunteering at the Umpqua River Lighthouse such a pleasure.
It didn't take long for the day to literally fly by and it was time to close. It was sad to close up the museum for the last time, but then again, it is only 10 months until we will be back again. Dinner was leftovers, split pea soup, eggplant with tomato sauce and whole wheat bread spread with peanut butter. You have to eat it to appreciate it, but actually, it is very good.
All the time we have been here, Linda has wanted to go up into the lighthouse at night. Figuring it was our last night here, so what could they do to us if we weren't supposed to be in it, we took a walk just as twilight was fading into night. The moon was out and the light beams were a thing of beauty. We tried to take some photo's from the outside, but the slow shutter speeds cause them to be a little less spectacular than what the eye saw. You can just make out the red and white beams coming from the light, but at least there are the beams playing off the trees to the sides.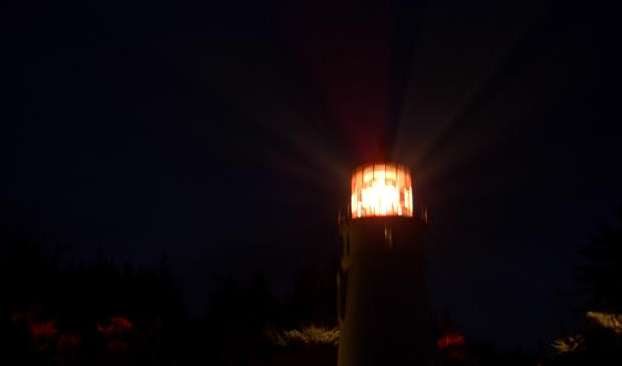 But we were not done yet, walking up to the top of the tower, we saw the difference between how the lens looked during the day and during the night. it was, like, well it was like the difference between day and night. This is a photo taken of the inside of the lens this morning. Notice the reflection of yours truly in the center brass post and the beautiful red color of the lens.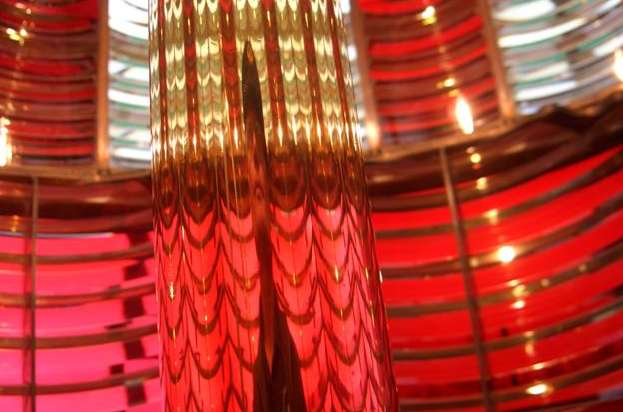 Here is a photo taken from almost the same spot, but now it was after dark. What happened to the color of the light? During the day all the color is in the inside of the light. Once the sun goes down, all the color is outside the light. So many people on the tours comment about how beautiful it must be up here at night. As with all art, beauty is in the eye of the beholder.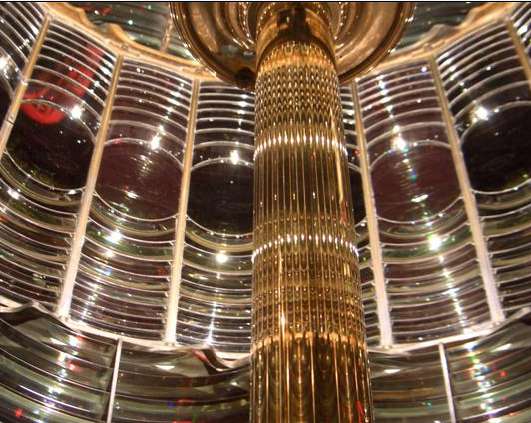 One last look at the light at night taken from the watchroom floor.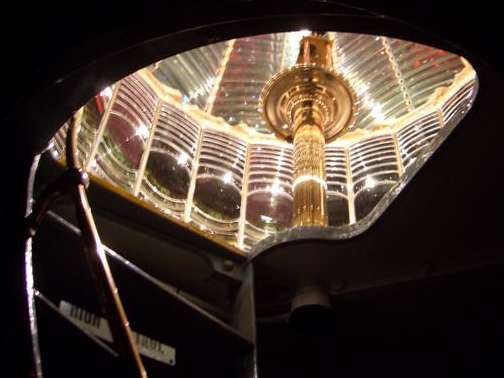 As always the day ended with dessert, the best thing about it was Linda had already turned the clock back, so we got to eat it an hour early, smile.
---
Oct 29
It is Sunday morning and our world has offically changed as of today. But it didn't seem to make any difference as far as the weather was concerned. You'd have thought it would have been a glorious, sunny day, but that was not to be the case. We had to wear jackets when we left for church this morning, as a light mist was falling. Not heavy enought to be called called rain, but enough to definitely not be merely fog. Having gotten an extra hour of sleep last night, we arrived at church to find many more people than usual. Linda finally decided it was because of the time change, The people were up early and ready get on with the day, so why not just go to the early service rather than wait for the later one, smile. We are going to miss this church, it has become a special place to us. We walk in and they greet us by name, they've accepted us and we feel good about it. So that we could take a memory along, I took a photo of Wes, Peggy and Kristin, the trio who sing every service, at their best.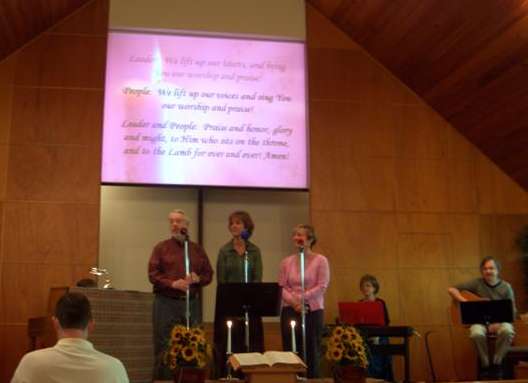 A light rain was still fallng when we returned to the coach, so it looked like it was going to be an inside day. We had leftovers once again for lunch, grilled tuna with peach salsa, Little Dumpling squash and tossed salad. Not a bad meal at all for leftovers. Linda had to laugh because it was not too many months ago, that she would never have put any uneaten fish in the refrigerator, let alone serve it as leftovers.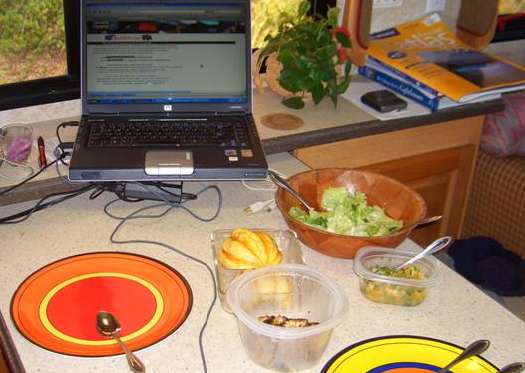 Afterwards Linda settled into the comfort of the couch and spent most of the afternoon resting. Of course there were the breaks she took from resting in order to wash two loads of clothes. Since we are not entirely sure if we will have a sewer hookup tomorrow night, she was a lady on a mission. Plus she also had time to put on a pot of bean soup, which then proceeded to fill the coach with an aroma to die for. We had one more thing to do before the day was done. Well, actually there were two things, but I'm not sure watching 'Desparate Housewives' counts, lol. We drove over to Reedsport to what is called the 5th Sunday Community Music Concert. There was everything from Harpists to a professional jazz singer to a balladeer to Classic Ballet, and evrything in between. Over twenty performers in all, each one of whom added something special to the evening. It was an amazing display of local talent and one of the best groups was the same trio who sang in church this morning. They did an awesome job with a song titled: "He's Coming Again So Soon".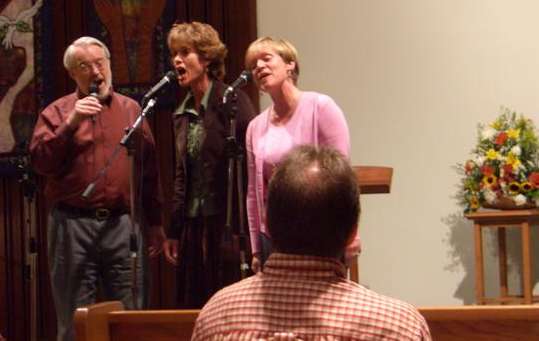 Since it was our last night at the lighthouse, we took the tripod up to the parking lot and tried to capture the heart and soul of the last two months of our lives. Here are two of the photo's we took. I'll let you decide if this conveys the power, magnificance and stateliness of the grand old lady who stands watch every night over the Umpqua.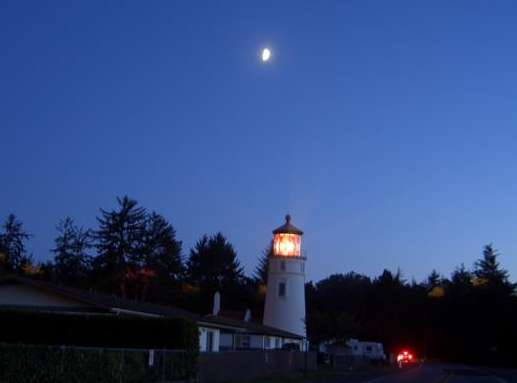 The photo above was taken at dusk, while the one below was taken much later in the evening. You can even see the red and white beams of light playing off the trees around the tower. With the low light levels the camera shutter is open longer and the light from the lens becomes blurred. Still it gives a glimpse into what we have seen each evening for the past two months. Pretty lady, we will miss you.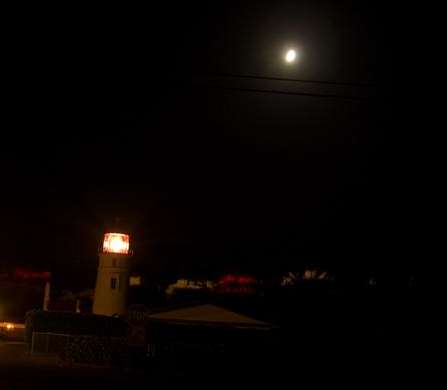 Of course by, the time we returned to the coach from taking our final photographs of the night, it was time for dessert. There is a story to dessert tonight, and it is about the dessert that was not. The reason we attended the community concert was for the music, but another part of such an event is the refreshments that are served. The concert had been held at the Presbyterian church, and as the ladies of churches all want to do, the Presbterian ladies volunteered to to serve dessert afterward. Homemade desserts. Little old lady, homemade desserts.
The same desserts many of them have been making for well over a half century. The desserts their children, grandchildren and possibly, even great grandchhildren have raved about. Looking at this mountain of sugary treats we were faced with a difficult choice. Approaching the tables, and they were tables, not just, a table, filled with enormous quantities of the best stuff ever made, we rationally discussed our choices. First off we had not yet eaten dinner and it was approaching eight o'click, which made our decision even harder, but in the end common sense won out and we turned left toward the door, rather than right toward the tables. A left being a right move if we ever made one, lol. May today, in your life, have also been a day when what was left was right.
---
Oct 30
Our last morning at the Umpqua River Lighthouse dawned clear and crisp. That is crisp, as in cold, and cold, as in 37 degrees cold, you know, cold-cold, lol. What a way to start the day. We, however, were in no hurry. To the contrary, we lazed around most of the morning, but eventually we faced the day and ate breakfast, then got on with the task of departing. I think both of us were sorry that this day had arrived, shades of our last day at Mountain Stream RV Park, where we workcamped this spring. Things did get accomplished. Linda drove over to Wichester Bay and mailed off a number of Ebay packages while I dumped the tanks. We were both successful, as my dumping of the tanks provided a bonus. Ever since day one, the gray water bypass for the SaniCon macerator pump system has not worked. Would you believe that today of all days, it decided to work. I didn't have to pump out the gray tank, it emptied itself, wahoo!!!! Will that ever make it easier when we are staying someplace were we do laundry.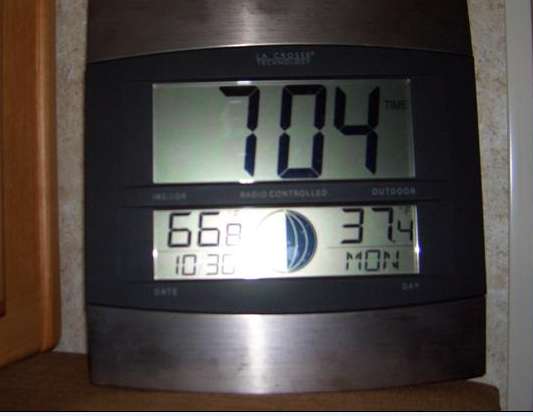 When Linda returned from the trip to the Post Office, she checked on her Ebay items, then checked on what her sister back in Ohio had listed for sale. She had to laugh when she saw her sister had listed some items similar to what Linda had such success with. The only problem was they were not the same. Bob decided that until her sister has Bob and his magic eye for a real deal to do her purchasing for her, then Linda's sister is just going to be playing second fiddle to Linda's super sales, lol. Finally it became time to leave. We took one last photo of the view we have had for the past two months, courtesy of the job that pays no money, but has the million dollar benefit. What price would you put on a lot with a view like this.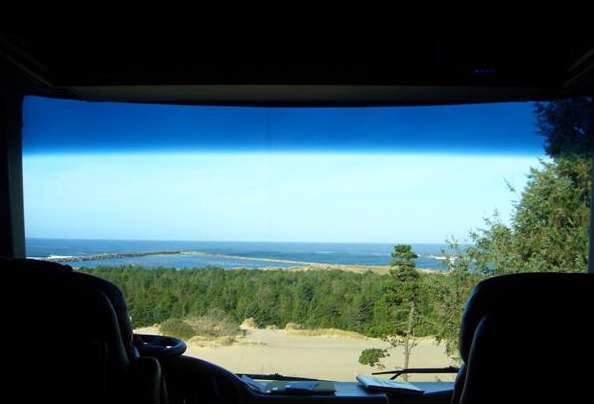 Just before we backed out of the site, we discovered I had not completely prepared the coach to leave. Do you see what I forgot in the photo below. Bad Bob.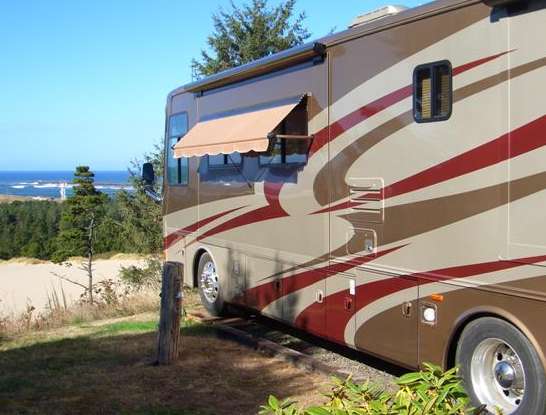 After I backed the coach out of the site, we noticed a harbinger of winter in the parking area. To me it was just a wooly worm, but to my Appalachian hill girl wife, it was the story of the winter. Giving you the short version of the tale, the two black bands at each end of the critter told, suffice it to say, that it is very good that we are going south for the winter as it is going to be one really ferocious winter up here in western Oregon.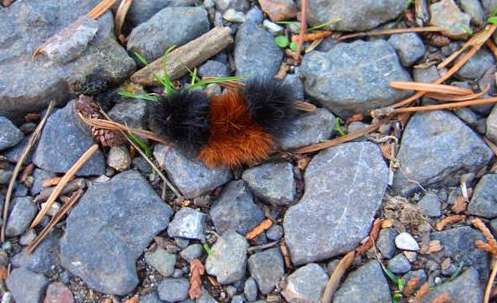 Then it was time to say good bye and head out. Our leave taking was delayed a few minutes as the lights on the Explorer wouldn't come on when the tailights, brakelights or turn signals in the coach were activated. The problem proved to be a corroded connector. By inserting and removing the connector several times, the contacts were cleaned enough to work and all was well. The trip south was uneventful and brief. We were only traveling 48 miles to Bullard's Beach State Park north of Bandon, so it was not long before we were already past the Coos Bay area and nearing the park. As we drove along we noticed the smoke from a forest fire of the the east. To far away to see anything but smoke, we had to take a photo anyway. It may look like there is a white cloud in the center of the picture, but unfortunately it is not, it is the rising pillar of smoke from the fire.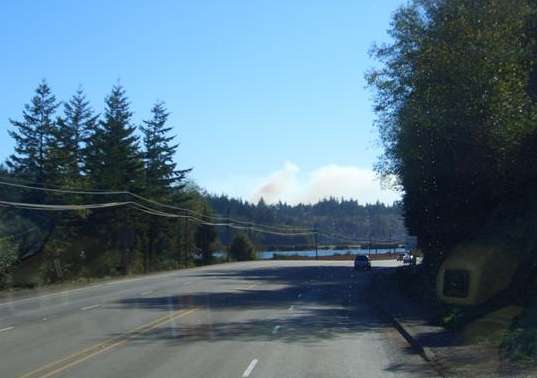 In short order we arrived at Bullards Beach State Park and that's when things became a test, or shall we say, a little testy, smile. As is so often the case, those incidents bring to mind something I once read. In this case, a poem by the great Scottish poet Robert Burns. Here is the link. If you've never read Burns, your either in for a real treat or about to read something that makes very little sense, with no in between. But I digress as I so often do, so, as Paul Harvey has been known to ocassionally say, and now for the rest of the story.
In hindsight we should have known some things would just not go right when our normally trustworthy GPS was directing us to turn left into the State Park when all the signs were pointing to the right. Now, there were no roads to the left, so we couldn't have turned if we had wanted to, and besides, having been to the campground before, we knew where it was. We drove back the entrance road, watching for the turnoff to the campground kisok, when Linda said, "You just drove past the campground road." As she is our navigator, it would have been more appropriate for her to have said, "We are approaching the turnoff, you'll need to turn to the right in just a little ways." When you are pulling a toad, the way is forward, not backwards, so on down the road we went. Now remember, we had been here before so we were familiar with the road which led out to the lighthouse. There are several areas to turn around in, it's just that they were designed for nothing larger than a VW Beetle and certainly not for 60 some feet of coach and toad. Finally a parking lot appeared that by driving over a low curb we managed to get headed in the correct direction.
After turning onto the road we should have turned onto in the first place, we found ourselves at the campground kisok. There were signs everywhere, a confusing array of signs that were about as unclear as could be disigned by the mind of man. It was most definitely an exemplry example of the government employee mind at work. Depending on your point of view you may see zero to three oxy-morons in that last sentence, smile. As we were trying to figure out what we were supposed to do, a Ranger drove by and stopped. After five minutes of discussion, we didn't know any more than we had before. So we set off in search of a suitable site. "B" loop was closed, "C" loop was closing, much of "A" loop was on the reservation system, but may not be reserved. We decided that we would find a suitable site and if they didn't like it, they might not be smart enough to find us, lol. We drove all the roads of "A" loop and saw several possibilities. The reason they were possibilities was due to the trees that grew in abundance throughout the campground. During our second pass through the section we stopped, and with compass in hand, did a quick survey. There were only two sites which held any promise of connecting to the satellite. We are not talking about an open site here, we are talking about a narrow gap in the trees.
Now it was time for the real fun to begin. The selected site sat at a slight angle, but was flanked by trees and bushes that extended almost out to the road. Not only that, but the road itself was quite narrow and was also also lined with bushes. The fun was about to begin. It took a while, time wise. It required shouting, lots of shouting. It did not include any threats of dissolution of marriage, but the possibility of intelligable sounds never again being uttered was raised several times. You know, the normal stuff that goes on all the time in campgrounds when someone attempts to fit a size 8 RV into a size 7 site, smile. After what seemed like an eternity, we actually got it parked where Linda wanted it. Then came the real test, would the Motosat find the satellite. We hit the switch and several minutes later we were online. Suddenly, the tension that had been boiling over during the difficulties we had encountered while parking the coach seemed to evaporate. This site was good to go for as long as we wanted to stay.
Ready to spend some time in Bandon, we drove into town. The crab dock was quickly located and almost as quickly left behind. The Winchester Bay crab dock it is not, and the Winchester Bay crab dock is nothing compared to the Winchester Bay crab pier where we had spent many wonderful hours crabbing. There was a little entertainment factor provided by two seals that were in the area. Unfortunately, the waves were spraying completely over the dock and the only crabber we saw, reported catching nothing. Besides being a lousy day weatherwise, it was a lousy day crab wise. Hope he also hadn't tried to park his RV in the same campground we were in. That would have been almost too much, lol.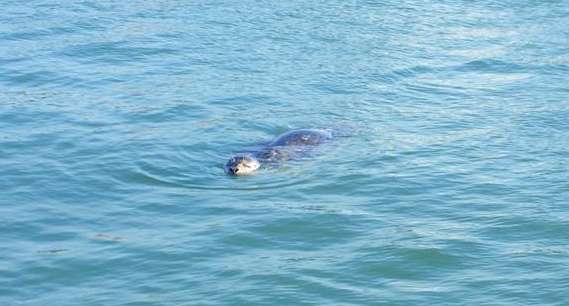 Later we stopped at a Ray's market food store, which is a regional chain in this area, and stocked up on needed items. We do not eat potato chips, but some years ago we had a special time dring a vacation on the Oregon coast that help push us down the the road to where we are now. It was a simple snack of potato chips that lead to a conversation regarding the path our lives were taking and where we wanted to be in a few years. We are now at that place, both figuratively and literally, as this was the very store we had bought those chips at, so we plan to celebrate our new life with some of those chips. To know the link with the past. To experience the connection of being human. The joy of life. The spirit of individuality. The adventure goes on and on. While at the market we bought some fresh pears. Now a pear is a Bartlett pear, unless you happen to be in pear country, where we are now. Here they have the familiar Bartlett and Bosc pears, but they also have Danjou, Starkcrimson and Comice pears. Today we bought the familiar and the unknown, a Bosc and a Comice. Before we leave the area we hope to try all five types.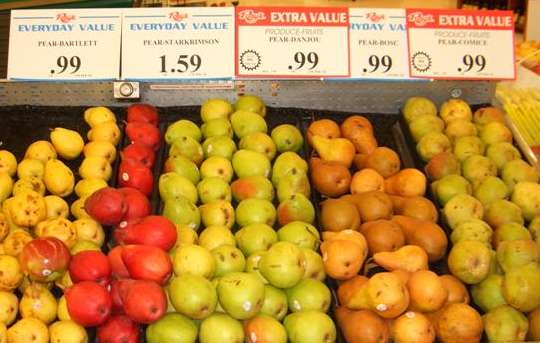 The sun was going down when we took a walk around the campground. Seeing one family, who were staying at a yurt, enjoying a meal of spaghetti, we headed back to the coach for our dinner which was also spaghetti. That it was good goes without saying, whole wheat spaghetti and sausage sauce, brocolli, eggplant with tomato sauce, accompanied with thin sliced Pain Rustique flat bread and garlic ICBINB. Granted we do not eat such bread often, but we spied it in the day old section, meaning it was going to be extra chewy and tough, just the way we used to love it. It was like we remembered, a wonderful treat.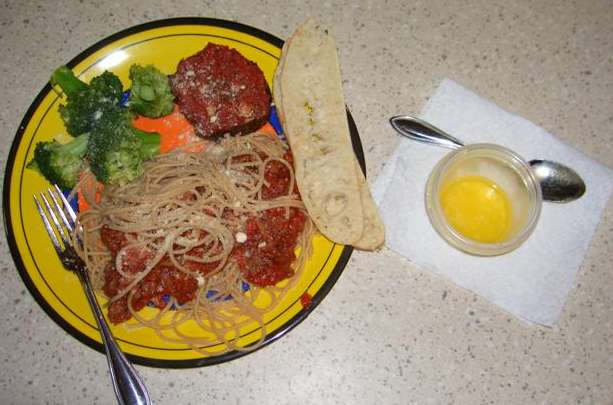 Before I sign off for the day, let me pass on this: butter pecan ice cream, lol.
---
Oct 31
This is one seriously cold morning. It was forecast to get down to freezing, but it was only 34 when I got up. I had forgotten to turn on the system heat last night, so it was out of bed and into the cold to turn it on this morning, smile. The system heat is a small heater that comes on automatically when the temperature in the service bay gets too cold. It's purpose is to keep those silent servants down below from ever freezing, which, if they did, would be not good, smile. Since it never got down to freezing I didn't need to worry, but it's a case of better safe than sorry. It was after Linda got up that we turned on the furnace. I thought I was doing good, not using it when it wasn't needed, she on the other hand, informed me that tomorrow I should turn it on when I get up so the coach will be warm for her when she gets up. I think the only response to a request like that is, "Yes dear."
The cold temperature must have affected her somewhat, because when she finished patting the huckleberry scone out on the baking pan she discovered the egg was still laying on the counter. It actually was not a disaster, it only made the scone a little more crumbly than usual. Served with sliced pears and scrambled eggs, it was just the thing for this chilly Halloween morning.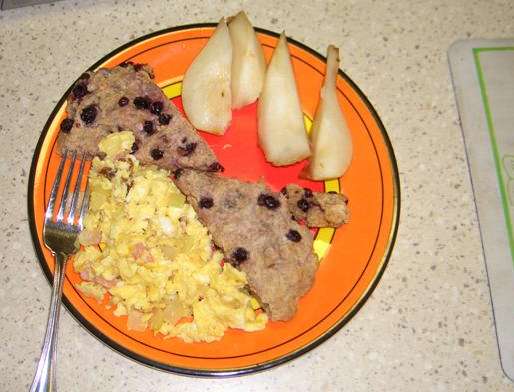 We had finished the breakfast dishes and returned to our respective computers when, looking up to formulate my thoughts prior to writing yesterday's journal, my eyes saw something new. Sitting up on the dash was what looked like a decorated pumpkin. I couldn't figure out where it had come from, since we hadn't bought one yesterday when we were in town, so I asked. Turned out Linda had used a felt tipped marker to draw a jack-o-lantern face on the little Gold Nugget squash we had bought at the grocery store. So we have a touch of Halloween in our home. Did I marry well or what, lol.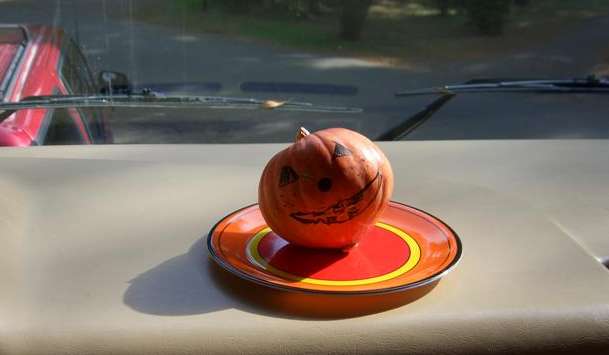 Since today was the last day the Coquille River Lighthouse was going to be open, we drove out for a visit. Talk about a waste of time, this was really bordering on that. The hosts had no interest in anyone who dared come into the lighthouse, even though there were three hosts. They were more interested in talking among themselves. There are a number of display panels that described the lighthouse and other intersting things relating to it, but that was all there was. Whoever those hosts were, sure took the State of Oregon for a ride. Got a free site for not doing anything, well they did do something, they completely turned off any visitors who were there. Maybe that is why so many people talked about how great everything was at Umpqua River Lighthouse. We actually greeted them and made them feel welcome. As we left, we overheard one of the volunteer hosts talking about where they were going next to volunteer. I could only feel sorry for the visitors to whatever park that might be.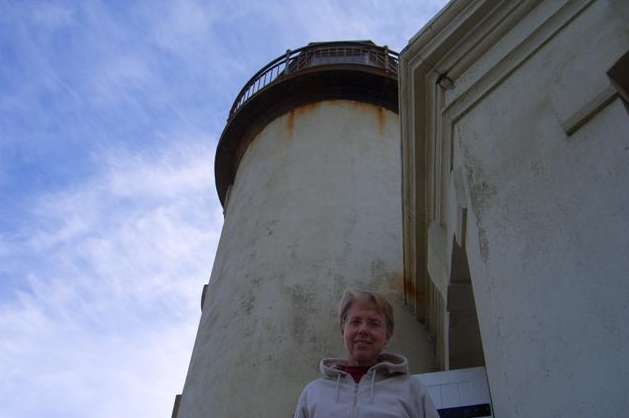 You also had to feel sorry for the Coquille River Lighthouse, sitting out at the mouth of the river, built in 1896, then abandened to the vicious winter storms that assail the area. Stripped of everything worthwhille, yet still maintaining a dignified, if somewhat forlorn elegance of times gone by. Then, only to be embarrassed once again by the callous disregard for her worth by the people entrusted to impart her story to those who visited her.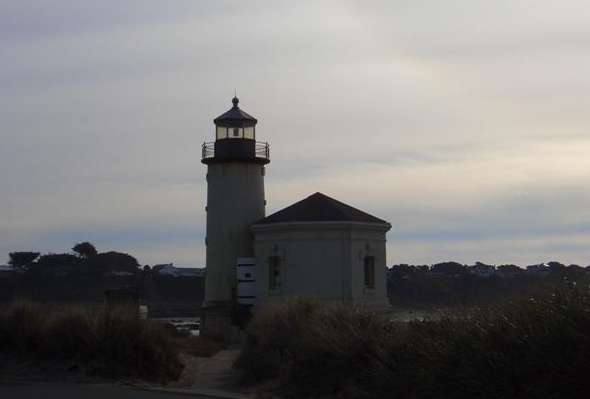 Returning to the campground, we stopped at one of the beach parking areas and hiked over the dunes to the beach. The view was breathtaking.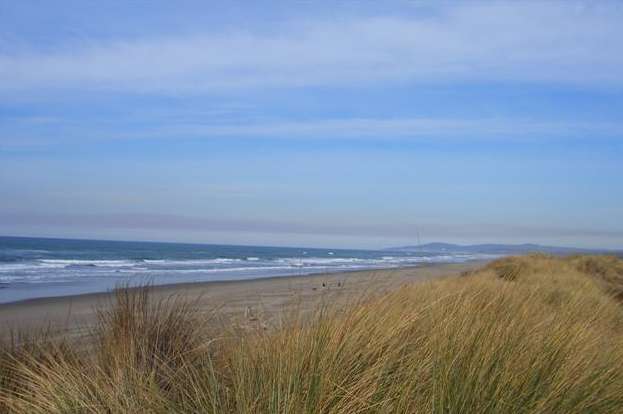 As we walked along the beach picking up agates, okay, as we walked along the beach picking up rocks, at least one of which we hoped would be an agate, we saw a small object up the beach in the distance. As we walked it continued to increase in size. It was moving too fast to be someone running, but we could not make it out. Finally it got close enough to see. As you can see, you meet the the most interesting things when you take a walk on the beach.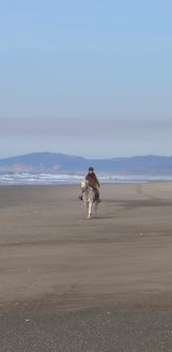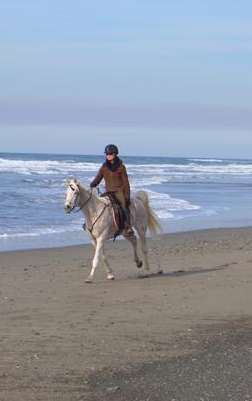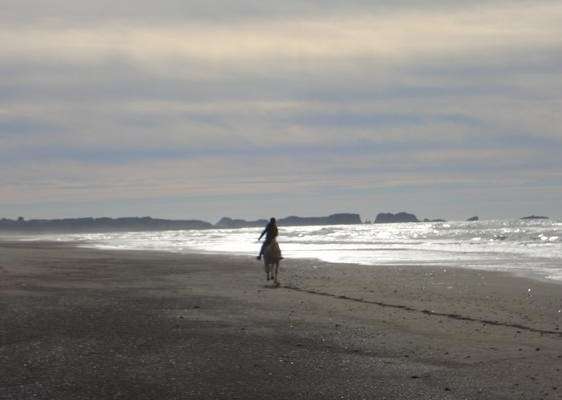 After returning to the coach and eating a tuna wrap... Let me explain, when we went to the store yesterday, we took the shopping list, but not a pen to mark off what we bought. The result was, we got a few things which were not on the list and didn't buy two things which were on the list, fresh fruit and lunchmeat. You can guess the affect this has on our day. No oatmeal for breakfast and no turkey wraps for lunch. We may be nothing more than the derelict hulks of human beings by nightfall if we don't watch out, and on Halloween of all days, lol. We were also patiently waiting for the temperature to warm up so we could sort through all the boxes under the coach, to get out the things we wanted to take back with us when we head south to watch our grandchildren next week. As you can see, it never did warm up the entire day.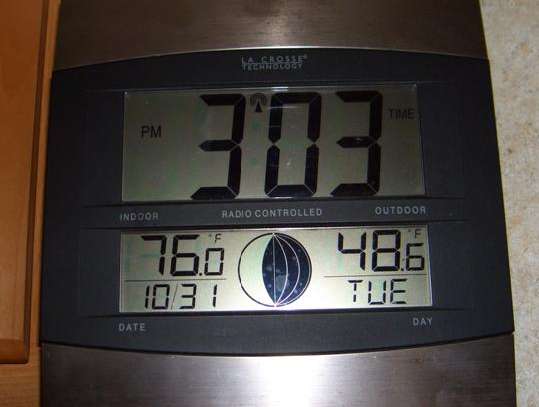 We checked the rocks we had found using the flashlight techique and discovered we had picked up more agate than we had thought. Deciding we better do our outside work before it started getting colder, we proceeded to clean out the bays. One of the boxes we pulled out had the bird feeder in it. Linda had been bird feed deprived all the time we were at the lighthouse as bird seed, mice and Gaylyn's house did not, a happy threesome, make. The feeder mounted and filled, the kid of the family just had to play in the open bays, crawling inside to investigate.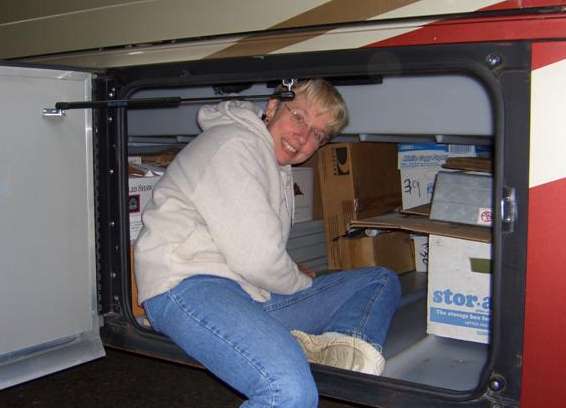 We followed up all this hard work with a walk around the park, finding some huckleberry bushes that had some decent berries on them. Having grazed to our hearts content, we got lucky on our way back to the RV and and found a great shortcut. Another bonus was that the trail from the campground to the beach starts just a few feet beyond the shortcut. I think there will be a beach walk from the coach in our plans for tomorrow. By the time we got back to the coach, we were hungry once again. Depriving us of both our favorite breakfast and our favorite lunch will do that, you know.
We had a special treat planned for dinner tonight, something that we had never fixed before. It was meatloaf, but a special meatloaf. Not too many people have cooked a meatloaf made from a mixture of ground turkey and ground buffalo. Yesterday at the market we bought a pound of each, so tonight they were mixed together with a chopped onion, green pepper, rolled oats, tomato sauce, worcestershire sauce, salt, pepper and an egg. No measuring, just dump and mix, that's what makes cooking fun. It also made for a decidedly delicious meatloaf. One that will certainly be made again. The neat thing about making as much meatloaf as we did, are the meatloaf sandwiches that we can now have for lunch. Like Linda said, "Who cares if we are out of turkey, we've got meatloaf." Served with steamed brocolli and baked potato topped with sour cream, then slather the meatloaf with horseradish and you've got a meal that some would call comfort food, while Linda and I would call it fit for royalty. Was it ever good or what. By the way, buffalo has only 7% fat, so besides being good tasting, it is also good for you. You never know what are missing until you reach out for something new.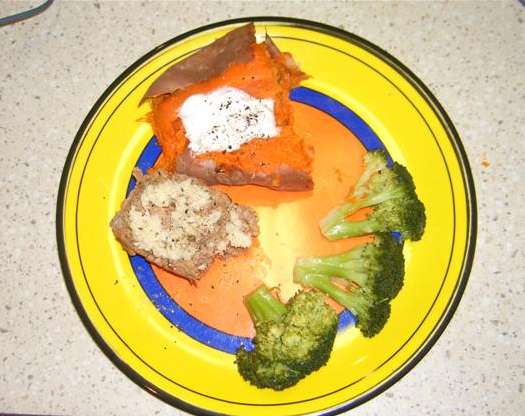 After dinner we had a real treat. No, it wasn't dessert, though the low fat sugar free butter pecan ice cream and low fat sugar free apple chocolate chip cake made for a great dessert. No, the treat was a TV show, NCIS. Our favorite character, and "character" is an apt description for her if there ever was one, was the one member of the team who dressed in a Halloween costume. Abby was dressed as Marilyn Monroe, from the front and side Abby was Marilyn Monroe, Abby was Abby at her finest. It was rather comical to see me poised in front of the TV, camera at the ready, to get a shot of her. She even did the famous pirouette, sorry no photo, which made our day, so to speak. I just love the interaction between the characters and think the writing and directing is some of the best on prime time TV, your opinion may vary, but it is my journal, lol.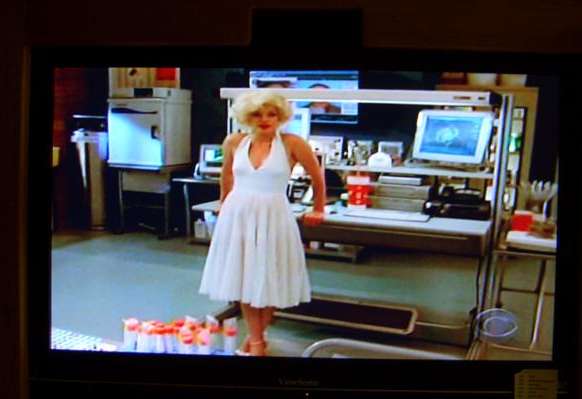 Of course from the back, it was the usual Abby, lol.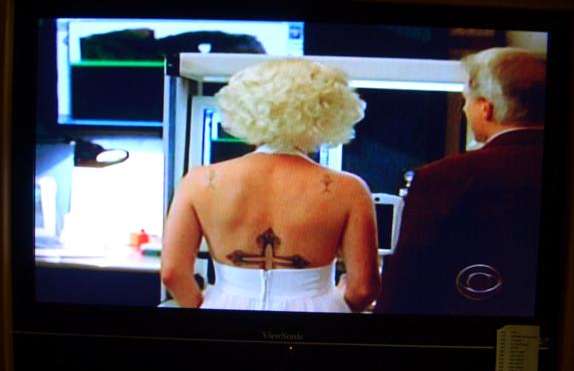 May your day have ended with as many smiles as ours did.
---