Journal Archive 10/11 - 10/20 2006
Scroll down to read the latest post
Oct 11
Today we plan on heading over to Eugene and see if we can't get our cell phone replaced. We had looked at Streets and Trips to see which would be the best route to take and had decided to head east on Route 38 out of Reedsport. The road followed the Umpqua River and Linda was anxious to see what the river leading up to the town of Scottsburg looked like. Were we ever pleasantly surprised. The River is very broad in the stretch between Reedsport and Scottsburg with ever changing views.
Not to far out of Reedsport we passed the elk viewing area and darn if we didn't see a small herd of elk You'll notice the absence of a photo of the elk, lets just say neither of us thought to take a picture until we were already past them, a problem that plagued us for much of this trip. Some days are just worse than others, sigh.This is a must take drive at this time of the year. Though the forests are predominantly composed of evergreens, there are enough deciduous trees mixed in to give a good show of fall color.What really caught our eye was the reflections of the trees on the dead calm still water of the river. If there ever was a moment for a picture this was it. Unfortunately the moment passed without a picture, but it lives in our minds.
Scottsburg, once a great city, its riverfront solid with ships of every description and the land around overflowing with mules and horses that made up the hundred animal pack trains that moved in and out of the city to the interior of southern Oregon and northern California, was so changed it was impossible to picture what it must have looked like back in the 1850's. Heck we passed through it so quickly it was almost impossible to see what it looked like today, there was so little of it left.
The miles rolled past and eventually we found ourselves on I-5 headed north to Eugene. Not knowing which Verizon store location was the better one, we ended up at a mall kiosk. The young woman who took care of us checked her records, checked the phone and said it was still under warranty and we could get it replaced. The only problem was there were none like it in stock in Eugene so the replacement would have to be shipped to us. We gave her the lighthouse address and went off in search of thrift stores, after which we would be stopping a t a SuperCenter for some groceries. Going to a thrift store is about as far the opposite of going to a Walmart Supercenter as you can get. Supercenters are almost always found along a major commercial road with the store layout and even the items the same from store to store.
A thrift store on the other hand can be located almost anywhere, with whatever layout fits within the store and finally the merchandise is what ever they have received in donations. Sort of like the Yin and Yang of stores. It took some hunting but we finally found our first stop. Talk about a catty place, this one literally was. Was overflowing with cats that is. Seems like they were a combination cat rescue agency and thrift shop rolled into one. What with all the time Linda spent getting her 'cat fix', it was a wonder she actually found a couple of things to buy, lol.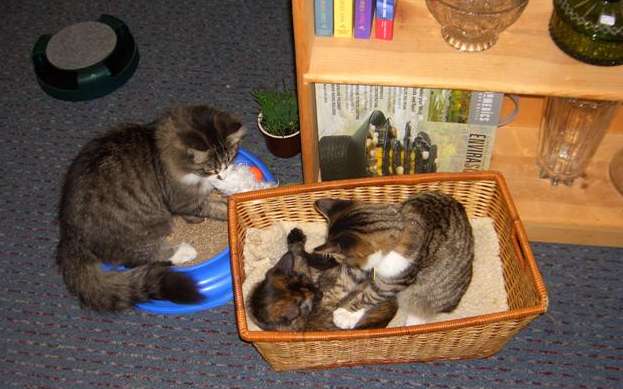 This scene was repeated all over the store. There had to be at least three to four dozen cats in that little store, and little it was Despite all those friendly felines, Linda actually found several things to buy which she could sell on Ebay. If you have an allergy to feline fur, this was most definitely not the place to shop. Eager to find more deals we headed off to a dead end. Never did find the next store we tried to find, but then it even got worse. We found the next store but what a bust. It was a St.Vincent DePaul store which we left without purchasing anything, not because they didn't have anything we wanted, they had a lot of things we could have bought but unfortunately they also had the highest prices we had ever seen in a thrift store. We also shopped at two Goodwill stores, finding good resalable items in each at attractive prices.
Our last stop was at a Home Depot. I am going to solve the problem we have of needing to unscrew the sewer cap and insert the garden hose at the end of the Sani-Con each time we dump. A 4" spigot cap, a hose adapter and an elbow should do the trick. Notice the happy smile on the customer in the photo below is he contemplates solving nasty, dirty little problem, lol.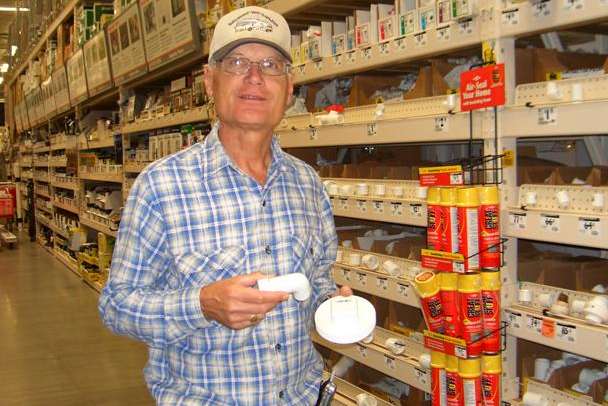 ---
Oct 12
Early morning and I am off to the crab pier. There are already a number of people there when i arrive, maybe it will be a good day. The first pull resulted in crabs, but none of them large enough to keep, still I was greatly encouraged when I saw those around me also bringing up traps with the little crustaceans in them.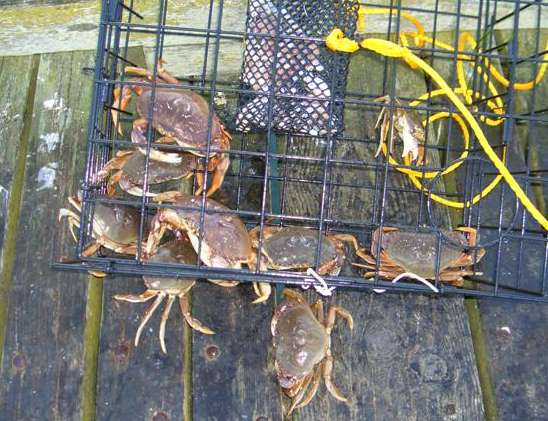 Linda had planned to walk down to the pier later in the morning and bring my breakfast, but when she arrived it turned out her plans had changed. She had an appointment to get her hair cut and was dangerously close to being late. After she came back I found out she had called about an appointment and found out she could get in a half hour. It was only when she walked out to get in the Explorer that she remembered I had driven it down to the crab pier.That meant the rush was on. She actually made it to her appointment on time, plus she most definitely burned off a few calories in the process. Worked today, but it not something she wants to do every day, lol.
It was a great day to sit out on the pier and read, but not a great day to go crabbing. In fact it was a miserable day to go crabbing. The entire time i was there, from a little before 7AM to just after noon, I never saw anyone bring up a keeper. And, unfortunately, that included yours truly.
What I did do was watch the commercial fishing boats go out to sea.
The Coast Guard patrol boats go up the river.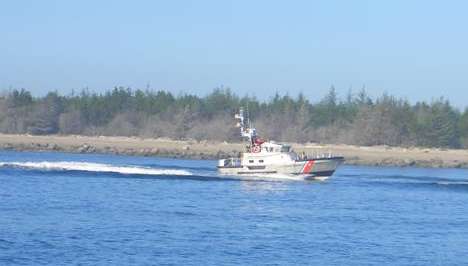 And the seals play in the water beside the pier. This seal spent a lot of time lying on its back floating near to where I was sitting. Occasionally it would disappear for a minute or two, then reappear back in the same spot.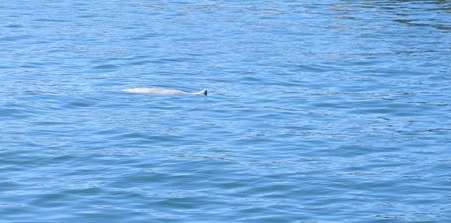 Then there were the humans who were also laying around, so to speak, soaking up the sun and enjoying being where they were just like the seals.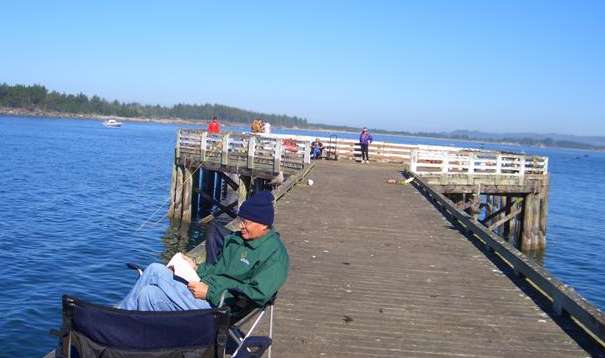 Coming back empty handed we put together the new sewer connection. I drilled a hole in the top of the 4" MPT cap and enlarged it just a little with a knife so the female side of a 3/4" street elbow (spigot rather than MPT) would slide down into the hole. Glued this in place then, glued female hose adapter to the this. Below is a photo of the three fittings, the hole having already been drilled in the cap.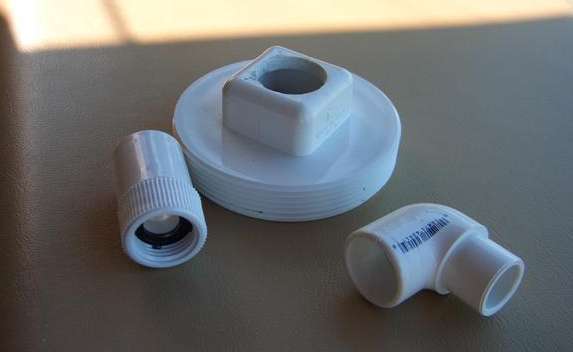 And here is the completed adapter screwed into the sewer connection with the hose from the Sani-Con (macerator pump) attached. Makes for a neat clean setup. I will check this when we break camp and if there has been any back splash onto the bottom of the cap, and I'm betting there will be, I'll glue a short 2 to 3 inch piece of 3/4" pvc pipe into the female adapter to prevent that in the future. Cost was $4.58. Value it added to our ease of dumping the tanks, priceless.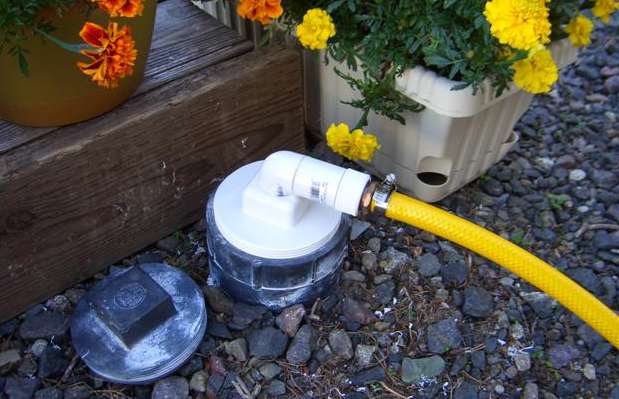 For not having started out to good, it ended up being a good day after all. Any day we do something that will make our life easier in the future has to be a good day, lol.
---
Oct 13
That old saying, 'Life is what you make it' has a corollary around our house, 'Breakfast is whatever you make'. So what did we make this morning? Oops better rephrase that sentence right now or the editor will delete it. This should meet her approval, So what did Linda make this morning? She went back to something that she is going to keep after until she perfects it. To her, whole wheat popovers are not an impossibility, they are simply very difficult, but they can be baked. My guess is that after the lead pufflesses of last week, her results will be something a little lighter this morning. The results showed that at least she got back to where she had previously been and we enjoyed scrambled eggs and popovers with avocado and pear slices.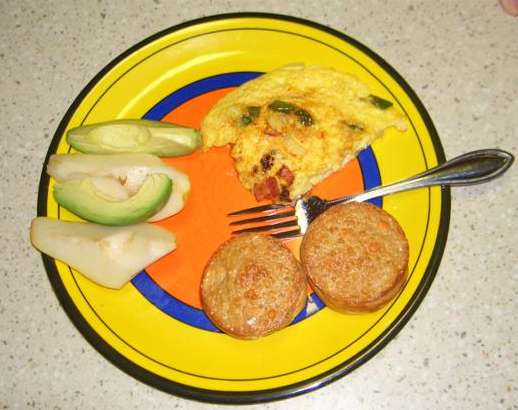 If you're not into food you can skip to the bottom of the next photo, but if you want to know what we did today, we cooked. This afternoon there was a pot of white bean chili bubbling on the stove. Linda has the recipe posted and it is so easy to fix that it has become one of our cool weather favorites. Doesn't take nearly as long as regular chili to make, but if what you desire is smell of the bubbling pot filling the air, just hold off on adding the beans and let the aroma flow.The cornbread was also better than usual. Maybe it was because I spent more time than we normally do making sure it was well blended before adding any of the liquids. Whatever the reason, it hung to together much better than normal so that it did not crumble when you picked it up. As with many of dishes we fix that we have 'South Beachized', we find it is just not substituting ingredients, it is also using different techniques. It seems a lot of our success stems from the fact we have been eating and cooking this way for so long now that we intuitively alter things. How ever we do it, except for the stubborn popovers, we seem to succeed.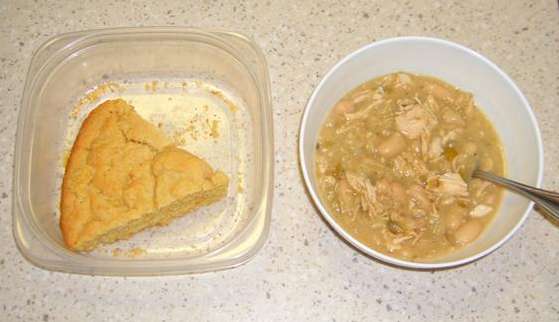 In the afternoon Linda took more packages down to the Post Office in Reedsport, stopping by the marina, then heading out to the beach. There is something just so special about the waterfront. The sights, sounds and smells all combine to give us a sense of exhilaration and awe. Someone else can be in the same spot an say the air stinks. You know they are probably right. But to my way of thinking, if they are a negative person, one who always sees the glass half empty, then that is the life they make for themselves. We on the other rejoice in what we have, because, given choice, we can.
Back at the coach we got more good news, our new phone had arrived. Maybe we will be connected once again.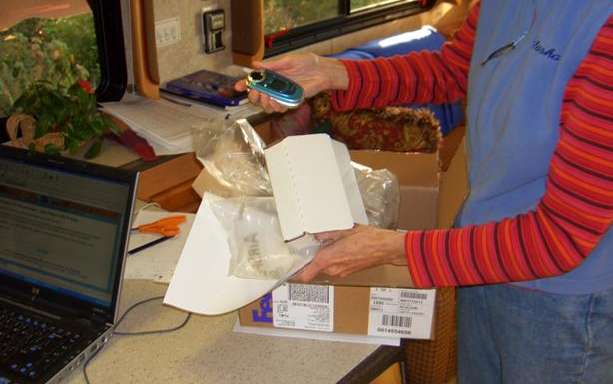 Friday night, not being a good television night, was spent on the computers. More lessons in PHP for me and just surfing for Linda. Each of relaxing in our own way, because we can. Make sure you relax in your own way today.
---
Oct 14
There is always the prospect of something good to eat around this coach. The twists and turns of life are always interesting. Sometimes we eat the same exact meal day after day, other times every meal is different. We are now in one of those 'different' phases of breakfast. Today's twist was Linda's taking the egg muffin to new heights.Those little lead puffs of yesterday were transformed into biscuits, but to me it was the addition of something as simple as a half of a pear that turned the trick. As is so often the case. It is the little things that count.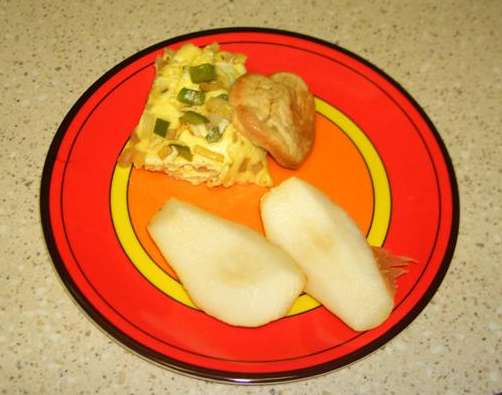 What followed was more of the same as the last couple of days. Linda involved in Ebay and I mired in the depths of trying the comprehend the nuances, okay, the basics, of PHP programming language. It sure isn't going to be soon that you will see the results of all this study. It's being done to create so new looks for the webpage, something that is not going to be easy, but it will result in something different on the web pages and it will eventually appear, lol. In the midst of this Linda noticed a flock of birds that landed just outside the door of the coach. Neither one of us recognized what they were, even after going through our bird book.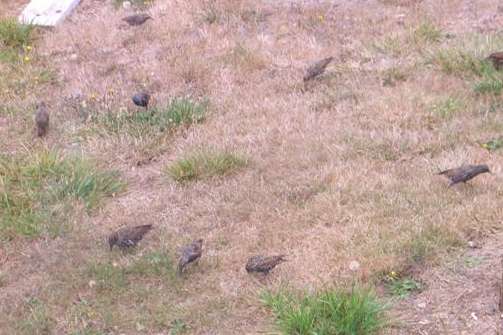 Even the most ardent computer geeks need a break now and then. Thinking on that sentence, it is possible to write it another way, even the most ardent food faddies need a break now and then, lol. Picking up on that last interpretation of our life, we soon got back to food. This time, however it was not in the cooking and eating sense, it was in the growing and exhibiting sense. Several days ago, on one of her more or less frequent trips to the Post Office to mail Ebay packages, Linda saw a poster advertising the Great Reedsport Pumpkin Weigh-in, guess where we are going today.
Not knowing what to expect, after all attending pumpkin weigh-ins is not something we regularly do, we drove over to the ACE Hardware to see what was happening. It can sum it up in just a few words, "what small town America is all about." There they were, the big and the small, the pretty and the ugly, the orange and the yellow, all arrayed to present their best side, if there was one.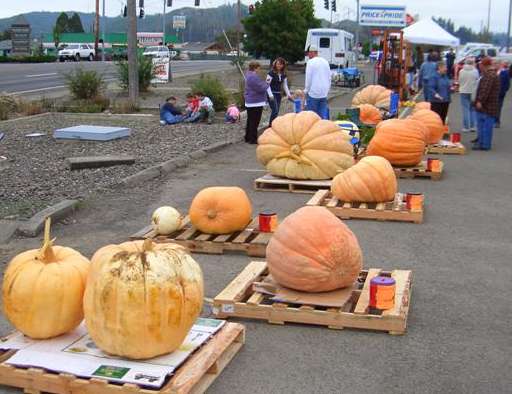 They were also running a guess the weight of the pumpkin contest. Buy as many tickets as you wanted for $1 each, put your name, phone number and the weight of the pumpkin on it and deposit in the can. Linda tried to guess the weight of three of them. I agreed with her on two of them, but thought she was definitely low on the weight of the big girl you see in the photo below, the one in the center of the photo, smile.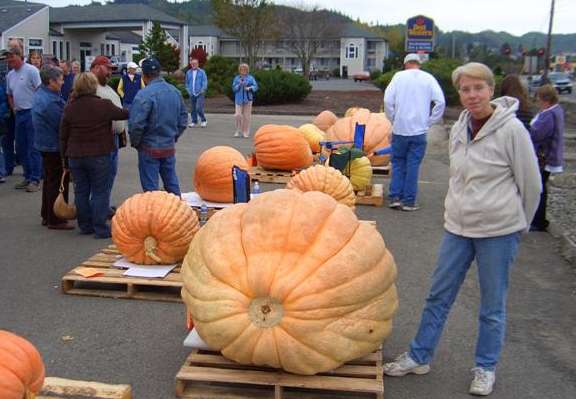 It was almost as much fun watching the people as it was the pumpkins and listening in on the different conversations, some of which even dealt with the weight of the pumpkins.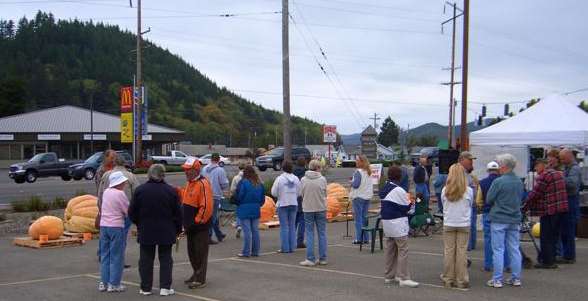 At last it was time to weigh those ladies which even included the use of electronic scales. As we were watching the weigh-in, the grower of the big girl shown below walked by. We really enjoyed talking to him. This was his third year entering the contest and he was edging in on a 1000 pounder. The first year he ever grew a big one, he only had a 500 pounder. If the weather was right next year he thought he would be close to his goal. He knew everything about his pumpkin. The day the seeds were started, the day he transplanted them outdoors, what the weather was and how much Miracle Gro he put on them. These people are very serious about their pumpkins.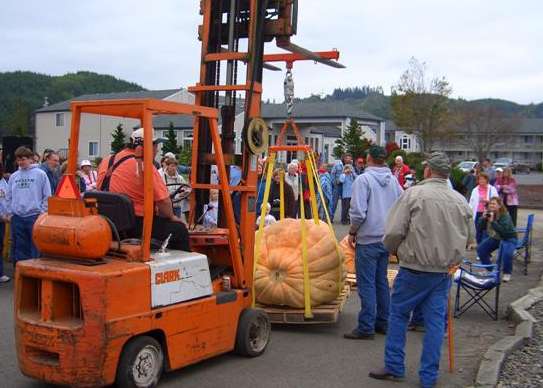 We didn't end up winners but then there was only one winner, the Reedsport High School Athletic Department the group that got the proceeds of the contest. To win you had to guess the weight of the pumpkin to the pound. If you guessed right then you got one half of the money in the can, otherwise it all went to the athletic department. Later we enjoyed a pot of chili with some more computer time. Life, it's what you make it.
---
Oct 15
What a ousy day, but not as bad as it could be. We are still off work, but then we do feel sorry for Fred and Shirley who have to give tours today. Below is the reason we think it is a lousy day.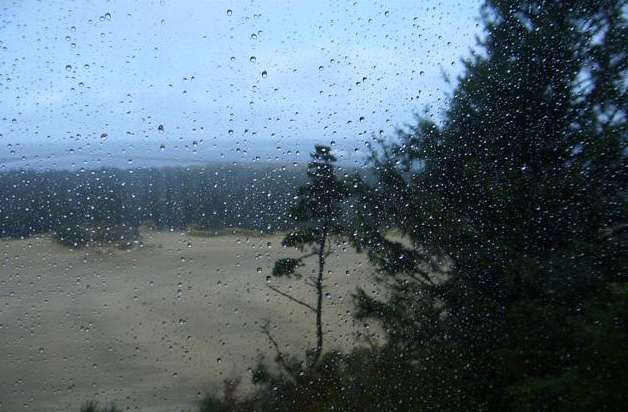 That's what we see out our front window, rain. Remember the old nursery rhyme that went like this:
It's raining, it's pouring,
The old man is snoring,
He went to bed and bumped his head
And couldn't get up in the morning.
Well, that's not what happened to me this morning. It really should go:
It's raining, it's pouring,
The old lady's snoring,
She went to bed and bumped her head
And couldn't get up in the morning.
However in the interest of domestic tranquility, I will not go there, lol.
Later on the weather changed. We got a photo of it out the front window.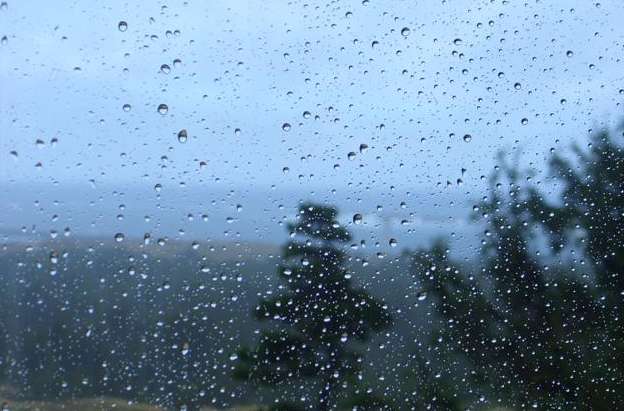 You may think it's just another photo of rain but it is not. It is a photo of really hard rain. The day only got worse. We on the other hand we were snug inside our home, enjoying our time off and our computers. It was good to have a day where we just goof off and do nothing.

---
Oct 16
Our last day off and what a difference from yesterday, partly cloudy skies and warm temperatures. What is there not to love about this place. Linda had to go into to Winchester Bay to mail a couple of Ebay packages and drove down to the beach on her way back. This photo speaks of the power and beauty that are one with each other in the ocean.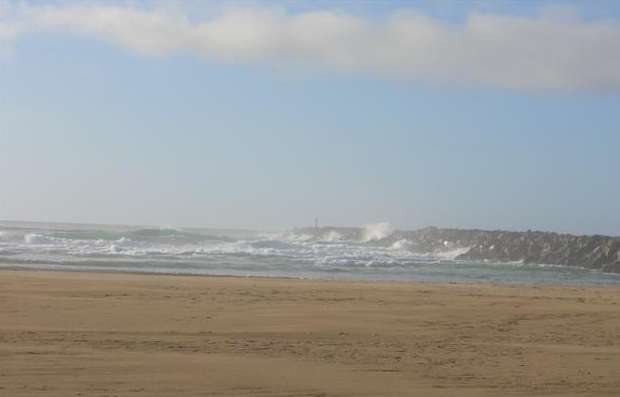 Just on the other side of the jetty being pummeled by the wind and waves in the above photo is a completely different world. All those lines of verse which have been written over the centuriesregarding storm tossed seas on the one hand and tranquil water on the other hand are brought to life when you watch the sea.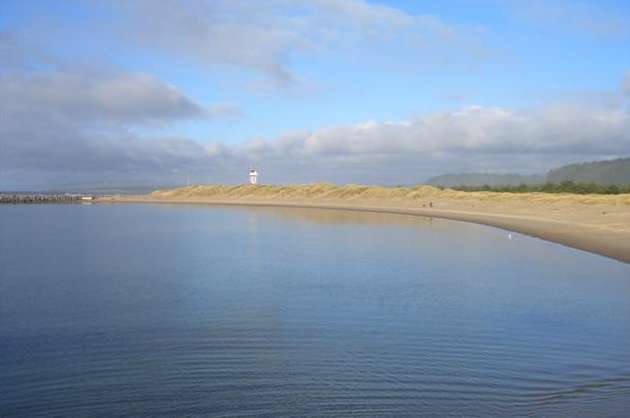 Then turn 180 degrees and look back toward the lighthouse.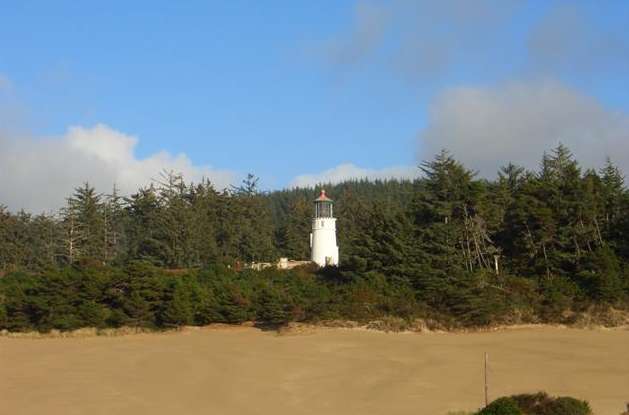 All the while Linda was sightseeing, I was mired once again in trying out new things on the computer. As you can see from the look of the website, my attempts were in vain and no changes resulted from a lot of brain power being expended. On the other hand, the concepts have caused a few seeds to germinate in the dark recesses of my gray matter, so who knows what may sprout in the future, lol. Just before she drove back up to the coach she saw a harbinger of winters onset. This little fellow, or young lady, is certainly preparing for the coming bad weather.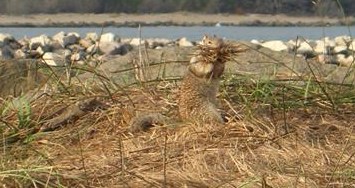 I know it seems hard to imagine a day where you sit in front of the computer from early in the morning until late at night, but that is what I managed to do today. And to think that I was frustrated about what I was trying to do that entire time, smile. Linda on the other hand was watching almost all the items she had listed on Ebay have bids placed on them. Someday it will be my turn to gloat. As I was fixing dinner, had to work off those frustrations, Linda took a couple of photo's of a magnificent sunset., hence here's another sunset photo.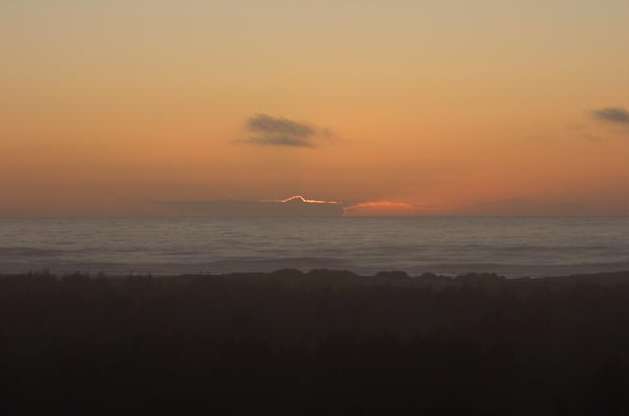 My supper experiment turned out to be success and more. Turkey Kielbasa, thin sliced sweet potatoes. chopped onion and green pepper, minced onion and grated ginger sauted in olive oil, it was really delicious.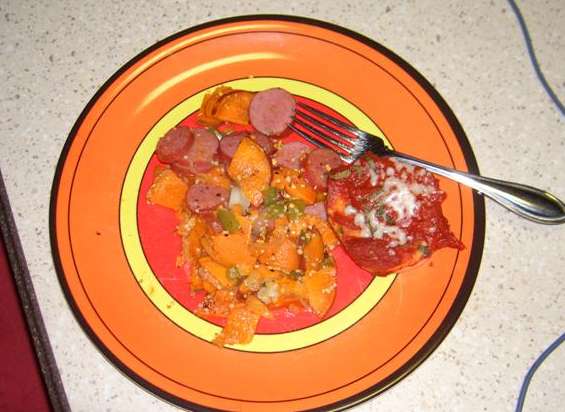 It didn't turn out to be such a bad day after all.
---
Oct 17
Back to work today, but at least it is not raining. We will be very interested to see how many visitors and tours there were the last two days with all the rain. I had planned to get up early and work on the journal, but that wasn't in the cards. Getting old is sometimes a drag, it used to be I could stay up till midnight every night and get up at 4 AM all refreshed and ready to go. No more, guess I'm just going to have to accept the fact I now need six hours of sleep a night. Kind of frightening to think that at this rate, in another 30 years I'll need seven hours of sleep a night, lol.
I surprised Linda by fixing breakfast, something I've gotten out of the habit of over the past six months. Yesterday at Walmart I had put a nice piece of ginger root into the cart, so you can guess what's going to be added to our scrambled eggs this morning. It actually turned out to be an omelet of finely chopped white onion, sun dried tomatoes and green bell peppers sauted in olive oil. Then with minced garlic added at the end along with a teaspoon or two of grated grated fresh ginger and about a quarter teaspoon of cumin and cooked for a couple of minutes. To this I added the well beaten eggs, then got involved in finishing the journal entry for October 14th and sort of forgot about the eggs. By the time I checked on them it was apparent we were going to have an omelet rather than scrambled eggs, so I added a little four cheese blend and folded it in half.
Back at the computer I disappeared into my own world again and by the time I once again snapped out of it, It was too late to slice a pear, as Linda had already sliced a peach. Guess she was hungrier than I was. After her first bite she called the dish Asian Omelet, never did tell her about the cumin and since she didn't mention she could taste it, I must have had the right amount in the dish. I will say that you have to like ginger to enjoy a dish like this, but since we both do, it made for a delicious breakfast.
By the time we walked over to open the museum, the sun was trying to peek through the clouds and it was definitely warmer than it had been the last several days. It was a slow start to the morning, so Linda busied herself transcribing some early family history records while I visited the second floor of the museum. As always, I found something I had managed to overlook before. In this case it was a photo album of life at the Coast Guard Station during the WW II, including photo's of the dogs and horses used by the coast watchers.
We ended up having a good day even though the last tour left just before 4 o'clock which meant having a long day. I did manage to finally get in a short tour of 35 minutes. Of course the fact there were only two people on it and they were more interested in each other than the lighthouse also helped, smile. The day done I walked up to the top of the tower to polish the brass. As I was polishing the rail on the stairs leading up into the light, I looked up and noticed the almost surreal patterns of light playing off of the brass center column in the lens. It was almost mesmerizing and I stayed for a long time just watching it. The photo's below are just as I took them and gives a good idea of what I was enjoying.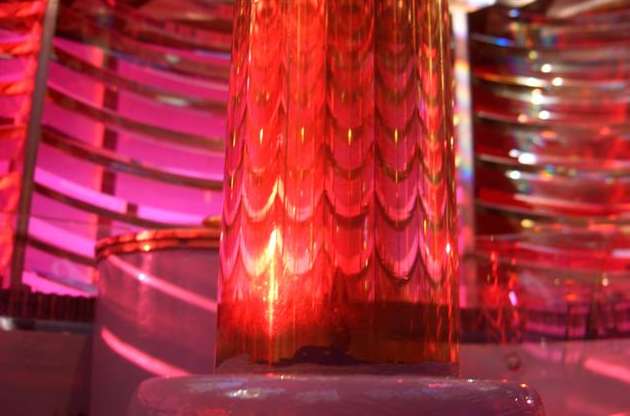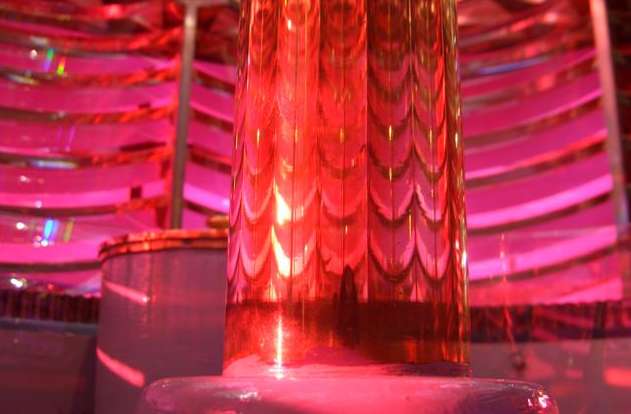 T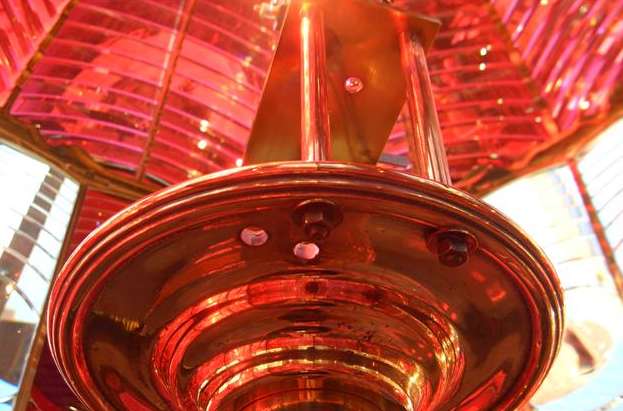 Sure, we finished out our day with peanuts while watching the ocean, a bowl of chili for supper, followed by NCIS and Criminal Minds, then ending the evening with chocolate zucchini cake and butterscotch pudding. But that was not what filled my mind. All evening the driving beat and lyrics of a song filled my mind, triggered by the reflections I had seen in the brass of the lighthouse.
Through the mirror of my mind
Time after time
I see reflections of you and me
Reflections of
The way life used to be
Written by Brian Holland and sung by The Supremes It is one of those songs you instantly recognize the second you hear it. Written about a love lost, tonight it reminded me about a time lost. A bygone era when the men at sea staked their lives on the light just a little bit up the hill from where I now sat. Had the light actually been trying to to give me a glimpse into the past? To know the link with the past. To experience the connection of being human. The joy of life. The spirit of individuality. The adventure goes on and on.
---
Oct 18
Wow Bob, what are you doing up so early? Just imitating that American icon, Benjamin Franklin, especially the part about early to bed, early to rise, makes the journal writer look wise. Well maybe it wasn't exactly those words he used, but I at least got the first part right, smile. In a real change of habit I had the daily journal posted before 8 o'clock today. That's 8 AM, not PM, could this be the sign of things to come. It is the sign I'm about burnt out on trying to master the PHP programming language for the time being.
I put a pot of oatmeal on the stove and promptly buried myself in more writing. This was not a good idea, as my reverie was broken by Linda's somewhat terse comment to effect that the oatmeal was not only about to burn, but from the smell it was already smoldering to say the least. Looks like I may be in trouble again. Why is it that nice guys always finish last? It didn't actually burn, just browned up a little on the bottom and had a pleasant slightly smoky flavor. I did discover that if I want a lot of oatmeal this is the way to cook it, as Linda barely took any.
Today was almost an exact repeat of yesterday with no one crossing the threshold of the museum until almost 11, then the afternoon being filled with visitors. We ended up having a fairly good day even though the 'take' was down from yesterday. Donation wise it was a bust with less than $10, though Linda felt good about selling a Coast Guard coin. Just as happened yesterday, the last tour left at 4 o'clock which meant it was going to be a long day. Of course the last tour would also have to have a couple of lighthouse nuts on it that were also really deep into the photography aspects of lighthouse design. Even though I was tired and ready to just say it's time to quit, I remembered back when I worked and took a vacation. I try to see what these visitors see and that makes it easier to go the extra mile to make their experience as pleasant as possible. When they had finally left the lighthouse, I didn't have the desire to walk back up to the top of the tower to polish the brass, so I will do it in the morning instead. I wonder if the light keepers of old ever felt like this?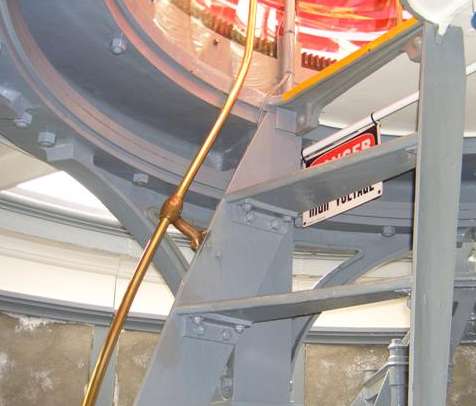 I wasn't the only one who was tired tonight, Linda was also. She had spent her free time transcribing some early 1800's court records on one of my ancestors. If you've done genealogy you know what I mean when I say curl-a-que hand writing and water stained original document, which made for a nearly undecipherable copy. We decided to forgo peanuts, but rather have a glass on wine and fix an early supper, which in our state meant heating leftovers. It turned out to be more like a buffet that a meal.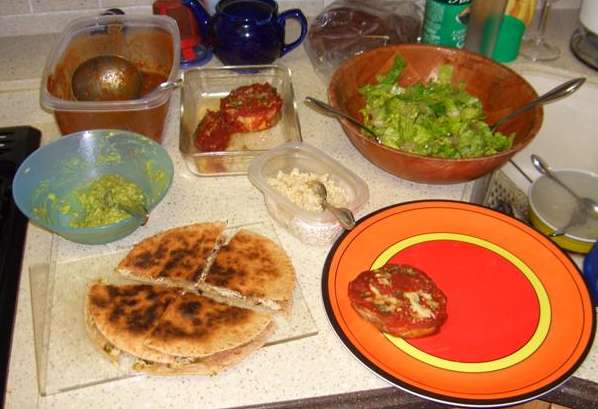 I had set a goal for the evening of getting several posting up for the archive and also doing one campground review. i accomplished the archive part but the campground review was more than my brain could take. I was also having trouble getting my map images the correct size. I did finally figure out how to do that, and to look at the good side, it will make any future reviews go much faster. As always there was TV. I wonder how they are going to treat the agent murdering the suspect at the end of Criminal Minds. Inquiring minds want to know if the producers take the easy way out or not (looks like they did to get to this point, so why not to conclude it). Also, was it a tryout for the Dayton Police Officer to see what the different Criminal Minds forums and blogs had to say? Jeesh Bob, it's just a TV show. (but it is a thinking persons TV show, smile)
Between the enormous adrenalin rush of the lighthouse tours and the way the show concluded, i was beat and headed back to get some rest. I was so tired I barely got through a chapter in the Edna Ferber book I am reading. P.S., yes there was dessert, a raspberry, white chocolate, FF half and half, FF milk drink that Linda served warm with a slice of chocolate zucchini cake. I don't know what anyone else had for dessert tonight, but what ever it was, ours was better, lol.
---
Oct 19
Up early again today, so I got right to work on the daily journal because that is my new regimen. Wrong, I decided I'd complete the RV park review I had not finished last night. Might that be why I fall behind? I'm easily distracted from what my plans were and perfection is more important than completion. That could make for extra work on my part. You know, I may be on to something here. Better late than never, lol.
I was so involved with my computer stuff, it wasn't until Linda made her normal cheery entrance that I realized no thought had been given to breakfast. Knowing we were getting a little short on eggs and with my having slightly browned the oatmeal yesterday (Linda would probably say I burned the oatmeal), I was racking my brain on what to fix. Then I noticed a loaf of bread lying on the counter, French toast, "would you like French toast this morning", I asked. She almost instantaneously replied, "sure". Now in hindsight I should have realized that any offer, as long as I was cooking, would have been accepted, smile. There followed some stumbling around on my part as I tried to remember all the ingredients. Suffice it to say Linda finished fixing the meal, but didn't seem to mind at all. Topped with either peach jam or syrup and whipped topping, plus a side of sliced pear, Canadian bacon and cottage cheese, it was great way to start the day.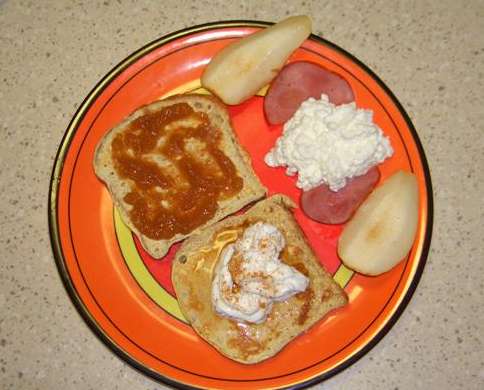 As has been the case the past two days, once again it was a late arriving crowd, but the steadily falling mist of rain may have had something to do with it. I changed my routine significantly and started the tours in the museum, using the room where the first lighthouse display is housed to talk about the things we normally would outside. Made for an interesting day on my part as I could talk about completely different things than I normally do. History, it's not about dry, dull boring facts, it's about people, places and acts. The secret is to make the past come alive, make it real. I have a true, but sad and poignant story about he lighthouse that I sometimes relate. When I see tears, I see people who are truly experiencing the past
During a break, after all Linda dioesn't always have another tour ready when I came back to the museum, I spied the latest issue of the Reedsport newspaper on the desk. Guess whose picture is on the front page.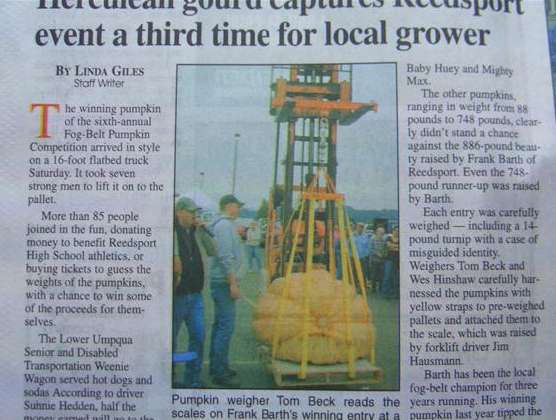 Can't find it, how about now.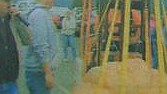 That figure just to the left of center with her arms crossed is the the same attractive young model I use in so many of my photo's. Looks like she's trying to do some freelancing, lol. Turns out she had looked at the photo, but hadn't seen herself. it was fun watching her act like a kid as she got all excited about seeing her picture in the paper. I still remember the first time my picture was in the paper. I was about 8 years old and it was taken of me sitting, reading a book on the floor of the Bookmobile (the traveling library). Maybe that had something to do with my lifelong love of reading.
It was a fun afternoon, there must be something about sightseeing in the rain that brings out the best in our visitors. Had a lot of fun with one group that included two sisters and their brother, all in their sixth decade of life where I could tell all the stories we have about what the children of the keepers did in the lighthouse by usingthe three of them as the children. it was neat watching the entire group roar with laughter. You can bet your sweet bippy they now have a real feel for what life was like in a lighthouse. At Umpqua River Lighthouse you are just not shown or told, here you feel and experience. To know the link with the past. To experience the connection of being human. The joy of life. The spirit of individuality. The adventure goes on and on.
As the day and our work week wound down i had another great group. They were taking photo's of each other, so I asked if they would take one of me talking to them. I never know what I look like, only what the lighthouse and the people look like, so to me it was like a glimpse into myself.Notice the faint strain of italian blood that must course through my veins in the waving hands.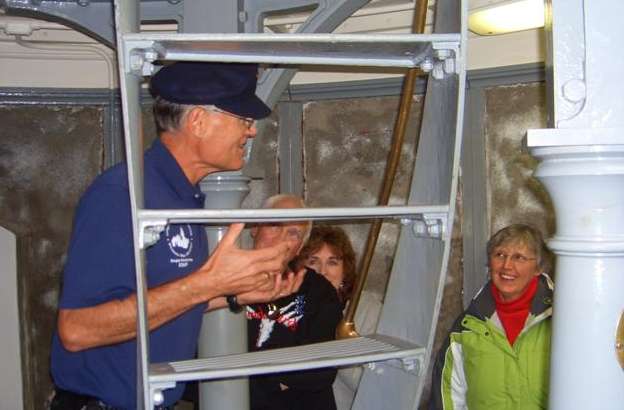 The last group of the day had said there goodbyes and thank you's when I headed back up to the top of the tower to polish the brass. It had been a very satisfying day and it is at moments like this, when I stand on the ladder, looking up into that beautiful light, that I feel like pinching myself and making sure this is all real.That feeling we all get when we just know things are right, I have that feeling when I'm here. It is like I was born to do this. I remember reading a book once where the author talked about finding what you love to do and do it. I've found my love. May you too.
Dinner was almost anti-climactic, being Kielbasa and sauerkraut, plus the sweet potato kielbasa dish from several nights ago. Then it was an evening of pure relaxation. It was our equivalent to Friday night after all, even if it was only Thursday. We finished the day with our usual, chocolate zucchini cake which was accompanied with a warm glass of FF milk, FF half and half, with Torani SF white chocolate sauce and French vanilla syrup. May your week have been as rewarding as ours.
Oct 20
The start of our weekend, the kind of weekend that one could easily get used to. It is no wonder they have have those clocks where all the hours are jumbled together at the bottom of the page. Six days off, then it is show time again. Lets see, no lawn to mow, no garden to do the fall cleanup in, no meetings to go to, what are we going to do over the next six days. This is not meant to be a 'rub it in your face" article to anyone still working, rather it is a glimpse into the freedom that one has in this lifestyle. A freedom that it will take us a long time to get used to.
My recent rash of early risings continued today and the result was the journal, once again, being posted before 9 AM. I really like that since I sure am not going to fall behind on my postings if I can keep it up. I had planned to fix breakfast once again, but Linda was into cooking this morning. Those darn popovers are driving her batty, so there will be another attempt to conquer the mountain, so to speak, this morning. She changed a few things, including adding a teaspoon of wheat gluten and not mixing in the liquids as much. It was a great improvement as they really popped, but then they pooped some too. The center is just to doughy, but is she ever on the right track now. By the way, while the inside texture may not be perfected, the slight crunch to the outside and the taste is fabulous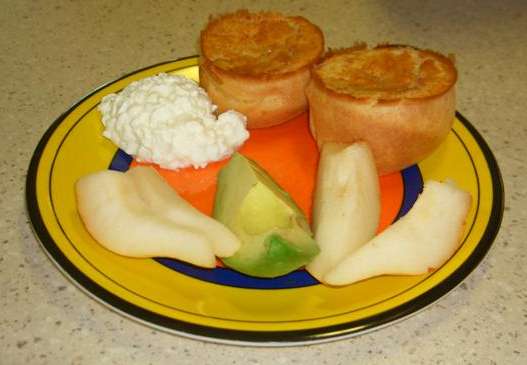 As you can tell from the crispy top edge of the popover, it was a delight to eat. I think this meal goes a long ways in showing why we have so much enjoyed the South Beach way of eating. I can assure you that in our former life we would never have had this for breakfast. Now we love it. It could have been eggs instead of cottage cheese or scones instead of popovers, but the principle would have been the same. Whole grains, no sugar, good oils and some fruit form a complete meal. Plus, you know what? She always makes six popovers so that means we get the Linda version of egg muffins tomorrow using the two remaining popovers, smile. We really had nothing planned for the day, guess that's what they mean about a low stress lifestyle, so once breakfast dishes were done, we both attacked our respective computers. My goal is to get caught up on any journal postings that have fallen between the cracks of the past few months, while Linda wanted to get all her Ebay bids up to date, plus she has more packages to mail out. As we typed away we also watched the breakers in the river. The red flag was flying from the Coast Guard tower and the breakers were a sight to behold. Another of the joys of our new life.
It wasn't long until the desire to do domestic duties reared its head and shortly thereafter I was raised from my chair so the lady of the house could sweep. I got the idea from the looks I was getting that she had more in mind for me than just moving my chair. I decided that today I was going to get caught up, just as I planned and she was on her own as far as the cleaning was concerned. She still made her statements in her own little way, so I tried to be on my best behavior otherwise. I could tell she didn't think pulling my chair out and setting it back, followed by later putting the sweeper away was not helping her enough. She was exactly right, but as I said, today I was focused on getting all the journals up to date. A job that turned out to be larger than I thought.

Linda also worked on the coach insurance. One thing we learned at the Life on Wheels conference last spring in Kentucky was that not all insurance is the same. Linda had gotten quotes from several different companies and we had narrowed the list down. Now it was time to try to put all things on the same footing, so spent a while on the phone. The people at Explorer Insurance really impressed her, plus it looks like they have excellent rates. Of course that doesn't mean their claims adjusters go by the same book, but then don't we buy insurance so we will never need it, smile.
Later she made her near daily run over to the Post Office to mail packages, stopping at Safeway and picking up a few needed items including the FF half and half she needs to make those awesome desserts. All the while I was writing updates for some past missed daily journal entries. The timing of her return was impeccable, as the 4 o'clock alarm sounded just as she finished putting the groceries away. Just to prove I'm not a sit on my butt and don't do nothing around the house husband, I got out the peanuts so we could have our peanut time on the veranda. The crashing waves made for a beautiful sence and since that beautiful young model I so often use to enhance my photos was available, it was picture time.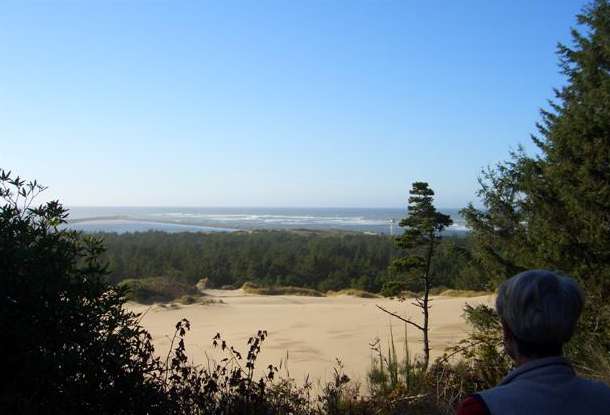 Looking to take a close up that showed the power of the waves I took this shot. The wind was whipping up more than waves in the water. Just take a look at the wave of hair on the right side of the model in this image. Bet the makeup department will change there brand of hairspray after this. Gives a new meaning to the term 'whitecap', doesn't it, lol.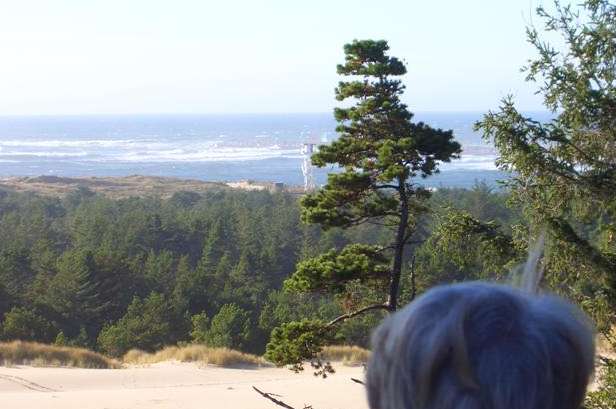 One of the problems we ran into today was lunch, or maybe I should say a lack of lunch. Would you believe, we were so caught up in our respective endeavors that we forgot to eat. It has been a long time since that happened, at least a few days, smile. We have that problem on the days we work, getting so involved in the visitors that often times lunch is eaten after 3 o'clock and sometimes even during the walk back over to the coach at the end of the day. But for it to happen on our days off is unheard of. What is the meaning of this? Intense but stress free? We will have to watch ourselves more closely in the future as I fear we are enjoying the way we live almost too much, lol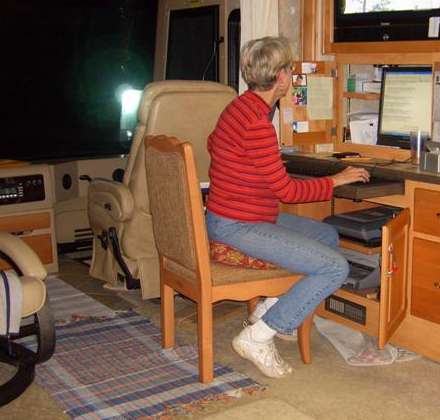 You can see what the evening brought, more computer time, well first there was dinner of course. We went back to one of our old South Beach standbys, Big Easy Shrimp, page 200 in the orange covered cookbook. You know, the page with all the water marks and stains. By the way when you are looking through old cookbooks at a yard sale, flea market, thrift store, etc., that's the way to tell whether or not the recipes in the book are any good. No stains or beat up pages, look for another book. As our day is never complete without dessert, it ended with a mug of warm raspberry chocolate milk and a slice of chocolate zucchini cake. May your day also have ended with a smile.
---
---